Your kid's bed is no longer needed? You are welcome to resell your used kid's furniture and accessories directly on this highly frequented site. This is a free service for Billi-Bolli products that you originally purchased new from us.
If you would like to resell Billi-Bolli products that you bought pre-owned (or a second hand Gullibo kids' bed) on this site, then we take a € 60 fee, which will be fully donated to our charity projects.
Notes
The offers on our second hand page have been translated automatically and therefore may contain translation errors. We take no responsibilities for these errors or the misunderstandings arising from them. Please visit the second hand page on our German website to view the offers in their original language.

We take no responsibility for the information posted by customers about kids' furniture for resale as we are unable to verify them.

Billi-Bolli Kindermöbel is not involved in the resulting resales.

Whether an offer is reasonably priced or not must therefore be determined by the interested party (see Resale price recommendation). Such an assessment cannot be derived from the fact that the item is placed on our Second hand page.

Please note that we cannot deliver accessories or expansion parts for Gullibo kids' beds. If you are intending on expanding the bed, we recommend to directly opt for a Billi-Bolli bed. More information on Gullibo…
Want to stay up-to-date on new offers?
Receive an e-mail as soon as a new second hand offer has been published:
---
High bed with slide tower and slide made of pine in Zurich
Offer 3830
. Published: 12 November 2019 (second hand loft bed)
sold
Bunk bed, 100 x 200 cm, jaw untreated,
incl. slatted slats, protective boards for upper
Floor, handles
Dimensions:
L: 211 cm, W: 112 cm, H: 228.5 cm
Ladder position: A
Cover caps: wood-coloured
Thickness of the floorboard: 3.5 cm
FLStud+Kba-K-01 feet and ladder of student high beds
and crane beams (right outside)
Berth board 150 cm, 112 face side (M-width 100 cm), face side 102 cm, jaw untreated for front
Front side at the bed, up to the slide tower Adapted!
Slide tower, M-width 100cm (left)
Slide, for Midi 3 and bunk bed
2x small shelves, 1x shop board for M-width 100 cm
1x steering wheel, 1x climbing rope made of natural hemp Length: 2.50 m
Swing plate, climbing carabiner XL1 CE 0333
Curtain rod set for M-width 80, 90, 100 cm
M-length 200 cm, unfinished for 3 sides
(= 4 rods) (are always made of beech!)
Curtain length at Midi 3 construction:
91.5 cm longitudinal: 85.8 cm
in case of high bed construction:
1.24 m longitudinally: 1.18 m
Incl. foam mattresses made of cotton drell cover removable and washable.
Purchase price 1,791.77 EUR
Sell price 850 EUR
Condition: Very good (no stickers or damage, normal traces of use)
Original invoices and all assembly instructions are available.
The bed is for self-collection in 8055 Zurich, Switzerland. We can take over the dismantling on request. We will be happy to provide further photos electronically on request.
Comment:
Dear Billi-Bolli Team,
The bed is sold!
Thank you very much for the serat.
Kind greetings.
Sonia Checcucci
---
Both-top bunk bed 2B made of pine in Moosach
Offer 3829
. Published: 12 November 2019 (second hand bunk bed)
We sell our "both-up bed", lying area 90 to 200, which has served well for many years and has been very much loved.
It was repurchased by Billi-Bolli in November 2010. Incl. accessories (without the mattresses) it cost about 2800 €.
The bed is oiled pine/honey-colored. It has wide rungs at both ladders and can be set very high (height student bed for the upper bed).
Accessories included in the scope of delivery:
- Fire brigade pole
- Steering wheel on top
- a small shelf for the upper and the lower bed
- a large shelf for the high bed
- Berth boards: at the top of two short and one long side, at the bottom of a long side
At that time we bought the mattresses "Nele plus" from Prolana via Billi Bolli. We would give them away if desired.
The bed is in very good used condition. We don't have pets, the bed wasn't glued. It has traces of use, of course, and the wood is darkened.
It is set up in Munich Moosach and can be viewed by arrangement. Only self-removal and self-collection, no shipping.
Our price is 1350 €.
Contact details
Gabriella Zanardo
80992 München Moosach
ella.zanardo@gmail.com
---
Three-person bunk bed offset from pine in Jena
Offer 3828
. Published: 11 November 2019 (second hand bunk bed)
Since our children now have their own rooms, we part with a heavy heart from our beloved Billi Bolli three-person bunk bed. The wood is oiled from pine waxed. The purchase took place in 2014, initially as both-top bed, for 1,691 euros. When our youngest was ready, we retrofitted in 2017, and ordered the lower floor incl. bed boxes, price 584 euros.
The bed is in good condition, with traces of use in the form of dents through the rocking plate in the area of the middle beams. There are no scratches or paints. The rocking beam incl.
Hemp rope and rocking plate.
The mattress dimensions for all 3 levels are 90x190 cm. The very well-preserved cold foam mattresses hardness H2-H3 incl. mattress savers are welcome, on request, included in the scope of delivery. Likewise, all parts are available to turn the bed back into a two-top bed. The original invoices as well as the assembly instructions are available.
Our price is 1300 Euros.
The bed is available for collection in Jena. On request, the dismantling can be carried out jointly. Contact us on 03641-6359159 (until 9 p.m.) or annegret81@yahoo.com. More photos can be sent.
Contact details
Familie Zimmerer
03641-6359159
annegret81@yahoo.com
---
Bunk bed with bed-over-corner version made of pine in Heidesheim
Offer 3827
. Published: 11 November 2019 (second hand bunk bed)
We would like to offer our Billi-Bolli bed for sale.
The bed is 10 years old and was purchased as a bed-over corner. After a move it stood for 5 years as a double bunk bed in the children's room (see photo).
It has slight signs of use, but is generally in good and well-maintained condition. It was not glued and not painted.
Zu den Details:
Bed over-corner, 90/200, pine honey-colored oiled
Mattress size: 90 x 200 cm (not included)
2 slatted slats
Handles
Protective boards for the upper floor
Head
Curtain poles
Small shelf
all required screws, nuts, washers, washers, cover caps, etc
self-sewn curtain (blue/yellow)
It is a used bed; there are hardly any signs of use. The wood is only naturally darkened.
The bed is already dismantled. Please only to self-collectors (near Mainz), no shipping. Private sale without guarantee.
The new price of the bed is 1347 euros (invoice available)
Our price is 550 euros.
Contact details
Fam. Thomson
55262 Heidesheim
0152/55775531
---
Half-height bunk bed made of beech in Osloß
Offer 3826
. Published: 11 November 2019 (second hand loft bed)
sold
We sell our Billi Bolli half-height bunk bed oiled in beech. We bought the bed 11 years ago as a bunk bed and 6 years ago we bought a conversion kit to make the bunk bed a bunk bed and a youth bed.
Now we want to separate ourselves from the loft bed. One of our boys will continue to use the youth bed.
The high bed has portholes themed boards, sailor steering wheel, a plate swing and curtain poles. We are also happy to provide the self-sewn Wickinger curtains.
The bed is 2.10 meters long, 1.63 meters high (the central crane is 1.96 meters high) and 1.08 meters deep. Lying area: 0.90 x 2.00 meters.
The bed is still set up and the construction instructions are still available. We are happy to help with the dismantling.
At that time purchase price approx. 2,000,- Euro.
We want to sell the bed for 350,- Euro.
The bed is in 38557 Osloß.
Comment:
Hello Bolli Bolli Team,
Our bed is sold.
Thank you very much
Tanja Bauernfeind
---
Play tower beech oiled, extra high in Moosach
Offer 3825
. Published: 11 November 2019 (second hand Pitched Roof Bed)
It is with a heavy heart that we have to separate ourselves from our Billi-Bolli game tower as we rebuild.
The game tower was purchased in autumn 2015. He is in a very good used condition.
It is a game tower, beech oiled, incl. playing floor, berth boards on the sides and front for the upper floor, ladder, handles and curtain rod set for three sides.
It is a custom-made: construction height 6 with high fall protection and swing beams at the same height.
Due to the high platform, even larger children can still play standing under the tower.
Height: 2.30 m, base area: width 1,135 x depth 1,025 m (swing beams + 0.5 m), beam thickness 5.7 cm
It is possible to convert it to a sloping bed (90 x 200 cm), parts are not included.
Buy price: €1,300
Price presentation: 850 €
Location: 80997 Munich - Moosach
Family Just
anju178@web.de
Contact details
Familie Just
anju178@web.de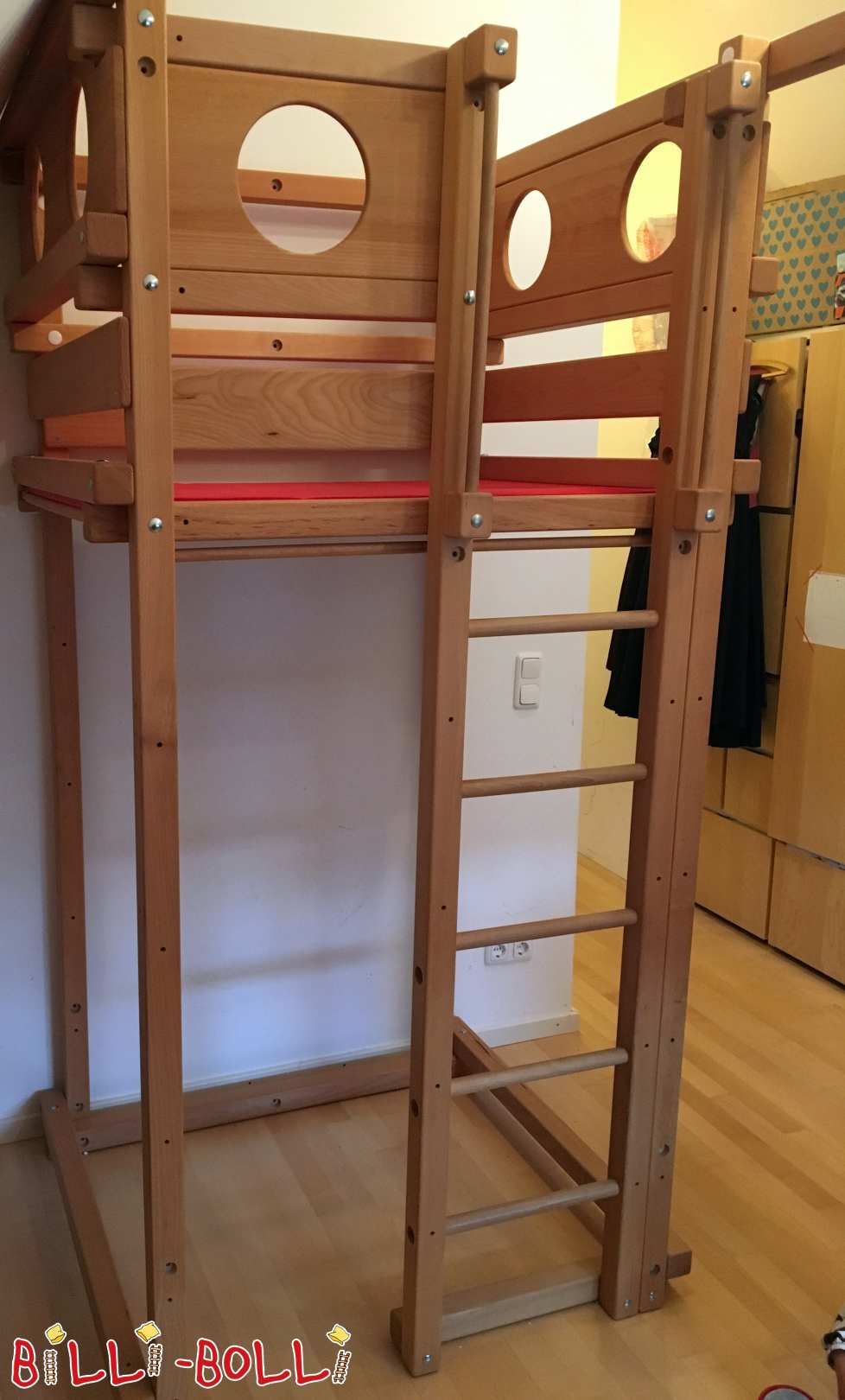 ---
Ladder protection for round rungs from beech in Putzbrunn
Offer 3824
. Published: 08 November 2019 (second hand kids' furniture)
After almost 2 years we sell our ladder protection from untreated beech, for 30 euros (then new price was 40 euros, bought 03/2018).
The ladder protection is to be picked up in 85640 Putzbrunn near Munich (no shipping).
He has served us well :-)
Contact details
Familie Göhler
0179/1259950
a.goehler@posteo.de
---
Growing Billi-Bolli high bed, 90 x 200 cm, beech oiled-waxed
Offer 3823
. Published: 06 November 2019 (second hand loft bed)
sold
Unfortunately, we have to say goodbye to our great growing Billi-Bolli high bed plus accessories. The wood is oiled-waxed from beech. It is in very good condition, not painted and has only very slight traces of use. It comes from a non-smoking household. It was newly purchased in May 2009 for €1,222.00 (excluding transport costs). We purchased it used in February 2016.
High bed 90 x 200 cm beech oiled incl. slatted base, three protective boards for upper floor, handles, ladders, cover caps in wood-coloured.
External dimensions: L: 211cm, W: 102cm, H: 228.5cm
Accessories:
- three berth boards (front and head/foot side), beech oiled,
- Curtain rod set for two sides, beech oiled,
- Matching curtains are available free of charge on request.
The mattress was purchased in July 2018 and is happy to be part of the offer. (Cold foam mattress, hardness H2 & H3, mattress with 7 zones, roll mattress, Made in Germany, dimensions 90 x 200 cm.)
Our price is 710.00 €.
Original invoice and setup instructions are available. Joint dismantling is possible by agreement. We will be happy to send you more photos.
Only for sale to self-collectors. Pick-up in 10437 Berlin.
Comment:
Hello dear Billi-Bolli-Team,
we have sold the bed to a very nice family and would like to thank you for making this so uncomplicated via your site.
Greetings - Family Wirth
---
Growing bunk bed made of pine in Landau
Offer 3821
. Published: 06 November 2019 (second hand loft bed)
sold
We sell a Billi-Bolli bunk bed, mattress size 100 x 200 cm.
The bed was built as a cot with slide and swing, later it was converted into a youth high bed. The wood is oiled pine. A slatte of the slatted base is defective!. Purchase price was approx. 1138,00 € and is 13 years old. The bed is dismantled.
The following accessories are included: slide, climbing rope with plate (swing), portholes boards, protective boards for the upper floors, as well as various beams.
Price presentation: €350.00 to self-collectors.
Comment:
Ladies and gentlemen,
the bed is sold! Thank you again!
A nice weekend and many greetings!
Matthias Schäfer
---
Youth bed low type D from pine in Dällikon (Switzerland)
Offer 3820
. Published: 05 November 2019 (second hand kids' furniture)
Type: Youth bed low type D, beech oiled-waxed, 120 x 220 cm, with high side parts and backrest (incl. slatted base)
Accessories: 2 x bed boxes, beech oiled on wheels for parquet flooring (offers great storage space)
Description: very well preserved, minimal pencil traces that would be easily removed - we have written to the room during the conversion/construction and would facilitate the installation and dismantling at the new location.
Age: June 2011
Former New Price: €815.97
Sales price VB: 350.- € or CHF 400.- (self-deprecitator/self-collector)
Location: CH - 8108 Dällikon
Contact details
Familie Heipmann
+41 43 5385669
margit@heipmann.net
---
You have been searching patiently for a while now but to no avail?
Have you already considered buying a new Billi-Bolli bed instead? When you no longer need it, you too can use our successful Secondhand Page, completely free of charge. Thanks to the high resale value of our beds, you will get a good return on your purchase even after many years of use. For this reason, a new Billi-Bolli bed is, economically speaking, a very good investment.