Your kid's bed is no longer needed? You are welcome to resell your used kid's furniture and accessories directly on this highly frequented site. This is a free service for Billi-Bolli products that you originally purchased new from us.
If you bought pre-owned Billi-Bolli products, that you would like to resell now on this site, then we take a € 60 fee, which will be fully donated to our charity projects. The same applies to the resale of second hand Gullibo beds.
Notes
The offers on our Second hand page have been translated automatically and therefore may contain translation errors. We take no responsibilities for these errors or the misunderstandings arising from them. Please visit the Second hand page on our German website to view the offers in their original language.

We take no responsibility for the information posted by customers about furniture for resale as we are unable to verify it.

Billi-Bolli Kindermöbel is not involved in the resulting resales.

Whether an offer is reasonably priced or not must therefore be determined by the interested party (see Resale price recommendation). Such an assessment cannot be derived from the fact that the item is placed on our Second hand page.

Please note that we cannot deliver accessories or expansion parts for Gullibo kids' beds. If you are intending on expanding the bed, we recommend to directly opt for a Billi-Bolli bed.
---
Billi-Bolli children's desk with substellar container
Offer 3439 (second hand accessories). Published: 14 February 2019, sold: 10 March 2019
sold
I offer an absolutely high-quality children's desk from the carpenter made of spruce wood (BxT: 143x65). A subordinate container with four drawer drawers. All made of oiled spruce full wood. In the Munich area, Billi-Bolli is known for its natural furniture and longevity. Worktop can be slanted (see 3rd photo). The desk is 10 years old and just today it is freshly sanded and oiled. Almost like new! All accessories available (including pieces of wood for "growing along" of the desk or for slanting the tabletop.)
At the time purchase price 567,42 euros--> VB now only 200 .-Euro for self-catchiers in the Munich area (postcode 81247).
Comment:
Hello
The table is sold.
Thank you very much!
With friendly Grüssen/Best regards!
Klaus Büttner
---
Both-the-bed 2A
Offer 3438 (second hand accessories). Published: 12 February 2019
sold
We would like to sell the Beid-obs-lot-2A because of the move to a larger apartment.
Original invoice from the 12.10.2012 it is available €1800.
Construction instructions are also available.
Description:
Bei-oben-bed 2A, jaw untreated
2x90x200. •
incl.2 latte rust, protective boards for the upper floors, holding handles
Exterior L: 211cm, B: 211 cm, H; 228,5cm
Head position both A
Cover caps: Wood
Accessories:
2x small shelf, jaw untreated
1x Curtain bar set
Delivery possible: €50/100 km
Article location is Berlin-Köpenick.
The bed has few signs of use, unfortunately also a few ribbing-pin strokes;-)
Price: £900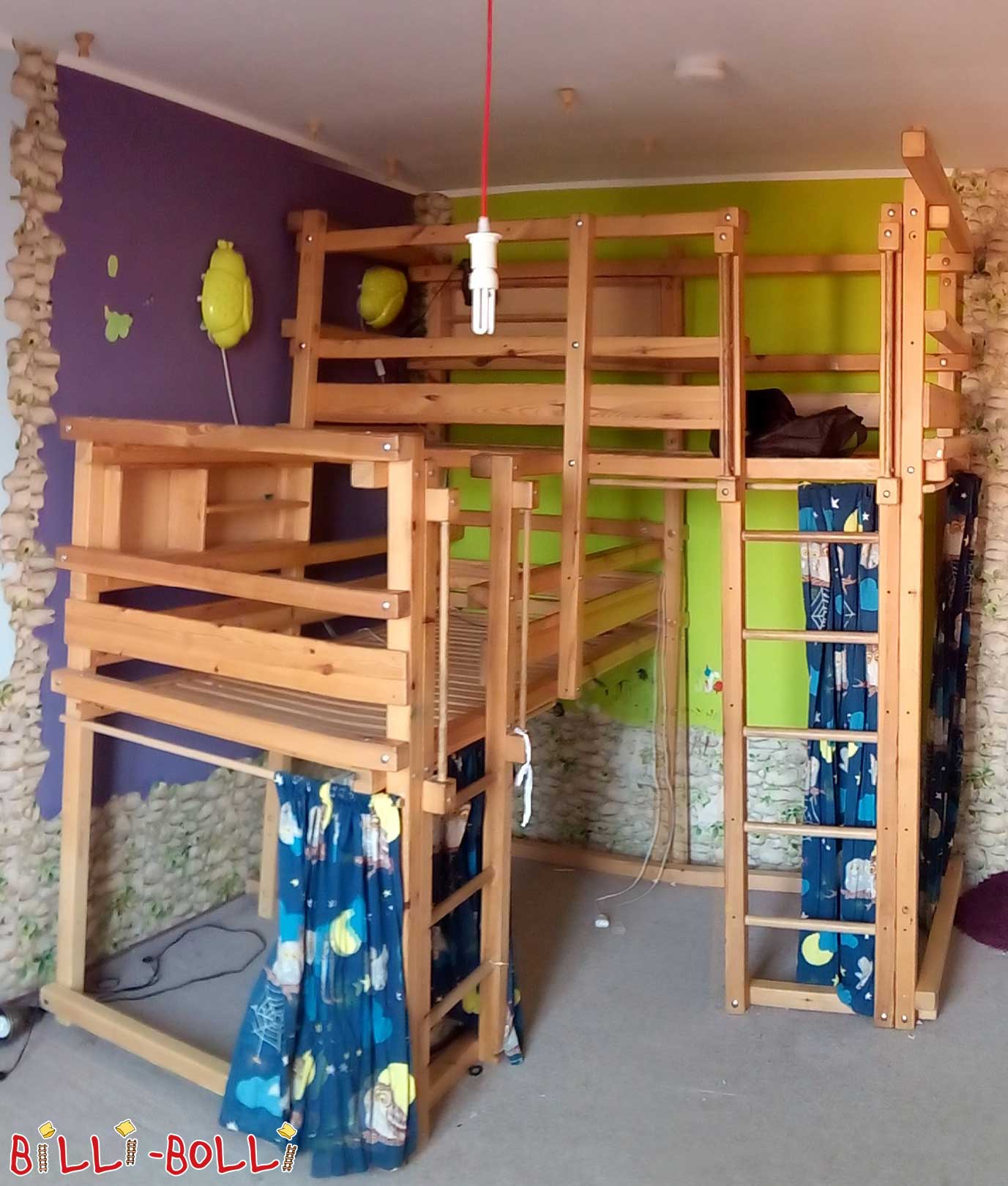 ---
Pirate high bed-whitewashed
Offer 3437 (second hand loft bed). Published: 11 February 2019, sold: 11 February 2019
sold
White glazed "pirate high bed" with 2 slatted rust, small shelf, climbing rope with rocking plate, steering wheel and cojenboard keys for sale. The bed has the mattress measure 100 x 190 cm; external dimensions: L 201 cm, H 228.5 cm, B 112 cm.
New price in mid-2007: €915.32
Price award €420
Location: Stuttgart
Comment:
Hello dear Billi-Bolli team,
Thank you very much for this second hand page. The bed was sold after 1 hour.
With that, the next kids have fun at this bed. Kudos once again for the quality of the bed. This is great class.
Best regards
Fam. Grefen
---
Three-bed left sideways, Type 1B
Offer 3436 (second hand accessories). Published: 08 February 2019
Three-bed left sideways (longitudinal direction), type 1B
Beech untreated plus oil wax treatment natinate
100 x 200 cm, including 3 slats
Exterior: L 307 cm, B 112 cm, H 196 cm
Protective boards for the upper floors (in addition, milling for the high
Case protection attached to the middle bed)
Handles
The bed is just under 7 years old, good condition
Accessories:
2 bed boxes with plenty of storage space, of which 1 bed box is in 4 equal compartments
Divided. The bed boxes are drivable all out.
Then purchase price without shipping costs: €2700
Price above: €1600
Location: 78073 Bad Dürrheim
---
Roof slant bed with slide
Offer 3435 (second hand Pitched Roof Bed). Published: 08 February 2019
Roof slanted bed 90 x 200 cm, beech with oil wax treatment with slatted grate
Knight's castle with ladder
Exterior: L: 211 cm, B: 102 cm, H: 228.5 cm. •
Just under 7 years old
Very good condition
Accessories:
* 2 x bed box, one with a subdivision
* leines shelf, beech oiled
* Slide
* Climbing rope made of natural hemp length 2.5 m oiled with rocking plate beech
* Curtain bars with curtain
Then purchase price without shipping costs: €2,183.44
Price imagin: €1,400
Location: 82335 Mountain
---
Sale youth bed 2 years old and mattress "NelePlus" new
Offer 3434 (second hand kids' furniture). Published: 07 February 2019
Youth bed low type B: With a high side
90 x 200 cm, pine
Including slatted rust
Exterior: Length 211 cm, width 102cm,
Height 66 cm
Cover caps: Wood
Bed oil-waxed
Protective board, 102 cm for short side, M-distance 90 cm
Jaw oil-waxed
We are separating from this very sturdy bed of my daughter.
Bought at the end of April 2017 for 426,--euros
Bill present.
We would give it in for 320,--euros.
At that time we also had the mattress "NelePlus" for sleeping level without
Protective boards, M-measure 90x200 x11 cm. •
Cotton cover removable, washable at 60 C
Bought for 398,--euros.
My daughter slept on it for 1 week. She was too hard for her and she has sagged again on the old mattress.
This mattress has been lying unused in the bedroom on the unused side of a double bed ever since.
This mattress fits perfectly with this youth bed
We would hand over the mattress for 320,--euros.
Animal-free non-smoker household.
Pick up: Near Landshut in 84169 Altfraunhofen
Contact
Birgit Baumgartner
Tel. 0151 72211937
---
Co-growing high bed including roof slanting stage
Offer 3433 (second hand loft bed). Published: 07 February 2019
Colluding high bed, 100 x 200 cm, beech oil wax treatment, with sloping roof level
Untreated
Including slatted rust, protective boards for top
Floor, handles
Dimensions:
L: 211 cm, B: 112 cm, H: 228.5 cm. •
Head position: A
Cover caps: Wood
Accessories:
Flat sprouts
Kojenboard 150 cm, beech oil, (would have to be shortened into the slance when installed or swapped for a shorter one, depending on the sloping, you can see in the photo)
Koyboard 112 cm people-sided, beech oiled
Small shelf, beech oiled (super thing the part!!)
Curtain bar set for 3 pages
2 bars for the long side, 1 rod each for the short sides (never used or attached)
Hammock KID Picapau cloth area 145x120 cm; resilience up to 70 kg, washable at 30 degrees (never used)
In addition:
Conversion set rocking bars center to the position outside
In the photo the bed can be seen without the conversion because my son didn't want a high bed anymore, the conversion set is still in the pack and was not used. However, it is still the roof sloping model therefore no kojenboard on the feet and the bed is lower there (you can see it in the photo).
Bought in December 2014 so only 4 years old, top condition, no stickers or similar once set up. Non-smokers and animal-free household.
Purchase price for everything including the reordering of the conversion kit in November 2017 was €1842million excluding delivery costs.
But unfortunately my 12-year-old son may not have it anymore. Only he wants to keep the punching bag:-)
We would like to have €1150.
Location: 66809 Nalbach/Saarland
---
Bunk bed including slide tower and slide
Offer 3432 (second hand bunk bed). Published: 07 February 2019
Hello, we sell our Billi-Bolli bed from 2005, bunk bed 90 x 200 cm, spruce oil-waxed, including 2 slatted rust, protective boards for top floor, holding handles.
Accessories:
Slip tower incl. Slide
Steering wheel
Climbing rope (natural hemp)
Little shelf
Then New Price:€1,355.83
Sale price: £550
Location: Cologne
The bed, of course, has signs of use, the children have immortalized their names and scraped around on them, the wood is heavily darkened and there is a pronchop missing from the steering wheel. Tower and slide are already stored in the basement for 4 years, therefore not visible in the picture. The tower is mounted at the head end, next to the ladder. The bed is completely broken down. To do this, we also hand over the desk in spruce for €20,000.
Contact
Familie Wilbertz
0174/3802107
---
2 co-growing cots to be delivered in Cologne
Offer 3431 (second hand kids' bed). Published: 05 February 2019
After a few years of good service, we want to find new owners for our 2 cots.
Our children have had a lot of pleasure daran/darin/darauf/underneath!
Very small (hidden underneath) to much larger (with desk or play area underneath: On the pictures there are Swedish children's offices or wooden shelves).
Now, unfortunately, they don't fit in the new apartment.
Both beds made of pine, with oil wax treatment
With protective boards and handles on the ladder
Total size each L211 x B102 x H2228.5 (mattress size L200 x B90)
Animal and smoke-free household
Bed 1 has mediocre used traces (stickers are removed/the wood has naturally darkened by daylight), but in great condition.
Bed 2 also darkened a bit, but a little less. Hardly used traces.
Bed 1 (11 years) New price: €757.14-> Sale price: €400
Bed 2 (4 years) New price: 1,019.00-> Sale price: €750
(No shipping).
At the moment, the beds can be viewed in the built-up state. When it comes to sales, we are welcome to mine them.
---
Girl's high bed with flowers
Offer 3430 (second hand loft bed). Published: 04 February 2019
sold
Beautiful white-glazed high bed (90 x 200 cm, spruce) with flower boards, a slanted glider and a climbing rope made of natural hulf. If necessary, the high-quality mattress can also be purchased.
The bed was bought 6/2012 for €1830without shipping and mattress. Bill present.
It's in top condition.
Price above: £1200
Location: Wolfratshausen
Comment:
Dear Billi-Bolli Team,
Thank you very much for your support in the sale of our Cheap Bolli bed.
The bed has since been sold and the display can be deleted.
Thank you very much
Marion Gerding