Waiting to be creatively styled by you: The canopy bed for children and teenagers with its curtain rails on all four sides. Get ready to design this near-ground kids' and teens' bed according to your taste and heart's content. Maybe you choose a cosy, enchanted, airy, fairytale-like or a bright and colourful look for your kid's safe haven, the ideal place to relax, sleep and dream. In any case, closing the curtains will enwrap the whole sleeping area and provide a lot of privacy and blissful comfort. As your child gets older, all you have to do is change the curtain design to match your child's age and the kids' bed will transform into a great bed for teenagers and young adults.
With two small additional parts, the Canopy Bed can also be assembled from the Loft Bed Adjustable by Age if your child doesn't want to sleep in a raised sleeping level anymore.
from € 695
FREE
hanging cave
if you place an order by
January 30
!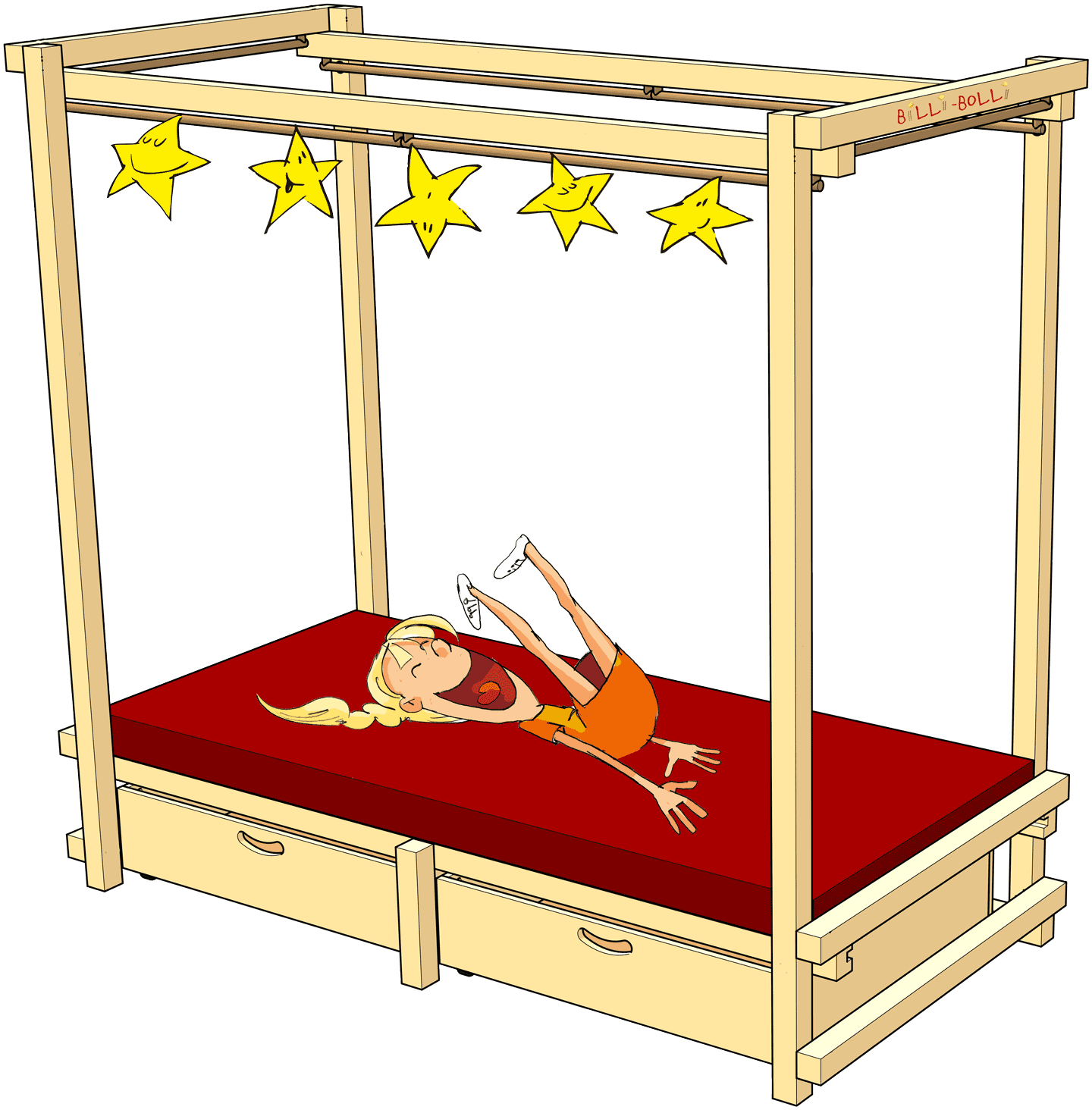 Configure your Canopy Bed
External dimensions of the Canopy Bed
Width = mattress width + 13.2 cm
Length = mattress length + 11.3 cm
Height = 196 cm

Example:
mattress size 90 × 200 cm
⇒ external dimensions of the bed: 103.2 / 211.3 / 196 cm
What you are getting …
highest safety according to DIN EN 747 ⓘ

so much fun thanks to a wide range of accessories ⓘ

wood from sustainable forestry ⓘ

a system developed over 28 years

individual configuration options

personal consultation: +49 8124 / 907 888 0

first-class quality from Germany ⓘ

conversion options with expansion sets ⓘ

7-year warranty on all wooden parts ⓘ

a detailed assembly manual ⓘ

second hand sale option ⓘ

the best value for money
Included in the delivery
Included in the delivery by default:
Not included by default but optionally available are: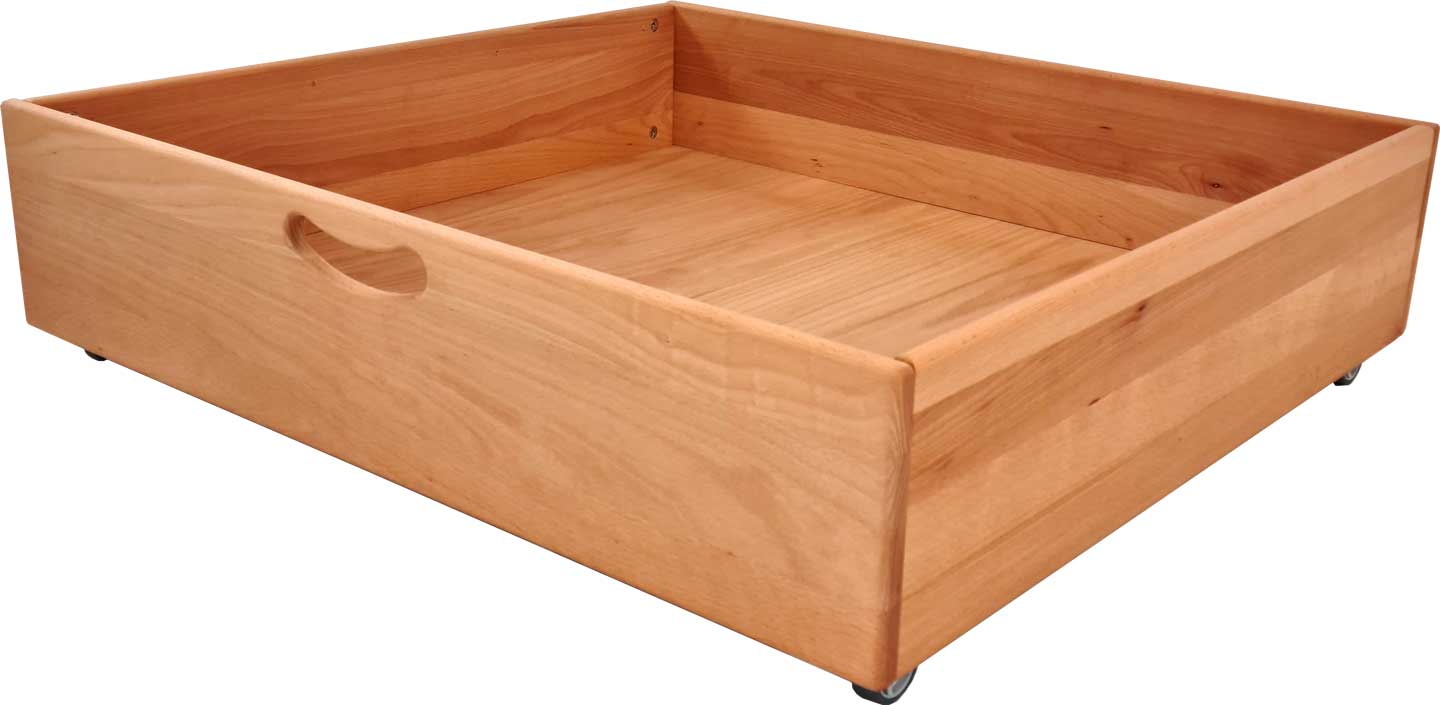 Complementary accessories for the Canopy Bed for even more comfort
Get creative and style your Canopy Bed with textiles. Our accessory elements, such as shelves and drawers, complement the four-poster bed for girls and teenagers perfectly and keep things neat and tidy.
Our customers share their Canopy Bed experiences and photos
As promised, here are some photos of Milena's "new" bed. At first, my daughter (15) wasn't very excited to keep her "old kid's bed" but after it had been dolled up a bit she felt right at home in it, even as a teenager.
Warm regards
Andrea Kretzschmar
Dear Billi-Bolli team,
After a year and a half, we're finally getting around to sending you all a compliment for the super awesome and sturdy bed. Really a great bed that holds to an appropriate cost-benefit ratio. The delivery and service were both top-notch. Our daughter loves her Canopy Bed. Beneath the curtains are prime hiding spots, and one can also cuddle, play or just have a space to retreat.
Sincerely,
Hilgert Family
Dear Billi-Bolli team,
Someone here is very happy that she can finally sleep in her fantastic canopy bed.
Thank you very much for the great customer service.
Warm greetings from Winterthur
Strey Family
Experience utmost comfort with this heavenly bed
The older the child gets, the more important it is for them to have their own and self-designed place of retreat. It should no longer be "the kids' bed", but something more adult. Billi-Bolli's Canopy Bed fulfils their wish and invites your youngsters to design their own sanctuary according to their taste – whether as a bed for princesses or princes with royal heavy curtains, light and summery with white gauze curtains or very extravagant. The curtains and their own styling will mark the Canopy Bed as their private retreat, which is important for children in their teens, at the latest. Our Canopy Bed is suitable for children old enough to sleep in normal beds.
The Canopy Bed can be expanded and customised with numerous accessories from our great range. We recommend the matching bed drawers for our Canopy Bed: This creates a considerable amount of storage space below the bed, which can be used for bedding and other items.
Our Canopy Bed: stability and quality by Billi-Bolli
With the Canopy Bed you will also get the tried and tested Billi-Bolli quality. Designed by us and manufactured by our master craftsmen in our own workshop near Munich, the Canopy Bed meets the highest quality standards. The solid wood we use is from sustainable and environmentally responsible forestry. Depending on your request, we manufacture your Canopy Bed either from pine or beech wood. In order to retain the natural look of the material, we process it with the greatest care and accuracy: The wood grain makes each beam unique, the conscious awareness of nature's wealth is to be preserved.
Regarding the surface treatment, you can choose from numerous options when placing your order to customise the wood surface to your taste: from a natural finish to colourful varnishes.
By the way: If you already have our Loft Bed Adjustable by Age at home, you can turn it into a canopy bed with just two small additional parts!
What are the dimensions of the Canopy Bed?
The dimensions of the Canopy Bed depend on the mattress size you choose. Simply specify the mattress dimensions when placing your order and we will manufacture the canopy bed according to your request. To calculate the external dimensions of the furniture piece, you need to add 11.3 cm to the mattress length and 13.2 cm to the width. A sample calculation: If you choose a mattress size of 140x200 cm, the external dimensions of the canopy bed will be 152.2 x 211.3 cm. The total height of the four-poster bed with its canopy is 196 cm.
How to look after a Canopy Bed
Our solid wood is robust and lasts for decades. Nevertheless, the bed frame should be dusted and cleaned occasionally. A damp cloth is usually sufficient. Fabrics used in and around the bed – from curtains to bedding – need to be washed on a regular basis. Bed linen should be changed every week or fortnight, the curtains can be washed less often. Last but not least, you should air the mattress regularly and flip it occasionally. This way its shape is preserved and the material can recover.
More models
The Canopy Bed is intended for teenagers, who prefer to sleep at normal bed height. If they like a little elevation, maybe the following beds are also an option for you: