An imaginative arrangement of curtains and fabrics will transform the Canopy Bed and turn it into a cosy and homey retreat, even for adults.
Curtain rods for all four sides are included.
It can also be assembled from the Loft Bed Adjustable by Age with two small additional parts, if the kids don't want to sleep in a bunk bed anymore.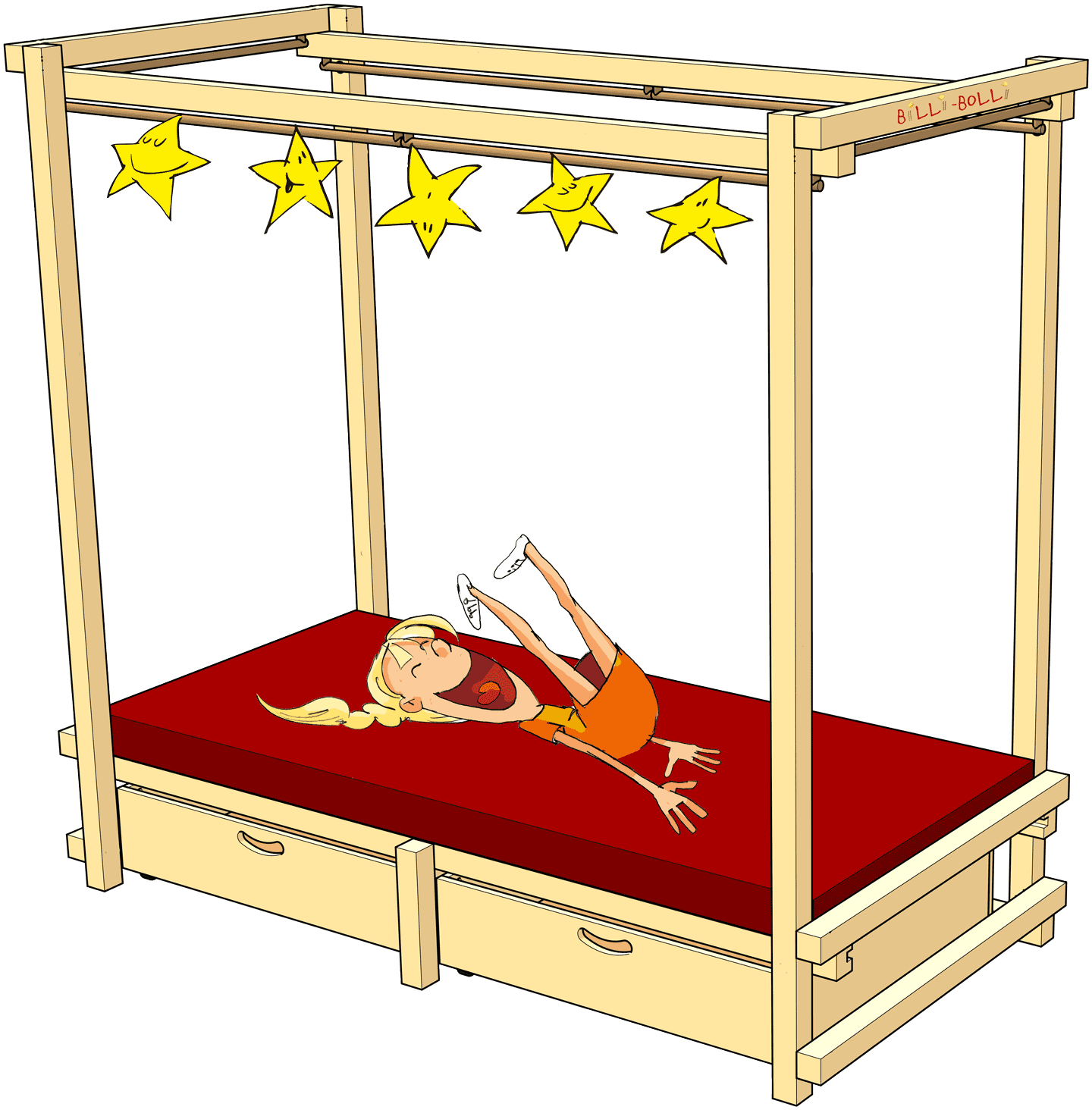 External Dimensions
Width = mattress width + 13.2 cm
Length = mattress length + 11.3 cm
Height = 196.0 cm

Example:
mattress size
90x200
cm
⇒ external dimensions of the bed: 103.2 / 211.3 / 196.0 cm
Testimonials
As promised, here are some photos of Milena's "new" bed. At first, my daughter (15) wasn't very excited to keep her "old kid's bed" but after it had been dolled up a bit she felt right at home in it, even as a teenager.
Warm regards
Andrea Kretzschmar
Dear Billi-Bolli team,
After a year and a half, we're finally getting around to sending you all a compliment for the super awesome and sturdy bed. Really a great bed that holds to an appropriate cost-benefit ratio. The delivery and service were both top-notch. Our daughter loves her Canopy Bed. Beneath the curtains are prime hiding spots, and one can also cuddle, play or just have a space to retreat.
Sincerely,
Hilgert Family
Recent Google reviews
Sabine Kirberich
04 May 2019
(automatically translated)
Very durable and qualitatively really great beds, a good investment, since even the resale value is still great, would buy a bed there at any time, absolutely recommended!!!
Have used the bed for 7 years very gladly and sold it with a crying eye.
Daniela Gentsch
26 April 2019
(automatically translated)
We can only recommend the company Billi-Bolli-everything was right: Great quality of the products and very friendly and competent team! Value for money is absolutely right-Thank you very much!
Gunnar Josting
17 April 2019
(automatically translated)
Great, durable Bed. Super support when Selling via the second-hand-side. Nothing more can be done. Thank you very much!
sylvia schmidt
11 March 2019
(automatically translated)
Super quality, simple build, durable, have enjoyed it for many years! In addition, there is a great service, nice contact, even when reselling support! We can only recommend the company!