An imaginative arrangement of curtains and fabrics will transform the Canopy Bed and turn it into a cosy and homey retreat, even for adults.
Curtain rods for all four sides are included.
It can also be assembled from the Loft Bed Adjustable by Age with two small additional parts, if the kids don't want to sleep in a bunk bed anymore.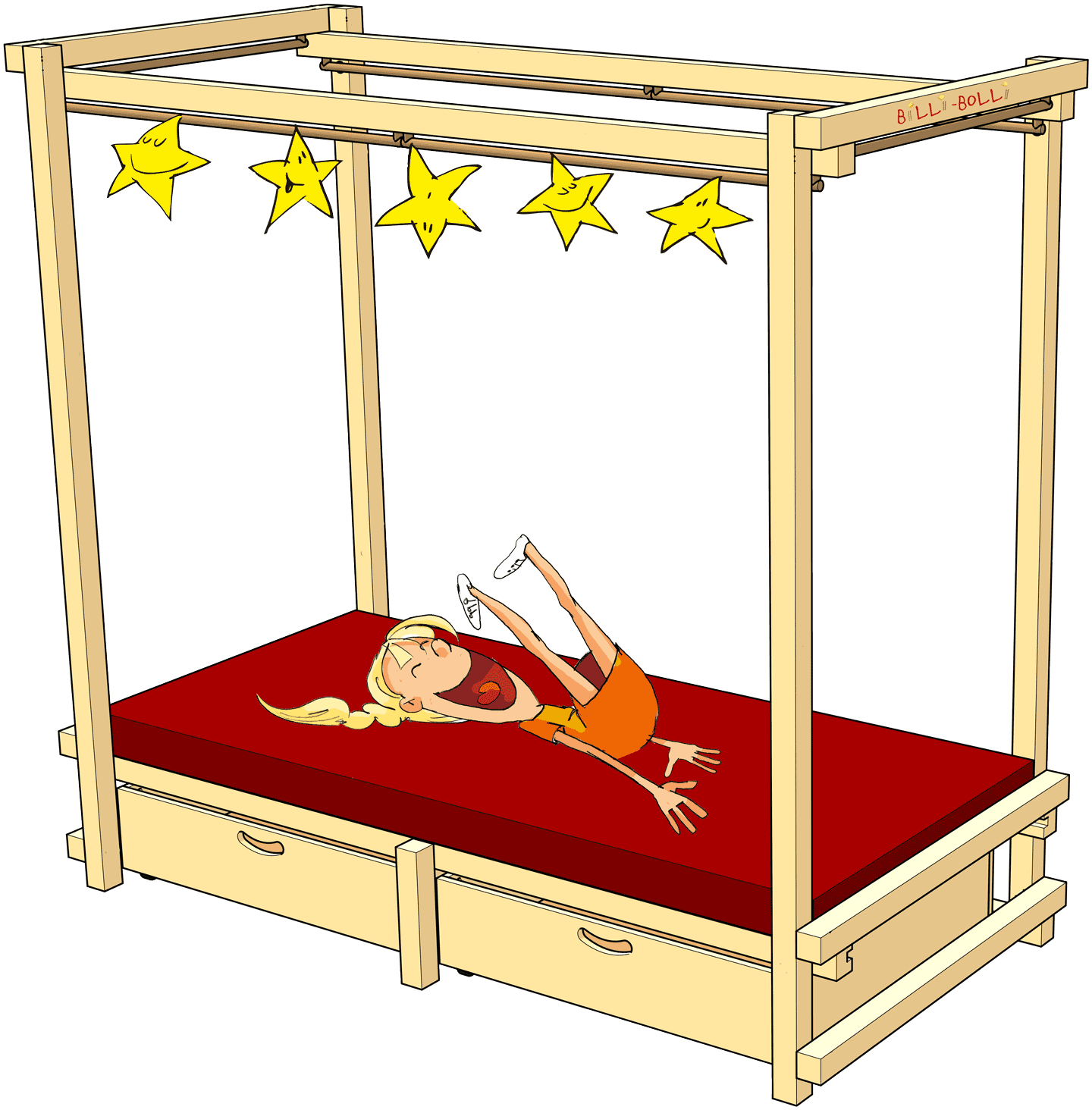 External Dimensions
Width = mattress width + 13.2 cm
Length = mattress length + 11.3 cm
Height = 196.0 cm

Example:
mattress size
90x200
cm
⇒ external dimensions of the bed: 103.2 / 211.3 / 196.0 cm
Testimonials
As promised, here are some photos of Milena's "new" bed. At first, my daughter (15) wasn't very excited to keep her "old kid's bed" but after it had been dolled up a bit she felt right at home in it, even as a teenager.
Warm regards
Andrea Kretzschmar
Dear Billi-Bolli team,
After a year and a half, we're finally getting around to sending you all a compliment for the super awesome and sturdy bed. Really a great bed that holds to an appropriate cost-benefit ratio. The delivery and service were both top-notch. Our daughter loves her Canopy Bed. Beneath the curtains are prime hiding spots, and one can also cuddle, play or just have a space to retreat.
Sincerely,
Hilgert Family
Recent reviews on Google
Rosi Müller
15 July 2018
(automatic translation)
Super products, the best furniture design of our lives (feasible without babysitter with 2 kids and 2 adults in 7-8 hours), really well thought out, expensive but is really what it!
elisabeth schroeder
13 July 2018
(automatic translation)
Great service, Super beds!
Verena Jozwiak
27 June 2018
(automatic translation)
Fantastic bed that very many years has served us well. Super advice and super nice people. Even the sale of our bed was made after so long. Have still achieved an excellent price. These beds have really got a very good resale value.
Ilona Schmitt-Walz
05 June 2018
(automatic translation)
We would buy the bed again. Delivery worked super. Reorder no problem and a reconstruction of the roof slant bed with slide tower to the bunk bed was also possible.