Dad and mum almost become envious: a four-poster bed makes teenage dreams come true. The elegant and high-quality bed invites you to imaginative decoration: with shining stars on the ceiling, cuddly fabrics or translucent curtains, the not so little ones can design their sleeping place individually.
The curtain poles for all four sides are included.
It can also be built with two small additional parts from the growing bunk bed, if the children don't want to sleep upstairs anymore.
from € 779.00
free shipping (DE)
Hanging seat or large bed rack in spruce free of charge when ordering between November 16th and 30th! (as long as the stock lasts)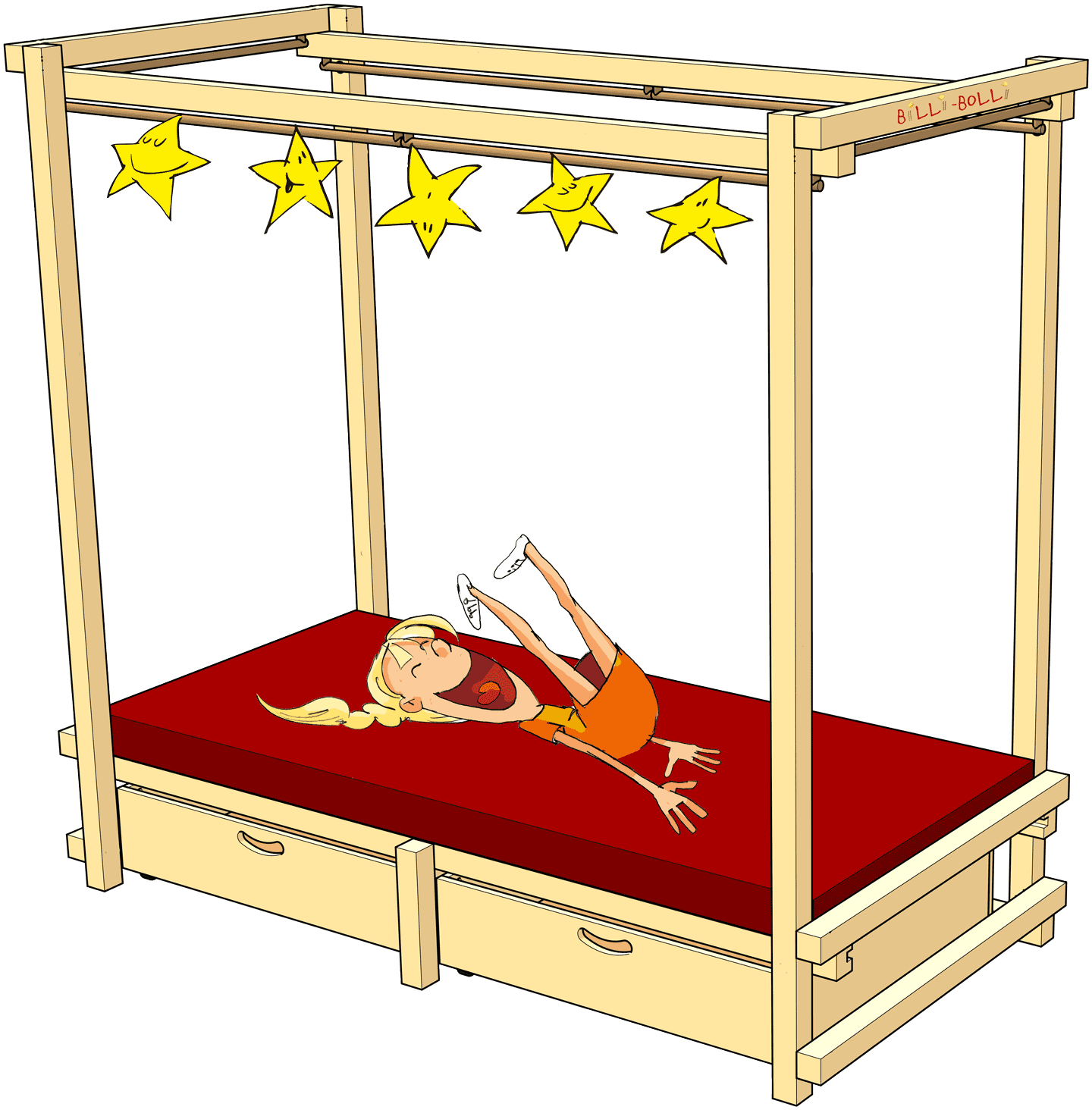 Exterior dimensions of the four-poster bed
Width = mattress width + 13.2 cm
Length = mattress length + 11.3 cm
Height = 196.0 cm

Example:
mattress size 90 × 200 cm
⇒ external dimensions of the bed: 103.2 / 211.3 / 196.0 cm
Configure four-poster bed
Delivery
By default, it comes with:
Screwing material
a detailed step-by-step guide tailored to your configuration
Not included by default, but are also available from us:
Mattresses
Bed Boxes

more on photos with accessories pictured

individual adjustments such as extra-high feet or sloping roof slants
You get ...

* highest safety according to DIN EN 747 (i)
* Pure fun thanks to a wide range of accessories (i)
* Wood from sustainable forestry (i)
* a system developed over 28 years
* individual configuration options
* personal advice: +49 8124 / 907 888 0
* Production in our workshop (i)
* first-class quality from Germany (i)
* Conversion options with expansion sets (i)
* 7-year warranty on all wooden parts (i)
* a detailed setup guide (i)
* Possibility of secondhand resale (i)
* the best value for money
Customize the four-poster bed with our accessories
Customize your cot with our diverse accessories. For example, you can turn a ship, a princess castle or a fire engine out of bed. These are the most popular accessory categories:
Opinions and pictures of our customers about the four-poster bed
As promised, here are some photos of Milena's "new" bed. At first, my daughter (15) wasn't very excited to keep her "old kid's bed" but after it had been dolled up a bit she felt right at home in it, even as a teenager.
Warm regards
Andrea Kretzschmar
Dear Billi-Bolli team,
After a year and a half, we're finally getting around to sending you all a compliment for the super awesome and sturdy bed. Really a great bed that holds to an appropriate cost-benefit ratio. The delivery and service were both top-notch. Our daughter loves her Canopy Bed. Beneath the curtains are prime hiding spots, and one can also cuddle, play or just have a space to retreat.
Sincerely,
Hilgert Family