An imaginative arrangement of curtains and fabrics will transform the Canopy Bed and turn it into a cosy and homey retreat, even for adults.
Curtain rods for all four sides are included.
It can also be assembled from the Loft Bed Adjustable by Age with two small additional parts, if the kids don't want to sleep in a bunk bed anymore.
from € 741.00,

Free shipping in Germany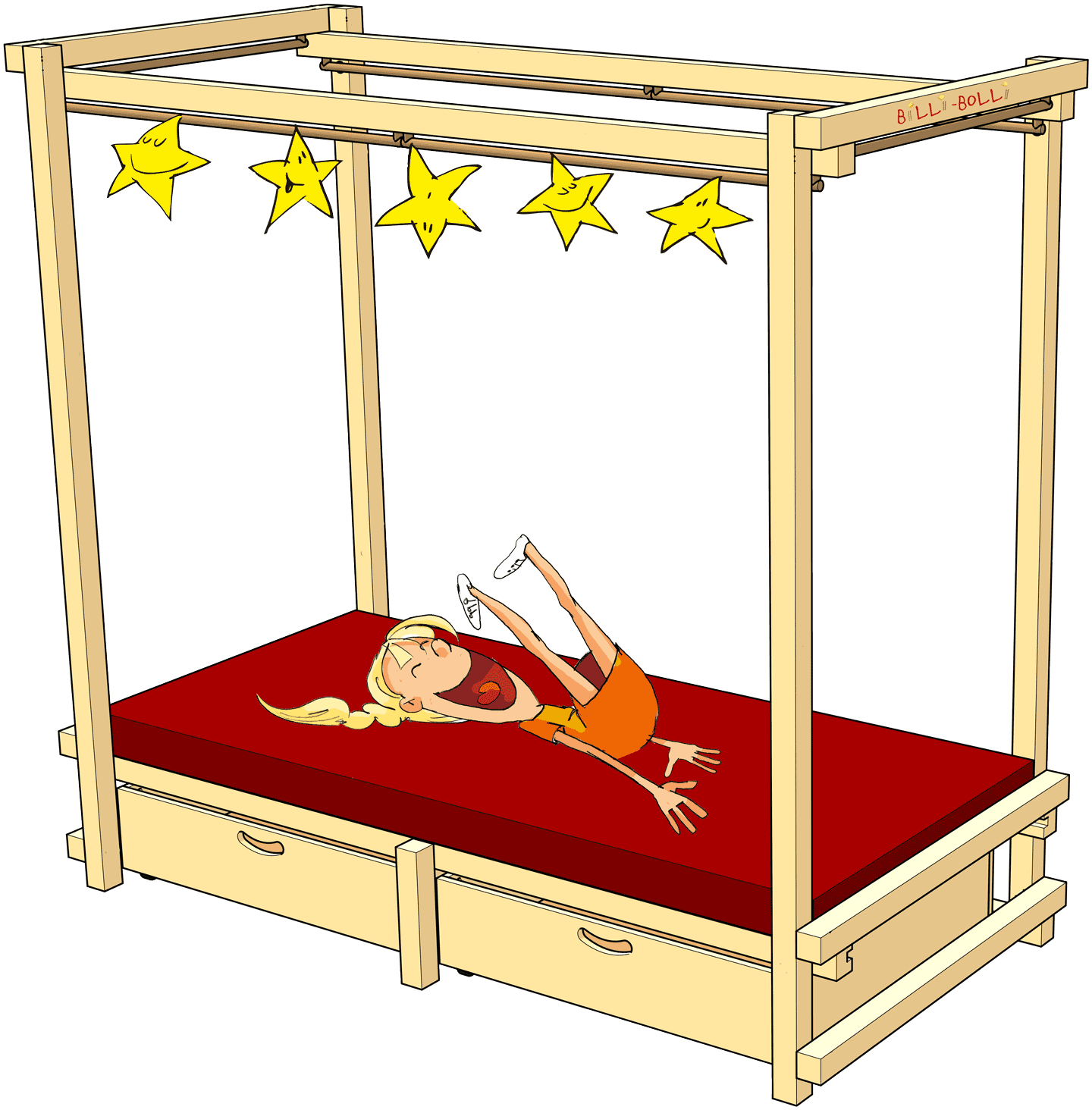 Exterior dimensions of the four-poster bed
Width = mattress width + 13.2 cm
Length = mattress length + 11.3 cm
Height = 196.0 cm

Example:
mattress size 90 × 200 cm
⇒ external dimensions of the bed: 103.2 / 211.3 / 196.0 cm
Configure four-poster bed
You get ...

* highest safety according to DIN EN 747
* Pure fun thanks to a wide range of accessories
* Wood from sustainable forestry
* a system developed over 28 years
* individual configuration options
* personal advice: +49 8124 / 907 888 0
* Production in our workshop
* first-class quality from Germany
* Conversion possibilities with expansion sets
* 7-year warranty on all wooden parts
* a detailed setup manual
* Possibility of secondhand resale
* the best value for money
Customize the four-poster bed with our accessories
Customize your cot with our diverse accessories. For example, you can turn a ship, a princess castle or a fire engine out of bed. These are the most popular accessory categories:
Opinions and pictures of our customers about the four-poster bed
As promised, here are some photos of Milena's "new" bed. At first, my daughter (15) wasn't very excited to keep her "old kid's bed" but after it had been dolled up a bit she felt right at home in it, even as a teenager.
Warm regards
Andrea Kretzschmar
Dear Billi-Bolli team,
After a year and a half, we're finally getting around to sending you all a compliment for the super awesome and sturdy bed. Really a great bed that holds to an appropriate cost-benefit ratio. The delivery and service were both top-notch. Our daughter loves her Canopy Bed. Beneath the curtains are prime hiding spots, and one can also cuddle, play or just have a space to retreat.
Sincerely,
Hilgert Family
Recent Google reviews
Miriam Modjesch
08 July 2019
(automatically translated)
Thank you for the fast handling!
Everything works great
Thomas Schmitt
29 May 2019
(automatically translated)
Great advice and great product (optical, haptic and from stability) at an absolutely fair price.
Johannes Lenz
27 May 2019
When youre looking for furniture for your Kids what is sustainable and what grows with them than you're here at the best place. It's a little bit expensive but best quality and the service is customer oriented. We have a second hand bed for #Bigfoot and #Littlefeet and it makes them fun every day. I recommend this company.and it's products
Sabine Kirberich
04 May 2019
(automatically translated)
Very durable and qualitatively really great beds, a good investment, since even the resale value is still great, would buy a bed there at any time, absolutely recommended!!!
Have used the bed for 7 years very gladly and sold it with a crying eye.