An imaginative arrangement of curtains and fabrics will transform the Canopy Bed and turn it into a cosy and homey retreat, even for adults.
Curtain rods for all four sides are included.
It can also be assembled from the Loft Bed Adjustable by Age with two small additional parts, if the kids don't want to sleep in a bunk bed anymore.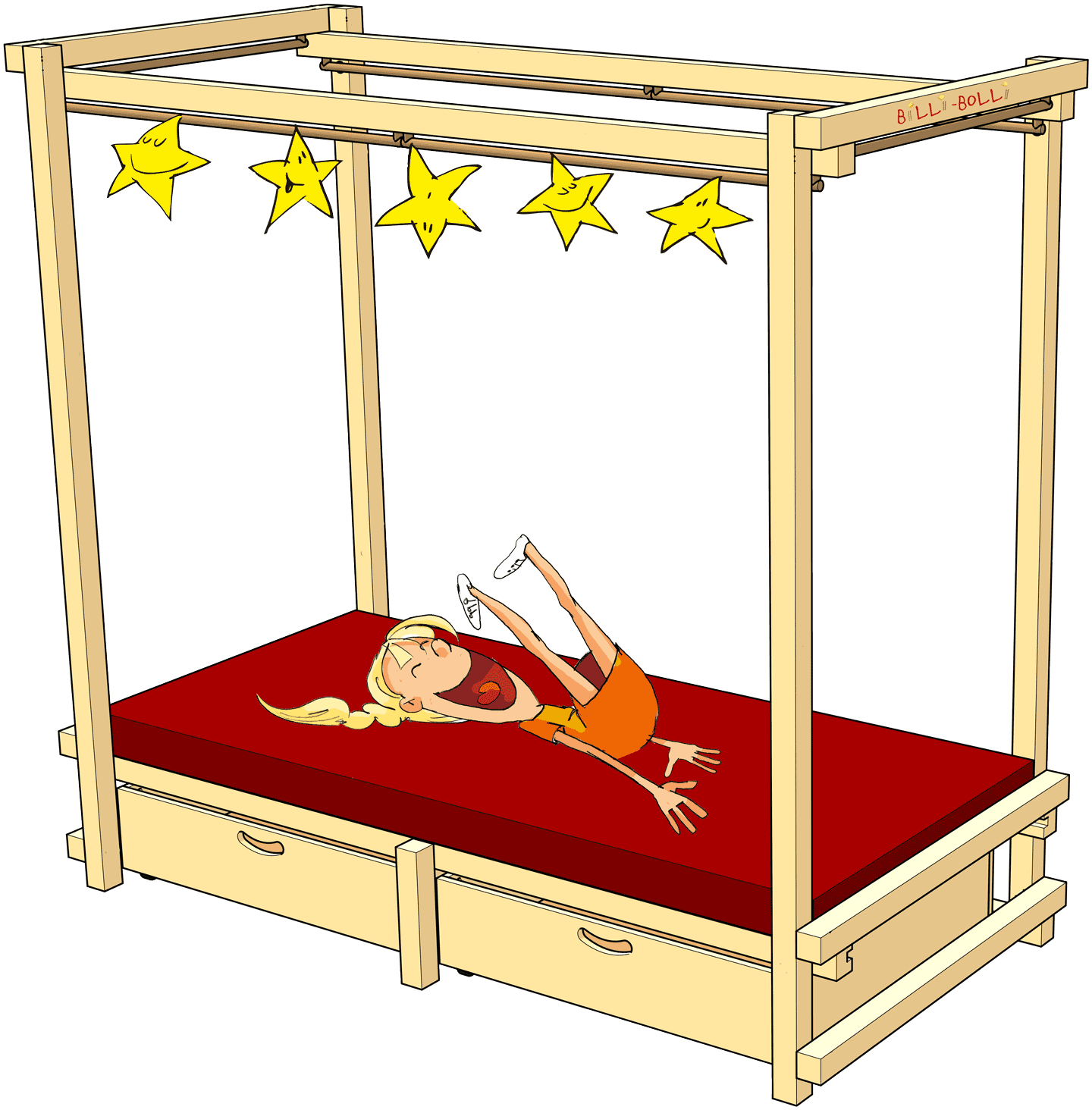 External Dimensions
Width = mattress width + 13.2 cm
Length = mattress length + 11.3 cm
Height = 196.0 cm

Example:
mattress size
90x200
cm
⇒ external dimensions of the bed: 103.2 / 211.3 / 196.0 cm
Testimonials
As promised, here are some photos of Milena's "new" bed. At first, my daughter (15) wasn't very excited to keep her "old kid's bed" but after it had been dolled up a bit she felt right at home in it, even as a teenager.
Warm regards
Andrea Kretzschmar
Dear Billi-Bolli team,
After a year and a half, we're finally getting around to sending you all a compliment for the super awesome and sturdy bed. Really a great bed that holds to an appropriate cost-benefit ratio. The delivery and service were both top-notch. Our daughter loves her Canopy Bed. Beneath the curtains are prime hiding spots, and one can also cuddle, play or just have a space to retreat.
Sincerely,
Hilgert Family
Recent Google reviews
Juliane Aurich
30 November 2018
(automatically translated)
We had fun Super product - many years!
Heike Rosenbauer
05 November 2018
(automatically translated)
Super furniture (fine, easy to build quality), super service, super thrift-sale! Would we recommend always.
Agnes Warzecha
14 September 2018
(automatically translated)
Perfect service from beginning to end. Top consulting, flawless delivery and simple construction through good guidance and preparation. Top product! We have long sought, but there's no better beds for children. Thanks Billi Poot!
Andreas Wolkenstein
07 September 2018
(automatically translated)
The Billi Bolli beds are easy to build - simply excellent, very good quality, and they look wonderful. Although cost a lot of money, but the bed is worth the money at all events. And the contact to the company also fits: friendly, knowledgeable, uncomplicated. Can I recommend in any case!