Da werden Papa und Mama fast schon neidisch: Ein Himmelbett lässt Teenagerträume wahr werden. Das elegante und hochwertige Bett lädt zur fantasievollen Dekoration ein: Mit leuchtenden Sternen an der Decke, kuscheligen Stoffen oder durchscheinenden Vorhängen können die nicht mehr ganz so Kleinen ihre Schlafstätte ganz individuell gestalten.
Die Vorhangstangen für alle vier Seiten sind dabei.
Es kann mit zwei kleinen Zusatzteilen auch aus dem mitwachsenden Hochbett gebaut werden, wenn die Kinder mal nicht mehr oben schlafen wollen.
from € 741.00
free shipping (DE)
Climbing rope free of charge when ordering in September!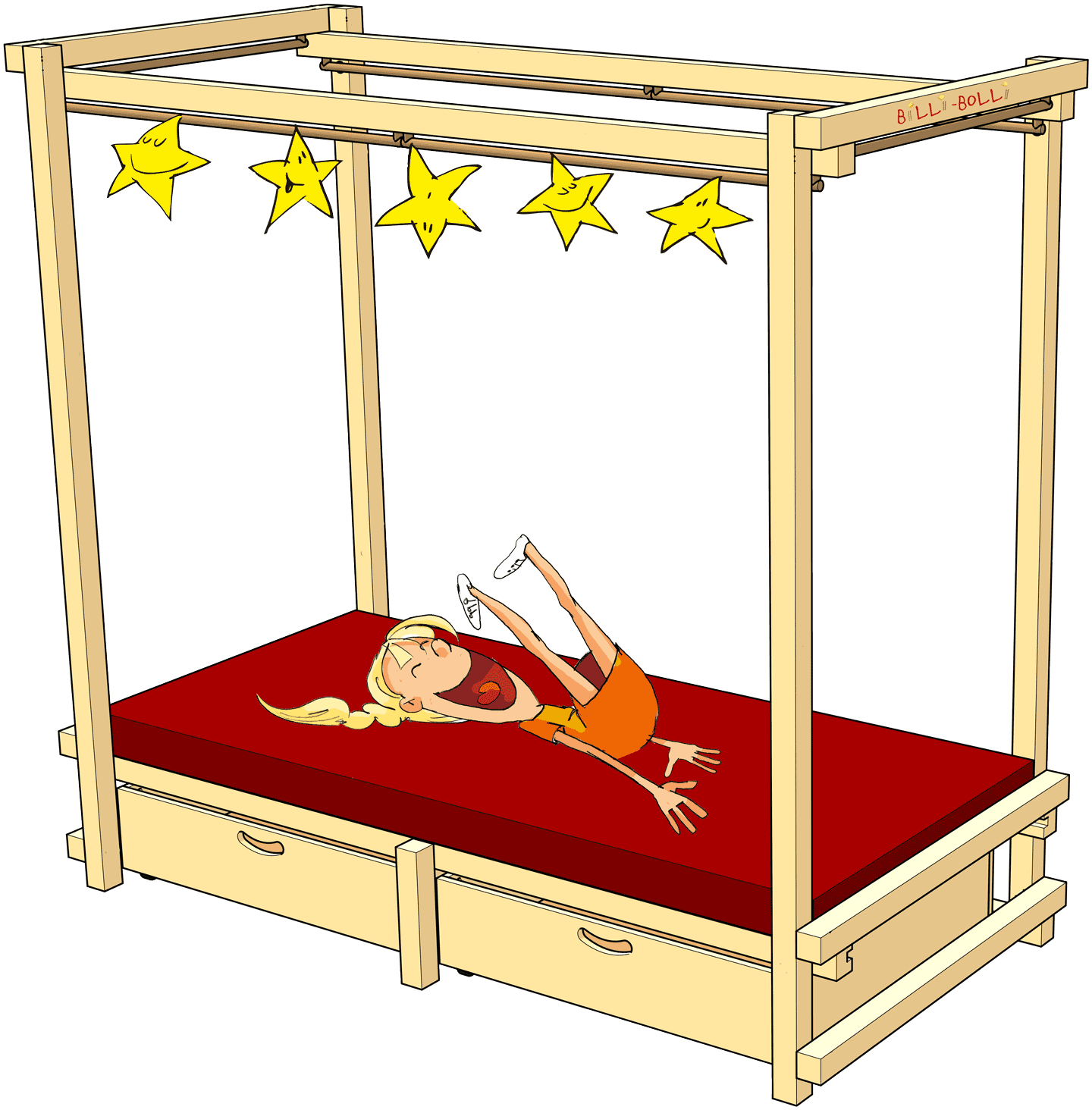 Exterior dimensions of the four-poster bed
Width = mattress width + 13.2 cm
Length = mattress length + 11.3 cm
Height = 196.0 cm

Example:
mattress size 90 × 200 cm
⇒ external dimensions of the bed: 103.2 / 211.3 / 196.0 cm
Configure four-poster bed
Customize the four-poster bed with our accessories
Customize your cot with our diverse accessories. For example, you can turn a ship, a princess castle or a fire engine out of bed. These are the most popular accessory categories:
Opinions and pictures of our customers about the four-poster bed
As promised, here are some photos of Milena's "new" bed. At first, my daughter (15) wasn't very excited to keep her "old kid's bed" but after it had been dolled up a bit she felt right at home in it, even as a teenager.
Warm regards
Andrea Kretzschmar
Dear Billi-Bolli team,
After a year and a half, we're finally getting around to sending you all a compliment for the super awesome and sturdy bed. Really a great bed that holds to an appropriate cost-benefit ratio. The delivery and service were both top-notch. Our daughter loves her Canopy Bed. Beneath the curtains are prime hiding spots, and one can also cuddle, play or just have a space to retreat.
Sincerely,
Hilgert Family
Ein Bett, um sich himmlisch wohlzufühlen
Je älter das Kind wird, desto wichtiger wird ihm der eigene und selbst gestaltete Rückzugsort. Es soll nicht mehr das Kinderbett sein, sondern etwas Erwachseneres. Das Himmelbett von Billi-Bolli erfüllt diesen Wunsch und lädt Ihren Nachwuchs dazu ein, seine Ruheoase ganz nach seinem Geschmack zu gestalten – ob als Prinzessinnen- oder Prinzenbett mit schweren Vorhängen, leicht-sommerlich mit weißem Gaze-Vorhängen oder ganz extravagant. Die Vorhänge und die eigene Dekoration markieren das Himmelbett als privaten Rückzugsort, wie ihn Kinder spätestens in den Teenie-Jahren benötigen. Geeignet ist unser Himmelbett für Kinder, die alt genug sind, um in normalen Betten zu schlafen.
Das Himmelbett kann mit zahlreichen Zubehörelementen aus unserem Sortiment erweitert und individualisiert werden. Wir empfehlen für unser Himmelbett die dazu passenden Bettkästen: Dadurch schaffen Sie unter dem Bett einen beachtlichen Stauraum, der für Bettwäsche und anderes genutzt werden kann.
Unser Himmelbett: Stabilität und Qualität von Billi-Bolli
Die bewährte Qualität von Billi-Bolli erwartet Sie auch beim Himmelbett. Von uns entworfen und in unseren Meisterwerkstätten nahe München gefertigt, genügt das Himmelbett höchsten Qualitätsansprüchen. Das verwendete Massivholz stammt aus nachhaltiger und umweltgerechter Forstwirtschaft. Je nach Wunsch fertigen wir Ihr Himmelbett aus Kiefern- oder Buchenholz. Um das Material in seiner natürlichen Ausstrahlung zu erhalten, verarbeiten wir es mit höchster Sorgfalt und Genauigkeit: Jeder Balken ist durch seine Maserung ein Unikat, das Bewusstsein vom Reichtum der Natur soll erhalten bleiben.
Hinsichtlich der Behandlung der Holzoberfläche haben Sie zahlreiche Individualisierungsoptionen, die Sie bei der Bestellung auswählen können: von naturbelassen bis hin zu farbenfrohen Lacken.
Übrigens: Wenn Sie bereits unser mitwachsendes Hochbett zu Hause haben, können Sie aus diesem mit nur zwei kleinen Zusatzteilen ein Himmelbett bauen!
Welche Maße hat das Himmelbett?
Die Maße des Himmelbetts richten sich nach der von Ihnen gewünschten Matratzengröße. Geben Sie einfach die Matratzenmaße bei Ihrer Bestellung an und wir fertigen das Himmelbett Ihren Wünschen gemäß. Um die Außenmaße des Möbelstücks zu erhalten, müssen Sie zur Matratzenlänge 11,3 cm und zur -breite 13,2 cm addieren. Ein Rechenbeispiel: Haben Sie sich für eine Matratze von 140x200 cm Größe entschieden, betragen die Außenmaße des Himmelbettes 152,2 x 211,3 cm. Die Gesamthöhe des Himmelbettes beträgt mit Betthimmel 196 cm.
So pflegen Sie ein Himmelbett
Das verarbeitete Massivholz ist robust und hält für Jahrzehnte. Trotzdem sollte das Bettgestell gelegentlich entstaubt und gereinigt werden. Dazu genügt in der Regel ein feuchtes Tuch. Stoffe, die im und am Bett verwendet werden – von Vorhängen bis hin zur Bettwäsche – müssen regelmäßig gewaschen werden. Der Bettwäschewechsel sollte alle ein bis zwei Wochen stattfinden, die Vorhänge können seltener gewaschen werden. Nicht zuletzt sollten Sie die Matratze regelmäßig lüften und gelegentlich drehen. So bleibt ihre Form erhalten und das Material kann sich erholen.