A canopy bed is a dream come true for teenagers and could make mum and dad almost jealous. The elegant and high-quality bed welcomes any imaginative designers to leave their creative mark: Kids, who are not quite so little anymore, can create their own unique sleeping quarters with stars glowing brightly at the ceiling and arrangements of cuddly fabric or transparent curtains.
Curtain rods for all four sides are included.
It can also be assembled from the Loft Bed Adjustable by Age with two small additional parts if the kids don't want to sleep in a raised sleeping level anymore.
from € 779.00
🚚 free shipping (Germany)
Please note: Price adjustment for some models & configurations on February 1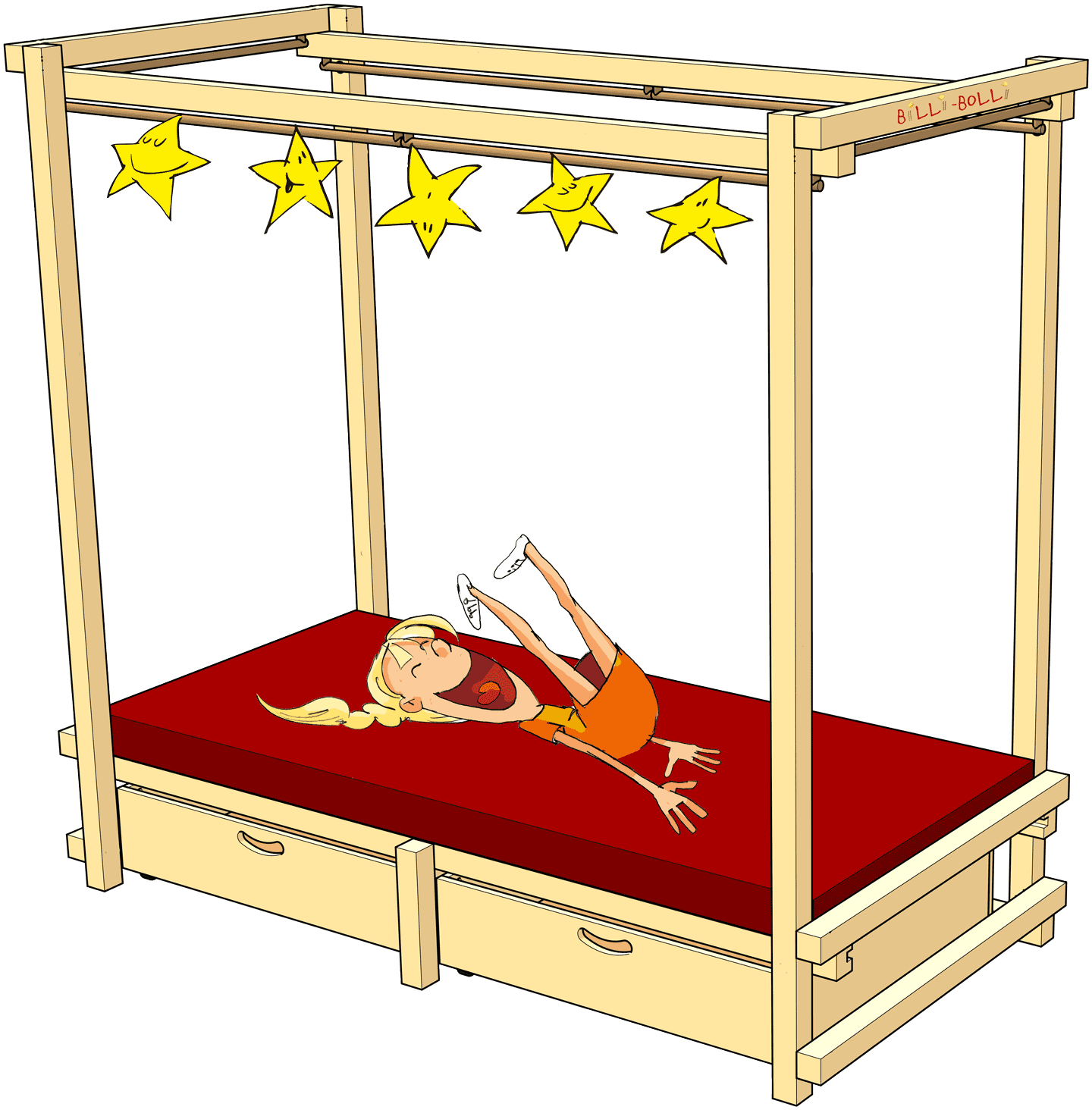 External dimensions of the Canopy Bed
Width = mattress width + 13.2 cm
Length = mattress length + 11.3 cm
Height = 196.0 cm

Example:
mattress size 90 × 200 cm
⇒ external dimensions of the bed: 103.2 / 211.3 / 196.0 cm
Configure your Canopy Bed
What you are getting …
highest safety according to DIN EN 747 ⓘ

so much fun thanks to a wide range of accessories ⓘ

wood from sustainable forestry ⓘ

a system developed over 28 years

individual configuration options

personal consultation: +49 8124 / 907 888 0

first-class quality from Germany ⓘ

conversion options with expansion sets ⓘ

7-year warranty on all wooden parts ⓘ

a detailed assembly manual ⓘ

second hand sale option ⓘ

the best value for money
included in the delivery
Included in the delivery by default:
Not included by default but optionally available are:
For a personal touch add our accessories to your Canopy Bed
Customize your cot with our diverse accessories. For example, you can turn a ship, a princess castle or a fire engine out of bed. These are the most popular accessory categories:
Our customers share their photos and experiences with the Canopy Bed
As promised, here are some photos of Milena's "new" bed. At first, my daughter (15) wasn't very excited to keep her "old kid's bed" but after it had been dolled up a bit she felt right at home in it, even as a teenager.
Warm regards
Andrea Kretzschmar
Dear Billi-Bolli team,
After a year and a half, we're finally getting around to sending you all a compliment for the super awesome and sturdy bed. Really a great bed that holds to an appropriate cost-benefit ratio. The delivery and service were both top-notch. Our daughter loves her Canopy Bed. Beneath the curtains are prime hiding spots, and one can also cuddle, play or just have a space to retreat.
Sincerely,
Hilgert Family