The Original by Billi-Bolli. Our Loft Bed Adjustable by Age accompanies kids from the toddler age (or even from birth) all the way through adolescence. Throughout the course of time, you can assemble it in different assembly heights without having to buy additional parts. Due to this, the Loft Bed actively partakes in your child's stages of development by converting first from the cot to the kids' loft bed at different heights and then to the youth loft bed. This built-in "Growing Idea" eliminates the need of purchasing additional kids' beds.
With our accessories, the Loft Bed becomes a a pirate bed, knight's castle bed, train bed, fire brigade bed, … Our kids' beds are unique in their versatility and their ability to transform into other bed types.
can be assembled laterally reversed
Assembling options for the adjustable Loft Bed
can be assembled laterally reversed
Assembly Height 1
When the little ones just begin to crawl, this height is perfect. The sleeping level is low, and falling out is impossible.
can be assembled laterally reversed
can be assembled laterally reversed
can be assembled laterally reversed
can be assembled laterally reversed
can be assembled laterally reversed
External Dimensions
Width = mattress width + 13.2 cm
Length = mattress length + 11.3 cm
Height = 228.5 cm (swing beam
)
Example:
mattress size
90x200
cm
⇒ dimensions of the bed: 103.2 / 211.3 / 228.5 cm
Variants of the adjustable Loft Bed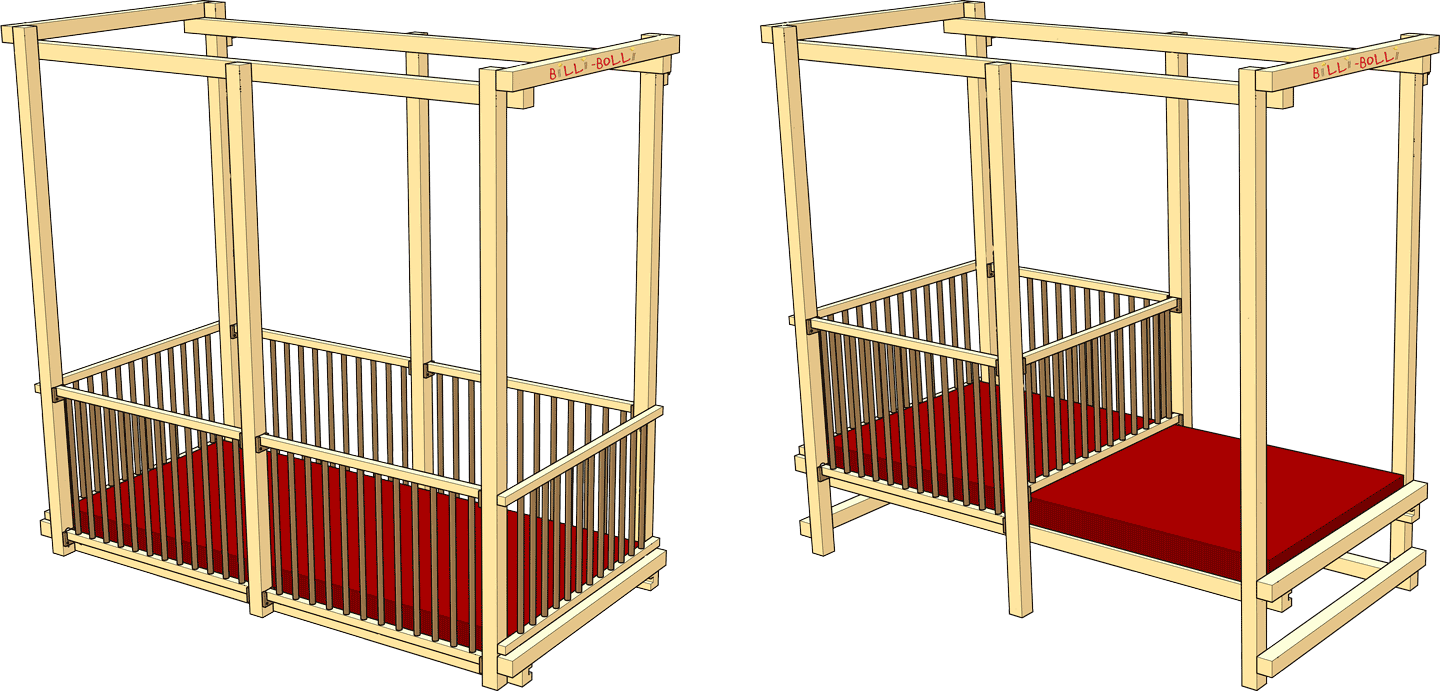 Cot Versions
Our Loft Bed Adjustable by Age can also be used already from birth as a cot. We recommend assembly heights 1, 2 or 3 for this. Gates are possible for the entire and for half of the mattress area. The gates must be ordered separately.
Later, you can assemble heights 1 through 6 (without gates, as shown) without buying any additional parts. By doing this, you have completely solved the topic of "Kids' bed" in a safe and pleasing way right from the start.
High Versions
If you want to assemble the Loft Bed at assembly heights 7 and 8 or still wish to have a high fall guard at assembly height 6, too, it may be equipped with taller outer feet.
Other Versions
The Loft Bed Adjustable by Age can – like all of our beds – also be assembled laterally reversed.
Customer opinions
Dear Billi-Bolli team,
We wanted to thank you for our super awesome high bed! Max swings on it without end; even the play crane is constantly in use. I could have not imagined what all can be brought to the top with it!
Greetings from Berlin
Marion Hilgendorff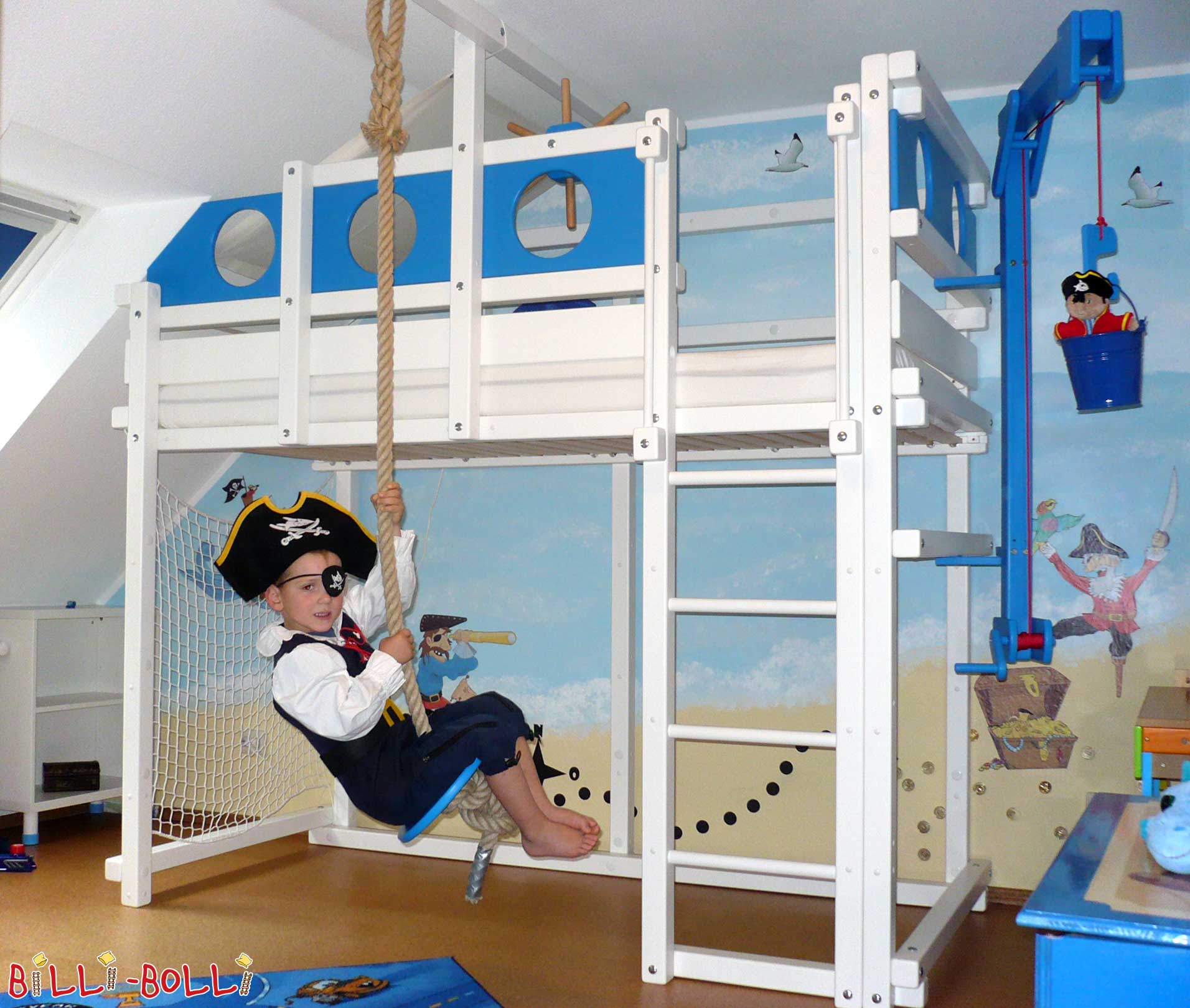 Dear Billi-Bolli team,
We would like to express our gratitude for this beautiful loft bed. Our age-adjustable pirate Loft Bed with the Pitched Roof Step, coloured white and blue, fits perfectly underneath the slope. The bed and the colors look just wonderful. Our son is super excited. Thanks.
Sincerely,
Rackow Family from Kalbe/Milde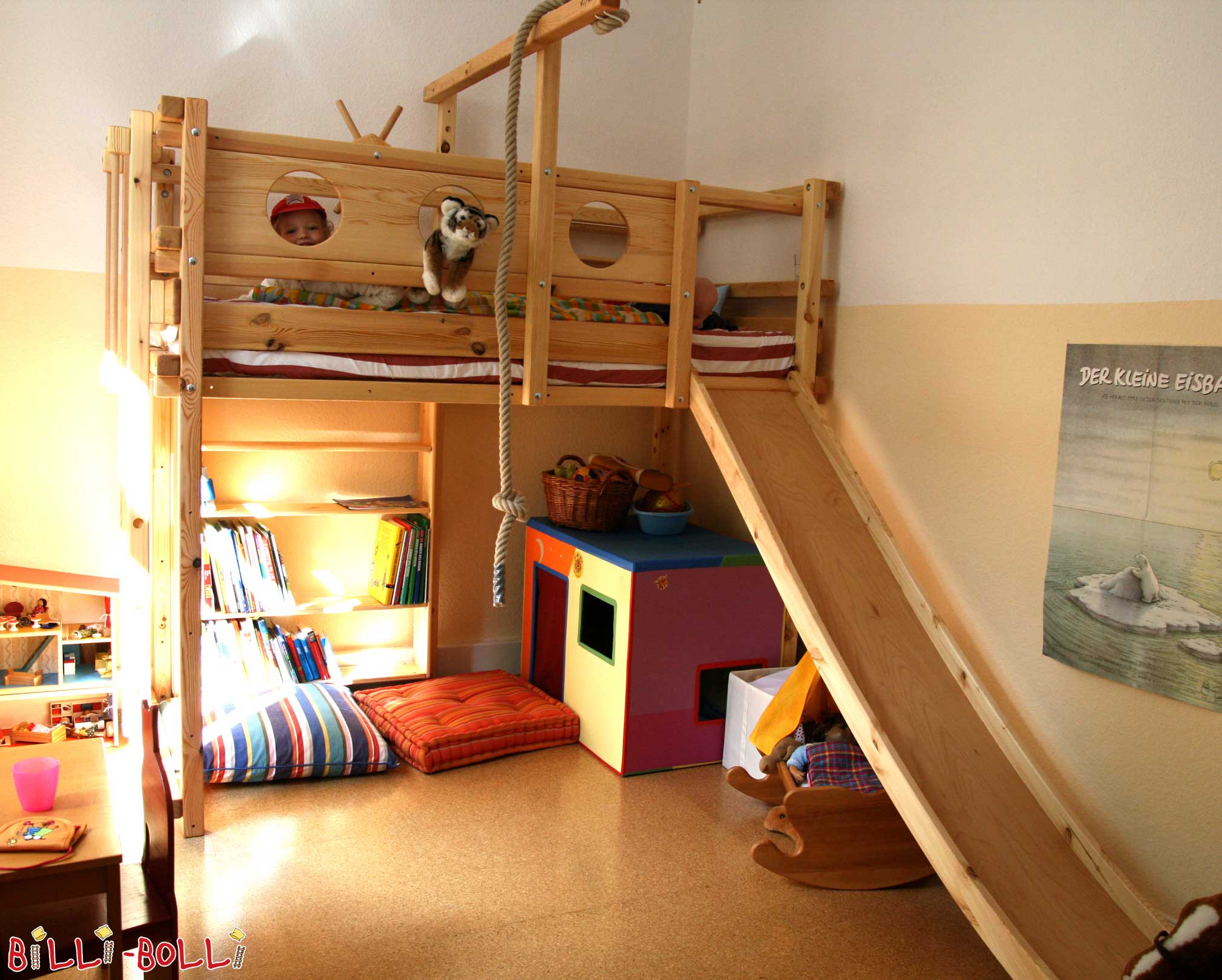 Dear creators of our wonderful adventure bed!
Unfortunately it's taken us a while to send photos your way, but we're finally getting around to it. We are still absolutely stoked about this great loft bed and we'll surely stay that way for a while. Thanks so much!
Busch-Wohlgehagen Family
Dear Billi-Bolli team,
Attached are some photos of this awesome kids' loft bed.
It is astounding how many children can play peacefully around and on this bed. Under the bed, too! You can make it very comfortable (curtains which we made ourselves).
The small overhead shelf is very practical (and has been constantly filled to the brim since the very beginning). We regularly have to clear everything away and allow our 5 year old to bring only "the most essential items" up. Every accessory has been completely worth it (and of course, the bed as well). Our 5 year old sleeps soundly in it and enjoys the chances to retreat there.
Best regards
J. Blommer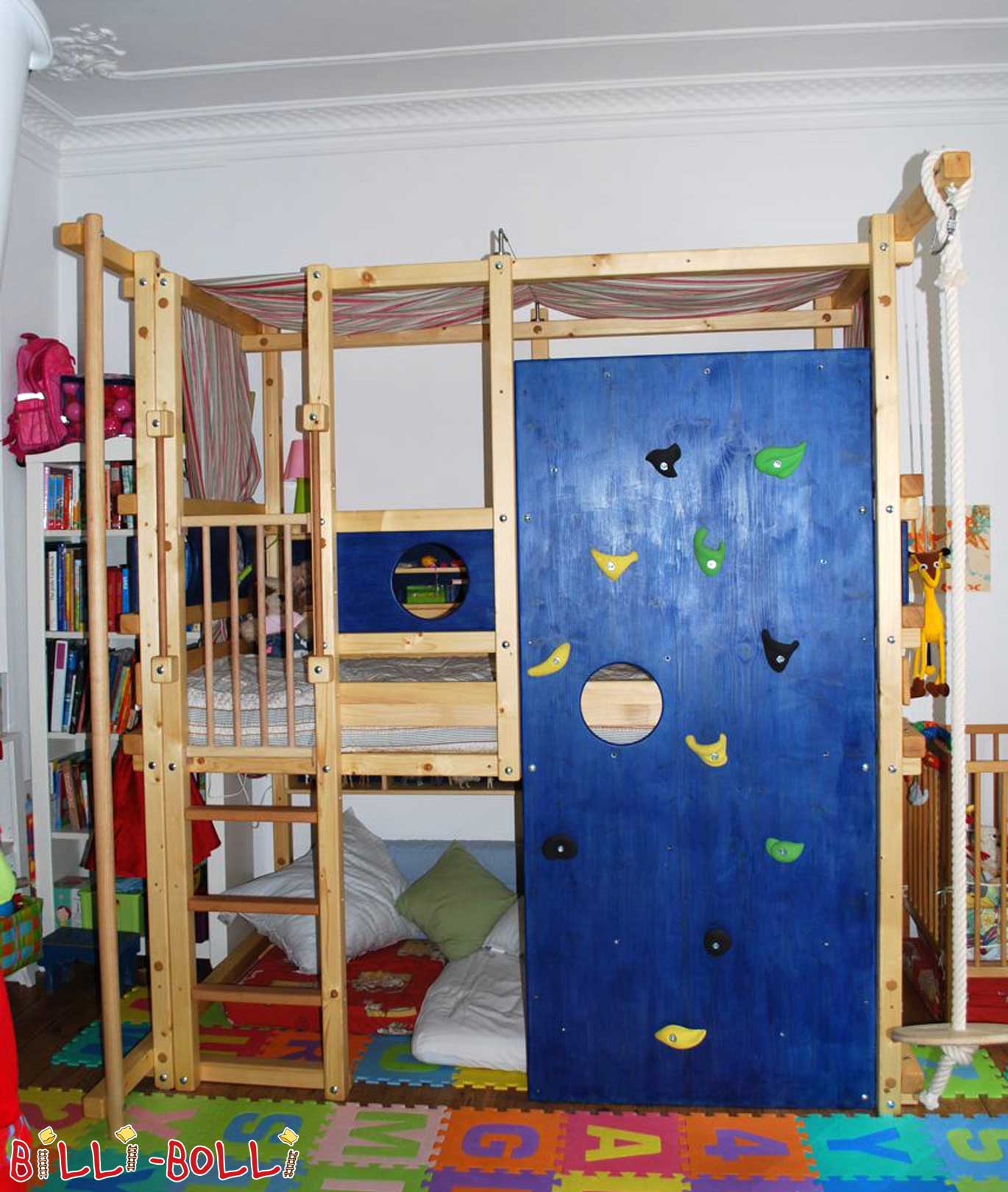 Today I'd like to finally send over a few photos to you all of our fantastic Billi-Bolli bed. It's an absolute dream and we're completely happy and satisfied with it. Our daughter loves her adjustable loft bed and calls it "her room". By using the shelves she can hide her personal belongings from her little brother. And the little brother is in seventh heaven wenn he can "come over to visit".
The assembly was also very simple. It was also a lot of fun as we truly understood the bed's principles for the first time. We would like to thank you once again so much for the friendly and competent service of your office! An enormous praise for this unique concept and the amazing quality!
Many heartfelt thanks from Copenhagen
Monika Höhn
The bed was delivered last Friday and I assembled it with the help of my in-laws… an absolute dreambed! Now if I could only be 30 years younger!
I am thrilled with the quality and design!
Iris Nachbar
Dear Billi-Bolli team,
The wonderful Billi-Bolli Loft Bed of pine (oiled with honey color) is now completely assembled. Our son is excited and swings, swings, swings. We parents are also very satisfied with the result. Wnderful quality and stable!
Warm regards from Wülfrath
Cordula Block-Oelschner with Captain Lasse
Hello dear Billi-Bolli team!
We've wanted to send you photos of both of our bed for quite some time now but something always came up. So here are the photos!
We didn't waste one second in creating our own "kingdom"! And most importantly, the children are very satisfied with both of their beds.
How time flies. After about 2 years we went to the next assembling option. The first bed for our oldest was already at assembly height 2, then at 3 and now at assembly height 4. The second bed for our youngest was a crib and is at present a crib for the youngest and a climbing castle for the oldest.
Our oldest, by the way, loves his rope that he can swing on. We think that the Swing Beam and all of its possibilities are fantastic!
Many warm regards,
Wimmer Family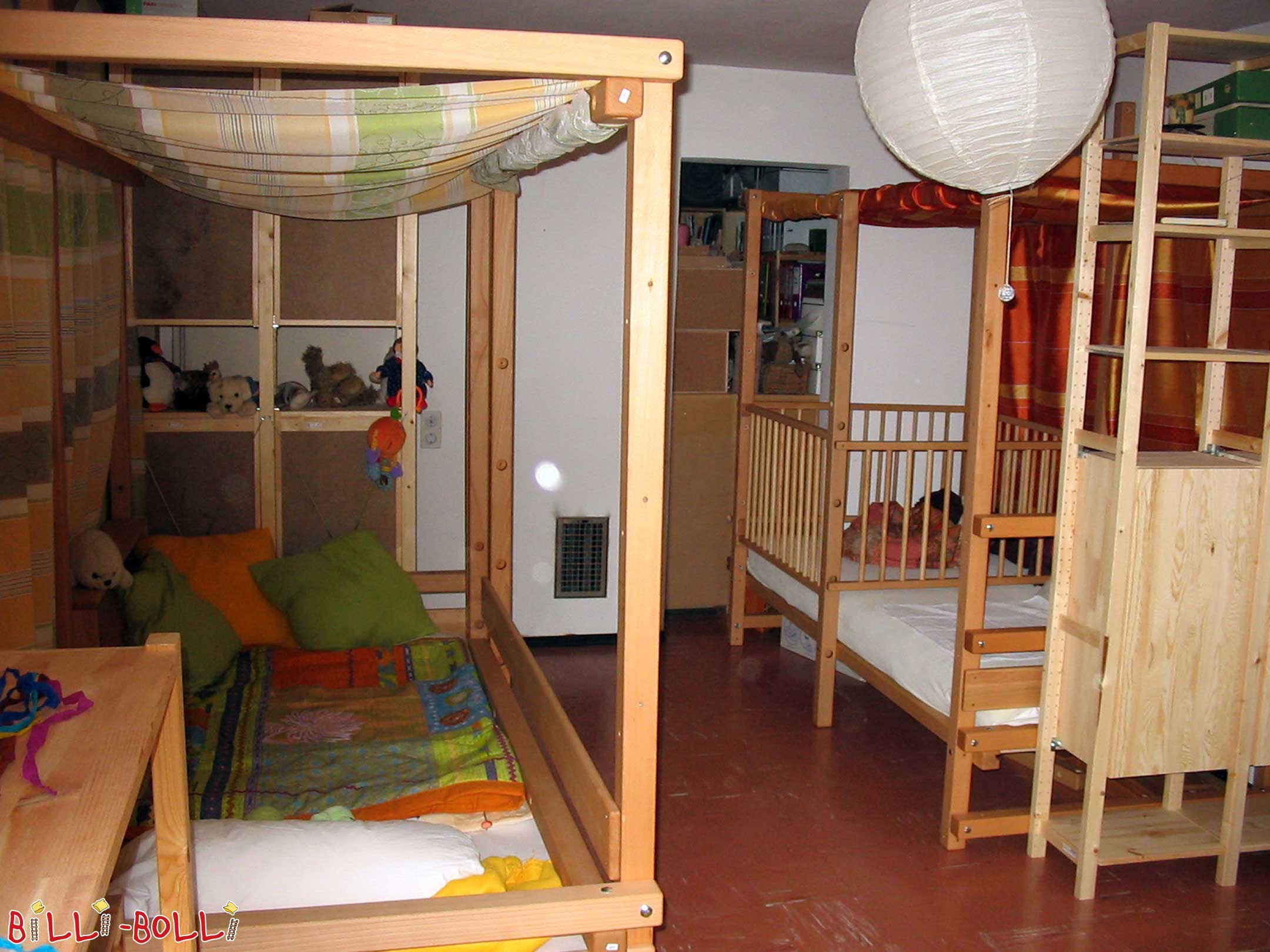 Dear Billi-Bolli team,
As I'm now looking through photos our daughter's 6th birthday, I am reminded of the photos from your website. We've had this bed for almost three years and are still very very pleased. Our two daughters are 11 months old, so the next Billi-Bolli bed will be coming shortly.
For her very special 5th birthday (Fairytale Birthday) the loft bed had to withstand quite a bit and did so easily. We continue to recommend it.
Warm greetings from Essen
Cub Family
Hello dear Billi-Bolli team,
We've got our bed last week and are totally happy and excited! The choice of 1.20 m width has proved to be very convenient and accurate. It's so nice and cosy and super well-crafted, and, and, and!
Everything went quite well, from ordering to delivery. The assembly went well and also quite quickly thanks to the Prosecco spurring us on. That should surely be the reward for the builders – yes? We have thus christened the bed and had a fun evening. Thank you for everything – you really are completely recommended!
The only thing that saddens us is the fact that we didn't buy it a lot earlier. (We knew nothing about it – that means, more advertising!)
Enclosed please find a few photos of the finished bed along with the new owner.
Greetings from Wienhausen
Grabner Family
Hello dear Billi-Bolli team,
The kids' loft bed was delivered the day before Christmas, in perfect time for celebrating Christmas :o)
By the 25th we had already assembled the bed and are very excited about it. The bed looks awesome and is very sturdy!
It was the right thing for me to decide on a Billi-Bolli bed. I looked on the Internet for a while, trying to find something comparable (or maybe less expensive) but the search didn't yield much. But now, as it is, I have to say it's worth every penny!
The loft bed is in the middle of my son's room, as the room has no straight walls, but three windows and a door :)
But thanks to the high boards (Mouse Boards) no one can fall out.
Kind regards
Hoppe Family, Luneburg Heath
Now for the cool part: The loft beds are situated at the corners of the room, creating a kind of "climbing step" that runs from the bed to the fireman's pole. Lisa climbs from her bed over to Gion's bed to use the fireman's pole from there. The rope is also very often used by all of the children. The wall that you produced for us has really come in handy and held steady. There's also a wonderfully cosy area under the bed. The children just love sitting under there reading books. Both beds are very comfortable and a pleasure to sleep in…
Funk-Blaser Family
Dear Mrs. Eckert,
Find a photo attached of our assembled loft beds. The children love their new bed and think it's absolutely wonderful!
Really an amazing product that is well worth it!
Greetings from Vienna
Andrea Vogl