The Original by Billi-Bolli.
Our growing high bed is a true transformation artist and a faithful companion of your child – from baby and crab age to kindergarten and school to adolescence. Once purchased, the uniquely well-thought-out Billi Bolli high bed can be mounted in six different construction heights (i) over the years without any additional parts. The stable and variable high bed made of solid wood makes all developmental steps of your child involved. It transforms from a cot to a cot and a youth high bed. This built-in "co-wax idea" makes the purchase of additional cots superfluous. You've done the issue with a single purchase. Sustainability, durability, flexibility and quality make the growing bunk bed the best-selling bed in our Billi Bolli bed program. We are happy about that!
And there's more to it: With our extensive, optionally available cot accessories, the growing bunk bed becomes a real play and adventure bed for pirates and pirates, knights and princesses, train drivers and firefighters, flower girls, and and and...
from € 1,039.00
free shipping (DE), 📦 immediately available
🛠️ Configuring the high bed with growing
Climbing rope free of charge when ordering in September!
can be assembled mirror-inverted
(click on image)
Ein Hochbett, viele Aufbaumöglichkeiten
Vom Babybett bis zum Jugendhochbett – das mitwachsende Hochbett aus der Billi-Bolli-Werkstatt hat für jedes Alter die richtige Aufbauhöhe:
can be assembled mirror-inverted
(click on image)
Assembly Height 1: für Babys und Kinder bis ca. 2 Jahre
Wenn die Kleinen gerade erst krabbeln können, bleibt die Liegefläche des mitwachsenden Hochbetts direkt am Boden. Hier haben die kleinen Weltentdecker fast ebenerdig viel Platz zum Schlafen, Kuscheln und Spielen und sind dabei doch rundum geschützt. Runterfallen ist unmöglich, aber selber ein- und aussteigen geht schon ganz alleine.
Ein Stoffhimmel oder Vorhänge in Ihren Lieblingsfarben machen das Bett zu einem wunderschönen Nest für die ersten beiden Lebensjahre.
Mit unseren optional erhältlichen Holz-Babygittern können Sie das mitwachsende Hochbett sogar in ein sicheres Gitterbett verwandeln und bereits für Ihr neugeborenes Baby nutzen.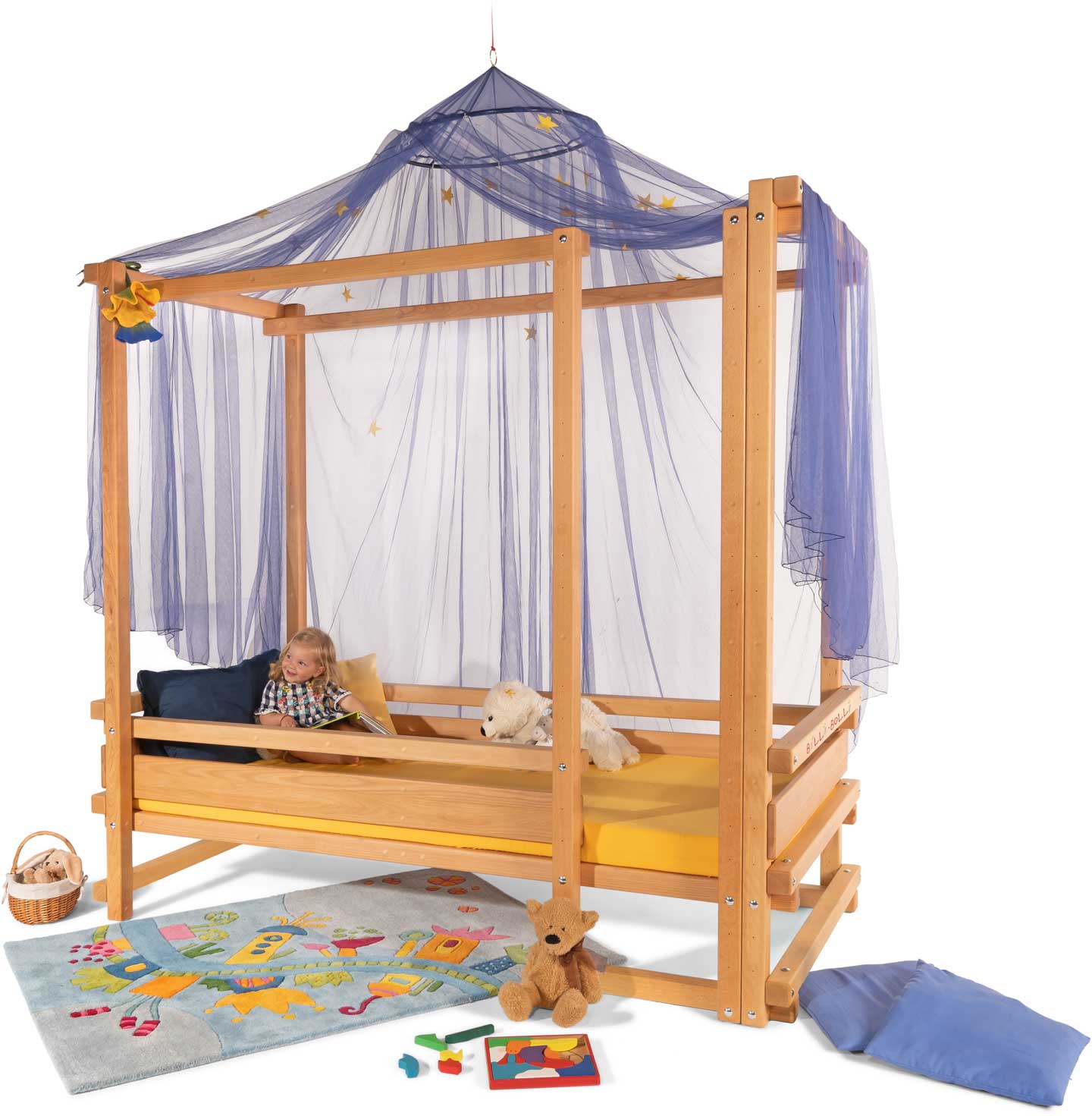 can be assembled mirror-inverted
(click on image)
Assembly Height 2: für Kinder ab 2 Jahren
Aber ich bin doch schon soooo groß! Mit ca. 2 Jahren geht es dann schon höher hinauf. Das mitwachsende Hochbett wird umgebaut und Ihr Kind liegt in der Standard-Betthöhe von 42 cm. Da können die Kleinen sicher ein- und aussteigen und morgens vielleicht schon bald alleine aufs Töpfchen gehen.
Mama und Papa machen es sich vorm Schlafengehen auf der Bettkante bequem und erzählen eine Gute-Nacht-Geschichte. So lässt es sich unter einem luftigen Sternenhimmelszelt ganz wunderbar einschlummern und träumen.
Height under the bed
ⓘ
: 26.2 cm
can be assembled mirror-inverted
(click on image)
Assembly Height 3: für Kinder ab ca. 2,5 Jahren
Kleine Gipfelstürmer und Kletterer freuen sich über dieses Schlaflager in ca. 70 cm Höhe. Der hohe Fallschutz und die Haltegriffe machen das Bett sehr sicher. Und das Beste ist: Es gibt noch zusätzlich viel Platz unter dem Hochbett! Mit einem Vorhang eignet sich die Höhle unter der Schlafebene ganz prima zum Versteckenspielen oder zum Verstauen von Spielzeug.
Nun kommt auch unser Bettenzubehör ins Spiel: Dekorative Themenbretten regen die Phantasie von Märchen-Feen, tollkühnen Rittern oder jungen Lokführern an – und schauen zudem toll aus! Ausgestattet mit der passenden Rutsche oder einem coolen Hängestuhl wird das Hochbett zum Spielbett und das Kinderzimmer zum Indoor-Spielplatz.
Height under the bed
ⓘ
: 54.6 cm
can be assembled mirror-inverted
(click on image)
Assembly Height 4: für Kinder ab ca. 3,5 Jahren
Hier wird der vorhandene Platz im Kinderzimmer gleich doppelt genutzt: Schlafen auf ca. 102 cm Höhe und unter dem Hochbett warten zwei Quadratmeter zusätzliche Spielfläche darauf, erobert zu werden. Besonders beliebt bei den Kindern ist eine Spielhöhle mit Vorhängen. Da lässt sich auch ein Kasperletheater perfekt einrichten.
Kleine Baumeister freuen sich über einen Spielkran, Akrobatinnen über den Schaukelteller oder die Kletterwand und Seefahrer über ein Steuerrad und das passende Bullaugen-Themenbrett, um sich in ihrem tollen Abenteuerbett auszutoben. Was das Richtige für Ihr Kind ist, wissen Sie am besten. Schauen Sie doch mal auf unsere Kinderbetten-Zubehör-Seite.
Ab 3,5 Jahren haben die Kinder ein sicheres Gefühl für Höhenunterschiede und können auch nachts sicher aus dem Bett klettern. Und mit dem täglichen Training wird dann bald der nächste Bettenumbau fällig.
Height under the bed
ⓘ
: 87.1 cm
can be assembled mirror-inverted
(click on image)
Assembly Height 5: für Kinder im Vorschul- und Grundschulalter
Wenn die Schulzeit beginnt, ist es auch im Kinderzimmer Zeit für eine Veränderung. Kein Problem! Unser mitwachsendes Hochbett fährt eine Etage nach oben. Bei dieser Höhe ist unter dem Hochbett viel Raum für Regale, Kaufladen oder eine gemütliche Sitz- und Kuschelecke. Und mit Klappmatratze oder Hängematte ist hier sogar Platz für einen lieben Übernachtungsgast.
Mit unseren optionalen Motivbrettern wird das Hochbett ganz spielend zum Feuerwehrauto, zur Blumenwiese oder zur Ritterburg, oder, oder … Und – hui! – wie wäre der Ausstieg ganz flott über eine zusätzliche Rutsche oder die Feuerwehrstange? Bei unserem Kinderbettenzubehör haben Sie nur die Qual der Wahl.
Die Kinder sollten für das Schlafen in 135 cm Höhe schon sichere Kletterer sein und sich rundum wohlfühlen im oberen Stock. Der hohe Fallschutz und die Haltegriffe an der Leiter sorgen für behüteten Schlaf in der Nacht und Halt beim Ein- und Aussteigen.
Height under the bed
ⓘ
: 119.6 cm
can be assembled mirror-inverted
(click on image)
Assembly Height 6: für Schüler ab 10 Jahren, Jugendliche und junge Erwachsene
Echt cool, wenn man hier in einer Höhe von ca. 167 cm chillen und schlafen kann und unter dem Kinder- und Jugendbett so viel zusätzlicher Platz frei ist. Zum Beispiel für den Schreibtisch, für Regale und Schränke oder für eine gemütliche Sitzecke zum Lesen, Lernen und Musikhören. So wird selbst das kleinste Kinderzimmer perfekt genutzt und auch noch der Teenager kann sein kleines Reich ganz nach eigenem Geschmack einrichten und nutzen.
Das mitwachsende Hochbett hat in dieser Höhe standardmäßig nur noch einen einfachen Fallschutz. Die Kinder ab 10 Jahren sollten sich also motorisch sicher bewegen und risikobewusste Kletterer sein.
Height under the bed
ⓘ
: 152.1 cm
Dimensions
Width = mattress width + 13.2 cm
Length = mattress length + 11.3 cm
Height = 228.5 cm (swing beam
ⓘ
)
Height of the legs
ⓘ
: 196.0 cm
Example:
mattress size 90 × 200 cm
⇒ external dimensions of the bed: 103.2 / 211.3 / 228.5 cm
Variants of the Loft Bed Adjustable By Age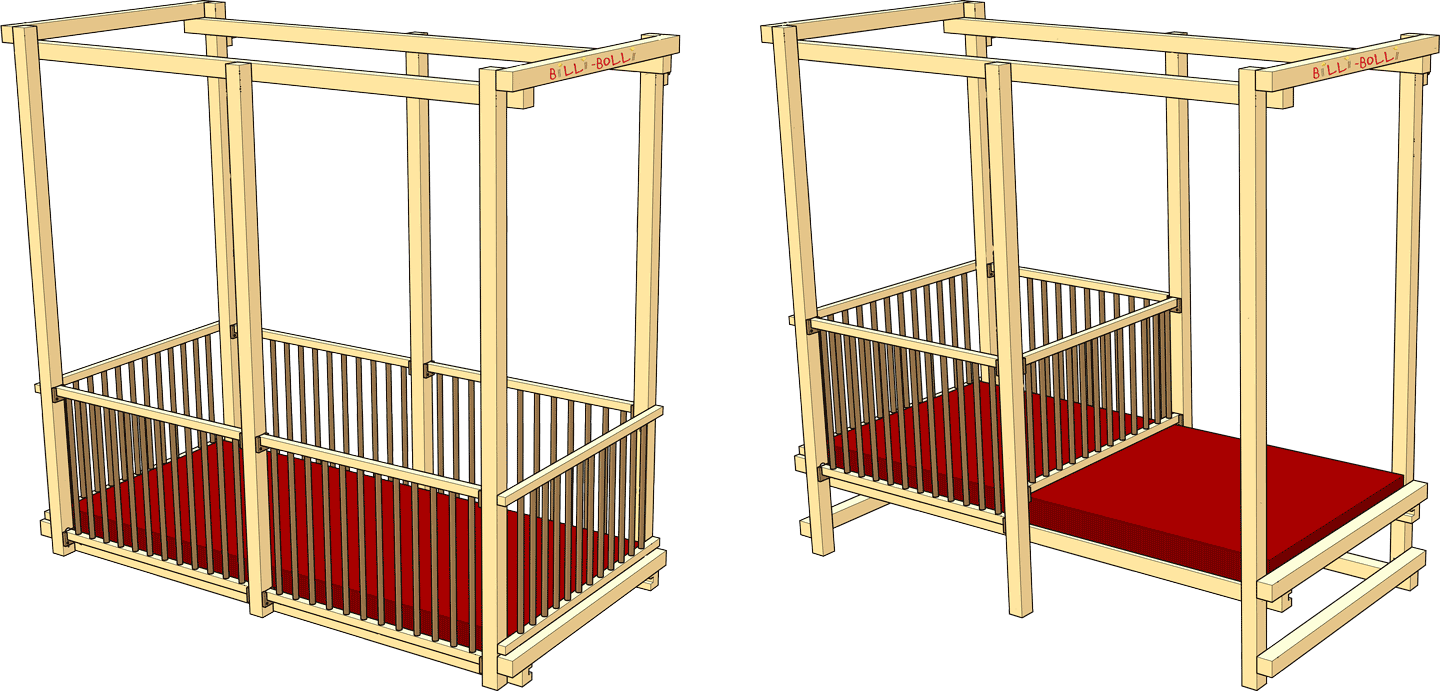 Cot Versions
Gut behütet vom ersten Tag an! Sie können unser mitwachsendes Hochbett sogar schon ab der Geburt Ihres Babys auch als Gitterbett nutzen. Die passenden Babygitter sind wahlweise für die volle und für die halbe Matratzenfläche optional erhältlich und können auf den Aufbauhöhen 1, 2 und 3 verwendet werden. So haben Sie das Thema Kinderbett von Anfang an auf sichere und spaßbringende Weise vollständig gelöst.
Aufbauhöhen 7 und 8: die extrahohen Varianten
Darf es noch etwas mehr sein? Wenn Sie das Hochbett für Teenager oder junge Erwachsene in den Aufbauhöhen 7 und 8 ⓘ aufbauen möchten oder auch auf Höhe 6 noch einen hohen Fallschutz wünschen, kann es mit noch höheren Füßen und einer höheren Leiter ausgestattet werden.
Other possibilities
The Loft Bed Adjustable by Age can – like all of our beds – also be assembled mirror-inverted.
Configuring the high bed with growing
Customize this cot with our accessories
Customize your cot with our diverse accessories. For example, you can turn a ship, a princess castle or a fire engine out of bed. These are the most popular accessory categories:
Photos of our customers
We have received these photos from customers. Click an image for a large view.
Customer opinions on the growing high bed
Dear Billi-Bolli team,
We wanted to thank you for our super awesome loft bed! Max swings without end, even the play crane is constantly in use. I could not believe how much it can actually lift!
Greetings from Berlin
Marion Hilgendorff
Maria does not want to sleep anywhere else anymore. Greetings from Greece.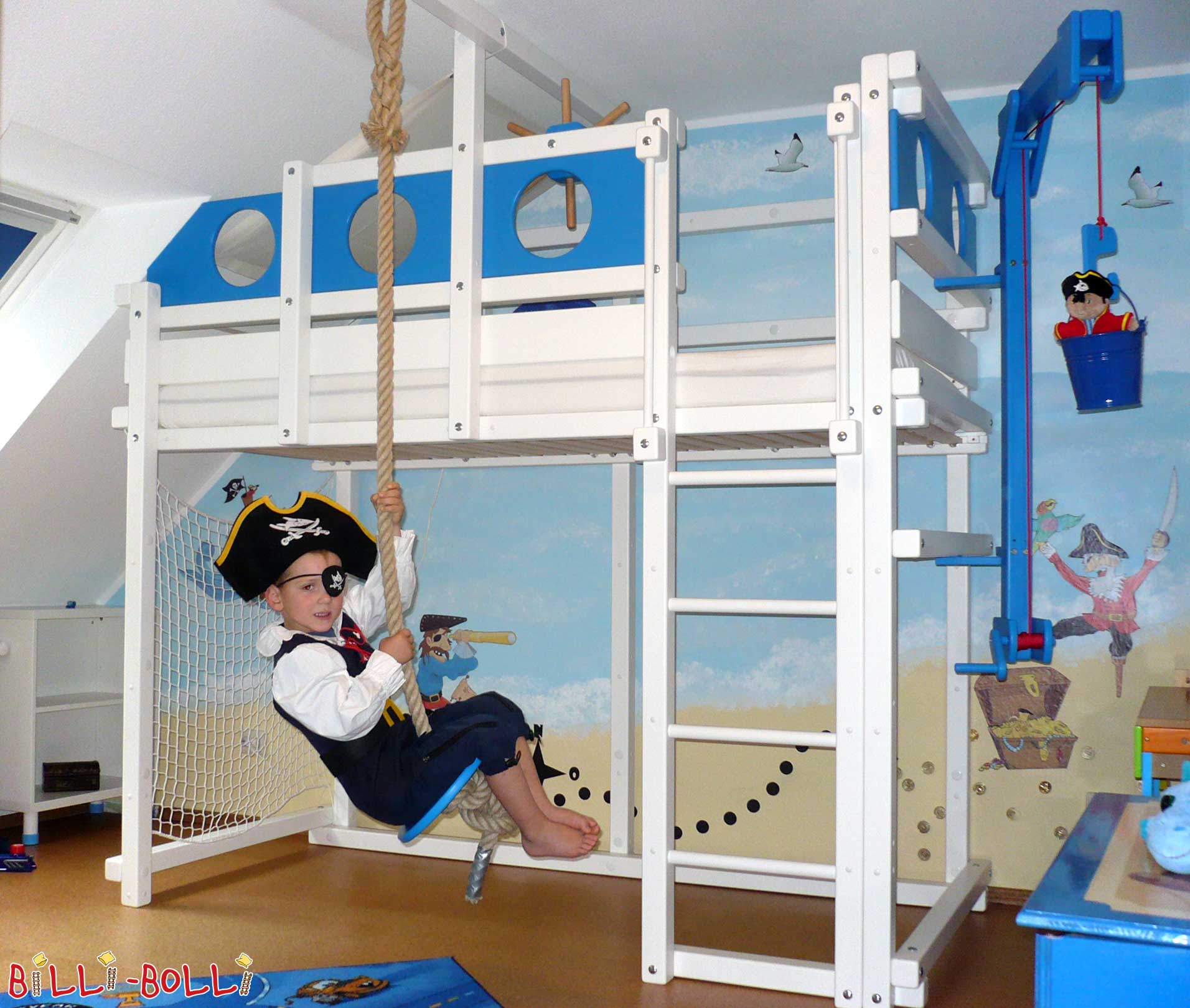 Dear Billi-Bolli team,
We would like to thank you for this absolutely beautiful loft bed. Our age-adjustable pirate loft bed with the pitched roof step, coloured in white and blue, fits perfectly underneath our pitched roof. The bed, as well as the colours, look just wonderful. Our son is super excited. Thanks.
Sincerely,
Rackow Family from Kalbe/Milde
It has been three months now since we mounted our loft bed and we would like to send you a few pictures today, combined with a very big thank you for this fantastic bed.
On the 1st August our daughter received it for her 4th birthday and she has been excited about her castle ever since – "Sleeping Beauty" is currently her favourite theme.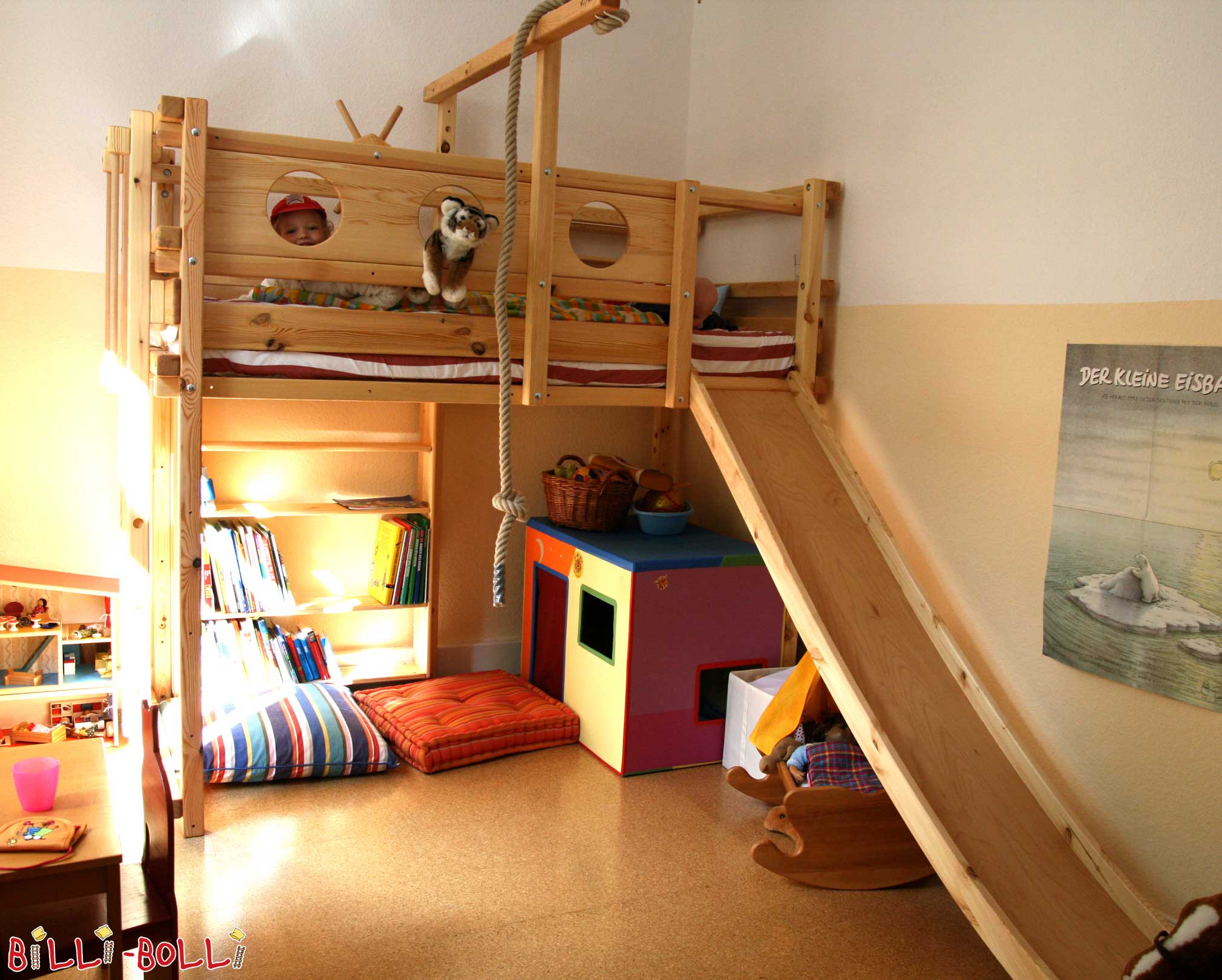 Dear creators of our wonderful adventure bed!
It has taken us, unfortunately, a while to send photos your way, but we finally got around to it. We are still absolutely stoked about our great loft bed and we surely will stay this way for a long while. Thank you so much!
Busch-Wohlgehagen Family
Dear Billi-Bolli team,
Attached are some photos of this awesome kid's loft bed…
It is astounding how many children can play peacefully around it as well as on it. Even under the loft bed you can make yourself cosy (the curtains are handmade).
The small overhead shelf is very practical (it is constantly filled to the brim and we regularly have to remind our 5-year-old to clear everything away and tell him to only bring up "the essential items"). Every accessory has been absolutely worth it (and of course, the bed as well). Our 5-year-old sleeps soundly in it and enjoys the opportunities to retreat.
Best regards
J. Blommer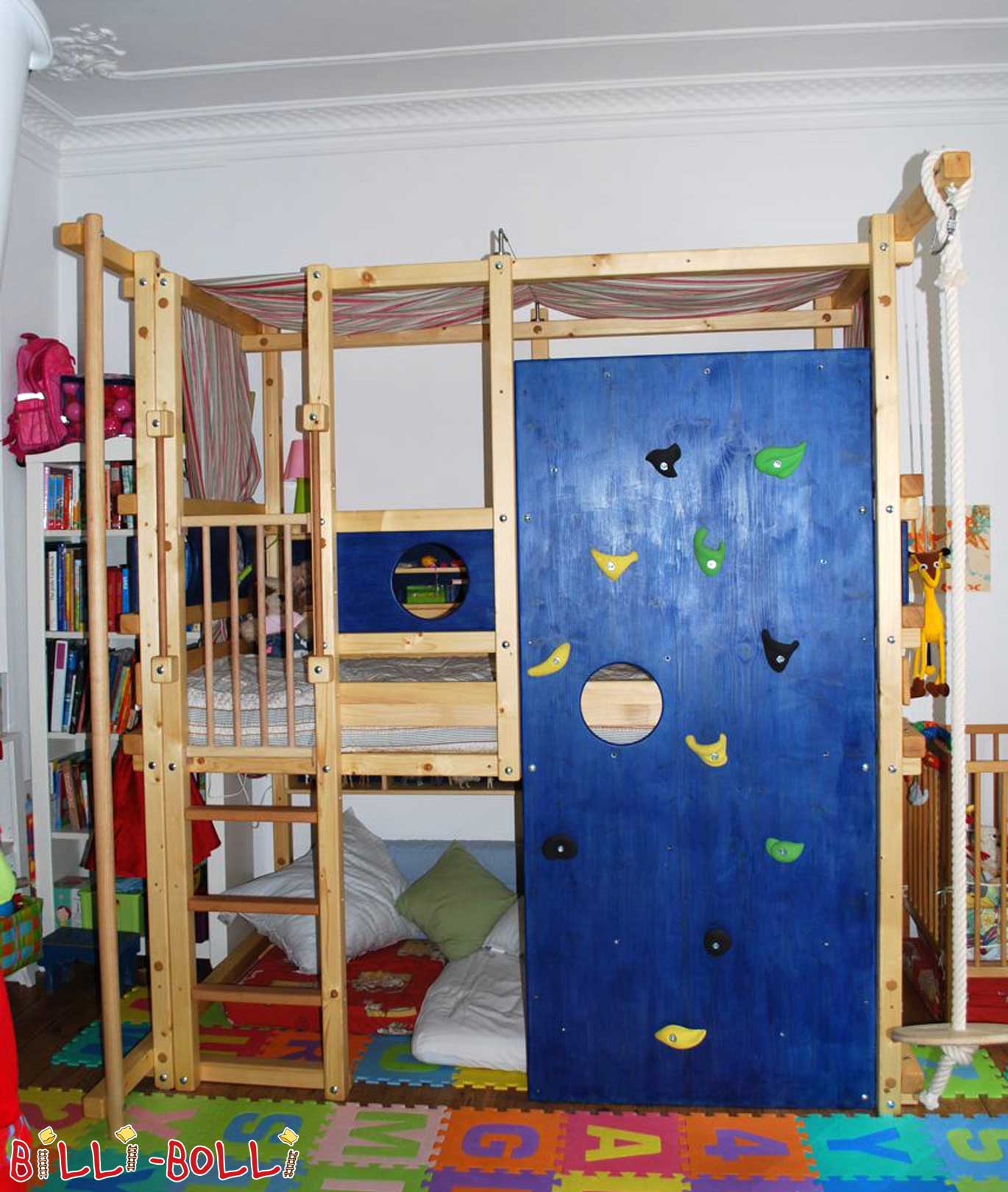 Today I'd like to finally send you a few photos of our fantastic Billi-Bolli bed. It's an absolute dream and we're totally happy and satisfied with it. Our daughter loves her adjustable loft bed to bits and calls it "her room". Thanks to the shelves she can also hide her personal belongings from her little brother. And the little brother is in seventh heaven when he is invited to "come over and visit" her.
The assembly of the loft bed was also very simple. It was actually a lot of fun once we understood the bed's design. We would like to thank you again for the friendly and competent service of your team, we appreciate it! And enormous praise for this unique concept and the amazing quality!
Many heartfelt thanks from Copenhagen
Monika Höhn
The loft bed was delivered last Friday and I assembled it with the help of my in-laws… an absolute dream-bed! Now if I could only be 30 years younger!
I am thrilled with the quality and design!
Thank you so much!
Iris Nachbar
Dear Billi-Bolli team,
The wonderful Billi-Bolli Loft Bed made of pine (with honey colour oil finish) is now completely assembled. Our son is excited and swings, swings and swings. Us parents are also very satisfied with the result. Wonderful quality and very sturdy!
Warm regards from Wülfrath
Cordula Block-Oelschner with Captain Lasse
Hello dear Billi-Bolli team!
We have been meaning to send you photos of both of our beds for quite some time now but something always came up. So here are the photos!
We didn't regret for one second creating for each of our kids their own "kingdom"! And most importantly, the children are very satisfied with their beds.
How time flies. After about 2 years we went to the next assembling option. The first bed, for our oldest, was already at assembly height 2, then at 3 and now at assembly height 4. The second bed, for our youngest, was a cot and it is at present a crib for her and a climbing castle for the oldest.
Our oldest, by the way, loves to swing on his rope. We think that the swing beam and all of its possibilities are fantastic!
Many warm regards,
Wimmer Family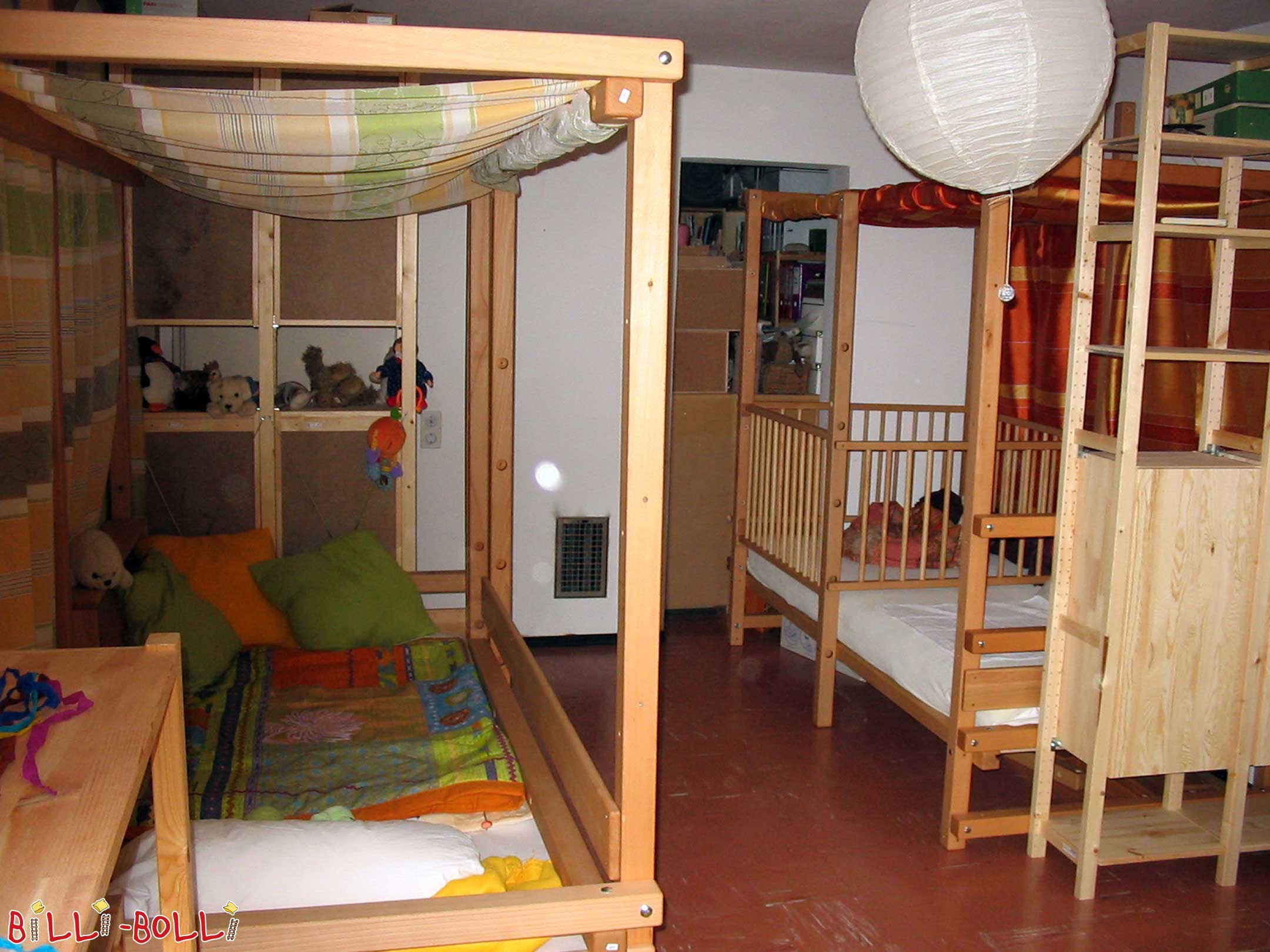 Dear Billi-Bolli team,
As I'm now looking through photos of our daughter's 6th birthday, I remembered the photos on your website. We've had this bed for almost three years and are still very, very pleased with it. Our second daughter just turned 11 months, so that the next Billi-Bolli bed will be needed shortly…
For her very special Fairytale Birthday the loft bed had to withstand quite a bit and did so with ease. We always enjoy to recommend it.
Warm greetings from Essen
Cub Family
Dear Billi-Bolli-Team!
In the meantime, we have let someone sow a matching curtain with fish motif for us, which works very well with the loft bed!
Our son has a lot of fun with the bed (his sister actually as well…)! Again, thank you very much!
Best regards from Braunschweig!
Hello dear Billi-Bolli team,
We've got our bed last week and are totally happy and excited! Choosing the 1.20 m width has been proven to be very comfortable and ideal. It's so nice and cosy and super well-crafted, and and and!
Everything went pretty well, from ordering to delivery. The assembly went well and also quite quickly thanks to the Prosecco spurring us on. It was surely meant as a reward for the busy builders – right? We have thus christened the bed and had a fun evening. Thank you for everything – you really are completely recommendable!
The only thing that saddens us is the fact that we didn't buy it a lot earlier. (We knew nothing about it – this means: more advertising!)
Enclosed please find a few photos of the finished bed along with the new owner.
Greetings from Wienhausen
Grabner Family
Hello dear Billi-Bolli team,
The kid's loft bed was delivered the day before Christmas, in perfect time for celebrating Christmas :o)
By the 25th we had the bed already assembled and are very excited about it. The bed looks awesome and is very sturdy!
Choosing a Billi-Bolli bed was the right decision. I looked on the Internet for a while, trying to find something comparable (or maybe less expensive) but the search didn't yield much. But now, as it is, I have to say it's worth every penny!
The loft bed is in the middle of my son's room, as the room has no straight walls, but three windows and a door :)
But thanks to the high boards (mouse boards) no one can fall out.
Kind regards
Hoppe Family, Luneburg Heath
Now for the cool part: The loft beds have been mounted over the corner of the room, creating a kind of "climbing step". The only way down from the bed is the fireman's pole. Lisa climbs over from her bed to Gion's bed to also use the fireman's pole from there. The rope is also in use,very often by all of the children. The wall that you produced for us has really come in handy and held steady. There is also a wonderfully cosy area under the bed. The children just love sitting down there reading books. Both beds are very comfortable and a pleasure to sleep in…
Funk-Blaser Family
Dear Mrs. Eckert,
You will find a photograph of our assembled beds attached. The children love their new bed and I think it is absolutely beautiful!
A truly great and valuable product!
Kind regards from Vienna
Andrea Vogl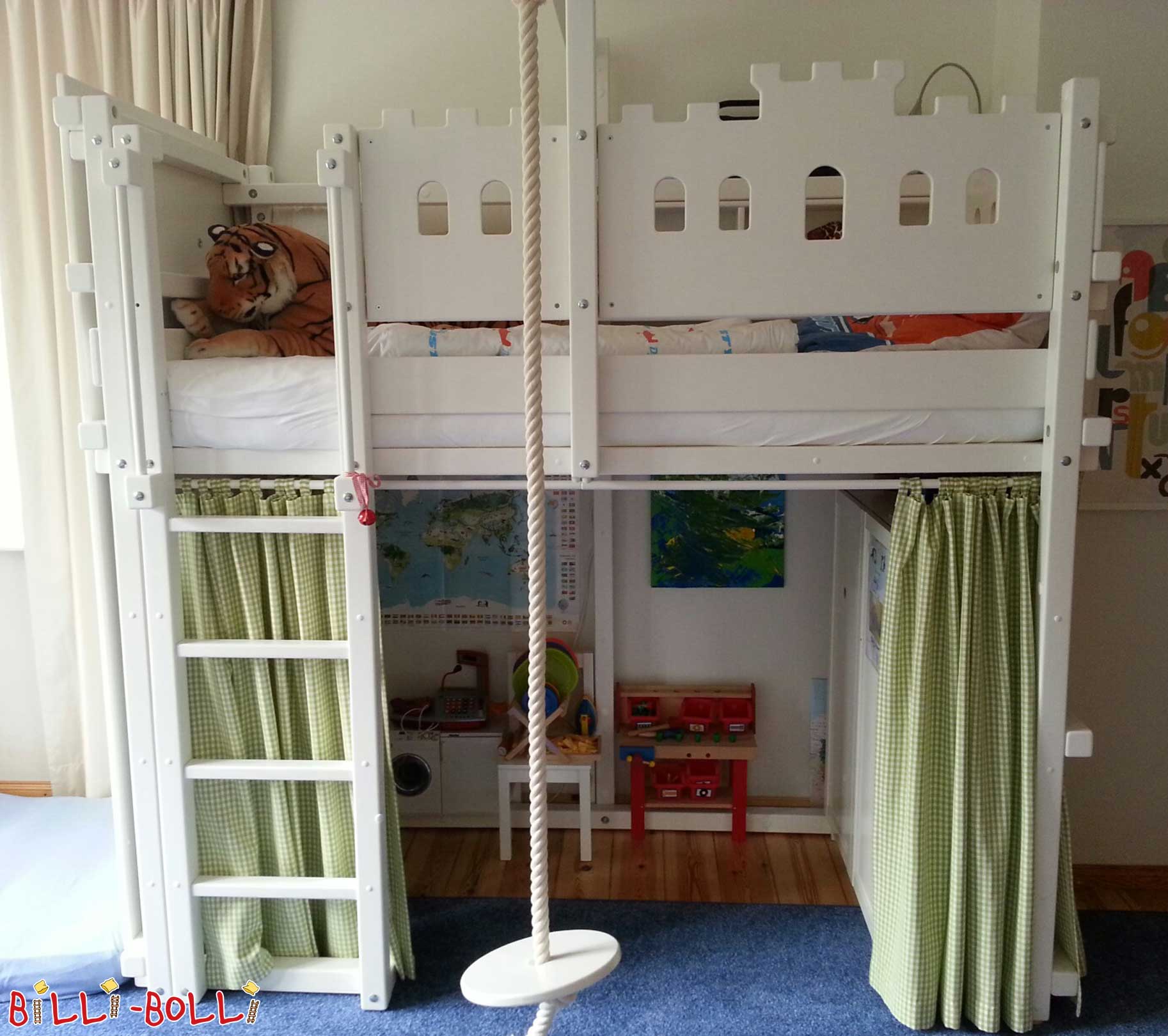 My son is as happy as he can be ("Mama, I love this bed"), family, friends and acquaintances as well. My brother now also wants to get one of these loft beds for his young daughter, the same with a colleague.
In the meantime, we have mounted the loft bed at a new height and the new desk works very well, we are again blown away by the Billi-Bolli quality! Attached you can see the happy children with their new furniture.
Thank you very much.
Wolff/Biastoch Family