With the Corner Bunk Bed wonderful play dens can be created with a few curtains. It is a very good choice for bigger children's rooms.
The upper sleeping level is at height 5 (for children 5 years old and up). It can also be assembled at height 4 (for children 3.5 years old and up; please specify when ordering). The lower level can be equipped with Baby Gates.
If both sleeping levels have the same mattress size, they can also be assembled above one another without any additional parts, just like the Bunk Bed. If you would then like to use two Bed Drawers and the ladder is on position A or B , the ladder must be shortened at the bottom so that both Bed Drawers can be pulled out. We shorten the ladder free of charge, you only pay for shipping. Or you can do it yourself (with a draft from us).
With just a few additional beams this kids bed can easily be converted into a separate Low Youth Bed and a Loft Bed.
If you choose the same mattress size for both sleeping levels, you can assemble the Corner Bunk Bed also like the Bunk Bed Laterally Staggered.
can be assembled laterally reversed
External Dimensions
Width = mattress length below + 11 cm
Length = mattress length above + 11 cm
Height = 228.5 cm (swing beam
)
Example:
mattress size below
90x200
cm , mattress size above
100x200
cm
⇒ dimensions of the bed: 211 / 211 / 228.5 cm
Option with swing beam on the edge
As with all bed types, the swing beam can also be shifted to the edge.
This is recommended with the Corner Bunk Bed if you want to attach a Climbing Rope.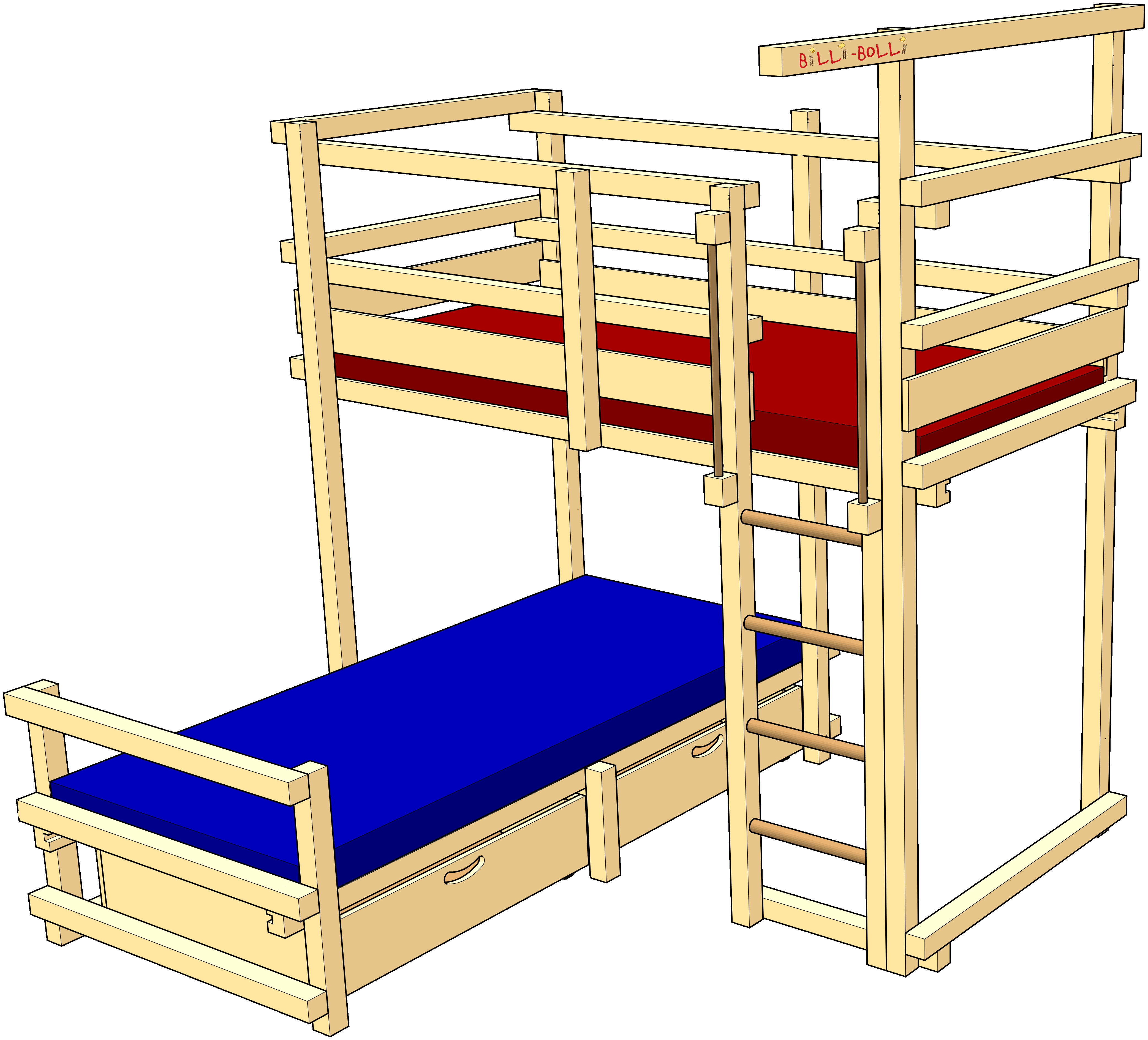 can be assembled laterally reversed
The bed is, as expected, top-quality, extremely robust and doesn't make any noises when one climbs in. The customized painting with the special colour came out beautifully. The wardrobe is also a very beautiful, high-quality build. One can see the attention to detail with both the wardrobe and the bed, and know that someone put a lot of thought into them. Both we and our daughter are very excited.
Sincerely,
Friedrich Family
Dear Billi-Bolli Team,
We received the Corner Bed about two months ago and Florian (2 years old) and Lukas (6 months) are totally excited. They especially love the den underneath the bed and use it often, as does the rest of the family :-).
We decide to go with assembly heights 2 and 4 and Florian can climb alone up and down the ladder with no problem. We attached two book shelves to the bed above, where many stuffed animals now reside. Lukas has lots of space in the kids bed and as he gets older, the bars can just be removed.
A completely unique bed, all in all. Thanks.
Warm greetings from the Rheinland
Paul Family