In a bigger children's room the Corner Bunk Bed with two sleeping levels perpendicular to each other makes clever use of the corner. The across the corner arrangement of both kid's beds is a real eye-catcher and naturally prompts children to start playing, climbing and other rough-and-tumble-play. This bed will wow your kids as well as their friends.
The upper sleeping level of the Corner Bunk Bed is assembled at height 5 ⓘ (for kids aged 5 and above, according to DIN safety standard for kids aged 6 and above ⓘ), yet an initial assembly at height 4 can also be requested ⓘ (aged 3.5 and above). The bottom level can be equipped with Baby Gates and is already suitable for the little brother or sister.
from € 1,449
🚚

worldwide delivery
📦
immediately available
🛠️🛒 Configure your Corner Bunk Bed
FREE
hanging cave
if you place an order by
January 30
!
can be assembled mirror-inverted
(click on image)
Equipped with fantastic theme boards and versatile Billi-Bolli bed accessories you can turn the Corner Bunk Bed into a real playground for your kids. No matter if firefighter, engine driver or builder, the bunk bed offers enough room for your children's acrobatic, magical or heroic imaginations, role playing and movement. And when your little rascals get tired in the evening, they find restful sleep in the two generous, cuddly sleeping areas, where they continue their adventures in their dreams. A particularly great feature of the corner bed for siblings: your children can easily hold eye contact.
You can turn the free space available on one side below the top bed into a fantastic play den by adding a few curtains. The optional bed drawers create even more storage space under the kids' bed.
By the way: If you choose the same mattress size for both sleeping levels, you can mount both beds on top of each other like the bunk bed without the use of any additional parts; with a small extra part you can also mount the bed laterally staggered. Or transform the Corner Bunk Bed into a freestanding Low Youth Bed and a separate Loft Bed with a few extra beams. You see, our clever Billi-Bolli bed-system adjusts perfectly to every circumstance and is therefore extremely flexible and sustainable.
Corner Bunk Bed option with corner swing beam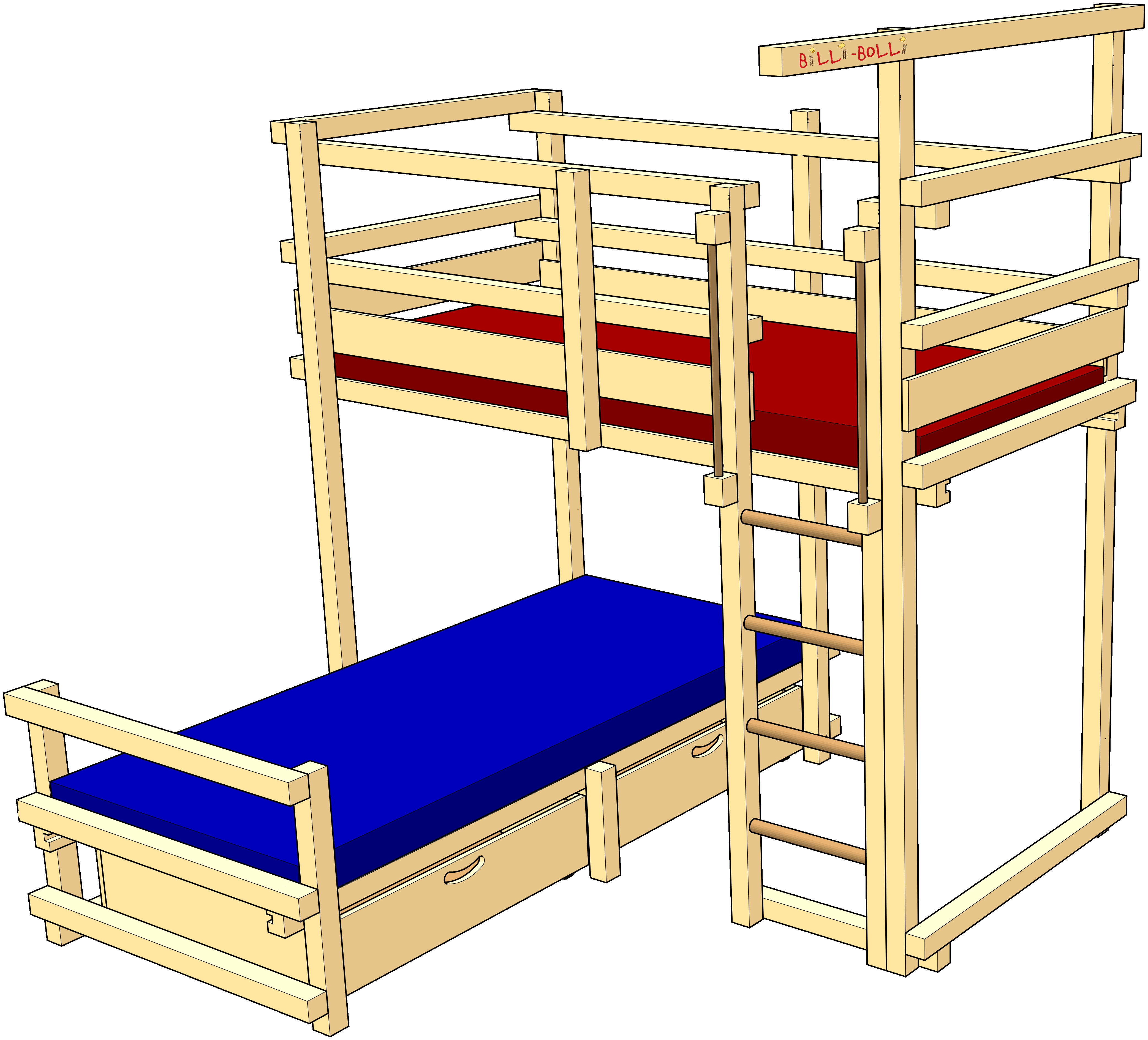 can be assembled mirror-inverted
(click on image)
The swing beam ⓘ can also be moved to the corner of the Corner Bunk Bed (as with all bed types).
This is recommended for the Corner Bunk Bed if you want to attach a Climbing Rope. This way it can swing more easily.
Configure your Corner Bunk Bed
Our customers share their photos
Our customers shared these photos with us. Click an image to view at full size.
Tested safety according to DIN EN 747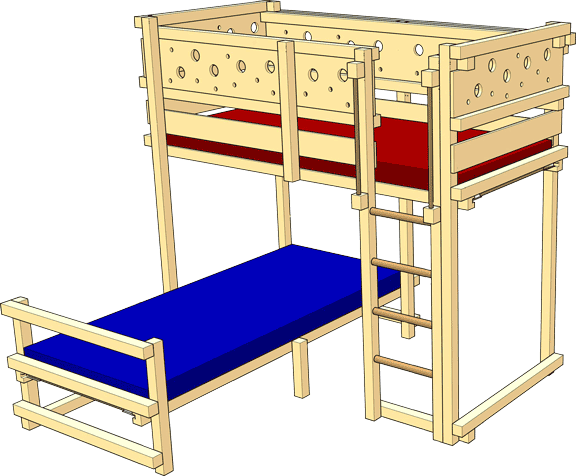 Our Corner Bunk Bed is the only corner bunk bed of its kind that we are aware of fulfilling the DIN EN 747 safety standard for "Bunk beds and high beds". The TÜV Süd examined every detail of the Corner Bunk Bed, assessing the compliance with the permitted dimensions of gaps and the other requirements of the testing standard, in very strict strength and durability as well as safety tests. Tested and awarded the GS mark for "Geprüfte Sicherheit" (Tested Safety): the Corner Bunk Bed in 80 × 200, 90 × 200, 100 × 200 and 120 × 200 cm with ladder position A, without Swing Beam, equipped with Mouse Theme Boards all around, untreated and oil-waxed. All other configuration variations of the Corner Bunk Bed (e.g. different mattress size) also meet all the important safety requirements of the testing standard, including the dimensions permitted for gaps. If you value a safe bunk bed, look no further. More information about the DIN standard, TÜV tests and the GS certification →
External dimensions of the Corner Bunk Bed
Width = mattress length bottom + 11.3 cm
Length = mattress length top + 11.3 cm
Height = 228.5 cm (swing beam
ⓘ
)
Example:
mattress size bottom 90 × 200 cm, mattress size top 100 × 200 cm
⇒ external dimensions of the bed: 211.3 / 211.3 / 228.5 cm
What you are getting …
highest safety according to DIN EN 747 ⓘ

so much fun thanks to a wide range of accessories ⓘ

wood from sustainable forestry ⓘ

a system developed over 28 years

individual configuration options

personal consultation: +49 8124 / 907 888 0

first-class quality from Germany ⓘ

conversion options with expansion sets ⓘ

7-year warranty on all wooden parts ⓘ

a detailed assembly manual ⓘ

second hand sale option ⓘ

the best value for money
Included in the delivery
Included in the delivery by default: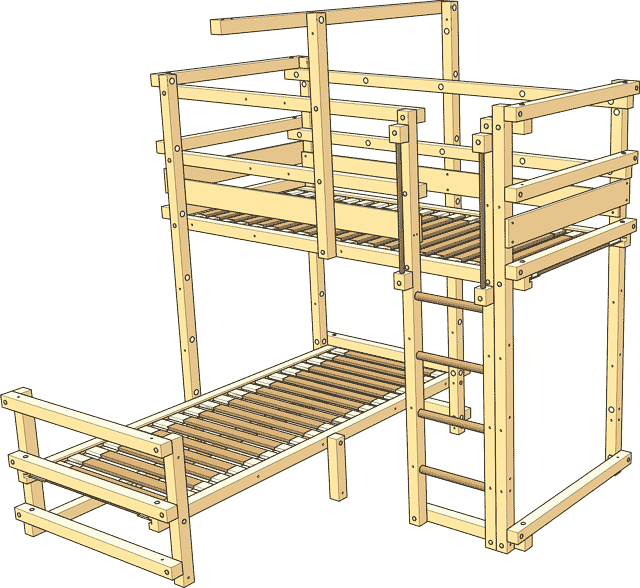 Not included by default but optionally available are: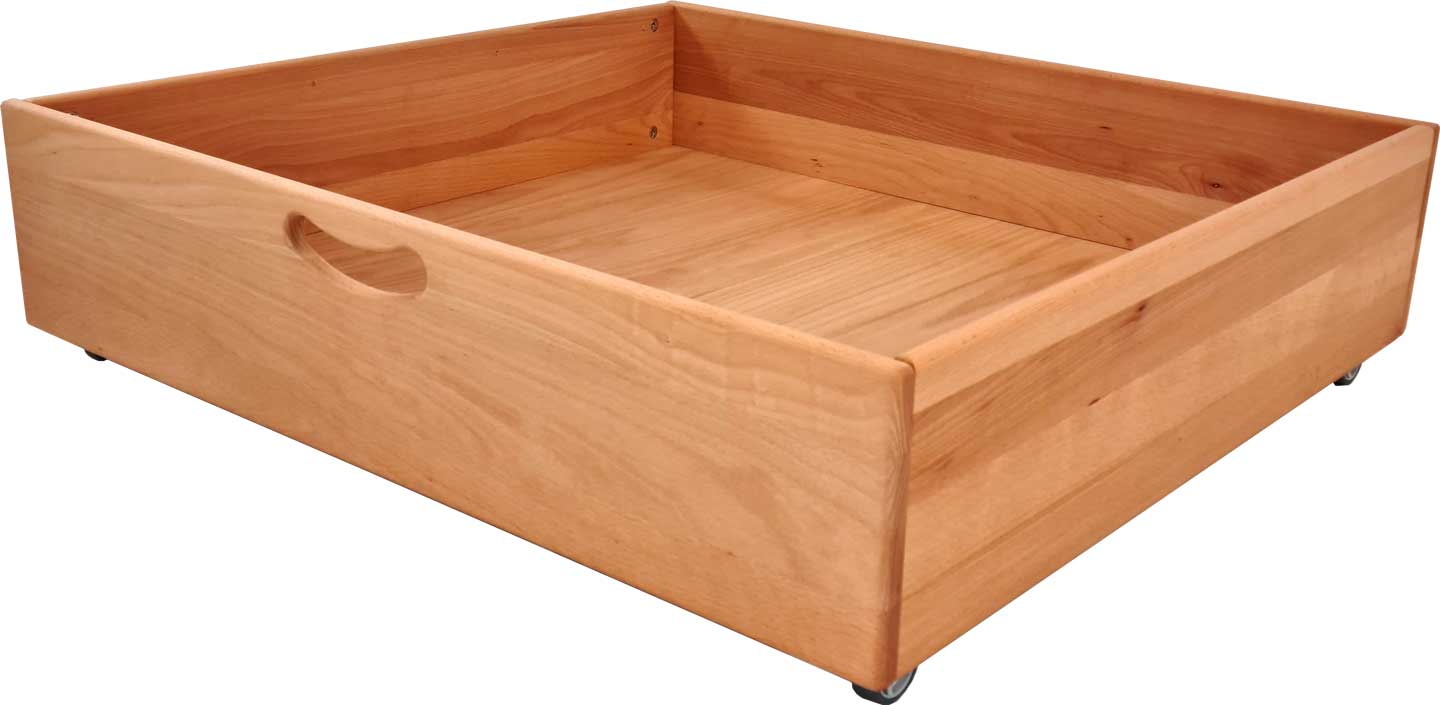 Customise the Corner Bunk Bed with our accessories
A Corner Bunk Bed is a real highlight in the kids' bedroom. Extras from our versatile accessory range will transform the sleep furniture into an imaginative adventure playground for your children
Customer experiences with the Corner Bunk Bed
2 protection boards and everything is ready 👌
Fantastic quality, great service and consultation. Thank you all so much!
The boys slept through the night for the first time (!) in their lives. And both have been incredibly bad sleepers since birth 🤫
Kind regards
Anne Bartlog
The bed is, as expected, top-quality, extremely robust and doesn't make any noises when someone climbs on it. The customised lacquer with the special colour came out beautifully. The wardrobe is also a stunning, high-quality build. One can see from the attention to detail given to both the wardrobe and the bed, that someone put a lot of thought into the design. Both of us, as well as our daughter, are very excited.
Sincerely,
Friedrich Family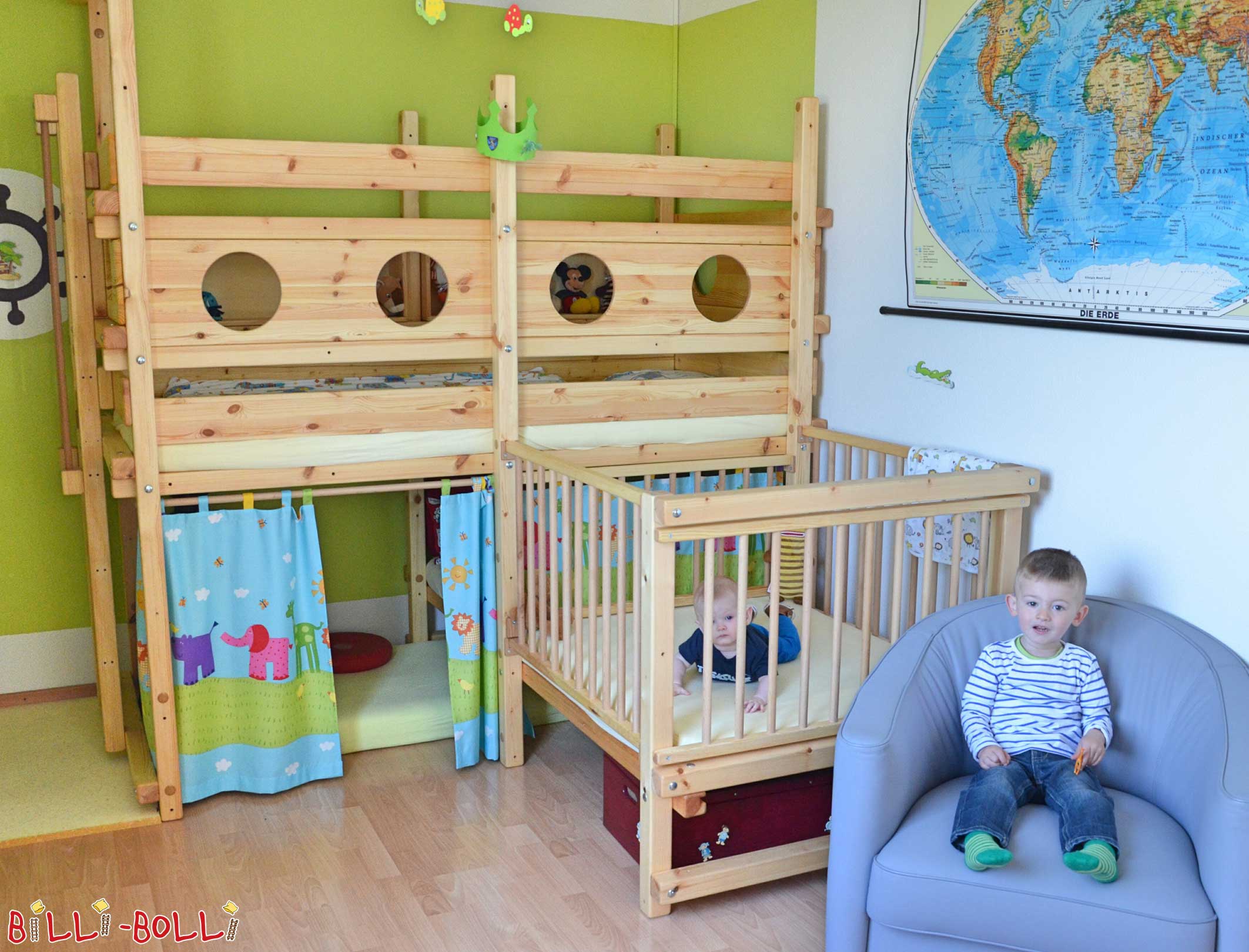 Dear Billi-Bolli Team,
We received the Corner Bed about two months ago and both our sons, Florian (2 years) and Lukas (6 months), are absolutely thrilled. Their favourite spot is the den underneath the bed and they spend a lot of time there. Even the rest of the family enjoys the den once in a while :-).
When putting the bed together, we decided to go with assembly heights 2 and 4 and Florian climbs the ladder up and down on his own effortlessly. We attached two bookshelves to the top level and currently, a lot of stuffed animals still call it their home. Lukas has a lot of space in the kid's bed and as he gets older, the bars can easily be removed.
A truly unique bed. Thank you!
Warm greetings from the Rheinland
Paul Family
Dear Billi-Bolli Team,
For a little over a year now, the bed has been an integral part of our home and our lives. Our children love the bed more than anything, for months our son has been taken all visitors into the children's room to proudly present his bed. The room is now called the "Billi-Bolli Room". We thank you for this sleep and play experience!
When the first day of school is around the corner, we will look for a Billi-Bolli desk, but there is still a little more time 😊
Many heartfelt thanks from
Demmerling Family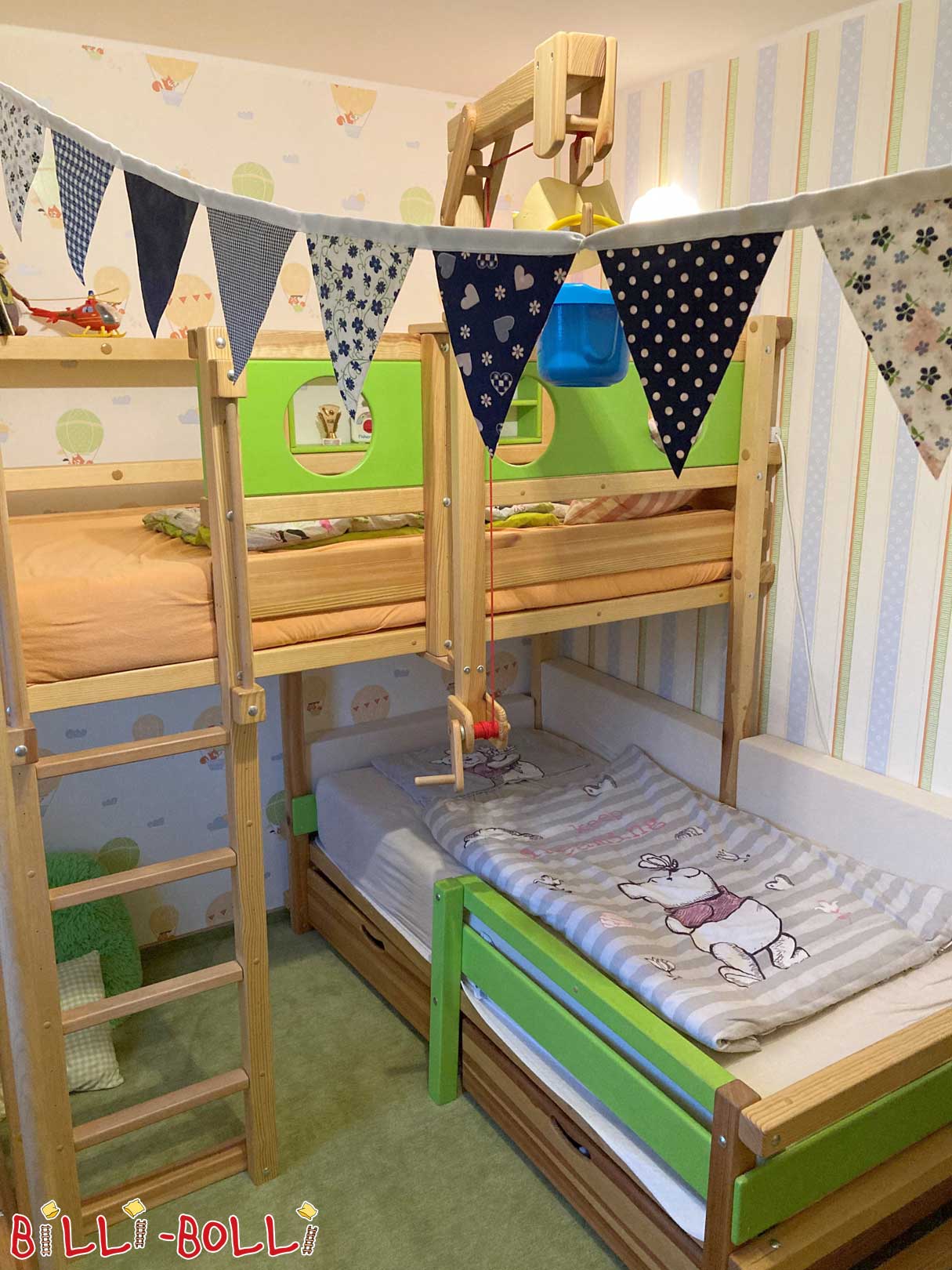 Or how about these?
The Corner Bunk Bed is a true eye-catcher in larger children's rooms. The following models may also be suitable for you: