The Youth Bunk Bed provides two cosy beds even in the smallest space – either for an older child or a teenager (top bunk) and their younger sibling (bottom bunk) or for two adolescents aged 10 and above or for teenagers. Instead of playing and climbing options, this age group has other priorities. The youth bed should be generously sized and relaxing, yet still leave enough space in the bedroom for desk, clothes and hobbies.
Functionality and sturdiness are the key features of this bunk bed designed for adolescents. We built our Youth Bunk Bed for 2 to meet these demands. The upper sleeping level at height 6 is equipped with a basic fall guard ⓘ and is an optimal space for sleep and relaxation for children aged 10 and even until adulthood. Good news for the occupant of the lower bunk: Our beds do not groan, moan or creak with every movement!
Tested according to DIN EN 747: Youth Bunk Bed in 90 × 200 with ladder position A, untreated & oil-waxed.
↓ more information
from € 1,195
🛠️🛒 Configure your Youth Bunk Bed
FREE
hanging cave
if you place an order by
January 30
!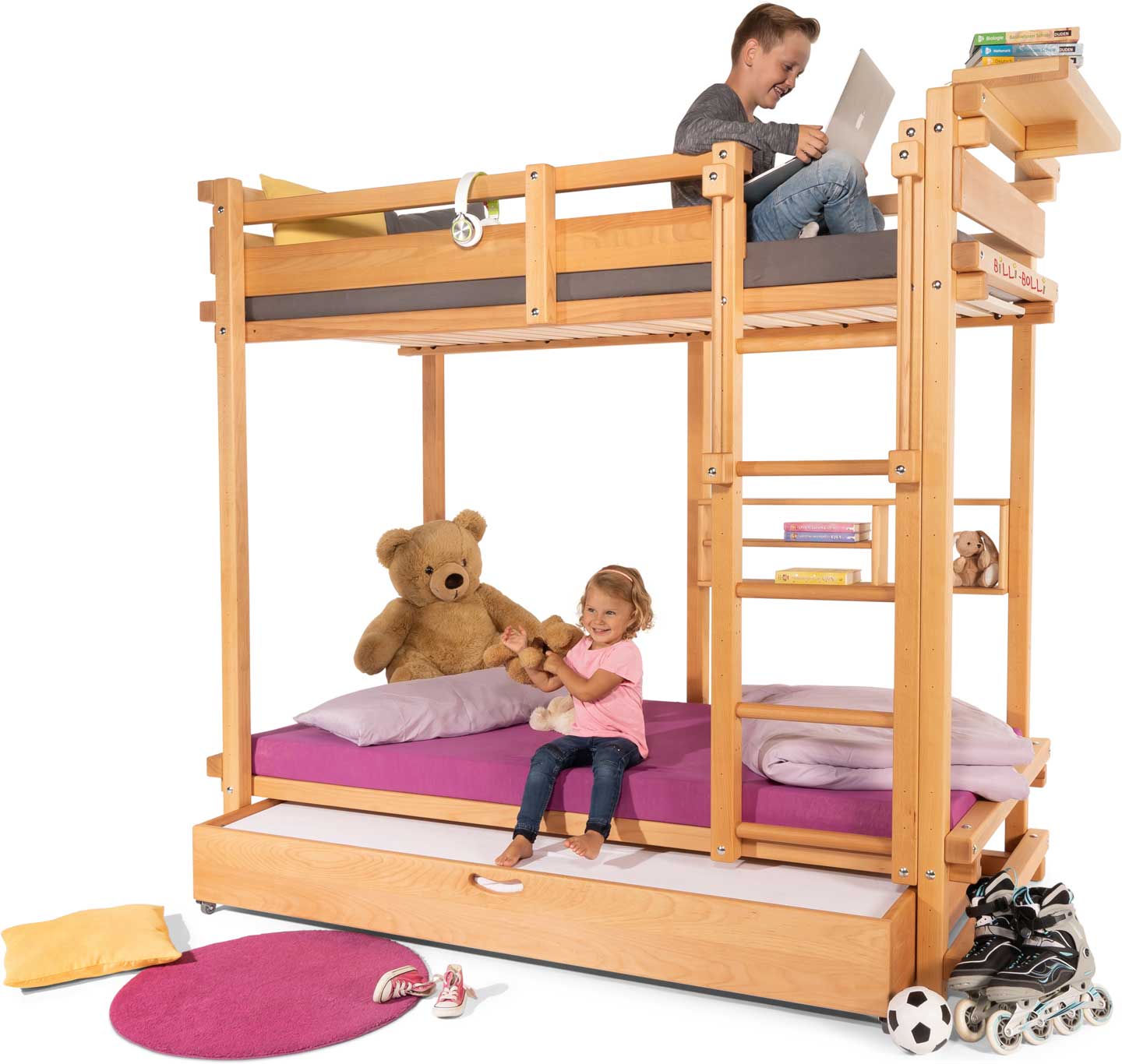 can be assembled mirror-inverted
(click on image)
Discover our various accessory elements, such as bedside table and shelves, adding even more practical furnishing options to your Youth Bunk Bed. With an optional drawer bed you even gain another sleeping place for patchwork families and stepchildren or for hosting surprise overnight guests.
Apropos: Bunk beds from the Billi-Bolli Workshop are built to be sturdy and robust so that they can certainly (continue to) be used even as bunk beds for adults. Either in the first student digs, in a small flatshare room or even as a fantastic furnishing option for hotels, holiday homes, youth hostels or even cabins.
Configure your Youth Bunk Bed
Our customers share their photos
Our customers shared these photos with us. Click an image to view at full size.
Tested safety according to DIN EN 747
Our Youth Bunk Bed is the only bunk bed for teenagers and adults that we know to be very versatile and to also fulfil the DIN EN 747 safety standard for "Bunk beds and high beds" at the same time. The TÜV Süd extensively assessed the Youth Bunk Bed's strength and durability as well as the compliance with permitted gap dimensions and measurements of all bed components. Tested and awarded the GS mark for "Geprüfte Sicherheit" (Tested Safety): the Youth Bunk Bed in 80 × 200, 90 × 200, 100 × 200 and 120 × 200 cm with ladder position A, untreated and oil-waxed. All other configuration variations of the Youth Bunk Bed (e.g. different mattress size) also meet all the important safety requirements of the testing standard, including the dimensions permitted for gaps. So if you are looking for a really safe bunk bed for teenagers: this is the one for you. More information about the DIN standard, TÜV tests and the GS certification →
External dimensions of the Youth Bunk Bed
Width = mattress width + 13.2 cm
Length = mattress length + 11.3 cm
Height = 196 cm
Required ceiling height: approx. 250 cm
Example:
mattress size 90 × 200 cm
⇒ external dimensions of the bed: 103.2 / 211.3 / 196 cm
What you are getting …
highest safety according to DIN EN 747 ⓘ

so much fun thanks to a wide range of accessories ⓘ

wood from sustainable forestry ⓘ

a system developed over 28 years

individual configuration options

personal consultation: +49 8124 / 907 888 0

first-class quality from Germany ⓘ

conversion options with expansion sets ⓘ

7-year warranty on all wooden parts ⓘ

a detailed assembly manual ⓘ

second hand sale option ⓘ

the best value for money
Included in the delivery
Included in the delivery by default:
Not included by default but optionally available are: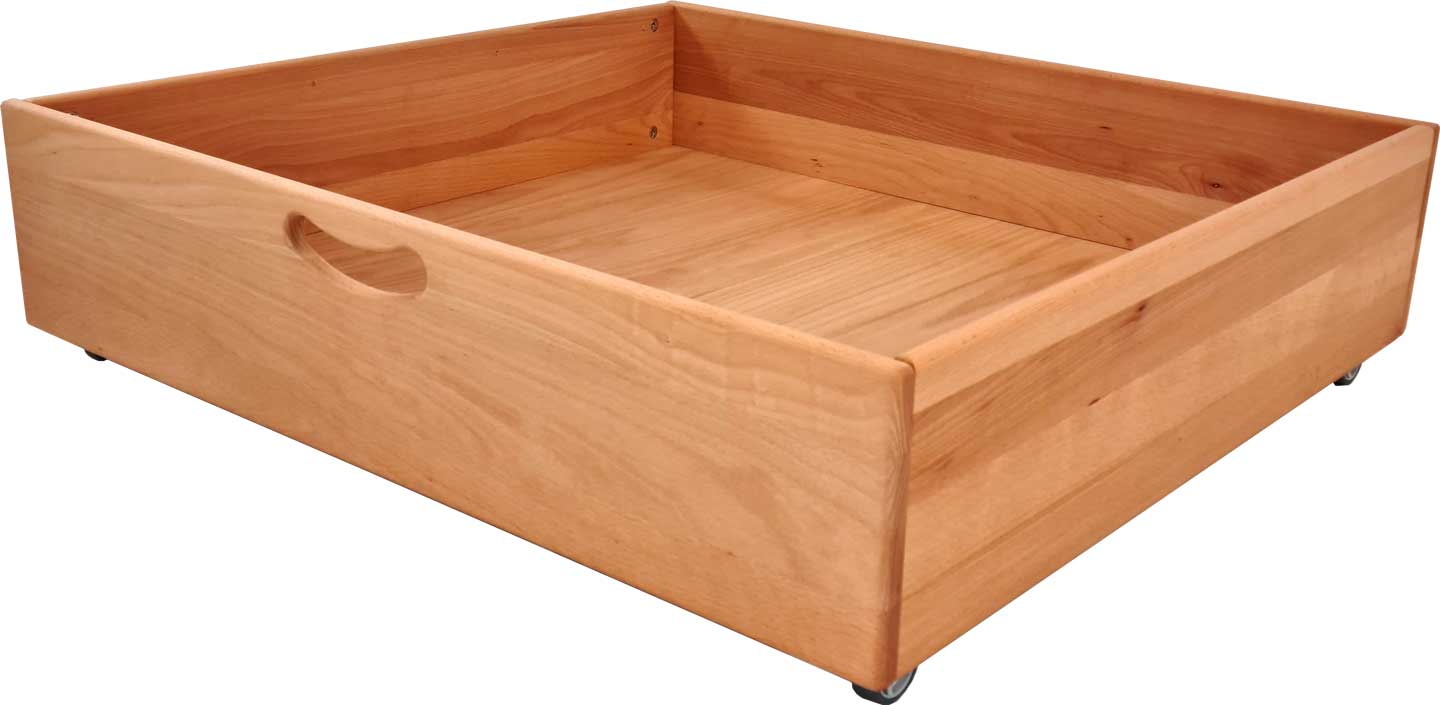 Practically extend the Youth Bunk Bed with accessories
Our optional features and accessories for the Youth Bunk Bed create space and privacy – ideal for living and sleeping well in a shared youth room. We particularly recommend these additional furnishings and accessories:
More bunk bed models
The Youth Bunk Bed is ideal for two children, especially if one of them is already older. Alternative options are the following models, which are also available taller and with a basic instead of a high fall guard: