Functionality and stability are the core features of the Youth Bunk Bed. This bed is designed for older children and teenagers and is also an excellent choice for the furnishing of a hostel or hotel, for example.
The upper sleeping level is at height 6, with a basic fall guard ⓘ (for children aged 10 and above).
According to DIN EN 747, it was tested: Youth bunk bed in 90 x 200 with ladder position A, untreated & oiled-waxed. More info
from € 1,205.00
free shipping (DE)
Hanging seat or large bed rack in spruce free of charge when ordering between November 16th and 30th! (as long as the stock lasts)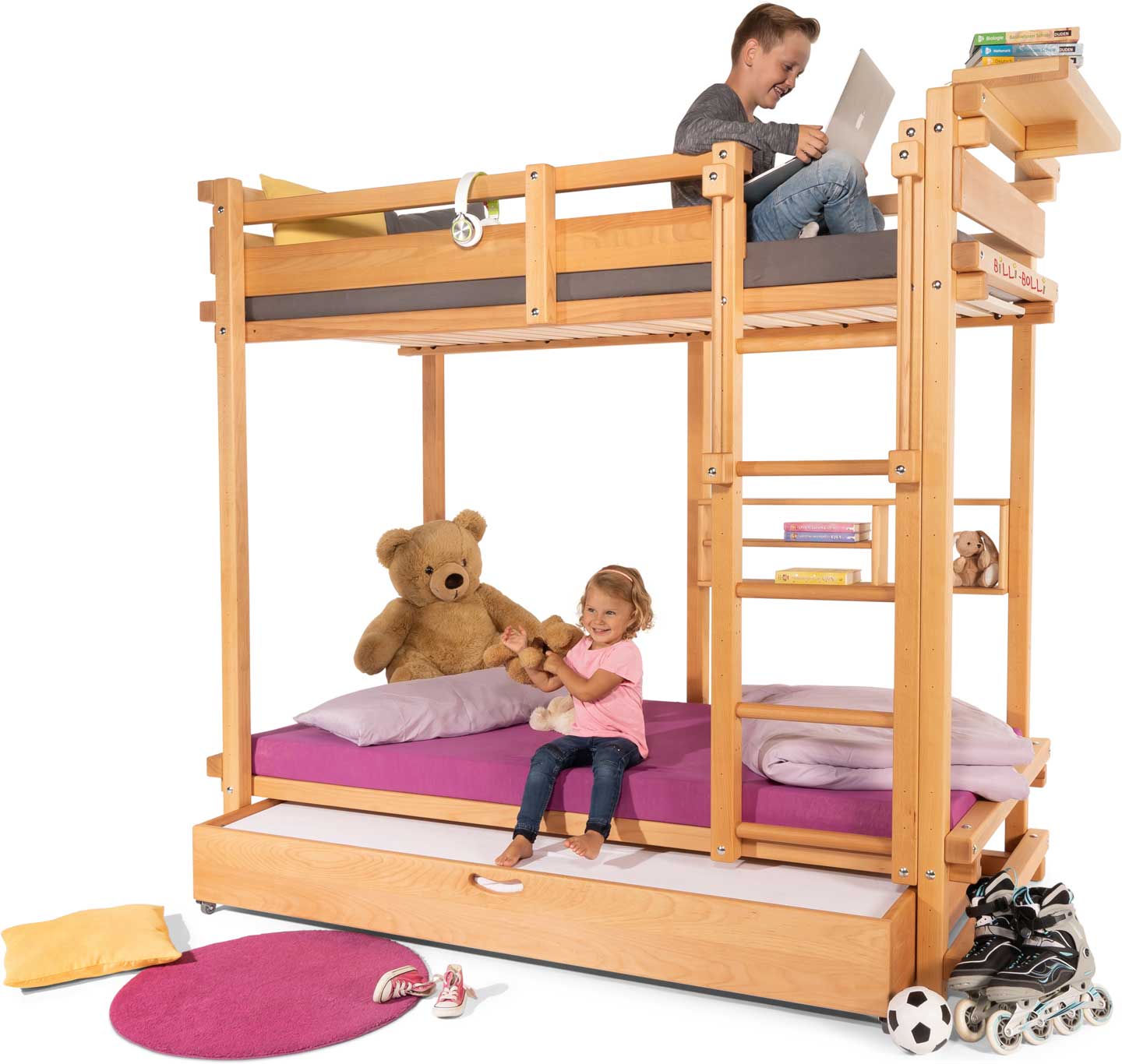 can be assembled mirror-inverted
(click on image)
Exterior dimensions of the youth bunk bed
Width = mattress width + 13.2 cm
Length = mattress length + 11.3 cm
Height = 196.0 cm
Required ceiling height: approx. 250 cm
Example:
mattress size 90 × 200 cm
⇒ external dimensions of the bed: 103.2 / 211.3 / 196.0 cm
Configure youth bunk bed
Highest safety according to DIN EN 747
Our youth bunk bed is the only known bunk bed for teenagers and adults, which is so versatile and at the same time meets the safety requirements of the standard DIN EN 747 "bunk beds and bunk beds". TÜV Süd has extensively tested the youth bunk bed in terms of load capacity as well as permissible distances and sizes of the components, etc. Tested and awarded the GS seal (Tested Safety): The youth bunk bed in 90 x 200 and 100 x 200 cm with conductor position A, untreated and oiled waxed. All important distances and safety features also comply with the test standard for all other versions of the youth bunk bed (e.g. other mattress size). So if you're looking for a really safe bunk bed for teenagers, here it is. More information about the DIN standard, TÜV testing and GS certification →
Delivery
By default, it comes with:
Screwing material
a detailed step-by-step guide tailored to your configuration
Not included by default, but are also available from us:
Mattresses
Bed Boxes

more on photos with accessories pictured

individual adjustments such as extra-high feet or sloping roof slants
You get ...

* highest safety according to DIN EN 747 (i)
* Pure fun thanks to a wide range of accessories (i)
* Wood from sustainable forestry (i)
* a system developed over 28 years
* individual configuration options
* personal advice: +49 8124 / 907 888 0
* Production in our workshop (i)
* first-class quality from Germany (i)
* Conversion options with expansion sets (i)
* 7-year warranty on all wooden parts (i)
* a detailed setup guide (i)
* Possibility of secondhand resale (i)
* the best value for money
Customize the youth bunk bed with our accessories
Customize your cot with our diverse accessories. For example, you can turn a ship, a princess castle or a fire engine out of bed. These are the most popular accessory categories:
Photos of our customers
We have received these photos from customers. Click an image for a large view.