If your child loves to spend quiet moments looking at storybooks, drawing, reading or listening to music besides engaging in rough-and-tumble play, then our fantastic Comfy Corner Bed will be a compelling option for you and your child. It is the perfect combination of a classic kids' loft bed, with all its endless play options and available accessory features, and an elevated seating area below half of the loft bed. Equipped with the matching Foam Mattress and Cushion Pillows, the half sofa bed turns into a comfortable snugly corner for relaxing and dreaming, reading and listening to music for girls and boys.
The sleeping level is assembled at height 5 ⓘ (for kids aged 5 and above, according to DIN safety standard for kids aged 6 and above ⓘ).
from € 1,109
🛠️🛒 Configure your Comfy Corner Bed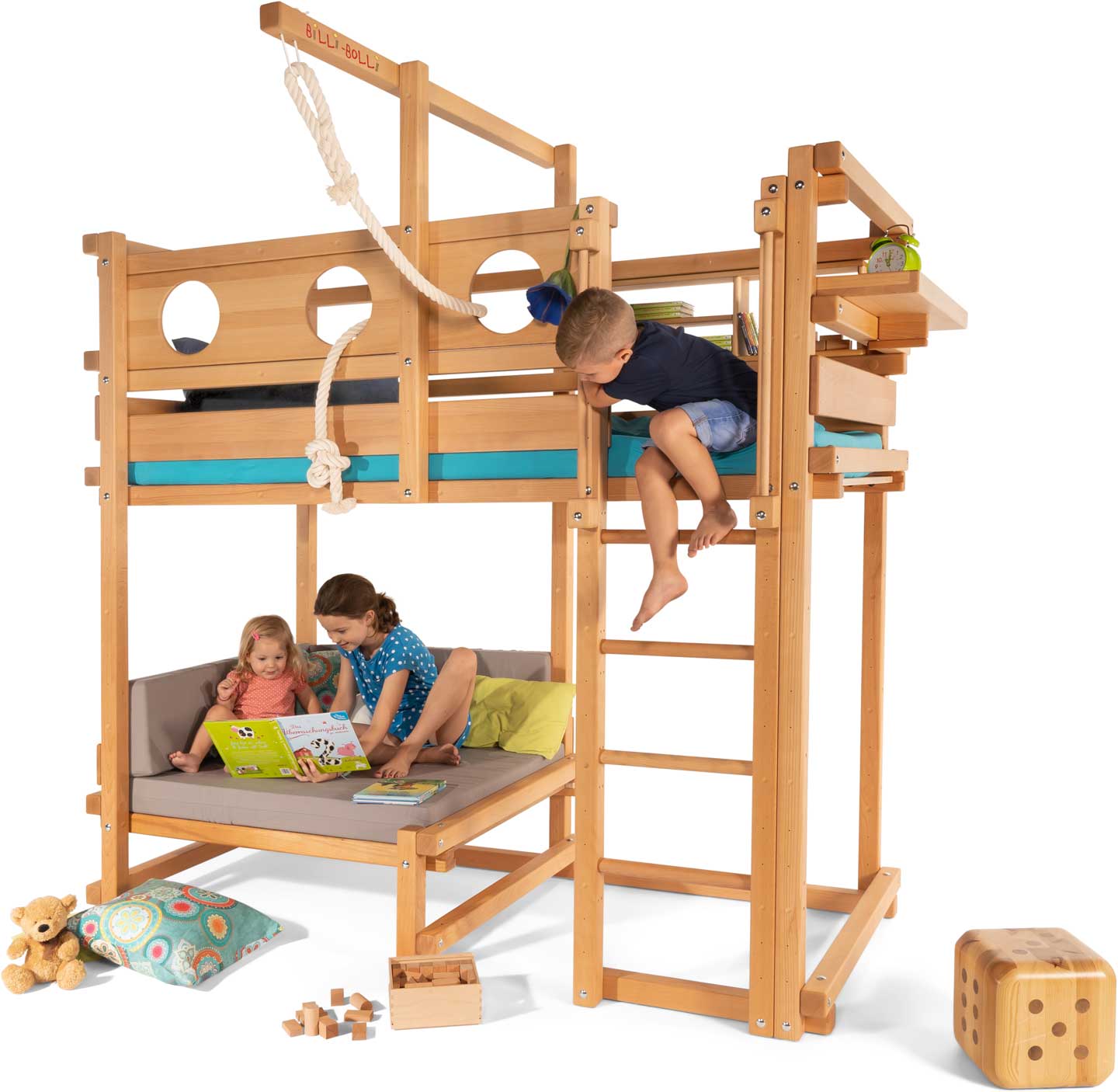 can be assembled mirror-inverted
(click on image)
Of course you are still spoilt for choice with our large range of theme boards and cool play accessories: Would you like to turn the Comfy Corner loft bed into a princess castle, a pirate frigate, a jungle tree house or rather a railway? Your little Snow Queen Elsa, Captain Sparrow, Tarzan or Pocahontas … will be very happy to offer their assistance.
Accessories such as a Bedside Table or Small Bed Shelves are particularly useful for all the adventures your little heroes will have in their elevated camp: everything they may need can be kept within easy reach.
By the way, there is still enough space below the comfy corner for a Bed Drawer, offering a new home for all the soft toys, games and bedding.
Configure your Comfy Corner Bed
Tested safety according to DIN EN 747
Our Comfy Corner Bed is the only play bed of its kind that we know to meet the DIN EN 747 safety standard for "Bunk beds and high beds". The TÜV Süd assessed the sturdiness, gap dimensions, materials and many other safety features of the Comfy Corner Bed extensively in their laboratory. Tested and awarded the GS mark for "Geprüfte Sicherheit" (Tested Safety): the Comfy Corner Bed in 90 × 200 and 100 × 200 cm with ladder position A, without Swing Beam, equipped with Mouse Theme Boards all around, untreated and oil-waxed. All other configuration variations of the Comfy Corner Bed (e.g. different mattress size) also meet all the important safety requirements of the testing standard, including the dimensions permitted for gaps. If you are looking for a really safe loft bed featuring a comfy corner, perfect for snuggling and relaxation, then this is the bed for you. More information about the DIN standard, TÜV tests and the GS certification →
External dimensions of the Comfy Corner Bed
Width = mattress width + 13.2 cm
Length = mattress length + 11.3 cm
Height = 228.5 cm (swing beam
ⓘ
)
Example:
mattress size 90 × 200 cm
⇒ external dimensions of the bed: 103.2 / 211.3 / 228.5 cm
What you are getting …
highest safety according to DIN EN 747 ⓘ

so much fun thanks to a wide range of accessories ⓘ

wood from sustainable forestry ⓘ

a system developed over 28 years

individual configuration options

personal consultation: +49 8124 / 907 888 0

first-class quality from Germany ⓘ

conversion options with expansion sets ⓘ

7-year warranty on all wooden parts ⓘ

a detailed assembly manual ⓘ

second hand sale option ⓘ

the best value for money
Included in the delivery
Included in the delivery by default: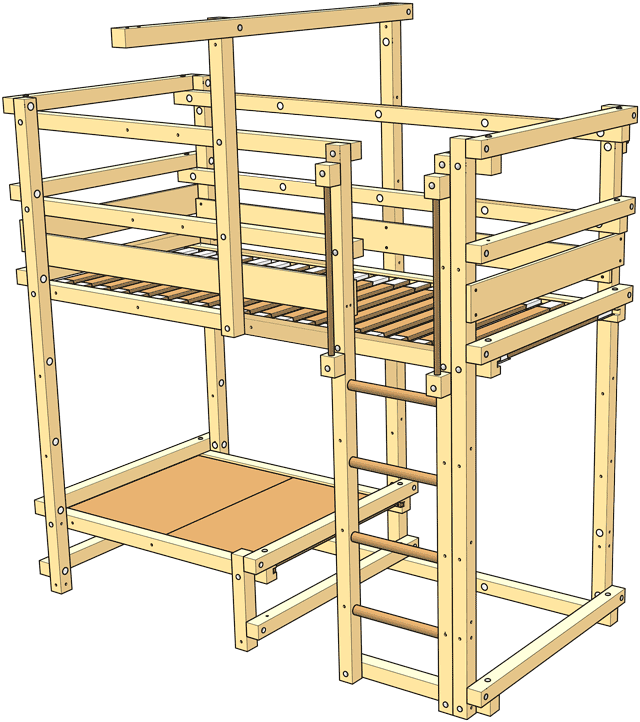 Not included by default but optionally available are:
For a personal touch add our accessories to your Comfy Corner Bed
Add a personal touch to your kid's bed with our diverse range of accessories. For example, you can turn the bed into a ship, a princess castle or a fire engine. Our most popular accessory categories are:
Our customers share their photos
Our customers shared these photos with us. Click an image to view at full size.