High beds are the ideal solution for smaller children's rooms, as they combine a sleeping space with a play or workplace. Our bunk beds for children have a high fall protection and grow with. In doing so, they accompany the little ones for many years. In addition, we have variants for teenagers and adults. This means that you will find a safe solution for all ages. All our loft beds are customizable with numerous accessories and can be converted into one of the other cots with conversion sets.
---
Loft Bed Adjustable by Age →
The growing bunk bed is our best-selling bed. There are good reasons for this. It is the ideal entry into our high bed world, even if your child is actually too small for a bunk bed. Sounds contradictory? Yes, but the apparent contradiction is due to the great advantage of this bed. It can be built in 6 heights. At height 1, the lying surface is directly on the ground, so the bed can be used from the age of crawl. You already have all the parts for the later superstructures as a real loft bed. Safety is always paramount.
from € 1,039.00
free shipping (DE), 📦 immediately available
Details: Loft Bed Adjustable by Age
---
Youth Loft Bed →
Our youth high bed offers a lot of space under the bed like a typical high bed, but does not have the high fall protection, so is no longer a particularly typical cot. Suitable for children from about 10 years. It offers plenty of space for a desk, a writing plate, one or two shelves or even a wardrobe. The youth high bed is the highest reasonable height at the most common room height of 2.50 m. The standing height below that bed is 152 cm. Also the youth high bed is available in 5 different prepares and 3 lengths. We can customize it for special room situations.
from € 833.00
free shipping (DE)
Details: Youth Loft Bed
---
Students' Loft Bed →
Unser Studenten-Hochbett ist die ideale Lösung für kleine Schlafzimmer in Wohnheimen und WG-Zimmern. Es bietet viel Platz unterhalb des Hochbetts und ist somit ein echtes Raumwunder. Unter dem Studenten-Hochbett ist eine Stehhöhe von 184 cm. Hier sollte die Raumhöhe 2,80 m für eine optimale Nutzung betragen. Und es geht noch höher: Sie bekommen unser Studenten-Hochbett auch mit einer Stehhöhe von 216 cm unter dem Bett. Dieses Hochbett kann über einer Zimmertür aufgebaut werden. Die Raumhöhe sollte allerdings über 3 m betragen. Es ist ideal für hohe Altbauräume.
from € 987.00
free shipping (DE)
Details: Students' Loft Bed
---
Low Loft Bed →
Our half-height loft bed is the perfect loft bed for smaller children and rooms with limited room height. Below the bed there is enough space for a cozy play cave or a cuddly corner, but it is not as high as an ordinary loft bed. The set-up heights 1 - 5 are possible. Our entire range of themed boards also fits our half-height loft bed. The short version of our slide, which saves you space, fits perfectly here. If you don't have any spatial limitations or have other important reasons for a slightly smaller loft bed, we recommend the growing bunk bed, because it offers more construction possibilities.
from € 964.00
free shipping (DE)
Details: Low Loft Bed
---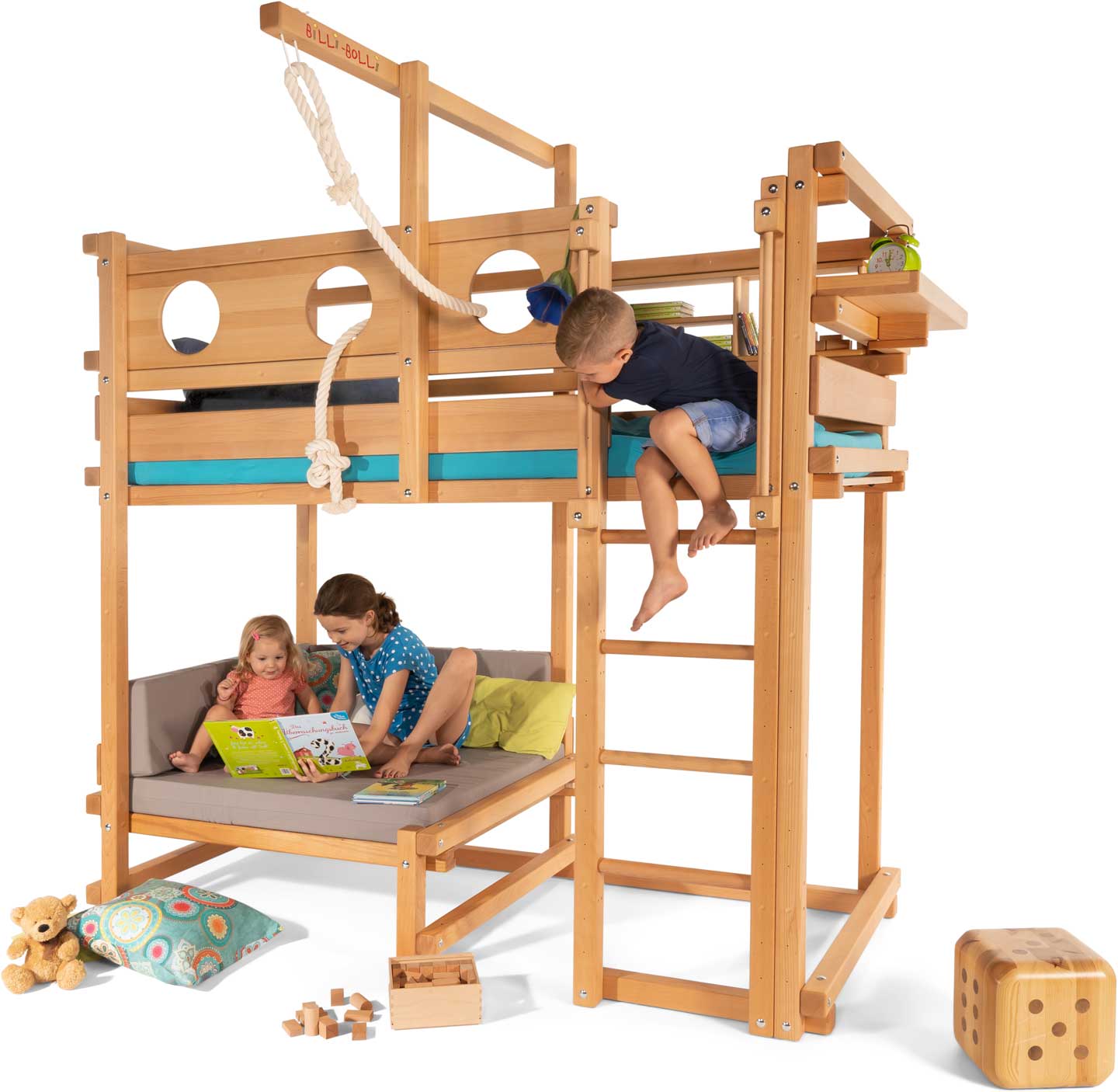 Comfy Corner Bed →
Our cuddly corner bed combines a bunk bed with a cosy cuddly corner underneath. This way you can practically save space. Thanks to our accessories, this loft bed can also be extended to a play bed with just a few simple steps. The seating area under the loft bed is also ideal for reading aloud. The reading books can be stored in the (optional) bed box along with other toys and are therefore always at hand. With accessories, this cot quickly becomes a pirate bed or a knight's bed. For the upper floor there are all the design possibilities of the growing loft bed.
from € 1,311.00
free shipping (DE)
Details: Comfy Corner Bed
---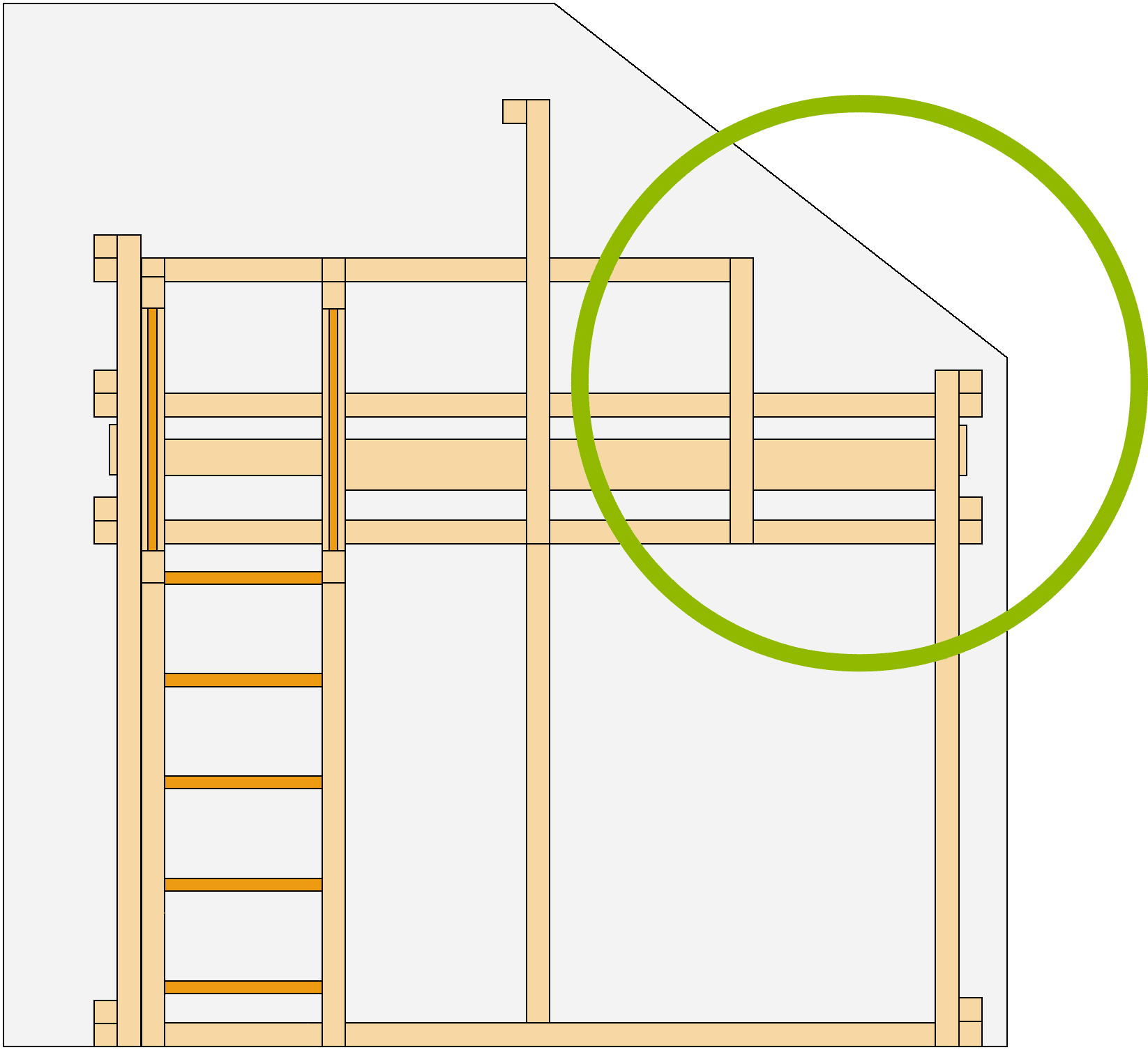 Other Options →
Special adjustments of our cots to your children's room: sloping roof, swing beams outside, flat rungs or play floor instead of slatted frame, ...
---
Decision support: bed, yes or no?
Sooner or later comes from your children the desire, more or less vehemently, for a bunk bed. Maybe that was the time. You may be thinking back and forth about whether a bunk bed is a good purchase in the longer term. You are already aware that a high-quality high bed costs more than a low bed and you wonder if it is worth the purchase. Here we want to help you decide and also give tips on what to consider when buying a bunk bed.
Table
What makes high beds?
A loft bed is called when the lying surface is at least 60 cm above the ground. Depending on the model and the desired setting, the height in the area under the bed can be 217 cm. High beds thus allow a smart use of space even in small children's or youth rooms.
Safety plays a central role, especially in the case of high beds for children. For this reason, all our models have a very high failure protection, which far exceeds the DIN safety standard. So you can be reassured that your darling sleeps well protected. You can also use our extensive accessories to customize the loft bed – with a slide or climbing wall, the furniture becomes an adventure playground!
What species are there?
Bei uns finden Sie vier Hochbett-Basismodelle, die mit vielfältigem Zubehör erweiterbar sind. Das mitwachsende Hochbett ist die ideale und nachhaltige Lösung, die Ihr Kind vom Krabbelalter bis zur Teenagerzeit nutzen kann. Die Alternative bei eingeschränkter Raumhöhe stellt das halbhohe Bett dar. Beide Modelle sind bereits für Kinder im Krabbelalter geeignet. Für die etwas Größeren eignet sich das Kuscheleckenbett, das über eine Kuschelecke unter dem Bett verfügt. Ihr Liebling kann sich dorthin zurückziehen – zum Spielen, Lesen oder auch mal Schmollen. Unser Jugend-Hochbett ist für Kinder ab zehn Jahren geeignet und bietet besonders viel Platz unter dem Bett. Noch höher hinaus geht es mit dem Studenten-Hochbett: In über zwei Metern Höhe schläft man bequem über den Dingen.
What are the advantages of a high bed?
High beds are a very space-saving solution for almost every child's room. They offer besides a place to sleep and relax, also space to play and have fun. Especially in small rooms, they are the welcome space wonders. This way, you offer your child a sheltered sleeping place that feels homely, but still plenty of space to play. The space below the sleeping level can be optimally used for various functions, e.g. with a desk as a learning and workplace, a cuddly corner or a playground. By climbing frequently on the high bed, the children develop a very good body awareness and train their motor skills. They learn to trust their bodies.
Conversion possibilities for our other models (e.g. in a bunk beds) make our growing high beds unlimited use.
Choosing the right bed for the child
Hochbetten bieten viele Vorteile. Doch welches Modell ist das richtige? Einer der wichtigsten Faktoren ist die Raumhöhe. Viele Neubauwohnungen haben eine Deckenhöhe von ca. 250 cm – ideal für Kinderhochbetten und viele andere Modelle, die nicht höher als ca. 200 cm sind. Ein Studenten-Hochbett benötigt höhere Decken; hier empfehlen wir eine Raumhöhe von ca. 285 cm. Für kleinere Räume bieten wir Halbhochbetten an.
Unsere Hochbetten gibt es für verschiedene Matratzenmaße. Während ein übliches Matratzenmaß für ein Kinderbett 90x200 ist, gibt es bei uns viele weitere Maße. So kann z.B. das mitwachsende Hochbett auch 140x200 groß sein.
Als nächstes entscheiden Sie sich für eine Holzart: Wir bieten Kiefer und Buche an. Kiefer ist weicher und optisch lebendiger, Buche ist härter, dunkler und optisch etwas homogener.
Bei der Oberfläche haben Sie ebenfalls die Wahl: unbehandelt, geölt-gewachst oder farbig (besonders beliebt ist in den letzten Jahren das Hochbett weiß lackiert).
The age of the child
The age of the child plays an equally important role. In the crawling age, the bed should be directly at ground level. This is made possible by our growing bunk bed, which grows larger and larger with age. The planning of the offspring can also have an influence on the decision: If your darling soon shares the room with a brother or a sister, a bunk bed is worth considering. Finally, the question arises as to the design wishes, i.e. how you want to use the space under the loft bed.
Is my child safe?
Whether a child is safe in a bunk bed depends on 2 factors.
On the one hand, the constructive elements of the bed:
* Is the fall protection sufficiently high?
* Is it stable enough?
* Are there handles on the ladder?
* Do the distances of the components of DIN EN 747 correspond, so that clamping hazards are excluded?
On the other hand, the motor and mental developmental status of the child is decisive at what height he can sleep safely.
Since our foundation, the safety of high beds has been a central concern for us. For this reason, our high beds are equipped with a high drop protection, which not only meets the safety standard DIN EN 747, but far exceeds it. When manufacturing the beds in our master workshop near Munich, we attach the highest importance to valuable materials and the most careful workmanship. As a result, Billi-Bolli's loft beds are very safe. The growing bunk bed is already suitable for babies at height 1 (ground level), further height swells have to be adjusted to the age and level of development of the child. In addition to the high drop protection, we offer you an extensive safety accessory – from protective boards to roll-out protection to ladder and slide grilles – that make the high beds even safer.
What is the difference to bunk beds?
Category
Properties
Benefits
Versions
Ways
Loft Beds

* a sleep level
* additional play or work area under the bed
* Extensive accessories for individualization

* zusätzlicher Platz im Kinderzimmer
* als mitwachsendes Hochbett bereits für Babys geeignet
* vielfältige Gestaltungsoptionen für die untere Ebene
* zahlreiche Spielmöglichkeiten durch das Design
* Umbau in Etagenbett möglich
* als halbhohes Hochbett für Räume mit geringer Deckenhöhe geeignet

* Loft Bed Adjustable by Age
* Youth Loft Bed
* Students' Loft Bed
* Low Loft Bed
* Comfy Corner Bed

* can be converted with accessories
* thanks to the sloping roof stage also suitable for attic rooms
Bunk Beds

* two or more sleep levels
* Extensive accessories allow adjustment

* space-saving sleep for two to four children
* Lower sleeping level with baby grid is also suitable for children of crawling age
* Diverse possibilities for designasing as a play bed for both levels
* Conversion into two separate loft beds possible

* Bunk Bed
* Corner Bunk Bed
* Bunk Bed Laterally Staggered
* Youth Bunk Bed
* Both-Up Beds
* Beds for Three
* Skyscraper
* Bed Laterally Staggered for Four

* Extensive expansion and conversion kits allow the needs-based redesign
* Roof sloping stage available for various models
Who are our bunk beds suitable for?
| | | | |
| --- | --- | --- | --- |
| Model | For what age? | Room quality | Specifics |
| Loft Bed Adjustable by Age | from krabbelage (height 1) to adolescence | required room height approx. 250 cm | ab Aufbauhöhe 4 viel Spiel- und Stauplatz unter dem Bett; mit extrahohen Füßen erweiterbar zum Studenten-Hochbett |
| Youth Loft Bed | from 10 years (construction height 6) | required room height approx. 250 cm | plenty of space under the bed |
| Students' Loft Bed | for adolescents and adults (height 7) | required room height approx. 285 cm | Height under the bed 217 cm |
| Low Loft Bed | from krabbelalter (construction height 1) | for room heights from 200 cm | suitable for rooms with low ceiling height |
| Comfy Corner Bed | for children from 5 years (height 5) | required room height approx. 285 cm | The sweet cuddly corner in the lower area is included! |
Are there any drawbacks?
To make beds or move in, you have to climb into the loft bed. This can be considered a welcome little fitness exercise or also find a bit annoying. It's not difficult.
If the recommendations on the height of the structure are not taken into account, the risk of falling down remains
With or without accessories?
The possibilities to design a bunk bed with accessories are enormous. Without accessories, it looks rather simple and neutral, with accessories the children's high bed becomes an adventure playground.
The accessories can be roughly divided into three categories: safety, experience value (optical or motor), storage areas and storage space.
Safety can be increased with additional protective boards, safety grilles for the conductor area or the conductor protection. For the very youngest there are baby grids.
The experience value of the high bed increases enormously with the installation of themed boards: Our themed boards transform the bed into a berth bed for the pirate son or into a knight's bed for the daughter, who wants to be a princess in the high bed. Our high bed inspires girls and boys alike and turns the children's room into an adventure room!
The urge for movement can be lived out by a high bed with slide, fire brigade pole, climbing rope, climbing wall and rungs wall. Depending on the type of accessories, the space requirement for the loft bed may increase, especially for the slide. This must be taken into account when selecting.
With the large range of accessories from Billi-Bolli, you can design the loft bed according to your taste. You can also find the appropriate decoration elements from us.
Use storage and storage accessories to use the area under the loft bed skillfully.
In order to adapt to changing demands, elements that make it a cot should be removed so that it can also be used by adolescents.
Notes on the use of the loft bed

* Follow the instructions on the age-appropriate height.
* Do not overwhelm your child and, in case of doubt, choose the lower height.
* Watch your child and be there when they first climb into the new bunk bed to help them.
* Check the stability of the bed regularly and tighten the screws if necessary.
* Pay attention to a child-friendly mattress, once in terms of lying properties and ecological compatibility. We recommend our Prolana mattresses.
Summary
High beds are a lot of fun for children, especially with appropriate accessories. If the accessories are found to be outdated after a few years, but can be dismantled, nothing stands in the way of further use.
The Billi-Bolli high beds are so flexible that they can always be adapted to changing needs, so they are a long-term purchase. With our conversion kits, you can expand a bunk bed to a bunk bed – or a bunk bed to two growing bunk beds. Buying new beds is unnecessary, which conserving all of our natural resources and your financial resources.