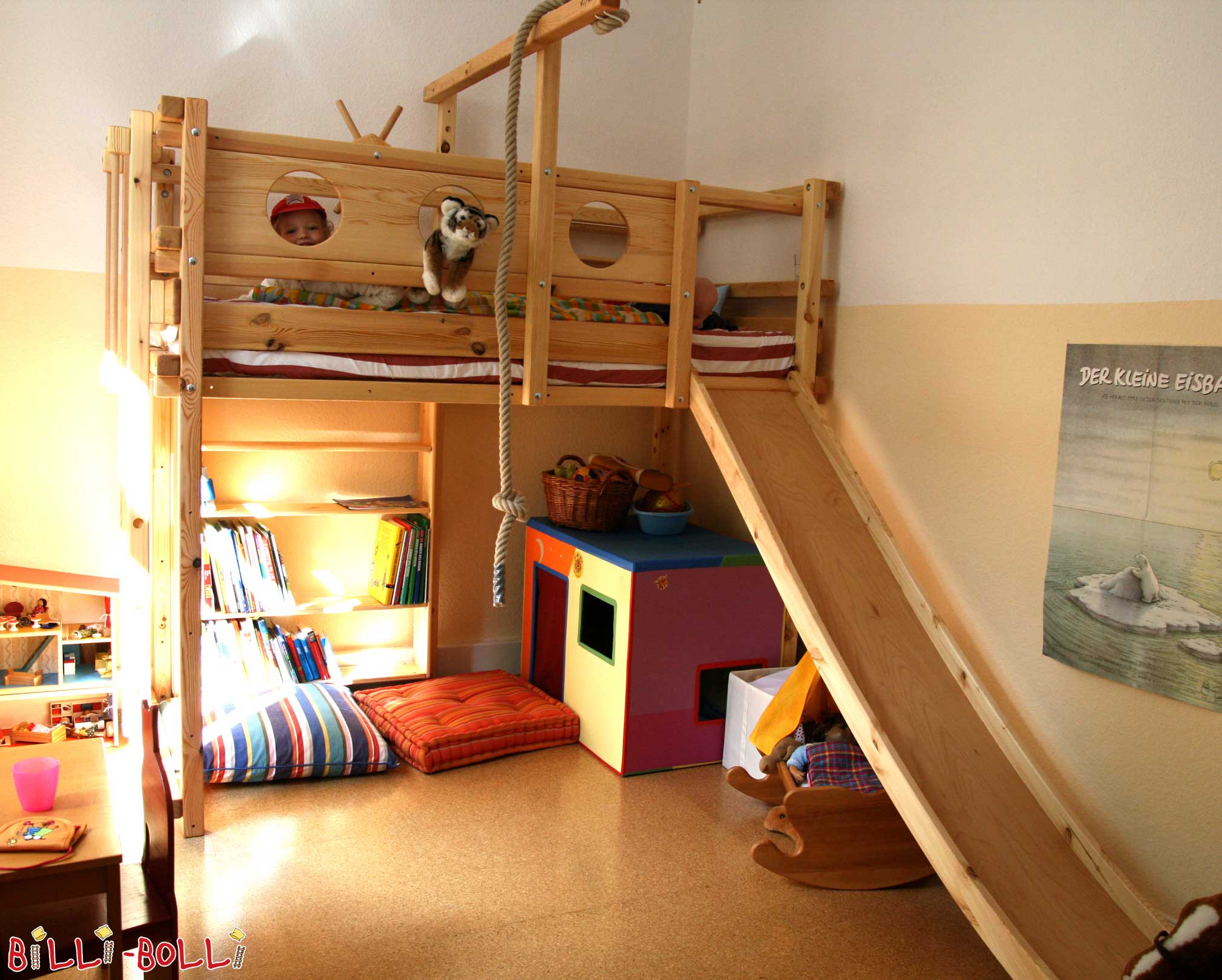 High beds are the ideal solution for smaller children's rooms, as they combine a sleeping space with a play or workplace. Our bunk beds for children have a high drop protection and are constantly growing with them. In doing so, they accompany the children – from the youngest to the school child – for many years. In addition, we have variants for teenagers and adults. This means that you will find an optimal solution for all ages. All our loft beds are customizable with numerous accessories and can be converted into one of the other cots with conversion sets.
---
Loft Bed Adjustable by Age →
The growing bunk bed is our best-selling cot for girls and boys. It is the ideal entry into our high-bed world, even if your child is still too small for a bunk bed. Because this growing cot is a true multi-talent and can be flexibly built up in 6 heights. At height 1, the lying surface is directly on the ground, so you can use the growing high bed from scratch age. With your decision for this transformable high bed made of pollutant-free, natural solid wood, you not only protect the environment in a sustainable way, but also your wallet.
Tested according to DIN EN 747: Loft Bed in 90 × 200 with ladder position A at assembly height 5, without Swing Beam, equipped with Mouse Boards all around, untreated & oil-waxed.
from € 948.00
🚚 free shipping (Germany)
📦 immediately available
Details: Loft Bed Adjustable by Age
---
Youth Loft Bed →
Our bunk bed for teenagers scores with the advantage of all loft beds and offers plenty of space under the sleeping level, but does not have the high fall protection. It is suitable for adolescents from about 10 years and perfect for teenage years and schooltime. The spacious open space under the loft bed has a standing height of 152 cm and can be ideally used for a desk, our integrated writing plate, shelves or even a wardrobe. The Youth High Bed by Billi-Bolli is designed for a room height of 2.50 m and is available in 5 widths and 3 lengths, e.g. also in 120x200 and 140x200.
Tested according to DIN EN 747: Youth Loft Bed in 90 × 200 with ladder position A, untreated & oil-waxed.
from € 748.00
🚚 free shipping (Germany)
📦 immediately available
Details: Youth Loft Bed
---
Students' Loft Bed →
The high bed for students, trainees and young adults is the ideal solution for shared rooms and small bedrooms in dormitories. With a standing height of 184 cm below the loft bed, many options open up for the use of the generous open space. For rooms with a height of 2.80 m, the Billi-Bolli Student High Bed proves to be a real space wonder. But it also goes even higher: you get our student high bed also with a standing height of 216 cm below the sleeping level. The extra-high student high bed is thus made for high old building spaces.
from € 857.00
🚚 free shipping (Germany)
Details: Students' Loft Bed
---
Low Loft Bed →
Our half-height loft bed is the perfect loft bed for smaller children and low rooms. Below the sleeping level you will find enough space for a cozy cuddly corner, with curtains all around you can also make a play cave out of it. This bed is not as high as an ordinary bunk bed. Nevertheless, you have the choice to flexibly adapt our half-height bunk bed in 5 different heights to the age of your child and to conjure up an adventure bed from it with our optional bed accessories. Our slide can also be attached to this loft bed and provides action in the children's room.
Tested according to DIN EN 747: Low Loft Bed in 90 × 200 with ladder position A at assembly height 4, without Swing Beam, equipped with Mouse Boards all around, untreated & oil-waxed.
from € 823.00
🚚 free shipping (Germany)
Details: Low Loft Bed
---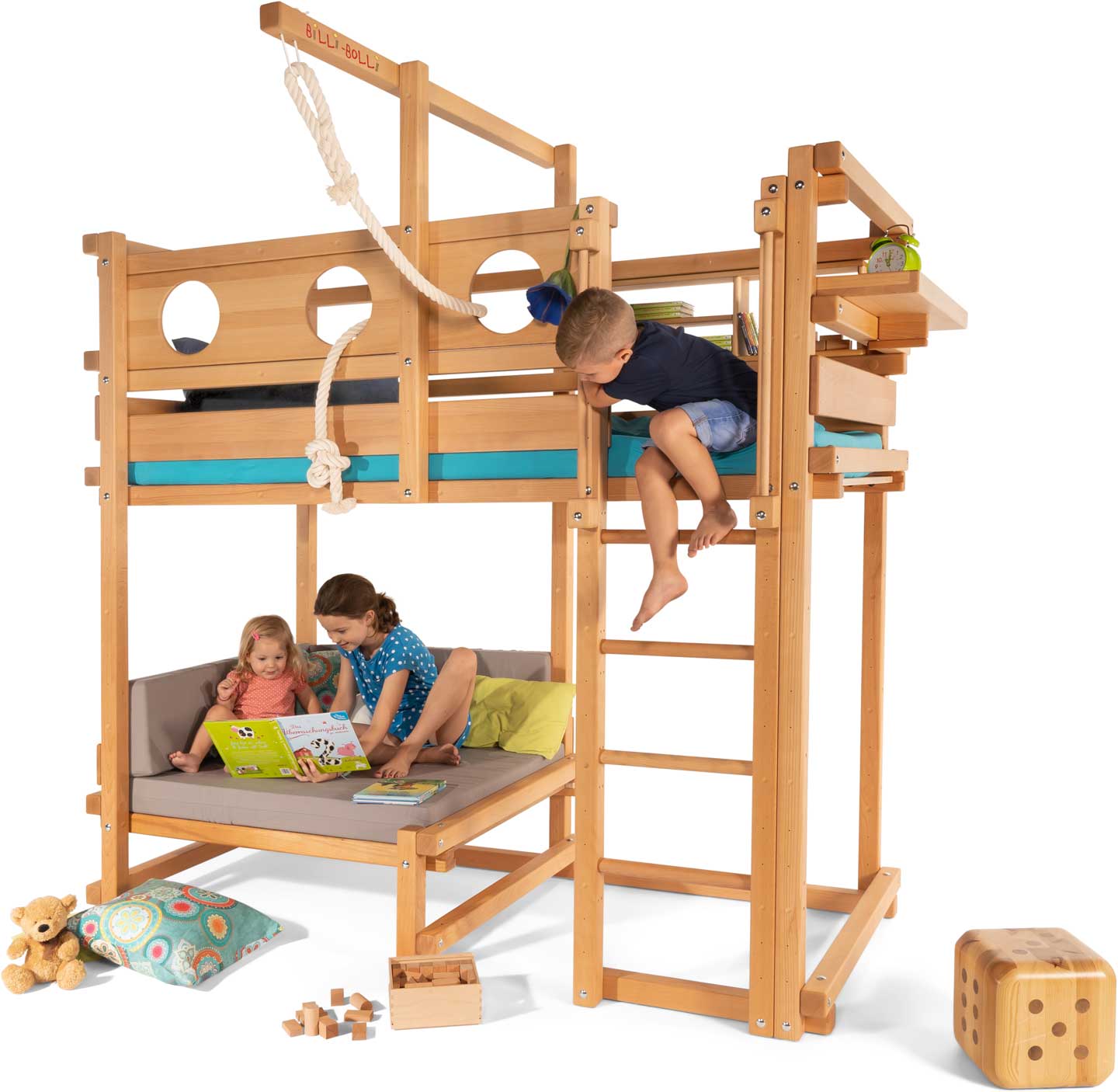 Comfy Corner Bed →
The cuddly corner bed combines our popular Billi-Bolli-Highbed with a really cozy cuddly corner underneath. A dream for girls and boys who prefer to keep track of the children's room while playing on the raised high-bed outdoor seat. And for small and large readers, the cosy seating area under the loft bed is perfectly suitable for reading or reading. The books can be stored in the optional bed box, along with other toys. With our diverse bed accessories, you can transform this loft bed into a real knight's or pirate play bed in just a few simple steps.
Tested according to DIN EN 747: Comfy Corner Bed in 90 × 200 with ladder position A, without Swing Beam, equipped with Mouse Boards all around, untreated & oil-waxed.
from € 1,109.00
🚚 free shipping (Germany)
Details: Comfy Corner Bed
---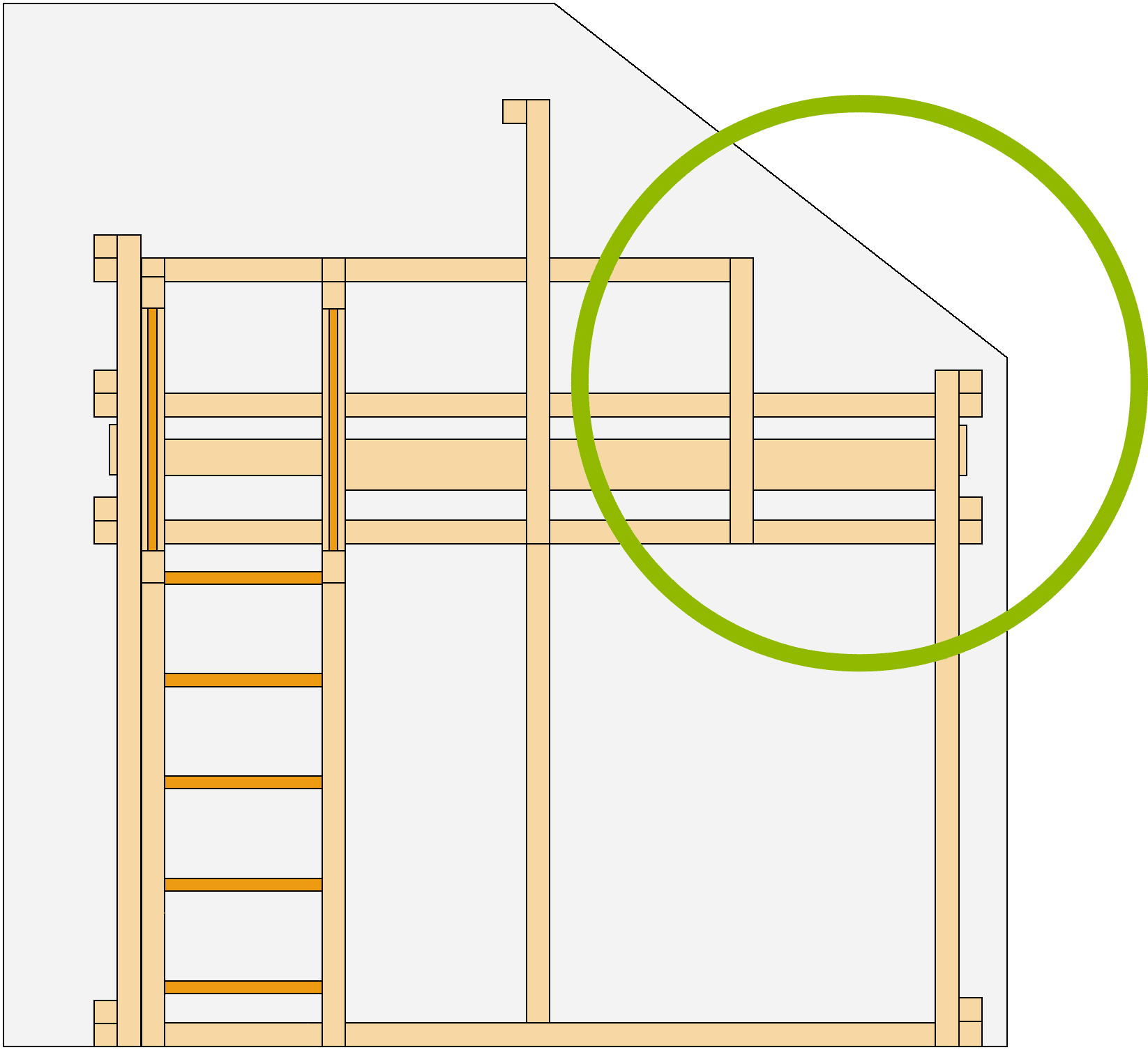 Customising Options →
With solutions for special room situations, such as sloping roofs, extra-high feet or rocking beam position, our loft beds and play beds can be individually adapted to your children's room. You can also choose flat rungs or a playing floor instead of slatted slats here.
---
Decision support: High bed, yes or no?
For many parents and families, investing in a high-quality bed is not an easy decision. After all, such a child's dream costs slightly more than an ordinary low cot. Is this purchase worth it for the young family and the growing offspring at all? We would like to help you with your decision-making and give you tips on what to look out for when buying a bunk bed.
Contents
What exactly is a bunk bed?
A loft bed is called when the sleeping level is at least 60 cm above the ground. Depending on the bed type and height, the area under the bunk bed can be up to 217 cm for our models. So there is a lot of space under the lying area, which can be used twice. A big plus! Especially in the often small children's or youth rooms, bunk beds allow optimal use of space.
Of course, safety in high beds for children plays an essential role. For this reason, all our bed models have a particularly high level of failure protection, which far exceeds the DIN safety standard. So you can be reassured that your darling sleeps and plays well protected day and night.
What are the species?
With us you will find four base-bed models that can be expanded with a wide range of accessories. The growing bunk bed is the flexible and sustainable solution that accompanies your child from the age of crawling to the teenage years and beyond. The alternative at limited room height is the half-height bunk bed. Both bed models can be equipped with baby grilles and are therefore already suitable for children of the crawlage. Even slightly older girls and boys will like our cuddly bunk bed, whose cozy raised seating area under the bed invites you to play, read or dream. Our youth bunk bed is ideal for children from the age of ten and offers students a lot of space under the bed. The student's loft bed goes even higher: at a height of more than two metres, you can sleep comfortably above things.
What are the advantages of a high bed?
High beds are a very space-saving solution for every children's room and even for the student stall. On the same floor space, in addition to a raised sleeping platform, they also offer plenty of additional space under the bed for playing, working and storing. Especially in small rooms, high beds are welcome wonders. The gained space below the homely sleeping level can be optimally used for various residential purposes, e.g. with a desk as a learning and workplace, as a cuddly and reading corner or as a playground.
At the same time, a high bed greatly enhances the home children's bedroom. It turns it into a very personal sleeping and relaxation room with a feel-good atmosphere and invites you to create creative game ideas with a lot of movement – even on rainy days. By descending and descending the bed ladder on a daily basis or climbing and swinging on accessories such as the fire brigade pole or the rocking plate, the children playfully develop a very good body awareness and train their motor skills. They learn to trust their bodies.
Conversion options to our other models (e.g. into a bunk bed) make our growing bunk beds unlimited use. This means no matter how your family situation develops, whether it's family growth, patchwork family, other room options after the move or changing personal needs: a Billi-Bolli bunk bed adapts like a chameleon to any situation and you'll enjoy it for a long time.
A guide to choosing the right bed for your child
So bunk beds offer many practical advantages. But which model is right for my child?
Ceiling height
One of the first factors for choosing the right bunk bed is the room height in your children's room. Many new apartments have a ceiling height of approx. 250 cm – this is ideal for cots and many other high-bed models up to approx. 200 cm. A student bunk bed requires higher ceilings; here we recommend a room height of approx. 285 cm. For less high children's rooms we have even developed a semi-high bed version.
Mattress size
Can it be a bit more? Our bunk beds are available for different mattress dimensions. While a standard mattress size for a cot is 90 x 200 cm, we offer many other dimensions in our bed range. If your children's room is sufficiently large, you can also select the growing bunk bed with a mattress size of up to 140 x 220 cm.
Age and (planned) number of children
The age of your child plays an equally important role in choosing the first bunk bed. In the crawlage, the sleeping level of the baby cot should be directly at ground level. This makes possible, for example, our growing bunk bed, which grows higher and higher with age. Up to construction height 3, the growing bunk bed can be equipped with baby grilles before it becomes a real play bed for the offspring
If daughter or son are already a bit older, then they can already conquer our high beds from construction height 4. High-quality materials and the best workmanship in our Billi-Bolli workshop guarantee maximum safety and stability. After all, a high play bed for the children's room is exposed to completely different stresses than a simple low cot and must be absolutely safe even after years of use.
Of course, the next-generation planning can also have an influence on the decision: If your darling soon shares the room with a brother or sister, a two-story bed is a sensible consideration.
Wood
In the next step, you decide on a type of wood: We only use solid wood from sustainable forestry for our bed construction and offer it in pine and beech. Pine is a bit softer and visually more vivid, beech is harder, darker and visually a little more homogeneous.
On the surface, you also have the choice: untreated, oiled-waxed, white/coloured glazed or painted white/coloured. The high bed has been particularly popular in recent years.
Is my child safe?
The safety of child beds is a central concern for our family business from the very beginning. For this reason, our bunk beds are equipped with a high drop protection, which not only meets the safety standard DIN EN 747, but also far exceeds it. When manufacturing the beds in our master workshop near Munich, we attach the highest importance to high-quality materials and the most careful workmanship. As a result, the extrabeds of Billi-Bolli are very safe.
Whether a child is safe and secure in a bunk bed depends on two factors: in addition to important structural elements of the bed that ensure safety, such as
* Consistent stability of the bunk bed
* High quality and durable materials
* sufficiently high fall protection
* Handles on the ladder
* Distances of the components according to DIN EN 747, so that clamping hazards are excluded
the motor, physical and mental development of the child also determines the level of sleep and play at which it can sleep safely. In particular, the assessment of parents is required here.
Our age recommendations for the various height of the growing loft bed can serve as clues. The growing loft bed is already suitable for babies and crawling children at height 1 (ground level), further heights have to be adjusted to the age and level of development of the child. In addition to the high drop protection, we offer you an extensive safety accessory at Billi-Bolli – from protective boards to roll-off protection to ladder and slide grilles. We are also happy to advise you personally on the phone.
Who are our bunk beds suitable for?
| | | | |
| --- | --- | --- | --- |
| Model | For what age? | Spatial condition | Specifics |
| Loft Bed Adjustable by Age | from krabbelage (height 1) to adolescence | required room height approx. 250 cm | from construction height 4 a lot of play and storage space under the bed; expandable to the student high bed with extra-high feet |
| Youth Loft Bed | from 10 years (construction height 6) | required room height approx. 250 cm | plenty of space under the bed |
| Students' Loft Bed | for adolescents and adults (height 7) | required room height approx. 285 cm | Height under the bed 217 cm |
| Low Loft Bed | from krabbelalter (construction height 1) | for room heights from 200 cm | suitable for rooms with a low ceiling height |
| Comfy Corner Bed | for children from 5 years (height 5) | required room height approx. 285 cm | The sweet cuddly corner in the lower area is included! |
What is the difference to bunk beds?
Category
Properties
Benefits
Versions
Ways
Loft Beds

* a sleep level
* additional play or work area under the bed
* Extensive accessories for individualization

* additional space in the children's room
* as a growing bunk bed already suitable for babies
* A variety of design options for the lower level
* numerous play possibilities through the design
* Conversion in bunk bed possible
* suitable as a half-height loft bed for rooms with a low ceiling height

* Loft Bed Adjustable by Age
* Youth Loft Bed
* Students' Loft Bed
* Low Loft Bed
* Comfy Corner Bed

* can be refitted with accessories
* thanks to the sloping roof level also suitable for attic rooms
Bunk Beds

* two or more sleep levels
* Extensive accessories allow customization

* Space-saving sleeping for two to four children
* Lower sleeping level with baby grille also suitable for children of crawlage
* A variety of ways to design as a play bed for both levels
* Conversion into two separate bunk beds possible

* Bunk Bed
* Corner Bunk Bed
* Bunk Bed Laterally Staggered
* Youth Bunk Bed
* Both-Up Bunk Beds
* Triple Bunk Beds
* Skyscraper Bunk Bed
* Bunk Bed Laterally Staggered for Four

* Extensive expansion and conversion kits allow for the needs-based redesign
* Roof sloping stage available for various models
Are there any drawbacks?
To make beds or to move in, you have to climb into the bunk bed. This can be considered a welcome little fitness exercise or also find a bit annoying. It's not difficult.
If the recommendations on the height are not taken into account, the risk of falling down remains.
With or without accessories?
The possibilities to design a bunk bed with accessories are enormous. Without any additional accessories, you have a stable and durable sleeping furniture with storage space under the height-variable lying surface. With optional bed accessories, the simple child's high bed becomes a much-loved play bed and a real indoor adventure playground.
The accessories can be roughly divided into three categories: safety, experience value (optical or motor) and storage space:
* Safety can be increased with additional protective boards, safety grilles for the ladder area or ladder protection. For the very youngest there are baby grids.
* The experience value of the bunk bed increases extremely with the installation of themed boards: Our themed boards transform the cot into a berth bed for the pirate son or into a knight's bed for the princess daughter. Our high beds inspire girls and boys alike and make the children's room an experience room! The urge for movement can be lived out by a loft bed with slide, fire brigade pole, climbing rope, climbing wall and rungs wall. Keep in mind that depending on the type of accessory, especially for the slide, the space requirement for the bunk bed may increase.
* Use storage and storage accessories from the Billi-Bolli range to skilfully use the area around the sleeping level and under the loft bed.
And the best thing about Billi-Bolli's thoughtful modular system is that all the accessories for safety, play and fun can be removed later, so that the loft bed can be used even by the grown-up, cool teenager and teenager.
Notes on using a child's bunk bed

* Follow the instructions for the age-appropriate heights.
* Do not overwhelm your child and, in case of doubt, choose the lower height.
* Watch your child and be there when they climb into the new bunk bed for the first time to help them if necessary.
* Check the stability of the bed regularly and tighten the screws and nuts if necessary.
* Pay attention to a child-friendly, fixed-elastic mattress with stable tread edges. We recommend our Prolana mattresses.
Summary
High beds are a great pleasure for children – especially if they fulfill their own child's dream with individual and age-appropriate accessories! Without further intervention, a high bed in the children's room promotes motor skills and inspires your child's imagination. And later, when daughter or son become a puberty, after dismantling the play elements from childhood, nothing stands in the way of the further use of the bunk bed as a teenager or student.
Buying a high-quality children's bunk bed is therefore a good investment for many years to come. The well thought-out design makes our Billi-Bolli bunk bed so variable that it can be adapted to the changing needs of the family at any time. With our conversion kits, for example, you can extend a bunk bed to a bunk bed for two – or a two-story bed to two single high beds. Buying new beds is unnecessary, which conserves our natural resources and your financial resources.