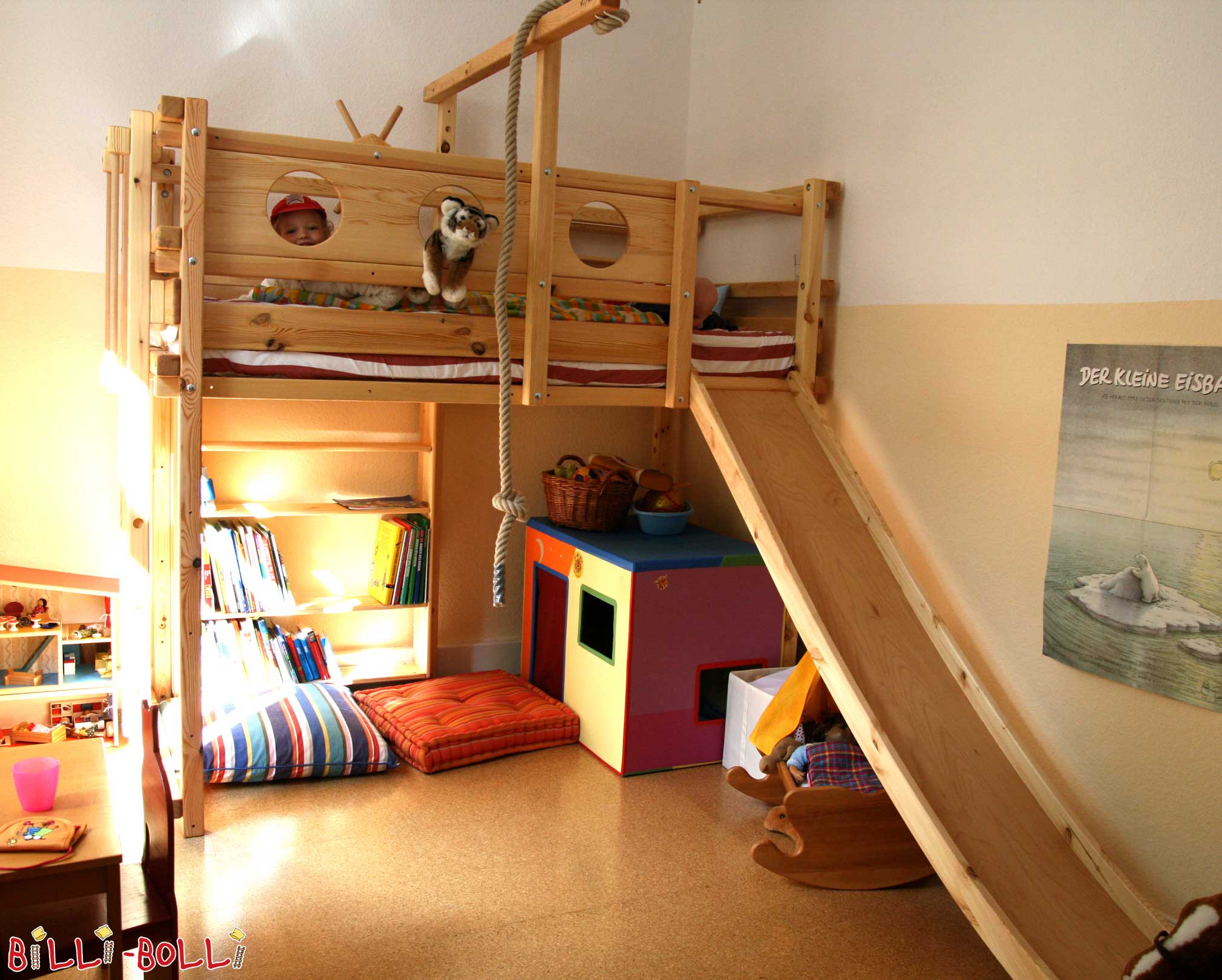 Loft beds are the ideal solution for smaller kids' rooms because they combine a sleeping area with a place for playing or studying. Our loft beds for children come with high fall guard and will grow with your child. They accompany all children – from infant to school kid – for many years. We even offer variants for youth and adults. With us, you will easily find the optimal solution for every age. You can customise all of our loft beds with numerous accessories and if you opt for one of our conversion sets, you can also expand the loft bed into one of the other kids' beds.
Claim Your Free Hanging Cave
Get a FREE
hanging cave
if you order a bed by
January 30
!
---
Loft Bed Adjustable by Age →
The Loft Bed Adjustable by Age is our best-selling kids' bed for girls and boys. It is the ideal entry into our loft bed world, even if your child is still too young for a loft bed. This growing kids' bed is a true all-rounder and can be flexibly mounted at 6 assembly heights. At height 1, the sleeping area remains directly on the ground, this way you can use the loft bed adjustable by age already when your little one starts to crawl. By choosing this flexible and convertible loft bed made of toxin-free solid wood, you are not only sustainably protecting the environment, but also your wallet.
Tested according to DIN EN 747: Loft Bed in 90 × 200 with ladder position A at assembly height 5, without Swing Beam, equipped with Mouse Theme Boards all around, untreated & oil-waxed.
from € 1,095
🚚

worldwide delivery
📦
immediately available
Details: Loft Bed Adjustable by Age
---
Youth Loft Bed →
Our Youth Loft Bed offers all the advantages of loft beds and provides plenty of space below the sleeping area while it foregoes the high fall guard. It is suitable for adolescents aged 10 and above and is therefore perfect for teenagers and school kids. The generous free space below the loft bed has a standing height of 152 cm and can be ideally used for a desk, an integrated desktop, shelves or even a wardrobe. Billi-Bolli's Youth Loft Bed is designed for a ceiling height of 2.50 m and is available in 5 width and 3 length options, including 120x200 and 140x200.
Tested according to DIN EN 747: Youth Loft Bed in 90 × 200 with ladder position A, untreated & oil-waxed.
from € 895
🚚

worldwide delivery
📦
immediately available
Details: Youth Loft Bed
---
Students' Loft Bed →
This loft bed for students, apprentices and young adults is the ideal solution for shared flats and small bedrooms in dormitories. With a standing height of 184 cm below the loft bed, there are many options for using this spacious open area. For rooms with a ceiling height of 2.80 m, the Billi-Bolli Students' Loft Bed proves to be a real space-saver with wow-factor. There is an even taller option: You can also get our students' loft bed with a standing height of 216 cm below the sleeping level. The extra-tall students' loft bed is thus ideal for buildings with high ceilings.
from € 1,149
🚚

worldwide delivery
🪚
will be manufactured for you
Details: Students' Loft Bed
---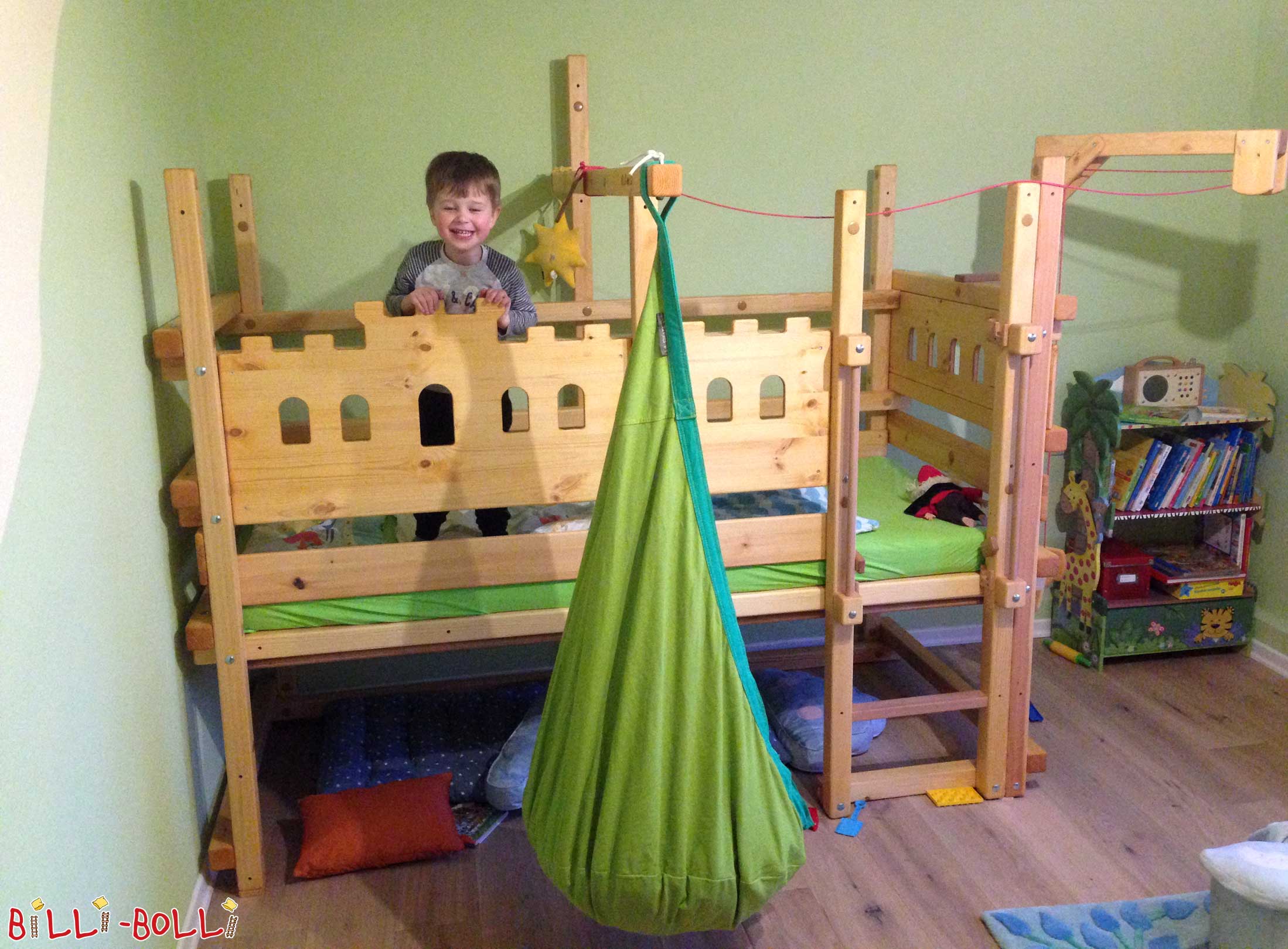 Low Loft Bed →
Our Low Loft Bed is the perfect loft bed for young children and low rooms. Below the sleeping level you will find plenty of space for a cosy corner and with curtains all around you can also turn it into a play den. This bed is not as high as a standard loft bed. Still, with 5 available height options, you can flexibly adapt our low loft bed to the age of your child and with our optional bed accessories you can even transform it into an adventure bed. Our slide can also be attached to this loft bed model, which will provide great action in the kids' room.
Tested according to DIN EN 747: Low Loft Bed in 90 × 200 with ladder position A at assembly height 4, without Swing Beam, equipped with Mouse Theme Boards all around, untreated & oil-waxed.
from € 1,049
🚚

worldwide delivery
🪚
will be manufactured for you
Details: Low Loft Bed
---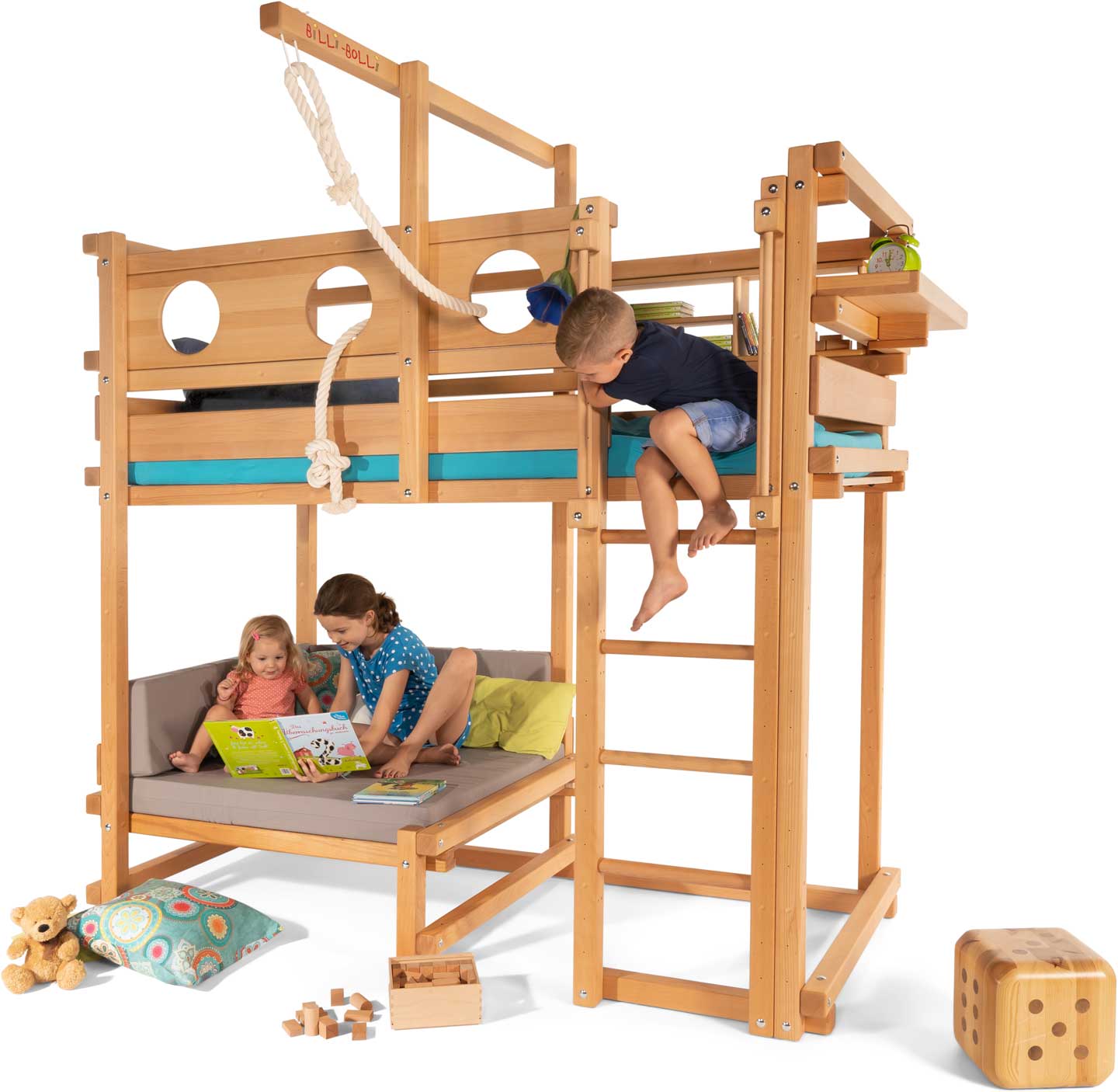 Comfy Corner Bed →
The Comfy Corner Bed combines our popular Billi-Bolli loft bed with a really snug cosy area underneath. A dream come true for girls and boys who prefer to keep an eye on their room while playing in the raised seat. And for young as well as older bookworms, the cosy seating area below the loft bed is the ideal spot for reading or story time. Books as well as toys can be stored in the optional bed drawer. With our extensive range of bed accessories, you can transform this loft bed into a real knight or pirate play bed in just a few simple steps.
Tested according to DIN EN 747: Comfy Corner Bed in 90 × 200 with ladder position A, without Swing Beam, equipped with Mouse Theme Boards all around, untreated & oil-waxed.
from € 1,349
🚚

worldwide delivery
🪚
will be manufactured for you
Details: Comfy Corner Bed
---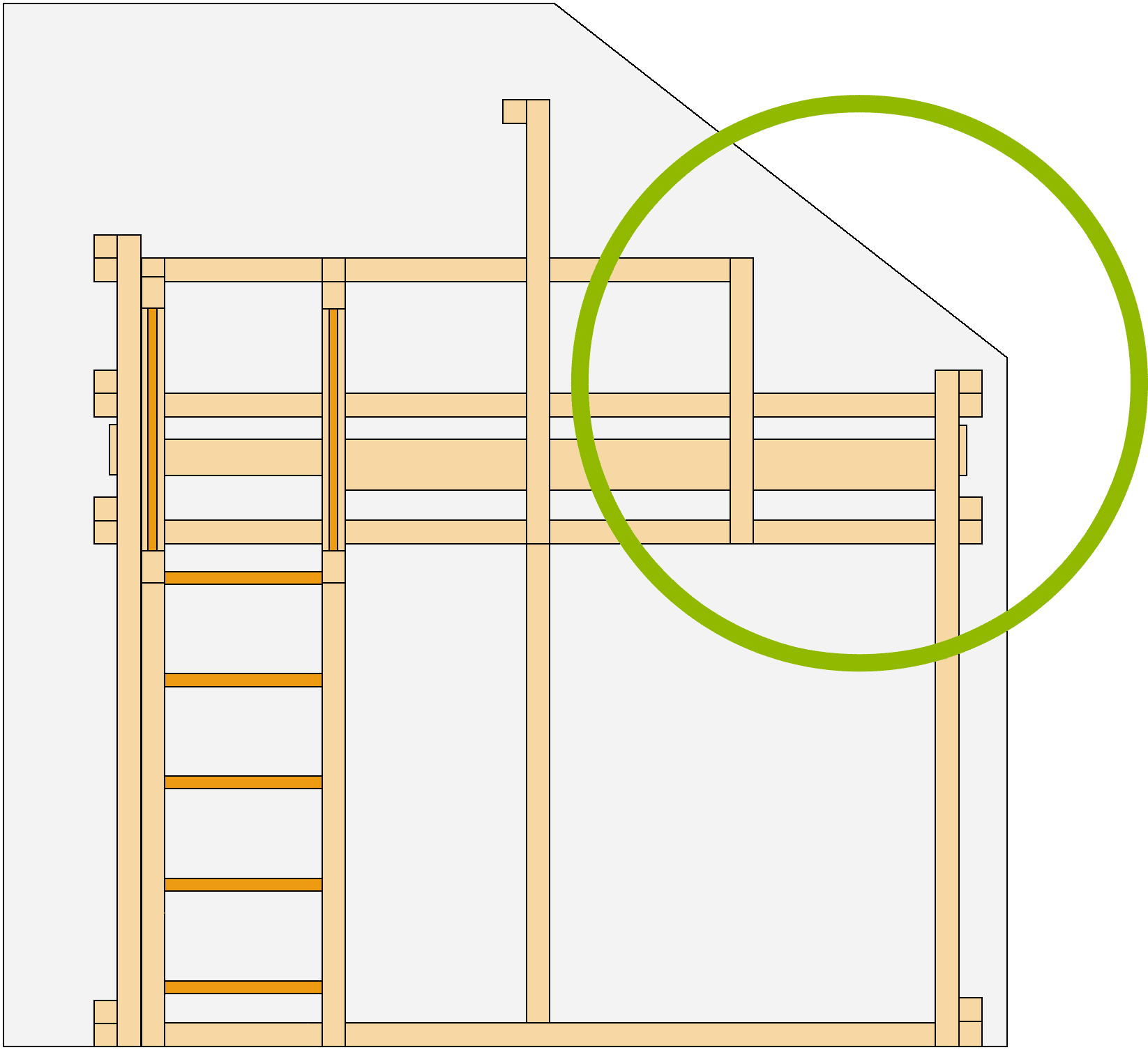 Customising Options →
With solutions for special room requirements, such as Pitched Roof Step, extra tall legs or swing beam position, our loft beds and play beds can be customised to fit your particular child's bedroom. You can also choose Flat Rungs or a Play Floor instead of a slatted bed base here.
---
Decision aid: loft bed, yes or no?
For many parents and families, investing in a high-quality loft bed is not an easy decision. After all, a kid's dream costs a little more than an ordinary low kids' bed. Is this acquisition actually worthwhile for a young family and their growing child? We would like to help you make your decision and give you advice on what to consider when buying a loft bed.
Contents
What exactly is a loft bed?
A bed with a sleeping area at least 60 cm above the floor level is called a loft bed. Depending on bed type and assembly height, the area below our loft bed models can be up to 217 cm high. So this provides plenty of free space below the sleeping level, which can be used twice. What an asset! Especially if your kids' or youth room is rather small, loft beds help you to make optimal use of the available space.
Of course, safety is incredibly important when it comes to loft beds intended for children. This is why all of our kids' bed models are equipped with particularly high fall guards, which exceed the DIN safety standard by far. So you can be sure that your darling is perfectly safe when playing and sleeping, night and day.
What bed types are there?
We have four distinct loft bed models, which can be expanded with a wide range of accessories. The loft bed adjustable by age is the flexible and sustainable solution and will accompany your child from crawling to adolescence and beyond. The alternative is the low loft bed if your ceiling height is limited. Both bed models can be equipped with baby gates and are therefore already suitable for toddlers, who just started to crawl. Girls and boys, who are already a little older, will like our comfy corner bed. Its raised cosy seating corner below the bed is an inviting area for playing, reading or dreaming. Our youth loft bed is ideal for children aged 10 and above and provides school kids plenty of space below the bed. If your kids cannot get enough of heights, our students' loft bed is sure to deliver: With a sleeping level higher than two metres, they can comfortably rest on top of their world.
What are the advantages of a loft bed?
Loft beds are a very space-saving solution for every kids' room and they are even great in a shared flat for a student. On the same floor space, it offers a raised sleeping area as well as plenty of additional space underneath the bed for playing, working and storing. Loft beds shine particularly in small rooms, offering lots of space. The free area below the cosy sleeping level can be optimally used for a variety of living purposes, such as a cosy corner for cuddling and reading, a playground or a place for studying and working by adding a desk.
At the same time, a loft bed greatly upgrades the kids' bedroom. It turns the room into a very personal space for sleeping and relaxation with a feel-good atmosphere and inspires new creative play ideas with lots of action – even on rainy days. The daily ascent and descent on their bed ladder or on their climbing and swinging accessories, such as the fireman's pole or the rocking plate, will improve the children's body awareness in a playful manner, while also strengthening their motor skills. They learn to trust their bodies.
The transformation options into our other models (e.g. into a bunk bed) make our loft beds infinitely usable. No matter how your family situation develops and changes over the years to come, whether it is the arrival of a new child, family reunifications, a move or other adjustments that change your needs: A Billi-Bolli loft bed adapts to all situations like a chameleon and you will enjoy it for a long time.
A guide to help you choose the right bed for your child
Loft beds, therefore, offer many practical benefits. But which model is the right one for my child?
Ceiling height
One of the first factors to consider when choosing a suitable loft bed is the ceiling height of your kids' room. Many newly built flats have a ceiling height of approx. 250 cm – which is ideal for kids' loft beds and many other loft bed models up to a height of approx. 200 cm. A students' loft bed requires a higher ceiling; here we recommend a ceiling height of approx. 285 cm. We even developed a low loft bed variant for lower kids' rooms.
Mattress size
Bigger or smaller? It is totally up to you. Our loft beds are available for different mattress sizes. While 90 x 200 cm is a standard mattress size for a kids' bed, we offer many other sizes. If your kids' room is large enough, you can select the loft bed adjustable by age with a mattress size of up to 140 x 220 cm, for example.
Age and (expected) number of children
Another equally important factor in choosing the first loft bed is the age of your child. If your toddler just started to crawl, the sleeping level of the baby kids' bed should be directly at floor level. This is possible with our loft bed adjustable by age, for example, which will grow higher with increasing age of your child. Up to assembly height 3 it is possible to equip the adjustable loft bed with baby gates before it turns into a real play bed for your little one.
If your daughter or son is a little older, they can already conquer our loft beds at assembly height 4. Our Billi-Bolli Workshop guarantees the use of high-quality materials and the best workmanship for maximum safety and stability. After all, in contrast to an ordinary low kids' bed, an elevated play bed is exposed to heavy loads in the kids' room and must withstand all kinds of wild rough-and-tumble-play. It has to remain absolutely stable and safe, even after years of use.
Your decision can also be influenced by the number of children you are planning to have, of course: If your darling will soon be sharing the bedroom with a little brother or sister, you may want to consider a bunk bed instead of a loft bed.
Type of wood
In the next step, you decide the wood type: We only use solid wood from sustainable forestry for the construction of our beds. You can choose pine or beech wood. Pine is a little softer and has a more lively appearance compared to beech, while beech is harder, darker and visually more uniform than pine.
You can also choose the surface finish: untreated, oil-waxed, white/colour glazed or white/colour lacquered. In recent years, the loft bed with a white lacquered finish has been particularly popular.
Is my child safe?
From the very beginning, the safety of kids' loft beds has been a central concern for our family business. For this reason, our loft beds come with high fall protection, which not only meets the safety standard DIN EN 747, but exceeds it by far. It is very important for us to only use high-quality materials and that our beds are carefully built by master craftsmen in our Workshop near Munich. As a result, Billi-Bolli loft beds are very safe.
Whether a child is safe and protected in a loft bed depends on two factors: while construction elements of the bed, such as
consistent stability of the loft bed

high-quality and durable materials

sufficiently high fall guard

handles on the ladder

adhering to the component spacing required by DIN EN 747 to prevent the risk of any limbs getting caught
are important to ensure safety, the motor, physical and mental development of the child is also essential in determining at what assembly height the child can play and sleep safely in their bed. In the end, the parents' assessment is most important here.
Our age recommendations for the various assembly heights of the growing loft bed can serve as a guide. The loft bed adjustable by age is already suitable for babies and toddlers at assembly height 1 (floor level). The assembly heights that follow need to be matched to the age and development of the child. In addition to the high fall guard, Billi-Bolli offers a wide range of safety accessories – from protection boards and rollout protection to ladder and slide gates. We are happy to advise you personally on the phone.
Who are our loft beds suitable for?
| | | | |
| --- | --- | --- | --- |
| Model | Recommended age? | Room characteristics | Special features |
| Loft Bed Adjustable by Age | from crawling stage (assembly height 1) up to teenagers | ceiling height required approx. 250 cm | with assembly height 4 and up there is plenty of room for playing and storage below the bed; it is expandable into a students' loft bed with extra tall legs |
| Youth Loft Bed | aged 10 and above (assembly height 6) | ceiling height required approx. 250 cm | plenty of room below the bed |
| Students' Loft Bed | for youth and adults (assembly height 7) | ceiling height required approx. 285 cm | height of 217 cm underneath the bed |
| Low Loft Bed | from crawling stage (assembly height 1) | for ceiling height of approx. 200 cm | suitable for rooms with lower ceilings |
| Comfy Corner Bed | for children aged 5 and above (assembly height 5) | ceiling height required approx. 285 cm | The super cute cuddly corner for the lower area is included! |
What is the difference to a bunk bed?
Category
Characteristics
Advantages
Models
Possibilities
Loft Beds

one sleeping level
additional play or study area below the bed
extensive accessories to customise

additional space in the kids' room
as a growing loft bed suitable for babies
many design and layout options for the lower level
numerous play options thanks to its design
conversion into bunk bed possible
suitable as a low loft bed for low ceiling rooms

convertible with accessories
also suitable for attic rooms thanks to the pitched roof step

Bunk Beds

two or more sleeping levels
extensive accessories allow customisation

space-saving sleeping option to accommodate two to four children
bottom bunk with baby gates is also suitable for children in crawling stage
versatile configuration options to design both levels as play bed
possible to convert into two separate loft beds

make changes according to your needs with extensive expansion and conversion sets
pitched roof step available for various models
Are there any disadvantages?
You will have to climb into the loft bed to make the bed or change the sheets. This can be perceived as a welcome little fitness exercise or as a bit of a nuisance. Either way, it is not difficult.
If our assembly height recommendations are not followed, there is still a risk to fall off.
With or without accessories?
The possibilities to customise a loft bed with accessories are vast. Without additional accessories, you have a sturdy and durable furniture piece for sleeping with storage space below the height-adjustable sleeping area. With optional bed accessories, however, the simple kids' loft bed turns into a beloved play bed and a real indoor adventure playground.
Our accessories can be roughly divided into three main categories: safety, experiential (visual or motor) as well as storage:
Safety can be increased with additional protective boards, safety gates for the ladder area or with the ladder protection. There are also baby gates for the little ones.

The experiential value increases extremely when attaching theme boards to the loft bed: Our theme boards transform the kids' bed into a berth bed for the pirate son or into a knight's bed for the princess daughter. Our loft beds inspire girls and boys alike and turn the kids' bedroom into an inspiring experience room! You can meet your child's natural urge to move with a loft bed equipped with a slide, fireman's pole, climbing rope, climbing wall and wall bars. Keep in mind that accessories, particularly the slide, may increase the required space for the loft bed.

Make the most of the space below the loft bed and around the sleeping area by adding clever storage accessories from the Billi-Bolli range.
And the best part about Billi-Bolli's sophisticated modular system is that all accessories for safety, play and fun can be easily removed later. This way your cool adolescent, youth and teenager can continue to use their bed and customise it to their needs and style.
Advice for the use of a kids' loft bed
Follow the advice for age-appropriate assembly heights.

Do not overwhelm your child and, if in doubt, opt for the lower assembly height.

Observe your child and be there when they climb into the new loft bed for the first few times to help them if necessary.

Check the stability of the bed regularly and retighten the screws and nuts as needed.

Make sure you have a child-friendly, firm-elastic mattress with a stable border edge. We recommend our Prolana mattresses.
Summary
Loft beds are super fun for children – especially when they are custom-equipped with age-appropriate accessories, fulfilling their dreams! Just like that, a loft bed promotes motor skills and inspires your child's imagination right in the kids' room. And later, when daughter or son turns into a little "teenosaurus rex", all child-friendly play elements can be easily removed and your teenager or student can continue to use and design the bed to their liking.
So buying a high-quality kids' loft bed is a good investment for many years. The clever design makes our Billi-Bolli loft bed so versatile that it can be flexibly adapted at any time to keep meeting the changing needs of the family. With our conversion sets, you can expand a loft bed into a bunk bed for two – or a bunk bed into two single growing loft beds, for example. Buying a new bed is not necessary anymore, which conserves our natural as well as your financial resources.