Your kid's bed is no longer needed? You are welcome to resell your used kid's furniture and accessories directly on this highly frequented site. This is a free service for Billi-Bolli products that you originally purchased new from us.
If you bought pre-owned Billi-Bolli products, that you would like to resell now on this site, then we take a € 60 fee, which will be fully donated to our charity projects. The same applies to the resale of second hand Gullibo beds.
Notes
The offers on our Second hand page have been translated automatically and therefore may contain translation errors. We take no responsibilities for these errors or the misunderstandings arising from them. Please visit the Second hand page on our German website to view the offers in their original language.

We take no responsibility for the information posted by customers about furniture for resale as we are unable to verify it.

Billi-Bolli Kindermöbel is not involved in the resulting resales.

Whether an offer is reasonably priced or not must therefore be determined by the interested party (see Resale price recommendation). Such an assessment cannot be derived from the fact that the item is placed on our Second hand page.

Please note that we cannot deliver accessories or expansion parts for Gullibo kids' beds. If you are intending on expanding the bed, we recommend to directly opt for a Billi-Bolli bed.
Want to stay up-to-date on new offers?
Receive an e-mail as soon as a new second hand offer has been published:
---
Bunk bed with slide
Offer 3117 (second hand bunk bed). Published: 20 July 2018
We offer a bunk bed in beech with many extras.
-Bunk bed beech 100x200cm incl. 2 bed slats.
-Ladder with rungs and 2 handles.
-2 longitudinal bunk boards (portholes) and frontal.
-3 Hinausfallen protective boards for the upper floor.
-Jib extended outwards.
-Rope and swing plate.
-holzfarbene caps for pre drilled holes.
-Slide.
-2 bed boxes with 1 bed drawer subdivision for 4 subjects.
-8 bed box rollers ø 45 mm.
-a narrow shelf on the wall.
-4 curtain rods for 3 pages (the bars are not used)
-3 Red rectangular cushion elements for front and side wall (removable, washable)
The bunk bed is in very good condition with a few signs of wear. It has no 'bacon' areas such as on the hand grips. It was needed by a child. There is a hole for a small lamp.
Overall dimensions (without slide) are = l: 211cm, B: 112cm, H: 228, 5cm.
The bed can be seen in bad Dürkheim. The purchase price was €2.543,-in 2008, the retail price for pickup is €1,300. The Bill and the Assembly instructions are available. Gladly we help in reducing!
Contact
Familie Müller
06322/ 947717
67098 Bad Dürkheim
---
Bunk bed-side places
Offer 3116 (second hand bunk bed). Published: 16 July 2018
We sell our Ballantyne of Billi offset, bed size 140 x 200 cm, untreated pine with original accessories,.
Beams to build in 2 youth beds, currently incl mattress built brevity as bunk beds one above the other,. The bed was 2014 newly delivered us by Billi Bolli in the Switzerland & has 2016 harmless survived the move to Germany. The price was about €120 at that time approximately €1400 (including transport costs) with the plus accessories to the conversion for 2 youth beds. The bed was a low-use and is in good condition. .
Asking price approx. €900. Must pick up are!
Contact
Familie Göttlich
36284 Hohenroda/Ausbach
TEL. 0160/91498056
---
Play ground
Offer 3115 (second hand bunk bed). Published: 16 July 2018
Original Billi Bolli game floor for sale.
A Billi-Bolli bed is with the bottom of the game quickly and easily in a gaming platform transform (E.g. until the sibling there is)
The floor consists of 3 elements out of sturdy plywood which instead of the roll bar grate in the corresponding Groove in the bed is pushed and is fixed with small blocks. The game floor was used in a bunk bed with mattress dimensions 90 x 200 cm.
The game ground was purchased in 2016 and is pretty much mint condition no visible traces.
Location: Munich.
Price: €65
Contact
Sebastian Tuttas
Tel: 0173/3147323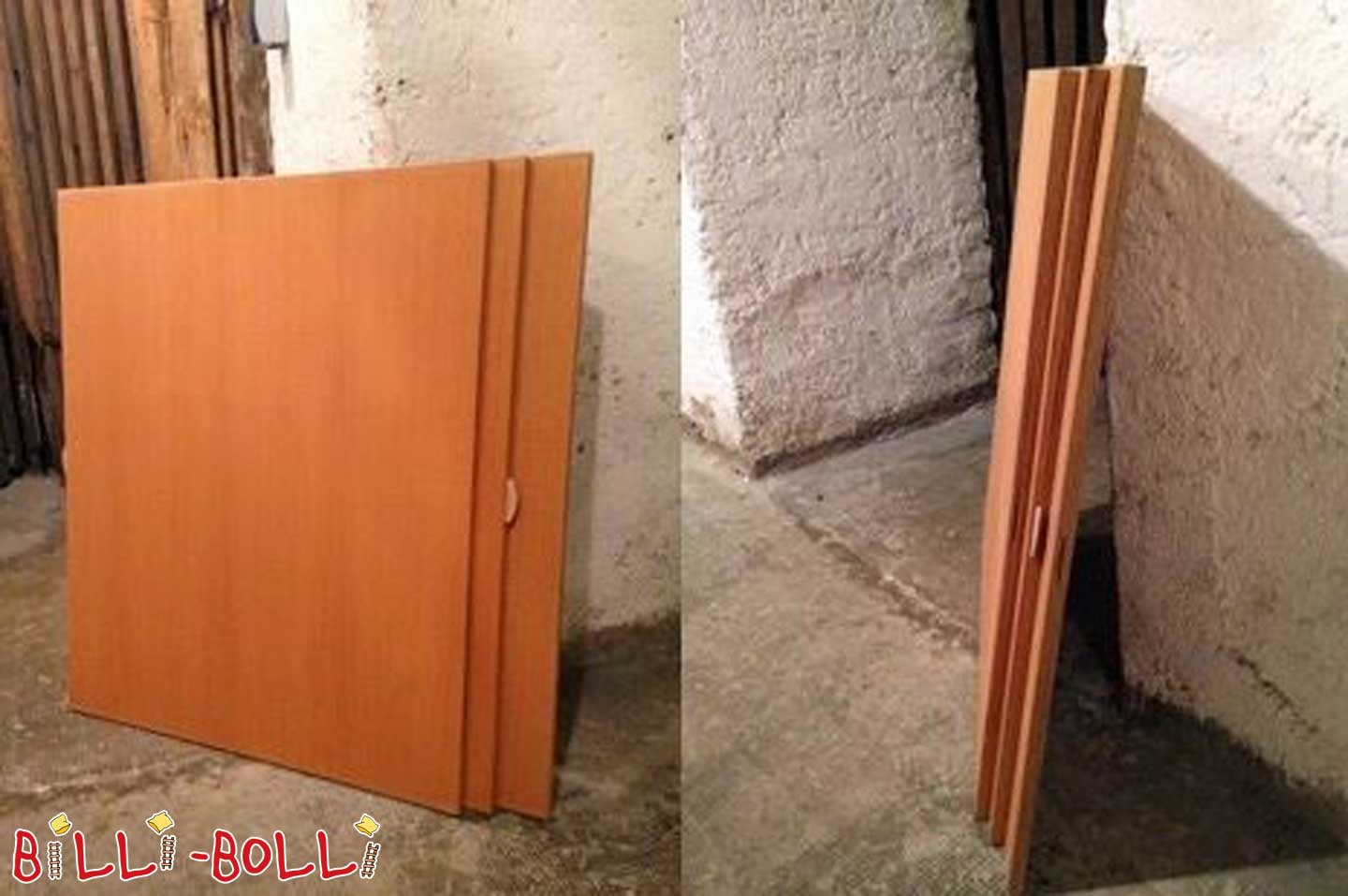 ---
Bunk bed
Offer 3114 (second hand loft bed). Published: 16 July 2018
We want to sell our bed.
Purchased October 2014 new for €1.438,58 (incl. shipping)
Label: bunk bed 90 x 200 cm with oil wax treatment, bunk Board 2 x front, 1 x front, Duckboards, protection boards for upper floor, handholds.
Blue foam mattress (87 x 200 cm, 10 cm high, cover removable) l: natural hemp rope 2.50 m. dimensions: L: 211 cm, B: 102 cm, H: 228, 5 cm.
Blue Hole plugs.
Sale price: €1.050,00 freely constructed off and picked up.
Contact
Klaus Hess
79232 March-Buchheim
Tel. 07665-9471981
---
Youth bunk bed
Offer 3113 (second hand loft bed). Published: 12 July 2018
We sell our Billi-Bolli youth bed. .
We have bought it in November 2009 for our 9 year old daughter and have chosen a shorter and narrower variant at that time because the room is small.
Before we have dismantled it, I made three pictures, which show all of the front page, would be better from the side, I can no longer do that.
It's the following bed:
Youth bunk bed 80 x 190 cm, height 196 cm, pine oiled and waxed.
Dimensions 92 x 201 cm. head position A. caps wood colors.
incl. a small Bookshelf oiled pine.
There is still a second, which was glued but with substances and is therefore no longer beautiful.
We have put themselves at the Carpenter making a panel which is made as a National School Board, 80 cm wide and 60 cm deep, beveled with a bed under the deck area attached to extra space under the work surface, and the. Also came with desire.
Would I also give the corresponding mattress. It's a Nele plus youth mattress.
Site is Salzburg.
We have paid at that time €747,74 for bed (without mattress and shelves), and I imagine €300 as a price for everything.
---
Bunk bed over corner
Offer 3112 (second hand bunk bed). Published: 12 July 2018
We sell our Billi Bolli bunk bed. It's following execution:
Bed over corner, spruce, oiled and waxed.
both level 100 cm x 200 cm.
low bed type 3 as a flat deck.
External dimensions:
L: 211 cm, B: 211 cm, H: 228.5 cm. incl. 2 slatted frames, protective boards for upper floor, grab handles;
Head position: A. cover caps: white.
Skirting board: 2 cm. jib out spruce moved.
Protection Board 112 cm, spruce oil.
Swing plate, oiled.
Natural hemp rope.
Alex plus youth mattress allergy 100 * 200 cm Alex plus youth mattress allergy special measure 97 * 200 cm Assembly documents and additional screws available.
The bed was bought in 2008 and "no longer fit". It is located in a very good condition, was neither painted nor glued.
Non-smoking household, no pets.
Of purchase price (2008) without mattresses: €1,188.
Full price € 600.
The bed is available in Austria (Carinthia) and can be picked up in the State built off.
Pickup only!
Contact
Familie Greyer
9020 Klagenfurt am Wörthersee / Kärnten
Österreich
+43 664 2026499
gabigreyer@gmx.at
---
Bunk bed, white lacquer
Offer 3111 (second hand loft bed). Published: 12 July 2018, sold: 15 July 2018
sold
We sell our beautiful white Billi Bolli bed, since we now have two separate rooms for the children. .
We bought the base frame and first bed in April 2012 (NP 1537,62 euro - invoice available):
Bunk bed 90 x 200, beech untreated, white lacquered, incl. slatted frame, protective boards for upper floor, handholds. Dimensions: L: 211 cm B: 102 cm and H: 228.5 cm, caps: pink.
We have bought the second bed (conversion set of bunk beds to bunk beds) in October 2012 (377,30 Euro): also untreated beech and white lacquered ground analog, caps also pink, the one listed above. .
Through the different adjustable heights it is very flexible (low in young children, higher for large children). As a result, it has also perfect storage space under the bed.
The high bed is located in age-appropriate, well-maintained condition with normal wear. We have set a time later both floors for each position. We are a pet free non-smoking household.
Then purchase price total: 1.914 euros (excluding mattresses and curtains)
Our price: 1.200 euro including a 7-zone cold foam mattress, the curtain rods and all small and spare parts and original Billi Bolli color for any repairs. The installation manual is missing.
Location: Munich
Comment:
Dear Billi Bolli team.
We have already sold our bed. Thank you for your support!.
Many greetings Ilka Limmert
---
Original Billi Bolli high beds for two
Offer 3110 (second hand loft bed). Published: 11 July 2018
We sell our beautiful Billi Bolli, because our guys are getting too big for it and we rebuild the nursery bed with lots of extras. Involves two growing with high beds, which are built around a corner, the varying levels of sleep can any be built up (too high). The beds can be separated and work also stand alone.
External dimensions each bed for themselves: L. 211 cm, B: 112 cm, H: 228.5 cm, mattress size: 100 x 200 cm, overall measure currently under construction on: 211 x 323 cm. wood: beech oiled waxed.
Two slats, two ladders, protective boards for the upper floors, grab rails, multiple bars, screws etc. still in stock.
.
Many extras:
Climbing wall oiled beech with tested and encompassing climbing holds, different routes possible (90 cm wide)
4 x bunk boards painted blue with green color (2 x 150 cm front, 2x112cm front page)
2 x fire pole from ash, 1 x wheel, 1 x steering wheel, swing plates with climbing rope.
2 small shelves for next to the Bettzusätzlich a HABA swing seat of Piratos, in their original packaging, can also in the garden, door frames, etc. are hung up.
.
The beds are located in age-appropriate, well-maintained condition with normal wear. It was built in the present amount only once. We are a non-smoking household and have no pets.
. Purchase 2009 former purchase price: €4.026 (without mattress)
our price: €2.200.
Bill and assembly instructions are fully available.
Munich.
The bunk bed / two beds is built yet and can be visited like to advance by the buyer. Freight forwarding/shipping is possible on request and at his own expense, but we would recommend to dismantle itself, then the structure is simple. We will gladly help with.
---
Billi Bolli adventure bed
Offer 3109 (second hand adventure bed). Published: 10 July 2018, sold: 15 July 2018
sold
We sell our Billi Bolli adventure bed made of untreated pine wood.
The bed includes:
Fire pole made of ash.
Game crane made of pine.
-kleines shelf.
Steering wheel made of pine.
-Bunk Board.
Head with hand grips.
Beams for rocking chair or similar (rocking chair is not sold)
The surface is 90 x 200 cm. dimensions ca: l: 211 cm, B: 102 cm, H: 228.5 cm.
The surface can be arbitrarily placed at different heights.
New price 1864,-euro.
Mattress was purchased new in December 2014 and may be applied, but does not have.
Bill (08.02.2011) and assembly instructions available.
We offer bed for 900 euros for sale. . Site 95326 Karolina b
Comment:
Hello.
our bed was already sold and picked up. Thank you very much!.
Greeting.
Sabine Judas
---
High bed growing with
Offer 3108 (second hand loft bed). Published: 10 July 2018, sold: 12 July 2018
sold
We want to sell our Billi Bolli bed, which we have purchased 2011. It is oiled with a bed 90 x 200 cm, protective boards for the upper floor a Loft bed, pine.
To the bed there are two large and two small shelves a crane game, curtain rod set, climbing rope made of natural hemp with a swing plate.
The new price at that time was €1498,91, purchase 06.12.2011. Our price is €800. Is the construction guide is fully available.