High bed 100x200 with slide in Wachtberg
Offer 4433
. Published: 22 December 2020 (second hand loft bed)
Hello, we offer the last of our three Billi Bolli beds in 100/200 and with pine/oil wax treatment with slide. Age: good 10 years
Accessories: slide, curtain bars, small shelf.
Unfortunately, our cat could not be deterred from the fact that the outside posts are a suitable scratching tree. But she doesn't do smoking ;-)
Otherwise, everyone is available (slide and ladder are in the basement) super stable and has lived patina.
• Purchase price at that time: 1202
• Price presentation 400 because of the bars
• Location: Wachtberg near Bonn
Contact details
Sie erreichen mich unter
---
Floor bed made of pine
Offer 4432
. Published: 21 December 2020 (second hand bunk bed)
sold
Our beloved BILLI-BOLLI bed is allowed to move on. We bought it 7 years ago, and had built it up in several variants, especially the swing was the hit with every children's visit. My children were always protected as this bed just goes with everything and the endless combinations and conversions allow a long use. From toddlers to teenage years, this bed can cover everything. The bed is in used but very good condition has no stickers or paint marks, a few scrapes through the swing are in the wood, and the rope is slightly discolored.
There are:
Bunk bed 90x200 with 1 slatted base and a play floor in pine
Bunk boards in 1x in 150cm and 2x in 90cm
1 fall protection and 2 protective boards 102cm
Climbing rope with rocking plate
We extended the bed with a HABA sail by taking care of the stuffed animals. The new price was 1305€ (invoice and construction instruction are still available) we would like to have 650€ for it.
Pick up the bed in 5121 Ostermiething Austria
Comment:
Dear Billi-Bolli Team,
Thank you for setting my ad. The bed is now sold, and may make another child happy.
We will definitely recommend them, their produke are great.
Greetings from Austria
Sandra
---
Bunk bed in Leipzig
Offer 4431
. Published: 21 December 2020 (second hand loft bed)
sold
High bed 90/200, growing with, 2 floors, pine untreated incl.2x slatted base, date of purchase 11/2009, L:211cm/B102cm/H228.5cm, ladder position A, cover caps wood-coloured (no longer all available), floor strip 25mm, high bed is oil wax treated, additional sleeping level in 2015 added. Sale without mattress. Only for self-collectors, disassembly can take place together – helps with the construction, of course in compliance with all Corona measures. Original value 1186€. Our price presentation: 390€.
Comment:
Hello, thank you, the bed is sold, you can please disable the offer. Thank you very much.
---
Both top bed type 2B pine oil waxed 90x200 cm in Berlin
Offer 4430
. Published: 18 December 2020, sold: 20 December 2020 (second hand kids' furniture)
sold
We are looking for a new owner for our much loved both top bed type 2B.
We give the following original Billi-Bolli parts:
• the complete bed, pine oil wax treated, incl. slatted slats and rocking beams
• 2 small bed racks
• Curtain rods for the lower bed
• Assembly instructions
In addition on request:
• 4 shortened Ikea curtains for the cuddly corner under the bottom bed
• an LED-lit sliding curtain track from Ikea as a cosy starry sky light of the cuddly corner under the lower slatted frame – but can of course also be removed on request
• the two matching foam mattresses (one 90x200cm, the other the special format 87x200cm, red and blue suitable for the top) are still available and can be taken free of charge if desired
• the cuddly corner cushion made of foam 110 x 80 cm can also be taken with you without cover (stretch bed sheets for children's mattresses fits)
The bed was built in 2011 and was used by our children for eight years. The new price of the bed excluding mattresses and delivery was 1950 Euros.
Our price presentation is 900 Euro for self-collectors (Berlin-Steglitz).
We are an animal-free non-smoking household. The bed has normal signs of use (some smaller scratches, on three boards lighter places of residue-replaced stickers, where the wood is not just darkened, but no paints).
The bed is handed over outside due to the situation alloting.
Comment:
Dear Billi-Bolli team,
You can mark the offer as sold – it only took an hour for the first prospect and now buyer to come forward! Thank you very much for this great service, which is really not self-evident!
We wish the whole team a wonderful and healthy Christmas - despite all this year's inconvenience!
Many warm greetings from Berlin,
H.
---
Bunk bed-side-offset from spruce in Bad Boll
Offer 4429
. Published: 17 December 2020 (second hand bunk bed)
sold
It is a bunk bed 90 x 200, which can also be moved to the side, without mattresses and 2 self-built cranes.
Purchase price 2009 was 956 €
Our price presentation would be € 450,--
Location 73087 Bad Boll
Comment:
Hello
the bed was sold today, thanks for hiring.
LG U. Strofus
---
Bunk bed made of spruce in Munich
Offer 4428
. Published: 15 December 2020, sold: 17 December 2020 (second hand bunk bed)
sold
We bought this Billi-Bolli bunk bed (90x200 cm) used over this site in February 2017 for 800 euros, it is now about 10 years old. The lower bunk bed was only used by guests, with the previous owners the bed was used by the two sons.
Our younger daughter soon moves into the room of the big sister and gets her dropped Billi-Bolli bed, which is already set up there. That is why we are now separating ourselves from this bunk bed.
The whole bed is made of spruce, oiled/waxed, it has normal signs of use (scratches, small quirks especially in the area of the conductors), but is not
painted or glued.
The following accessories are available:
- 2 bed boxes with rollers
- Bunk board with portholes
- Rocking plate
- Shelf top
We give up the bed with accessories, but without mattresses for 450,- €.
The assembly instructions are available.
Location: 81829 Munich
Comment:
Dear Billi-Bolli Team,
The bed is already sold and picked up, thanks for the easy setting of the display.
We wish the new owners a lot of fun with the bed and all a merry Christmas and a good start to the new year!
Family Kaufmann
---
Growing bunk bed 100 x 200, spruce white lacquered
Offer 4427
. Published: 15 December 2020 (second hand loft bed)
sold
Our mid-growing bunk bed was loved for 11 years and now has to give way to another model...
It cost 1315,- € at that time and was worth every penny!
The white lacquer is great! With the exception of a few small spots, it is still impeccable and all the stickers and 'paintings' could be solved without any problems. The bed is made of untreated spruce and, as I said, matt white lacquered.
External dimensions are: L: 211 cm, W: 112 cm, H: 228.5 cm
Lying area 100 x 200 cm
incl. slatted base and mattress. (If the mattress is also taken over, I can wash the cover again. But because of age, I might have a new one made. (Slightly special dimensions of 200 x 97 cm)
The picture shows the last construction variant we had chosen. But there are also all beams to build even deeper variants with crossbeams for swing or similar.
In fact, so much is possible for all ages. In any case, our children loved the bed very much. Especially because it is so incredibly stable.
Our price is 500,- €
The bed is carefully disassembled and ready for transport in Hamburg-Altona.
The only shortcoming: I can't find the setup instructions anymore... But hopefully billi-bolli will give it a go.
Comment:
Hello dear Billi-Bolli team,
our bed has just found a new home. We are very pleased that it will be valued again. Thank you for the great opportunity to make the sale about you. Especially since we have versusd the setup instructions and the new owners get a new guide thanks to you.
Thank you very much! This is lived sustainability! And was finally a purchase decision with us 11 years ago. Would always recommend you!
Merry Christmas!
Regards
Family of Poschinger
---
Children's desk (beech oiled) in Vienna
Offer 4426
. Published: 15 December 2020 (second hand kids' furniture)
sold
We sell our double desk (beech oiled) with 2 milled compartments for pens. The desk is 8 years old, new price was 410,-. Our price presentation would be 180,-
Dimensions 65x143cm
The desk is in good condition (all parts available, only small traces of use), only the table top is slightly brighter in the places where the table documents were. We would leave the table including the documents (see photo), otherwise the bright spots can be removed with grinding and new oiling.
Location: 1230 Vienna.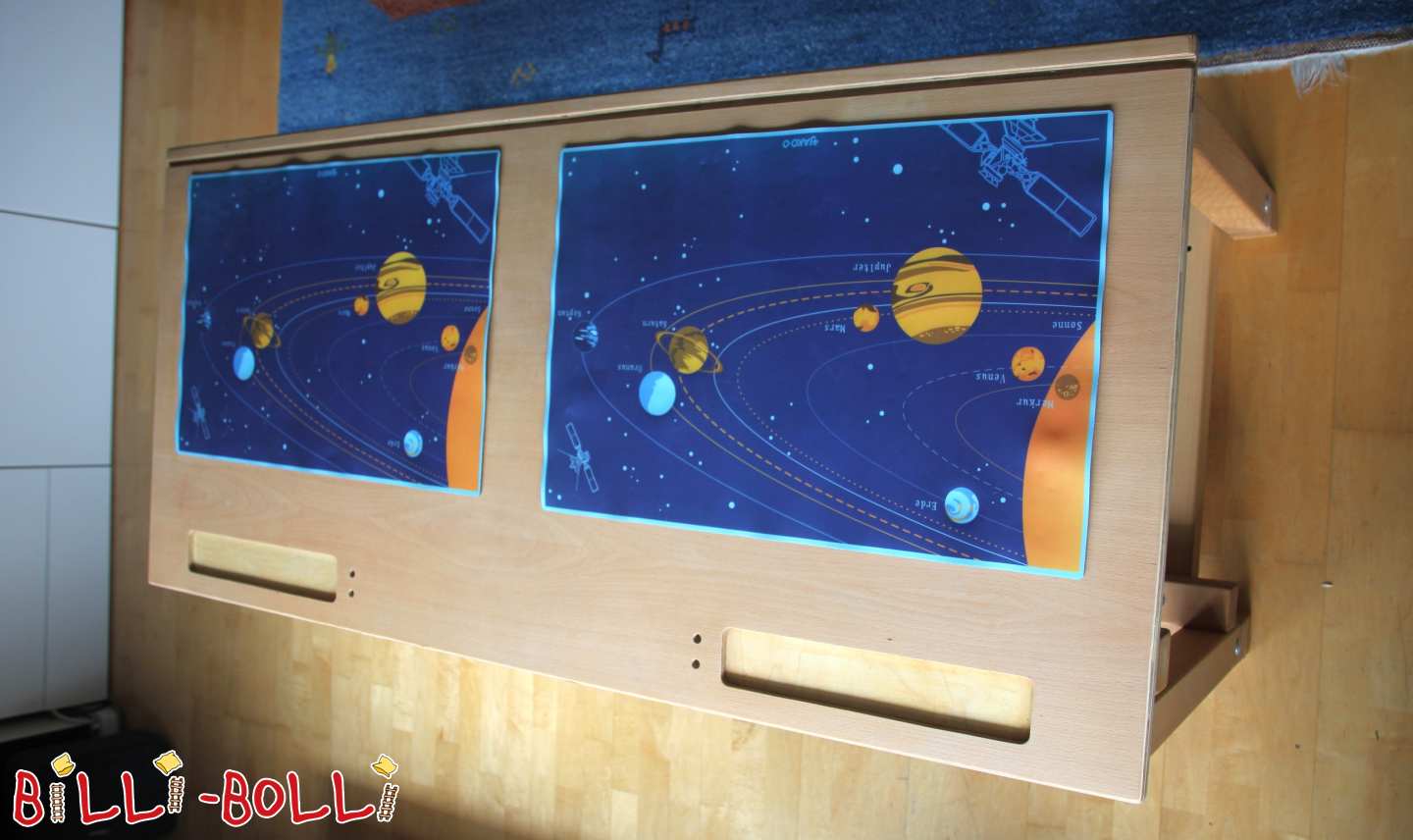 ---
Billi-Bolli accessories in Vienna
Offer 4425
. Published: 15 December 2020 (second hand play bed)
sold
We have converted our play bed into 2 single beds and therefore sell the following Billi Bolli accessories (all beech oiled):
Crane 80,- (new price 188,-)
Steering wheel 25,- (new price 60,-)
Climbing rope and rocking plate 30,- (new price 73,-)
Flag 8,- (new price 20,-)
Fall protection 20 (new price 38,-)
The accessory is 9 years old and in very good condition. The fall protection is unused, we never mounted it. Pick-up would be in 1230 Vienna.
Comment:
Dear Billi-Bolli Team,
Fortunately, we have now also sold most of the accessories of our offer.
Thank you very much and greetings
---
Mice bunk bed made of pine with slide tower in Berlin
Offer 4424
. Published: 14 December 2020, sold: 16 December 2020 (second hand bunk bed)
sold
We would like to sell our Billi Bolli bed after 13 years of use.
• It is a bunk double bed oiled sideways in pine (with ladder grille, rocking plate, slide, encased mice boards)
• over time, components were purchased.
o so a single bed can be built from the components
o in the second hand we bought the slide tower
o the small shelves were added.
The bed can therefore be constructed in many different variations and shapes. (latte slat included)
The mattress size is 90x200. The floor spacer is 2cm. It shows utility pruren and is naturally darkened. All assembly instructions, as well as screws, nuts, etc. are available.
The original purchase price in 2007 was 1520€, new components for 210€ were purchased. The slide tower was purchased secondhand via the Billi Bolli page in 2010.
Our price presentation is 750€ for self-collectors (location: 10318 Berlin Lichtenberg)
Comment:
Thank you for posting the offer.
The bed is already sold.👍👍👍
---
You have been searching patiently for a while now but to no avail?
Have you already considered buying a
new
Billi-Bolli bed instead? When you no longer need it, you too can use our successful Secondhand Page, completely free of charge. Thanks to the high resale value of our beds, you will get a good return on your purchase even after many years of use. For this reason, a new Billi-Bolli bed is, economically speaking, a very good investment.
Enjoy a € 50 discount if you order a bed by January 31!