Children not only need safety for their development but also require a lively environment that is boosting their creativity. This is why play beds are so enriching for every child's room. As a space-saving multipurpose solution, they enable the most restful slumber at night and imaginative play during the day. Our unique kids' beds make every child's heart sing! With our great selection of accessories, all our beds are in principle play beds. On this page, you will find models that are particularly suitable for playing.
---
Pitched Roof Bed →
The optimal play bed for children's rooms with sloping roofs. Due to the lookout tower, it is possible to offer the children a pirate bed even in the small children's room with a sloping wall. Then, of course, the portholes should not be missing. The swing beam can also be moved to the end of the bed if it is too high in the middle of the bed because of the sloping roof. Of course, the other themed boards are also possible, so that it becomes a play bed according to the wishes of your children. If you need additional storage space, our spacious bed boxes are available.
from € 1,120.00
free shipping (DE), 📦 immediately available
Details: Pitched Roof Bed
---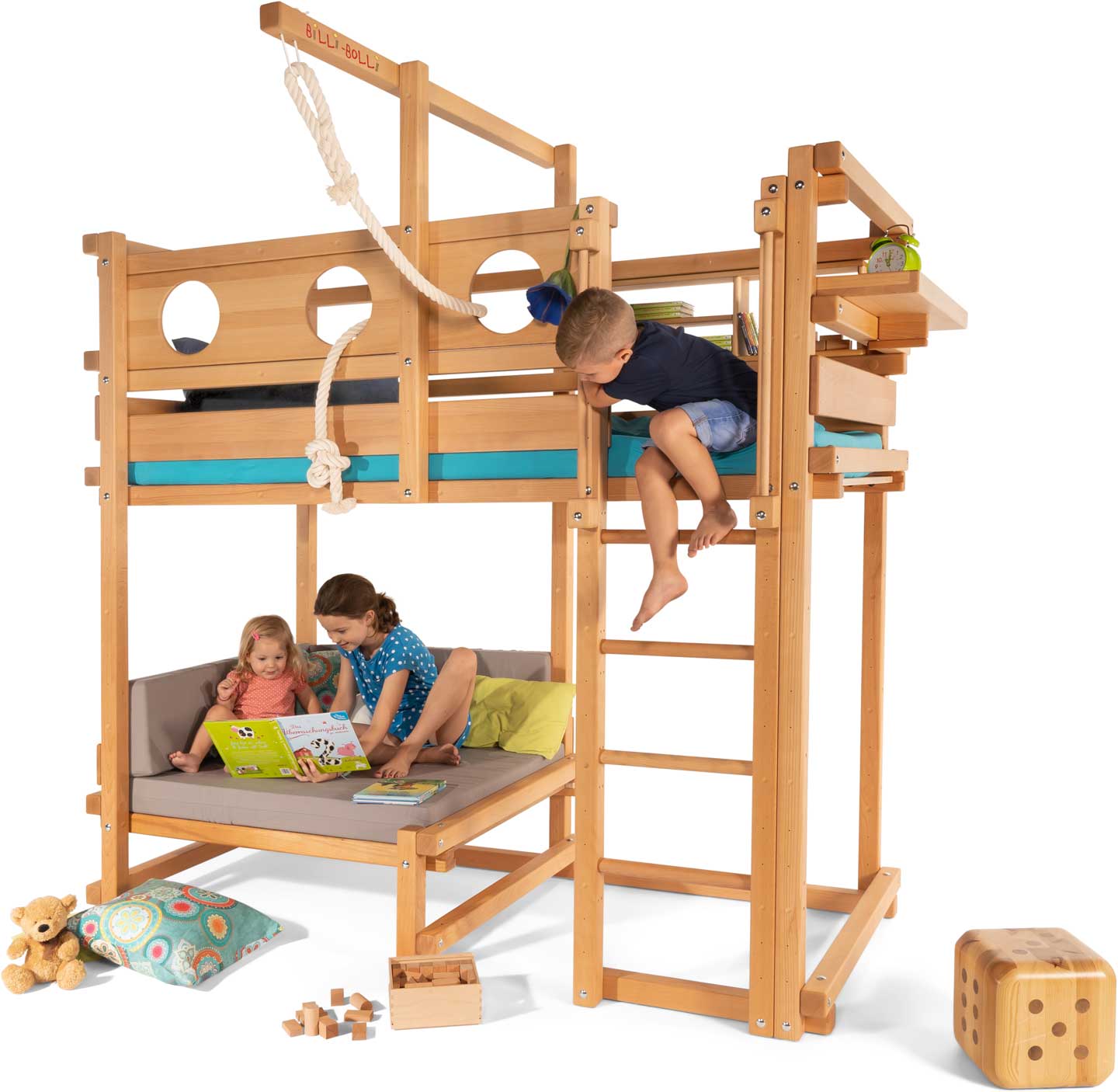 Comfy Corner Bed →
The kuscheleckenbett is a high bed with a permanently installed cozy corner underneath. The seating area goes over half the length of the bed. Equip it with our themed boards, and your children will have a great play bed, be it as a pirate bed, knight's bed, fire truck or railway. The bed box (optional) provides additional storage space.
from € 1,311.00
free shipping (DE)
Details: Comfy Corner Bed
---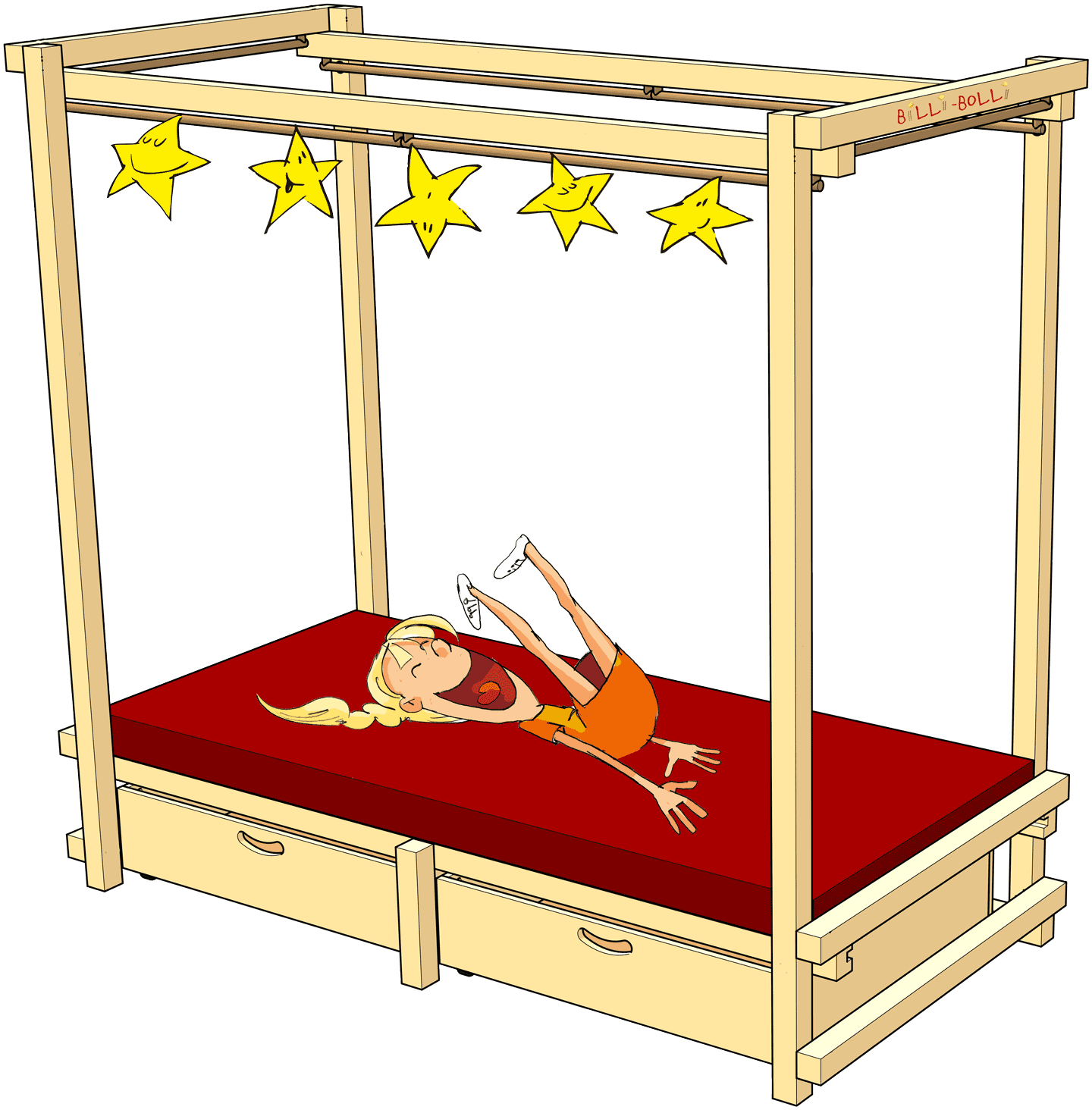 Canopy Bed →
This cot comes to life with an imaginative design with curtains and fabrics. Then it is cuddly and homely, even for the big... Children's furniture thus become furniture for teenagers and adults. For the little ones it can be allowed with additional safety boards or with theme boards to become a play bed.
from € 741.00
free shipping (DE)
Details: Canopy Bed
---
Loft Bed Adjustable by Age →
If the space in the children's room is scarce and you would like to give your child more play space, there is an amazingly simple solution: the purchase of a bunk bed. A high bed virtually doubles the space on which it stands, because under the high bed an area is created, which can be used either for playing or working or as storage space. Our growing bunk bed is not only a space-saving wonder, but at the same time the end of the evening -I-will-not-in-bed- discussion. why? In a loft bed, whether as a pirate bed, knight's bed or railway bed, it simply sleeps fantastically well. When the pirate princess or locomotive driver time is over, the high bed is converted into a youth high bed and fulfils its purpose for many more years.
from € 1,039.00
free shipping (DE), 📦 immediately available
Details: Loft Bed Adjustable by Age
---
Bunk Bed →
It is known that bunk beds are true wonders of space, because 2 sleep on the pitch of a bed. But our bunk beds can do much more: the bunk bed is constructed very stable to a play bed for children: with sail and steering wheel to the pirate bed, equipped with railway boards to the train driver's stand. Aspiring gardeners love our flower boards. If the room offers a little more space, a slide is an accessory that emphasizes the playbed character even more and delights the children enormously. With less space, the fire bar is just as much fun. An enormously robust play bed for many years to come!
from € 1,223.00
free shipping (DE), 📦 immediately available
Details: Bunk Bed
---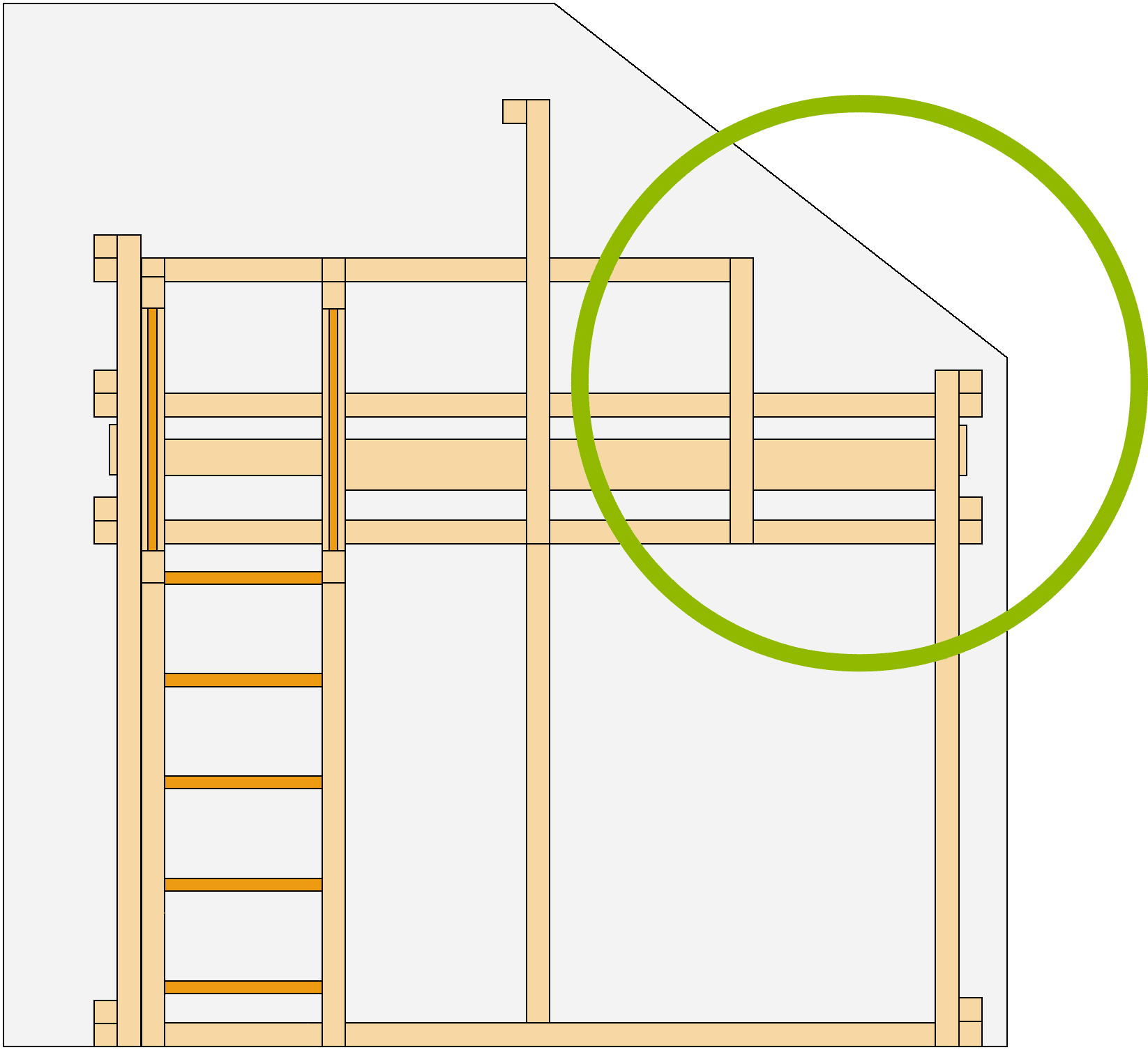 Other Options →
Special adjustments of our cots to your children's room: sloping roof, swing beams outside, flat rungs or play floor instead of slatted frame, ...
---
What makes play beds so special?
Thanks to our extensive accessories, each of our models can be transformed into a play bed. In addition, we offer you a selection of special bed variants that are perfect for creative play and discovery. Our play beds are designed with the knowledge of their special purpose and therefore place even more emphasis on safety and stability.
Unlike our classic models, our play beds combine a sleeping and a play area on two or more different levels. This makes the space ideal for use even in small rooms. The sloping roof bed offers an elevated play area – it is quickly transformed into the lookout of a pirate ship or into a castle tower. At the cuddly corner bed and at the growing high bed, the play area is located under the loft bed. Here your child can play, read or just daydream during the day. By the way: The play area under the loft bed can also be perfectly converted into a work area with a desk and bookshelf – so the little Abc shooters get a quiet place to do their school work.
All three variants have in common that they can be further customized with our diverse accessories. For example, you can extend our sloping roof bed with a climbing wall. This has to be overcome in order to reach the elevated playing surface – your creative crunch would rather say: the castle tower! to come. With a play crane, the high bed becomes a construction machine, your offspring becomes a crane operator. In short, with our play beds, children can let their imagination run wild.
From what age are play beds recommended?
Depending on which of the play beds you choose, different age specifications must be observed. The models with an elevated play or sleeping area are suitable for children from the age of five. Our growing bunk bed, on the other hand, is suitable for children of all ages. The sleeping level is height-adjustable: If the child is just in the crawlage, the sleep level is at height 1 (ground height). As your offspring gets older, you can mount the sleeping level higher in just a few simple steps. Under the bed, this creates a practical storage space. Or you can turn the piece of furniture straight into a loft bed and create around two square metres of additional play or work space.
Safety at play beds
When the rackers jump and climb, special care should be taken. That's why safety in Billi-Bolli's children's furniture is paramount. In terms of the level of fall protection, our beds far exceed the corresponding DIN standard. Cleanly worked and perfectly rounded woods are a matter of course for all our children's furniture. We only use non-polluting and first-class pine and beech wood. All play beds are manufactured in our master workshop. With a play bed from Billi-Bolli, you will receive a quality furniture made in Germany that meets the highest safety standards and which your children will have fun with for many years to come.
Reasons for play beds
The children's room is the central place for the offspring, his little kingdom: your child wants to let off steam, play pirate, knight or princess, imaginatively design his space and explore. On the other hand, your child also wants to retreat occasionally, dream in front of him – or sometimes pull the curtains in front of the cuddly corner and melt. Play beds make both possible. They combine the familiar retreat with the creative adventure playground. Whether your child wants to design his cuddly corner to the princess palace with canopy or the sloping roof bed to the pirate ship – there are no limits to the child's creativity! With Billi-Bolli play beds, you can create a place of possibilities for your little ones and make the most of the space in the room.