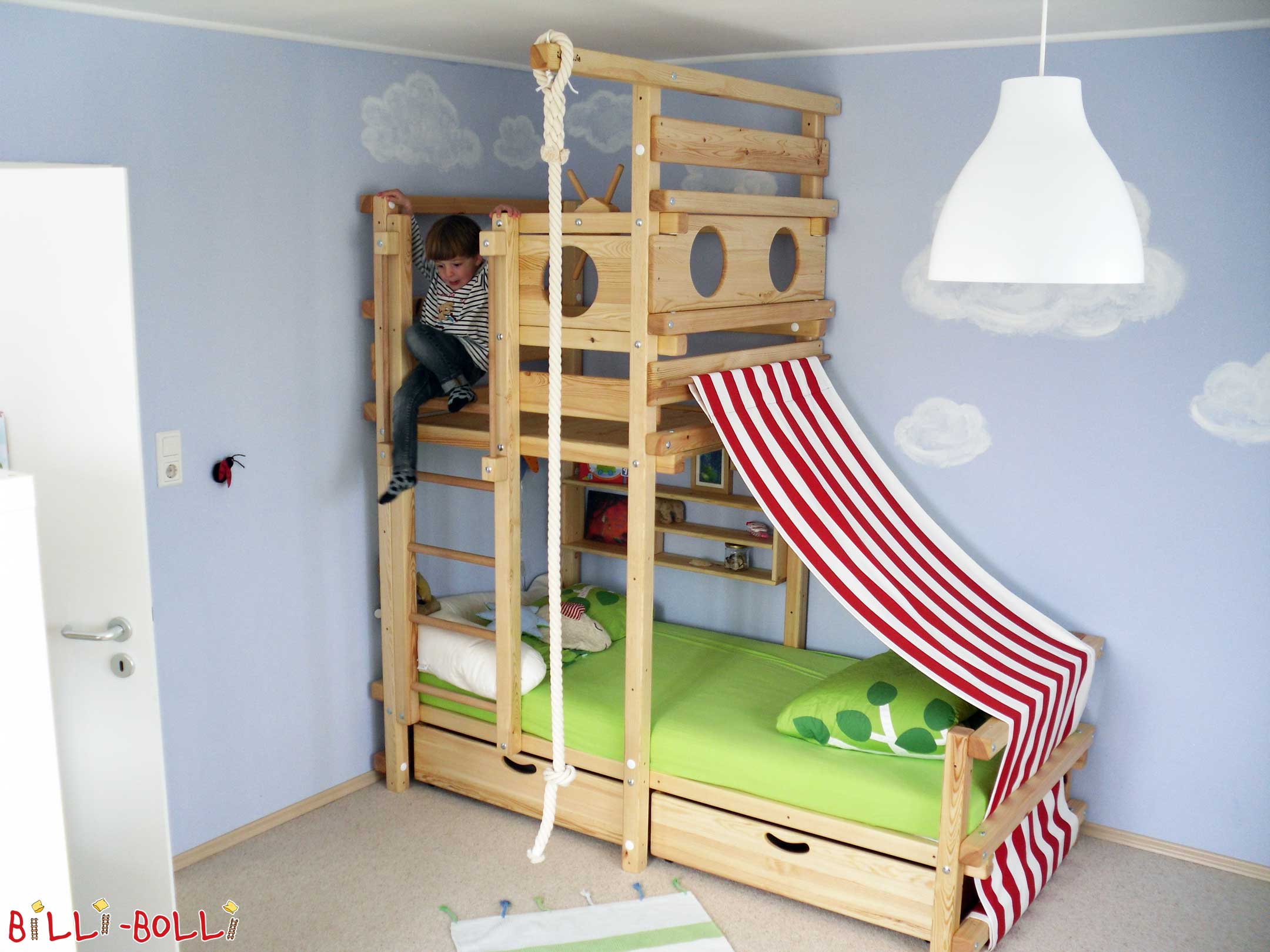 Children not only need safety for their development but also require a lively environment that boosts their creativity. This is why play beds or adventure beds are so enriching for every child's room. As a space-saving multipurpose solution, they enable the most restful slumber at night and imaginative play during the day. Our unique play beds make every child's heart sing! With our great selection of accessories, all our models are adventure and play beds in principle. On this page, you will find bed models that are particularly suitable for playing.
Claim Your Free Hanging Cave
Get a FREE
hanging cave
if you order a bed by
January 30
!
---
Pitched Roof Bed →
A play bed! You can make every child's dream come true – even in a kids' room with a pitched roof. This is exactly why we developed our pitched roof bed. The high watchtower combined with the play floor already looks pretty cool and makes your little explorers eager to play imaginative adventure games with lots of movement and action. With a little creative styling, or by attaching our optional theme boards, you can transform this seemingly small kids' bed into an ocean-going pirate bed or an invulnerable knight's castle. Optional bed drawers below the play bed will provide invaluable storage space in the small kids' room with a sloped ceiling.
Tested according to DIN EN 747: Pitched Roof Bed in 90 × 200 with ladder position A, without Swing Beam, equipped with Mouse Theme Boards all around, untreated & oil-waxed.
from € 1,195
🚚

worldwide delivery
📦
immediately available
Details: Pitched Roof Bed
---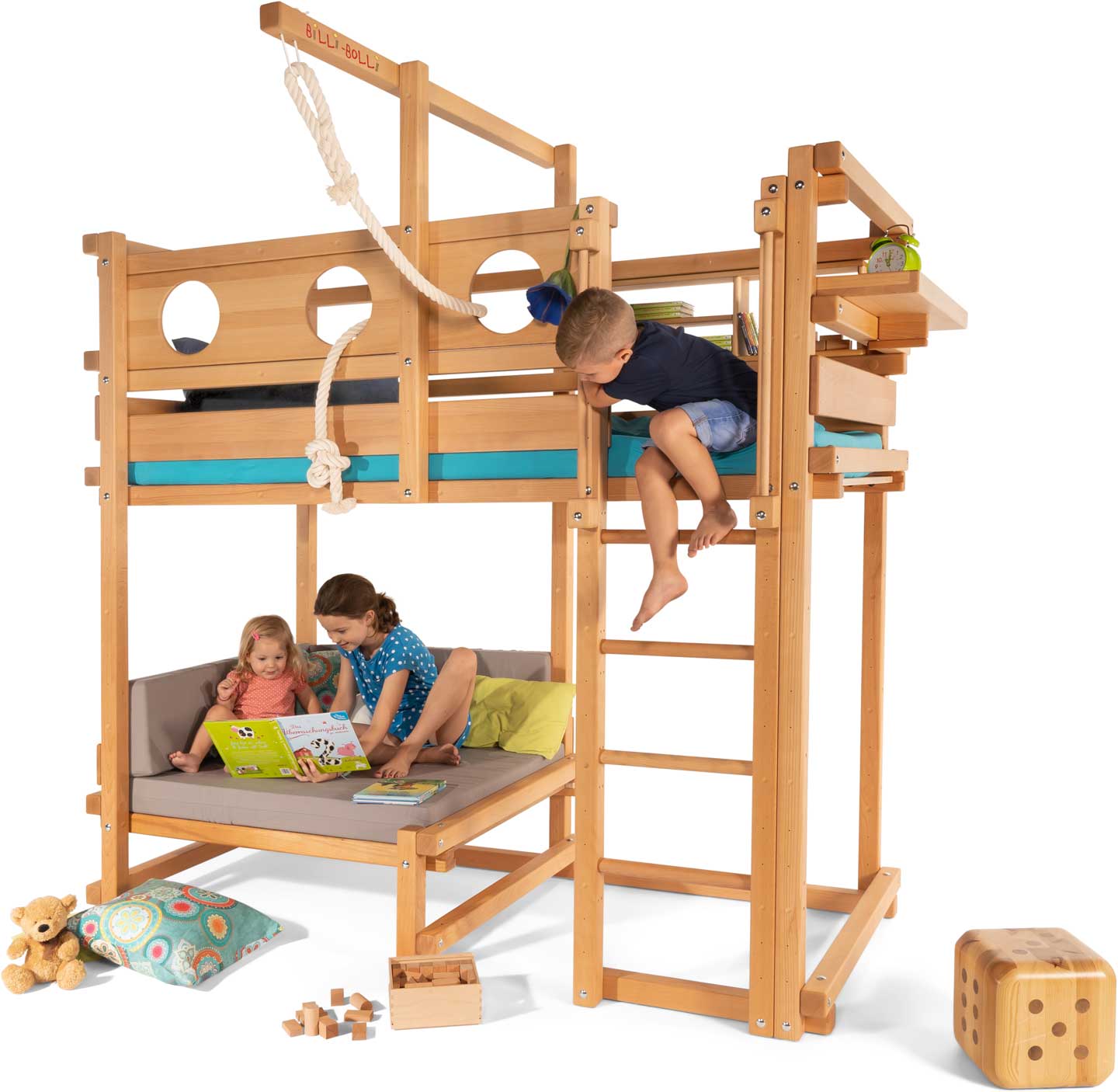 Comfy Corner Bed →
Our comfy corner bed also has the potential to be a real adventure play bed for girls and boys! Equipped with our theme boards and bed accessories, such as helm, rocking plate or fireman's pole etc. the loft bed quickly turns into a play bed for pirates and knights, a fire engine or a train. "Below deck" the little heroes can recover from all of their adventures in their cosy corner or find new game inspiration from their favourite books. An optional bed drawer provides additional storage space.
Tested according to DIN EN 747: Comfy Corner Bed in 90 × 200 with ladder position A, without Swing Beam, equipped with Mouse Theme Boards all around, untreated & oil-waxed.
from € 1,349
🚚

worldwide delivery
🪚
will be manufactured for you
Details: Comfy Corner Bed
---
Canopy Bed →
First a princess canopy bed, then a sheltered retreat for the "teenosaurus rex". With our four-poster bed, you stay super flexible. Simply exchange the dreamy curtains for a cool, trendy fabric design and the growing teenager and adolescent will feel comfortable again in their room. If you choose the canopy bed version of our kids' bed models while your child is still a toddler, you can, of course, also attach our protection and theme boards to the canopy bed. A canopy with stars is also great for young astrologers and budding astronauts.
from € 695
🚚

worldwide delivery
🪚
will be manufactured for you
Details: Canopy Bed
---
Loft Bed Adjustable by Age →
With the loft bed adjustable by age, you opt for an absolutely timeless kids' play bed. Timeless, since this adventure bed actually "grows in height" the same way as your child grows in height – from early childhood to the school years. Timeless, because you can easily adapt the play options of your loft bed to your child's growing urge to move. So the cosy baby canopy bed may turn into a play bed fit for princesses, an adventure bed for pirates or a race car driver bed … At the same time, the free space below the sleeping level keeps growing and growing for even more imaginative play.
Tested according to DIN EN 747: Loft Bed in 90 × 200 with ladder position A at assembly height 5, without Swing Beam, equipped with Mouse Theme Boards all around, untreated & oil-waxed.
from € 1,095
🚚

worldwide delivery
📦
immediately available
Details: Loft Bed Adjustable by Age
---
Bunk Bed →
Our bunk beds for 2 children are eager to show you what they're made of – once they are turned into play beds, perfect for small spaces. This play bed, made from ecological solid wood, is so sturdy and safe that no play adventure, no matter how daring, could harm it. The hardest part is to select from our large range of accessories: Do we want a slide bed or may we add the fireman's pole to rush down, do the children prefer a train bed, a pirate bed or their own knight's castle to play with? Our bunk bed definitely sets new standards when it comes to play beds.
Tested according to DIN EN 747: Bunk Bed in 90 × 200 with ladder position A, without Swing Beam, equipped with Mouse Theme Boards all around, untreated & oil-waxed.
from € 1,349
🚚

worldwide delivery
📦
immediately available
Details: Bunk Bed
---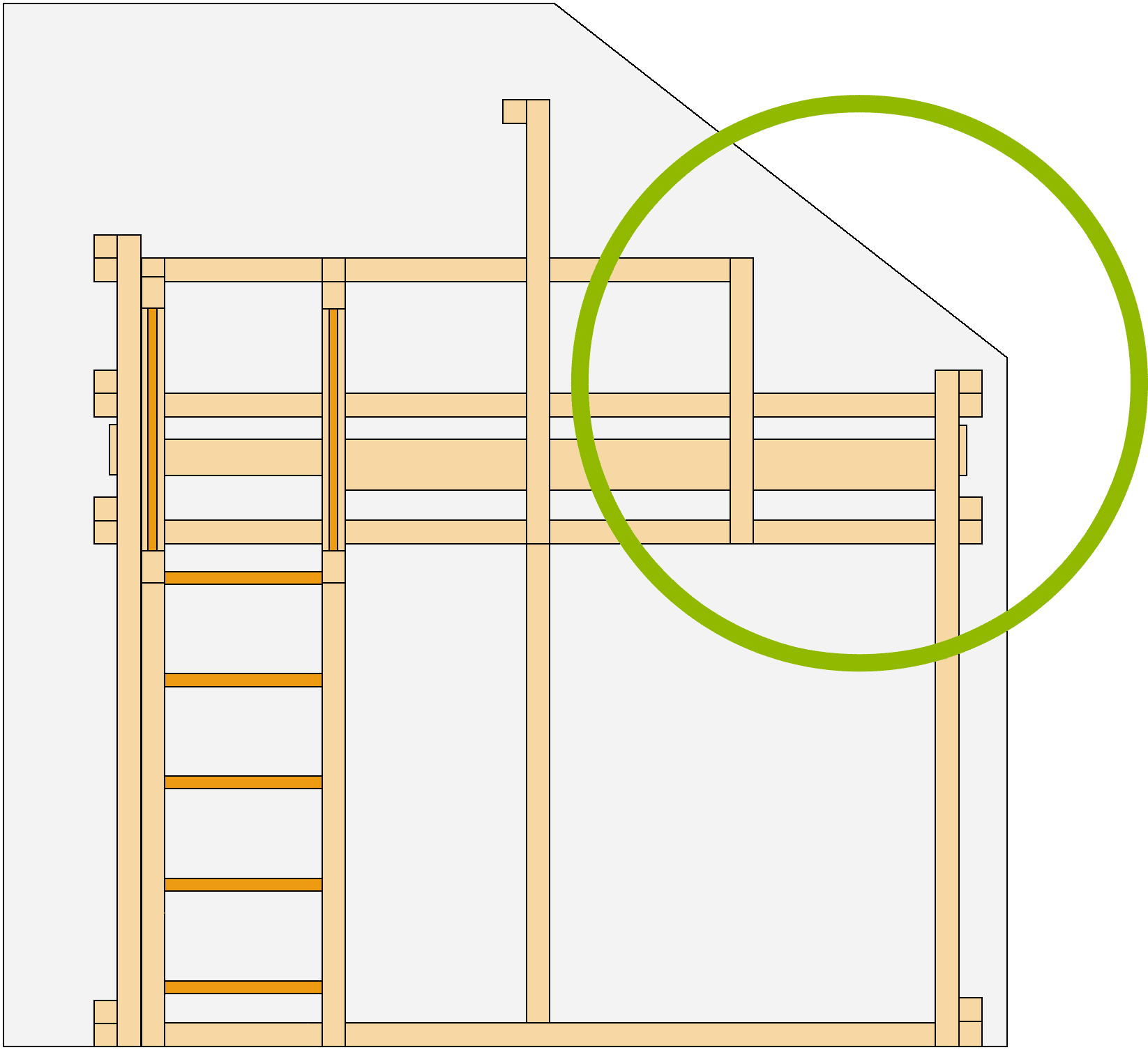 Customising Options →
With solutions for special room requirements, such as Pitched Roof Step, extra tall legs or swing beam position, our loft beds and play beds can be customised to fit your particular child's bedroom. You can also choose Flat Rungs or a Play Floor instead of a slatted bed base here.
---
Decision aid: How much play bed or adventure bed would you like?
The many advantages of a modifiable, growing and space-saving system of kids' beds, like the one offered from Billi-Bolli, are obvious. Whether you choose a loft bed adjustable by age, one of our bunk beds, a low canopy bed or the special pitched roof bed etc., all of our kids' beds are specifically designed – in terms of construction as well as stability – to not only provide a cosy sleeping place for your children for many years, but also to offer a safe, customised and imaginative indoor playground for kids.
Every child is unique – so make their home special too. With the versatile and extensive bed accessories for playing and styling, Billi-Bolli offers you a wide range of options to make all of your child's dreams, wishes and fantasies come true.
Contents
What makes play beds so special and valuable to children?
A loft bed or bunk bed made of warm natural wood with clean rounded edges and a ladder for climbing is naturally a real eye-catcher in the kids' room, even the standard configuration. The young world explorers can keep a watchful eye on their whole realm from their elevated sleeping level, which is a great feeling.
If you style and decorate the kids' bedroom furniture according to your child's preferences and favourite colours – e.g. with curtains or our theme boards for girls and boys – it will give the room a very personal touch and turns it into a beloved retreat, day and night.
Upgrade an elevated kids' bed with our fantastic accessories for swinging, exercising and climbing, such as a fireman's pole, rocking plate, climbing wall or slide. Your child strengthens their motor and mental skills in a playful way, develops better perception and awareness of physical movements and their body, while expressing their natural urge to move, even in bad weather.
Both styling and accessories will inspire imagination and creative play. There is only one small drawback: Your children's friends will love this adventure bed as much as they do.
How to turn a kids' bed into an adventure bed?
A normal kids' bed for sleeping takes up a significant area of ​​the children's room, only for this one purpose. With your decision to opt for a loft bed or bunk bed instead, you have already gained – or reclaimed – a lot of additional space for playing, storing and studying. The bed will remain primarily a furniture piece for sleeping.
Your kids' bed can be called an adventure bed when your son slides down the fireman's pole, when he has a firm grip on the helm as the ship's captain, when he cleans up the construction site with the play crane, when he races around the Nürburgring as a race car driver or when he climbs Mount Everest via the climbing wall.
Your kids' bed can also be called an adventure bed when your daughter dreams of the jungle in her hanging cave, when she becomes a circus acrobat on the wall bars, when she protects the knight's castle as an emancipated warrior princess or when she travels through Morrowland by train.
Find the bed accessories for these and other creative play ideas in our Billi-Bolli product range, including accessories for hanging on and swinging, elements for climbing and sliding as well as decorative theme boards for knights, flower girls, pirates and more.
Which play bed models are available at Billi-Bolli?
Each of our loft beds and bunk beds suitable for 1, 2, 3 or 4 children can be expanded into an extraordinary play and adventure bed by adding optional decorative elements and play accessories. You will find lots of helpful suggestions in our bed descriptions of the respective models already. We would also be happy to advise you personally on the phone.
Our pitched roof bed is a special construction, it is a play bed with a low sleeping level and a great, space-saving play tower. A clever combination, which makes perfect use of the pitched roof of the kids' room while providing ample opportunities for exciting play adventures. You can also add knight's castle boards, porthole boards, helm and other accessories to the tower.
Our comfy corner bed, a combination of a loft bed and an elevated cosy corner underneath, is particularly popular with children who do not only want to move around and play, but also enjoy peace and quiet while flipping through picture books, reading, listening to music or cuddling their soft toys. This way they also come up with new ideas for exciting role-playing games in the adventure bed.
A play bed featuring a slide unleashes a particularly strong storm of enthusiasm in all children. However, the space requirements should not be underestimated. The fireman's pole provides another way to slide. And the climbing wall or the wall bars are also real highlights for the kids' room: always provoking "Ahs" and "Wows" and actively played on.
Here you will find all the standard configurations of our bed models once again. You can customise all of them with our extensive accessory range and turn them into the ideal play and adventure bed for you:

| | | | |
| --- | --- | --- | --- |
| Model | Features | Advantages | Who is it suitable for? |
| Pitched Roof Bed | combines a low sleeping level with an elevated play area over half of the bed lengthwise | optimal use of space in kids' rooms with a sloped ceiling; with swing beam | children aged 5 and above |
| Comfy Corner Bed | cosy corner below the loft bed; available with matching mattress and cushions | perfect use of space: the cosy corner offers a retreat for your child | children aged 5 and above |
| Canopy Bed | sleeping level at standard bed height, curtain rods attached to the bed frame | can be assembled with the loft bed adjustable by age parts; it can also be expanded into one of the other models with additional parts | children, teenagers and young adults |
| Loft Bed Adjustable by Age | 6 assembly heights possible, depending on the child's age | The bed grows with your child: no need to buy any additional kids' beds | babies (approx. 9 months and older), children and adolescents |
| Bunk Bed | two sleeping levels stacked | requires little space while providing maximum play options | children aged 5 and above |
What is the minimum age recommended for play beds?
Depending on which play bed you choose, different age recommendations apply. The models with an elevated play or sleeping area are suitable for children aged five and above. Our loft bed adjustable by age is suitable for children of all ages. The height of the sleeping level is adjustable: If the child just started crawling, mount the sleeping level at assembly height 1 (floor level). Once your child gets older, you can mount the sleeping level higher in a few simple steps. This will also create a practical storage space underneath the bed. Later on you can turn the bed into a real loft bed, thus creating approx. two square metres of additional space below the bed, ideal for playing and studying.
Play bed safety
When the little rascals jump and climb, special care is required. This is why the safety of Billi-Bolli's children's furniture always comes first. The height of the fall guard of our beds exceeds the respective DIN standard by far. All our children's furniture is made of cleanly processed and perfectly rounded wood, of course. We only use toxin-free and first-class pine and beech wood. All play beds are manufactured in our workshop by master craftsmen. With a Billi-Bolli play bed you get quality furniture made in Germany, meeting the highest safety standards and which your children will enjoy for many years to come.
Summary
The kids' room is your child's command centre, their own little empire: Your child wants to let off steam, play pirate, knight or princess, design their space imaginatively and explore. On occasion, your child also wants to withdraw, retreat and daydream – or close the curtains in front of their cosy corner and pout. Play beds make both possible: They combine the familiar retreat with the creative adventure playground. Whether your child wants to design their cosy corner into a princess palace with canopy or the pitched roof bed into a pirate ship – there are no limits to children's creativity! With play beds by Billi-Bolli you create a place of opportunity for your little ones, while making optimal use of the available room space.
Once your children have outgrown the play stage, all child-friendly play elements can be removed. With cool curtains, the space below the loft bed will turn into a place for studying or a chill out seating area, easily turning the children's room into a trendy youth and teen bedroom. Last but not least, a high-quality play bed from Billi-Bolli maintains a very high resale value, even after many years of use.