We have our own song!.
The Billi Bolli song recounting the adventures of the Lilli, Olli, MIA and MAX experience in her Billi Bolli bed. Have fun!
Free download:
(Right click Save target/link for →,...):
Testo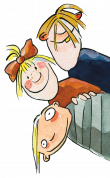 The song is by our friend Margit Sarholz & Werner Meier that make already just long music for children as a "Shooting star", as we bed!.
Now, they have released over 25 CDs, with loud and quiet, crafty and fun children's songs, which like parents!.
There is more info and samples on their website at www.sternschnuppe-kinderlieder.de