Sie haben nicht genügend Platz im Kinderzimmer für ein Hochbett? Dann ist ein halbhohes Hochbett von Billi-Bolli genau die richtige Lösung. Unter dem Bett steht reichlich Stauraum für Spielzeug, Wäsche und Co. zur Verfügung. Und dank unseres vielseitigen Zubehörs können Sie das Bett ganz nach Belieben individualisieren. Wie auch beim mitwachsenden Hochbett kann die Höhe beim halbhohen Hochbett an das Alter des Kindes angepasst werden. Das halbhohe Hochbett kann in den Höhen 1 – 4 mit hohem Fallschutz und in Höhe 5 mit einfachem Fallschutz ⓘ aufgebaut werden.
Auf Aufbauhöhe 4 ist es für Kinder ab 3,5 Jahren geeignet.
from € 964.00
free shipping (DE)
🛠️ Configure a half-height loft bed
Climbing rope free of charge when ordering in September!
can be assembled mirror-inverted
(click on image)
Exterior dimensions of the half-height loft bed
Width = mattress width + 13.2 cm
Length = mattress length + 11.3 cm
Height = 196 cm (swing beam
ⓘ
)
Example:
mattress size 90 × 200 cm
⇒ external dimensions of the bed: 103.2 / 211.3 / 196.0 cm
Configure a half-height loft bed
Delivery
By default, it comes with:
Screwing material
a detailed step-by-step guide tailored to your configuration
Not included by default, but are also available from us:
Mattresses
more on photos with accessories pictured
individual adjustments such as extra-high feet or sloping roof slants
You get ...

* highest safety according to DIN EN 747
* Pure fun thanks to a wide range of accessories
* Wood from sustainable forestry
* a system developed over 28 years
* individual configuration options
* personal advice: +49 8124 / 907 888 0
* Production in our workshop
* first-class quality from Germany
* Conversion possibilities with expansion sets
* 7-year warranty on all wooden parts
* a detailed setup manual
* Possibility of secondhand resale
* the best value for money
Customize the half-height loft bed with our accessories
Customize your cot with our diverse accessories. For example, you can turn a ship, a princess castle or a fire engine out of bed. These are the most popular accessory categories:
What our customers say about the half-height loft bed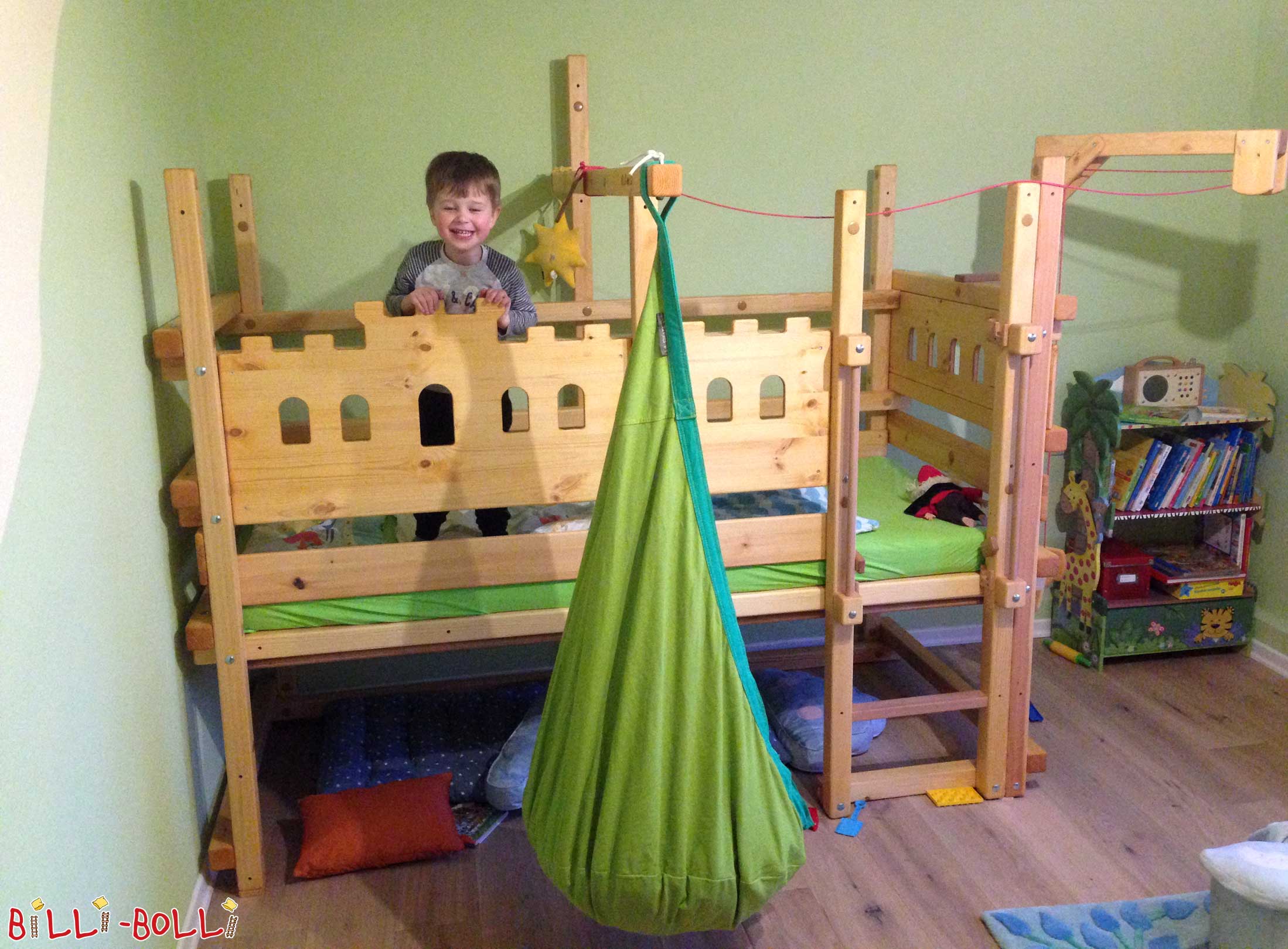 Thank you again for the fantastic consultation. We have assembled our low knight's bed and our little one is absolutely thrilled. He doesn't sleep yet in his room but he often plays on, under and next to his bed. The swinging cave is fantastic and the crane is continuously in use, in a slightly adjusted form :-)
We are super happy that we decided to purchase a Billi-Bolli bed and everyone, who has seen the bed so far, would have loved to take it with them ;-)
Many greetings from Lübeck
Stefanie Dencker
Ein Bett für Klein und Groß
Ein halbhohes Hochbett ist die Lösung für viele Kinderzimmer in Neubauten, die eine Deckenhöhe von ca. 250 cm haben. Es bietet viele Vorteile unseres mitwachsenden Hochbetts, braucht aber mit einer Höhe von nur 196 cm weniger Luft nach oben. Die Höhe der Liegefläche kann beim halbhohen Hochbett nach Bedarf eingestellt werden, sodass es bereits für Kinder im Krabbelalter geeignet ist. Dazu muss die Liegefläche nur auf Bodenhöhe (Aufbauhöhe 1) aufgebaut werden. Wird Ihr Liebling älter, können Sie die Aufbauhöhe einfach anpassen: Bis Aufbauhöhe 4 (mit hohem Fallschutz) bzw. Höhe 5 (mit einfachem Fallschutz) kann das Bett wachsen. Je höher es hinausgeht, desto mehr Freiraum entsteht unter dem Bett: Bei Aufbauhöhe 5 sind es rund 120 cm – genug Platz, um eine Kuschelecke einzurichten, Spielzeugkisten unterzustellen oder Bücherregale aufzubauen.
Unser halbhohes Hochbett schafft nicht nur mehr Platz im Kinderzimmer, sondern kann auch durch Nachhaltigkeit überzeugen. Dank hochwertiger Materialien und sorgsamer Fertigung hält das Bett jahrelang, und durch die Höhenverstellung wird aus einem Kindermöbel einfach ein Jugendbett. Der Kauf eines neuen Möbelstücks ist nicht notwendig. So sparen Sie Geld und natürliche Ressourcen. Schutzbretter, Leiter, Haltegriffe sind beim halbhohen Bett ebenso inklusive wie Lattenrost und unser bei Kindern beliebter Schaukelbalken.
Materialen, Maße und Zubehör für das halbhohe Hochbett
In deutscher Meisterwerkstatt gefertigt, punktet unser halbhohes Hochbett durch höchste Qualität:
* Material: Massivholz aus nachhaltiger Forstwirtschaft
* Höchste Sorgfalt und Genauigkeit bei Fertigung und Montage
* Optimal abgerundete und glatte Oberflächen
* Fallschutz weit über DIN-Sicherheitsnorm
Bei der Bestellung entscheiden Sie über die gewünschte Holzart (Buche oder Kiefer) sowie über die Oberflächengestaltung. Zur Auswahl stehen sowohl Holzbehandlungen, die die Maserung des Werkstoffs in den Mittelpunkt stellen, wie auch verschiedene strahlende Farblacke. Die verwendeten Materialien zur Oberflächenbehandlung sind selbstverständlich speichelfest und für Kinder unbedenklich.
Die Bettmaße wählen Sie in Hinblick auf die Matratzengröße aus. Folgende Abmessungen sind möglich:
* Matratzenbreite: 80, 90, 100, 120, 140 cm
* Matratzenlänge: 190, 200, 220 cm
Um die Gesamtmaße des Möbelstücks zu erhalten, müssen Sie nur zur gewählten Breite 13,2 cm und zur gewählten Länge 11,3 cm addieren.
Unser halbhohes Hochbett: Zubehör und Pflege
Für unser halbhohes Hochbett steht ein reiches Sortiment an Zubehörelementen bereit: Von Deko-, über Sicherheits- bis hin zu Spiel- und Rutschelementen bietet wir Ihnen alles, um das Bett ganz nach Ihrem Geschmack und den Wünschen Ihres Kindes zu gestalten. Machen Sie mit Rutsche, Kletterseil und Co. das Bett zum Abenteuerspielplatz.
Apropos Spielplatz: Die Pflege des Bettes gehört natürlich dazu. Bettgestell und Lattenrost sollten Sie je nach gewählter Behandlung der Holzoberfläche mit den entsprechenden Pflegeprodukten reinigen. Achten Sie darauf, dass diese kindergeeignet sind. Für die einfache Pflege genügt auch ein feuchtes Baumwolltuch. Die Bettwäsche sollten Sie, gerade wenn Ihr Kind noch klein ist, mindestens einmal pro Woche wechseln und waschen. So bleibt das Bett immer schön und hygienisch sauber.