You lack the required ceiling height in your children's bedroom for a classic kid's loft bed but still want to use the available floor space twice? Then Billi-Bolli's Low Loft Bed is exactly what you are looking for. With this low loft bed your child can look forward to a good night's sleep at a comfortable elevation level and then act out the night's dreams and fantasies in the half-height play bed during daytime.
Even though this half-height kid's bed will not grow quite as high as our Loft Bed Adjustable by Age you can still make individual adjustments to this low loft bed according to your child's age. You can choose to mount the bed at assembly height 1 – 4 with a high fall guard or at height 5 with a basic fall guard ⓘ.
This loft bed assembled at height 4 is suitable for kids aged 3.5 and above (according to DIN safety standard for kids aged 6 and above ⓘ).
🛠️🛒 Configure your Low Loft Bed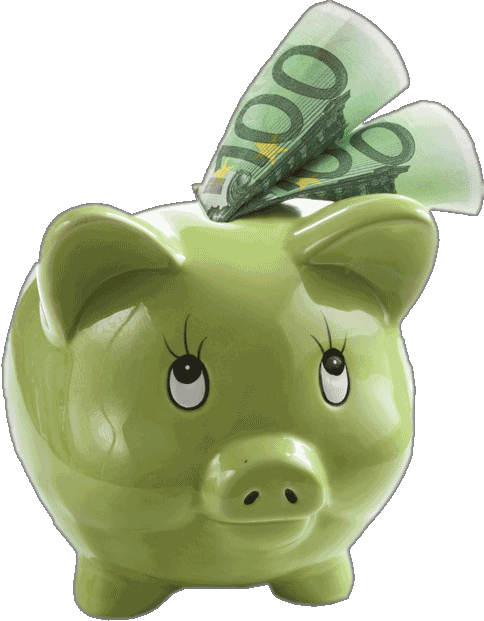 € 50 discount if you place an order by October 31!
can be assembled mirror-inverted
(click on image)
"Spice up" this half-height kids' bed for your offspring to your personal liking by adding creative bed accessories. Choose a climbing rope or hanging cave for the swing beam, theme boards for damsel, pirates, flower girls and race car drivers, play crane, fireman's pole or maybe you prefer curtain rods for a cosy play den … You can let your imagination run wild to create endless play and movement opportunities in and around the Low Loft Bed.
Configure your Low Loft Bed
Tested safety according to DIN EN 747
Our Low Loft Bed is the only low loft bed of its kind that we are aware of fulfilling the DIN EN 747 safety standard for "Bunk beds and high beds". The TÜV Süd checked the Low Loft Bed extensively, assessing the permissible gaps as well as its short-term and long-term strength and durability. Tested and awarded the GS mark for "Geprüfte Sicherheit" (Tested Safety): the Low Loft Bed at assembly height 4 in 80 × 200, 90 × 200, 100 × 200 and 120 × 200 cm with ladder position A, without Swing Beam, equipped with Mouse Theme Boards all around, untreated and oil-waxed. All other configuration variations of the Low Loft Bed (e.g. different mattress size) also meet all the important safety requirements of the testing standard, including the dimensions permitted for gaps. It is therefore a very safe loft bed. More information about the DIN standard, TÜV tests and the GS certification →
External dimensions of the Low Loft Bed
Width = mattress width + 13.2 cm
Length = mattress length + 11.3 cm
Height = 196 cm (swing beam
ⓘ
)
Example:
mattress size 90 × 200 cm
⇒ external dimensions of the bed: 103.2 / 211.3 / 196 cm
What you are getting …
highest safety according to DIN EN 747 ⓘ

so much fun thanks to a wide range of accessories ⓘ

wood from sustainable forestry ⓘ

a system developed over 28 years

individual configuration options

personal consultation: +49 8124 / 907 888 0

first-class quality from Germany ⓘ

conversion options with expansion sets ⓘ

7-year warranty on all wooden parts ⓘ

a detailed assembly manual ⓘ

second hand sale option ⓘ

the best value for money
Included in the delivery
Included in the delivery by default:
Not included by default but optionally available are:
Creative accessories turn the Low Loft Bed into a fantastic play bed
Even the low kids' bed transforms into an imaginative play haven for small pirates and princesses, for builders or daydreaming flower girls. Discover our most popular accessories here:
What our customers are saying about the Low Loft Bed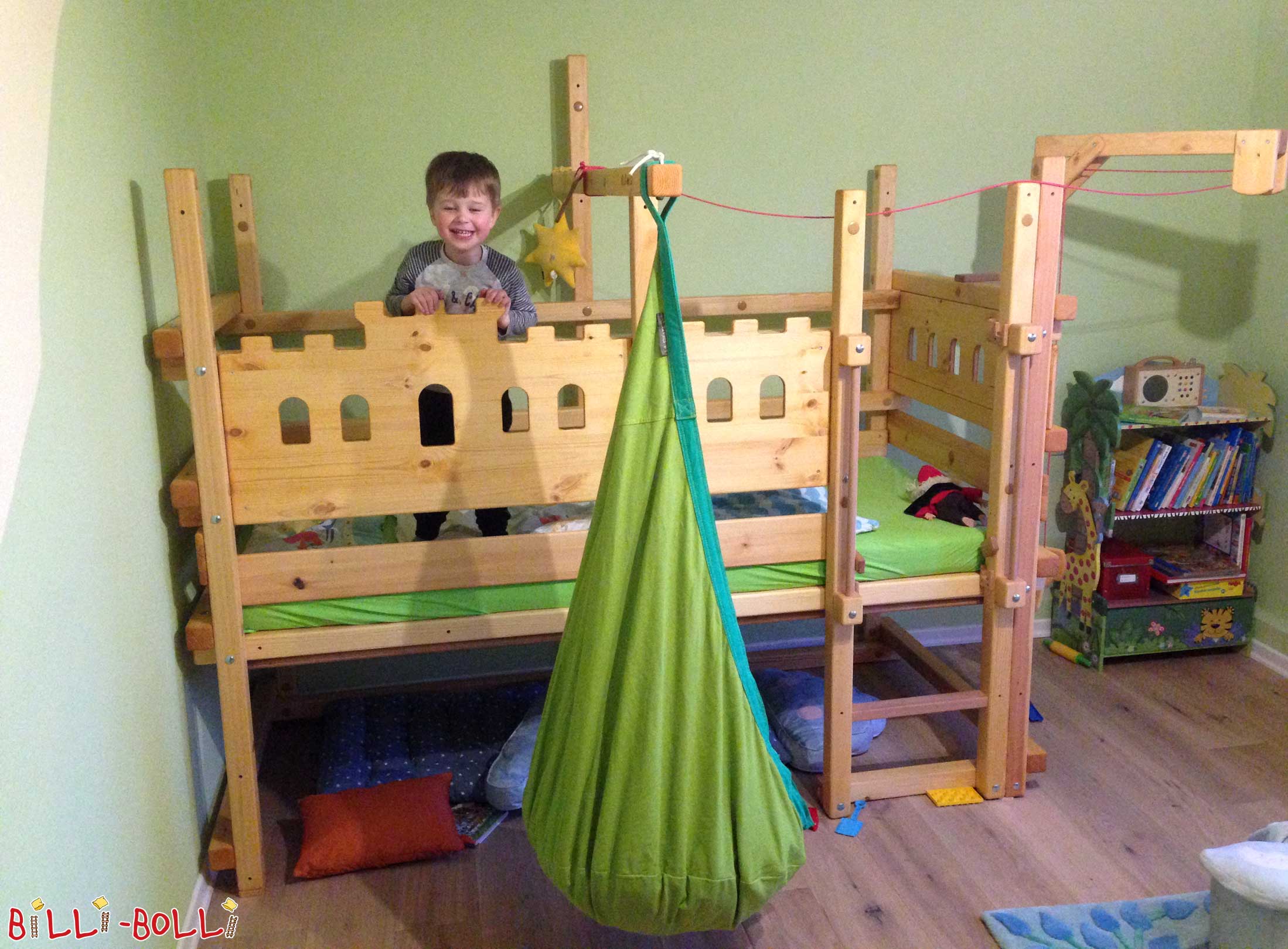 Thank you again for the fantastic consultation. We have assembled our low knight's bed and our little one is absolutely thrilled. He doesn't sleep yet in his room but he often plays on, under and next to his bed. The swinging cave is fantastic and the crane is continuously in use, in a slightly adjusted form :-)
We are super happy that we decided to purchase a Billi-Bolli bed and everyone, who has seen the bed so far, would have loved to take it with them ;-)
Many greetings from Lübeck
Stefanie Dencker
A bed for young and old
A Low Loft Bed is the ideal solution for all kids' bedrooms of new buildings that come with a ceiling height of approx. 250 cm. It provides many of the advantages of the growing loft bed but with a height of only 196 cm it requires less space above the sleeping level. The elevation of the sleeping level of a low loft bed can be adjusted to accommodate even children in the crawling stage and toddlers. Simply mount the sleeping level at floor level (assembly height 1). When your darling gets older you can easily adjust the assembly height: The bed can grow up to assembly height 4 (with high fall guard) or to assembly height 5 (with basic fall guard). The higher the elevation the more room is available below the bed: With assembly height 5 it is roughly 120 cm – enough space to create a cosy corner, add toy boxes or mount bookshelves.
Our Low Loft Bed not only creates more space in the children's bedroom, it is also incredibly sustainable. Thanks to the high-quality materials and careful craftsmanship you will be able to enjoy the bed for years to come and by adjusting the height you can turn the kids' furniture piece easily into a youth bed. There is no need to buy another bed. This way you save money and natural resources. Protection boards, ladder and handles are included with the Low Loft Bed, as well as our slatted bed base and our popular swing beam.
Materials, dimensions and accessories for the Low Loft Bed
Our quality Low Loft Bed – crafted to the highest standard in a German master workshop:
Material: solid wood from sustainable forestry

Manufacturing and mounting with highest care and precision

Perfectly rounded and smooth surfaces

Fall protection surpasses the DIN safety standard by far
Please specify the wood type (beech or pine) and the surface finish of your choice when you place your order. You can either select a surface treatment that emphasises the wood grain or a bright colour varnish. All materials used for the surface treatment are of course saliva-proof and non-toxic for children.
Choose bed dimensions that match your mattress size. The following measurements are available:
Mattress width: 80, 90, 100, 120, 140 cm

Mattress length: 190, 200, 220 cm
To calculate the overall dimension of the furniture piece, you only need to add 13.2 cm to the selected width and 11.3 cm to the selected length.
Our Low Loft Bed: accessories and care
An extensive range of accessories is available for our Low Loft Bed: from design over safety to play and slide elements, we offer everything for you to style the bed according to your personal taste as well as to your child's wishes. Turn the bed into an adventure playground with slide, climbing rope, etc.
Apropos playground: Taking care of your furniture is easy. Bedframe and slatted bed base should be treated with care products appropriate for your bed's surface finish. Please make sure that these care products are suitable for children. You can use a damp, soft cotton clothes for a quick cleaning. Bedding should be changed and washed once a week, particularly if your child is still small. This way the bed is always nice, clean and hygienic.
More kids' beds
The low loft bed is a good solution for children's rooms with low ceilings. Maybe one of the following models is also suitable for you: