You don't have enough space in the children's room for a bunk bed? Then a half-height bunk bed from Billi-Bolli is just the right solution. Under the bed there is plenty of storage space for toys, laundry and co. And thanks to our versatile accessories, you can customize the bed at will. As with the growing bunk bed, the height of the half-height bunk can be adjusted to the age of the child. The half-height loft bed can be set up in heights 1 - 4 with high drop protection and at height 5 with simple fall protection (i).
At height 4, it is suitable for children from 3.5 years of age (according to DIN standard from 6 years (i)).
According to DIN EN 747, it was tested: Half-height bunk bed in 90 x 200 with ladder position A at construction height 4, without swing bar, with mice themed boards all around, untreated & oiled waxed. More info
from € 1,070.00
free shipping (DE)
🛠️ Configure a half-height loft bed
Hanging seat or large bed rack in spruce free of charge when ordering between November 16th and 30th! (as long as the stock lasts)
can be assembled mirror-inverted
(click on image)
Exterior dimensions of the half-height loft bed
Width = mattress width + 13.2 cm
Length = mattress length + 11.3 cm
Height = 196 cm (swing beam
ⓘ
)
Example:
mattress size 90 × 200 cm
⇒ external dimensions of the bed: 103.2 / 211.3 / 196.0 cm
Configure a half-height loft bed
Highest safety according to DIN EN 747
Our half-height loft bed is the only half-height high bed of its kind known to us, which meets the safety requirements of the standard DIN EN 747 "Bunk beds and bunk beds". TÜV Süd has extensively tested the half-height high bed in terms of permissible distances and short-term and long-term load capacity. The GS-seal (Tested Safety) was tested: The half-height high bed at height 4 in height 4 in 90 x 200 and 100 x 200 cm with ladder position A, without rocking beams, with mice themed boards all around, untreated and oiled-waxed. All other versions of the half-height loft bed (e.g. other mattress dimensions) also comply with all important distances and safety features of the test standard. Thus, it is a very safe loft bed. More information about the DIN standard, TÜV testing and GS certification →
Delivery
By default, it comes with:
Screwing material
a detailed step-by-step guide tailored to your configuration
Not included by default, but are also available from us:
Mattresses
more on photos with accessories pictured

individual adjustments such as extra-high feet or sloping roof slants
You get ...

* highest safety according to DIN EN 747 (i)
* Pure fun thanks to a wide range of accessories (i)
* Wood from sustainable forestry (i)
* a system developed over 28 years
* individual configuration options
* personal advice: +49 8124 / 907 888 0
* Production in our workshop (i)
* first-class quality from Germany (i)
* Conversion options with expansion sets (i)
* 7-year warranty on all wooden parts (i)
* a detailed setup guide (i)
* Possibility of secondhand resale (i)
* the best value for money
Customize the half-height loft bed with our accessories
Customize your cot with our diverse accessories. For example, you can turn a ship, a princess castle or a fire engine out of bed. These are the most popular accessory categories:
What our customers say about the half-height loft bed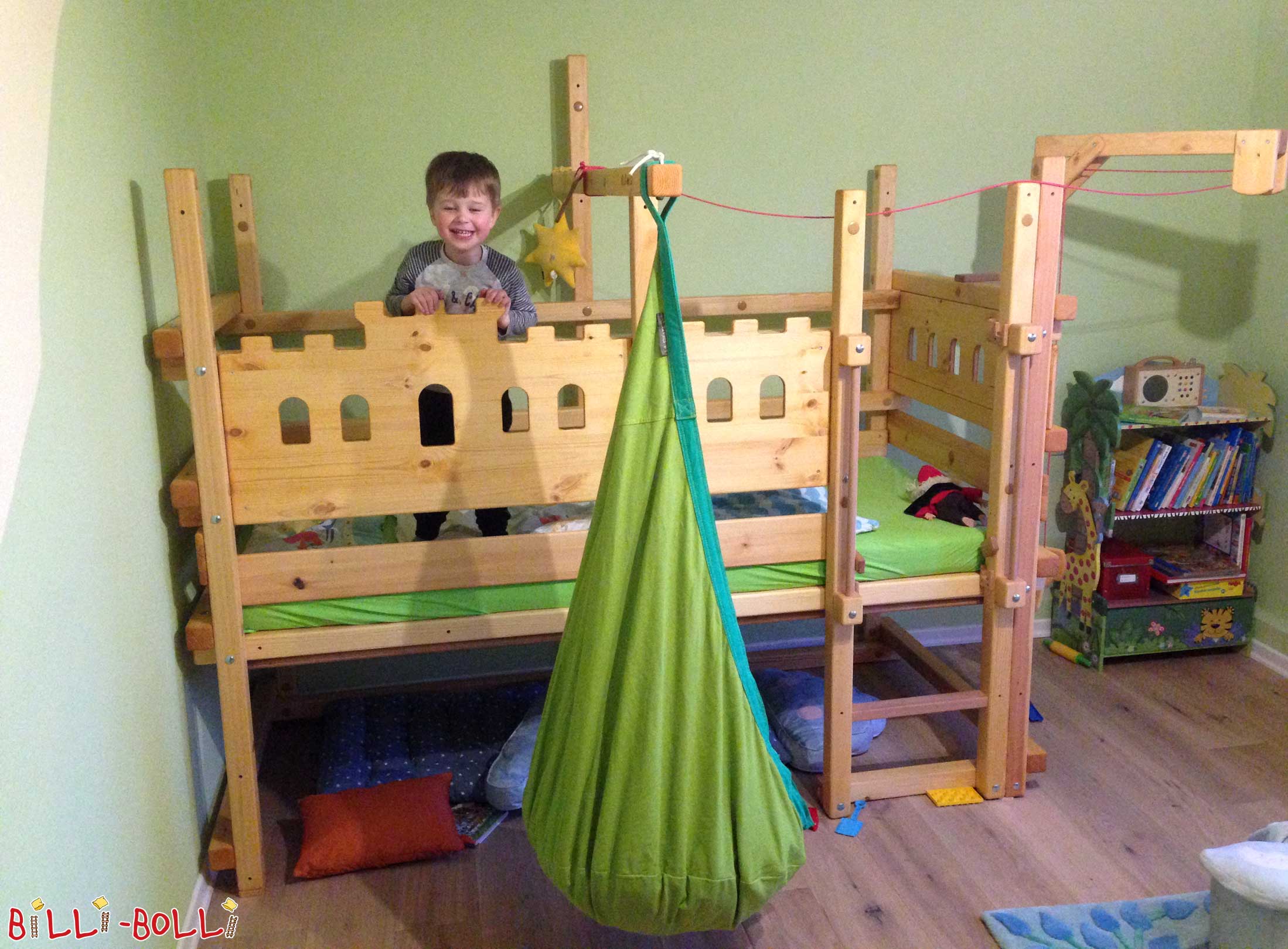 Thank you again for the fantastic consultation. We have assembled our low knight's bed and our little one is absolutely thrilled. He doesn't sleep yet in his room but he often plays on, under and next to his bed. The swinging cave is fantastic and the crane is continuously in use, in a slightly adjusted form :-)
We are super happy that we decided to purchase a Billi-Bolli bed and everyone, who has seen the bed so far, would have loved to take it with them ;-)
Many greetings from Lübeck
Stefanie Dencker