A new life's begun – an incomparable moment! How wonderful that baby can still be close to mama with this bedside crib from Billi-Bolli. A big relief for the whole family. Our baby crib also provides safety for the new family member, from the first moment, and it can be used for many years thanks to all the expansion options. For all the teenage and adult fans of Billi-Bolli quality, stability and design, we also developed low single beds and double beds in various sizes in our workshop.
---
Baby Crib →
As with all of our beds, the high quality of the materials used as well as the expert workmanship of the Billi-Bolli baby crib is very important to us. We use pollutant-free, natural solid wood from sustainable forestry, which guarantees high stability, peaceful sleep and durability. This is essential, because unlike conventional baby cribs, the Billi-Bolli bed for babies is a purchase for many years to come. With the right extension set, it can be easily expanded into one of the other Billi-Bolli kids' beds and even into a play bed later.
Details: Baby Crib
---
Bedside Crib →
Nothing is more important to newborns than being close to their mother. This is also true at nighttime. The bedside crib for newborn babies is the perfect kids' bed for the first 8 – 9 months. The co-sleeper made of first-class, toxin-free natural wood is adjustable in height and simply placed next to the parents' bed. This way mama and baby are very close. The storage table for nappies, pacifiers etc. is also convenient. And later, you can use the co-sleeper as a kids' bench, an arts and crafts table, a dollhouse or even as a play store.
---
Low Youth Beds →
Used as a bed for adolescents, students, as a guest bed or sofa bed, our low youth bed with the typical Billi-Bolli look fits perfectly into even the smallest room. During the day it is a cosy chill out area, ideal for reading and studying. At night it offers you the perfect place for dreaming as well as sleeping. The optional bed drawers provide additional storage space for bedding and other things. And with the matching conversion sets you can even turn the youth bed into a loft bed or a Billi-Bolli loft bed into a youth bed. We are happy to provide advice!
Details: Low Youth Beds
---
Double Bed for Parents →
Since we do not want anyone to be jealous, we have also developed a double bed for couples and parents. Like everything made by Billi-Bolli, we put our heart and soul into the manufacturing of the adult double bed in our in-house Workshop. It is made of the best solid wood quality and stands out with its clear as well as functional design and its stability. It is therefore particularly great as a play area and will accommodate the whole family on Sunday mornings with ease. Available in solid beech and various mattress sizes (e.g. also in 200x200 or 200x220 cm). Untreated, oil-waxed or lacquered/glazed.
Details: Double Bed for Parents
---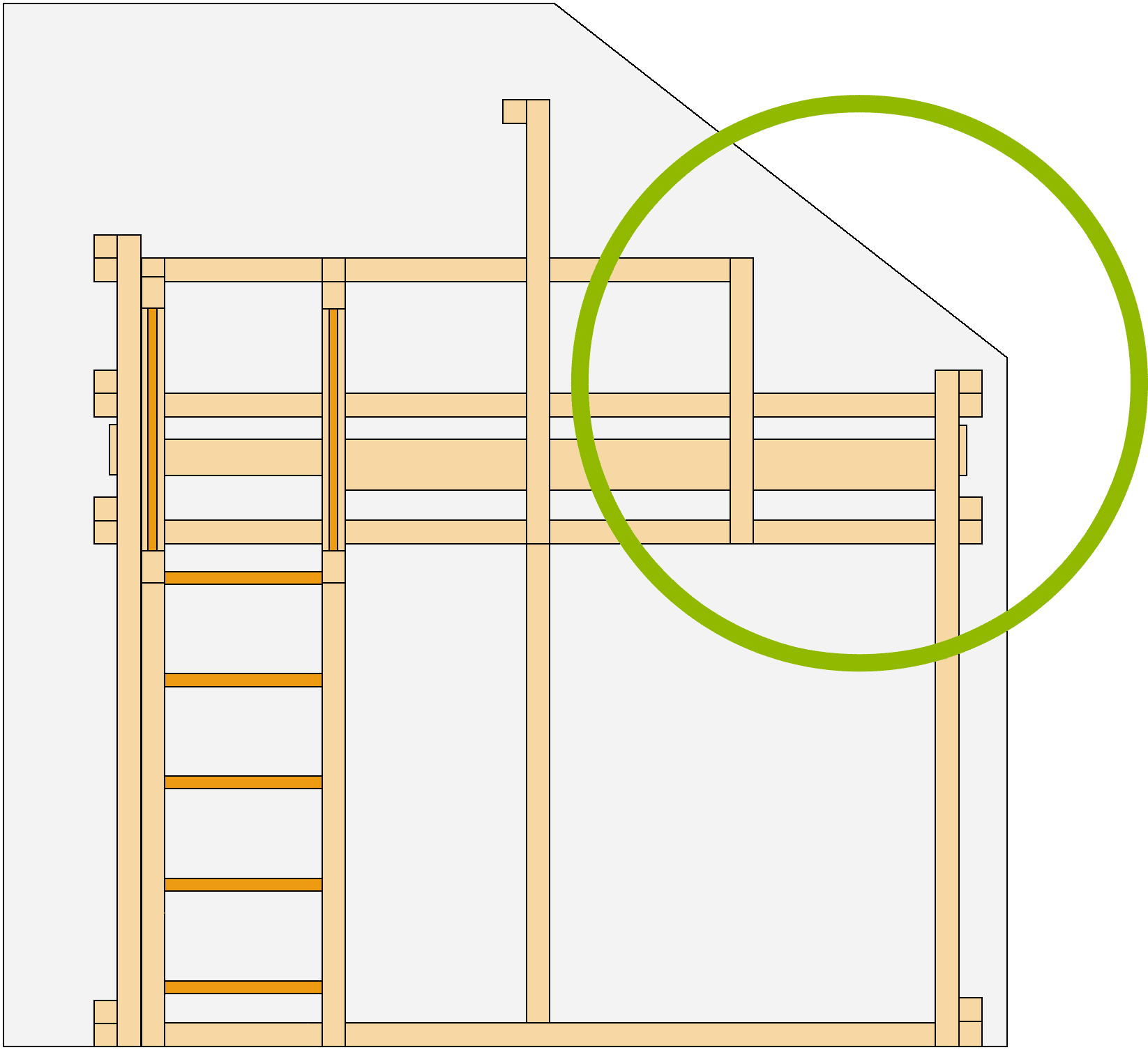 Customising Options →
With solutions for special room requirements, such as Pitched Roof Step, extra tall legs or swing beam position, our loft beds and play beds can be customised to fit your particular child's bedroom. You can also choose Flat Rungs or a Play Floor instead of a slatted bed base here.
---
Further information about additional beds
You will find additional beds for babies, toddlers, adolescents and adults in this category. Below you will find useful information about these beds.
Contents
What are the characteristics of beds for young children?
Beds for toddlers have to meet the special needs of young human beings. Stability and safety are indispensable, while sharp edges and unclean workmanship are taboo. Beds equipped with baby gates prevent the little ones from exploring at night. Our high-quality baby cots, which are manufactured by master craftsmen in our Workshop in Pastetten near Munich, exceed the European standards for baby cribs – little ones sleep safely and well-protected in our models. The solid wood we use is from sustainable forestry. It is free of pollutants and all wooden parts are perfectly rounded and smooth.
What bed features are essential for toddlers?
During the first years of life, your offspring will discover the world with curiosity and bright-eyed. Hence it is all the more important that your darling can rest and sleep safely. Beds for toddlers should therefore fulfil certain criteria. Our checklist will tell you exactly what to look for – so you, the parents, can also sleep peacefully:
safe and sturdy construction

toxin-free, natural materials and clean processing

for painted surfaces: paints are saliva-resistant and harmless to health

baby-friendly bed sizes

baby gates to prevent your little explorer from nighttime discovery tours

hard-wearing surfaces

washable cushioning and mattress

height adjustable sleeping area
Tip: A sleeping area adjustable in height is especially recommended for newborns. This makes nursing, changing nappies and cuddling not only stress-free but also back-friendly for parents.
Safety and quality of beds for toddlers
Paying attention to safety and quality is particularly important when it comes to beds for young children. So the bed should have no edges or cross-beams, which your child could climb up. If the bed is equipped with castors, make sure that they can be locked to prevent wheels from spinning or rolling. In addition to safety, particular attention should also be paid to the quality of the material and its processing.
We manufacture beds for toddlers and other kids' furniture since 1991. In our Workshop close to Munich, our master craftsmen ensure the highest quality standards – every bed is made with love so that your loved one will be safe. We work exclusively with solid wood from sustainable forestry, mainly pine and beech. Both wood types have been used in the production of beds for generations and they stood the test of time. As a result, we manufacture sturdy and perfectly clean beds for toddlers, expressing our decades of experience. The wood we use is free of harmful substances and all the finishes are saliva-proof as well. With a Billi-Bolli baby cot you can rely on durable and sustainably produced quality. This is also reflected in the resale value: If you intend to sell your bed later, you can post your Billi-Bolli kids' bed in our second-hand section for free.
What to look for in a toddler bed?
At Billi-Bolli we offer three core bed models that are particularly well-suited for toddlers and babies: the bedside crib, the baby cot and our loft bed that grows with your child. Depending on the age and needs of your little one, we recommend a different core model. The bedside crib is the right choice for newborns, up to approx. nine months. It is a co-sleeper that can be placed right next to the mother's bed. As soon as your child begins to crawl and discover the world, you can switch to the baby crib equipped with baby gates. Since children grow very quickly, we decided to make our beds for toddlers flexible: the beds for babies can be expanded into beds for children and teenagers, and our loft bed actually grows with them. This way you will own an ecologically and economically sustainable product – one your children will enjoy for many years to come.
What is the difference between a baby cot and a co-sleeper?
On one side, there is the baby crib and the loft bed adjustable by age – on the other, there is the bedside crib, also called the co-sleeper: These core models are specifically designed for the needs of small children. Yet what distinguishes the three bed models for infants from each other? And what is the right product for your child? Our comparison chart will help you with your decision:
Bed
Who is it suitable for?
Features
Advantages
Bedside crib (baby crib, co-sleeper)
for newborns up to nine months

can be placed right next to the parents' bed
storage table for nappies, pacifiers etc.
adjustable in height

makes nursing more comfortable
child does not perceive nighttime sleep as separation from their mother
useful storage table included

Baby crib
for children from crawling stage

with baby gates
numerous accessory parts and expansion options

sustainable thanks to available options for transformation and expansion right into play bed and kids' bed
Positioning the bed in the room
After selecting the bed of your choice, you are now faced with the question: Where is the best place for my baby's crib? The optimal position also depends on the characteristics of the available space, of course. In the first months of life, the bedside crib should be in the parents' bedroom. This is not only more convenient for nursing mamas, the parents' breathing noises also help regulate the breathing of the newborn. The recommended room temperature is between 16 to 18 degrees Celsius. Please also make sure that no shelves or wardrobes are mounted above the bed.
If your child sleeps in their own kids' room, you should also ensure that there is good ventilation and temperature. It is also important to firmly and steadily position the headboard of the toddler's bed against a wall of the bedroom. You need to make sure that there are no lamps, electrical wires or sockets within reach of the little ones, of course. Place the bed in an area where there is enough distance to all radiators and windows. This will prevent your baby from being affected by dry air or direct sunlight.
Tips for buying beds suitable for toddlers
Are you looking for the optimal baby crib for your precious little darling? At Billi-Bolli you will find ecologically sustainable high-quality products manufactured by master craftsmen in a German workshop. The following tips will help you select the right beds for toddlers:
Verify the quality of the bed construction and look for high-quality materials.

All processed materials and colours must be harmless to health and toxin-free.

Make sure that all the bedding is baby-friendly, such as a high-quality mattress.

High-quality and sustainable products also have a high resale value.
Youth beds – beds for teenagers and young adults
When the child gets older and the kid's room changes into a room fit for a teenager, a youth bed usually replaces a kid's bed. Some children do not want to continue sleeping on a higher level as they prefer a lower sleeping area. Again others would like to continue sleeping in their loft bed, but with fewer play features. Our Loft Bed Adjustable by Age and all our other kids' beds can be easily transformed into a youth bed with conversion sets and are, therefore, the perfect fit: move the sleeping level either lower or even further up to create even more space below the bed. The theme boards are removed and the fall guard lowered.
Maybe you just found out about us and are contemplating to start directly with a youth bed? This is a sensible option as the bed can subsequently be transformed into a true loft bed with a high fall guard with our conversion sets, ideal for smaller children. On this page, you are bound to find the right youth bed for you.
We would recommend a mattress size of 140x200 for a youth bed, then two can sleep in it later. A white finish has been very popular in recent years and we are happy to accommodate you.