A new citizen of the earth is here – an incomparable moment! How nice, if the baby can still lie very close to the mom in the Billi-Bolli stillbed. A great relief for the whole family. Our baby crib also protects the newcomer from the very first moment and can be used for many years thanks to expansion possibilities. For young or adult fans of our Billi-Bolli quality, stability and look, we also build low single beds and double beds in various sizes in our workshop.
---
Baby Crib →
As with all our beds, we attach great importance to high quality of all materials and best workmanship for the Billi-Bolli baby cot. The pollutant-free, natural solid wood from sustainable forestry guarantees high stability, unencumbered sleep and longevity. This is also necessary, because unlike conventional baby cots, the Billi-Bolli baby cot is an acquisition for many years. With the appropriate expansion set, it can be easily extended later to one of the other Billi-Bolli cots and even to the play bed.
from € 879.00
🚚 free shipping (Germany)
Details: Baby Crib
---
Bedside Crib →
Nothing means more to the newborns than the proximity to the mother. This also applies at night. The still bed for newborn babies is the perfect cot for the first 8-9 months. The baby balcony made of first-class, pollutant-free natural wood is height-adjustable and is simply placed next to the parent's bed as an extra bed. So mum and baby are very close. The storage table for diapers, pacifiers, etc. is also practical. And later, the still bed may become a children's bench, a painting table, a doll's house or a shop.
Details: Bedside Crib
---
Low Youth Beds →
Whether as a bed for teenagers, for students, as a guest bed or sofa bed, our low youth bed in the typical Billi-Bolli look fits into every small room. During the day it can be used as a sunbathing lawn for chilling, reading and learning, at night it invites you to dream away and sleep. In the optionally available bed boxes, the bed linen and other things can be accommodated. By the way, with suitable conversion kits, the youth bed can become a bunk bed or a Billi-Bolli-high bed can become a youth bed. We are happy to advise you!
from € 347.00
🚚 free shipping (Germany)
Details: Low Youth Beds
---
Double Bed for Parents →
To ensure that there is no envy, we have also developed a double bed for couples and parents. Like everything from Billi-Bolli with a lot of love in the home workshop made in the best solid wood quality, the adult double bed convinces with its clear and functional design and its stability. Thus, the parent double bed also survives the Sunday overcrowding as a family bed with flying colours. Available in solid beech for different mattress dimensions (e.g. also 200x200 or 200x220 cm). Untreated, oiled waxed or glazed/painted.
from € 884.00
🚚 free shipping (Germany)
Details: Double Bed for Parents
---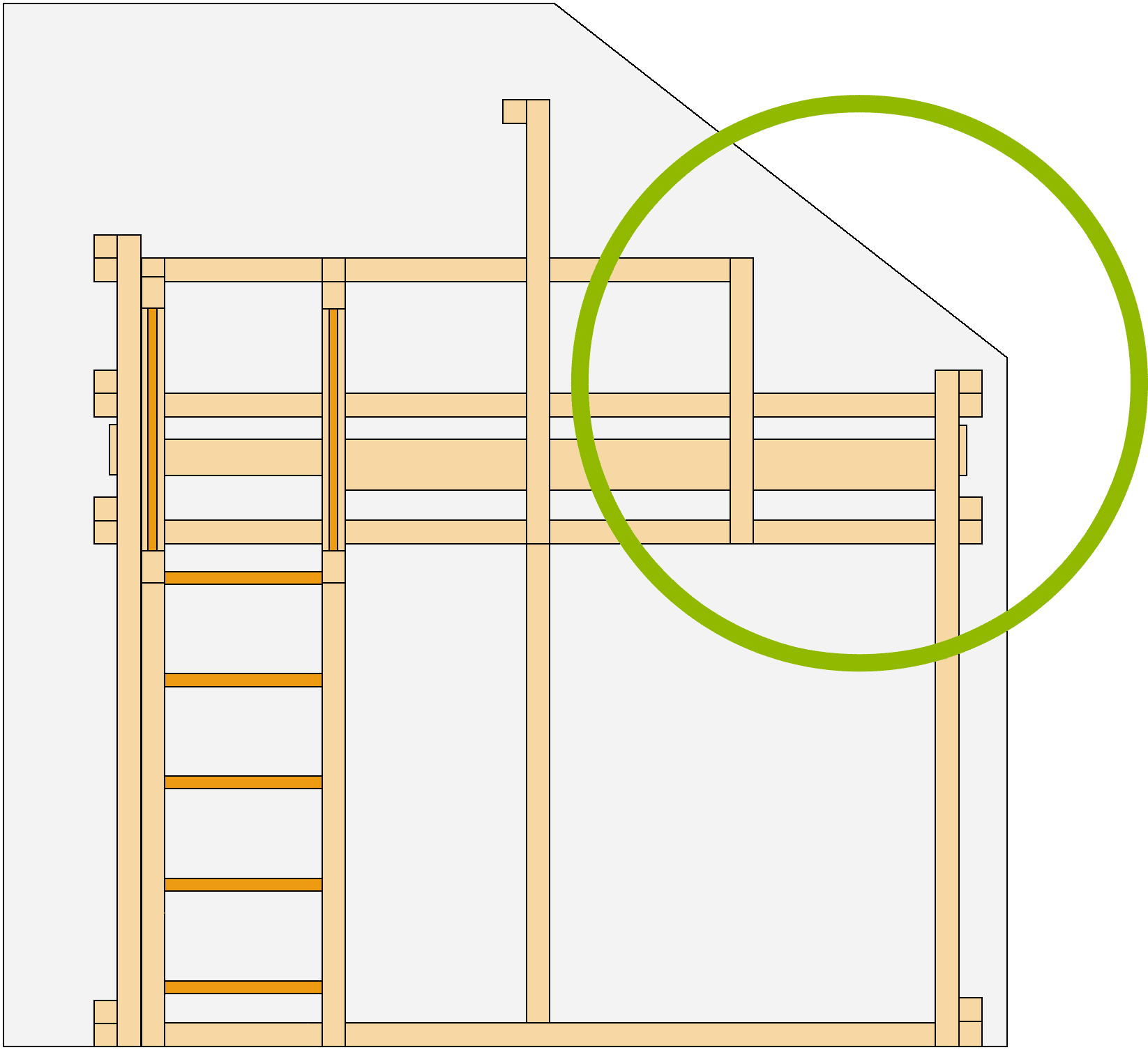 Customising Options →
With solutions for special room situations, such as sloping roofs, extra-high feet or rocking beam position, our loft beds and play beds can be individually adapted to your children's room. You can also choose flat rungs or a playing floor instead of slatted slats here.
---
More information about our other beds
In this category you will find more beds for babies, toddlers, teenagers and adults. Below are some useful information about these beds.
Contents
What distinguishes beds for toddlers?
Beds for young children must meet the special needs of small people. Stability and safety are indispensable, sharp edges and uncleanly worked wood are taboo. Baby grilles at the bedside prevent the little one from going on an exploratory tour at night. Our high-quality baby cots, manufactured in our master workshop in Pastetten near Munich, exceed the European standards for baby cots – in our models, the little ones sleep safely and well-protected. The solid woods from sustainable forestry that we process are free of pollutants, all wood parts are cleanly sanded and nicely rounded.
What functionalities must beds for toddlers have to have?
In the first years of life, the offspring discovers the world with awake and laughing eyes. This makes it all the more important that your darling can relax and sleep safely. Beds for toddlers should therefore fulfil certain functionalities. Our checklist tells you what to look out for – so that you too as a parent can sleep calmly:
* safe and stable construction
* Pollutant-free, natural materials and clean workmanship
* for painted surfaces: saliva-resistant and health-free varnishes
* Baby-friendly bed dimensions
* baby grid to prevent nocturnal hiking tours of the little explorer
* durable surfaces
* wmrily upholstery and mattress
* Height-adjustable lying surface
Tip: A height-adjustable lying surface is especially recommended for newborns. This make breastfeeding, wrapping and cuddling more relaxed for the parents and, above all, more gentle on the back.
Safety and quality of beds for toddlers
Especially for beds for young children, it is particularly important to pay attention to safety and quality. Thus, the bed should have no edges or crossstruts, on which your child could climb up. When rolling on the bed, care should be taken to ensure that they can be detected in order to avoid rolling away. In addition to safety, special attention should also be paid to the material and its processing.
Since 1991 we have been producing beds for toddlers and other children's furniture. Our master workshop near Munich works to the highest quality standards – every bed is made with love so that you can entrust your loved one to it. We work exclusively with solid woods that come from sustainable forestry, mainly pine and beech. Both woods have proven themselves in bed making for generations. The result is stable and absolutely cleanly processed beds for toddlers, which have incorporated our decades of experience. Of course, the woods used are free of pollutants, and the paints are also saliva-resistant. With a baby cot from Billi-Bolli, you can rely on long-lasting and sustainably produced quality. This is also reflected in the resale value: If you want to use your bed later, you can offer your billi-bolli cot in our second-hand area free of charge.
What to look out for when choosing beds for toddlers?
At Billi-Bolli we offer three basic models that are particularly suitable for toddlers and babies: the breastfeeding bed, the cot bed and our growing bunk bed. Depending on the age of the offspring and their requirements, a different basic model is recommended. For newborns up to about nine months, the breastfeeding bed is just right. It is a baby balcony that can be placed on the mother's bed. When your child starts crawling around the world, you can switch to the cot equipped with lattice sprouts. Since the little ones grow very fast, we have decided to make our beds flexible for toddlers: the cots can be extended to children's and youth beds, and our bunk bed even grows with it. This gives you a product that is ecologically and economically sustainable – and that your offspring will enjoy for many years to come.
What is the difference between a cot and an extra bed?
On the one hand there is the cot and the growing bunk bed – on the other hand the extra bed, also called baby balcony: these basic models are tailored to the needs of toddlers. But what distinguishes the three beds for toddlers? And which product is right for your child? Our comparison table will help you decide:
Bed
Who is suitable for?
Specifics
Benefits
Breastfeeding bed (extra bed, baby balcony)
For newborns up to nine months
* can be placed directly at the parent's bed
* Storage area for nappies, dummies and co.
* height-adjustable
* makes breastfeeding more relaxed
* Child does not perceive sleep time as separation from the mother
* practical storage areas included
Cot
For children from the age of crawling
* with baby grille
* numerous accessories and conversion options
Sustainability through conversion and extension to play bed and cot
Placement of the bed in the room
After choosing the bed you want, you now face the question: Where should the bed be best placed for my baby? The optimal position also depends, of course, on spatial conditions. In the first months of life, the still bed should be in the parental bedroom. This is not only practical for breastfeeding mothers, the parental breathing sounds also serve the respiratory regulation of the newborn. The ideal room temperature is 16 to 18 degrees Celsius. In addition, the extra bed should be placed in such a way that no shelves or cupboards are placed above the bed.
If you have your own children's room for your child, care should also be taken to ensure good room air and temperature. For this purpose, the bed for the toddler should be fixed and stable with the headboard on a room wall. Of course, you should also make sure that there are no lamps, power cables or sockets close to the baby handle. Place the bed in an area where it has sufficient distance from heaters and windows. This prevents your baby from being affected by dry air or direct sunlight.
Tips for buying beds for toddlers
Are you looking for the optimal baby cot for your little treasure? At Billi-Bolli you will find ecologically sustainable quality products from the German master workshop. The following tips will help you with the selection of beds for infants:
* Pay attention to the quality of the bed construction and high quality materials.
* All processed materials and colours must be harmless and pollutant-free.
* Pay attention to baby-friendly bedding such as a high-quality mattress
* High-quality and sustainable products also have a high resale value.
Youth beds - beds for teenagers and young adults
When the child gets older and the kid's room changes into a room fit for a teenager, a youth bed usually replaces a kid's bed. Some children do not want to continue sleeping on a higher level as they prefer a lower sleeping area. Again others would like to continue sleeping in their loft bed, but with fewer play features. Our Loft Bed Adjustable by Age and all our other kid's beds are, therefore, the perfect fit, as they can be easily transformed into a youth bed with conversion sets: the sleeping level will either be moved to a lower level or even further up, creating more space below the bed. The theme boards can be easily removed and the fall guard lowered.
Maybe you just found out about us and are contemplating to start directly with a youth bed? This makes a lot of sense as the bed can subsequently be transformed with conversion sets into a true loft bed, including a high fall guard, ideal for smaller children. On this page, you are bound to find the right youth bed for you.
We would recommend a mattress size of 140x200 for a youth bed, then two can sleep in it later. A white finish has been very popular and we are happy to accommodate your finish choice.