Children's Desk
When your child starts school and doing homework becomes part of their routine, it is time to give their bedroom a little makeover and add a workstation for study with their own children's desk. To remain true to ourselves – manufacturing durable kids' furniture made from ecological and high-quality materials – we have developed our very own free standing children's desk in our Billi-Bolli Workshop, which will grow with your child just like our flexible loft bed.
There are 5 height and 3 tilt options to choose from. By adjusting the height and tilting angle to the needs of your child, they will always find the perfect working position at their kids' desk. Our Children's Desk is available in two widths.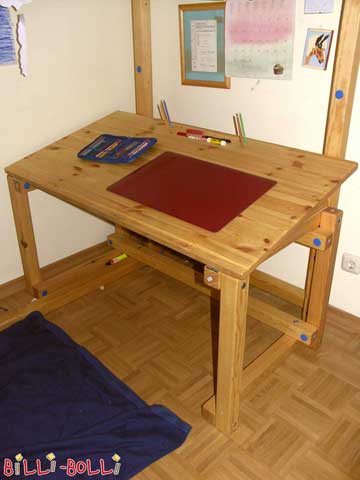 Width: 123.0 or 143.0 cm
Depth: 65.0 cm
Height: 5 different height settings from 60 cm to 70 cm
If you would like to combine a desk with one of our loft beds, you may also want to look at our desktop, which can be integrated right into the bed underneath the sleeping level.
Mobile Pedestal
The Mobile Pedestal, optionally made of pine or beech wood, has 4 drawers offering lots of space for everything one could possibly need at a student's desk. It also stores your child's crafting and drawing materials. With its sturdy castors you can easily move it and its precious contents and if you adjust the mobile pedestal to medium height or higher it also fits under the kids' desk.
The drawers have cute mouse-shaped handles by default. Round handles are also available on request for the mobile pedestal (no extra charge).
Width: 40 cm
Depth: 44 cm
Height (without castors): 58 cm
Height (with castors): 63 cm