Bunk beds have always been around and they still enjoy great popularity.
What is the advantage of a bunk bed? First, a bunk bed, with its sleeping levels above each other, is very space-saving because two children can sleep in a 2 sq. m space.
Second, children have a need for closeness and company. The children then know: My brother / sister is very close to me.
We have redefined the bunk bed not only in terms of playing possibilities but also in terms of the imaginativeness and development of motor skills that our bunk beds encourage.
Also for the Bunk Bed there is, of course, nearly the entire accessories collection available to turn it into an adventure bed or a play bed.
The upper sleeping level is at height 5 (for children 5 years old and up).
can be assembled laterally reversed
External Dimensions
Width = mattress width + 13.2 cm
Length = mattress length + 11.3 cm
Height = 228.5 cm (swing beam
)
Example:
mattress size
90x200
cm
⇒ dimensions of the bed: 103.2 / 211.3 / 228.5 cm
Option for smaller children
If the kids are still pretty small, we recommend the following variant of the Bunk Bed: upper level at height 4 (for children 3.5 years old and up) , lower level at height 1 .
Later on, just move the sleeping levels up one grid unit and you will have the standard Bunk Bed.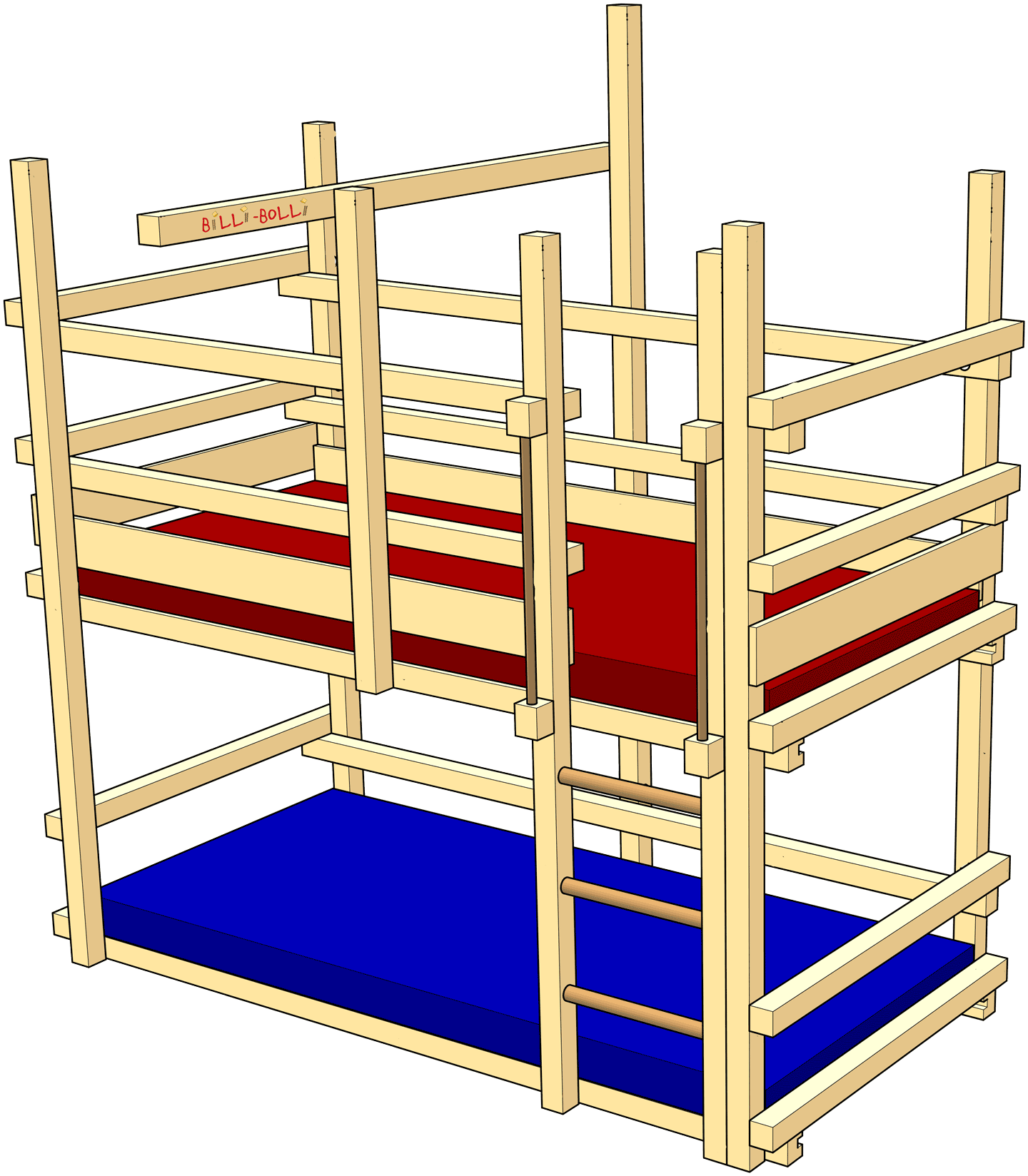 can be assembled laterally reversed
Customer opinions
Hello dear Billi-Bolli team!
As promised, here are a couple of photos of our Billi-Bolli bed! Actually it belongs to Johannes (8 months) and Elias (2 years and 9 months), but both brothers Lukas (7) and Jakob (4 ½) come over to rampage around in the "little children's room"!
Since Johannes unfortunately outgrew his cradle, we had to ask ourselves how we'd fit two relatively young children in one bedroom while saving space, keeping it safe and child-friendly. Your Day Bed with Crib has been the ideal solution! We liked it assembled in its "standard" form , but the way it is now fits our needs perfectly: with the additional beams one can move the crib (the Baby Bed isn't as large and is more pleasant for small babies). You don't have any issues with the rungs of the ladder because the baby cannot come up. You also don't have to cover it from the inside and we've now got an extra small cozy corner – ideal for bedtime stories for the older brother who sleeps above. Because we can take the gates off, making the bed is no problem at all!
We are very satisfied that we were able to find such a practical, secure and also aesthetically pleasing solution for our "problem"!
Best regards from Remseck
Gudrun and Thomas Niemann with Jonas, Lydia, Rebekka, Lukas, Jakob, Elias and Johannes
Dear Billi-Bolli team,
We've finally gotten around to taking a few photos of our bed, an adventure bed that is a fire brigade and ship! This bed is absolutely wonderful and our son loves it… I would have loved to have something like this as a kid :-)
Annette Bremes, Egelsbach
Hello dear Billi-Bolli team!
We got our bunk bed now about two and a half months ago. Our son, Kilian (now 29 months) loves it and sleeps wonderfully in it.
His little sister Lydia (11 months) has been sleeping at the lower level of the bed for the last three nights. She's taken wonderfully to it and both of them are happy each morning that they wake up together and can start playing straightaway.
Thank you so so much for your good consulation to us. We'll surely be back for any future siblings ;)
Sincerely,
Krystina Schulz
We are finally getting the opportunity to thank you for your uncomplicated and professional planning and delivery of our adventure bed. Our children are very happy – they can finally all sleep in one room together. We were and still are excited… The quality and workmanship of your beds is first class!
Thank you very much and greetings from the Black Forest
Ralf & Tanja Ichters with Felix, Ben and Leni