Billi-Bolli is not only passionate about fantastic kids' beds and adventure beds for girls and boys. We have also developed a range of functional kids' furniture in the typical Billi-Bolli design, which will complement the furnishing of your child's or teen's bedroom perfectly. Like everything made in the Billi-Bolli Workshop, all kids' bedroom furniture pieces are made of pollutant-free natural wood (pine or beech) by our master craftsmen. Our kids' furniture range does not only stand out with its clear and well-thought-out design, it also guarantees maximum stability and durability for many years to come. For the furnishing of the kids' room, we have the following furniture items in our collection: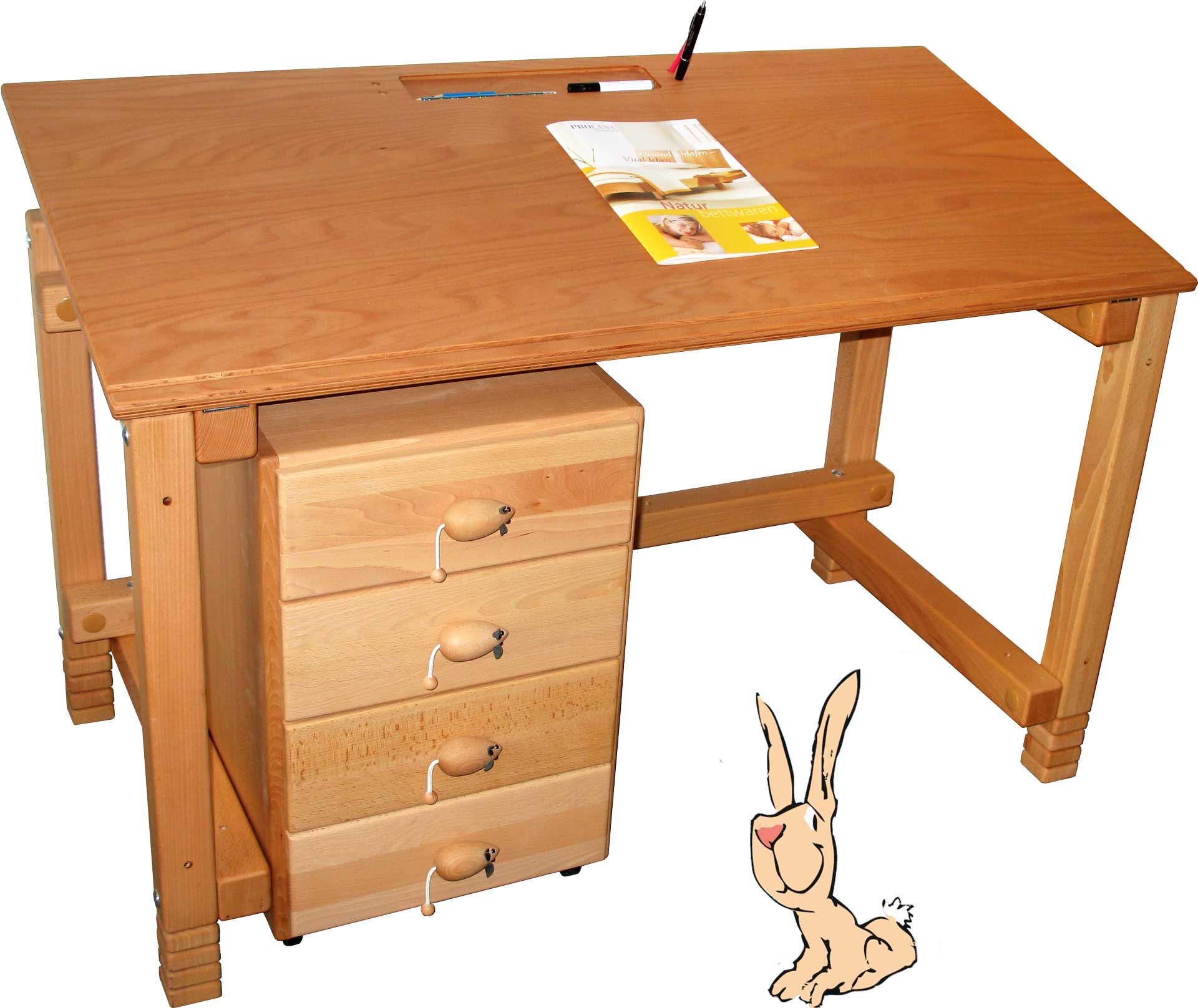 Children's Desk and Mobile File Pedestal →
Whether for daily homework or for crafting and drawing, a children's desk is crucial to every child's bedroom, right from the first day of school. Therefore it is important that the height and tilting of the desk are optimal for your child's demands. That is why Billi-Bolli's children's desks grow with your child as well as their needs. The matching Mobile Pedestal is also available, offering valuable additional storage space for the study materials.
Kids' Chairs →
Only the combination of an adjustable desk and an ergonomic chair ensures that your child can get through the school years back-friendly and healthy. That is why we also offer kids' chairs that promote relaxing and ergonomic sitting, while also meeting the varied seating demands of children and teenagers.
Wardrobes →
Our sturdy wardrobes bring order into every kids' room with ease, while offering lots of storage space to keep it tidy. Everything will get its own place: from the sock with a hole to your favourite dress, from puzzle to the box of toys. And this way your child will have enough space for rough and tumble play in the kids' room. What is more, our wardrobes are not only a perfect fit for a child's room: the clear design will also be a visual highlight in the parents' or teenager's bedroom, which you will be able to enjoy for a long time.
Shelf unit →
Our shelf unit is made of pollutant-free pine or beech wood and is approx. 40 cm deep with lots of space for books, toy boxes or school folders. It is therefore ideal for quick access while the room remains clutter-free – the clever storage option for small spaces. Keep all the precious possessions neatly tucked away: boxes with toys and building blocks, all the favourite books for book lovers young and old, as well as folders and files for the busy student or home office.
How to find the perfect kids' furniture: Tips for choosing
Children spend a significant amount of time with their furniture. While adults have separate bed and living areas with matching furniture, the children's room is an "all-round living space". For this reason, furnishing the children's room is of particular importance and the demands for kids' furniture are more varied. It is therefore important to take everything into consideration before you buy:
Contents
Which requirements should the kids' furniture meet?
Above all, children should feel comfortable and at home in their room and be able to freely play and imagine to their hearts' content. The room must therefore be safe and protect your little explorers from accidents. Properly furnished it will also accommodate your child's play behaviour. Your wild child will love swings, climbing elements and slides, while a high-quality desk and a comfy corner will suit kids with a calmer temperament.
In addition to kids' beds, other kids' furniture pieces are also important in the child's room. Ensuring that their quality is high, will let you enjoy them for many years to come. Kids' furnishings have to be extra sturdy to withstand all active adventurers and their imaginative play. Different functionalities, such as size adjustments, personalise each element and offer that certain something. Billi-Bolli kids' furniture combines all these features. Each piece is extremely durable, sturdy and adjustable in size. We place a strong emphasis on using only high-quality materials during our manufacturing process, making sure that our furniture is not only sturdy but also environmentally friendly.
How much space is available?
In new homes, many children's rooms are hardly larger than 10 m². To meet all the different demands skilful selection and space-saving children's furniture are a clever way to make the most of the available space. Choosing dual-use loft and bunk beds is a great option particularly for small rooms. The child can sleep and rest in the upper level while playing and jumping around in the lower one. This way, there is enough space for both without cluttering up the children's room.
Am I planning long-term when I purchase children's furniture?
Do I want to replace the furniture in the room several times over the years when the demands change, or alternatively, do I opt for kids' furniture that adjusts to all the developmental stages of children? Our kids' furniture grows with your child and is therefore the most economically-sensible choice: The nursery room turns into the children's room, the children's room into the teenager's room. Our beds can even be converted into a students' bed.
Do sustainable factors influence my purchase decision of kids' furniture?
The days of the "throw-away wonderland" are definitely over. If we want to master the pending environmental challenges, it is important – among other things – to choose products with a long service life that are produced from renewable raw materials, such as natural wood. At the end of their product life, they can be effortlessly reintegrated into the ecological cycle if necessary. These considerations play a role in all areas of everyday life. The experience of purchasing kids' furniture can make theoretical environmentally-friendly behaviour particularly practical for your children.