Sometimes the kid's room is not big enough for one of our high beds. Or perhaps you are looking for a bed that suits teenagers or guests who do not want to sleep up high (anymore). For this reason, we offer our Low Youth Beds.
They are compatible with all of our other kids' beds. Therefore, you can later convert a Low Youth Bed into one of our other models using conversion sets, e.g. into a Loft Bed or into a Bunk Bed. This means that the low beds also have a long service life, even if the needs change over time.
It also works the other way around: you can assemble a Low Youth Bed from every other kids' bed with only a few additional beams.
Four different types are available:
The Low Youth Beds can also be equipped with Protection Boards or with Rollout Protection, all around or on particular sides (depending on the type). This makes the sleeping area even cosier.
Low Youth Bed Type A: as a flat bed
External Dimensions Type A
Width = mattress width + 13.2 cm
Length = mattress length + 11.3 cm
Height of the legs
ⓘ
: 37.5 cm
Example:
mattress size 90 × 200 cm
⇒ external dimensions of the bed: 103.2 / 211.3 / 37.5 cm
Configure Type A
What you are getting …
highest safety according to DIN EN 747 ⓘ

so much fun thanks to a wide range of accessories ⓘ

wood from sustainable forestry ⓘ

a system developed over 28 years

individual configuration options

personal consultation: +49 8124 / 907 888 0

first-class quality from Germany ⓘ

conversion options with expansion sets ⓘ

7-year warranty on all wooden parts ⓘ

a detailed assembly manual ⓘ

second hand sale option ⓘ

the best value for money
included in the delivery
(Type A)
Included in the delivery by default:
Not included by default but optionally available are:
Low Youth Bed Type B: with one tall side
External Dimensions Type B
Width = mattress width + 13.2 cm
Length = mattress length + 11.3 cm
Height of the legs
ⓘ
: 66.0 cm / 37.5 cm
Example:
mattress size 90 × 200 cm
⇒ external dimensions of the bed: 103.2 / 211.3 / 66.0 cm
Configure Type B
What you are getting …
highest safety according to DIN EN 747 ⓘ

so much fun thanks to a wide range of accessories ⓘ

wood from sustainable forestry ⓘ

a system developed over 28 years

individual configuration options

personal consultation: +49 8124 / 907 888 0

first-class quality from Germany ⓘ

conversion options with expansion sets ⓘ

7-year warranty on all wooden parts ⓘ

a detailed assembly manual ⓘ

second hand sale option ⓘ

the best value for money
included in the delivery
(Type B)
Included in the delivery by default:
Not included by default but optionally available are:
Low Youth Bed Type C: with tall sides
External Dimensions Type C
Width = mattress width + 13.2 cm
Length = mattress length + 11.3 cm
Height of the legs
ⓘ
: 66.0 cm
Example:
mattress size 90 × 200 cm
⇒ external dimensions of the bed: 103.2 / 211.3 / 66.0 cm
Configure Type C
What you are getting …
highest safety according to DIN EN 747 ⓘ

so much fun thanks to a wide range of accessories ⓘ

wood from sustainable forestry ⓘ

a system developed over 28 years

individual configuration options

personal consultation: +49 8124 / 907 888 0

first-class quality from Germany ⓘ

conversion options with expansion sets ⓘ

7-year warranty on all wooden parts ⓘ

a detailed assembly manual ⓘ

second hand sale option ⓘ

the best value for money
included in the delivery
(Type C)
Included in the delivery by default:
Not included by default but optionally available are:
Low Youth Bed Type D: with tall sides and backrest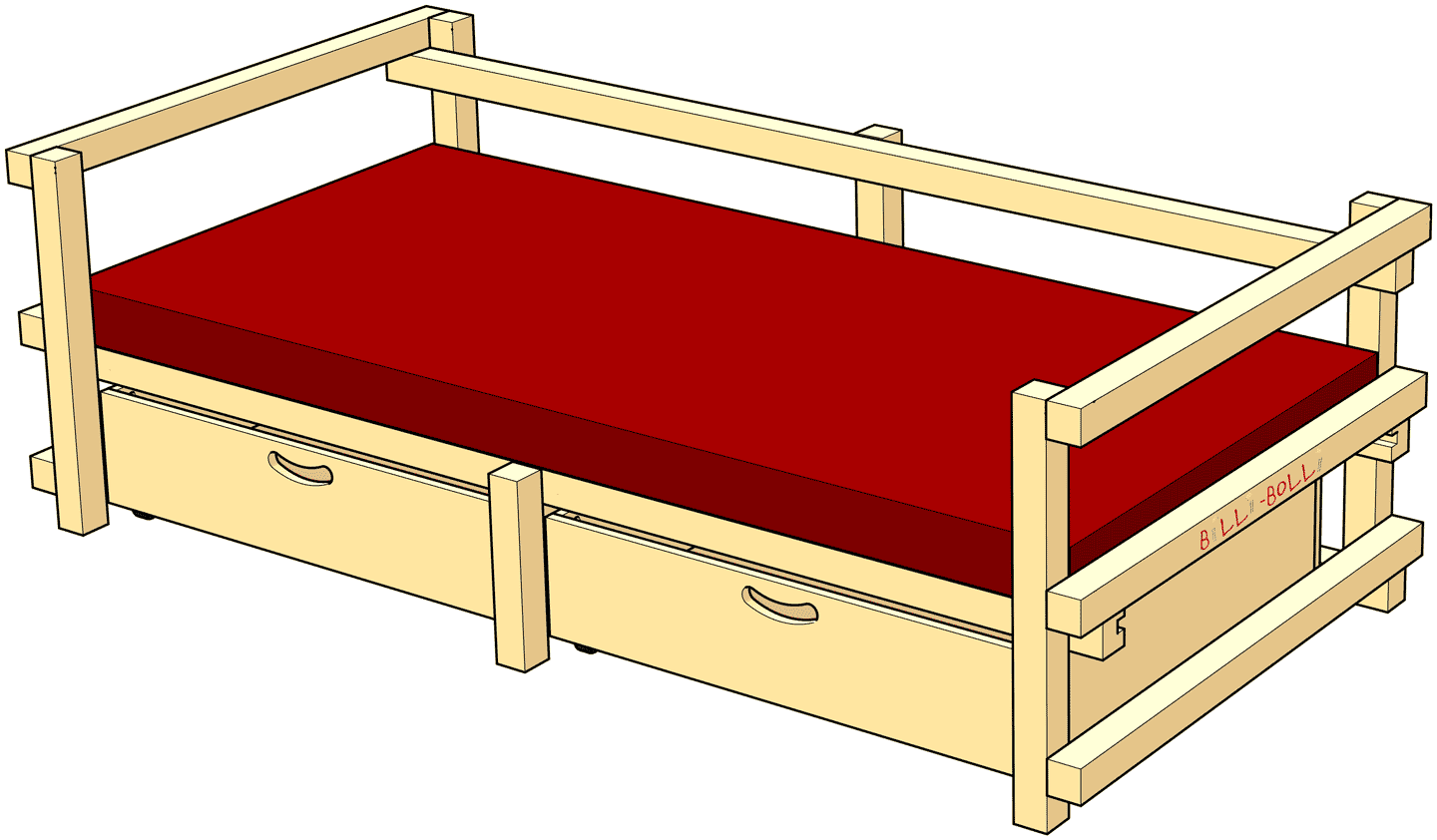 External Dimensions Type D
Width = mattress width + 13.2 cm
Length = mattress length + 11.3 cm
Height of the legs
ⓘ
: 66.0 cm
Example:
mattress size 90 × 200 cm
⇒ external dimensions of the bed: 103.2 / 211.3 / 66.0 cm
Configure Type D
What you are getting …
highest safety according to DIN EN 747 ⓘ

so much fun thanks to a wide range of accessories ⓘ

wood from sustainable forestry ⓘ

a system developed over 28 years

individual configuration options

personal consultation: +49 8124 / 907 888 0

first-class quality from Germany ⓘ

conversion options with expansion sets ⓘ

7-year warranty on all wooden parts ⓘ

a detailed assembly manual ⓘ

second hand sale option ⓘ

the best value for money
included in the delivery
(Type D)
Included in the delivery by default:
Not included by default but optionally available are:
For a personal touch add our accessories to the Low Youth Beds
Design your kids bed individually with our wide range of accessories. For example, you can turn the bed into a ship, a princess castle or a fire engine. These are the most popular categories of accessories: