enjoy first-class quality from Germany directly from the manufacturer
All models quickly available
Free shipping in Germany
Dreamlike sleep at night, playbed fun during the day
Welcome to our children's furniture workshop! We have developed variable cots made of natural wood that grow with your children and accompany them over many years.
The initial baby crib becomes a mini-high bed for toddlers and then in several steps to the high bed for school children, before it finally inspires young people and students as a high bed with plenty of storage space.
Imagination and fun are also not neglected: with creative accessories, the children's high bed becomes a dreamy play bed for princesses or a bunk bed with a slide for two, three or four children.
Nursery building is our passion! The cots made in the Billi-Bolli workshop made of first-class materials are safe, indestructible and therefore a sustainable investment for what is probably the most important thing in your life.
When I was 4 years old, my father built the first bunk bed for me in the garage. Others saw it and immediately wanted one – a business idea was born ...
In almost 30 years, our family business has continuously developed the cots through close exchange with our customers, so that they are incomparably variable and safe today. Meanwhile, many thousands of children around the world wake up happily every day in a Billi-Bolli bed. Maybe soon yours too?
Browse through our innovative range of bunk beds and bunk beds and let yourself be surprised!
Peter & Felix Orinsky |  Owner and Managing Director
Loft Beds
Our flexible and versatile loft beds grow with your child and accompany them throughout their childhood. Here you will find the different models.
To the High Beds
Bunk Beds
We have bunk beds for 2, 3 or 4 children in many variants for different room situations. For children, babies, toddlers and adolescents.
To the Bunk Beds
Play Beds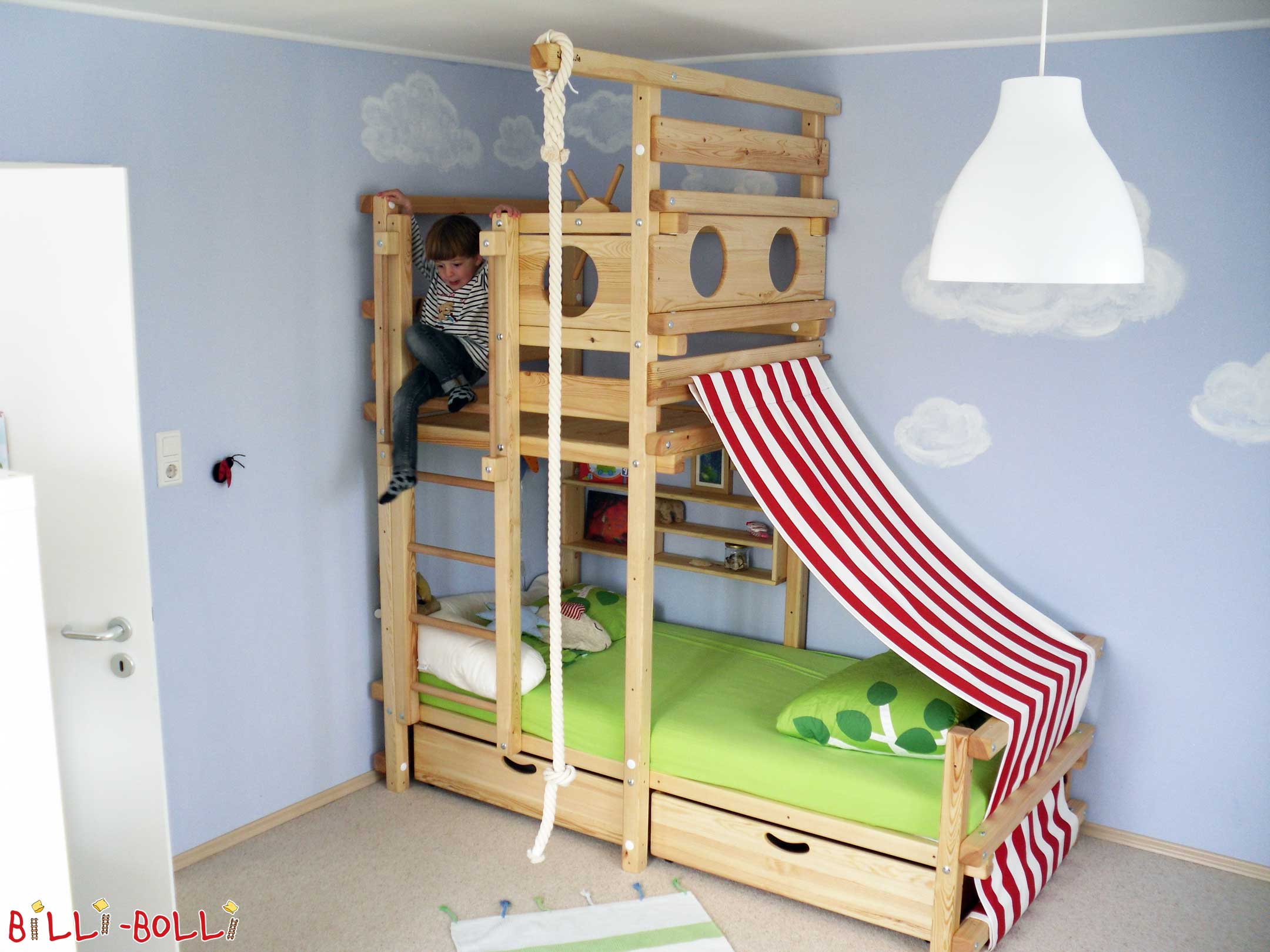 With our accessories, all our cots become play beds. Here you will find more models that are especially suitable for playing.
to the play beds
Kids' Furniture
For the further furnishing of the children's room we have functional children's wardrobes, shelves, desks and children's chairs.
to children's furniture
Our versatile selection of bunk beds and bunk beds
Promotion: Bed rack free of charge
If you order between 1st and 31st July you will receive a small bed rack for the bed free of charge. More info
Cots by Billi-Bolli are ...
Safe & stable
Safety is our number one priority for our cots. They have the highest fall protection of all beds known to us and far exceed the DIN EN 747 standard. All parts are cleanly ground and rounded.
Ecologically
For the environmentally friendly production of our children's furniture, we only use solid wood from sustainable forestry. We heat our workshop with geothermal energy and produce the electricity ourselves by photovoltaics.
versatile
From the cot to the youth bed: our beds grow with your children. Variants for many different room situations (e.g. sloping roofs) as well as extension sets allow incredible flexibility.
lasting
Through detailed advice perfectly tailored to your child, then ecologically produced, you can pass on your cot via our secondhand page after years of use. An environmentally friendly product cycle is created!
Manufactured in Germany
We build your bed in first-class craftsmanship in our master workshop in Pastetten near Munich and offer our 16-strong team home-based jobs. We cordially invite you to visit us.
healthy
The open-pored natural wood surface "breathes" and thus contributes to a healthy indoor climate. With a bunk bed or bunk bed made of first-class, pollutant-free solid wood, a piece of nature comes into the children's room.
Pure fun
There are our play beds e.g. as a knight's bed or pirate bed. There are also slides, climbing walls, steering wheels & much more. Your child becomes a circumnavigator, Tarzan or cavers and the children's room becomes an adventure room!

Good for motor skills
The repeated climbing and climbing down on the bunk bed or bunk bed creates a high body awareness in your child, strengthens his muscles and trains the motor skills. This will benefit your child for a lifetime.
Durable
Our furniture is "unbreakable". You get a 7-year warranty on all wooden parts. Longevity also means a long service life: our beds perfectly involve all your child's developmental steps right from the start.

Individually
You can individually compose your desired bed from our innovative range of cots and accessories. Or you can incorporate your own creative ideas – special dimensions and special requests are possible.
Economically
Our cots have a high resale value. So if you sell them after a long, intensive use, you have spent much less than with a cheaper bed that needs to be disposed of after use.
Proven & contemporary
In 28 years of company history, we have continuously developed our children's furniture in close exchange with our customers, so that today they are incomparably versatile and flexible. And it goes on...
Quick & free available
Our most popular cot models are in stock. We deliver worldwide, and within Germany even free of charge to your children's room, if your order includes a bed or a wardrobe.
In your area
Visit the cots in our workshop east of Munich. We are also happy to make contact with one of our more than 15,000 satisfied customers in your area, where you can view your desired bed.
Easy to build
Look forward to the set-up! You will receive a detailed step-by-step guide that is tailored to your bed. This way, the construction progresses quickly and is fun. In the Munich area, we can also take over the construction.
Social & Helping
It is our concern to stand up for children in need. As far as we can, we therefore support various international child-related projects that urgently need help.
Billi-Bolli – for many the best cots in the world.