German quality directly from the manufacturer
all models are quickly available for shipping
Free shipping in Germany
Promotion: 50 € as a gift
If you order a bed between August 1st and 31st, you get 50 € discount!
Fun-filled play during the day, peaceful sleep at night
Welcome to our children's furniture workshop! We have developed versatile Kids' Beds made of natural wood. All our furniture adapts to grow with your child, for many years to come.
The cotbed with bars will turn into a mini loft bed for toddlers and then, in several stages, it changes into a loft bed for school kids until it transforms into a loft bed with lots of storage space even teenagers and students will love.
Your little adventurers will also not miss out on imagination and play opportunities: With our creative accessories you will transform the kids' loft bed into a dreamy fairytale play bed for princesses or into a bunk bed equipped with a slide for two, three or four children.
Crafting kids' beds is our passion! All our kids' beds are manufactured in the Billi-Bolli workshop and are made of first-class materials. They are safe, sturdy and a sustainable investment for what is most precious in your life.
When I was 4 years old, my father built the first bunk bed for me in the garage. Others saw it and immediately wanted one – a business idea was born ...
In almost 30 years, our family business has continuously developed the cots through close exchange with our customers, so that they are incomparably variable and safe today. Meanwhile, many thousands of children around the world wake up happily every day in a Billi-Bolli bed. Maybe soon yours too?
Browse through our innovative range of bunk beds and bunk beds and let yourself be surprised!
Peter & Felix Orinsky |  Owner and Managing Director
Loft Beds
Our flexible and versatile loft beds grow with your child and will be a companion all throughout childhood. Here you will find different models.
to the loft beds
Bunk Beds
We have bunk beds in many versions for different room layouts for 2, 3 or 4 children. For kids, babies, toddlers and teenagers.
to the bunk beds
Play Beds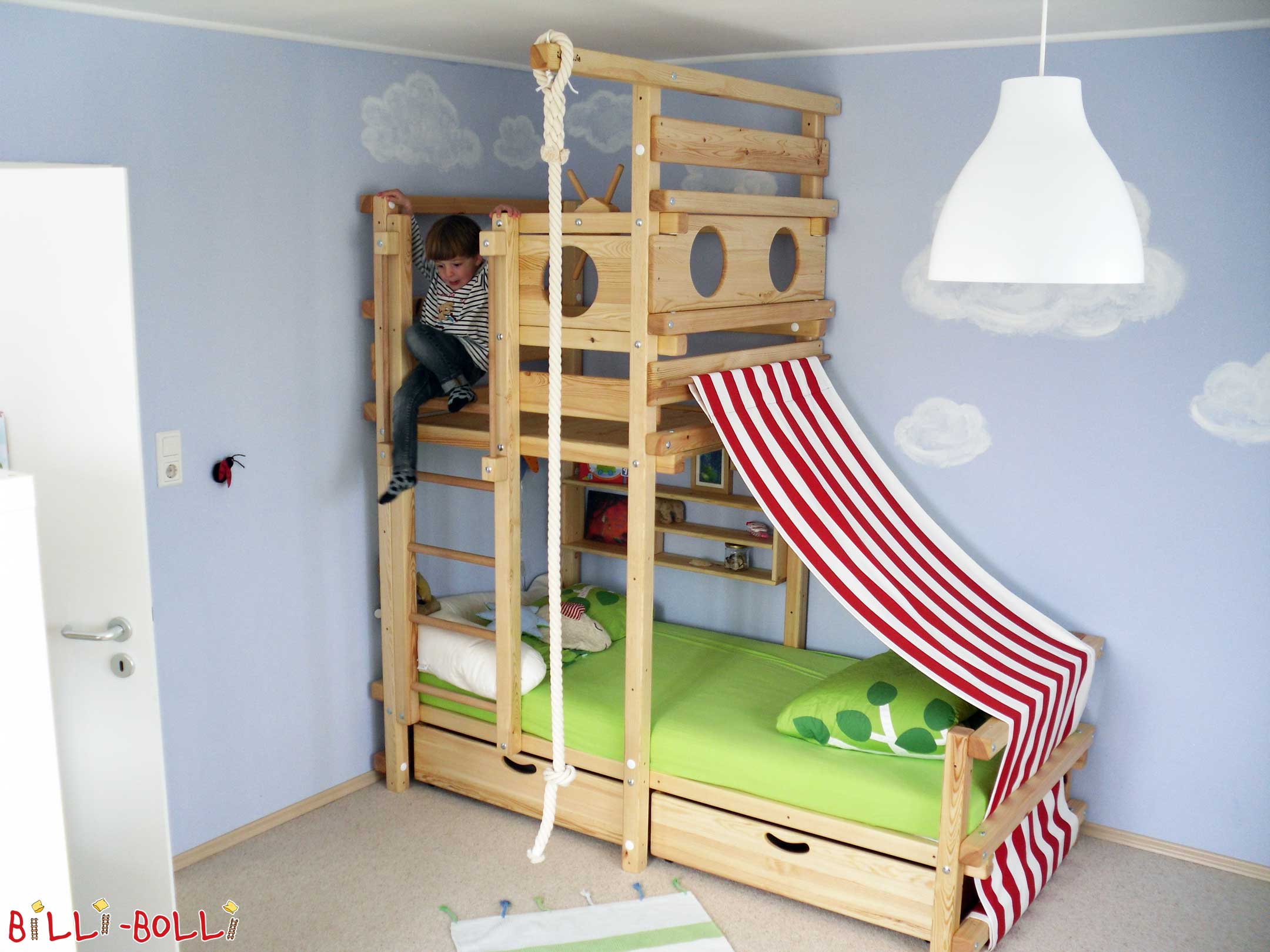 With our accessories all our beds can be transformed into fantastic play beds. On this page, you will discover models particularly suitable for playing.
to the play beds
Kids' Furniture
We offer more functional furnishing for the children's room, such as kids' wardrobes, shelves, desks and kids' chairs.
to the kids' furniture
Our versatile selection of loft beds and bunk beds
Billi-Bolli kids' beds are …
Safe & Sturdy
The safety of our kids' beds is our top priority. They are equipped with the highest fall guard compared to all the kids' beds known to us and it even exceeds the safety standard DIN EN 747 by far. All parts are rounded and sanded perfecly smooth.
Ecological
We use only solid wood from sustainable forestry for the environmentally friendly manufacturing of our kids' furniture. We heat our workshop with geothermal energy and our own photovoltaic panels supply the energy we need.
Versatile
From baby crib to youth bed: Our kids' furniture grows with your children. The diverse range of models as well as conversion sets offers an incredible flexibility, suiting every room layout (e.g. pitched roofs) and need.
Sustainable
After extensive consultation perfectly matched to your child, then ecologically manufactured, you can pass your kid's bed on via our Second hand page after years of extensive use – an environmentally friendly product cycle!
Made in Germany
Our master craftsmen produce your bed in first-class quality right in our workshop in Pastetten near Munich. Therefore we are able to offer our team of 16 jobs locally. You are welcome to pay us a visit.
Healthy
The living surface of natural wood "breathes" and contributes therefore to a healthy indoor climate. With a Loft Bed or Bunk Bed made of first-class, pollutant-free solid wood, you bring a piece of nature right into your kids' room.
Maximum fun
Our play beds are available as knight bed or pirate bed, for example. Then you can add slides, climbing walls, helms and much more. Your child becomes a circumnavigator, Tarzan or a cave explorer and your child's room transforms into a space full of adventure!
Durable
Our furniture is "unbreak­able". We give a 7-year warranty on all wooden parts. Longevity also means a long service life: Our beds perfectly support all of the developmental stages of your child, right from the start.

Customised
You can fully customise your dream bed from our innovative range of kids' beds and accessories. Or integrate your own creative ideas – individual sizes and custom requests are possible.
Cost-effective
The resale value of our kids' beds is very high. You will be surprised how little money you will have spent when you sell them after many years of extensive use, compared to a cheaper bed you have to dispose of after use.
Trusted & Modern
Throughout 28 years of company history we have tirelessly developed our smart kids' furniture in close exchange with our customers, making them incomparably versatile and flexible today. And we continue…
Delivered fast & free
Our most popular kids' bed models are in stock. We ship worldwide and within Germany, we even offer free delivery right into the kids' room, if your order includes a bed or a wardrobe.
Nearby
You are welcome to visit our workshop east of Munich. We are also happy to establish contact with one of our 15,000 satisfied customers in your area where you can have a closer look at your dream bed.
Easy to assemble
You can look forward to the assembly! Specifically tailored to your bed, you will receive an easy-to-understand and detailed step-by-step manual. This way you will mount the furniture in no time and you will have fun in the process. In the greater area of Munich we can also do the assembly for you.
Socially enganged & supportive
We are committed to help ease the suffering of children. To the best of our ability we therefore support the work of various international child­focused projects, which are in urgent need of aid.
Billi-Bolli – for many, the best kids' beds in the world.