They are one of the special experiences in every holiday camp, but also in their own home bunk beds or bunk beds are becoming more and more popular with parents and children. No wonder, after all, there are many good reasons for a practical bunk bed – be it the siblings' need for mutual closeness, the regular visit of friends or simply the desire for more space to play. If you have two or more children, our versatile bunk beds will provide you with the right solution for every child's room.
---
Bunk Bed →
Our bunk bed/floor bed is very space-saving thanks to its superimposed sleeping levels and offers a sleeping place for 2 siblings. The bunk bed/stock bed is just as popular with overnight guests. With our extensive accessories, the attractiveness of the bunk bed/stock bed can be increased enormously: it then becomes a pirate bed, knight's bed or princess bed. When it gets a slide or fire brigade pole, the exit becomes enormously sporty. Motor skills and body awareness are trained in a playful way. The children benefit from it throughout their lives. Our bunk beds/bunk beds are so robustly constructed that high loads don't matter to them for many years to come.
from € 1,223.00
Shipping free (DE)
Details
---
Corner Bunk Bed →
The bunk bed-over-corner is the ideal bunk bed for slightly larger children's rooms. Thanks to the larger footprint, it offers even more play possibilities than the classic bunk bed. Thus, it combines the 2 sleeping possibilities of the classic bunk bed with the play cave of the loft bed. With accessories from our extensive range, it becomes the perfect game paradise. Even in children's rooms, which have a sloping roof, the corner bunk bed is often the optimal solution, as the low bed makes good use of the space under the sloping. You can also use the corner bunk bed in a variety of mattress dimensions, with a visible solid wood surface or painted in colour as desired.
from € 1,318.00
Shipping free (DE)
Details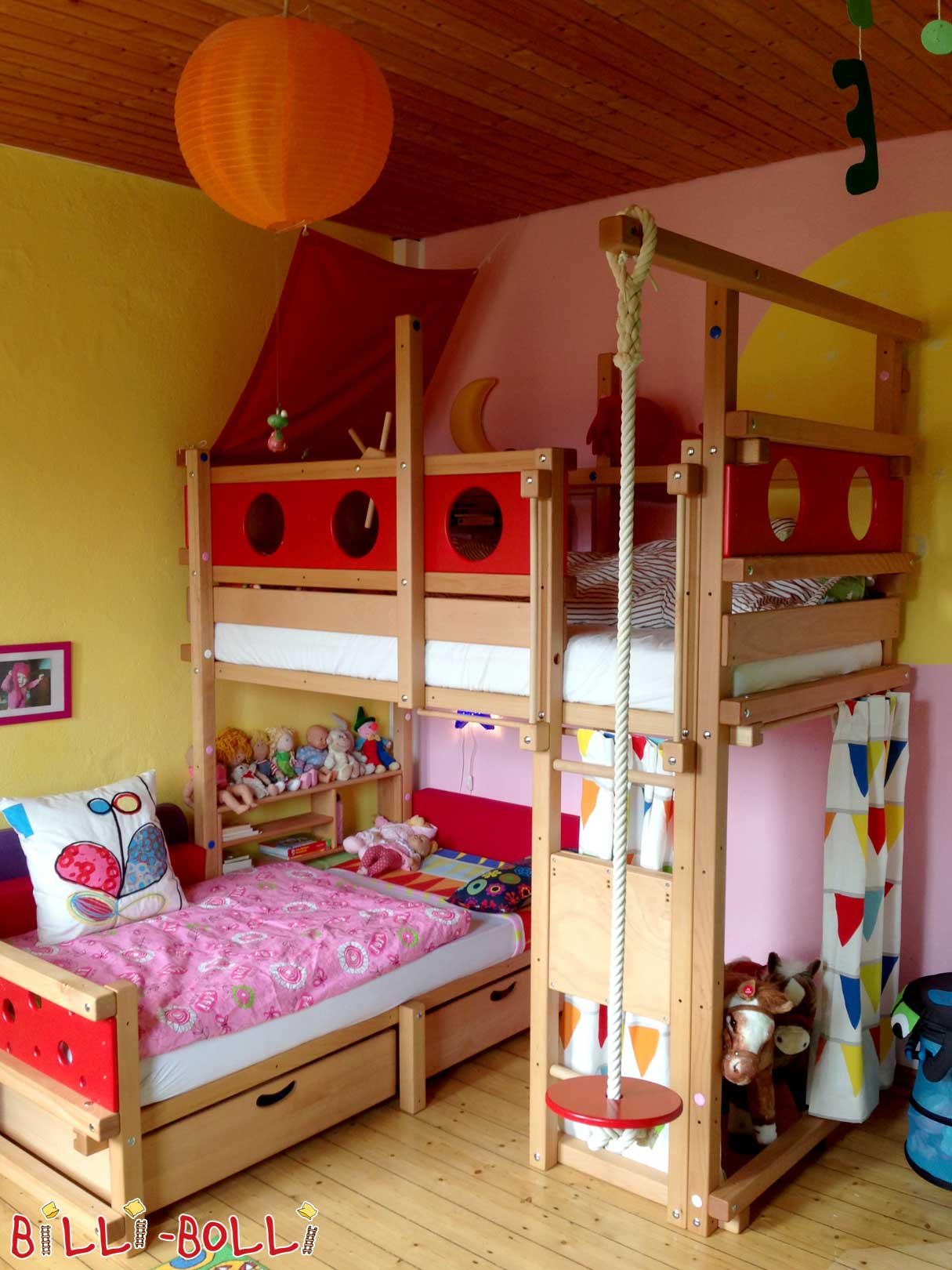 ---
Bunk Bed Laterally Staggered →
The bunk bed-side-offset combines the play cave of the high bed with two sleeping possibilities. With the same advantages as the bunk bed-over-corner, this bunk bed fits perfectly when the children's room is rather elongated. With our extensive accessories, it offers an extremely attractive playroom for the children. Our themed boards make it a pirate bed, knight's bed, railway bed or fire brigade bed. For rooms with sloping roofs, this bunk bed is also particularly suitable, as the lower lying surface with the slant forms an optical unit. Welcome additional storage space are the optional bed boxes under the lower lying area. With them, the children's room is tidy at lightning speed.
from € 1,319.00
Shipping free (DE)
Details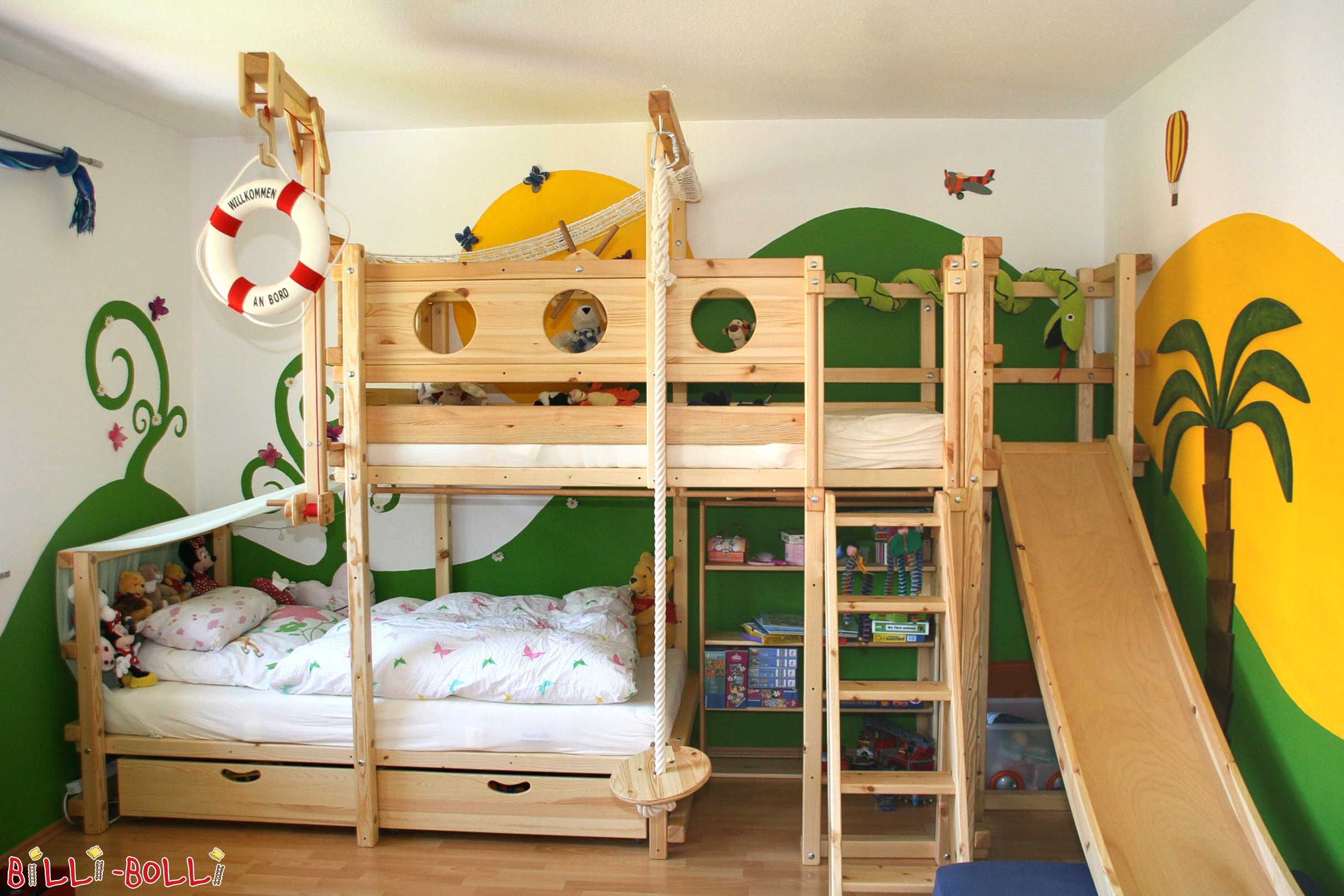 ---
Youth Bunk Bed →
Here, functionality and stability are paramount. This youth bed is also designed less as a playbed or adventure bed, but for larger children and teenagers. Due to its convincing functionality, it is also excellently suited for youth hostels etc., for all situations in which a safe, stable and long-lasting bunk bed is required. If the child who sleeps below is even smaller, it is possible to supplement the lower lying area of this bunk bed with theme boards, further protective boards or the roll-out protection. So it gets homely and cuddly downstairs.
from € 1,129.00
Shipping free (DE)
Details
---
Both-Up Beds →
Parents fear endless discussions about who can sleep at the bunk bed above. Our two-top bunk beds solve this problem elegantly: both sleep upstairs. There are both top bunk beds in different heights, so that the correct height can be chosen according to the age of the children and the safety is granted. If your nursery is rather elongated, the side offset version is recommended, for more square rooms choose the version both-top bunk bed over corner. When each of the children later gets their own children's room, it can be divided into two separate bunk beds with extension parts.
from € 1,929.00
Shipping free (DE)
Details
---
Beds for Three →
There is not always a separate children's room for each child, or the children prefer to sleep in a cot. Sometimes the space is just very scarce. So we developed the idea of the bunk bed even further. Here we have the space-saving solution for the standard room height of 2.50 m. Three children or adolescents sleep on 3 m2 due to the "nesting". In order to give safety top priority, our triple bunk beds are available at different heights and with different levels of fall protection. Even the triple bunk beds can be "spiceup" with our wide range of accessories.
from € 1,886.00
Shipping free (DE)
Details
---
Skyscraper →
Here, the space-saving idea is the design-giving: 3 lying areas on 2 m2 of floor space. However, the skyscraper bunk bed requires a room height of approx. 3.15 m. At width 140 cm is space for 6 in a bed; two beds offer space for an entire football team incl. 1 substitute player! The skyscraper bunk bed is ideal for high old and attic rooms and a true space-saving wonder. It is already available in some holiday homes with limited number of rooms and high ceilings and solves the space problem there.
from € 2,144.00
Shipping free (DE)
Details
---
Bed Laterally Staggered for Four →
Do you have many children and a high nursery? Approximately 3.15 m of room height are required for this cot. The four-storey bed sideways offset is the consistent further development of the skyscraper bunk bed and designed for the same applications. But you have one more sleeping place: four sleeping levels on only 3 m2. Also ideal for a holiday home with few but high rooms.
from € 2,759.00
Shipping free (DE)
Details
---
Other Options →
Special adjustments of our cots to your children's room: sloping roof, swing beams outside, flat rungs or play floor instead of slatted frame, ...
---
What makes bunk beds special?
Unlike a single or high bed, a bunk bed consists of at least two beds arranged on top of each other, which are tightly connected to each other. The innovative bunk beds of Billi-Bolli combine up to four sleep levels. Due to the different arrangement of the levels, for example laid sideways or over the corner, our bunk beds are not only space-saving wonders, but also true all-rounders, which become a highlight in every nursery as converted playbeds.
What are the benefits of bunk beds?
In the sleeping plains arranged on top of each other lies also the greatest advantage of the bunk beds: On the same surface as a single bed, they offer several children a full-fledged and exceedingly cuddly sleeping space and are therefore extremely space-saving. Our bunk beds are also flexible with our matching accessories that can be extended and can be optimally adapted to the needs of your children at every stage of their development.
What to look for when buying?
An important criterion when choosing bunk beds is the quality of the materials used. When building our bunk beds, we only process high-quality solid wood from sustainable forestry. And in order to ensure that the selected bunk bed is installed, we provide you with an easy-to-understand and detailed step-by-step guide that is tailored to your personal composition. Thus, the construction of our bunk beds becomes a breeze for you.
The decisive factor in choosing a suitable bunk bed is the available height. You can choose between a classic bunk bed for small children's rooms or our triple or quadruple bunk beds for high rooms: In our assortment you will find different Versions that are suitable for different heights and can grow with your children. Especially with high bunk beds, the safety of your children plays the most important role. For this reason, our special fall protection provides the highest standard fall protection you can find with cots today.
Discover multi-sided bunk beds at Billi-Bolli
Thanks to our varied accessories, individual and exciting games and adventure beds are created, in which the little ones will feel visibly comfortable while sleeping as well as playing. From slides to climbing ropes to sprout walls, everything is there. Let yourself be inspired by the many possibilities of our bunk beds and convince yourself of the exceptional functionality, stability and longevity of our products.
Recent Google reviews
Miriam Modjesch
08 July 2019
(automatically translated)
Thank you for the fast handling!
Everything works great
Thomas Schmitt
29 May 2019
(automatically translated)
Great advice and great product (optical, haptic and from stability) at an absolutely fair price.
Johannes Lenz
27 May 2019
When youre looking for furniture for your Kids what is sustainable and what grows with them than you're here at the best place. It's a little bit expensive but best quality and the service is customer oriented. We have a second hand bed for #Bigfoot and #Littlefeet and it makes them fun every day. I recommend this company.and it's products
Sabine Kirberich
04 May 2019
(automatically translated)
Very durable and qualitatively really great beds, a good investment, since even the resale value is still great, would buy a bed there at any time, absolutely recommended!!!
Have used the bed for 7 years very gladly and sold it with a crying eye.