They are part of special experiences in every holiday camp, but bunk beds are also becoming increasingly popular at home, with parents and children alike. This is not surprising, after all, there are many good reasons to choose a practical bunk bed – be it the siblings' need for mutual closeness, the frequent visit of friends or simply the wish to have more available space for playing. Do you have two or more children? Then you will find the right option for your kids' room with our versatile bunk beds.
---
Bunk Bed →
Our Bunk Bed provides a generous space for sleeping and playing for 2 children and, thanks to the space-saving, stacked sleeping levels, it only needs the floor space of a single bed. With a bunk bed, you get to create a wonderful two-storey paradise bed for siblings who share one room. When designing and constructing our solid wood bunk beds by master craftsmen, we make sure that every bed we build is not only extremely safe but stable for many years to come. Once our kids' beds leave our Billi-Bolli Workshop, they are ready to bravely meet every challenge in the kids' room with flying colours, no matter the number of children or how wild the little ones choose to play, the bunk bed is prepared and ready for its little guests.
Tested according to DIN EN 747: Bunk Bed in 90 × 200 with ladder position A, without Swing Beam, equipped with Mouse Theme Boards all around, untreated & oil-waxed.
🚚 worldwide delivery
📦 immediately available
Details: Bunk Bed
---
Corner Bunk Bed →
The Corner Bunk Bed for two children is the ideal bunk bed for slightly larger kids' rooms. With the sleeping levels arranged across the corner as well as the resulting play den, this bunk bed is a real eye-catcher in every kids' room. The corner bunk bed requires more floor space than the classic bunk bed, but it also provides more play options. And if you add bed accessories from our extensive product range, you will be able to fulfil any wish your little ones may have. The corner bunk bed is also the ideal solution in kids' rooms with a sloped ceiling.
Tested according to DIN EN 747: Corner Bunk Bed in 90 × 200 with ladder position A, without Swing Beam, equipped with Mouse Theme Boards all around, untreated & oil-waxed.
🚚 worldwide delivery
📦 immediately available
Details: Corner Bunk Bed
---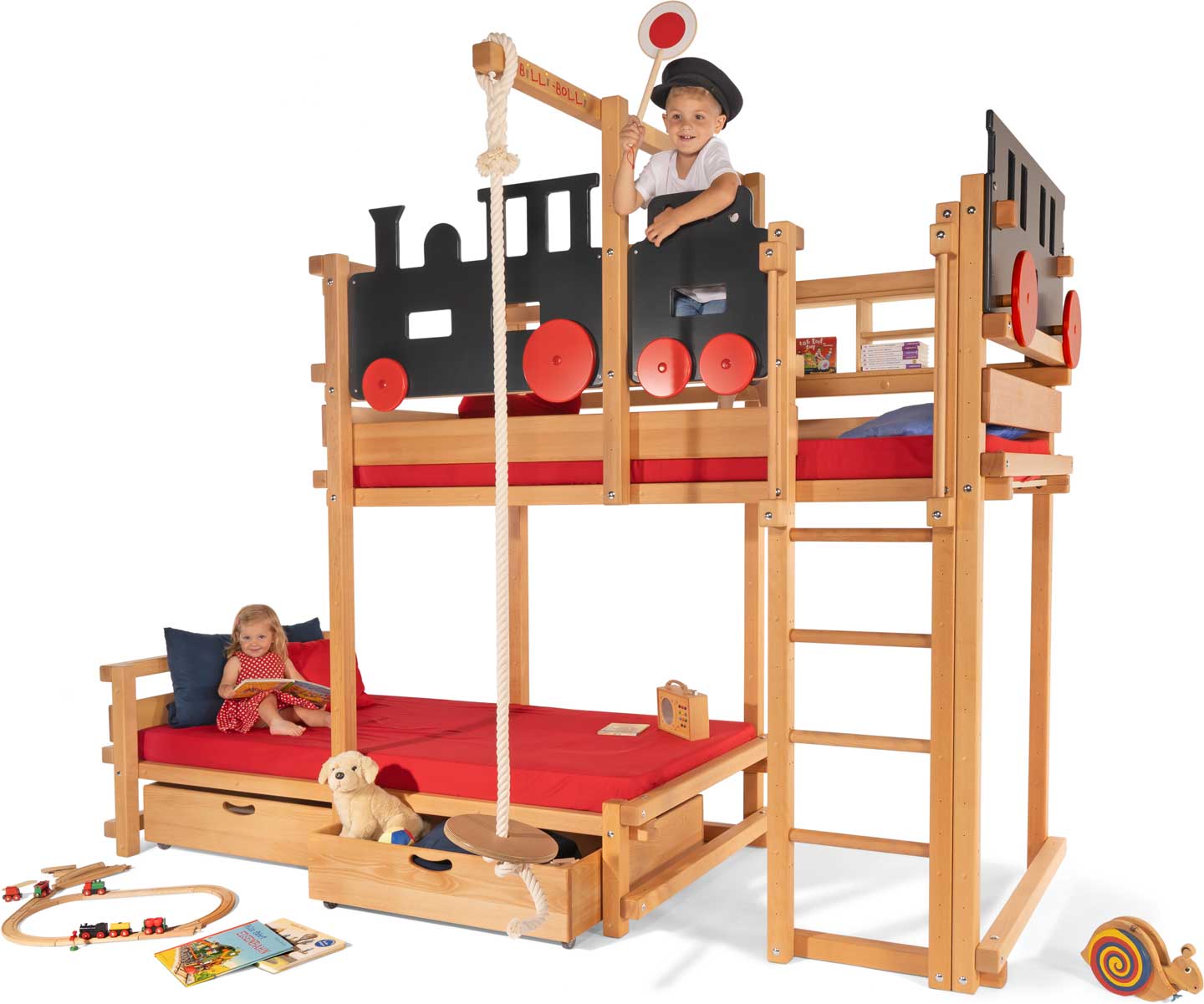 Bunk Bed Laterally Staggered →
The Bunk Bed Laterally Staggered provides plenty of space for 2 children and fits perfectly in more elongated kids' rooms. The upper and lower sleeping areas of this bunk bed are shifted lengthwise. This creates a great play den below the upper sleeping level of the bunk bed for the children. Our optional theme boards will morph the siblings' bed into a pirate bed, knight's bed, train bed or fire brigade bed. With the same great features as the corner bunk bed, this staggered bunk bed is also suitable if your room has a sloped ceiling.
Tested according to DIN EN 747: Bunk Bed Laterally Staggered in 90 × 200 with ladder position A, without Swing Beam, equipped with Mouse Theme Boards all around, untreated & oil-waxed.
🚚 worldwide delivery
📦 immediately available
Details: Bunk Bed Laterally Staggered
---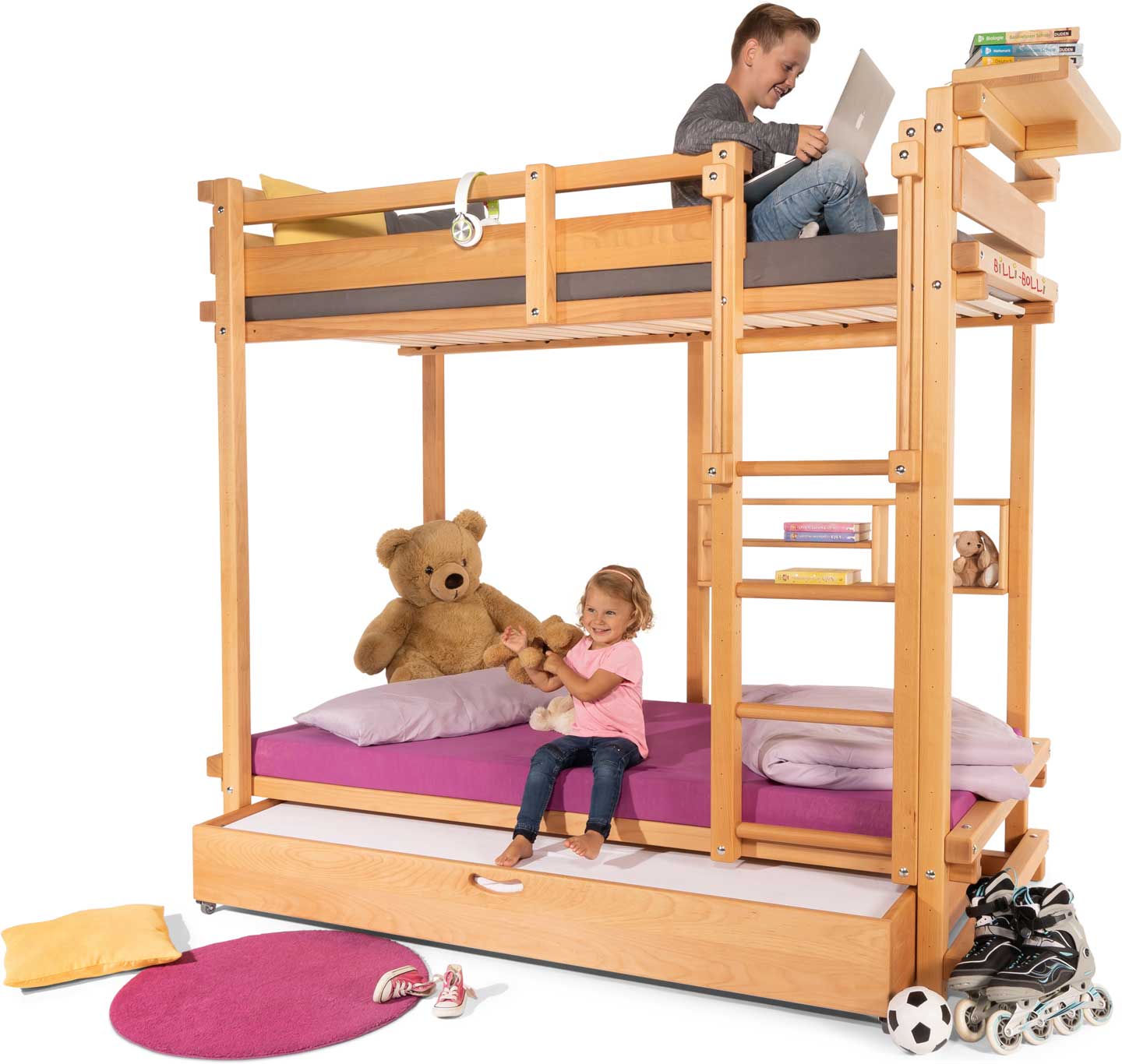 Youth Bunk Bed →
Functionality and sturdy stability are key features of this Youth Bunk Bed designed for teenagers and adolescents. Both children will find their very own areas for resting and sleeping. The bunk bed for two can be equipped with convenient accessories, such as the bedside table board and shelves. And if you opt for an additional drawer bed, you are always prepared for spontaneous overnight guests. Thanks to its compact and stable solid wood construction, the Billi-Bolli youth bunk bed is also great for long-term use in (youth) hostels, mountain huts, cabins and holiday homes.
Tested according to DIN EN 747: Youth Bunk Bed in 90 × 200 with ladder position A, untreated & oil-waxed.
Details: Youth Bunk Bed
---
Both-Up Bunk Beds →
It has to be a bunk bed! But which child is allowed to sleep in the top bunk? Billi-Bolli has the perfect solution: With two elevated bunks, the answer is simple – both of them! The Both-Up Bunk Bed is available in various assembly heights so that you can select the bed with the right height that best suits the age of your children, ensuring maximum safety. And here is another highlight: if each child gets to sleep in their own kids' room later, the bunk bed can be divided into two single loft beds with some extension parts. You can also equip this bunk bed with all our available accessories, of course.
Details: Both-Up Bunk Beds
---
Triple Bunk Beds →
Do you have 3 children, but only one kids' bedroom? Precisely for this situation we developed our Triple Bunk Beds. Thanks to the clever "nesting" of the individual sleeping areas of the triple bunk bed, three children or adolescents can sleep on just 3 m² while only requiring the standard room height of 2.50 m. Doesn't that sound perfect? Safety and stability are also the top priorities of this clever high-rising bunk bed structure for three. And with our great bed accessories, you can playfully "spice up" your triple bunk bed to your heart's content or create additional storage space below the bunk bed.
Details: Triple Bunk Beds
---
Skyscraper Bunk Bed →
Do you have 3 children, only 1 kids' bedroom, but a very tall ceiling? Then our Skyscraper Bunk Bed for 3 is perfect for you. It provides a spacious sleeping area for all three children or adolescents on just 2 m² of floor space! But it rises slightly higher than our triple bunk bed. Our skyscraper bunk bed needs a ceiling height of approx. 3.15 m. This bunk bed for three is therefore ideal for tall old buildings and attic rooms, but it is also popular in holiday homes. Enjoy this convenient genius, tripling your available space!
Details: Skyscraper Bunk Bed
---
Bunk Bed Laterally Staggered for Four →
The challenge: 4 tired children – but only one kids' room. The solution: The bunk bed for four by Billi-Bolli. Whether your own children or a patchwork family, our Bunk Bed Laterally Staggered for Four offers each child a spacious and cosy place to sleep and relax while fitting on just 3 m² of floor space! Your kids' room needs a ceiling height of approx. 3.15 m to accommodate this bed. Thanks to the staggered sleeping areas, the bunk bed for four children is still very airy despite its solid and stable construction. And rest assured: The four levels of this quadruple bunk bed will withstand any load challenges with ease.
Details: Bunk Bed Laterally Staggered for Four
---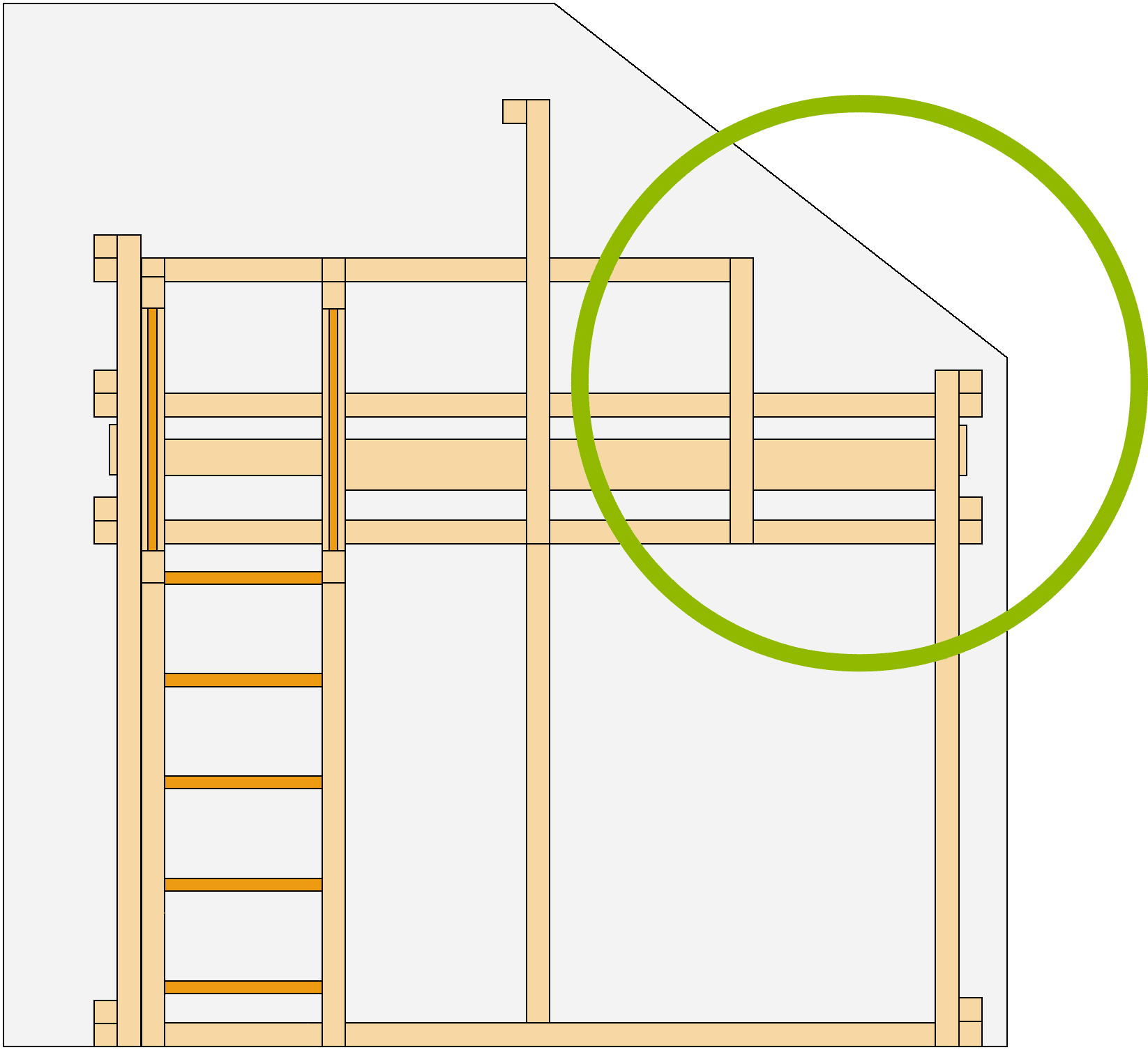 Customising Options →
With solutions for special room requirements, such as Pitched Roof Step, extra tall legs or swing beam position, our loft beds and play beds can be customised to fit your particular child's bedroom. You can also choose Flat Rungs or a Play Floor instead of a slatted bed base here.
---
Decision aid: Which bunk bed is perfect for our children?
Many parents choose to have a larger family again; we see more and more families with 3, 4 or even 5 children. At the same time, unfortunately, in many regions homes are becoming more expensive yet smaller. Hence it is normal that two or more children "have" to share a kids' bedroom. To transform this need into a privilege, we have developed fantastic bunk beds for two, three and even four children, turning the "must" into a "must-have". We would be happy to assist you in selecting a bunk bed that is optimal for your children and home.
Contents
What are the advantages of a bunk bed?
A furniture piece that offers and firmly connects at least two sleeping levels, usually stacked, is called a bunk bed. Bunk beds are common in shared accommodations, such as mountain huts or youth hostels. The main advantage of this bed type is the optimal use of space, which also applies to the kids' room at home. On the floor space of a single bed, you can accommodate several children in one bunk bed, offering fully-fledged and extremely cosy sleeping areas. These space-saving beds are absolutely ideal for the shared bedroom!
Even the space underneath the bottom bunk can still be used. Our optional pull-out bed drawers are perfect to keep the room tidy and store toys and bedding. Or maybe you would like to add an extra bed for guests with our drawer bed, which provides a perfect sleeping option for spontaneous overnight stays or for the extended family.
Which bunk bed models are available at Billi-Bolli?
We have developed different bunk bed variants for 2, 3 or 4 children, which can be customised to any room situation. If you want to accommodate two children, then have a look at our wide range of bunk beds. Depending on your kids' room, you can choose a sleeping level arrangement with one bunk stacked above the other, across a corner, laterally staggered or even with both levels elevated. If you already have older children, the youth bunk bed may be the perfect option for you. With three children in one kids' room, you can accommodate them all comfortably in our triple bunk bed, which is available in various clever construction variants, or alternatively, in our particularly space-saving option, our Skyscraper Bunk Bed, where all levels are stacked one above the other. And if you have an entire children's quartet of four, they can comfortably sleep in our bunk bed for four, which only takes up very little space.
By the way: Our laterally staggered or corner bunk beds are also great options for kids' rooms with a pitched roof.
Below is an overview of our different models:

Model
Specifications
Advantages
Who is it suitable for?
Bunk Bed

two sleeping levels stacked
possible to be assembled for younger children

space-saving
separable into two single kids' beds with a few additional parts
bottom bunk can be equipped with baby gates

toddlers
children
adolescents

Corner Bunk Bed
two sleeping levels positioned in L-shape

more play options thanks to the special design
bottom bunk can be equipped with baby gates
conversion into loft bed and separate youth bed possible

ideal for siblings, who share a larger kids' bedroom
Bunk Bed Laterally Staggered
two sleeping levels laterally/lengthwise staggered

bottom bunk can be equipped with baby gates
conversion into loft bed and separate youth bed possible

ideal for larger, elongated kids' rooms
Youth Bunk Bed
two sleeping levels stacked widely spaced
space-saving, functional and sturdy

older children and adolescents
ideal also for youth hostels and other facilities

Both-Up Bunk Beds
two raised sleeping levels stacked at a shorter distance, laterally staggered or across a corner

no more arguing over who will sleep in the top bunk
space for a big play den underneath the beds

ideal for slightly larger kids' rooms
available in various heights for different age groups

Triple Bunk Beds
three sleeping levels stacked, laterally staggered or across a corner
ideal for several children, when space is scarce
Skyscraper Bunk Bed
three sleeping levels stacked

three sleeping areas fit on a small floor space
plenty of room between the sleeping levels

for tall rooms in older buildings and attic rooms
top bunk only suitable for youth and adults

Bunk Bed Laterally Staggered for Four
four sleeping levels stacked laterally staggered

largest bunk bed sleeps 4 people
extendable into a bed for five with drawer bed

kids' rooms with high ceilings
top bunk only suitable for youth and adults
What to consider when making a purchase?
A bunk bed for two or more children is subjected to a high load, especially if it has been expanded into a play bed with accessories and the children in the top bunks are already older. They do not only climb the sleeping level up and down several times a day but also climb, swing and play. It is therefore important to choose a bunk bed made of high-quality materials.
We only use high-quality solid wood from sustainable forestry to build our beds. The best quality wood is processed in our in-house Workshop, combined with the clever tried and tested Billi-Bolli bed design, this will guarantee the continuous stability and a very long service life of our bunk beds – even after converting, disassembling and reassembling them several times.
Your child's safety is the top priority, especially with high bunk beds. Therefore, all our bunk beds come with our special fall guard by default – the highest standard fall protection for kids' beds available today. By complying with the component spacing specified in DIN EN 747, we prevent the risk of any limbs getting caught or trapped while playing. And with additional safety accessories from our product range, such as protection boards, ladder protection and baby gates, you can make sure that even siblings with a significant age difference can safely share a bunk bed and one room. Our standard bunk bed has been safety tested and approved by TÜV (Technical Inspection Authority). This may increase your peace of mind.
To make sure that the assembly of your selected bunk bed is simple, we created a detailed and easy-to-follow step-by-step assembly manual, that is tailored to your personal bed configuration. This way, the assembling of your bunk bed will be a piece of cake.
A guide to help you select the right bunk bed for several children
To find the optimal bunk bed for your family and your home, you may want to follow along in the order we propose, as a guide.
Age and number of children
The number of children sharing the room is already fixed … or maybe not yet? Either way, with the modular Billi-Bolli system you will always remain flexible. Our beds grow with your children and according to your needs. The present situation is a great place to start. We have chosen meaningful names for our models to help you easily find detailed descriptions of our bunk beds for two, three and four. Maybe it is useful to already consider the size of your family in a few years.
Unlike our loft bed adjustable by age for 1 child, the assembly heights available for bunk beds are relatively restricted due to the stacked sleeping levels. The bottom bunk is assembled at height 2 by default and is suitable for toddlers and children aged 2 and above. It is possible, however, to assemble the bottom bunk at height 1 first, directly above the floor. The second sleeping area is usually assembled at height 5 for children aged approx. 5 – 6 and above, but it is also possible to assemble it at height 4 for children aged approx. 3.5 years and above. With the triple and quadruple bunk beds, there is also assembly height 6. Depending on the height of the fall guard, children aged 8 – 10 and above can call this bunk their home, e.g. school kids and adolescents. You can find out more about this in our overview of all assembly heights for Billi-Bolli kids' beds or in each of the detailed model descriptions.
If the age difference of the children sharing the bed and room is significant, you may want to take a look at our large selection of safety accessories. With ladder protection, baby gates or barriers for the ladder and slide, you can prevent small, curious climbers from copying their older siblings.
Ceiling height and room layout
Our bunk beds for two children have a height of 228.5 cm, including the swing beam. This height is also the same for various model variants, such as the ones classically stacked, staggered or with both sleeping levels raised. The youth bunk bed for older kids is different since the bottom and top sleeping levels are more spaced out, this 2 m tall bunk bed requires a ceiling height of at least 229 cm. The same ceiling height is also required for our triple bunk bed variants. However, the skyscraper bunk bed for 3 children as well as the quadruple bunk bed require approx. 315 cm from floor to ceiling each.
You would like to turn the bunk bed into a real adventure bed? Then you need to keep in mind the additional space needed for play accessories, such as the play crane or slide.
The layout of the kids' room and any sloped ceilings will affect the search for a suitable bed variant. If the kids' room is rather elongated and narrow, we recommend to opt for sleeping areas stacked on top of each other or staggered sideways. And if you can, take advantage of a room corner with a corner variant. A bunk bed with sleeping levels staggered towards each other fits nicely into a kids' room with a pitched roof and makes optimal use of the space.
Mattress size
The standard mattress size for our bunk beds is 90 x 200 cm. For more information on all the other mattress sizes (from 80 x 190 cm to 140 x 220 cm) which we offer for the various beds, please visit the page of the respective model.
Wood type and surface treatment
In the next step, you decide the wood type. We only use high-quality solid wood from sustainable forestry for our bunk beds, of course. You can choose pine or beech wood. Pine is a little softer and has a more lively appearance compared to beech, while beech is harder, darker and visually more uniform than pine.
You can also choose the surface finish: untreated, oil-waxed, white/colour glazed or white/colour lacquered. In recent years, the bunk bed with a white lacquered finish has been particularly popular.
Simple bunk bed – or play bed with extraordinary accessories?
A bunk bed for several siblings is a major investment at first. But if you consider for a moment that with the purchase of a single high-quality bed you can not only accommodate a number of children at once for many years, you will also be able to make them very happy yet still remain flexible to continuously customise and transform the bed as needed, then the initial investment may start to look a little different. This bed will be the centre of your kids' room.
But wait, a solid, high-quality bunk bed can do even more! Let your imagination – as well as your children's – run wild. Turn the shared kids' bedroom into a fun in-house adventure playground that can be enjoyed whatever the weather. Thanks to our versatile accessories our bunk beds can be transformed into exciting and truly unique play beds. From slides, climbing ropes to wall bars, everything promotes and stimulates your children's motor skills and body awareness and as a creative outlet, they can inspire imaginative stories and play.
Advice for the use of a kids' bunk bed
Follow the advice for age-appropriate assembly heights.

Do not overwhelm your child and, if in doubt, opt for the lower assembly height.

Observe your child and be there when they climb into the new bunk bed for the first few times to help them if necessary.

Check the stability of the bed regularly and retighten the screws as needed.

Teach the older siblings how to attach the safety accessories, if necessary (ladder gate and ladder protection).

Make sure you have a child-friendly, firm-elastic mattress with a stable border edge. We recommend our Prolana mattresses.
Summary
Bunk beds are the optimal solution when two, three or four children share one kids' room. On a small floor space, every sibling finds their own cosy sleeping nest, ideal to retreat and daydream. The free space in the kids' room can be used sensibly, e.g. for wardrobes, the play corner, bookshelves or the study area.
Thanks to the wide variety of Billi-Bolli accessories, a piece of furniture, generally only intended for sleeping, is transformed into a fantastic play and adventure bed, fulfilling the wishes of its little inhabitants. Even in the smallest bedroom with several children, the kids' bed creates a warm family atmosphere and it will be the highlight of the room.
The excellent quality of the materials and workmanship will pay off over the years, because the continuous use, constant load, as well as all the conversions and moves, will not harm this incredibly stable Billi-Bolli bunk bed.
With our conversion sets, a bunk bed can also be converted into two individual loft beds adjustable by age. This way, you always remain flexible even if the family situation and your needs change: No matter what the future holds, you can continue to use this bed.