Prepare for exciting adventure games under the roof!
The sleeping level is at assembly height 2 and the playing area is at assembly height 5 – across half of the bed lengthwise. This kid's bed is popular even if the room does not have a pitched roof but you wish to combine a lower sleeping level with a higher playing area.
For children aged 5 and above.
can be assembled mirror-inverted
(click on image)
External Dimensions
Width = mattress width + 13.2 cm
Length = mattress length + 11.3 cm
Height = 228.5 cm (swing beam
)
Example:
mattress size
90x200
cm
⇒ external dimensions of the bed: 103.2 / 211.3 / 228.5 cm
Assembling Option with Corner Swing Beam
With the Pitched Roof Bed, you can mount the swing beam also at the corner, using the same parts.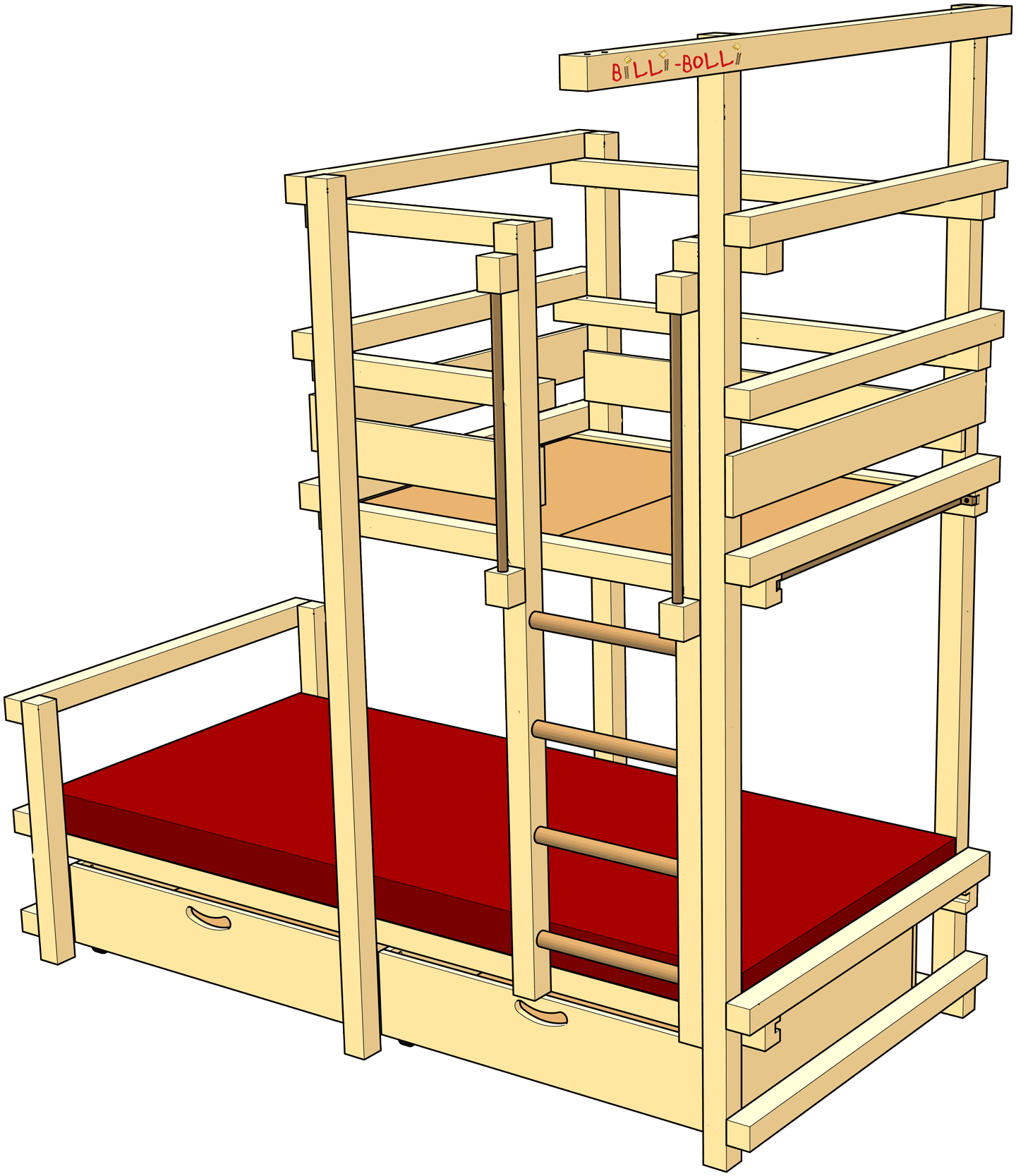 can be assembled mirror-inverted
(click on image)
Testimonials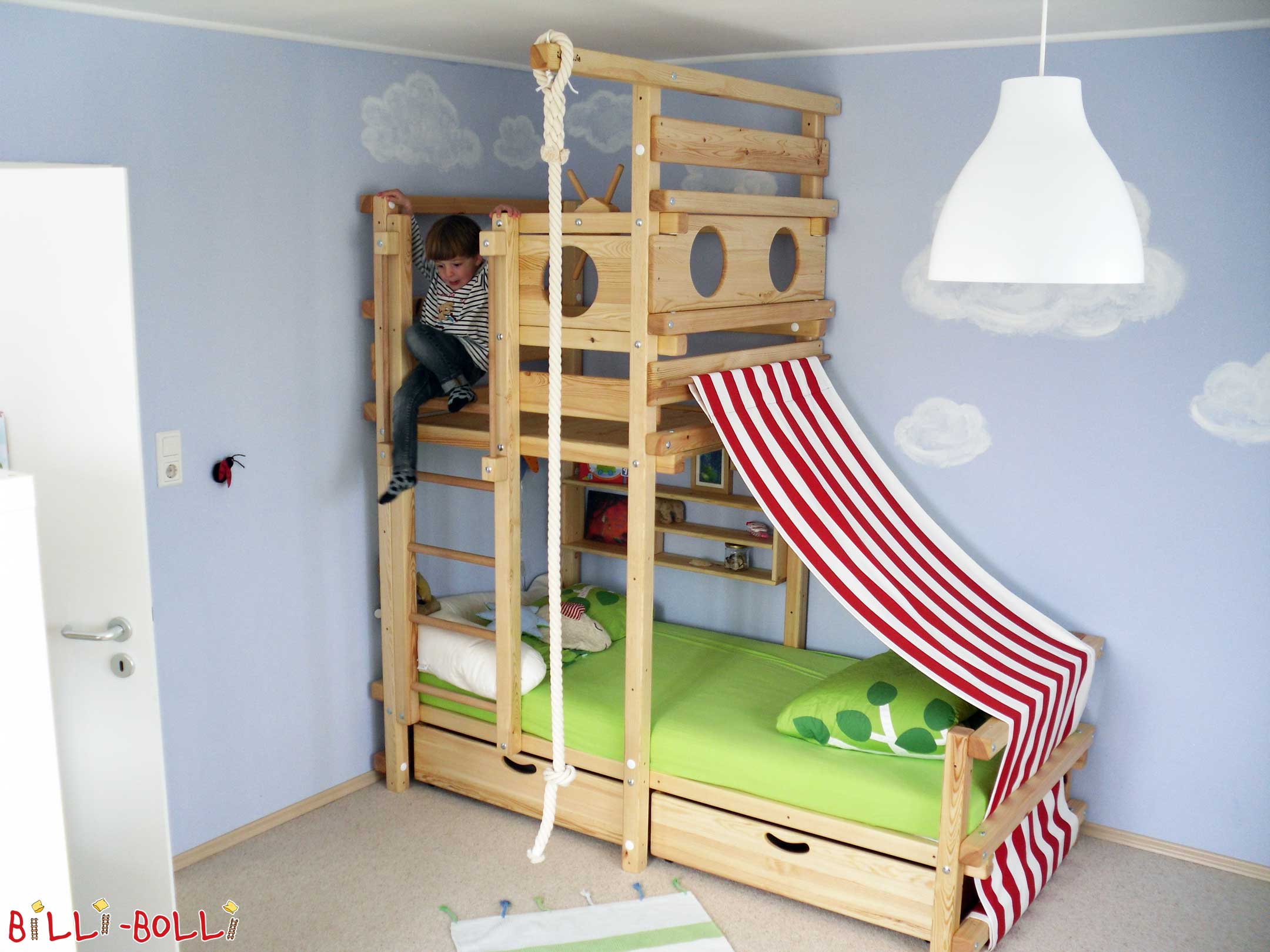 Hello "Billi-Bollis",
Our son Tile has been sleeping and playing in his awesome pirate bed for about three months now. We are all very pleased with the decision to purchase a bed from Billi-Bolli. That's why we're sending you a photo that can be displayed on your website. Apart from that, we gladly advertise to our guests…
Warm greetings and continued success building beds,
Martina Graiff and Lars Lengler-Graiff with Tile Maximilian
Dear Billi-Bolli team,
Rain or shine – there's always something happening in our flowery meadow :-)
An amazing bed, expertly crafted!
Warm greetings from Berlin
Kieselmann Family
Greetings!
Your beds are absolutely amazing.
The assembly was a lot of fun and it was completed in half a day. The bed fits perfectly underneath the pitched roof and the slide runs along below the window with plenty of space.
Our little sailer Robin has a lot of fun with his cool play bed.
Friendly greetings from Horgen at Lake Zurich
Rolf Jeger
Recent Google reviews
sylvia schmidt
11 March 2019
(automatically translated)
Super quality, simple build, durable, have enjoyed it for many years! In addition, there is a great service, nice contact, even when reselling support! We can only recommend the company!
Juliane Aurich
30 November 2018
(automatically translated)
We had fun Super product - many years!
Heike Rosenbauer
05 November 2018
(automatically translated)
Super furniture (fine, easy to build quality), super service, super thrift-sale! Would we recommend always.
Andreas Wolkenstein
07 September 2018
(automatically translated)
The Billi Bolli beds are easy to build - simply excellent, very good quality, and they look wonderful. Although cost a lot of money, but the bed is worth the money at all events. And the contact to the company also fits: friendly, knowledgeable, uncomplicated. Can I recommend in any case!