Prepare for exciting adventure games under the roof!
The sleeping level is at assembly height 2 and the playing area is at assembly height 5 – across half of the bed lengthwise. This kid's bed is popular even if the room does not have a pitched roof but you wish to combine a lower sleeping level with a higher playing area.
For children aged 5 and above.
from € 1,120.00,

Available immediately & Free shipping in Germany
can be assembled mirror-inverted
(click on image)
Exterior dimensions of the sloping roof play bed
Width = mattress width + 13.2 cm
Length = mattress length + 11.3 cm
Height = 228.5 cm (swing beam
)
Example:
mattress size 90 × 200 cm
⇒ external dimensions of the bed: 103.2 / 211.3 / 228.5 cm
Assembling Option with Corner Swing Beam
With the Pitched Roof Bed, you can mount the swing beam also at the corner, using the same parts.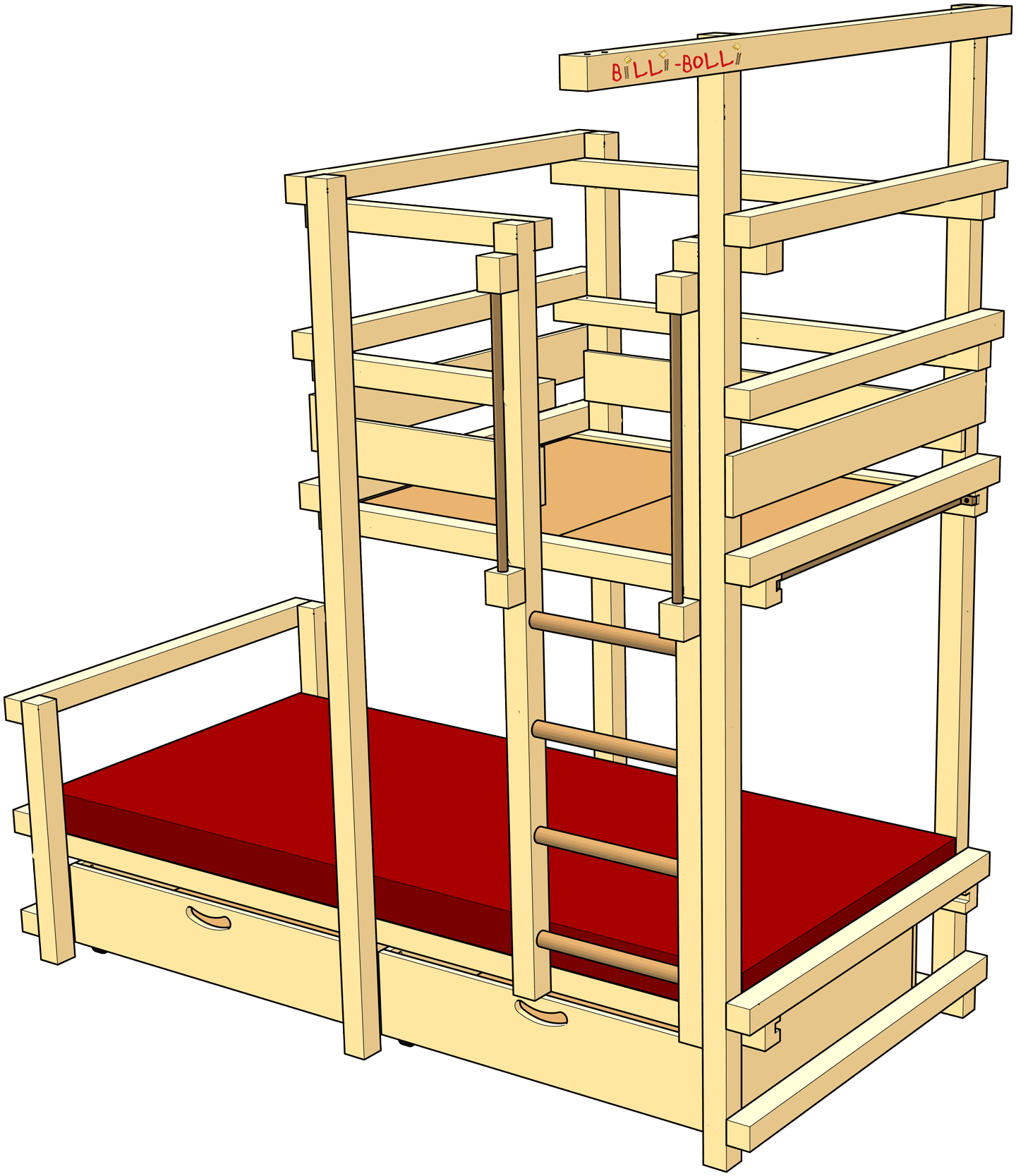 can be assembled mirror-inverted
(click on image)
Configure sloping roof playbed
You get ...

* highest safety according to DIN EN 747
* Pure fun thanks to a wide range of accessories
* Wood from sustainable forestry
* a system developed over 28 years
* individual configuration options
* personal advice: +49 8124 / 907 888 0
* Production in our workshop
* first-class quality from Germany
* Conversion possibilities with expansion sets
* 7-year warranty on all wooden parts
* a detailed setup manual
* Possibility of secondhand resale
* the best value for money
Customize the sloping roof play bed with our accessories
Customize your cot with our diverse accessories. For example, you can turn a ship, a princess castle or a fire engine out of bed. These are the most popular accessory categories:
Customers love our sloping roof playbed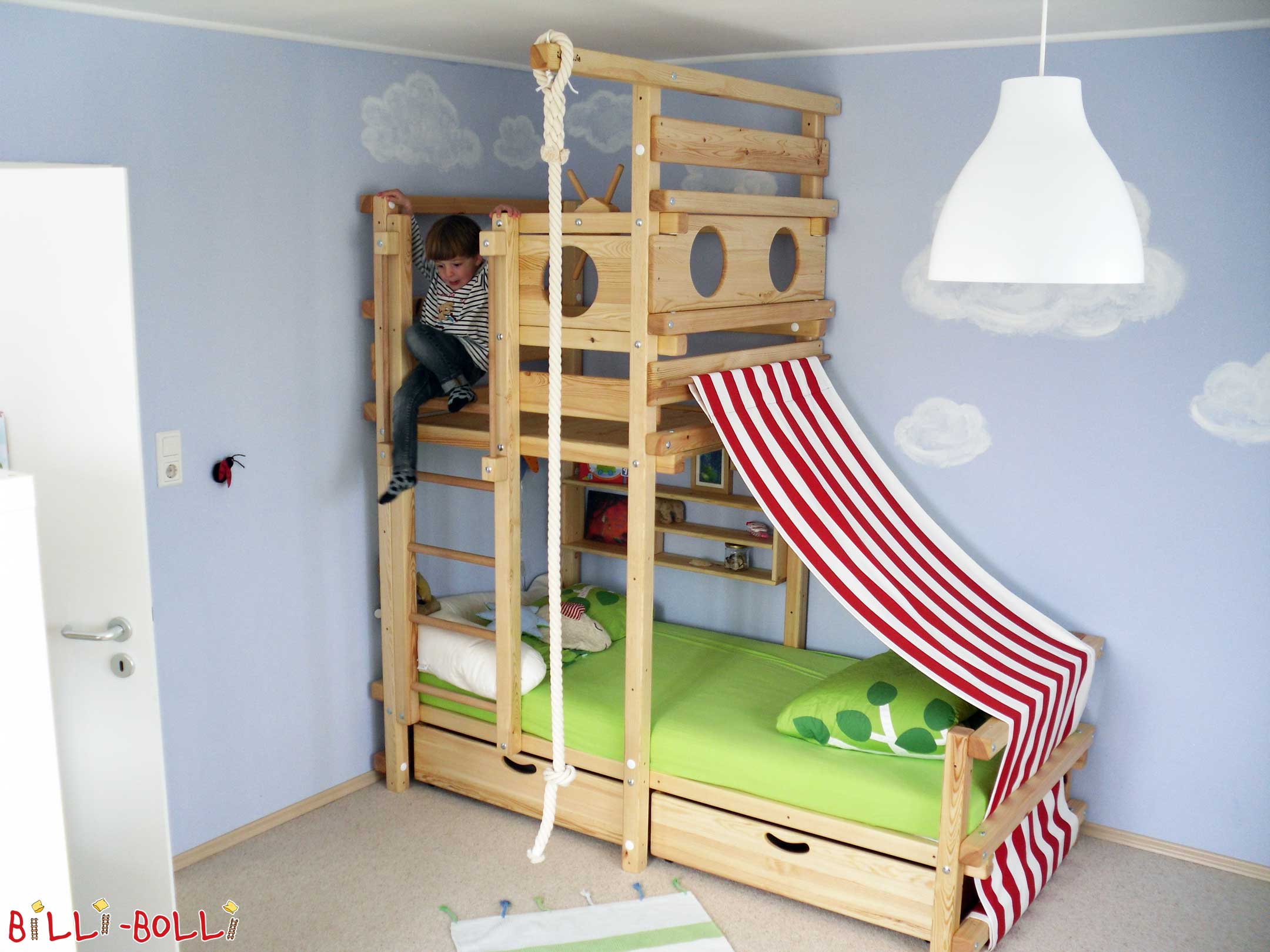 Hello "Billi-Bollis",
Our son Tile has been sleeping and playing in his awesome pirate bed for about three months now. We are all very pleased with the decision to purchase a bed from Billi-Bolli. That's why we're sending you a photo that can be displayed on your website. Apart from that, we gladly advertise to our guests…
Warm greetings and continued success building beds,
Martina Graiff and Lars Lengler-Graiff with Tile Maximilian
Dear Billi-Bolli team,
Rain or shine – there's always something happening in our flowery meadow :-)
An amazing bed, expertly crafted!
Warm greetings from Berlin
Kieselmann Family
Greetings!
Your beds are absolutely amazing.
The assembly was a lot of fun and it was completed in half a day. The bed fits perfectly underneath the pitched roof and the slide runs along below the window with plenty of space.
Our little sailer Robin has a lot of fun with his cool play bed.
Friendly greetings from Horgen at Lake Zurich
Rolf Jeger
Recent Google reviews
Miriam Modjesch
08 July 2019
(automatically translated)
Thank you for the fast handling!
Everything works great
Thomas Schmitt
29 May 2019
(automatically translated)
Great advice and great product (optical, haptic and from stability) at an absolutely fair price.
Johannes Lenz
27 May 2019
When youre looking for furniture for your Kids what is sustainable and what grows with them than you're here at the best place. It's a little bit expensive but best quality and the service is customer oriented. We have a second hand bed for #Bigfoot and #Littlefeet and it makes them fun every day. I recommend this company.and it's products
Sabine Kirberich
04 May 2019
(automatically translated)
Very durable and qualitatively really great beds, a good investment, since even the resale value is still great, would buy a bed there at any time, absolutely recommended!!!
Have used the bed for 7 years very gladly and sold it with a crying eye.