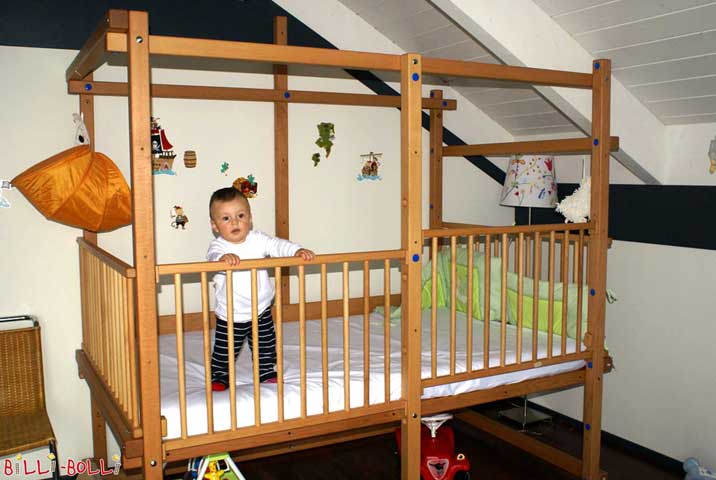 Our Baby Crib is a great long-term investment because it can easily be transformed into one of the other models with just a few extra beams, it is extremely versatile. This has a great advantage: you will not have to discard the bed and buy a new one as your child continues to grow. Simply add on to the existing bed – this saves money and is eco-friendly. The crib will turn into a fantastic play bed – for many years to come.
Our Baby Cribs/Cots are also suitable for older children with disabilities. Upon request, we will equip it with higher and even more robust gates. Your health insurance provider will issue a subsidy upon request for you (please enquire beforehand).
External Dimensions
Width = mattress width + 13.2 cm
Length = mattress length + 11.3 cm
Height = 228.5 cm (swing beam
)
Example:
mattress size
90x200
cm
⇒ external dimensions of the bed: 103.2 / 211.3 / 228.5 cm
Recent Google reviews
Rainer Holocher
17 September 2018
(automatically translated)
Very good quality and service, was total. 12 years in use and has been used by 4 children. We have now sold Second-Hand's page of Billi Bolli at a very good price on the. The Assembly instructions missing now for sale on demand immediately by E-Mail sent to us and we could pass on to the new owner.
Agnes Warzecha
14 September 2018
(automatically translated)
Perfect service from beginning to end. Top consulting, flawless delivery and simple construction through good guidance and preparation. Top product! We have long sought, but there's no better beds for children. Thanks Billi Poot!
Andreas Wolkenstein
07 September 2018
(automatically translated)
The Billi Bolli beds are easy to build - simply excellent, very good quality, and they look wonderful. Although cost a lot of money, but the bed is worth the money at all events. And the contact to the company also fits: friendly, knowledgeable, uncomplicated. Can I recommend in any case!
Britta Grafschaft-Boppel
14 August 2018
(automatically translated)
We had fun with our two Billi Bolli beds 11 years. The cost is not cheap though, it is very worthwhile. Very quickly, the thrift works resale on the homepage of the manufacturer. These great quality still pays even after many years and is just another family happy.