As parents you only want the best for your offspring – and the best option for your baby, right from the start, is our safe and growing Billi-Bolli kids' bed with baby gates! Made of high-quality, pollutant-free solid wood, our Baby Crib notably fulfils all the requirements for a first cot. Baby gates with cot bars are attached on all four sides of the crib, offering your newborn a safe shelter and protects your infant even during the crawling stage, when the urge to move sets in and everything has to be explored. A good baby mattress will help them sleep peacefully, to have a good night's rest and sweet dreams. With a soft baby nest and a colourful fabric canopy matching the baby room, you will make the bed even more cuddly for your child.
from € 995
FREE
hanging cave
if you place an order by
January 30
!
The versatile and modular concept of this baby bed makes it even easier to modify and customise. You can simply extend the Baby Crib into one of the other kids' bed models by adding just a few extra beams. This has a great advantage: You will not have to discard an outgrown baby crib and buy a new bed. You simply expand the existing one – this saves money and is eco-friendly. The baby bed will no longer be a crib, but instead transform into a fantastic loft bed or play bed for your child – for many years to come.
The sleeping level for babies and toddlers is assembled at height 2 by default. The optional bed drawers fit right underneath and make the storing of bedding and toys a breeze, while keeping them within easy reach.
Our Baby Cribs or Cots are also suitable for older children with disabilities and impairments. We will equip the bed with higher and even more robust gates upon request. Make sure to contact your health insurance provider and fill in an application form to receive a subsidy (please speak to them beforehand).
Configure your Baby Crib
External dimensions of the Baby Crib
External Dimensions
Width = mattress width + 13.2 cm
Length = mattress length + 11.3 cm
Height = 228.5 cm (swing beam
ⓘ
)
Height of the legs
ⓘ
: 196 cm
Example:
mattress size 90 × 200 cm
⇒ external dimensions of the bed: 103.2 / 211.3 / 228.5 cm
What you are getting …
highest safety according to DIN EN 747 ⓘ

so much fun thanks to a wide range of accessories ⓘ

wood from sustainable forestry ⓘ

a system developed over 28 years

individual configuration options

personal consultation: +49 8124 / 907 888 0

first-class quality from Germany ⓘ

conversion options with expansion sets ⓘ

7-year warranty on all wooden parts ⓘ

a detailed assembly manual ⓘ

second hand sale option ⓘ

the best value for money
Included in the delivery
Included in the delivery by default:
Baby Gates
Not included by default but optionally available are: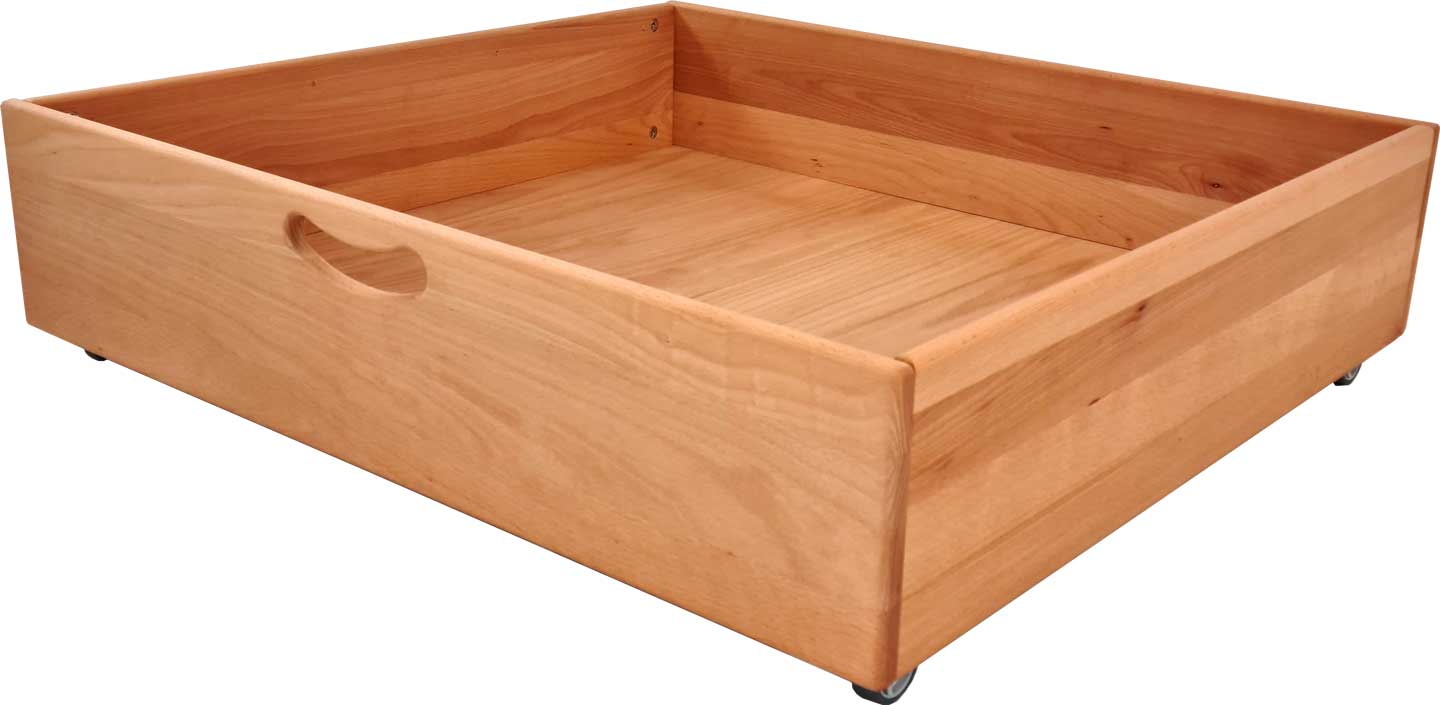 Every accessory you could need for a cosy Baby Crib
Get inspired and discover the accessory features increasing the cosy feel of the Baby Crib for your darling. And take our recommendations for healthy sleep to heart:
Our Baby Crib: sustainable construction for discerning parents
Our Baby Crib is an independent cot for the baby room. The baby gate in the front can be removed in one piece, you can also remove single bars individually as well. If you have the Loft Bed Adjustable by Age, adding the appropriate baby gates will transform it into the cot. This also works the other way around: We can supply you with conversion parts to turn your Baby Crib into the Loft Bed Adjustable by Age.
The Billi-Bolli Baby Crib is an enchanted sleeping area for the youngest. Thanks to the special construction with high beams, you can add lovely decorations to the bed, attach a cute mobile or a protective curtain. The bed is also equipped with a rollout protection. This ensures that your offspring is kept safe inside at night and prevents unsupervised excursions. Already suitable for toddlers, the Baby Crib can be expanded into a play bed with one of our conversion sets. The swing beam, which is included in the delivery, can be equipped with e.g. a climbing rope or – if your darling prefers a more relaxing option – a cosy hanging cave. Our baby bed can also be easily converted into a Loft Bed Adjustable by Age. This way their familiar bed will accompany them all the way through to adolescence – an ecologically as well as economically sustainable choice: There is no need to replace the old bed with a new product, preserving natural resources.
Tip: Our Baby Crib is also suitable for older children with impairments. Upon request, we will equip it with higher and even more robust gates. Many health insurance providers subsidise the purchase.
Our Baby Crib's dimensions and materials
Like all our models, master craftsmen also manufacture the Baby Crib in our own workshop near Munich. The solid wood we use is from sustainable forestry, the production meets the highest quality criteria. When you place the order, you can choose not only the type of wood (pine or beech), but also the surface treatment: Whether you want to emphasise the natural wood grain with untreated, oiled/waxed options or go for a bright colour – this is entirely up to you. We only use safe and, of course, saliva-resistant materials for surface treatment.
You can match the dimensions of the Baby Crib to the desired mattress size: Possible widths include 80, 90, 100, 120 or 140 cm and available lengths include 190, 200 or 220 cm. This way you get a bed that will be your child's loyal companion all the way through to adolescence.
Please be aware that the overall dimensions of the Baby Crib are 13.2 cm wider as well as 11.3 cm longer than the mattress size you selected. Example: With a mattress size of 90x200 cm, the total dimensions of the bed are 103.2x211.3 cm. The baby crib has a total height of 228.5 cm if the swing beam, which is included in the delivery, is mounted.
How to take care of the Baby Crib
Establishing a hygiene routine to keep the Baby Crib as clean as possible is vital. As a basic principle, the bed frame, the gates and the slatted bed base should be wiped with a damp cloth on a regular basis. For stubborn stains you can use a cleaning product suitable for toddlers. A baby shampoo is also an option. Experts recommend to wash the bedding weekly. Use a hot wash programme (60 °C) and a laundry detergent that is suitable for babies. Air the mattress occasionally; if visibly stained, treat it with a mattress cleaner.
Kids' beds for older children
The baby crib can later be extended into one of the other Billi-Bolli kids' beds, for example into these: