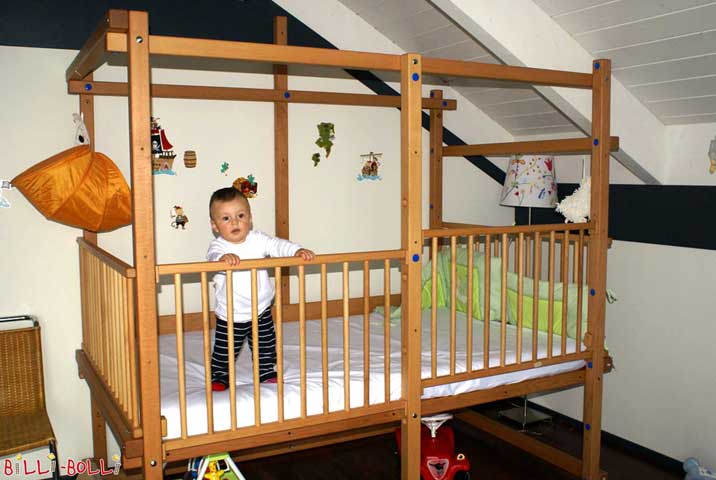 Our Baby Crib is a great long-term investment because it can easily be transformed into one of the other models with just a few extra beams, it is extremely versatile. This has a great advantage: you will not have to discard the bed and buy a new one as your child continues to grow. Simply add on to the existing bed – this saves money and is eco-friendly. The crib will turn into a fantastic play bed – for many years to come.
Our Baby Cribs/Cots are also suitable for older children with disabilities. Upon request, we will equip it with higher and even more robust gates. Your health insurance provider will issue a subsidy upon request for you (please enquire beforehand).
External Dimensions
Width = mattress width + 13.2 cm
Length = mattress length + 11.3 cm
Height = 228.5 cm (swing beam
)
Example:
mattress size
90x200
cm
⇒ external dimensions of the bed: 103.2 / 211.3 / 228.5 cm
Recent reviews on Google
Rosi Müller
15 July 2018
(automatic translation)
Super products, the best furniture design of our lives (feasible without babysitter with 2 kids and 2 adults in 7-8 hours), really well thought out, expensive but is really what it!
elisabeth schroeder
13 July 2018
(automatic translation)
Great service, Super beds!
Verena Jozwiak
27 June 2018
(automatic translation)
Fantastic bed that very many years has served us well. Super advice and super nice people. Even the sale of our bed was made after so long. Have still achieved an excellent price. These beds have really got a very good resale value.
Ilona Schmitt-Walz
05 June 2018
(automatic translation)
We would buy the bed again. Delivery worked super. Reorder no problem and a reconstruction of the roof slant bed with slide tower to the bunk bed was also possible.