The safety of our kids' beds ensures your child's safety, which is our highest priority. Below you will find out how exactly we ensure that.
DIN EN 747 safety standard
The German Institute for Standardisation ("Deutsche Institut für Normung e.V." or DIN) published the DIN EN 747 safety standard for "Bunk beds and high beds", detailing the safety, stability and durability requirements for bunk beds and loft beds. For example, the sizes and spacings of all bed components, as well as the bed opening dimensions, must all be within certain approved ranges. The bed components must all withstand frequent as well as increased loads. All parts must be cleanly sanded and have rounded edges all around. This way the risk of injury is minimised.
Our children's furniture pieces not only meet the required safety standard, they exceed a number of its safety requirements – which we do not consider "strict" enough – by far. Therefore, the high fall protection ⓘ is 71 cm high on the short side of our beds and 65 cm high (without mattress thickness) on the long side. This is the highest standard guardrail available for kids' beds. (On request, we can make the fall protection even higher.) The safety standard would only require the fall protection to go beyond the mattress by 16 cm, which is insufficient for smaller children, in our opinion.
Watch out! There are kids' beds available on the market, that resemble our beds at first glance. On closer examination, they do not meet the safety standard and there is a risk of crushing because of impermissible gaps. When purchasing a bed, please ensure that the loft bed or bunk bed of your choice is tested according to the GS mark.
Tested safety ("Geprüfte Sicherheit" or GS)
The safety of your children is close to our heart, which is why we let the TÜV Süd regularly test the top-selling bed models of our collection and get them certified with the GS mark ("Geprüfte Sicherheit") (certificate no. Z1A 105414 0001, Download). The Product Safety Act (Produktsicherheitsgesetz or ProdSG) regulates the certification awarding.
Since our modular bed system allows for countless configuration variations, we decided to limit the bed models and configuration options selected for certification. However, all the important spacing and safety features of the other bed models and configurations meet the testing standard as well.
Our following bed models are GS-certified: Loft Bed Adjustable by Age at assembly height 5, Youth Loft Bed, Low Loft Bed at assembly height 4, Bunk Bed, Corner Bunk Bed, Bunk Bed Laterally Staggered, Youth Bunk Bed, Pitched Roof Bed, Comfy Corner Bed.
Each certification was awarded for the following configuration: pine or beech, untreated or oil-waxed ⓘ, without Swing Beam ⓘ, ladder position A ⓘ, equipped with Mouse Theme Boards all around (for models with high fall protection), mattress width 80, 90, 100 or 120 cm ⓘ, mattress length 200 cm ⓘ.
TÜV Süd tests
All spacings and dimensions of the bed get examined according to the test section of the norm with the respective measuring tools. For example, the bed frame gaps are tested with test wedges, which are loaded with a certain pressure to make sure that the widening of the gaps remains permissibleeven when a lot of force is applied. This ensures that there are no trapping or crushing risks for hands, feet, head and other body parts.
Other tests examine the bed components' durability with robotics by automating countless repetitive load repetitions on specific parts of the bed over a period of several days. This is a simulation of the long-term, repeated human demand on the wooden parts and their connections. Our children's beds easily withstand this lengthy test thanks to the sturdy construction.
Verifying the safety of the materials used, as well as the surface treatments offered, is also part of the test. We only use natural wood (beech and pine) from sustainable forestry that has not been chemically treated.
Maximum safety and quality are very important to us. We ensure our high standards by manufacturing in our own workshop near Munich. Our goal is not to produce products as cheap as possible. And we also hope that you do not make any false economies.
Our production – TÜV Süd tested too
Even our
workshop
in Bavarian Pastetten is being TÜV Süd monitored, which includes regular
production site visits
. An extract from the official attestation document: "This facility manufactures products certified by TÜV Süd Product Service GmbH. The requirements to a
faultless and homogeneous fabrication
as stated in the test and certification rules are met. The applied and documented quality assurance procedures were found suitable."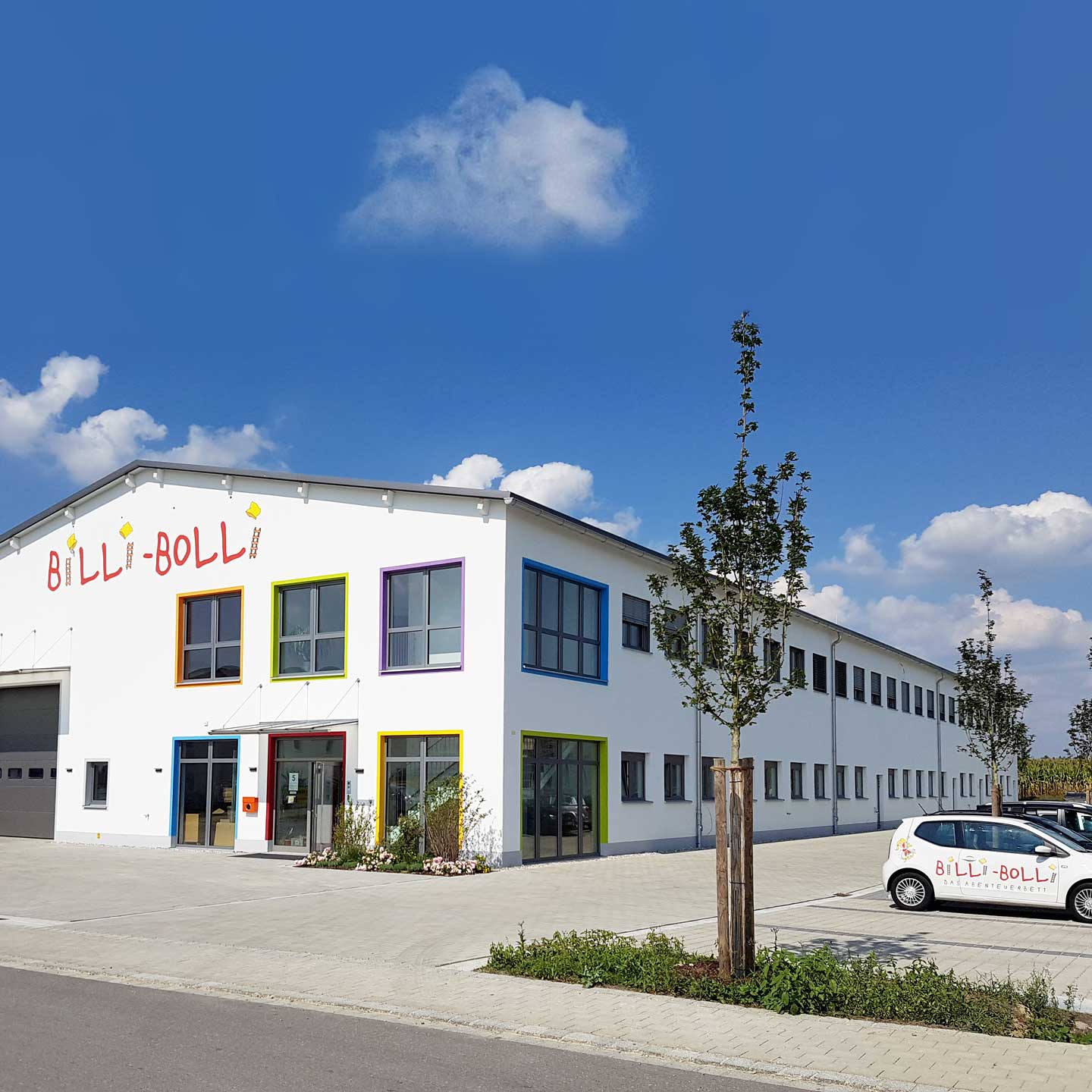 More information on safety and spacing
Ladder and handles
The ladders of our loft beds and bunk beds meet the safety standard too of course. The norm regulates the spacing between successive ladder rungs, for example.
In place of the standard rounded rungs we also offer flat ladder rungs on request.
To ensure that your child gets in and out safely, all bed types that are equipped with a ladder include 60 cm long handles by default.
Swing Beam
A lot of headroom while playing: The distance between mattress and swing beam ⓘ is 98.8 cm minus mattress thickness. The swing beam protrudes 50 cm from the bed and it can be loaded with up to 35 kg (swinging) or 70 kg (hanging). It can also be moved to the corner or omitted.
Wall mounting
For safety reasons, loft beds and bunk beds should be fixed to the wall. The skirting board creates a small gap between the wall and the bed. When mounting the bed to the wall, you will need spacers of the same thickness. To make it easy for you, we will include the appropriate spacers and mounting material for brick and concrete walls in the delivery.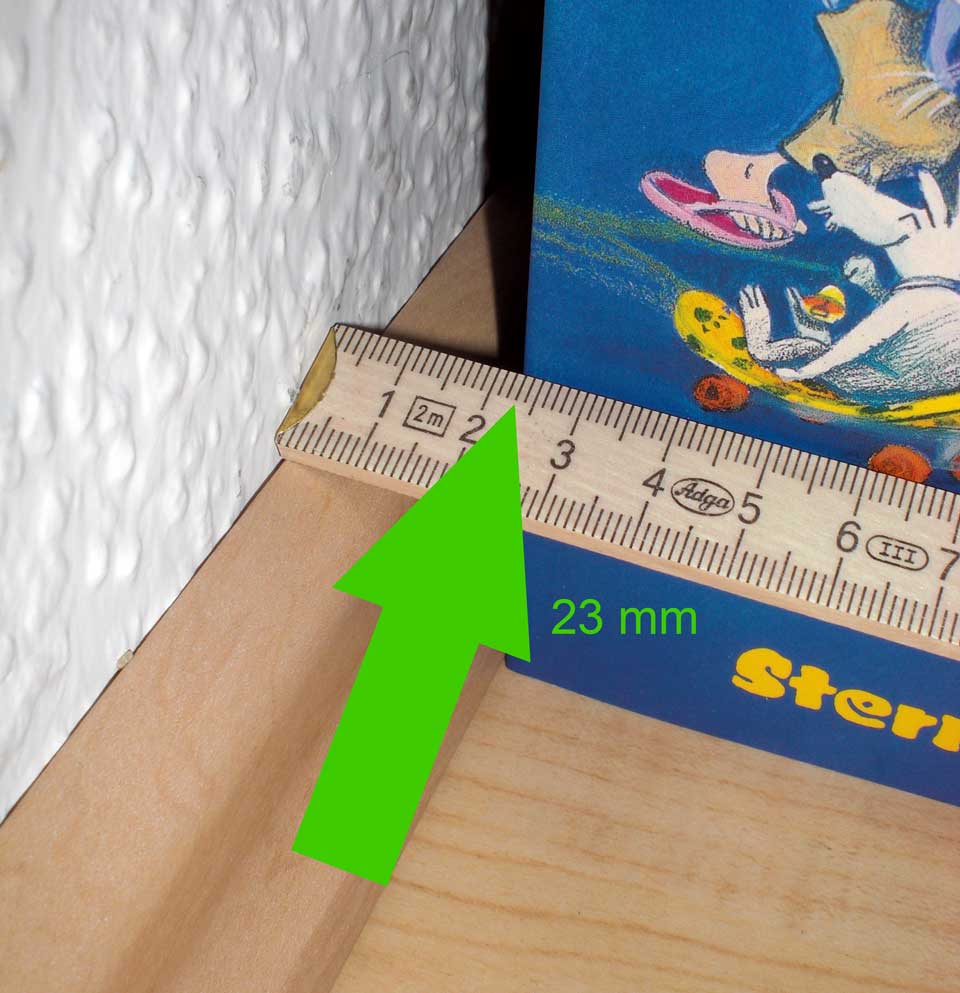 Assembly heights
Our beds grow with your kids. This means that over time you can assemble them at different assembly heights without having to buy additional parts. Depending on the assembly height, the space underneath the Loft Bed is suitable e.g. for a play shop, a desk or a cool play den.
The depicted assembly heights and descriptions apply to all our bed types. Illustrated: Loft Bed Adjustable by Age, assembly height 4.
*) Note on age indication "according to DIN safety standard for kids aged 6 and above"
Children should be at least 6 years of age when using high beds as well as bunk beds according to the EN 747 Standard, where the age indication "over 6 years" originated. However, this safety standard does not take into account the 71 cm high fall protection (without mattress thickness) of our beds (the standard would only require the fall protection to go beyond the mattress by 16 cm). Essentially, assembly height 5 with a high fall protection is not a problem for children aged 5 and above.
Please note that our age indications are meant to be taken as suggestions. The suitable assembly height for your child depends on your child's actual developmental stage and constitution.