How do we keep all the toys, school supplies and bedding organised in a small kids' room? Well, why not use the space underneath the bottom bunk for this: With our sturdy ↓ Bed Drawers on wheels, you will make perfect use of the place below the bed and everything will get its own place in no time. The practical ↓ Bed Drawer Compartments make tidying the room a breeze and a ↓ Bed Drawer Cover offers protection from dust and dirt. Or maybe you would rather have an additional guest bed instead, e.g. for the kids of your patchwork family, who stay overnight once in a while or for your child's playmate if they want to sleep over spontaneously because they were having so much fun. The Billi-Bolli ↓ Drawer Bed is ready when you need it.
Bed Drawer
Finally enough space for toys, school supplies, the complete soft toy collection, bedding and even the favourite clothes! Our custom-fit Bed Drawer made of solid wood makes full use of the depth of the bed and comes with a very sturdy, 8 mm strong bottom board, that has been designed for larger loads. It can handle some heavy weights with ease, e.g. books or bricks. Thanks to high-quality castors you can move the Bed Drawer easily, even at full load capacity.
There is room for two Bed Drawers below the sleeping level of a Billi-Bolli kids' bed. They can be pulled out fully, making it easy for your child to access everything important to them and for you to vacuum underneath the bed.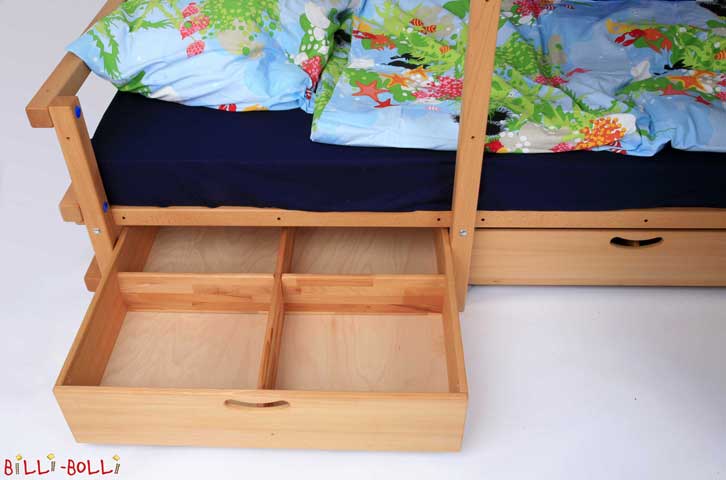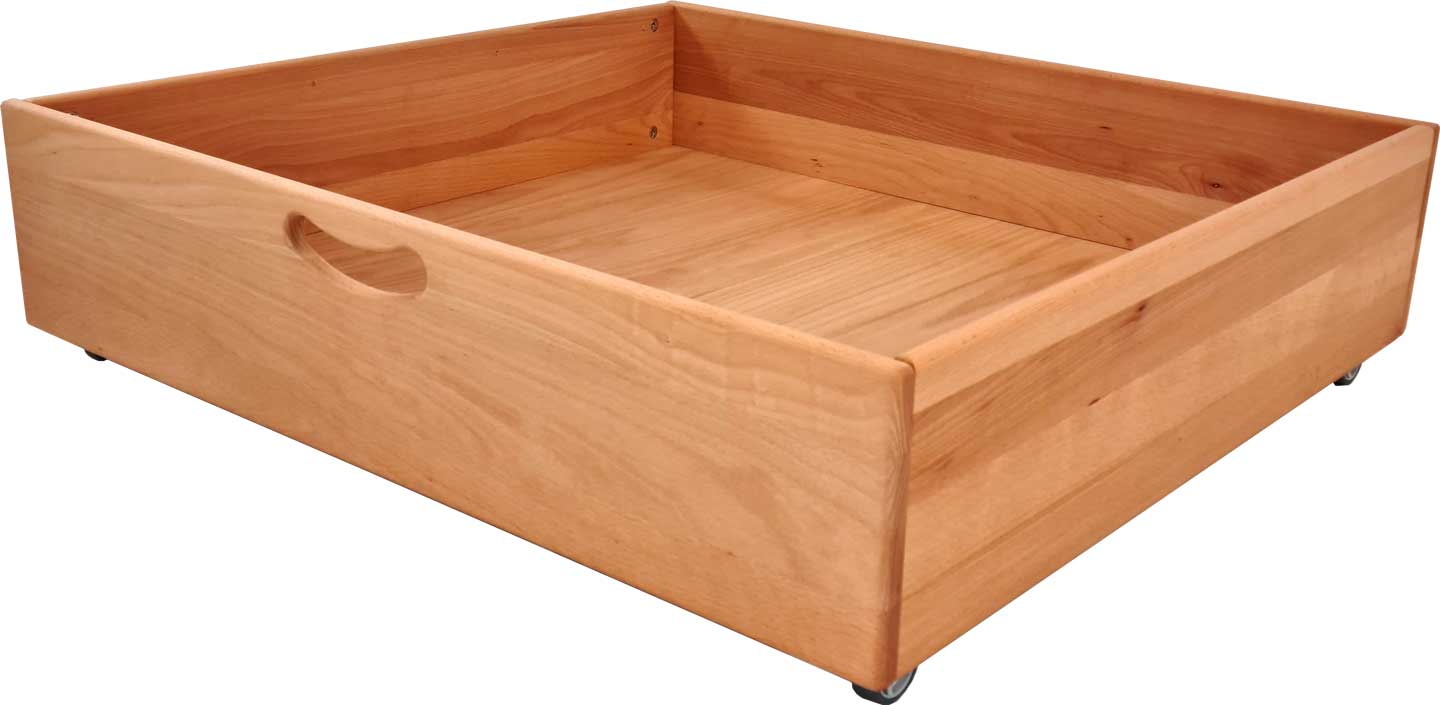 Height (with castors): 24 cm
Bed Drawer Compartments
Regain control over the chaos with the Bed Drawer Compartments made of beech wood. They divide the Bed Drawer into four sections and keep everything in its place, tidy and clutter-free: the playmobil figures, the lego bricks, the storybook and the drawing utensils, the cuddly toys and the board games …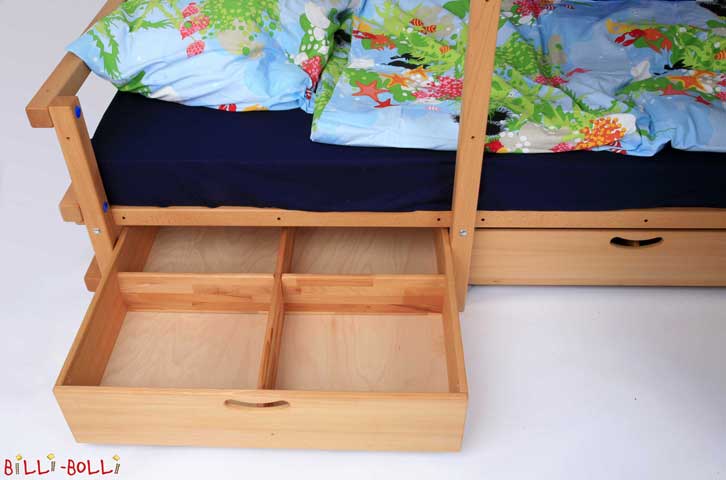 Bed Drawer Cover
Small parts like farm animals, lego bricks or small toy figures are quite tough to clean. It is therefore best to get some dust protection for the Bed Drawer. We offer two 8 mm strong plywood boards as a cover for each Bed Drawer and they come with support slats to rest on. Each board has two finger holes for easy handling.
Drawer Bed
Can I sleep over? Pretty please? The Drawer Bed is a space-saving option and still a fully-fledged guest bed, which is great for spontaneous overnight guests of any age and also for weekend and holiday visits from patchwork family members. It already includes a slatted bed base ready for a mattress. With high-quality castors, you can easily pull out the bed when needed and hide it just as fast – you are always prepared.
By the way, the Drawer Bed is ideal for mama and papa to rest on while taking care of their offspring when sick and unwell.