For our children's furniture we use non-toxic solid wood (pine and beech) from sustainable forestry. It has a lively, "breathing" surface which contributes greatly to a healthy indoor climate. The 57 × 57 mm strong beams are characteristic for our loft beds and bunk beds, they are rounded and sanded perfecly smooth. Each beam is made of one piece, without any glue joints.
pine

beech

Very good wood quality. Pine has been proven to be an excellent choice in the produc­tion of beds for hundreds of years. It has more of a lively appearance than beech.

Hard­wood, only premium quality selected. Appear­ance more uniform than pine.

untreated
oil-waxed
oiled with honey colour
The honey-coloured oil is not recom­mended for beech, as the wood does absorb the colour pig­ments well.
varnished white
glazed white
colour varnish

Example: RAL 5015

colour glaze

Example: RAL 5015
We will happily send you small wood samples. This service is completely free within Germany, Austria and Switzerland and we only charge for shipping to other countries. Please contact us and specify which of these wood finish options you would like to receive.
Surface finishes
untreated

oil-waxed with Gormos (manufacturer: Livos)
The oil-wax finish protects the wood and dirt can no longer seep in.

oiled with honey colour (manufacturer: Leinos)
This oil highlights the natural structure of the wood, the appearance becomes more reddish and lively. Only possible with pine.

white or colour varnished
opaque colour, type of wood is no longer recognisable

white or colour glazed
wood grain is still visible
We only use water-based and saliva-resistant paints.
If beds are ordered varnished or glazed in white or a different colour, we treat the ladder rungs and handles with oil-wax by default (instead of white/colour).
The paint material is already included in the extra charge for the colour service if you opt for one of the following frequently ordered colours:
If you would like to order a colour that is not listed here, simply specify the RAL number. There will be an extra charge for your individual choice of colour paint. You will receive the remaining paint with your order.
Note: Actual products may differ in grain and colour from the example images. Due to possible varying monitor settings and calibration, the colours on this page may not be an exact representation of the "real" colours.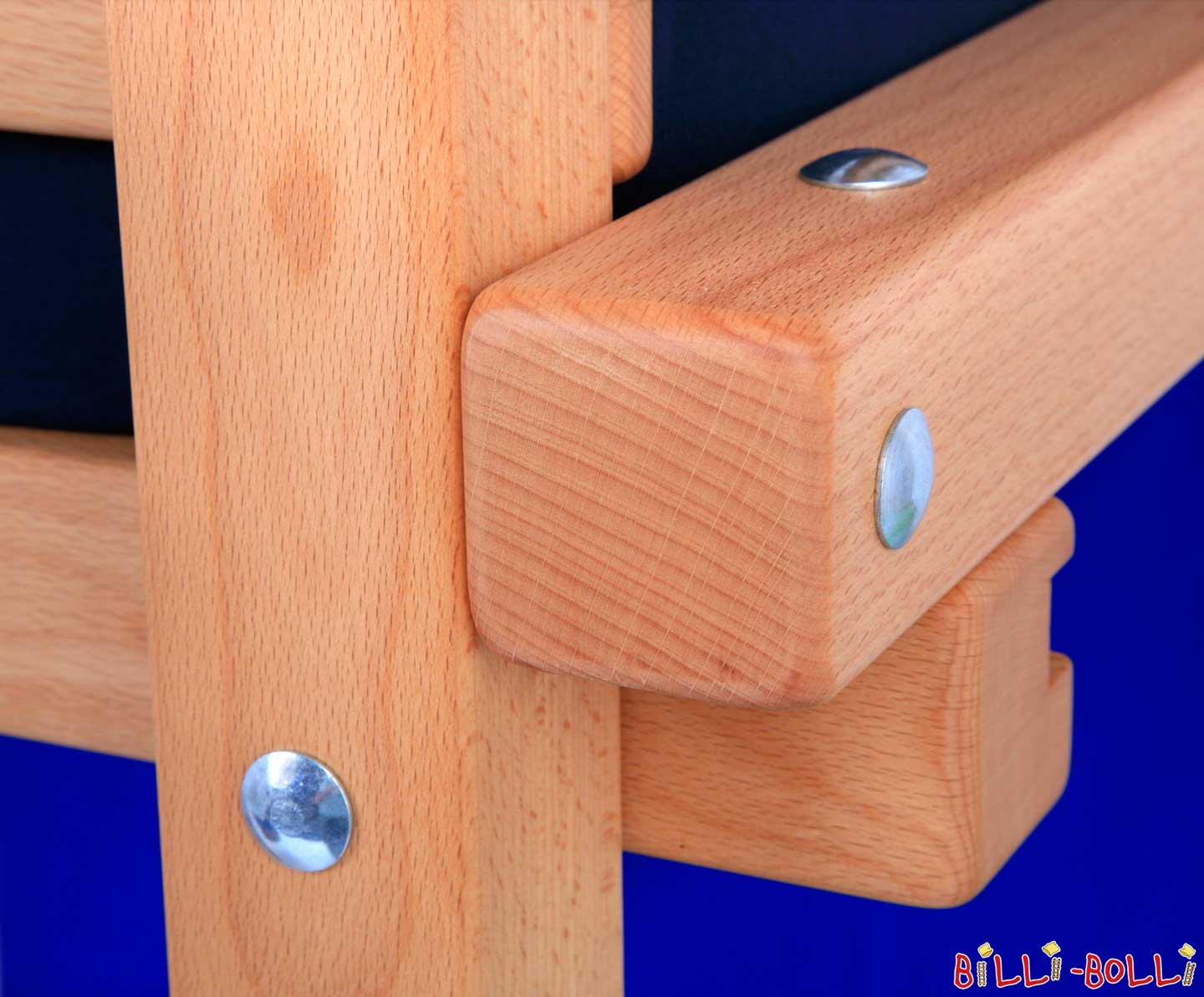 Detail of a beam connection (here: beech beams). All beams are made of one piece of wood, without glued joints.
Examples of colour service options
Here is a selection of photos from our customers, who either ordered the whole kid's bed or individual elements with a lacquer finish.