Theme Boards add protection and therefore increase your child's safety.
Protection Boards
All protection boards that we consider important for safety are automatically included with delivery. Should you wish further protection boards for any area, you can receive them from us, any time.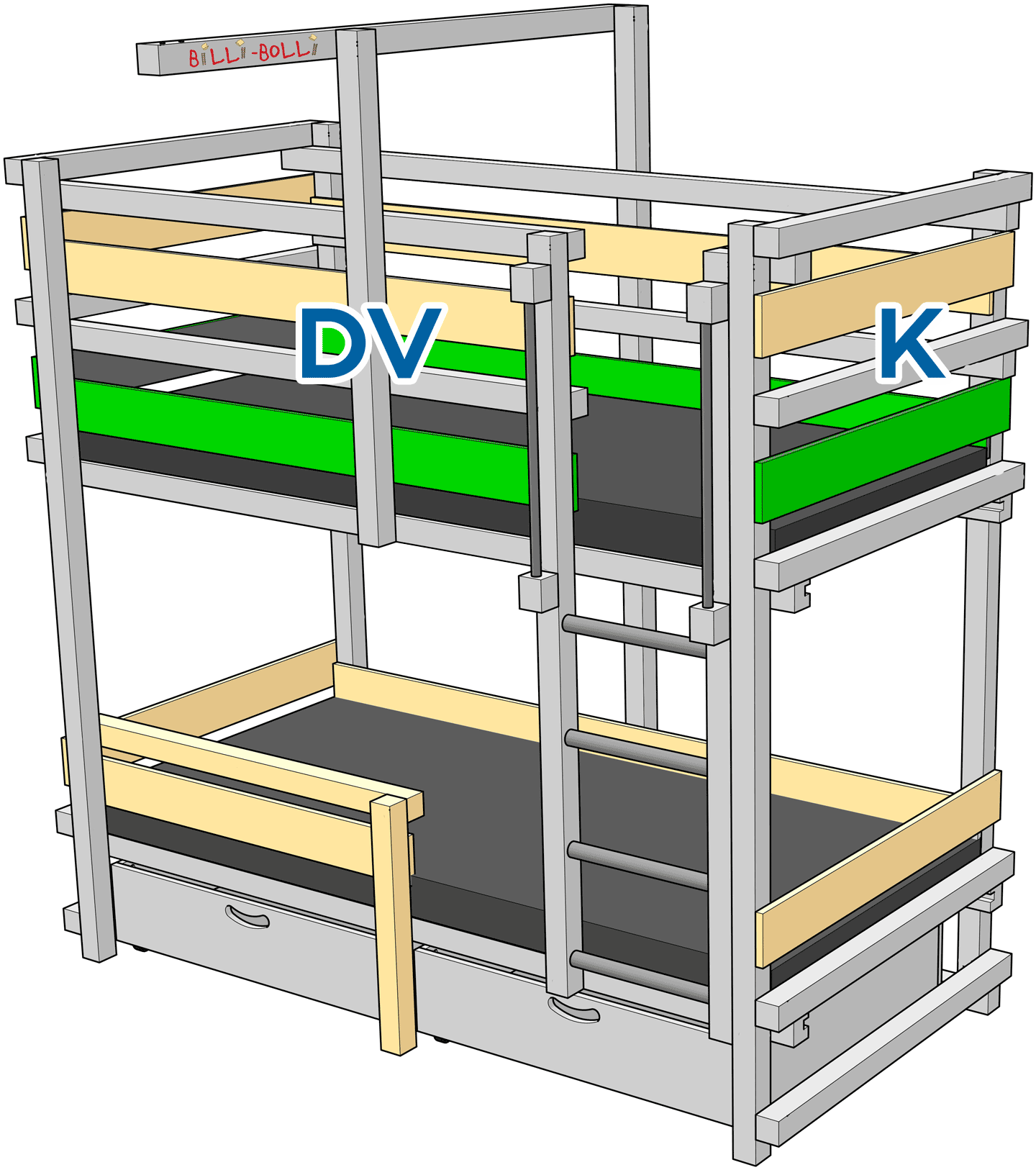 Protection boards and rollout protection around the lower sleeping level
For example, you could also equip the lower sleeping level of the Bunk Bed with protection boards – all around or just on individual sides. This way you will get a cosier space and pillows, as well as other accessories, will stay securely inside the bed.
Rollout Protection
It consists of an extended midfoot, a longitudinal beam and a protection board to secure the lower sleeping level so that children do not roll out. An alternative to the Baby Gates once the kids are not that little anymore.
Ladder Protection
The Ladder Protection is attached to the rungs of the ladder. Younger siblings, who are still crawling and should not yet be at the top, cannot climb up. Removing the Ladder Protection is easy for adults, but not possible for very young children.
Made of beech.
Ladder Gate and Slide Gate
The removable Ladder Gate secures the ladder area at the upper level during the night.
The Slide Gate secures the slide opening in the same way.
Inclined Ladder
Baby Gates
The gates for the short sides ⓘ are screwed to the bed. All other gates are removable. Gates for the long sides have three removable bars in the middle. The bars can be individually removed by adults. The gate itself remains in place.
With Baby Crib the gates are included by default.
For the Loft Bed Adjustable By Age and the bottom bunk of the Bunk Bed Laterally Staggered, gates are available for the entire or half of the mattress area. The same applies to the Corner Bunk Bed if both sleeping levels have the same mattress size.
With the Bunk Bed baby gates can be attached to the bottom bunk. Choosing ladder position A, the gates will reach the ladder and enclose ¾ of the mattress. A mattress with measurements of 90 x 200 cm will offer a sleeping area of 90 x 140 cm.