Decorative Accessories →
Theme boards and accessories will make your Billi-Bolli kids' bed even more unique and attractive
Playing →
Create even more fantastic play options on your loft or bunk bed with these accessories – for your little dreamers and explorers
Climbing →
Kids simply love climbing and it promotes their motor skills: Climbing Wall, Wall Bars and Fireman's Pole
Safety →
Safety is our highest priority: protection boards, rollout protection and gates for our kids' beds
Swinging →
For the swing beam of our kids' beds: Climbing Rope, Rocking Plate, Swing Chair and more
Slide →
A slide for the kids' bed – the most popular accessory
Bed Drawer →
Valuable when tidying up the children's room. Ideal for "surprise" overnight guests and sleepovers: the Drawer Bed.
Shelves and Racks →
Small and large bed shelves for all the things needed around the kids' bed
Cosy Accessories →
Cushion pillows and rugs for the cuddliest children's room
Photos of our customers
We have received these photos from customers. Click an image for a large view.
Feedback and photos of our customers on cot accessories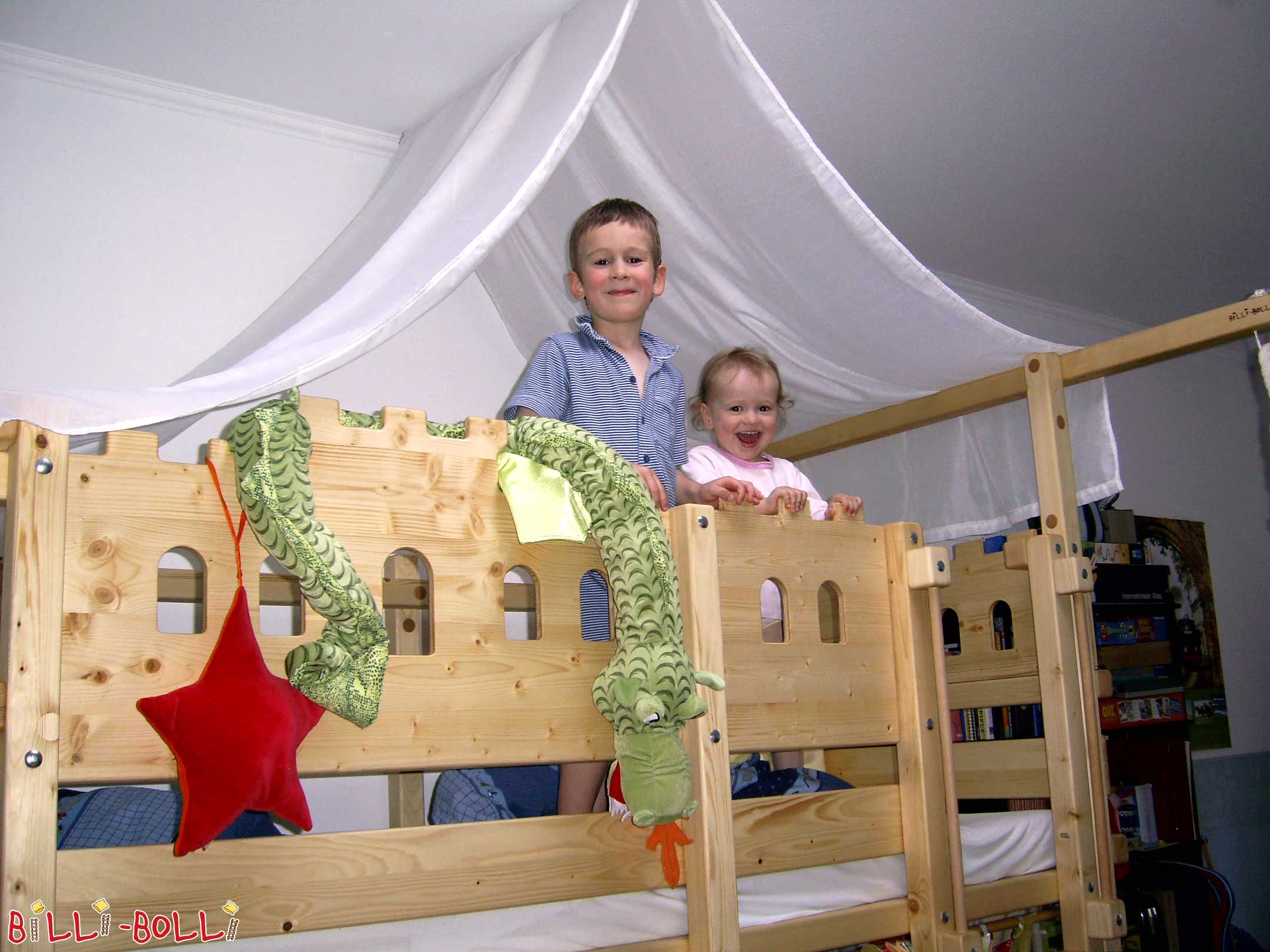 Hello,
We've had our bed since the middle of May – now it is complete with all accessories and the two occupants – knight and damsel – are as excited as we are!
Greetings from Leipzig
Daszenies Family
Hello Billi-Bolli team,
Today we had five wild pirates in our children's room and their "ship" did not spring a leak!
Strey Family from Leonberg
With just a few steps to the new bed thanks to our accessories for cots
The wide range of accessories for cots makes Billi-Bolli furniture so versatile: our products are designed to accompany and inspire children for many years to come. Because they can be adapted to child creativity in many ways. Turn the bed into an imaginative indoor playground! A cot by Billi-Bolli becomes a knight's castle with selected accessories if you want to with a climbing wall that is like a mountain to conquer. Or you can turn our sloping roof bed into a pirate ship – in style with lookouts and fishing nets. But our accessories for cots do not only meet the child's creativity. Parental needs are also taken into account: storage and storage elements create additional space for duvet covers and co., security elements ensure that nothing happens when playing.
Benefits of accessories for cots
Our accessories for cots bring variety to the children's room; it allows you and your offspring to adapt the piece of furniture to your own and changing needs. With our accessories for cots, the cot becomes first an imaginative play world, then a youth high bed with clever use of space. The greatest advantage of our individualizing and expandable products is the ecological and economic sustainability. The cot is not already passé after a few years of use, but can be modified and reused thanks to the accessories. Thus, you save your personal financial and our all natural resources.
Quality and safety
Since 1991, Billi-Bolli has been producing children's and youth beds to the highest quality and safety standards. In our master workshop near Munich, we manufacture modifiable and customizable furniture that will benefit and delight for decades to come. We rely on a proven, elegant and renewable material: wood. Our solid wood furniture is made of beech and pine. We only source the wood from sustainable forestry. We attach particular importance to absolute pollutant-freeness of the woods as well as the oils, varnishes and paints used.
Tips for putting together the perfect cot
Tip 1: Place to cuddle despite a small room
In addition to the needs of your child, the height and size of the available space also play a central role in your individual planning of the cot. If you don't have as much space, but still want to offer your little one a cuddly corner in addition to the bed, the cuddly corner bed is the right choice. So you can build a cozy cave under the bed with our textile elements, which invites you to read, cuddle and play quietly.
Tip 2: Bunk bed for single child with plenty of space for cosiness
If you decide on a bunk bed, the lower lying area of which is not regularly used for sleeping, you can also create a cozy room with our cushion cushions from the lower area. You have a choice of 7 different, individually combinable colours.
Tip 3: An adventure playground in the children's room
If you only have one child and have high walls, treat your darling to a comfortable loft bed a slide and a climbing or rungs wall. With these accessories, the sleeping place ruckzuck also becomes an adventure playground, where the safety is of course not neglected. It is best to position our protective mats directly in front of the game elements.
Tip 4: Your child's safety is a must
As you choose, make sure that all elements are easily accessible and securely attached and that other furniture is outside the play area. If you want to use drawer elements as storage space, make sure that the drawers can also be pulled out during planning.