With our extensive accessory selection for kids' beds you can transform the sleeping place into a creative paradise: The clean and timeless construction allows for creative ideas and individual extensions to shine. Why not turn the loft bed into an adventure playground or into useful storage space? With our substantial accessory range, only the sky is the limit, almost.
Theme Boards →
No knight's castle without battlement, no ocean liner without portholes: With our Theme Boards you can transform your kids' bed into an adventure land. The versatile accessories enrich the little ones' imagination, encourage their joy of playing and improve the motor skills. The child-friendly accessories for the Billi-Bolli kids' beds are particularly practical: the theme boards can be mounted on the long and short side of the bed. This way they also function as fall guard and make playing even more safe.
Playing →
Boost your child's imagination with our range of accessories for kids' beds: The loft bed will turn into a racing car, the bunk bed will morph into a shop. With our clever and child-friendly extras you can transform your kids' bedroom into a creative playground. The fully functional Play Crane is a particular fun highlight: the little engineer can transport teddy bears, cuddly blankets and other important material into the loft bed.
For swinging →
Our loft bed accessories for swinging, such as Climbing Rope, Rocking Plate, Swing Chair and Hanging Cave are very popular with kids and offer a lot of fun in the children's room. Get ready to board ships, cross moats and to conquer the jungle tree house. A particular highlight for your daydreaming darling: Our Hammock fits perfectly in the cuddly den underneath the play bed!
Climbing →
Going to bed as well as getting up is much more fun with the Climbing Wall or Fireman's Pole. By playfully "exercising", the climbing elements also promote motor skills and body coordination of your child at the same time. You can attach them either to the long or short side of the bed. We also offer soft gym mats suitable for kids' bedrooms, so that your little climbers can get down again softly.
Slide →
Who knew that getting up could be so much fun: Start the day differently with a slide attached to the kids' bed. You can directly mount this accessory to many of our loft and bunk beds for kids. By the way: a slide tower decreases the space required for the slide assembly. This way you can fit this kids' bed feature even in small rooms. We are happy to advise you further.
Shelves and Bedside Table →
Accessories for storage are extremely practical when the kids are not that small anymore. Here you will find bedside tables and bed shelves in different sizes that match our kids' beds perfectly. In addition to books, boxes for smaller items, e.g. building blocks, Lego bricks, toys as well as game pieces will also find a spacious home. Your darlings' treasures are kept out of the way in a safe place, where they will survive the hustle and bustle in the children's room and are always close at hand when needed.
For Safety →
Despite all the fantastic play accessories available for the kids' beds: safety comes first. All Billi-Bolli kids' beds are equipped with a fall guard, which exceeds the DIN standard by far. If you are looking for additional safety features, we have a large selection available for you: baby gates for the little ones, rollout protection for the bigger kids and even various safety elements for ladders and slides. By the way, many of our theme boards and decoration pieces increase the fall protection too.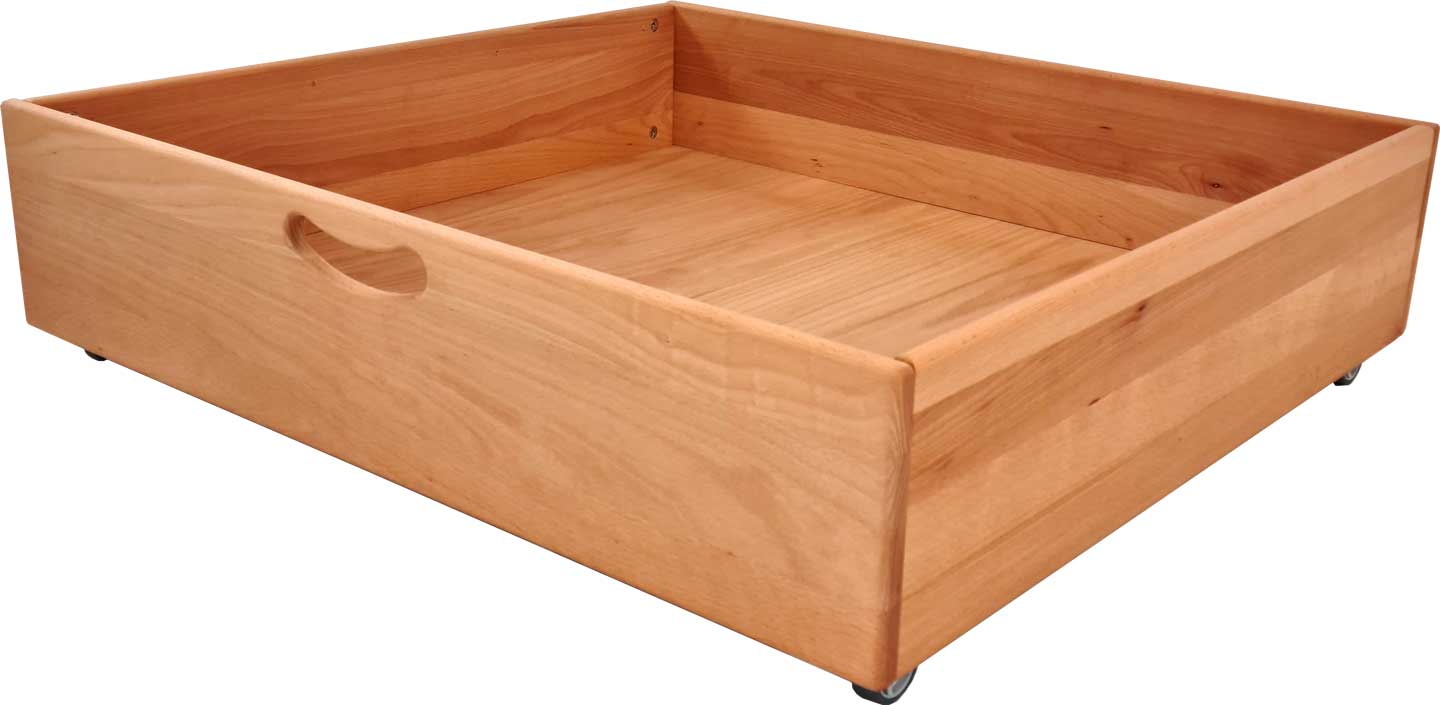 Bed Drawer →
There has got to be a space for all the toys in the evening: Our bed drawer elements for kids' beds offer valuable storage space and make space in the room. Thanks to the useful bed drawer compartments and lids everything is neatly stored under the bed. The Drawer Bed is a complete bed with slatted bed base, which you can pull out from underneath the bed if needed – perfect for sleepovers and spontaneous overnight guests tired out from all the playing and jumping around.
Decorative Accessories →
Small decorative accessory elements can already have a big impact on the styling and will personalise the loft bed even more for your child. Our animal figures in the shape of butterflies, horses, dolphins or our funny mice are easily glued to the theme and protective boards. Bright and colourful textile accessories such as curtains, flags, nets or sails create an even more comfortable atmosphere in the kids' room. And as a finishing touch: How about getting your own name engraved on your dream bed?
Desktop →
It always seems light-years away: the first day of school! Our desktop is a perfect alternative to buying a separate desk, and it can be easily installed right into our loft beds and bunk beds. This solution is particularly great for small children's rooms, as the space below the bed will be optimally used: the play area transforms into a truly space-saving area for homework and creative endeavours – in a flash.
Customers share their photos and experiences with our kids' bed accessories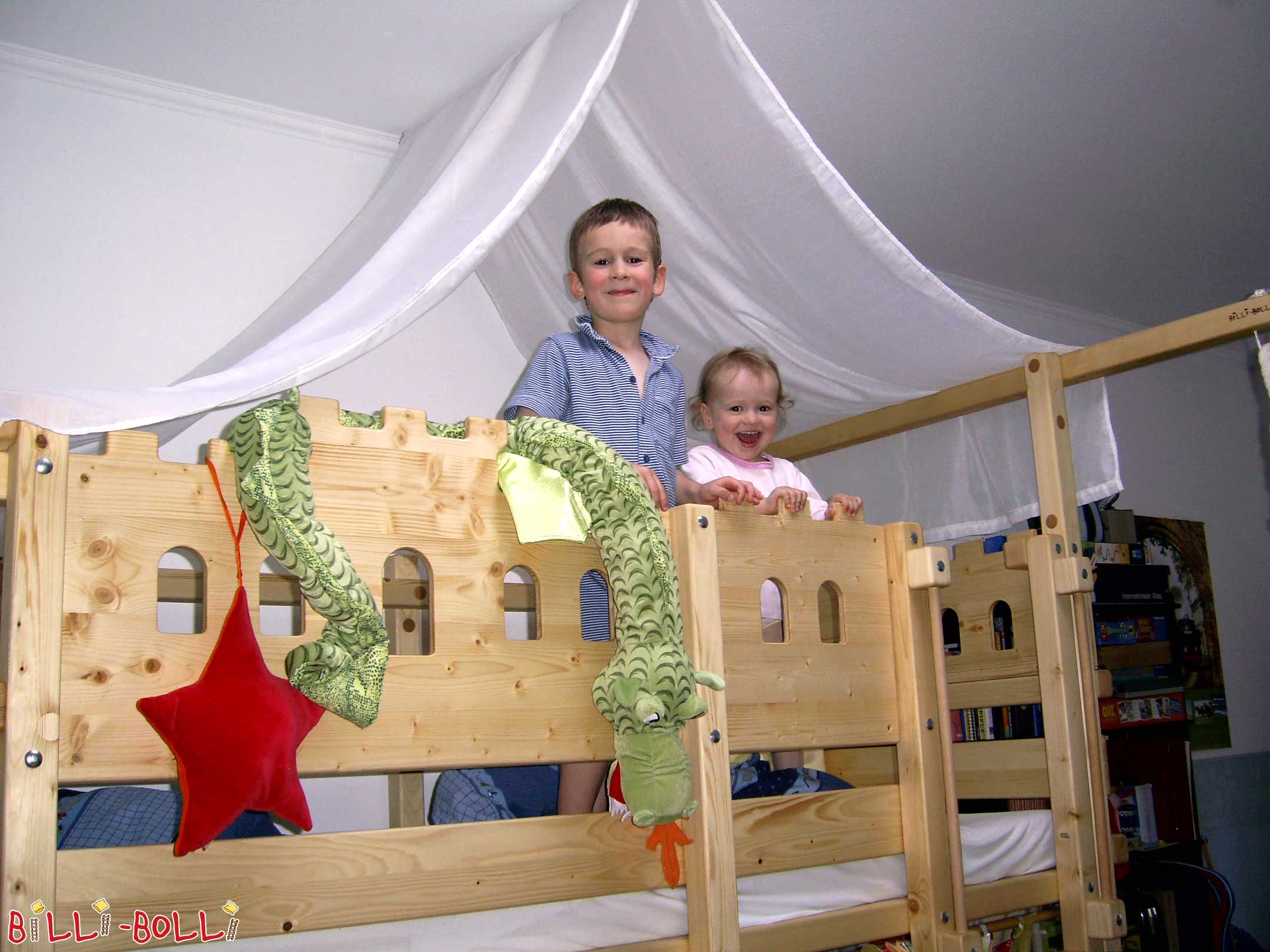 Hello,
We've had our bed since the middle of May – now it is complete with all accessories and the two occupants – knight and damsel – are as excited as we are!
Greetings from Leipzig
Daszenies Family
Hello Billi-Bolli team,
Today we had five wild pirates in our children's room and their "ship" did not spring a leak!
Strey Family from Leonberg
Versatile and child-friendly bed accessories make your kids' bed unique and extra special
The large selection of accessories for kids' beds makes Billi-Bolli bedroom furniture even more versatile and durable. All of our kids' room furnishings are designed to delight your children and to accompany them for many years to come. Indeed, they can be modified in many ways to stimulate as well as to adapt to kids' creativity with age-related preferences in a variety of ways. For your newborn, the first bed is a protective nest until you "spice it up" and transform it into an imaginative indoor playground and later you can turn it into a practical space for homework and studying for young students.
Our extensive range of Billi-Bolli bed accessories will leave you spoilt for choice. There are so many options to choose from! Many factors play a role and need to be considered, such as the number of children as well as their age, age differences, interests, favourite colours and activities etc. Therefore, we put together a little guide to help you make an informed purchase decision and to easily find the kids' bed accessories that perfectly match the needs of your children. Below are some thoughts and considerations regarding the main accessory categories for our kids' beds.
Contents
Safety elements for health and protection
Safety accessories make up the most important accessory category for parents, without a doubt, and we take your kids' safety very seriously. Your children should feel protected, safe and at home in their own little kingdom at all times. Loft beds and bunk beds by Billi-Bolli are equipped with our particularly high fall guard by default, therefore all the important protection boards are already included. However, only you really know your child and are able to assess their physical development as well as character. Does your child judge dangerous situations well, are they particularly active and daring, do they stumble to the toilet half-sleep at night? Safety elements for kids' beds are of even greater importance in these cases – and also when siblings of different age groups share a room. After all, the baby should not only be kept safely in the crib, but curious siblings should also be prevented from disturbing the precious sleep of the newborn. Infants and toddlers sometimes get so immersed in their play that they forget the world and the dangers around them. That is why it is important to make sure that your children are protected against accidentally rolling or falling out of their bed assembled at the age-appropriate height. Prevent your little ones from unsupervised climbing up of ladders or slides to reach the bed of their big sister or big brother. The Billi-Bolli accessory range provides suitable protection boards, baby gates and bars.
Enter imaginative and fun-filled worlds with our creative play themes
For many families, being able to fully customise the kids' bed is another top priority, second only to safety. Parents strive to create a loving and very personal atmosphere for their children in the kids' room, a place where their little ones feel welcome and at ease right from the start. Discover all our theme boards, where you will most certainly find your son's or daughter's favourite motif. Daring pirates and sailors peer through porthole theme boards, little gardeners and fairies love the cheery and colourful flower theme boards, brave knights and princesses salute from the battlements of their own castle wall and race car drivers, trainmen and firefighters all zoom through their childhood with the steering wheel firmly in hand.
Special play elements for healthy and age-appropriate physical and mental development
Throughout childhood, it is essential to facilitate and support the healthy development of perception and imagination, movement and motor skills. This is one of the reasons why our range of bed accessories for climbing, swinging, balancing, hanging, sliding and exercising has grown enormously over the years – and because it is so much fun, of course. The standard play bed almost always includes a climbing rope, rocking plate or swing chair. All of the accessories for swinging, balancing and relaxing are attached to the raised swing beam. Alternatively, you can also attach our boxing set there for kids with lots of energy. It is a great piece of exercise equipment, not only to release extra energy once in a while but also to increase concentration and stamina. Climbers and acrobats can demonstrate their craft with play features such as the climbing wall, the fireman's pole and the wall bars. It takes courage, technique and practice to conquer them. They are particularly great for encouraging coordination and perception of body tension and balance. For many children, having an adventure bed with their very own slide in their kids' room is a dream come true. It is difficult to put the fascination kids experience while sliding into words, but it can be experienced and observed. A slide for the kids' bed requires quite some space, but it certainly upgrades – especially when combined with a play tower or slide tower – small kids' rooms and rooms with a pitched roof immensely. Our Billi-Bolli team will be happy to advise you on the options available for your rooms. You will also find suitable floor mats for all the exercise and play features in our accessory selection, of course.
By the way: Once children have outgrown their play beds, all the added elements can be easily removed and teenagers can keep using the beds in their youth room.
Sturdy assistants keep the kids' room tidy
Perhaps not the most exciting category for children, but our accessories for storing and tidying up are sure to light up the parents' eyes. We have developed various storage boards and shelves for our kids' beds. Everything is close at hand for the night. Do you need more? No problem. Our convenient pull-out bed drawers are robust and offer even more storage room for bedding and toys, while fitting perfectly underneath the lower sleeping level – saving lots of space. And with our fully-fledged drawer bed, you can even "tuck away" overnight guests spontaneously.
More high-quality children's furniture pieces made in our Billi-Bolli Workshop, such as desks, mobile containers, wardrobes and shelves for primary-age pupils and adolescents alike, are available at Kids' Furniture.
Conclusion
Our accessories for kids' beds add variety to every child's bedroom; they make it easy for you and your kids to adjust the furniture according to your changing needs. First, you can transform the kids' bed into an imaginative playground, then into a youth loft bed with clever use of space – all with the help of our accessories. Living ecologically and economically sustainable is the greatest benefit of our customisable and extendible products. Your kids' bed does not simply "expire" after a few years, thanks to our accessories it can be modified and continues to be of use. This way you will save your financial as well as our natural resources.
Whatever you choose, here are a few pointers to consider when you make your decision: Please check that all elements will be easily accessible and can be mounted securely, while other furniture pieces are arranged outside of the play area. If you choose drawer elements for storage, it is important to make sure that there is enough space in front of the bed so that bed drawers can be pulled out fully. Our Billi-Bolli team will be happy to help you with detailed planning.
While browsing our accessories pages, you will surely get inspired and develop even more ideas for the design of your kids' room. Sometimes parents even rediscover and fulfil one of their own childhood dreams. Happy parents have happy children and happy children make parents happy.