Our extensive accessory selection for kids' beds helps you transform the sleeping area into a creative paradise: The clean and timeless construction allows for creative ideas and individual extensions to shine. Why not turn the loft bed into an adventure playground or a practical space for storage? With our comprehensive accessory range, only the sky is the limit, almost.
Decorative Accessories →
No knight's castle without battlement, no ocean liner without portholes, no cutter without fishing net: With our Theme Boards and decorative elements you can transform your kids' bed into an adventure land. The versatile accessories enrich the little ones' imagination, encourage their joy of playing and improve the motor skills. The child-friendly accessories for the Billi-Bolli kids' beds are particularly practical: the theme boards can be mounted at the mattress level on the long and short side of the bed. This way they also function as fall guard and make playing even more safe.
Playing →
Boost your child's imagination with our range of accessories for kids' beds: The loft bed will turn into a racing car, the bunk bed will morph into a shop. With our clever and child-friendly extras you can transform your kids' bedroom into a creative playground. The fully functional Play Crane is a particular fun highlight: the little engineer can transport teddy bears, cuddly blankets and other important material into the loft bed.
Climbing →
Going to bed as well as getting up is much more fun with the Climbing Wall or Fireman's Pole. By playfully "exercising", the climbing elements also promote motor skills and body coordination of your child at the same time. You can attach them either to the long or short side of the bed. We also offer soft gym mats suitable for kids' bedrooms, so that your little climbers can get down again softly.
For swinging →
Our loft bed accessories for swinging, such as Climbing Rope, Rocking Plate, Swing Chair and Hanging Cave are very popular with kids and offer a lot of fun in the children's room. Get ready to board ships, cross moats and to conquer the jungle tree house. A particular highlight for your daydreaming darling: Our Hammock fits perfectly in the cuddly den underneath the play bed!
Slide →
Who knew that getting up could be so much fun: Start the day differently with a slide attached to the kids' bed. You can directly mount this accessory to many of our loft and bunk beds for kids. By the way: a slide tower decreases the space required for the slide assembly. This way you can fit this kids' bed feature even in small rooms. We are happy to advise you further.
For Safety →
Despite all the fantastic play accessories available for the kids' beds: safety comes first. All Billi-Bolli kids' beds are equipped with a fall guard, which exceeds the DIN standard by far. If you are looking for additional safety features, we have a large selection available for you: baby gates for the little ones, rollout protection for the bigger kids and even various safety elements for ladders and slides. By the way, many of our theme boards and decoration pieces increase the fall protection too.
Bed Drawer →
There has got to be a space for all the toys in the evening: Our bed drawer elements for kids' beds offer valuable storage space and make space in the room. Thanks to the useful bed drawer compartments and lids everything is neatly stored under the bed. The Drawer Bed is a complete bed with slatted bed base, which you can pull out from underneath the bed if needed – perfect for sleepovers and spontaneous overnight guests tired out from all the playing and jumping around.
Shelves and Racks →
Accessories for storage are extremely practical when the kids are not quite so small anymore. Here you will find bedside tables and bed shelves in different sizes, matching our kids' beds perfectly. The desktop is highly recommended for the growing loft bed in smaller rooms. Transform the play area underneath the sleeping level into a study area in no time.
Cosy Accessories →
Fabrics like sails, play rugs or cushion pillows make the children's room even cuddlier. Furnish play dens and comfy corners with our wonderful cushion pillows. The covers made of cotton drill are washable and can be removed easily. The HABA rugs stitched with streets or floral wreaths are pretty eye-catcher – and extremely soft to play on!
Our customers share their photos
Our customers shared these photos with us. Click an image to view at full size.
Feedback and photos of our customers on cot accessories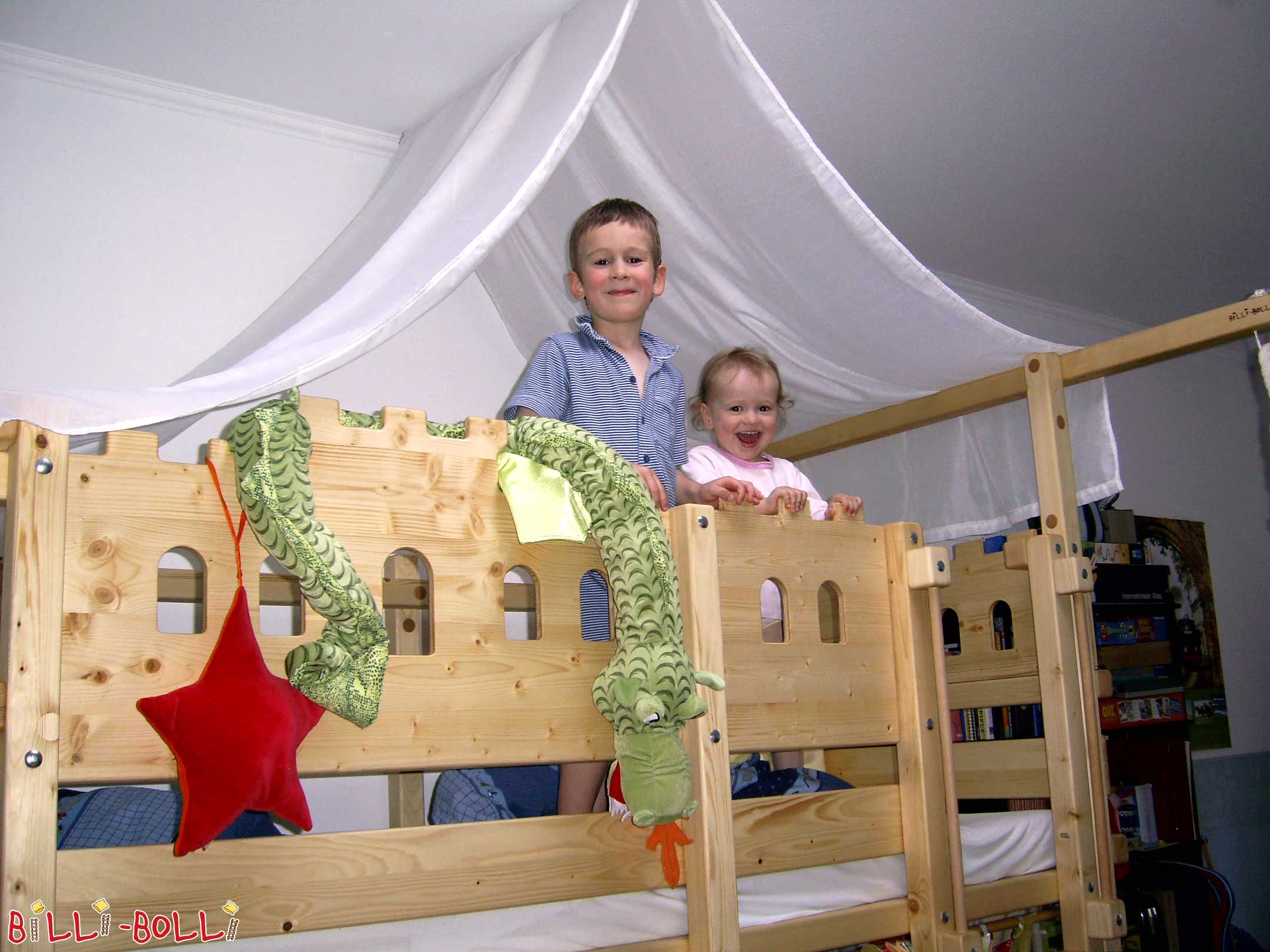 Hello,
We've had our bed since the middle of May – now it is complete with all accessories and the two occupants – knight and damsel – are as excited as we are!
Greetings from Leipzig
Daszenies Family
Hello Billi-Bolli team,
Today we had five wild pirates in our children's room and their "ship" did not spring a leak!
Strey Family from Leonberg