Our biggest bed: The Laterally Staggered Bed for Four was specifically designed for rooms with high ceilings and is large enough to sleep four people. With the Drawer Bed it even turns into a bed for five!
The upper sleeping levels are suitable only for teenagers and adults.
from € 2,912.00
free shipping (DE)
🛠️ Four-bed-side-offset-configure
Hanging seat or large bed rack in spruce free of charge when ordering between November 16th and 30th!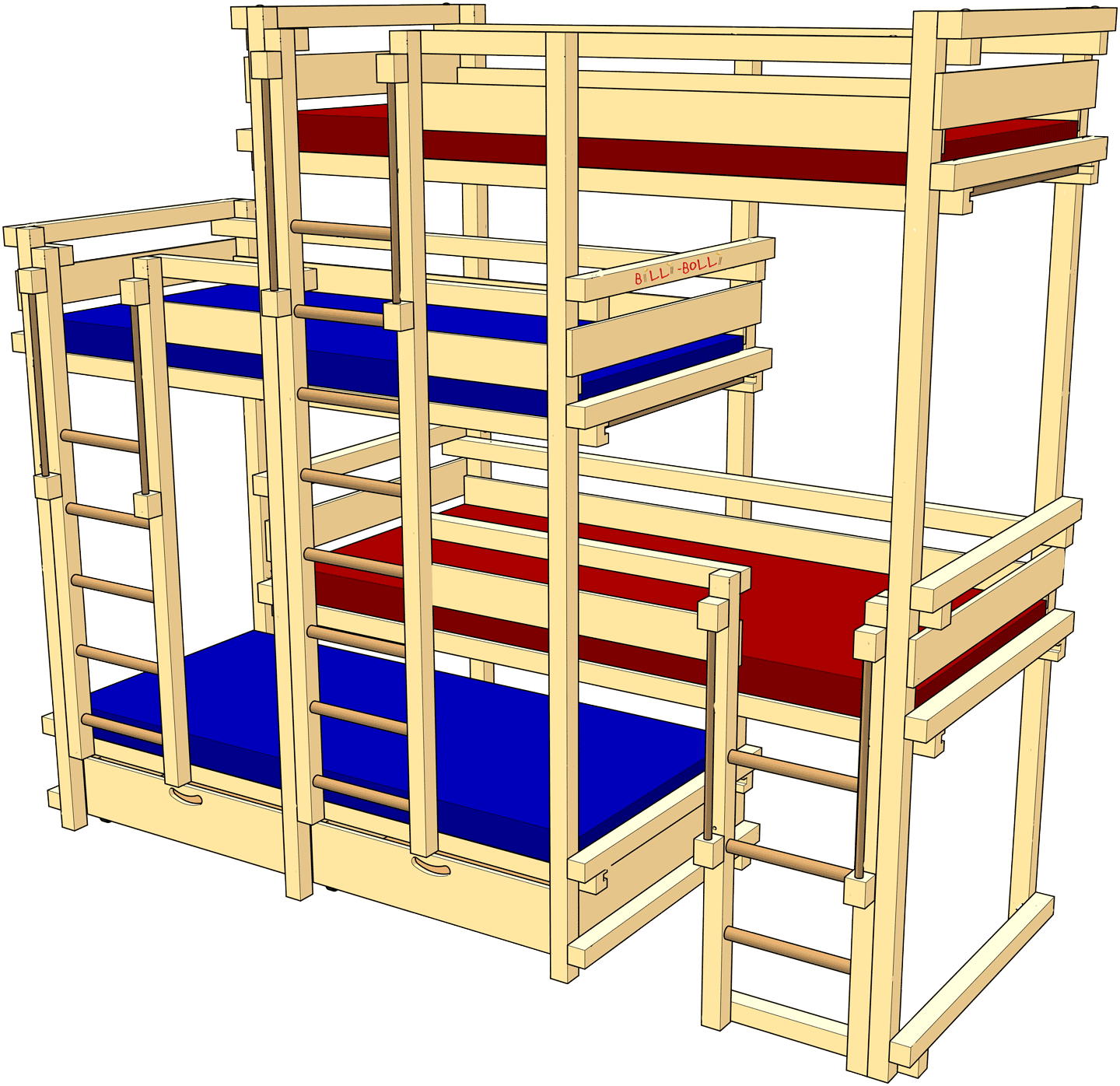 can be assembled mirror-inverted
(click on image)
External dimensions of the four-storey bed-side-offset
Width = mattress width + 13.2 cm
Length = 1,5 · mattress length + 7.9 cm
Height = 261.0 cm
Required ceiling height: approx. 315 cm
Example:
mattress size 90 × 200 cm
⇒ external dimensions of the bed: 103.2 / 307.9 / 261.0 cm
Four-bed-side-offset-configure
Delivery
By default, it comes with:
Screwing material
a detailed step-by-step guide tailored to your configuration
Not included by default, but are also available from us:
Mattresses
Bed Boxes

more on photos with accessories pictured

individual adjustments such as extra-high feet or sloping roof slants
You get ...

* highest safety according to DIN EN 747 (i)
* Pure fun thanks to a wide range of accessories (i)
* Wood from sustainable forestry (i)
* a system developed over 28 years
* individual configuration options
* personal advice: +49 8124 / 907 888 0
* Production in our workshop (i)
* first-class quality from Germany (i)
* Conversion options with expansion sets (i)
* 7-year warranty on all wooden parts (i)
* a detailed setup guide (i)
* Possibility of secondhand resale (i)
* the best value for money
Customize the four-person bunk bed-side-offset with our accessories
Customize your cot with our diverse accessories. For example, you can turn a ship, a princess castle or a fire engine out of bed. These are the most popular accessory categories: