Your kid's bed is no longer needed? You are welcome to resell your used kid's furniture and accessories directly on this highly frequented site. This is a free service for Billi-Bolli products that you originally purchased new from us.
If you bought pre-owned Billi-Bolli products, that you would like to resell now on this site, then we take a € 60 fee, which will be fully donated to our charity projects. The same applies to the resale of second hand Gullibo beds.
Notes
The offers on our Second hand page have been translated automatically and therefore may contain translation errors. We take no responsibilities for these errors or the misunderstandings arising from them. Please visit the Second hand page on our German website to view the offers in their original language.

We take no responsibility for the information posted by customers about furniture for resale as we are unable to verify it.

Billi-Bolli Kindermöbel is not involved in the resulting resales.

Whether an offer is reasonably priced or not must therefore be determined by the interested party (see Resale price recommendation). Such an assessment cannot be derived from the fact that the item is placed on our Second hand page.

Please note that we cannot deliver accessories or expansion parts for Gullibo kids' beds. If you are intending on expanding the bed, we recommend to directly opt for a Billi-Bolli bed.
Want to stay up-to-date on new offers?
Receive an e-mail as soon as a new second hand offer has been published:
---
High bed growing with
Offer 3306 (second hand loft bed). Published: 19 November 2018, sold: 21 November 2018
sold
Sale original Billi Bolli high bed 90 x 190 cm.
Type: bunk bed 90 x 190 cm (222B-A-01), beech, oil wax treatment, with slatted base.
Dimensions: L: 201 cm, B: 102 cm, H: 228.5 cm. purchasing: 2008.
Condition: very well maintained, no significant traces of use, once built for 1 child.
Accessories:
Oblique head of beech, oiled, 120 cm in height.
Small shelf on bed alarm, etc., beech, oiled.
Sprouts for just head are also available, as good as new.
Original price: €1.377,88.
Our price: €650,00.
-Original invoice and instructions are available.
-animal-free non-smoking household.
-Bed is built up yet and can be visited like to advance
Comment:
Dear Billi Bolli-team.
Thank you for providing this platform. .
We have successfully sold the bed.
Friendly greetings.
Fam. Hoppe
---
Slide tower with slide
Offer 3305 (second hand baby crib). Published: 16 November 2018
Time flies and we have to unfortunately part of our slide.
We want to sell the slide tower with slide, ears and grid alone like (without the jib, which is in the picture!) -Beds are still used.
The details are as follows:
Slide tower: 352K-90-02, pine oil.
Slide: 350.1K-02, pine oil.
Slides ears: 351K-02, pine oil.
Slide grid: 391.1K-02, pine oil.
Of purchase price (summer/fall 2014): €620.
State: normal signs of wear.
Slide was used until late 2014-> 4 years old.
Desired selling price: €450
---
Growing with bunk bed incl. conversion set youth bed low
Offer 3304 (second hand loft bed). Published: 15 November 2018
Bunk bed 90 x 200 cm in beech oiled waxed incl. protective boards for the top bunk slatted base.
Bunk boards.
Small shelf.
Climbing rope.
Swing plate.
Steering wheel.
Sailing blue.
Price €1499,40 without shipping at that time in the year 2007.
Along with this came the large shelf beech for €181,-2008.
2017 conversion to low youth bed type A. conversion set €53,51.
Priced I could imagine€ 750,-up to € 800,.
I found more unfortunately no photo of the bunk bed.
Contact
Familie Schandl
79111 Freiburg
0160-2119443
---
High bed growing with
Offer 3303 (second hand loft bed). Published: 15 November 2018
sold
Children are people, something new is now here... Our son pulling out after 8 years of his beloved high bed.
.
It is an original Billi Bolli high bed by end of 2010, we customize 45 m left for his small room with a ceiling height of 2. The bed is adjustable with a height of bottom slatted frame 1, 42 m. Thus, sufficient space under the bed results to make for example a desk without offending the head. The bed is also later dissassembled, lower only with small changes.
. Bed completely as shown in the pictures, without mattress:
. Material spruce coloured oiled / blue caps.
Bed 90x200cm.
Dimensions: L: 211cm, B: 102cm, H: 228, 5cm (jib wide)
Slatted frame.
Bunk boards ends and front page.
Small shelf on bed, ideal for clock and good-night stories.
Big shelf underneath, ideal for books.
Head right, we have been providing levels of night-luminous plastic strip.
.
The bed is located in a very good condition with only minor wear. First and foremost, the attachment of the seat bag on the crane beams has left marks.
.
The high bed is already built and rebuilt currently to a youth bed. For this we have made themselves extra short beam us, that we would give to the sale.
. Original invoice and instructions are available. All parts are marked clearly according to Assembly instructions.
Is ready for pickup bed from 15.12.2018. new price was €1620, our price is €850.
If you are interested, the swing seat bag for the overhead crane beams can be purchased conveniently with. . Location: 16356 Ahrensfelde
Comment:
Dear Billi Bolli team,.
. a short time after publication we have received several requests and now able to announce the sale. We are sure that the bed is in good hands and joy for many years.
Thank you for your support!.
Fam. Graupner in Ahrensfelde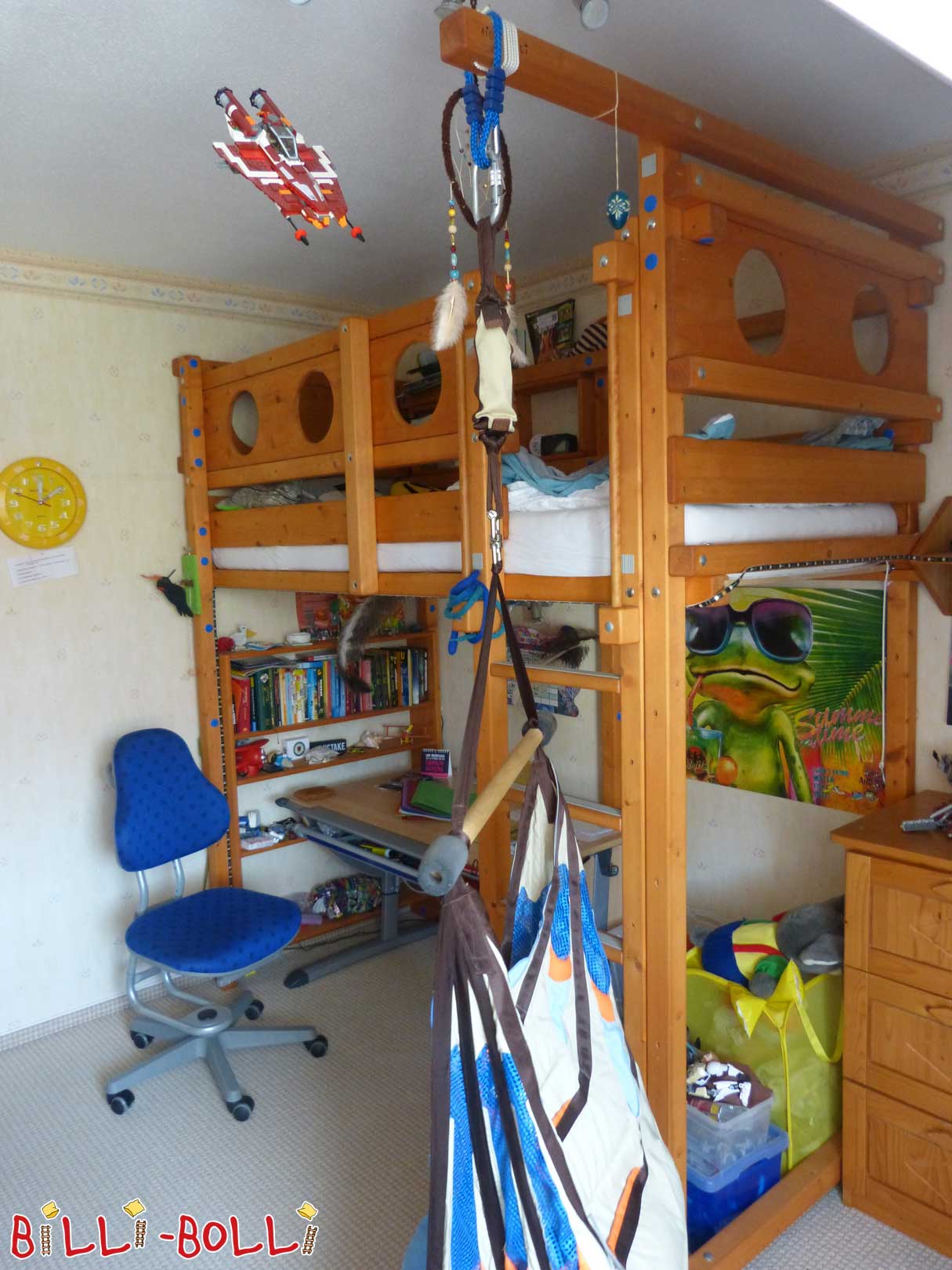 ---
Billi Bolli bunk bed with adventure game Tower in Munich
Offer 3302 (second hand bunk bed). Published: 13 November 2018, sold: 15 November 2018
sold
We sell our beautiful Billi Bolli bunk bed and the free-standing Playset with slide, ladder and fire rod. Our two children are now too big for it.
Description.
1 bunk bed 100 x 200 cm (incl. 2 bed slats, protection boards), surface 210 cm x 112 cm, height 228.5 cm. swing beam with climbing rope.
Climbing wall with certified climbing holds.
Ladder with handles.
2. evening expensive game Tower.
Tower with slide: base approx. 250 cm x 60 cm, height approx. 235 cm, head, sprouts with 2 handles, protection board, L = 198 cm, slide, L = 190 cm. ash-run fire rod, L = 235 cm, diameter 45 mm (37 cm distance to the Tower)
You need about 350 cm square slides towards (Tower 60 cm + slide 190 cm + 100 cm spout = approx. 350 cm)
.
All wooden components are solid beech, oiled, waxed surface. . Bunk bed and tower are in very good and clean condition. At the time, everything is still built and can be visited like to advance. The buyer would have to dismantle bed and play tower itself and pick up. All screws and fasteners and mounting instructions included.
While we will gladly help with. The packaging material is still there. .
We are a non-smoking household no pets and is located in the Centre of Munich.
The former purchase price (original invoice available Dec. 2011) amounted to 3079,16 euros. .
Our asking price for the bunk bed and the adventure Playset is 1.750 euro.
Optional and free to go:
Red hammock, hanging bag for overhead crane beams and rope ladder triangle wood for fastening to the ceiling (other suppliers)
Later warranty, return or Exchange are excluded.
Comment:
Dear Billi Bolli-team.
our bunk bed with adventure Playset was just sold.
Thank you for your help and great service.
Best regards.
Family Galneder
---
Swing seat, rope & rocking plate
Offer 3301 (second hand kids' furniture). Published: 12 November 2018, sold: 13 November 2018
sold
We have all bought about 2007/2009. Prices would have to have been at that time about:
Swing seat 120 EUR (2009)
Rope cotton 35 EUR (2007)
Swing plate 30 EUR (2007)

Description:
Used blue/orange swing seat HABA chilly. Status ok. Suspension straps replaced the part.
Climbing rope made of cotton. Very good condition.
Swing plate beech. Very good condition.
All together for 50 EUR for pickup or plus shipping.
Comment:
Dear Billi Bolli team,.
Thank you for the setting. Yesterday immediately 4 interested parties sign it, so I assume that it can be sold, even if it is only picked up on Saturday. .
That was really fast. .
Many greetings.
Christian Warmuth
---
Growing with large bed, writing table
Offer 3300 (second hand loft bed). Published: 12 November 2018
We sell our bunk beds growing with 90 x 200 cm. All parts are oiled beech waxed. It is 3 years old.
Info:
Loft bed including slats.
Protective boards for the top floor, handholds.
Play ground for the upper floor.
Steering wheel. Position: on the short side, centered.
Bunk boards: 1 x long, 2 x short pages.
Game crane.
Curtain rod set for 3 pages.
Small bed shelf.
Large bed rack, 91 x 108 x 18 cm. writing table with 3 columns, for installation in youth/Studentenhochbet.
Cover caps: wood colors.
Original invoice exists.
The bed is like new. There is only a small trace of use on the table top. Not all parts have been used.
Bed is constructed and can also be visited. Depending on the request we build it but also off and just take the items. Children, are enthusiastic about the bed as adults. Or in bed was almost never slept like played. This has now resulted in a sales decision.
We have paid for bed newly in 2016: 2.474,71 euros (excluding delivery costs). .
Our price is 2,200 euro.
Location: 9494 Schaan, Liechtenstein
---
Sparse adventure bed
Offer 3299 (second hand loft bed). Published: 12 November 2018, sold: 18 November 2018
sold
2011 we have acquired Billi-Bolli bed for our son to you with enthusiasm and many years he and his friends have had pleasure. Now he comes in puberty and the massive high bed is no longer cool. We must separate so unfortunately it although it would survive even generations...
Our offer:
-sparse high bed, beech with oil wax treatment, at the age of 7, normal signs of wear.
-Accessories: bunk Board front and front, steering wheel, small shelf.
-Photos enclosed.
-that purchase price for bed €1572 (invoice available)
-Asking price € 900 (mattress special measure Nele plus with washable cover can be purchased free of charge to do so)
-Pickup, help transport by arrangement.
-Location: 81929 Munich
Comment:
Dear Billi Bolli children's furniture team.
30 min, already 2 people have registered and we have sold the bed yesterday.
Thank you for the great opportunity on your Web page.
That speaks for you and your quality furniture.
MfG family Hedel Röntzsch
---
High bed growing with
Offer 3298 (second hand loft bed). Published: 10 November 2018, sold: 24 November 2018
sold
My daughter takes, it's now too big for a bunk bed:
We sell with a small shelf, curtain rod set for three pages (not for the back), therefore our BilliBolli high bed, 80 x 200 cm, spruce, oil wax treatment, climbing rope with plate (not on the picture). . New price 14 years ago 1350 euros for 460 euro. The bed has wear. It is still built up, the use statement and the Bill. Only pick up. We will assist in the reduction. On request also with the two mattresses (Nele plusJugendmatratze, washable cover).
Comment:
Dear Billi Bolli-team.
the bed is sold and dismantled on Saturday. .
Thank you for your support and best wishes.
Renate Hartmann
---
Bunk bed, variant for younger children
Offer 3297 (second hand bunk bed). Published: 09 November 2018
Billi Bolli bunk bed beech waxed 100 x 200 cm. 8 years old, at the time of purchase price approx. 1830 euros. .
If wanted the Prolana can be applied to new plus 100 x 200 cm mattresses, original price was 398 euros each.
There is the blue sailing for the upper bed, the swing with the dew and the curtains with curtain rod curtain Studio-made also as extra.
For all we would like 1100 euros (without the mattresses)
Can be collected in Berlin Mitte.
Very good condition, slight soiling on the hand grips of the head and on the rope.