Billi-Bolli Adventure Bed - Bunk Bed
Offer 4565
. Published: 19 March 2021 (second hand loft bed)
sold
Billi-Bolli floor / bunk bed 90 x 200 cm, beech white glazed, date of purchase 2010.
Conversion set from bunk to bunk bed, also beech white glazed.
Accessories:
• 2 roll slats
• Beech board, white glazed, on longitudinal and end faces
• White-glazed small beech shelf
• Curtain rod set for 3 sides, beech natural, oiled
• Climbing rope device
The bed has the usual clear signs of use of a play bed that has been in use for 10 years. In some places the white glaze has become more translucent and the wood has some quirks. Over the years, the plastic cover has been lost over some screws. Overall, however, the bed is in good condition and was bought directly on site by Billi-Bolli. The curtain rods have never been installed and therefore as new. The lower bunk bed was only used for a few months, as the children's rooms were then separated faster than originally planned. These parts are almost as new as new. Finally, the bed was used as a bunk bed without the berths (see photo).
If necessary, we will be happy to send you further meaningful photos.
When buying, it is recommended to dismantle the bed on site itself in order to internalize the rather complex construction method and to memorize itself better. It is best to come in pairs with the necessary tool! Because of the Corona situation, we would ideally like to avoid too close contact, but are happy to help with the dismantling. The bed lives on the 3rd floor. The build-up plans and invoices are still in place.
The new price in 2010 amounted to approx. 2500 euros. Our price is now 1300 Euros.
Location Munich
Comment:
Ladies and gentlemen,
Thank you for providing your platform. We were able to sell our bed, so I would ask you to take out our ad.
Regards
I. Richter
---
High bed in beech
Offer 4564
. Published: 18 March 2021 (second hand loft bed)
Billi-Bolli-Highbed with growing (6 heights adjustable), 90 × 200cm, beech oiled with pirate rudder, shopboard and bookcase, approx. 8 years old; good condition - only slight signs of use, due to household dissolution for sale.
Swing beams in the longitudinal direction.
Purchase price 2012 (without mattress): 1690 €
If necessary, the mattress (prolana, suitable for allergy sufferers) can be purchased at an extra cost (good condition).
Price incl mattress EUR 1,200
Price excl. mattress EUR 900
Contact details
Telefonnummer: +43 664 114 118 6
---
High bed 90/200 cm in pine, honey-coloured oiled in Regensburg
Offer 4563
. Published: 18 March 2021, sold: 20 March 2021 (second hand loft bed)
sold
In 2008 it was newly acquired by the first owner as a growing bunk bed and expanded to a bunk bed in 2011. (In addition, the pull-out bed was installed and a shortened ladder was installed. The original floor-length ladder is also still available, if desired for later conversion.) We bought it from the first owners in 2016 in very good condition.
External dimensions: 210 cm x 102 cm x 196 cm (the beam for the swing is mounted at a height of 230 cm)
Accessories:
Steering wheel
Rocking plate with hemp rope
3 slatted slats
2 matching original foam mattresses (one of which is for the pull-out bed)
1 mattress purchased from us in 2017
We would add the mattresses free of charge if desired
The bed is in good, normal condition and was loved by us. Due to relocation, it has to give way now unfortunately. We are a non-smoking household without pets. It can be fetched immediately! The bed is still built up and should be dismantled itself. The construction instructions are available and we are happy to help with the dismantling!
New price total approx. 1850 euros. We sell it for 950 euros.
Standort Regensburg.
Comment:
Dear Billi-Bolli team,
We would like to let you know that our bed has already been sold and picked up! It's a pity our children and their friends loved it ;)
Thank you for the great service!
Family Welsh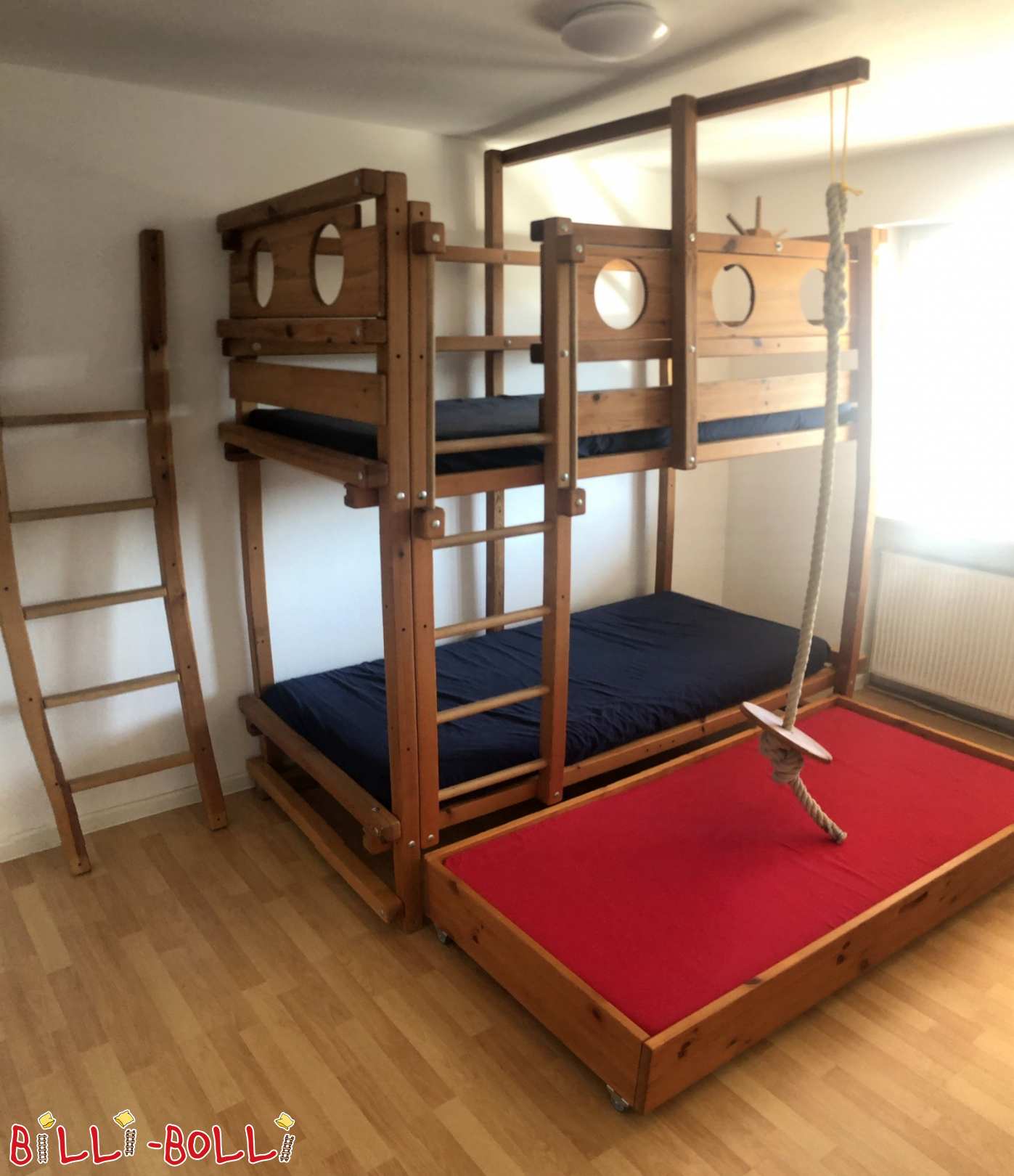 ---
Seafarer's high bed of pine
Offer 4562
. Published: 18 March 2021, sold: 21 March 2021 (second hand loft bed)
sold
The bunk bed turns 5 years old in June and is in a typical age condition. In the front area of the swing, individual quirks can be seen.
It is a growing bunk bed 90x200, made of untreated pine.
Climbing rope and swing are also included. Delivery without mattress.
New price: 1160,- without mattress
Price presentation: 680,-
Currently still built up in Stuttgart/Luginsland
Comment:
Hello Billi-Bolli Team,
Thank you for setting the loft bed. It was sold and picked up today.
Thank you and greetings
R. Martinez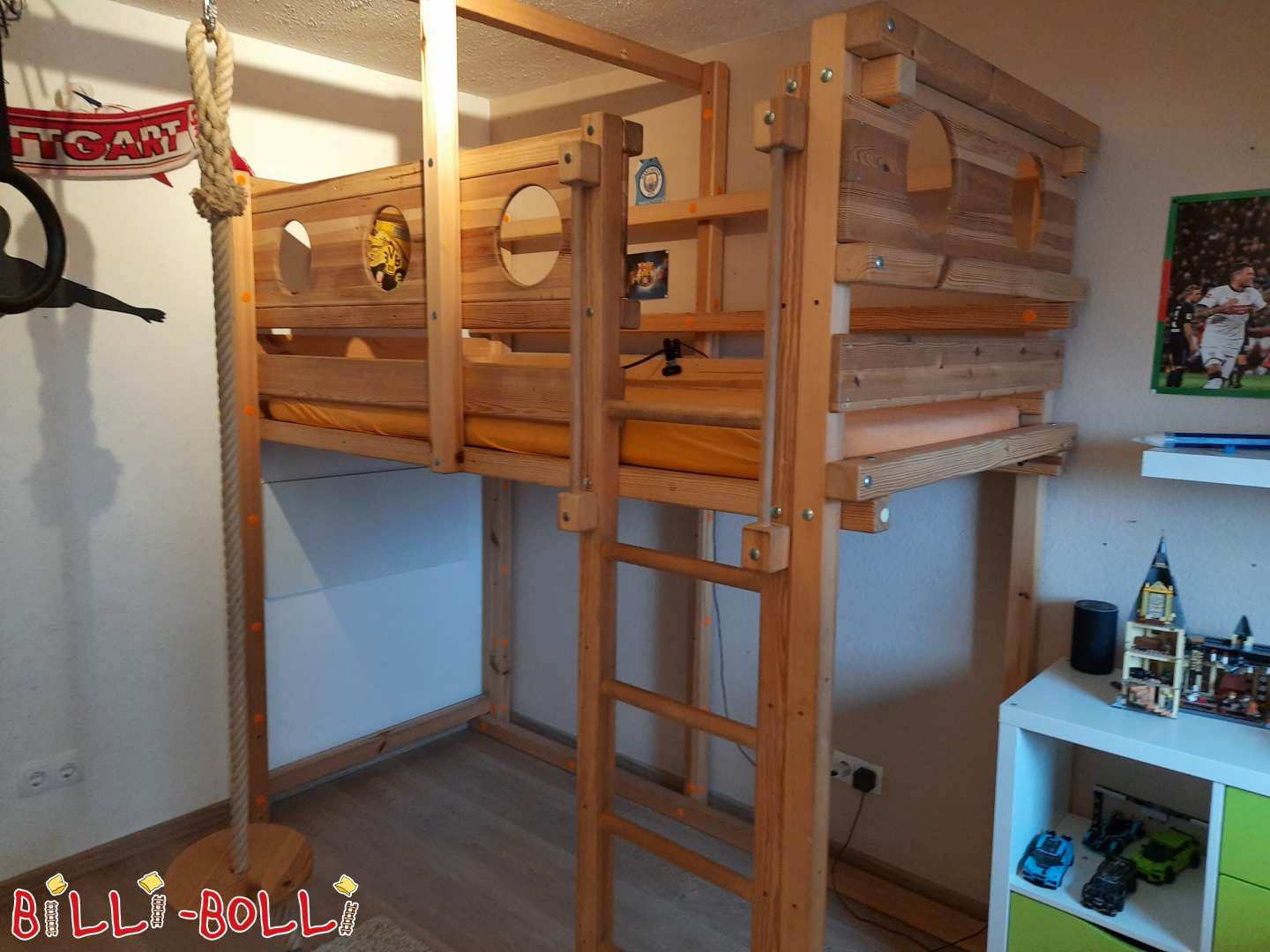 ---
Both top bed, jaw oiled, slide position C
Offer 4561
. Published: 17 March 2021, sold: 20 March 2021 (slide for loft bed)
sold
Extra: climbing rope made of natural hemp, rocking plate; small shelves at both ends of the head
Age: 8 years (purchased at the end of 2012 from 2nd hand)
Condition: well used, in the places where the swing hits on the other hand strongly scraped, 3 posts were shortened at the top some cm
Purchase price 2016: € 1000
Location: 8704 Herrliberg, Switzerland
Price presentation: between CHF 150-200
Comment:
Dear team,
our bed was sold and picked up on Saturday.
Thank you for the efficient support in the sale.
Friendly greeting
S. Ranner
---
Three-story bed 2B (1/2 side offset variant)
Offer 4560
. Published: 17 March 2021, sold: 18 March 2021 (second hand loft bed)
sold
For our first child we bought a used high bed brand Billi-Bolli (jaw untreated) and extended this bed with two more floors for our twins in September 2019. Now the time has come for our own children's rooms and thus also for new cots.
We sell:
• Three-storey bed 2B (1/2 side offset variant) made of pine wood, untreated. As shown. Other construction variant possible.
• External dimensions approx.: L:306cm W:112cm H: 230
• Mattress size: L: 200cm W: 100cm)
• Slatted slats included
• Condition of the new parts from September 2019: as good as new, hardly any traces of use
• Condition of the parts of the first bed: used with traces of use. As untreated, the surfaces could also be sanded if necessary.
• Floors with portholes boards
• Each floor has its own shelf
• Two roller boxes for the bottom bunk bed
• Boom bars available (for example, for hanging swing or climbing rope)
• Curtain rod set, curtains homemade, light green.
• Mattresses are not included in the offer!
• The complete original setup instructions are available.
Purchase price approx.: 2300 Euro.
Price presentation: 1800 Euro.
• Pick up in Stutensee (near Karlsruhe).
• Pick-up at the earliest next week, as the new beds have not yet been delivered.
• On request, please also take further photos.
Comment:
Dear Billi-Bolli Team,
insane, the bed is almost sold. Could you please mark the ad as reserved/sold? Thank you for your help.
Regards
S. Kübler
---
High bed pine solid
Offer 4559
. Published: 17 March 2021 (second hand loft bed)
- Lying area 100 x 200 cm with slatted base without support
- Accessories: climbing rope, rocking beams, additional protective boards all around
- slight signs of use, partially painted
- already dismantled ready for transport
- New price approx. 1200 € (early 2000)
only self-collection, location: Munich East/Hair, construction instruction incl.
Price presentation 400 €
Contact details
0160-7558190
---
Billi-Bolli bunk bed in Heidelberg (spruce oiled)
Offer 4558
. Published: 17 March 2021 (second hand bunk bed)
sold
We sell our bunk bed in Spruce due to moving with a heavy heart. It is 9.5 years old and has the usual signs of use.
- Mattress size 90x200 cm
- Berth boards for the upper floor
- Loss protection available for the lower floor (not seen in the picture)
- Rocking plate with rope
- 2 bed boxes with rollers
- Sale incl. slatted frames, without mattresses
- Installation instructions and invoice available
Buy price EUR 1744,-
Our price presentation 600,-
Only for self-collectors in 69117 Heidelberg
Comment:
Dear Billi-Bolli Team,
thank you for the help in selling our bed. We have already made an appointment with interested parties and two other interested parties on a waiting list. Please be able to reserve the note when displaying it. We will get back to you as soon as we have sold it (or are still looking for other interested parties).
Greetings from Heidelberg
M. Lemberg
---
High bed with growing beech 90x200 cm oil wax treated in Zurich
Offer 4557
. Published: 17 March 2021, sold: 17 March 2021 (second hand loft bed)
sold
We bought the bed in 2013 for a total of 1670€ and it served only one child as a play cave, climbing tree and chill island. It is in very good condition with a lot of material, all oil wax treated.
Height:
• Height of the swing bar: 228.5 cm
• Height under the bed: 120 cm (see photo)
Accessories:
• Slatted base
• 2 berth boards (1 long, 1 short side)
• two fitted shelves (one at the top and bottom)
• Steering wheel
• Shop board
• Curtain rods (curtains are added on request)
• Swing beams
• Assembly instructions (we help with dismantling)
Condition: • Well preserved, normal signs of use
Price presentation: 780€ or 860 CHF
Comment:
Dear Billi-Bolli team,
Thank you very much!
Just a quarter of an hour after your mail, the first prospective buyer contacted us, now the bed is sold to him.
Regards
Family Möller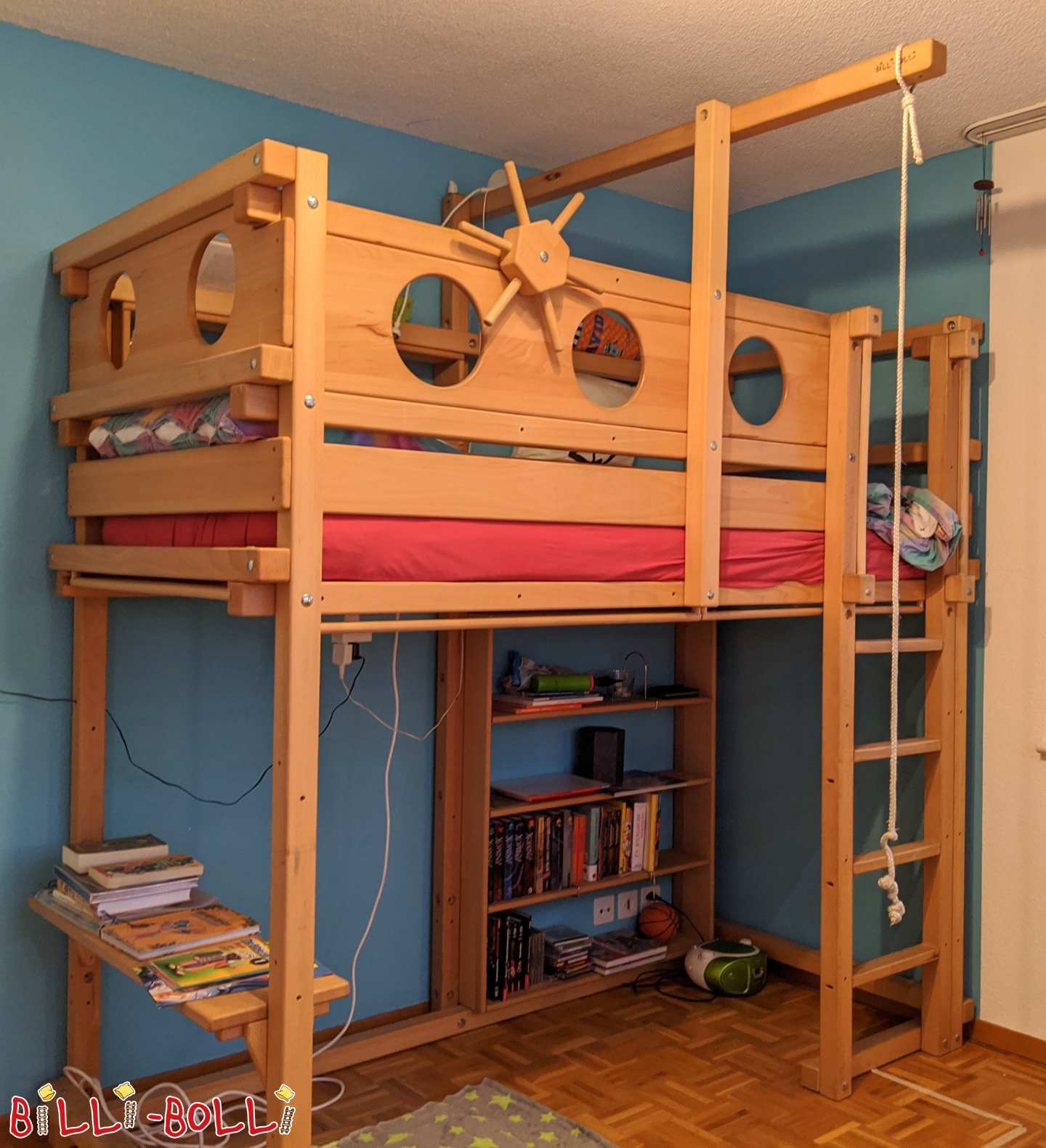 ---
High bed with growing 100 x 200cm with shelves
Offer 4556
. Published: 16 March 2021 (second hand loft bed)
sold
• Pine, oil wax surface
• 2 themed boards bull's eye for end and longitudinal side (150 and 112 cm)
• slatted base; free delivery of the mattress on request
• Ladder: flat rungs (safe kick) with handles
• small bed shelf
• large shelf
• Climbing rope
• Screws, hole caps (brown) / invoice and assembly instructions available.
The bed is in a good well maintained condition (no "paintings" or rough scratches). The bed is currently structured as shown in the photo. More photos on request!
Purchase price 2012: 1,391 euros
Price presentation: 800 Euro.
Pick up in 82041 Deisenhofen (Munich)
Comment:
Good morning
the bed was sold today.
Many thanks to your team!
Lg
S. Völger
---
You have been searching patiently for a while now but to no avail?
Have you already considered buying a
new
Billi-Bolli bed instead? When you no longer need it, you too can use our successful Secondhand Page, completely free of charge. Thanks to the high resale value of our beds, you will get a good return on your purchase even after many years of use. For this reason, a new Billi-Bolli bed is, economically speaking, a very good investment.
Get a FREE hanging cave if you order a bed by May 2!