---
Bunk bed
(Offer 3628)
Published: 16 July 2019 (second hand loft bed)
sold
Beautiful high bed made of solid wood of the brand Gullibo. The bed was loved by our children and not only used for sleeping, but also eagerly played during the day. The bed therefore has some normal signs of use.
It is a:
- one bunk bed oiled in beech, 100 x 200 cm
- with handles
- Rocking beams
- Ladder
- 2 slatted slats
- 2 mattresses
Accessories:
- Removable protective grilles
- Two small shelves (beech oiled): above
- Two small shelves (beech oiled): below
- Steering wheel (beech oiled)
- Climbing rope
- 2 bed boxes: drawers run in rails
- No toys, blankets, books, cuddly toys, ...
We live in a non-smoking household and do not have pets.
Pick-up only (STUTTGART). So that you can rebuild the bed afterwards, it makes sense to dismantle it yourself. We are happy to help. However, installation instructions are available.
The bed can be visited in Stuttgart.
As this is a private sale, we do not grant a right of return, guarantee or warranty.
Our price: 780,- € VB
---
Three-bed type 2A, over corner, 90 x 200 cm
(Offer 3627)
Published: 16 July 2019 (second hand kids' furniture)
Threebed over corner type 2A
Jaw untreated, slight traces of use conductor position A, A
3 bed shelves, middle/top mouse boards, 2 failure protection, 2 bed boxes, 1 hanging cuddle cave, without mattresses.
Neuprei0 from 01/2018: 2868€
Recommendation Sales price: 2460€
In case of self-decommissioning by 2200€.
3100 St Pölten Lower Austria
Contact
Familie Jobstmann
0043/6603018681
---
Growing high bed with slide tower and slide
(Offer 3626)
Published: 15 July 2019 (second hand loft bed)
We would like to sell our loft bed with accessories: bunk bed, tower and slide, including mattress (size:120 x 200cm).
Pine oiled-waxed
Newly purchased August 2014, NP was completely at 1832.50€.
Our price presentation is roughly the same as the Billi Bolli calculator and corresponds to 1200€.
We live in Freiburg (plz 79111).
---
Billi-Bolli-Youth High Bed newly purchased in 2008
(Offer 3625)
Published: 15 July 2019 (second hand loft bed)
Billi-Bolli-Youth High Bed newly purchased in 2008 as a bunk bed variant.
Material: pine, honey-coloured oiled
Cover caps are blue.
Condition; used and well preserved, slatted base without defects, normal traces of use, stickers have all been removed;
Mattress size: TxB 90cmx200cm;
Outer size: HxBxT 196cmx211cmx102cm;
Height under the bed (as currently set up): approx.152cm, space for desk.
Accessories:
Clothes hook attached to a crossbar.
Shelf inserted into the longitudinal bars below the slatted base.
Mattress (used and can be taken with you).
There are still 6 individual wooden beams (2x102cm, 1x112cm, 1x152, 1x 156cm), 1x transverse board 102cm, screws and lots of caps (blue/brown), which can be viewed and taken with you on site.
NP at that time a good 850EUR => Price: 400EUR.
---
Youth bed low type D, 90 x 200 cm, beech untreated
(Offer 3624)
Published: 12 July 2019 (second hand kids' furniture)
Youth bed type D
Age: 8 years
Condition: Used
Accessories: 2 roller drawers with 2-piece cover, youth matraze by Billi-Bolli
Purchase price at the time: €649.74 without mattress
Price presentation: €360
Location: Munich
We want to sell the bed immediately.
---
Bunk bed with conversion kit to sloping roof bed 90 x 200 cm (2nd hand)
(Offer 3623)
Published: 10 July 2019, sold: 16 July 2019 (second hand bunk bed)
sold
Growing Billi Bolli bunk bed spruce untreated.
Good condition with normal traces of use. Stickers have been removed.
including:
• Listenforely for conversion to a sloping roof bed (without playing floor)
• 2 x slatted base
• Handles
• Ladder
• Crane beams
• Climbing rope with rocking plate
• Steering wheel (a wooden cone is missing; it can be purchased from Billi Bolli for 3 €)
• Baby grille for four sides with kl. Door
Price: 450 € for self-collectors for cash
We live in a non-smoking household and have no pets.
The bed is available for collection at 81479 Munich-Solln. It is dismantled; the end faces are currently still assembled - with a corresponding transport possibility this would facilitate the reconstruction to the bunk bed.
The original invoice, assembly instructions and all parts for the installation or conversion are available.
This is a private sale, so as usual no warranty, warranty or redemption claims are possible.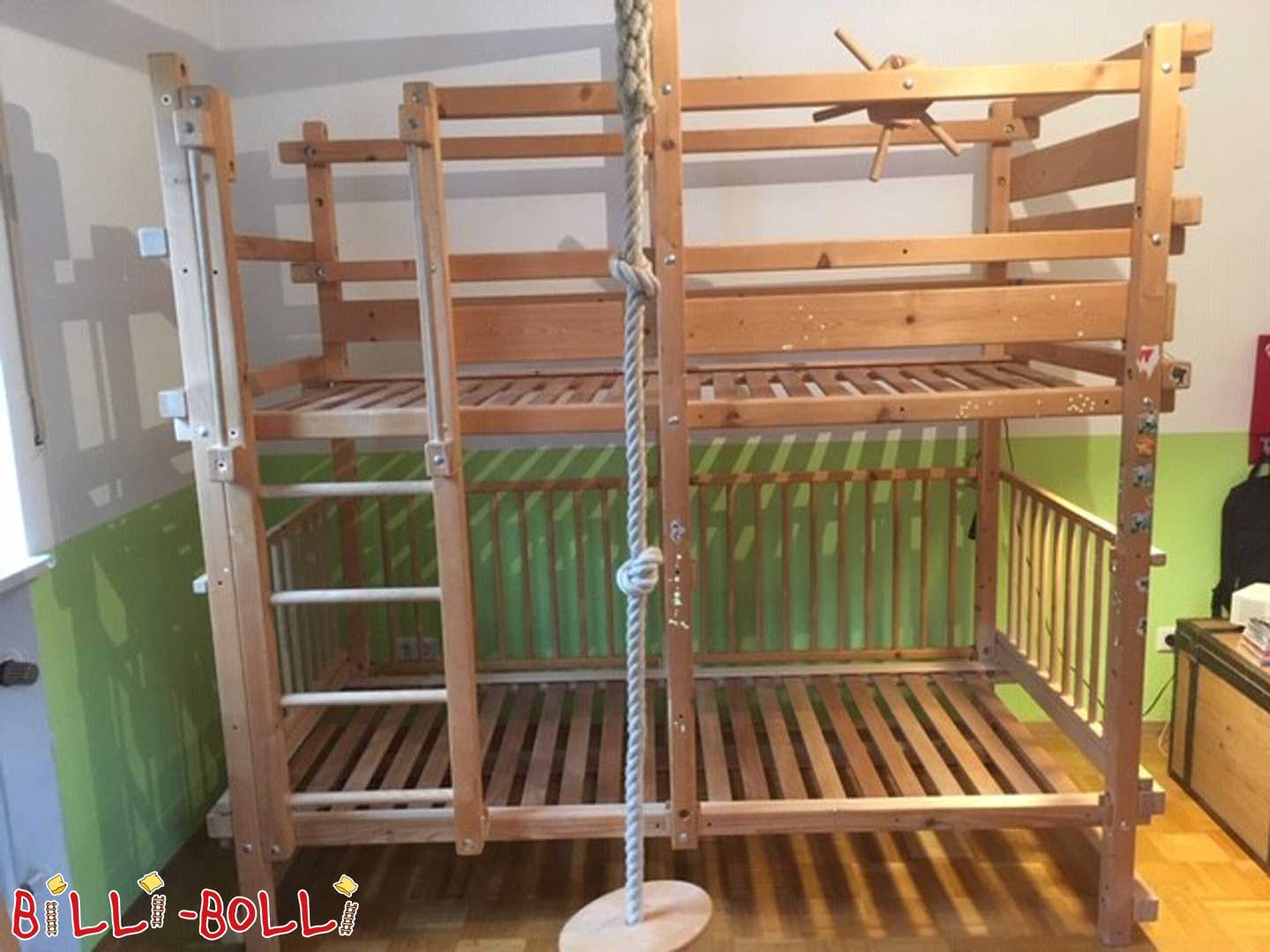 ---
Original Gullibo Pirate Bed
(Offer 3622)
Published: 09 July 2019 (second hand bunk bed)
We separate from our much-loved Gullibo Adventure Pirate Bunk Bed with two sleeping levels (or game levels) and two spacious bed boxes.
The bunk bed is equipped with the wheel famous for the pirate bed, a ladder for entering, and an escape route from the ship in the form of a gallows with thick pirate dew.
The bed is made of oiled solid pine wood and in good condition. The usual traces of use are of course available. Due to its massive, indestructible construction, it is certainly still ideally suited for many childhood years. We are a pet-free non-smoking household.
The bed is 2.00 m long, 1.00 m wide and 2.20 m ("galgen") high (outer dimensions). It has two continuous slatted floors, which can be converted into a slatted base by removing individual slats.
The bed is available for collection. An assembly instruction is available. On request, we can add self-built wooden components for a conversion to two single beds.
Our price range is 630,00 Euro for self-collector
On request, two matching top mattresses (1.90m x 0.90m) from Schlaraffia (Basic 7 Moon) can also be purchased (single price 120,- Euro). The new price was €290.00. These are super preserved and just 4 years old.
---
2 x bed boxes
(Offer 3621)
Published: 09 July 2019 (second hand kids' furniture)
We separate ourselves from 2 bed boxes of our beloved Billi-Bolli bed in untreated spruce with the dimensions:
1. approx. 85 cm x 84 cm x 24 cm (with rolls) 2. approx. 90 cm x 84 cm x 24 cm (with rolls)
The two parts have common signs of use, are about 8 years old.
Purchase price at the time: 110€ per piece
Our price is 100€
Location: Vienna
Contact
Fam. Lorenzl
+43664/5418707
---
Co-growing high bed
(Offer 3620)
Published: 09 July 2019, sold: 15 July 2019 (second hand loft bed)
sold
We sell our growing bunk bed, beech untreated, size 190 x 90 cm. Ladder left (also mirror-inverted possible).
The bed was purchased in September 2009 and is in very good condition. Non-smoking household, no animals.
There are two berth boards and a plate swing with hemp rope. Fairy lights not included in the scope of delivery.
The bed is set up in Munich-Fasangarten and can be dismantled together or picked up disassembled.
It cost EUR 1250, and we would have eur 600 in mind.
Invoice and assembly instructions as well as second (short) middle bar available, so that the bed can be converted to the highest position.
Comment:
Dear team at Billi Bolli,
the beech loft bed from 9.7. is sold. Thank you for your efforts.
Dear Greeting
Eva Holzmair
---
Co-growing high bed
(Offer 3619)
Published: 08 July 2019, sold: 13 July 2019 (second hand loft bed)
sold
Growing up/youth bed & lots of accessories
Material: pine; Surface: Honey/amber oil treatment
including two additional shelves
Mattress size: 90 x 200 cm
Bed dimensions: 210 x 110 x 228 cm (LxWxH)
Original invoice from 2008
Assembly
including a lot of additional material for conversion on two or three beds: slatted base, slatted beams; further longitudinal and transverse beams and second ladders with handles; screws, nuts and cover caps
Delivery of the mattress possible
Price: 650,- €
Location: Inning at Ammersee district Starnberg
Comment:
Ladies and gentlemen, Mrs Eckert,
We are pleased to inform you that the bed was sold to a nice family yesterday.
Thank you very much for allowing us to use your secondhand platform.
Many greetings
The Hesselbarth family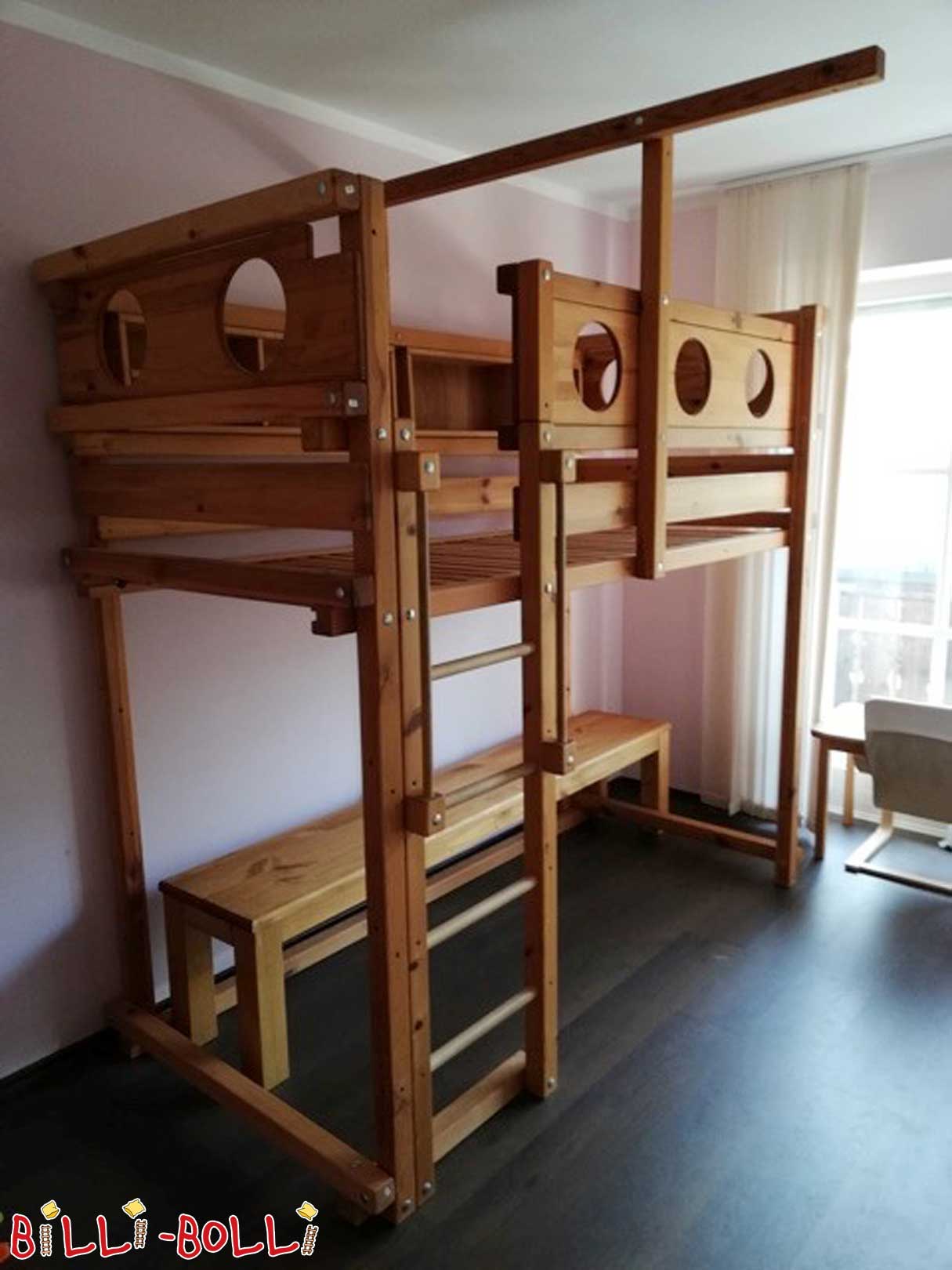 ---
You have been searching patiently for a while now but to no avail?
Have you already considered buying a new Billi-Bolli bed instead? When you no longer need it, you too can use our successful Secondhand Page, completely free of charge. Thanks to the high resale value of our beds, you will get a good return on your purchase even after many years of use. For this reason, a new Billi-Bolli bed is, economically speaking, a very good investment.