Your kid's bed is no longer needed? You are welcome to resell your used kid's furniture and accessories directly on this highly frequented site. This is a free service for Billi-Bolli products that you originally purchased new from us.
If you bought pre-owned Billi-Bolli products, that you would like to resell now on this site, then we take a € 60 fee, which will be fully donated to our charity projects. The same applies to the resale of second hand Gullibo beds.
Notes
The offers on our Second hand page have been translated automatically and therefore may contain translation errors. We take no responsibilities for these errors or the misunderstandings arising from them. Please visit the Second hand page on our German website to view the offers in their original language.

We take no responsibility for the information posted by customers about furniture for resale as we are unable to verify it.

Billi-Bolli Kindermöbel is not involved in the resulting resales.

Whether an offer is reasonably priced or not must therefore be determined by the interested party (see Resale price recommendation). Such an assessment cannot be derived from the fact that the item is placed on our Second hand page.

Please note that we cannot deliver accessories or expansion parts for Gullibo kids' beds. If you are intending on expanding the bed, we recommend to directly opt for a Billi-Bolli bed.
---
Bunk bed
Offer 3502 (second hand bunk bed). Published: 09 April 2019
We are very, very sad that we have to sell our Bed again. Thank you for making this possible on Your Part.
It's a great Bed where our Sons and their Friends have sailed up to Africa and America and where it sleeps cuddly nicely down there. The Kids love it. Unfortunately, it doesn't fit into our new Home.
Bunk Bed, pine, oil-waxed, 90 x 200 Mattress Measuring, i.e. outer Dimensions of the Bed 103.2/211.3/228.5 cm. We bought it in July 2016, so not quite three Years old, in very good Condition, few small Quirks from Playing and in a small Spot Embellishments by a Felt pen that you can easily grind off by hand.
Accessories: Fit Protection, Portholes, Sails red white, steering wheel, Climbing rope, small Shelf (the Fender and Mattresses are not included)
Then Purchase Price without Shipping Costs: 1541 Euros, our Asking price: 1100 Euros.
As we are currently renovating and renovating a House, we would like to see the Bed bought by someone who dismantles it independently (without much Help from us) and takes it with us. It must be retrieved between 15 April and 28.04.19.
Contact
Familie Reichert-Kemlein
10967 Berlin (Kreuzberg)
+49 1525 3925 444
---
Bunk Bed – Spruce-with Accessories
Offer 3501 (second hand loft bed). Published: 09 April 2019, sold: 25 April 2019
sold
We are moving and unfortunately can't take our beautiful Bunk Bed with our new Children's Rooms.
We bought the Bed as a growing High Bed in 2012 for 1,279.83 EUROS.
In 2013, we extended the Bed to the Bunk bed.
Description and Accessories: (Invoice)
– High Bed 100 x 200 cm, including 1 x Slat Grate
– Spruce oiled
– Protective Boards for top Floor
– Handles
– Outer Mass: L: 211 cm B: 112 cm H: 228.5 cm
– Ladder position: A
– Game crane Spruce oiled
– 3 Cojebretter Spruce oiled
– small Shelf
– Rocking Plate
– Climbing Rope Made of Natural Hemp Length 2.50 cm
We purchased The Expansion Set in 2014 for €431,5050.
– Extension kit to The Bunk bed including 2nd Latte rust
– 2 x Bed box with Rolls
– 3 Curtain Rods (self-sewn Curtains on Request, of course)
The Bed is in very good Condition with normal signs of use.
We offer the Bed for 1,200 Euros.
The Bed stands set up in Kreuzlingen in Switzerland, 2 km from Konstanz.
Comment:
Dear Billi Bolli Team,
Our bed is sold-thank you very much for your support!
A lot of greetings
Gentsch-Schliephake family
---
Bunk bed
Offer 3500 (second hand loft bed). Published: 08 April 2019, sold: 04 May 2019
sold
The two Beds of the High Bed (Built in 2007/Extension 2012) have the Dimensions 90/200cm (Mattress Measuring) and are oiled in Spruce.
The Accessories allow the Beds to be Set up on top of each other and offset on the side.
We part with it because the Kids are just too old by now.
Accessories include
• Two Slatted Rust
• Two small Bed shelves
• 2 Bed Boxes including 2 cover Plates against Dust
• All-round "Pirate ship" for the Bunk Bed
• Climbing Rope + Rocking plate including Corresponding Devices
• Holding Handles
Curtain bar Set
The Bunk Bed is in perfect Condition, but is in a Non-smoking household but has signs of Use.
We offer the Bed by 750 Euros (New Price at that time: 1770 Euros).
At Home we are near Innsbruck (Austria), where the Bed can also be visited.
Comment:
Dear Billi-Bolli Children's Furniture Producer Sellers.
Thank you for the opportunity to resell the bed via your homepage. This is a very considerable initiative in terms of sustainability.
We just sold it!
It has given us a lot of pleasure over the years
Gilbert Rosary
---
Co-growing high bed
Offer 3499 (second hand loft bed). Published: 05 April 2019, sold: 22 April 2019
sold
We offer the High Bed in dimensions 90 x 200 cm (External Measure is L:211 cm, B:102 Cm, H: 228,5cm) in Spruce (Oil Wax Treatment).
This includes a Slatted grate, large Shelf and a small Shelf to pinch.
The Bed is not painted and has no Stickers.
The Bed has been played and has natural Traces of Use.
The Bed can be picked up in Iserlohn. We paid 1093.68 euros for the Bed and would love to sell it for 500 Euros.
Comment:
HI Mrs. Eckert, we sold our bed today.
LG D.Strippel
---
Bunk Bed As a Fire Engine
Offer 3498 (second hand bunk bed). Published: 03 April 2019
We sell our Stage bed 90x200 made of Spruce (Outer Size 211x102x220 (LxBxH)).
We got it delivered in July 2014 and is just under 5 Years old.
On the Front Is the fire Engine And on the Front sides blue Kojenboards.
The Bunk Bed has protective Boards on the upper and lower Floors.
On the lower Floor, a Middle Foot has been reordered for the Front with a Length of 55cm so that case protection can be attached over the Mattresses. But We still have the Middle Foot with the normal Length (32cm) there for Changing.
The Bed has an outwardly offset Rocking bar with Rocking Plate.
There is still a small Shelf on the upper Floor.
Description/Accessories:
Bunk Bed of Spruce, Oil Wax Treatment
2 Bed boxes (Spruce oiled)
2 Slatted Rust
3 Protective Boards for top Floor (Spruce oiled)
3 Protective Boards and 1 Case Protection for lower Floor (Spruce oiled)
Handles
Conducter Position A, round Ladder Sprouts
Rocking bars moved Outwards, height 220cm
Fire Engine colored
2 Cojenboards for Forehead side, painted blue
Small Shelf (Spruce oiled)
Curtain bar Set For 3 Sides, oiled
Ladder Grille for Ladder area (Spruce oiled)
Rocking Plate (Spruce oiled) with Natural Hemp Climbing Rope 250cm
Starch of the Floor bar 2.3cm

The Bed is in good, well-kept condition. There is a small Scrapes on the Fire engine. It is not glued or painted.
We are a Non-smoking Household and have no Pets.
We paid £214050 without a Delivery at the time and are offering it for £1550p.
Pick Up In Leipzig, the Bed can be visited and dismantled together.
---
Bullboard Boards-Curtain Bars-Sails
Offer 3497 (second hand loft bed). Published: 02 April 2019
Sell The new Accessories of our Billi Bolli high bed, suitable for allle Billi Bolli high beds. Made from solid Beech, painted white. All The accessories were newly purchased by us.
1 Board for the Longitudinal Side at 200 Mattress length, 3/4 length, 150.4 cm, then Purchase Price 118,-Euro for 70 euros
1 Board for the Cross Side at 100s Mattress Width, 112.2cm, then Purchase Price 97,-Euro for 55 euros (unfortunately has a visible Quirk)
Curtain bar Set for three Sides with four Poles, suitable for 80s, 90s, 100s width as well as 190s and 200 Length, then purchase Price 40 euros for 20 euros
The Sail, NP 20,-Euro
Levy preferably all together.
Pick up Only In Frankfurt East.
We are an animal-free Non-smoking budget.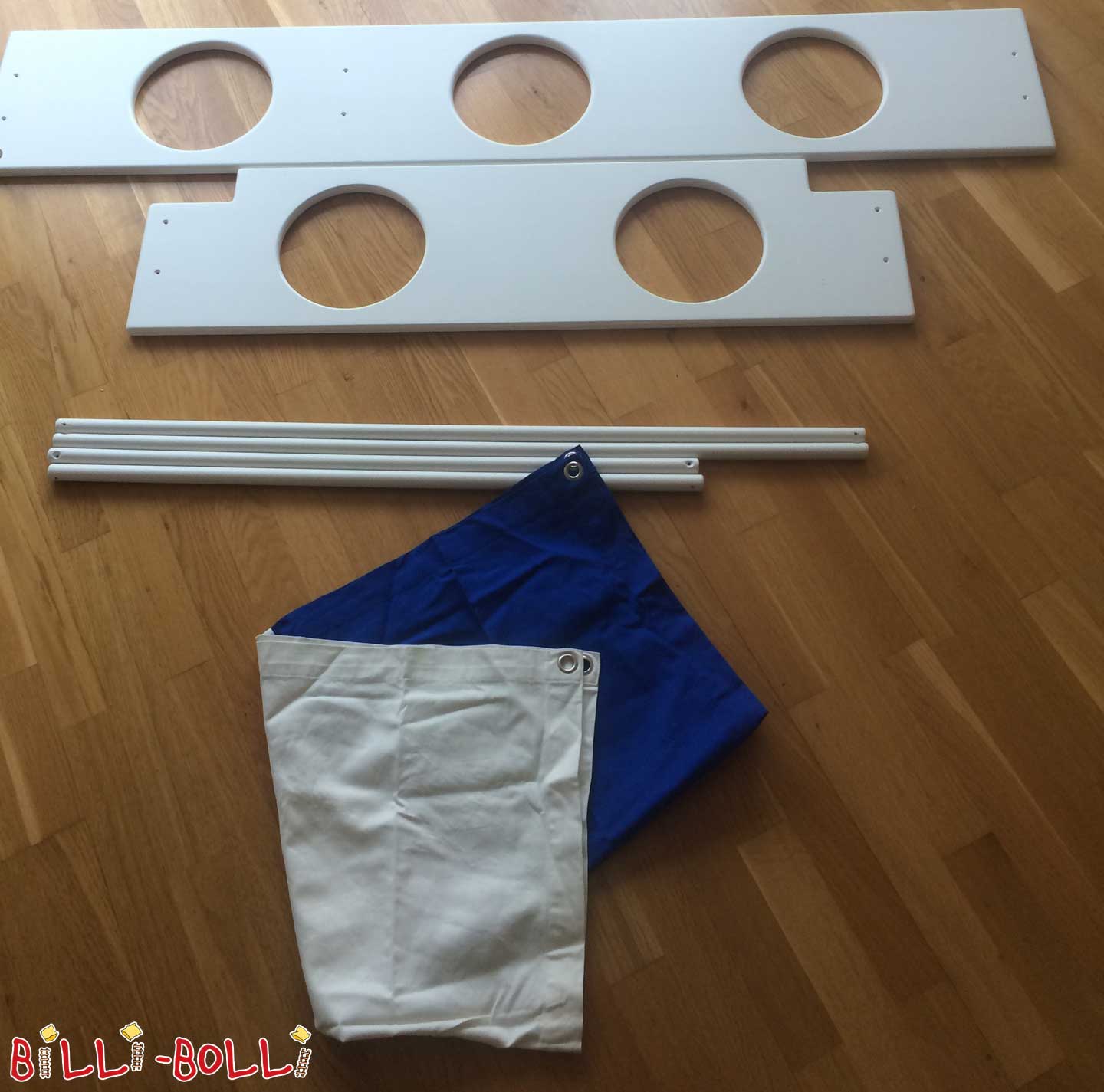 ---
High Bed in white with fire Brigade pole
Offer 3495 (second hand loft bed). Published: 01 April 2019, sold: 07 April 2019
sold
We sell our Cheap Bolli bed:
We bought it 10 Years ago as a High Bed. It is the Pirate High Bed Head Pos A FWS with Steering Wheel, Fire brigade pole, Swing, small Shelf And Bottle train (from Haba/not pictured)
It is maritimically kept in Blue and White.
Included are the original slatted grate, Mattress and Set-up Instructions.
We are a Non-smoking Household without Pets.
Basically, the Bed is in perfect and stable Condition, but the intensive Use also as a Play device is noticeable on some Notches and Quirks. Therefore, our Price is EUR 660.
The Bed can be built in Berlin (Zehlendorf) (just put together) and we would cut the Bed together with the buyer's partner of the buyer.
Comment:
Dear BilliBolli team,
We have just sold our Bed successfully.
Thank you very much!
Eva El-Alfy
---
Four poster bed
Offer 3494 (second hand kids' furniture). Published: 01 April 2019
Billi-Bolli Four-poster Bed 90 x 200 cm, Spruce, Oil Wax treated, including Slatted grate and Curtain bar Set For three Sides, on Request with the pictured Curtains, 2 bed Boxes, 1 small Shelf, spruce, Oiled, cover Caps blue, Sale price 590 Euros, (Sale price 2014: 900 Euros). For Collection, joint Dismantling is offered and recommended.
Contact
Familie Bonnet
0177/3386791
06201/870997
Standort: Birkenau
---
Bei-oben-bed 2A, 90 x 200 cm
Offer 3493 (second hand kids' furniture). Published: 01 April 2019
sold
We sell our Beid-oben-bed, bought in 2011.
Description:
-Beide-topbed, Beech oiled 90x200 cm, including 2 Slats, protective Boards for the upper Floors, Holding Handles
-Exterior Measures: L 211cm, B 211 cm, H 228.5 cm
Condition: With normal Signs of Use
With the following Accessories:
-2 small Shelves for Installation directly in the Bed construction, for the lower Bed with visible Back wall
-Kojenboards 6 Pieces of different Sizes
-Game Crane for Attachment to The lower Bed
-2 Steering Wheels, one is complete, with a missing Spokes
-1 blue Sail
-1 Trap Protection Grid
-2 Mattresses
At the Time, purchase Price including Accessories (without Mattresses, without Transport Costs):
EUR 3.207
Our Asking price: EUR 1,300 VHB
The Bed is still in Use at The Moment, but can be visited and dismantled at any time, with our Support.
Location: 45481 Mülheim on the Ruhr
We are a Non-smoking Household, excluding Pets.
Comment:
Dear Billi-Bolli team,
We sold our Bed and mined today together with the Buyer. Thank You for the Opportunity to offer the Bed on your website.
Greetings
The Pfeiff Family
---
Both Top Bed type 1B 120 x 200 cm
Offer 3492 (second hand loft bed). Published: 01 April 2019, sold: 07 April 2019
sold
Both above Bed Type 1 B 120 x 200 or 1 High Bed growing and a half-high Bed H1-O4 (Pine oil-waxed) including Slats, protective Boards and Holding Handles.
We would like to sell the Billi-Bolli "Both Above bed" of our Guys with Accessories (see below). Our parkour enthusiastic Boys now want to redesign their Rooms into parkour rooms, so unfortunately we have to give up the beautiful Beds.
The Two above Bed had a New Price with Accessories of 2.597.98 Euros (Original Bill from the 11.09.2015 available). Also at Billi Bolli we bought a suitable Foam mattress (New Price: 198 EUR, Original Invoice from the 05.10.2015 is available). This is virtually unused, as the little Brother has mostly slept in the Parents ' Bed
We would love to sell the Two above bed including 1 Mattress and Accessories for 1,300 Euros.
As An Accessory (all newly purchased by Billi Bolli) we have 2 cotton climbing ropes (Length 2.5 m) and 2 Rocking Plates (Pine, Oil-waxed) as well as a Game crane (Pine, oiled), 2 Steering Wheels (Pine, oiled), 1 Fishing net (protective Net), 1 failure protection Grille and an Adidas Punching bag including Boxing Gloves (the latter are only one Year old and barely used) purchased.
We bought the Two above Bed as Well as Accessories in September 2015 and initially also built up as both Above Bed. A Year later, our Boys wanted a spatial Separation. That is why we bought the necessary Accessories for the Conversion from Billi Bolli (Original Invoice of EUR 469.42 of the 19.09.2016 available) and built both Beds separately from each other. Therefore, the Photos also show the two Beds individually (in one Photo you can see that the second Bed is currently set up without a Rocking Bar).
The Beds can therefore be placed either as "Both above bed" or separately from each other as a high Bed growing and 1 half-high Bed (each with Rocking beams, Climbing rope and Rocking Plate).
The Beds are in good Condition with few Signs of use.
Here are the Details:
-Both Top bed type 1 B 120 x 200 in Pine, oil-waxed incl.2 Latte Rust, Protective Boards and Holding Handles
Coverage Flaps: Wood
Exterior dimensions approx: L: 211 cm, B: 136 cm, H: 228.5 cm
-2 Cojenboards 150 cm Pine oiled for the front
-1 Protective Board 132 cm, Pine oiled
-1 Conductored Latter for Conductoris area, Jaw oiled
-2 small Bed shelves, Jaw oiled
-2 Cotton Climbing Ropes In Length: 2.50 m
-2 Rocking Plates, Pine oiled
-1 Punching Bag by Adidas including 2 Boxing Gloves by Adidas
-1 Fishing Net (Protected Net)
-1 Game Crane, Pine oiled
-2 Steering Wheels, Pine oiled
-Curtain bar Set For 3 Pages; Oiled
(The Grandma herself sewed the Matching Curtains in orange and are happy to be gifted for it)
-1 Foam Mattress ecru, 117 x 200 cm, 10 cm high, for Sleeping Level with Protective Boards
We ask for the Bed to Be Picked up on Site. This also makes sense in that the Structure is much easier.
We are Non-smokers and have no Animals.
We only wistfully separate ourselves from the great climbing beds and already hope that the small Successor will have or have at least as much Fun with it as our Guys have had
We live in 93049 Regensburg.
Comment:
Dear billi bolli Team,
We sold our two top Bed successfully. Thank You for the great secondhand service.
Vg
Diana Strasbourg