Your kid's bed is no longer needed? You are welcome to resell your used kid's furniture and accessories directly on this highly frequented site. This is a free service for Billi-Bolli products that you originally purchased new from us.
If you bought pre-owned Billi-Bolli products, that you would like to resell now on this site, then we take a € 60 fee, which will be fully donated to our charity projects. The same applies to the resale of second hand Gullibo beds.
Notes
The offers on our Second hand page have been translated automatically and therefore may contain translation errors. We take no responsibilities for these errors or the misunderstandings arising from them. Please visit the Second hand page on our German website to view the offers in their original language.

We take no responsibility for the information posted by customers about furniture for resale as we are unable to verify it.

Billi-Bolli Kindermöbel is not involved in the resulting resales.

Whether an offer is reasonably priced or not must therefore be determined by the interested party (see Resale price recommendation). Such an assessment cannot be derived from the fact that the item is placed on our Second hand page.

Please note that we cannot deliver accessories or expansion parts for Gullibo kids' beds. If you are intending on expanding the bed, we recommend to directly opt for a Billi-Bolli bed.
---
Collating high bed with fire brigade pole
Offer 3542 (second hand loft bed). Published: 06 May 2019
High-bed beech, oil wax treated, 90 x 200 cm, with fire brigade pole, climbing rope/swing and box set
Price: €1,200 (according to Willi-Bolli sales price recommendation based on new value of about €2,200 (excluding mattress) from Nov 2010 and later)
Location: Gauting near Munich
Bed in basic equipment with ladder position end of the long sides and ...
-Lat rust,
-Protective boards for the upper floor
-Holding handles
-Cover caps white
In addition ...
-Kojenboard length-and stir-side, with steering wheel and red sail (not pictured)
-Small shelf
-Curtain bar set, 2 sides (2 or 1 rod (s) longitudinal and stir-side)
-Climbing rope with rocking plate and climbing carabiner
-Box set (sack plus gloves)
-Various intermediate pieces for wall attachment
Free on request: (i) Youth mattress Nele plus 87 x 200 cm and (ii) curtains at the bedside (Marimekko Jungle)
Effective structure dimensions as in photos 211 x 123 x 231 cm (L x B x H) — ladder could also be moved to the other end of the longitudinal side
Bed is in very good condition (non-smoking household) and is still in use — > likes to wear joint mining, then construction later falls easier.
---
Co-growing high bed including extra-high feet and long ladder
Offer 3541 (second hand loft bed). Published: 04 May 2019, sold: 22 May 2019
sold
I sell the well-preserved high-bed in my daughter's untreated jaw.
The bed was purchased in May 2014.
The new price at the time was €1,094.94.
High bed, 100 x 200, slatted grate, protective better for top floor.
Feet and ladder of the hourly high bed, rocking beams outside at 2.285 m
Kojenboard 150 cm.
Small untreated shelf for wall-side assembly.
We live in an animal-free non-smoking household.
A well-preserved mattress can be added if desired.
Sale price: £649.00
Comment:
Dear Billi-Bolli Team,
The bed has just been sold.
Greetings
Stephen Lösch
---
Co-growing high bed
Offer 3540 (second hand loft bed). Published: 03 May 2019, sold: 20 May 2019
sold
To have here is one
* growing high bed, spruce untreated
* Rocking plate, spruce untreated, purchased 2009 – a combined €805 new price
* Playground, beech untreated, and
* Additional sleep level (guide slatted grate), purchased in 2016 – a combined €262 new price
* Protection Network, (Schutznetze24.de), purchased in 2016 – €20 new price
My son was super fond of using the bed. We bought it in 2009 and rebuilt it in 2016 (playing floor inserted above). After 10 years, however, the lying surface has become too narrow for him, so that another child can look forward to it in the future;-)
The bed has been treated very carefully and in very respectable condition.
We looked at it conscientiously (wall-sided parts, of course, we can't control in the assembled state, but should be in equally good condition). We have found few about the inevitable wear and tear – such as darkening the wood, especially on the ladder and handles – discoloration and small quirks on the wood (small crossbars at the entrance to the upper level). Descolouration is at the short protective board of the upper level and at the corner beam in the corner. They were hard to photograph and are very much exposed so that they can be recognized at all. The small quirks are only noticeable in the original. We submit a photo of the rocking plate, it landed in the basement during the 2016 conversion and has to be "lifted" from there.
The bed is located in Hamburg Winterhude and you can visit it until probably 12 May. After that, space is made for a new bed and the beautiful Billi Bolli is dismantled.
We are an animal-free non-smoking budget.
The basis for negotiation is €700.00.
Private sale preferably to self-pickers.
Shipping only around 70,-EUR A u f p r e i s for packaging and z u U ü g l i c h of freight costs.
No warranty or exchange possible.
If you have any questions, we will be happy about your message! For example, if someone just wants the play floor + extra sleeping level and we are happy to send you more photos.
Comment:
Good morning Mrs. Eckert,
We sold the bed with the net yesterday
With thanks in advance and warm greetings
Kirsten Matejka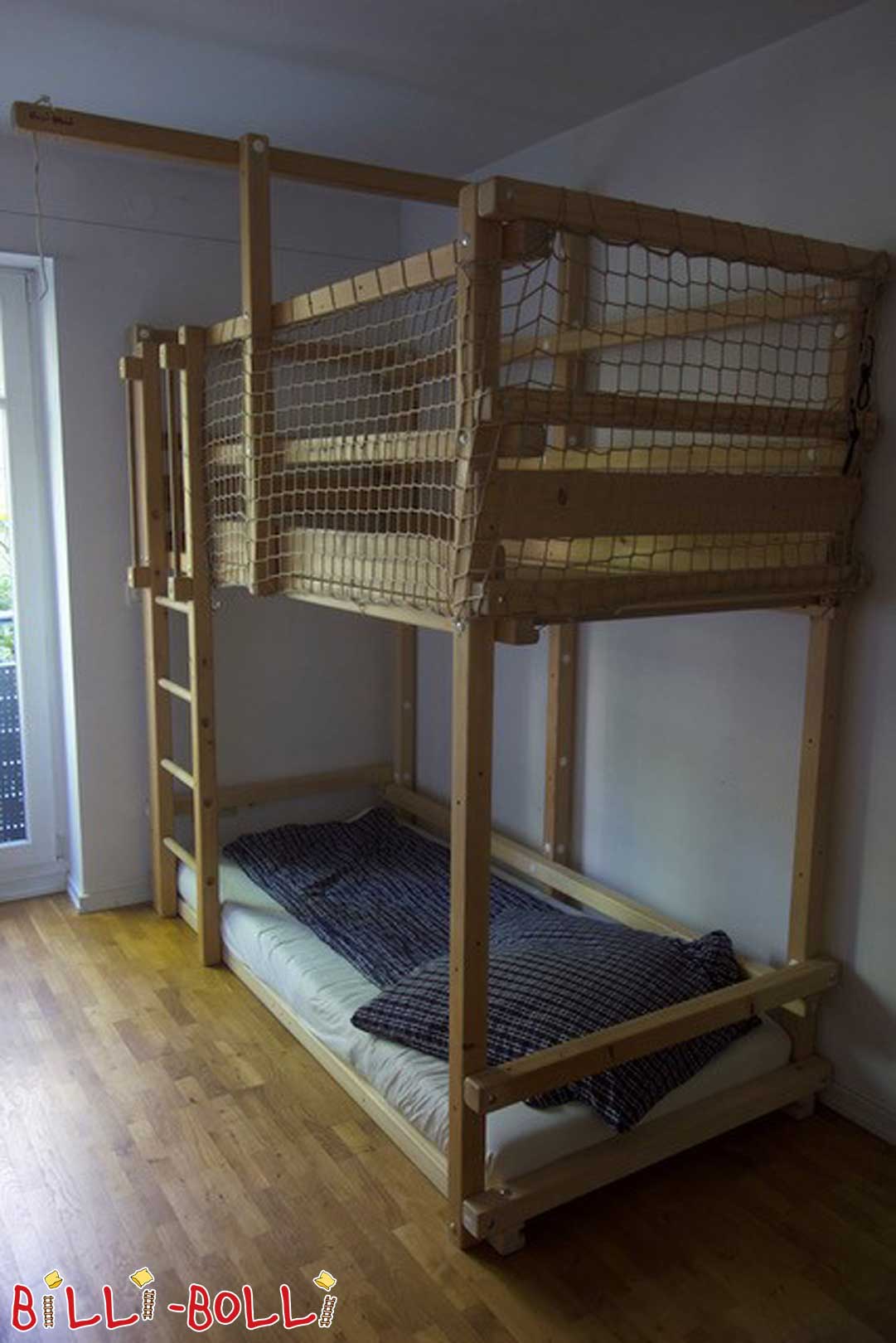 ---
Co-growing high bed
Offer 3539 (second hand loft bed). Published: 03 May 2019, sold: 10 May 2019
sold
We sell our high-bed/side-shifted bed of spruce untreated. It was bought in the summer of 2008 and has corresponding signs of use.
-Bunk bed on top of each other, offset or individually (corresponding material available-low bed type 4)
-2 slatted gras (mattress measure 90 x 200)
-2 small bed shelves
-1 large bed shelf
-Steering wheel and rocking plate
-New price 1064.37 Euro/Sale price CHF 610 or by appointment.
The bed is dismantled and must be picked up in Zurich.
Comment:
Good day
I was able to sell the bed-tomorrow it will be picked up.
Thanks for hiring and friendly greeting
Barbara Meier
---
Cosy corners bed
Offer 3538 (second hand kids' furniture). Published: 03 May 2019
We bought this bed through this platform about 4 years ago for 1100 euros. At that time, the bed was 5 years old. The condition was spruce oiled.
We completely sanded the bed and left white with salient paint.
Now we'd love another family to have fun with the bed.
The offer includes everything pictured in the photo (except mattress and shelf contents).
Lying 200 cm x 90 cm.
The bed also stays set up for viewing for the time being.
The curtains are sewn themselves and are given.
Our asking price would be 1050 Euro VB due to many of the work hours we have invested for grinding and lazing again.
Just pickup, no shipping.
Location: 56593 Horhausen
Contact
Familie Bidinger
0160/94874337
---
Co-growing high bed
Offer 3537 (second hand loft bed). Published: 02 May 2019
Our Billi-Bolli Hochbett is looking for a new home.
The offer includes the following components:
High-bed spruce untreated 90 x 200 cm
Exterior: L. 211 cm, B. 102 cm, H. 228.5 cm
Custom order due to high ceiling, similar to student high bed, can certainly be shortened without any problems
Lying area up to 219 cm
294 cm height of the stand bars
326 cm maximum height of the crane beam (not visible in photo)
Head Pos. C + Holding handles
Kojenboard 198 wall-sided or forward, 2-split (see extra photo)
Curtain bar set for M-band 80 90 100 cm
M-length 200 cm for 3 pages (not visible in photo)
Roll slatted grate
Protective boards for top floor (not visible in photo)
The bed is in good condition and has normal signs of use.
It is ready for collection already dismantled, a set-up instructions are available. We are an animal non-smoking household.
A sale is only possible to self-pickers.
Then purchase price (2006): Euro 1687.20
Sale price Euro 350,--
Location: Ludwigsburg near Stuttgart
The pick-up can be used for a trip to the blossoming Baroque (Ludwigsburg Castle) with fairy-tale garden.
---
Bunk bed & bunk bedover corner
Offer 3536 (second hand bunk bed). Published: 02 May 2019, sold: 12 May 2019
sold
Heavy-hearts we sell our two beloved Cheap Bolli beds due to a move.
The bunk bed (mattress size: 100 x 200cm) made of white-painted pine was purchased in July 2018 and has the following features:
• Bunk bed including two slatted rust
• flat ladder sprouts
• a porthole board for the short side and a porthole board for the long side (1/2 bed length)
• Slide for set-up height 4 and 5 including slide ears
• Bed box bed (80x180cm)
• Small bed shelf
• Wheel of taxation
The bed is in a new condition and has minimal, normal signs of use.
Purchase price: 2881.40 euros
Our asking price: 2600 euros
The mattresses and the hanging cave are also available for sale at an additional cost.

The bunk bedover corner (mattress size: 90 x 200cm) made of oil-waxed spruce was purchased in 2014 and has the following features:
• Bunk bedover corner including two slatted rust
• Sprout wall
• Game crane (not pictured)
• Two pre-hang strips for the short sides, a curtain rod for 1/2 bed length including self-sewn curtains
• Climbing rope with rocking plate
At the bars of the ladder are superficial, black tracks from a rubber hammer. In addition, a wooden shard about 10 cm long and 0.3 cm wide has dissolved on a short bar of the lower bed. Overall, though, the bed is in good condition.
Purchase price: 2067 euros
Our asking price: 1300 euros
The beds come from a well-kept non-smoking household without animals.
The beds are still being set up and can be dismantled together at the time of collection.
Location: Fulda
Comment:
Dear Billi-Bolli team,
Fortunately, we have already been able to sell both beds. I would ask you to note this on your homepage.
Thank you very much and greetings
Gretje Wittmann
---
Bunk bed beech oiled, plus slip tower and lots of accessories
Offer 3535 (second hand bunk bed). Published: 30 April 2019
We sell our Cheap Bolli bunk bed made of solid beech, oiled.
Bunk bed, with 2 bed/bunks, PLUS EIGENEM RUTSCHTURM, and the popular rocking bar with rocking plate or rocking bag. And other accessories, see below. ---Quasi the full fertility program. :)
Bought at the end of 2010, but only 4 years in use. (Wg. Separation and housing change)
Stored dry ever since. Now it's time to sell it.
New price was €3,070 (proof of invoice on request)
Sale price: €1,500 > according to the sales price recommendation calculator, the value is €1,652.
Condition is good to very good. No paint sticky plants with Eding and Co. or other quirks. ;)
The great advantage of oiled beech, with sandpaper and oil you can even restore the bed to the freshly woody original state (= new).
The original invoice, set-up instructions and all parts for the construction or conversion according to the different sizes or age levels are available.
And various extra original parts by Billi Bolli are also included:
• 2 slatted rust
• 2 rollable bed boxes
• Kojen-(protection) boards for the top floor
• Rocking plate with rope (plus a swing bag, not from BB)
• Two bed shelves
• A slide, plus own tower, also oiled beech
• Rocking bars/crane bars
Exterior: B: 102 cm, H: 228.5 cm, L 211 cm (variant on top of each other, plus 90cm slip tower)
Exterior: B: 102 cm, H: 228.5 cm, L 311 cm (variant offset, plus 90cm slip tower)
Location: 1080 Vienna
---
Loft bed growing with 90 x 200 cm, spruce oil waxed
Offer 3534 (second hand loft bed). Published: 29 April 2019, sold: 04 May 2019
sold
We sell our growing high bed, which we bought in March 2012 from Billi-Bolli and later supplemented with the higher legs (legs for the student bed).
Children become teenagers and so the beloved bed unfortunately has to be swapped after 7 years.
Facilities:
Head post A, crane beams moved outwards, flat ladder shoots, kojenboards, curtain bars for 3 sides, small bed shelf, cover caps in wood paint (brown)
Condition from the bed (scribbled crane beams)
A light bar is mounted under the bed, we add it to it.
Location: 52353 doors (located between Cologne and Aachen, close to the A4 on the east)
The bed is already broken down by us and labeled with washitape.
Original invoice, as well as set-up instructions available + sketch with our label details
Then purchase price only growing for the high bed: €1252
Reappointment of student legs: €224
Our asking price: £800
Only the bed, including the parts described here, is sold, no other items seen in the picture. Private sale, therefore no guarantee, warranty or withdrawal.)
Comment:
Hello dear Billi-Bolli team,
That went ratz-fatz, after just one day the bed had already been sold and has been picked up today.
We were more than happy with the quality that rapid resale also speaks for.
The bed accompanied us for 7 years, almost a pity that we couldn't use it any longer.
Greetings
Kirberich family
---
Billi Bolli with growing bunk bed oiled over corner jaw
Offer 3533 (second hand loft bed). Published: 29 April 2019, sold: 16 May 2019
sold
Bed size (90 x 200)
accessories:
-two slatted rust and two nele plus youth mattresses
-Climbing wall with handles
-Kranbalken with climbing rope and rocking plate
-a bedside table (for the upper bed)
-a large shelf (91x108x18cm) for assembly at the lower bed
-two bed boxes on rolls
Good condition: No stickers or damage. Non-smoking budget. All parts, invoices and set-up instructions are available. The beds are currently in a built-up condition in the form of a high bed and a youth bed.
New price 2,027 euros plus 126 euros conversion kit (from bunk bed to corner to high bed plus youth bed low type 1). The bed was purchased in March 2010 and converted into a high bed with a separate youth bed in September 2011.
Pick up in 61462 Königstein in the Taunus
Purchase price (all together): 1,300 euros
Comment:
Dear Billi-Bolli Team,
We have sold the bed and hope that the new owners will enjoy it as much as we do. Thank you for the great service of being able to offer used cheap Bolli beds via their homepage.
Regards
Elke Michl