Your kid's bed is no longer needed? You are welcome to resell your used kid's furniture and accessories directly on this highly frequented site. This is a free service for Billi-Bolli products that you originally purchased new from us.
If you bought pre-owned Billi-Bolli products, that you would like to resell now on this site, then we take a € 60 fee, which will be fully donated to our charity projects. The same applies to the resale of second hand Gullibo beds.
Notes
The offers on our Second hand page have been translated automatically and therefore may contain translation errors. We take no responsibilities for these errors or the misunderstandings arising from them. Please visit the Second hand page on our German website to view the offers in their original language.

We take no responsibility for the information posted by customers about furniture for resale as we are unable to verify it.

Billi-Bolli Kindermöbel is not involved in the resulting resales.

Whether an offer is reasonably priced or not must therefore be determined by the interested party (see Resale price recommendation). Such an assessment cannot be derived from the fact that the item is placed on our Second hand page.

Please note that we cannot deliver accessories or expansion parts for Gullibo kids' beds. If you are intending on expanding the bed, we recommend to directly opt for a Billi-Bolli bed.
---
Bunk bed, 90 x 190, beech oil-waxed
Offer 3563 (second hand loft bed). Published: 20 May 2019, sold: 22 May 2019
sold
It is about a high bed 90/190 oil-waxed in beech solid wood
(L: 201 cm, B: 102 cm, H 228.5 cm)
-Flat sprouts (better for the feet)
-Kranbalken (for Hängesitz or similar)
-Oil wax treatment for entire bed (very nice look)
-2 x kojenbett
-2 x small shelf beech (top and bottom)
-1 x curtain bar set (bottom) including curtains
-Outdoor footblocks to increase by 4.5 cm (then the bed box fits underneath)
-2 x Nele plus youth mattress 90x190 cm
-1 x bedbox beech oil (handy for bed linen, etc.)
-Conversion kit from high bed to bunk bed (including oil wax treatment)
The bed is in good condition, super stable and very nice to look at by the oiled beech.
A real eye-catcher.
Pick up in Munich, near Tierpark.
As Dad, I also help with mining if desired.
VB 1,050 EUR
New price with mattresses: 2800 EUR
NP without mattresses: 2,060 euros
(The two high-quality Nele plus youth mattresses are in good condition (without stains, etc.) and included on request)
We are first-time buyers (we give in the bill) and an tierless non-smoking household.
The bed can be visited without obligation by appointment.
Comment:
+ + + the Billibolli bed is reserved and will be picked up on Saturday + + +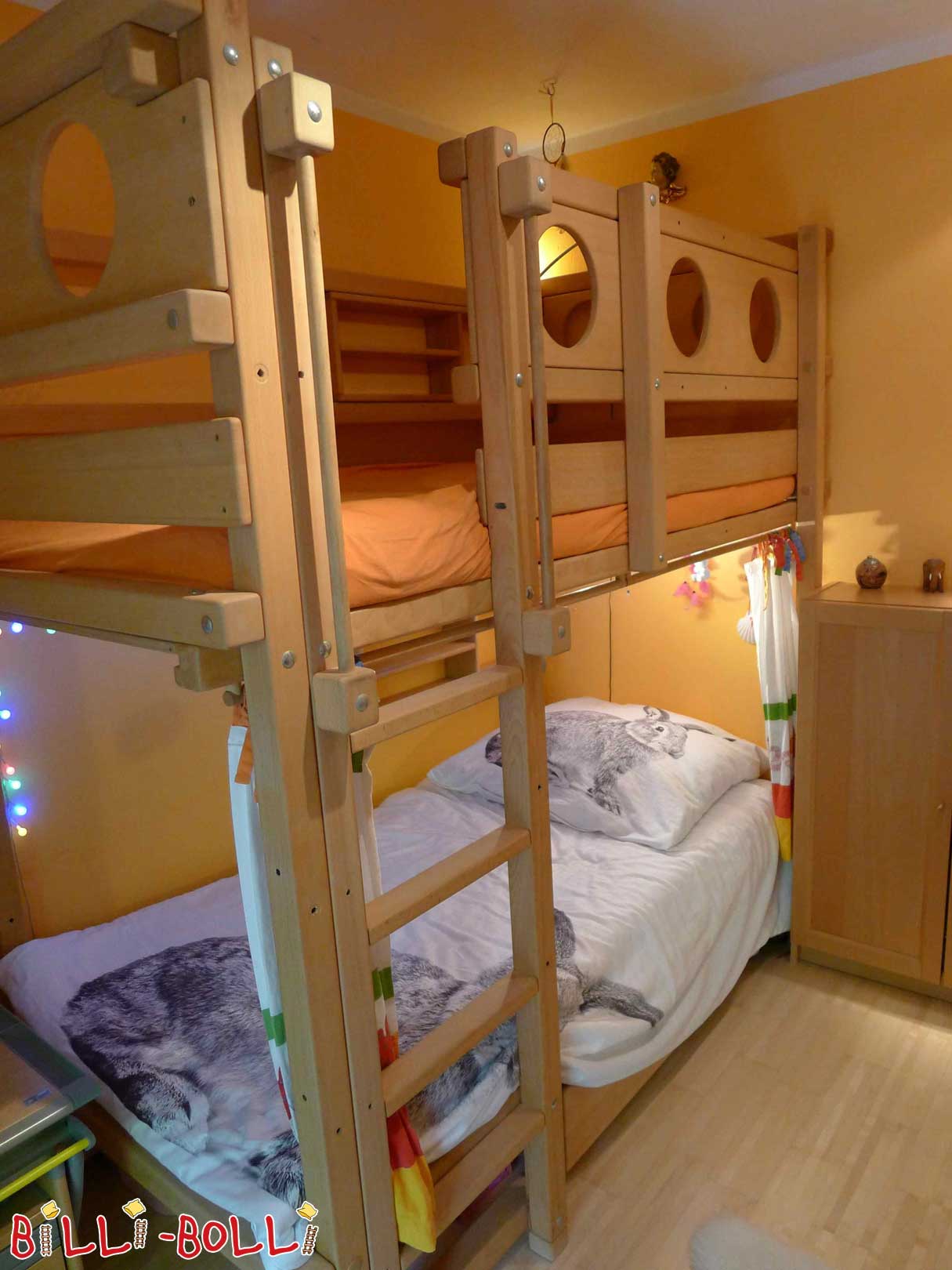 ---
Bunk bed
Offer 3562 (second hand loft bed). Published: 20 May 2019
Including high bed/bunk bed for 2 children
Our children are getting bigger, so with a heavy heart we sell our growing high bed for 1 to 2 children. Can be used with the baby grid from as little as 0 years. It is in good condition with slight signs of use due to the growing conversion measures.
Spruce, honey/amber oiled
-1x high bed, 90 x 200 cm
-1x conversion kit for high bed 90 x200 cm to bunk bed 90 x 200 cm
-2x Lattenrust 90 x 200 cm
-3x kojenboard (whitewashed)
-1x ladder grille for ladder area, upper bed
-2x Small shelf
-3x additional protective boards
-1x baby grille
-1x curtain bar set completely over both front sides and a longitudinal side
-Add on request: 2x matching mattresses 90 x 200 cm
Of course, it can also be used for only 1 child, or with only one mattress.
New price: €1,802.22 (2009/2010, excluding mattresses)
Sale price: €922
The Maiwald family
0160 99 66 47 65
sebastian@maiwald.co
Location: 82054 Sauerlach near Munich
Setup instructions and all invoices are available.
Available now. Pick up only on weekends. Bed is disassembled.
---
Desk including roll containers
Offer 3561 (second hand kids' furniture). Published: 18 May 2019
I offer an absolutely high-quality children's desk made of spruce wood (BxT: 123x65). And a roll-tener with four drawer drawers (the handles of the thrust beams are wooden mice). All made of oiled spruce full wood. The countertop of the desk can be slanted. The desk is 6 years old and in very good condition. Then purchase price was £504.
VB: 250 .-Euro for self-pickers in Erding County (postcode 85467).
I will send you the photos as an appendix.
---
Bunk bed
Offer 3560 (second hand loft bed). Published: 17 May 2019
We sell our Billi Bolli bed until 07.06.
It was first a growing high bed and was then gradually rebuilt.
Two drawers below and in the basement we still have the crane beam and the rocking beam.
Since it had to be set up differently in the short term, it looks a bit strange with the colors ...
Colour can be easily slipped.
Then it can either be oiled or repainted.
We would have to cut the beams due to the ceiling height in the intermediate apartment.
But you can get the bars at Billi Bolli to rebuild it high.
High bed growing up bought 6.5 years ago. Expanded to the bunk bed 2.5 years ago.
Condition, signs of use and partly it was changed in colour.
Accessories: Crane beams and rocking beams with plate shout
Ritterburg boards, 2 drawers.
Lattenrust 2x are there. Mattresses don't.
Location 51647
In total, it cost us £1893.
Our asking price is €600,000.
---
Co-growing high bed-pine white varnished
Offer 3559 (second hand loft bed). Published: 16 May 2019
After 7 years of intensive use, our beloved high bed is unfortunately no longer cool enough. We are happy to give mattress. Light signs of use can be seen. We are a non-smoking household and we don't have pets either. Bed was bought new.
Model:
-Co-growing high bed 100 x 200 mm pine white varnished
-Lat grate
-Protective boards for upper floor
-Holding handles
-Cover caps white
-Exterior dimensions: Length 211 cm, width 112 cm, height 2228.5 cm
-Small shelf jaw white varnished
-Large shelf beech white varnished (mined at the moment) 101 x 108 x 18 cm
Then purchase price: €1549
Sale price: £900
No shipping possible.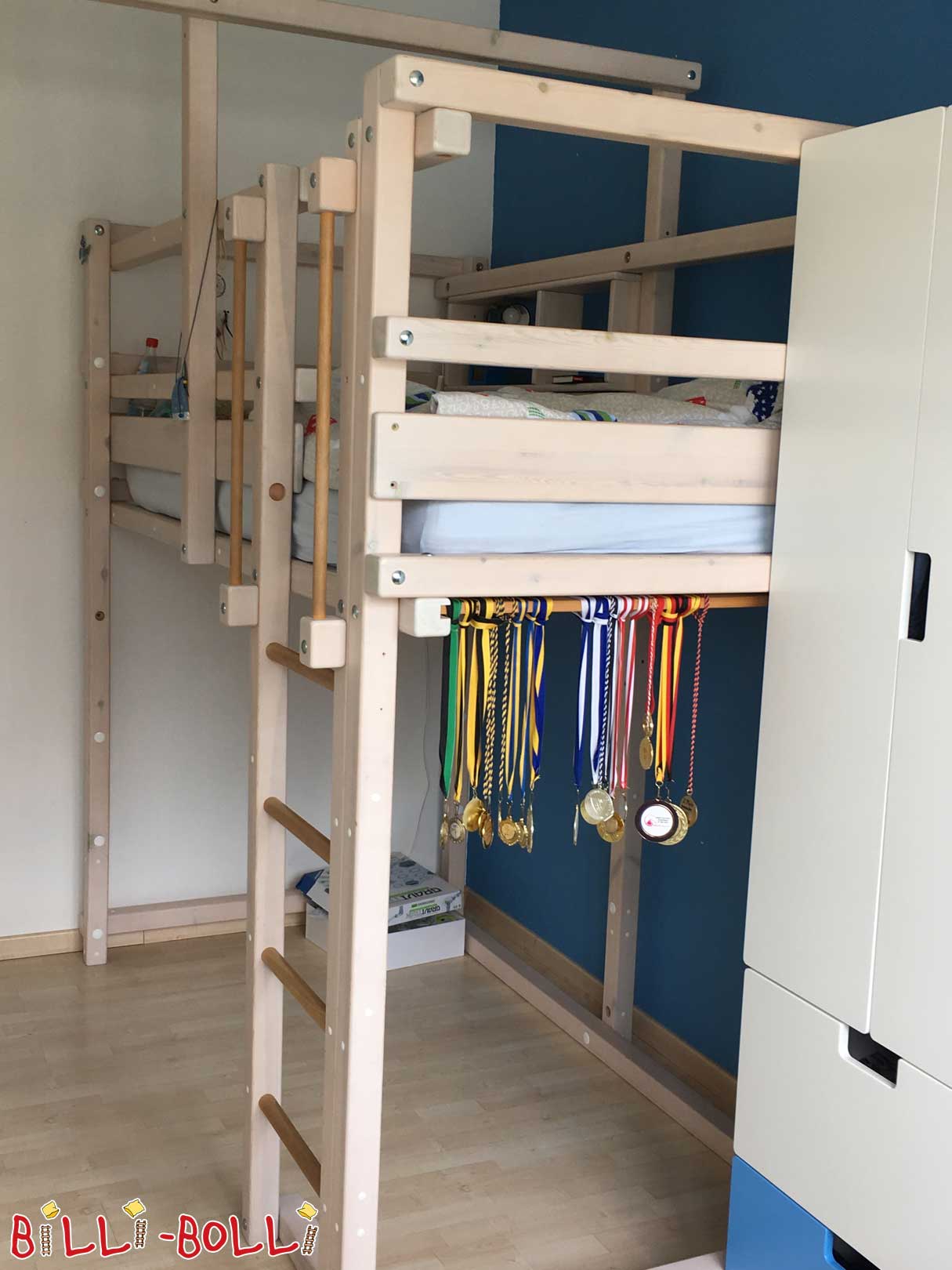 ---
Sparse pirate bed
Offer 3558 (second hand loft bed). Published: 15 May 2019, sold: 15 May 2019
sold
It is with a heavy heart that we sell – because of the move – our beloved cheap bolli "pirate bed." We used it ourselves in autumn 2016 (here on the page) for 890 .-and supplemented with some accessories (Original Billi-Bolli) – so that our total price was just over 1000 .-. If I remember correctly, the bed was purchased by the previous owner 2012018.
It is a:
• a growing high bed oiled in beech, 90x200
• Including slatted rust
• Head position A
• Cover caps brown/beige
Accessories:
• Kojenboards front side (beech oil)
• Kojenboards longitudinal side (beech oil)
• Small shelf (beech oil)
• Wheel (beech oil oiled – newly purchased)
• Flag mount + flag blue (Unfortunately already landed in a moving box, but will be sent as soon as possible)
• Cotton rope with rocking plate (beech oil oiled – re-purchased)
• Fishing net (newly purchased)
• Curtain bars (newly purchased and never attached. Unfortunately, these are also already in a moving box, but will be sent as soon as possible)
The bed has normal signs of use. It was built up by both the previous owner and us in the amount 3 + 4. We were amazed at the time that this bed looked like new, except for the small holes that arise when the kojenboards were attached. But the quality of the Billi-Bolli beds is excellent and the wood is just gorgeous. The set-up instructions and all parts for the construction are completely available. We are a non-smoking household without animals (as well as the previous owner).
The bed is still built up to 18:05, after which we have to dismantle it because of the move. We'd love the bed to bring fun to a new family soon.
Location: Munich//after the 24.05 Street Aug
Our asking price: £590
Comment:
Dear Billi-Bolli Team,
The bed is picked up at the weekend, it was gone almost after minutes.
Thank you and many greetings, Pusar family
---
Bunk bed sideways including bed box bed
Offer 3557 (second hand loft bed). Published: 14 May 2019, sold: 14 May 2019
sold
We separate from our Billi-Bolli bunk bed side-offset (3/4 variant) with bed box bed. We bought the bunk bed in Oct. 2015 and was enthusiastically used by our girls.
In the meantime, we have purchased a conversion kit and separated the high bed into two single beds, as the girls have moved into their own rooms. Since both girls no longer want to sleep upstairs, the upper floor is converted from the high bed straight to the play area.
To the high bed I made bed borders sew.t/, which we are also happy to give.
The bed can be picked up in Friedrichshafen on Lake Constance. It is still structured and can be dismantled together.
Invoice and set-up instructions are still in place.
The asking price is €900.
Model: New price €1,544.48
Bunk bedside offset, 3/4 offset variant, 100x200 cm
Ladder position A, pine oil-waxed including slatted rust, protective boards for the upper floor and holding handles, cover caps: Green
Bed bed: Pine oiled, mattress measure 80x180 cm, drivable with slats, including soft rolls
Exterior: L 356cm, B112 cm, H 228.5 cm
Reba set: £145,04
Bunk bedside offset divide into high-bed + youth bed low type C.
Comment:
Hello Billi-Bolli team,
Please mark the offer as sold. The sale now went surprisingly fast.
Regards
Anne Schettler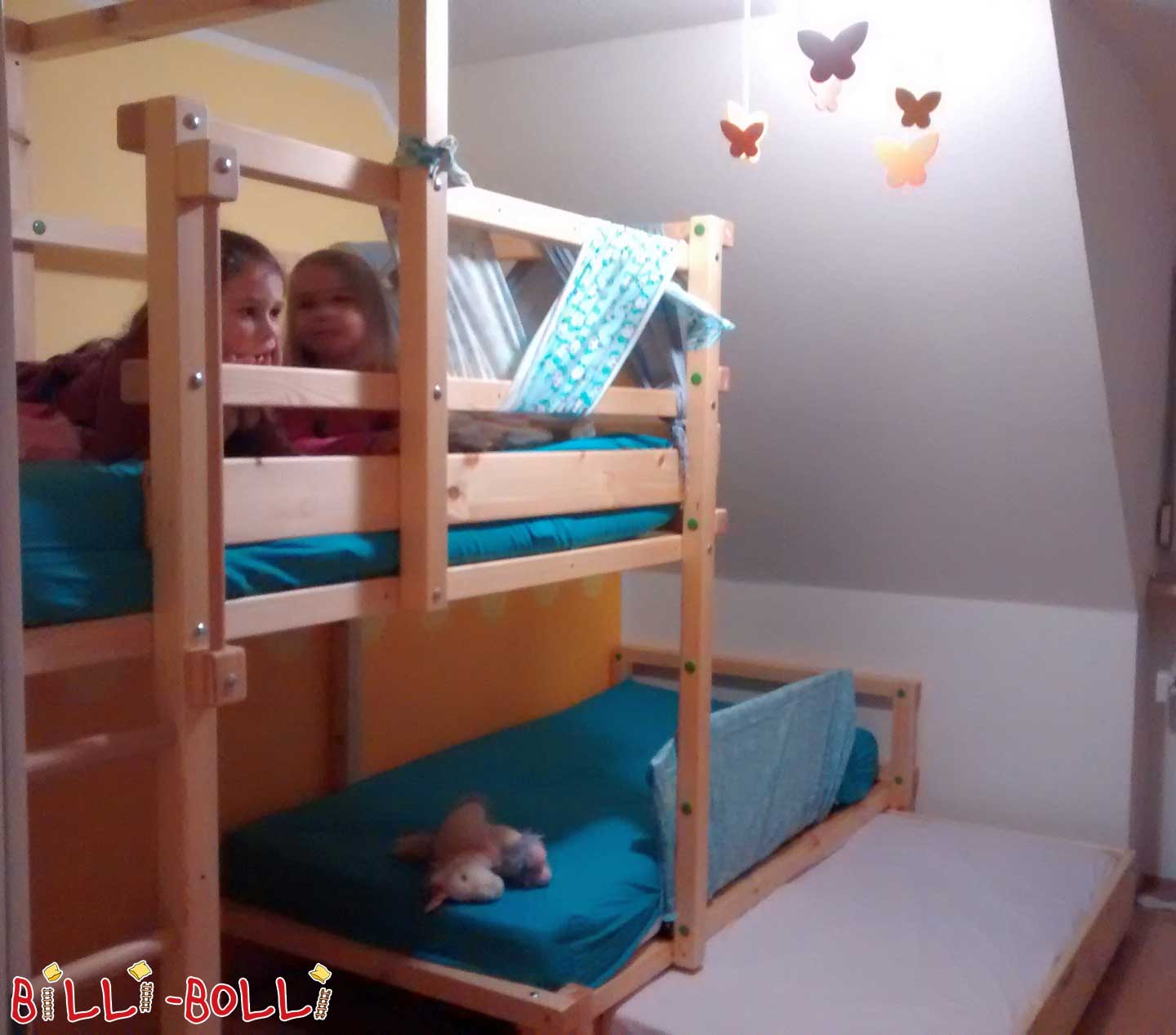 ---
Roof slanting bed
Offer 3556 (second hand Pitched Roof Bed). Published: 14 May 2019
We would like to sell our son's Billi-Bolli roof slanted bed (90 x 200 cm, pine oil-waxed). We bought it again in 2012. As an addition, it has a game crane, a plate swing, a small shelf and a steering wheel. Crane and swing are not mounted on the photo. The bed is in a good condition. The new price was 1,481.76€. For €550p we would sell it.
Contact
Familie Zetzsch
31303 Burgdorf
05136/9701294
---
Adventure bed growing with
Offer 3555 (second hand loft bed). Published: 13 May 2019
After 8 years in service, we would like to sell our Billi-Bolli high bed made of oiled beech trees to new adventurers!
It was loved, played and climbed and therefore has the usual small signs of use. However, it is neither painted nor glued and is currently still being built up in Taunusstein. We have already dismantled the original accessory, but it is, as pictured, completely available and of course one of them! The invoice for the whole package from 2011 is available. New price at that time was €1,750. Our asking price is now VHB €790 upon pickup.
We are happy to help with dismantling and loading and we are of course also available for inquiries.
Model:
Co-growing high bed 90 x 200cm beech oil
Including slatted rust, protective boards for top floor and handles
Exterior: L 211 cm B 102cm H228.5 cm
Accessories:
Crane bars (outside)
2 cojenboards (1x longitudinal and 1x peer-sided)
Small shelf
Big shelf
Steering wheel
---
Baby grids to give away
Offer 3554 (second hand loft bed). Published: 13 May 2019
We are happy to give away our baby grids only by pickup.
Baby mesp set, pine oiled for M-breasted 90th
cm, half the lying surface
Set for high bed, bunk bedover corner or
-side-shifted; Half the reclining area
Warning: Grid of pine honey
Oiled!
Below the upper sleep level
1 x grid 90.8 cm for front, removable with slip sprouts
1 x grid 90.8 cm for wall close, removable
1 x grid 102 cm for the short sides, firmly mounted
1 x grid 90.8 cm for short side on mattress, removable