---
Co-growing high bed
(Offer 1621)
Published: 12 January 2015 (second hand loft bed)
sold
our son wants a youth room with an "adult bed". We are therefore separating from our much-loved Billi-Bolli adventure bed.
It is the growing high bed:
• Art. no. 220 made of pine, honey-coloured oiled.
• Mattress size: 90 x 200 cm
• Purchased: 2006
• Incl. stairs made of solid wood (see fig.)
• Purchase price at the time: €1,014
• The bed is in good condition with normal traces of use, i.e. small scratches and "macken". Assembly instructions are available.
Subsequently purchased accessories (approx. 2011):
• Large bed shelf
• Art. No. 370 made of pine, honey-coloured oiled.
• Dimensions: 91 x 108 x 18 cm (w x h x t)
• Purchase price at the time: 121 €
• Bedside table
• Art. no. 378 made of pine, honey-coloured oiled.
• Dimensions: 90 x 25 cm (w x t), height of the border approx. 3 cm
• Purchase price at the time: 82 €
Total original price: €1,217
Our price: 650 €
Sale only to self-collectors, the pictured mattress (with separate, washable cover) can be taken with you on request.
Non-smoking household, no pets.
Location: 63303 Dreieich
Comment:
Dear Billi-Bolli - Team,
hardly set, the loft bed was already sold. It has gone to a family with three children, who live only a neighboring village away from us.
Thank you very much!
Greetings from Dreieich
Pia Tanaka
---
Zwie Hochbetten
(Offer 1620)
Published: 08 January 2015 (second hand loft bed)
sold
We sell our two oiled bunk beds, 90 * 200 cm incl. slatted slats, protective boards for the upper floor, handles
2 pieces each 650,- €
1 piece slide oiled with small breakouts at the screw holes and lattice at slip opening ( No limitation of function ) 100,- €
3 pieces shelf, oiled each 50,- €
1 piece Polana youth mattress "Alex" Neem 90* 200cm ( new price 404,- € )
150,- €
1 piece cold foam mattress 90 * 200 cm 100,- €
Total purchase price 2002 was €2,888.
On the adjacent photo you can see a construction variant that can only be built if you have both beds. The bunk beds each have only one slatted frame and a mattress.
The cots have normal signs of use and no aborts. The beds were in mold-free rooms in a non-smoking household.
The adventure beds are dismantled and can be picked up in Putzbrunn (southeast of Munich).
With a purchase of both beds incl. accessories 1,500,- € flat rate.
Assembly instructions are still available.
Comment:
Already on Monday we had FIVE! Interested parties who wanted to buy the beds in a binding way.
Today they were picked up.
I therefore ask you to delete the serat. There is no more valuable than your beds.
After 12 years and several internal conversions into different rooms of our house and finally even after conversion into a two-floor bed, they still look very good.
If these beds did not already exist, they would have to be invented.
Greetings
Reinhard Ferstl
---
Youth high bed in excess length 120 X 220 beech oiled
(Offer 1619)
Published: 08 January 2015 (second hand loft bed)
sold
consisting of
• Youth high bed 120 x 220 (No.274L)
Height under bed 152cm,
Adjusting dimensions B132 L231 H196
including slatted slats,
Conductor position C (at the front),
flat ladder rungs instead of round, much more pleasant for large feet !
• a small bed rack that can only be mounted on the bed, in our case on the long side (dimensions:B101 H26 T13)
• Bookcase, built into the bed (B121 H108 T18)
Ale parts are made of oiled beech.
The cot has normal signs of use, it has not been used for playing and is in a really good condition.
It can be visited in 33619 Bielefeld until mid-February and also dismantled together. We are non-smokers.
We bought it in 2009 at a time price of approx. 1220€ incl. shipping.
We now want to sell it for 800€.
We recommend buying a mattress from Billi Bolli as it fits exactly into the bed.
Comment:
Hello
please take the offer from the website, the bed has just been sold. Thank you for the service.
Yours sincerely
D. Strate
---
Two very well-preserved Billi-Bolli-Bed drawers (Art. No. 300)
(Offer 1616)
Published: 07 January 2015 (second hand kids' furniture)
sold
Our children convert their two Billi-Bolli beds and no longer need four drawers. All are about 12 years old, very, very well preserved, with impeccable rolls, all oiled from solid beech.
Dimensions: 23cm high (with rollers), 90cm wide, 85cm long (deep).
Interested self-collectors get the drawers in Switzerland, near Zurich, in 8708 Männedorf.
For a drawer we would like CHF 50.- (price negotiable)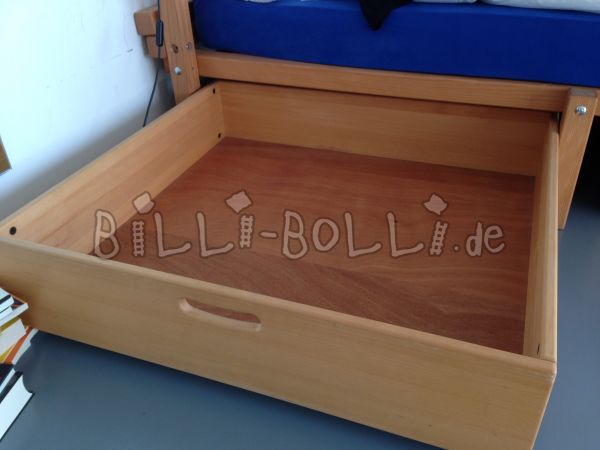 ---
Co-growing high bed
(Offer 1615)
Published: 07 January 2015, sold: 07 January 2015 (second hand loft bed)
sold
We sell our Billi-Bolli adventure high bed, bought in August 2004, now our son has grown out so slowly.
Billi-Bolli high bed, 90/200, with traces of use (scratches), pine with oil wax treatment, incl slatted frame, protective boards for upper floor, handles ladder position A, climbing rope made of natural hemp (must be washed) + swing plate of pine oiled, 2 Curtain poles, assembly instructions available.
Purchase price 2004 was 770 €
VB 350 Euro
The cot will be dismantled by us on 5.1.2015 and could then be picked up in 44149 Dortmund.
Comment:
Thank you very much for the mediation, we have already sold our Billi-Bollibett to Krefeld today.
---
Billibolli pirate bed, spruce, honey-coloured oiled, 3 conversion variants
(Offer 1614)
Published: 07 January 2015, sold: 07 January 2015 (second hand loft bed)
sold
Sell a Billibolli pirate bed with steering wheel and swing.
In the original version it was used as a bunk bed with grids for the lower bed (our then two-year-old son slept downstairs).
As a result, it was used as a medium-high high bed. Subsequently, we purchased two conversion sets, so that a high loft bed and a single bed are possible as variants.
All parts and instructions for the pirate bed and the conversion possibilities are available. Unfortunately we did not take a "sales photo" of the bed in time and the cot is not in the whole too
to make out. However, it corresponds to the bed referred to as the "bunk bed" on the current homepage with a steering wheel and rocking board.
Accessories in detail:
1 bunk bed pirate bed
2 bed boxes
1 steering wheel
1 rope with rocking board
2 slatted slats
Grid for lower bed
1 conversion set single bed 90 x 200 cm
1 conversion set high bed
Currently the single bed is still set up, the other variants are already disassembled.
The approximately 15-year-old bed was used in its function and therefore has traces of use, but all parts are present and can be used in their function.
The conversion kits date back to 2008.
The original invoices and assembly instructions are available from both the original bed and the conversion kits.
The new price of the Billibolli bed amounted to about 1600 Euros and we would like to pass it on for 700 Euros.
Comment:
Dear Mr Orinsky,
we were able to sell the bed immediately and it will be picked up on Saturday. Thus, you could mark the display accordingly.
Thank you for this great opportunity to be able to pass on the really great product so quickly.
Kind regards
Anja Wiberg
---
Billi-Bolli bunk bed, 90x200 cm, pine honey/amber oiled
(Offer 1613)
Published: 30 December 2014 (second hand loft bed)
sold
incl. slatted slats, protective boards for upper floor, handles,
- Two berth boards (150 cm and 90 cm)
- Curtain pole set for 2 sides honey-colored oiled
- Assembly instructions
External dimensions: L 211cm, W 102cm, H 228.5cm
The cot has slight signs of use and is in a very good condition.
It was always in an animal-free non-smoking household.
The mattresses, stuffed animals, cupboards, etc. are of course not included.
New price 2008: 1000 € (invoice no. 18008 - original invoice is still available)
Current price: 650 €
The loft bed is already disassembled and can be picked up at 83135 Schechen (near Rosenheim) (only self-collectors).
---
2 youth high beds 100x200 cm beech, oil wax treated, with bedside table
(Offer 1612)
Published: 29 December 2014 (second hand loft bed)
sold
Each incl. slatted frame, Nele plus youth mattress, bedside table (beech oiled);
Invoice number: 15417,15570, 15656 (original invoices available), setup by Billi-Bolli in August 2007; the new price per bed (complete) was: 1453,-€
We had bought the bunk beds for our two boys; the beds are in good condition with only slight traces of use. Unfortunately, we only have a rather bad photo of a built-up bed, after which both beds were dismantled and stored in the store.
Of course, we also give the beds individually.
We imagine a price of 750 € per cot.
The bed/s can be picked up at 82234 Weßling (near Munich).
---
Growing bunk bed, 90x200, spruce, untreated
(Offer 1611)
Published: 29 December 2014, sold: 29 December 2014 (second hand loft bed)
sold
incl. slatted slats, upper floor protection boards, handles, ladder position A, pink cover caps
Used condition with normal signs of wear and tear, such as traces of wall fastening and the elevation described below. My daughter has easily deposited a Billi-Bolli imprint on the gallows with pink highlighters. On one side, on the top of three beams on a length of about 20 cm scratch marks of our cat are visible. You could place the side on the wall or turn the beams on the bottom when you build it up.
Since my daughter's cot was not high enough at times, I built an elevation of 40cm with beams and angles (visible in the picture). If desired, these parts can be provided. The loft bed can of course still be built without raising it.
Unfortunately, I lost the setup manual. However, I have documented the dismantling well, so that a construction should be possible without any problems.
The offer is only valid for self-collectors, location 65582 Diez.
Buy price in 09/2009: 806€ incl. shipping
Our price presentation: 350€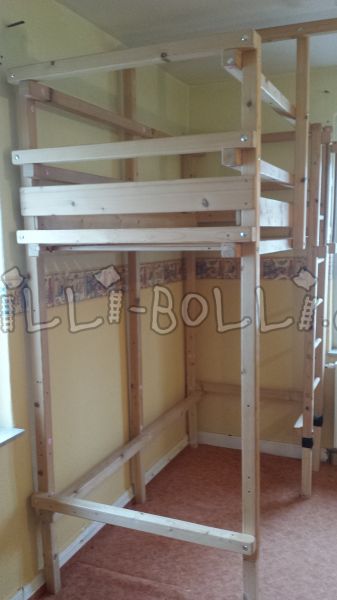 ---
Very well-preserved double beds
(Offer 1610)
Published: 23 December 2014 (second hand kids' furniture)
sold
Our children move out and don't want to take their beds with them.
We sell the two approximately 12 year old, very well preserved double beds immediately for CHF 500.- (without mattresses).
Interested self-collectors are dismantling the beds here (8708 CH-Männedorf). We no longer have any instructions.
• Four-poster bed (heavenly double bed) low with four drawers
1.97m high, 1.95m wide, 2.13m long, four drawers, beech, barely traces of use
including slatted slats
• Youth bed high (high double bed)
1.97m high, 2m wide, 2.13m long, ladder, beech, hardly any traces of use
Height under the bed about 1.20m
including slatted slats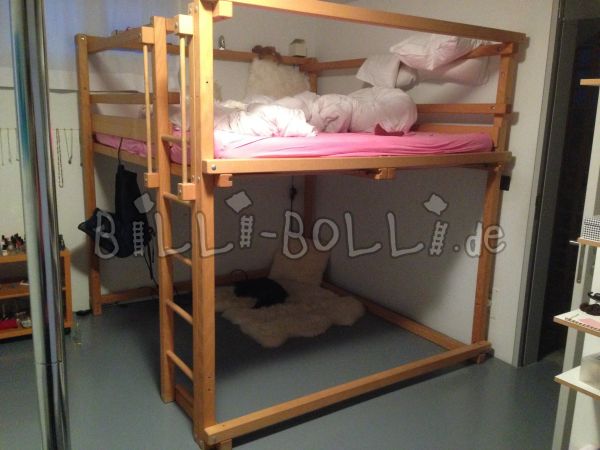 ---
You have been searching patiently for a while now but to no avail?
Have you already considered buying a new Billi-Bolli bed instead? When you no longer need it, you too can use our successful Secondhand Page, completely free of charge. Thanks to the high resale value of our beds, you will get a good return on your purchase even after many years of use. For this reason, a new Billi-Bolli bed is, economically speaking, a very good investment.