---
Co-growing high bed
(Offer 1642)
Published: 04 February 2015 (second hand loft bed)
sold
Unfortunately we have to sell our beloved super beautiful Billi-Bolli-Highbed. We move and the daughter now slowly wants a teenage room... But maybe someone else is happy about it.
We can offer:
Growing upbed Var. 6 with mouse boards
Pine oiled waxed, mice boards honey-colored, ladder position A
Dimensions: 100 x 200 cm
New purchase: August 2008
New price: 1,173 euros (excluding shipping at that time)
Accessories/Equipment:
Slatted slat (without mattress)
3 curtain rods unused (were never mounted) 2x 100 cm, 1x 90 cm
Flat rungs
Plate swing with natural hemp rope (completely undamaged)
Mice boards honey-colored at the front and at the foot end
2 mice (was never attached, nor in the original packaging)
Handles on the ladder
All original bags of screws incl. bills of materials, assembly instructions etc. available. The bed was never mounted on the wall. These screws are completely unused.
Condition: very well preserved, a few scratch marks on the ladder of the cats and in some places small pressure points in the wood from swinging. We would call it normal to a few traces of use. (Girl's bed)
Location: Augsburg City
For self-collection and joint dismantling, so that reconstruction is easier. (wrongly desired) My uncle and father built the cot at that time and would be there again when it was dismantled.
Our price tag: 800 Euro
Comment:
Hello
I sold the loft bed yesterday.
Thank you for using your portal.
LIebe greetings and thank you for years of super bed !!!
Ulrike Huf
---
High bed with sloping roof
(Offer 1641)
Published: 04 February 2015 (second hand loft bed)
sold
After three years of heavy heart selling our Billi-Bolli loft bed:
90x200cm, pine with original oil wax treatment,
incl. slatted slats, protective boards for upper floor, handles
External dimensions: L: 211 cm, W: 102 cm, H: 228.5 cm
Sloping roof stage for M-size 90x200cm
Slide for Midi 3 and bunk bed
Steering wheel, climbing rope made of natural hemp and rocking plate
Cover caps natural
Assembly instructions and original invoice (RG: 24633).
For the adventure bed in an impeccable condition almost new we would like to have 900,- Euro (original price 1356,32,-).
The bed is in Hamburg-Schnelsen and would have to be picked up by the buyer there.
Comment:
Hello dear Billi-Bolli-Team,
today we sold our Bili-Bolli bed to a very nice family.
Our children and we had a lot of fun with the bed and are happy that two other children can have so much fun.
Thank you for the great product.
Yours sincerely
The Müller family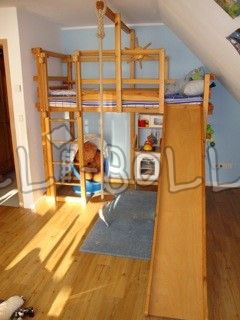 ---
Growing high bed with climbing wall
(Offer 1640)
Published: 30 January 2015, sold: 31 January 2015 (second hand loft bed)
sold
Wir verkaufen das Hochbett unserer Tochter – leider! Das Kinderbett ist in einem sehr guten Zustand. Inzwischen klettert unsere Tochter im Jura und nicht mehr ins Hochbett.
Masse: 90x200 cm
Material: Fichte honigfarben geölt
Zubehör: Schutzbretter oben, großes Regal für unten, kleines Bücherregal für oben, Mäusebretter, Kaufladenbrett, Schaukelteller mit Seil, Kletterwand mit Klettergriffen, Matratze mit Bezug waschbar auf 40 Grad, 3 Gardinenstangen, zwei Gardinen (selbstgenäht).
Orginalrechnung von 2006 ist vorhanden. Damaliger Preis 1.400€
Unsere Preisvorstellung: 750 €
Auf Anfrage schicken wir gerne mehr Fotos. Eine Fotoaufbauanleitung erstellen wir beim Abbau.
Das Bett steht in der Nähe von Solothurn. Gegen einen kleinen Aufpreis (nach Vereinbarung) bringen wir es aber gerne beim nächsten Deutschlandbesuch vorbei. Möglich ist Raum: KN, SI, RW, ES, RT, TÜ, BB (entlang der A81 Singen- Stuttgart). Nach Absprach auch FR.
Comment:
Thank you very much for setting the display. We just sold the bed and returned to Switzerland.
Their concept and the quality of the bed had already convinced us at the time of purchase. My daughter had a lot of joy, we moved to bed twice and it still looks like new!
Best greetings to Germany
Ines Kreinacke
---
Roof slanting bed
(Offer 1638)
Published: 28 January 2015 (second hand kids' bed)
sold
Our son is "large", and we would like to sell his roof slant bed with plate swing.
We bought it in April 2008, it is in very good condition (with the exception of the Kletterseils and of the vertical bar in the Center, who has some quirks of the "opposition swings")
Mattress size: 90x200cm.
Dimensions: L 211cm, B 102cm, H 228, 5cm.
Head position: A. caps: Blue (not mounted, but available)
Pine wood with oil wax treatment.
Accessories: plate swing, slatted frame.
New price: 981 euro incl. shipping.
We would sell for 500 euros.
Site is Heidelberg, where the cot could be visited even built and would have to be picked up.
Comment:
Hello.
I would like to tell that we've sold our roof slant bed today.
Thank you for the Second-Hand service!.
With friendly regards, Beate Geisbe
---
Bunk bed
(Offer 1636)
Published: 28 January 2015 (second hand bunk bed)
sold
Sell with a heavy heart our 4.5 year old Billi- Bolli bunk bed in a TOP condition. The bunk bed is 90x200 oiled in spruce.
As accessories we have for top three berth boards, a small shelf for e.g. books, a fire bar made of ash, a climbing rope and a rocking plate.
The new price was 1680€, our price idea for this almost new bed is 950 VB.
We are an animalless non-smoker household. The bed stands in 65824 Schwalbach (near Frankfurt a.M) and would have to be dismantled by the buyer himself.
Comment:
Dear Billi- Bolli Team,
The bed was sold and picked up today. We could hardly save ourselves from requests and were surprised that we sold the bed directly on the first day. Thank you for this great service.
Greetings Sandra Rother
---
Both-the-bed type 2A
(Offer 1635)
Published: 23 January 2015, sold: 25 January 2015 (second hand kids' bed)
sold
Unfortunately, we have to sell our bunk bed from Billi Bolli children's furniture due to a move. It was carefully used by our great one (then 4-6 years) (it was still too big for the little one) and has now been stored on the store for almost a year. No stickers, not painted etc. only slight traces of usage. It also includes a bracket for a hanging chair or a swing.
It was purchased in KW 13/2012 and mined in March 2014. The original invoice and the assembly instructions are available (all parts are marked).
Description on invoice:
- Both top bed 7, 90x200 cm
- Jaw oil wax treated
- incl. 2 slatted frames, protective boards for the upper floors, handles
- External dimensions: LxWxH 211x211x228.5 cm
- Ladder positions: top B, bottom A
- Steering wheel pine oiled
NEW PRICE: 1927,42 € incl. shipping
VKP: 1300 € VB
The cot can be taken up at any time in 86633 Neuburg on the Danube. We enable collection by forwarding agent if the buyer is responsible for packaging and collection by a forwarding agent.
---
Growing bunk bed in spruce untreated
(Offer 1634)
Published: 23 January 2015 (second hand loft bed)
sold
The cot is about 9 years old, so it has some signs of use. However, because the wood is untreated, the loft bed could be slightly raised again by overgrinding.
- Mattress size 90 x 200 cm2
- Slatted slats
- Crane beams
- Climbing rope natural hemp
- Curtain poles for 3 sides
- (small bed shelf - here, however, a board has to be completely replaced)
- Assembly instructions
- Cover caps in blue
Buy price 2005: 710 €
Price: 550 €
The bed is still standing, but is to be dismantled in the next few days.
Pick-up in Hamburg-Winterhude.
Comment:
Dear Billi-Bolli Team,
the bed is sold! Everything worked out great. A thousand thanks!
Regards
Birgit Hägele
---
Co-growing high bed
(Offer 1633)
Published: 20 January 2015 (second hand loft bed)
sold
Growing bunk bed in solid pine oiled/waxed in the following version:
• Mattress size 90 x 200
• Slatted slat (without mattress)
• Knight's Castle boards
• Rocking rope and plate
• Ladder grille (as an extra also with castle motif)
• Ladder handles
• Small bed shelf
• 2nd crane beam (swing beam)
Bought 2005, very carefully treated (here lived not a robber knight, but a castle maide!),
New price approx. € 1200,-- incl. shipping (without castle board on the ladder grille and 2nd crane beams)
Price € 600, self-collection only in 68799 Reilingen
The cot is already dismantled and pick-up. Photo documentation for the setup is included.
---
Growing bunk bed 90x200, pine honey-coloured oiled
(Offer 1632)
Published: 19 January 2015, sold: 20 January 2015 (second hand loft bed)
sold
We offer our Billi-Bolli high bed for sale here, which was purchased in March 2009. It is currently still being built up with us, exactly as in construction height 5 on the Billi-Bolli website. The cot was little used (our daughter prefers her tobe mattress on the floor to the floor
sleep) and therefore has virtually no traces of use (even neither painted nor glued).
Lying area: 90x200 cm
Material: Pine honey-colored oiled
Accessories: protective boards on three sides at the bottom and four sides at the top, rocking rope, rocking plate (unused, since never attached), small shelf, curtain rods for three sides (unused, since never attached); all required screws, nuts, washers, washers, stopper blocks, cover caps, wall spacing blocks
Originally purchased as a bunk bed for 1500 EUR.
A slatted slat is of course included; Mattress is not included.
Price: 800 EUR
Location: Berlin, Alt-Treptow
non-smoking household; no pets.
Please only to self-collectors. Assembly instructions are available. Dismantling likes to be shared.
---
Bunk bed
(Offer 1631)
Published: 19 January 2015, sold: 21 January 2015 (second hand loft bed)
sold
Our daughter has grown out of her beautiful mice-Billi-Bolli cot. It's really very well preserved.
We are a well-maintained non-smoking household.
We offer:
• Billi Bolli loft bed
• honey-coloured oiled
• Disguise: Mice board with mice
• Haba hanging swing (as good as new)
• Shelf (integrated into the bed)
• Ladder
• Curtain rod (incl. curtains)
• Slatted slats
The new price was € 1,320,- and we would like to sell it for € 850,--.
The loft bed has been dismantled for a week and can be raised at any time in34327 Körle, south of Kassel SELBST.
---
You have been searching patiently for a while now but to no avail?
Have you already considered buying a new Billi-Bolli bed instead? When you no longer need it, you too can use our successful Secondhand Page, completely free of charge. Thanks to the high resale value of our beds, you will get a good return on your purchase even after many years of use. For this reason, a new Billi-Bolli bed is, economically speaking, a very good investment.