---
Two high beds with conversion parts
(Offer 1421)
Published: 10 June 2014 (second hand loft bed)
sold
Verkaufe unsere damals neu gekauften Billi Bolli Hochbetten (2008) plus Umbausatz zum einzelnen Hochbett und einzelnem Etagenbett(2011)
Auf den Bildern sehr gut zu erkennen, wir hatten zuerst zwei einzelne Hochbetten mit separater Treppe für jedes Kind unter dem einen Kinderbett war eine Spielmatratze. Die Kinder hatten bis heute sehr viel Freude und Spaß mit den Betten.
Später haben wir umgebaut zu einer Billi Bolli Hochburg ( da das dritte Kind auch noch dazu kam), mit nur noch ein Eingang oben die Liegefläche komplett offen unten ein weiteres Bett mit Babygitter zum Schutz.
Als Schutzbretter oben gibt es Kojenbretter mit Seepfherdchen und Delfine in Signalblau sowie Mäusebretter mit Mäuschen in Zinkgelb.
Jedes Bett hat eine Liegefläche von 90x200 . 3 Lattenroste sind auch noch dabei.
Dabei ist noch ein Balken , wo man ein Seil oder ein Hängesessel aufhängen kann, sowie Vorhangstangen.
Die Betten sind aus Kiefer geölt.
Zusätzlich wurden zum Umbau noch 4 Holzpferdchen gekauft diese sind auch dabei.
Zu jedem Hochbett gibt es noch ein Kleines Regal auch Kiefer geölt und es gibt noch zwei große Regale die man unter die Betten machen kann auch Kiefer geölt.
Daten:Hochbett 1 90/200 Kiefer geölt inklusive Lattenrost und Schutzbretter für obere Etage, Haltergriffe L:211 cm B:102cm H:228,5cm Leiterposition A, Hochbett 2 90/200 Kiefer geölt inklusive Lattenrost und Schutzbretter für obere Etage, Haltegriffe L: 211cm, B:102cm, H:228,5c, Leiterposition A, dabei noch ein Leitergitter das niemand runterfällt. Vorhangestangenset für unten. Umbauset von 220 zu 210 Umbau von Hochbett zu Etagenbett Kiefer geölt inklusive Lattenrost. OHNE MATRATZEN
Zustand: Gebraucht aber dennoch sehr gut erhalten, Schutzkappen sind alle noch neu
Im Moment ist es noch aufgestellt, beim Abbau kann gerne geholfen werden.
Abzuholen in 77797 Ohlsbach.
NP: für alles mit Umbau 3200€ inkl. Versand
Wir hätten gerne noch 2600€
Comment:
Hello the beds are sold, many thanks to Billi Bolli for having this great opportunity to sell the beds on your side.
Mfg
Family Uhrig
---
Bunk bed-over-corner with rungs wall
(Offer 1420)
Published: 07 June 2014 (second hand bunk bed)
sold
We sell our floors-over-corner bed oiled from spruce.
Lying area of both beds each 1,00mx2,00m.
At the moment they are set up separately.
The cots are in good condition.
Accessories:
- Wall of bars
- Steering wheel (not on photo)
- Rocking beams and dew
- Fixed slatted base (without mattress)
- Small bed shelf
- 2 bed boxes for toys (only one built)
We are a non-smoking and animal-free household.
Age of the bed about 11 years. Since we bought it used 7 years ago, there is unfortunately no original invoice or setup instruction.
Price: 750 €
Only to self-collectors and self-relievers – whereby we help with the dismantling.
This is a private sale without warranty, no return and no warranty.
Place of sale: Stuttgart-Vaihingen.
Comment:
The bed is now sold. It all worked out wonderfully. Thank you for the opportunity to sell it on your site.
Sincerely, Sylvia Neumeier
---
Bunk bed made of oiled beech
(Offer 1419)
Published: 06 June 2014, sold: 07 June 2014 (second hand bunk bed)
sold
The offer includes:
Bunk bed Midi3, beech, oil wax treated
2 slatted slats
2 berth boards
1 small shelf
1 game crane
1 fire bar, ash
Handles
Curtain pole set
Extra dimensions: L: 211cm, W: 102cm, H: 228.5cm
We are a non-smoking household without pets and first owner of the bed.
The cot is in good condition and can be visited in Munich "Am Hart" (80937).
Our price range is €1,200.00 (purchase price 2009 was 1948.50€). The bed is still built and would have to be dismantled by the buyer.
The mattresses (mattress size 90x200) in the picture are in good condition, and can be taken with you on request. I did not include these in the price.
Comment:
Thank you again for publishing the ad.
Half an hour later, the first requests have arrived.
The next day the bed was sold and yesterday it was picked up.
We didn't expect that fast!
Greetings
P. Braunsperger
---
Both-top bed 1
(Offer 1418)
Published: 06 June 2014 (second hand loft bed)
sold
We bought the cots for our two mice 5 years ago from Billi Bolli children's furniture. Both children wanted to sleep upstairs, if already in the loft bed. Therefore, the decision for this variant has been the right solution to this day. The upper bed has not been used for 2 years and the older child wants to have a single bed in the future. Both children were very happy with the beds.
Due to a low nursery ceiling height of 2.07 meters, the corner posts of Billi Bolli were adapted to our wishes (5 beams shortened to 1.95 meters). Bars can be reordered from Billi Bolli if required. The loft bed was of course preserved (see picture).
The model is pine oiled.
In detail: Both-top bed 1, ladder A incl. 2 slatted frames, protective boards for the upper floors, handles, 1 crane beam, 1 shop board at the front, 2 berth boards. External dimensions: L:211cm, W: 211 cm, H: 228.5 cm, 1x W3 and W2 instead of 2xW1 (room height 2.07m) cover caps pink, incl. 1 mattress (foam). All in good condition (not glued/non-smoker/normal traces of use). Beds are still in place.
Our price presentation: 800€
New price was 1.400€, incl. shipping (invoice available)
Since private sale no guarantee or withdrawal. Sale without decoration.
The beds are in 53 359 Rheinbach, I am happy to help with the dismantling. No shipping.
Comment:
Dear Billi-Bolli Team,
Thank you for your support.
The sale offer "both beds upstairs" was sold and picked up.
Greetings Arnim and Ulrike Groth
---
Bunk bed of spruce, 100 x 200 cm
(Offer 1417)
Published: 06 June 2014 (second hand bunk bed)
sold
We sell a Billi Bolli bunk bed "Pirate", bought in 2001, site 83024 Rosenheim.
Spruce, mass 100/200 incl. slatted top.
with protection boards in the upper floor.
Grab rails and ladder.
Various shelves above and below (see photo)
Jib with rope and swing plate.
Original pulley.
Steering wheel.
Curtain rod set of longitudinal and short side with roles.
All wooden parts are oiled.
The cot is in good condition with few traces of roar, it was never plastered with stickers.
We are also a non-smoking household.
It's a private sale without warranty, no returns and no guarantee.
Then purchase price 1875,--DM.
We would like €600.
Against pick up we will gladly assist in reducing.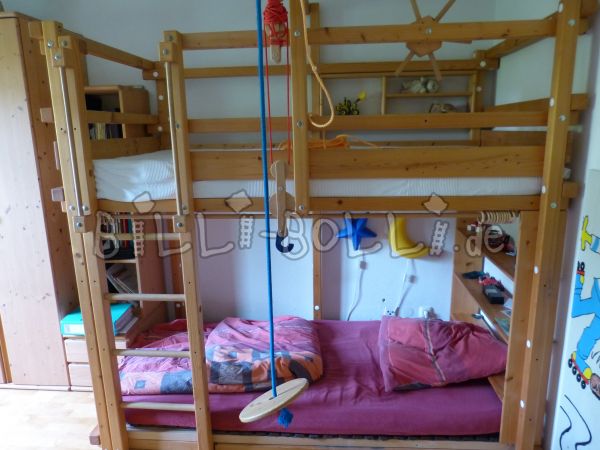 ---
Roof sloping bed with rungs wall
(Offer 1416)
Published: 06 June 2014 (second hand kids' bed)
sold
The pirate has moored on land and no longer needs his ship.
Sell Billi Bolli cot with rungs wall -
New purchase in 2006 for approx. 1500€.
we offer it for 650€ upon pick-up.
More specifically:
Sloping bed spruce, 90x200 cm, oil wax treated;
with berth board for tower, climbing rope, rocking plate, box buck roll, rungs wall - not shown -, flag holder, steering wheel
Original invoice and setup instructions available.
Close to Dresden/ Airport / Highway.
---
Bunk bed
(Offer 1415)
Published: 06 June 2014 (second hand loft bed)
sold
High bed oil wax treated. incl. slatted slats, protective boards for upper floor, handles and ladders.
Price at that time about 665 euros.
The loft bed is in good condition and has almost no signs of use or quirks.
My son handled it very carefully. And even if the bed is geared towards it and we bought it for this reason - he has almost never used the bed bouncy castle or similar is used. The bed has moved only once - was thus only disassembled and set up once.
With a heavy heart we separate ourselves from the cot. But the "little one" grows up and no longer wants his cot.
We would like to have 480,- Euro for the bed.
Comment:
The bed is sold. Almost a pity, because with the change from cot to youth bed, a phase of life comes to an end for us parents.
Thank you very much for setting ... And now delete again.
Regards
Carmen adamu
---
Bunk bedover corner
(Offer 1413)
Published: 04 June 2014 (second hand bunk bed)
sold
The cot can also be built among each other. It has two drawers underneath.
Unfortunately, I couldn't find any more pictures of what the original shape was on. The bunk bed is completely disassembled. When reviewing the offers I find, offer number 1371 corresponds to the majority of my bed. Only the back pads and the sail are missing.
Purchase price 1998 approx. 1,800,- DM.
My price idea is Vb. 650€. Place where the bed can be picked up is Aschheim.
The disassembled bed can be visited by us.
---
Bunk bed in pine
(Offer 1412)
Published: 02 June 2014, sold: 04 June 2014 (second hand loft bed)
sold
For reasons of space, we separate ourselves from our high bed, which was purchased in 2009. This was extended to a bunk bed in 2011.
The cot is in a great condition.
Growing bunk bed extended by conversion set to bunk bed
• High bed 90/200 pine oil wax treated
incl. 2x slatted base
• 2x bed box pirate
• Crane beams with climbing rope attachment
• Small shelf
• Berth boards
• Curtain rods
• ....
Since it is a bit tedious to list all parts, the photos offer the best overview of the accessories.
New price was over 1700 euros - so we imagine a price of 950 euros.
The bed is not dismantled at the moment. We can support you in dismantling.
The bed must be picked up as we have no transport.
Happy to visit in 56414 salt, close to the A3 in the Westerwaldkreis about 20 min. from exit Diez or Montabaur.
Comment:
Good evening
Thank you for your great service around the Billi Bolli bed.
Everything great from buying to selling, thank you!!
The bed was sold and picked up tonight.
With kind greetings
Fam. Niester
---
Co-growing high bed
(Offer 1411)
Published: 02 June 2014, sold: 02 June 2014 (second hand loft bed)
sold
Bunk bed 90/200
Jaw waxed/oiled
Berth boards
Climbing rope and rocking plate (not on picture)
Small shelf
Curtain pole set
bought 2008, good used condition
Non-smoking household without pets
small shop and shelf (built by yourself)
with curtains, but without matraze
Price: 500,- EUR or 620 sFr (was then 1050,- EUR)
Location: CH-9450 Altstätten SG (Rhine Valley)
Comment:
Thank you for the good service. We still have a bed in use. The little brother inherited it.
Thank you very much and we would be happy to recommend you.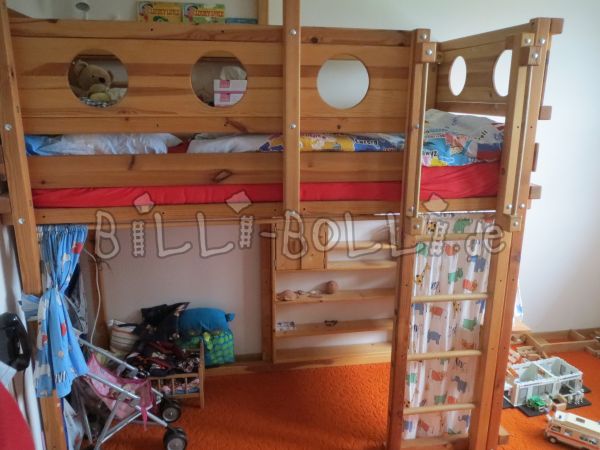 ---
You have been searching patiently for a while now but to no avail?
Have you already considered buying a new Billi-Bolli bed instead? When you no longer need it, you too can use our successful Secondhand Page, completely free of charge. Thanks to the high resale value of our beds, you will get a good return on your purchase even after many years of use. For this reason, a new Billi-Bolli bed is, economically speaking, a very good investment.