Your kid's bed is no longer needed? You are welcome to resell your used kid's furniture and accessories directly on this highly frequented site. This is a free service for Billi-Bolli products that you originally purchased new from us.
If you would like to resell Billi-Bolli products that you bought pre-owned (or a second hand Gullibo kids' bed) on this site, then we take a € 60 fee, which will be fully donated to our charity projects.
Notes
The offers on our second hand page have been translated automatically and therefore may contain translation errors. We take no responsibilities for these errors or the misunderstandings arising from them. Please visit the second hand page on our German website to view the offers in their original language.

We take no responsibility for the information posted by customers about kids' furniture for resale as we are unable to verify them.

Billi-Bolli Kindermöbel is not involved in the resulting resales.

Whether an offer is reasonably priced or not must therefore be determined by the interested party (see Resale price recommendation). Such an assessment cannot be derived from the fact that the item is placed on our Second hand page.

Please note that we cannot deliver accessories or expansion parts for Gullibo kids' beds. If you are intending on expanding the bed, we recommend to directly opt for a Billi-Bolli bed. More information on Gullibo…
Want to stay up-to-date on new offers?
Receive an e-mail as soon as a new second hand offer has been published:
---
High-bed growing up
Offer 1665
. Published: 03 March 2015 (second hand loft bed)
sold
90 x 200
Beech, oiled and waxed
Head
Berth board
Small shelf
Swing seat - Chilly
Slatted slats - without mattress
Purchase price complete 1079,- (price presentation VB 650,-)
Acquisition 2010
The cot is currently set up. Self-collection and dismantling in Munich/Neuhausen.
Comment:
Great service, great product, great revenue at the transfer.
With best thanks and cordial greetings,
Tobias Ohler
---
Adventure high bed for mattress 90x200
Offer 1664
. Published: 03 March 2015 (second hand loft bed)
sold
After 7 years of busy high bed use, our son is slowly entering the youth phase and his beloved and imaginatively played high bed should get a new user
External dimensions 211bx102tx228.5 h
Jaw-untreated, 2 x colourless Livos eco-oil self-treated
Climbing rope natural hemp with rocking plate
Steering wheel (mounted inside)
2 x berth boards with round openings
The slide shown in the photo is no longer available, as it was no longer usable or too steep when the bed was "growing up".
Of course with all necessary mounting material, spacer pieces in case of possible preh. skirting boards, etc.
We made 2 matching shelves ourselves, so that the stuffed animals and books etc. could be lined up well next to the mattress.
all well preserved, normal traces of use, no cracks or the like
From non-smoking household without pets, except those made of fabric :-)
NP 2008: 1,085 euros (included in the slide with 170 €), for 600 €. I would also deliver the cot free of charge to the nearby area (Leipzig) if there is no car. Against coffee and delicious cakes I also help with the construction. The loft bed is already disassembled, except for the ladder.
Comment:
Dear Billi-Bolli-Team
our used bed has gone away in seconds after you have set it. The new owner is very happy. This speaks for quality and their great timeless beds. In the end, we had a lot of fun for just 300 Euros (NP 900 €, sold for 600 €). great! Someone should imitate this stock, e.g. in a sleazy car!!! High-quality wood pays off, beautiful.
The huge disadvantage: We now have to say goodbye to the beautiful and loved bed almost with tears. As if it had a soul. Yes, it really did...
Thank you for the service and continue to be successful with her ingenious business idea away from Ikea & Co.
Family Braun from Leipzig with son Marec
---
Growing bunk bed 100 x 200
Offer 1661
. Published: 27 February 2015, sold: 28 February 2015 (second hand loft bed)
sold
We sell our much-loved Billi Bolli
growing bunk bed spruce amber oiled, bought March 2009
- Cover caps wood-coloured
- Berth board oiled for front
- Berth board oiled on the face side
- Curtain rod set for three sides
- Matching curtains in dark blue monochrome
- Ladder grille for conductor area oiled
- 2x large shelf spruce untreated for wall-side attachment (subsequently purchased March 2012)
- Plate swing (not by Billi Bolli)
The cot is in good used condition.
The total price was just under 1250 € (without curtains and swing).
Our price range is (VHB) 800,- €
The loft bed can be visited in Munich and dismantled immediately.
Comment:
Dear Billi-Bolli Team,
our bed set yesterday is already sold. Please remove the offer from your list.
Thank you very much for this great opportunity.
Yours sincerely
N. Strittmatter
---
Adventure high bed
Offer 1659
. Published: 27 February 2015 (second hand loft bed)
sold
With a heavy heart we are now separating from our Billi-Bolli adventure high bed, bought in 2007.
The cot was used by two children and therefore has slight signs of use, but is in perfect condition.
Details:
- Pine with oil wax treatment
- incl. slatted slats
- for mattress size 90x200cm
- Protective boards for upper floor
- Large shelf below
- Small shelf on top
- Handles ladder position
- berth boards
- Plate swing .
The high bed is currently still built and can be visited and picked up in Höhenkirchen (near Munich).
We would like to have another 500€ for the good piece.
Comment:
Thank you very much for the quick release.
The bed was actually sold about 5 minutes after the circuit!
A perfect conclusion to our Billi-Bolli story .
Greetings
Sylvia Aust
---
Bunk bed
Offer 1657
. Published: 27 February 2015 (second hand bunk bed)
sold
Unfortunately, our children have grown out of the bunk bed age.
Now, unfortunately, we have to separate ourselves from this wonderful bunk bed.
Bed details:
Bunk bed 90/200cm beech oil wax treated
Includes 2 latte slats
2 bed boxes beech oiled
New price Sept. 2010 - 1937€
Our price is 1000€
The cot is in very good condition.
Minimal traces of use are available.
We ask for self-collection, of course we are happy to dismantle
Helpful. Then you're sure to make it easier to set up!!!
The bed is located in the east of Munich in Markt Schwaben (direct neighboring town of Ottenhofen)
We would be very pleased to see any interest soon!
Comment:
Dear Team Billi-Bolli,
the bed has already been sold within 12h.
The demand shows the quality of the beds.
Thank you very much
Family Schlagbauer
---
Co-growing high bed
Offer 1656
. Published: 24 February 2015 (second hand loft bed)
sold
With a heavy heart we part with our almost new Billi Bolli high bed.
The bed was bought 15.01.2013 and is therefore only 2 years old. The high bed Ritterburg/Princessenschloss has the dimensions 90x200 cm and is oil wax-treated beech oiled.
Dimensions of the bed:
High bed 90x200 cm, beech, incl. slatted base, protective boards for upper floor L:211cm, W: 102 cm; H:228.5 cm ladder position: A With knight's castle boards completely bordered up to one there is the small shelf (see also picture). (The mattress and decoration is not sold here).
Accessories:
Kaufmansshopbrett, rocking plate with rope, large shelf at the bottom, small shelf upstairs. Ladder and ladder failure protection, curtain rods and matching curtains in pink/white checkered.
We also have a yellow hanging seat bag which can also be purchased for 40,00 €.
The loft bed is in a super condition and has no significant signs of use (no scratches, stickers or damage).
Original invoice is also necessary because of the guarantee of the bed.
Price at the time of purchase: 2,297.61 € excluding shipping. Our price presentation 1,700 € VB
The adventure bed is still built in 65558 Heistenbach (Heistenbach is located near Limburg/Diez on the A3 between Cologne and Frankfurt). Bed would have to be dismantled and picked up by you, but we are happy to help.
Comment:
Dear Billi-Bolli Team,
our beloved loft bed has changed hands today. We were overrun by the many requests that wanted to have this great bed. Thank you again for the support in your second hand area. The new owners are very happy about the bed.
Family Raabe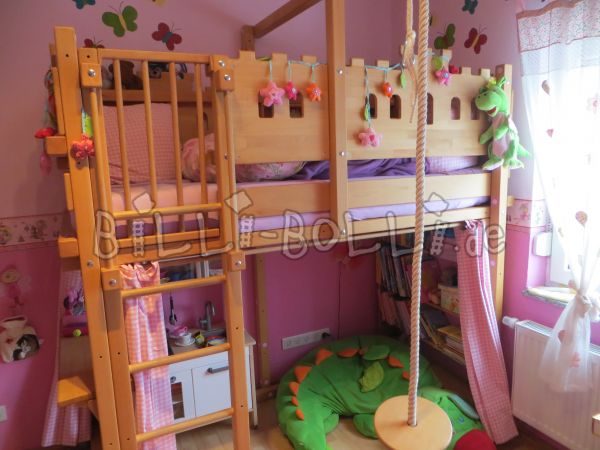 ---
Co-growing high bed
Offer 1655
. Published: 24 February 2015 (second hand loft bed)
sold
After a long back and forth we sell our Billi-Bolli Adventure High Bed, which was bought in 2007, or the growing bunk bed made of untreated spruce. The steps and rungs and the berth boards were painted with blue Auro natural color.
Dimensions of the bed:
L: 211 cm, W: 102 cm, H: 228.5 cm
incl. climbing rope (natural hemp) and rocking plate
Steering wheel spruce, handle rungs beech untreated
Cover flaps white
Slatted slats
There is another painted rung if you want to set up the bed differently. We had always built it up in the position shown in the photo.
A play crane was once mounted on the cot, which is why six small boreholes are still visible. However, the game crane has already been passed on ;o)
At the moment the bed is still set up. For the sake of simplicity, we would suggest dismantling the loft bed together - then the parts can be labelled if necessary for easier reconstruction. The setup instruction is still available!
Price: 580 EUR
The bed is available for dismantling and collection at 83052 Bruckmühl-Weihenlinden.
Comment:
You can mark the bed as "sold". People are running us in here ... ;-) Thank you again for allowing us to post it on your site.
Greetings from the Habels
---
HOCHBETT, growing, oiled-waxed pine, for 850 euros to give
Offer 1654
. Published: 24 February 2015 (second hand loft bed)
sold
Slatted slat, steering wheel, 2 berth boards, 2 curtain rods, crane beams for seat swing etc., mattress size 90/200 cm, length 211cm width 102cm height 228.5 cm, assembly instructions are available in the original.
We will be happy to send you more pictures.
This is a private sale, without warranty, warranty or return.
Location: D - 14469 Potsdam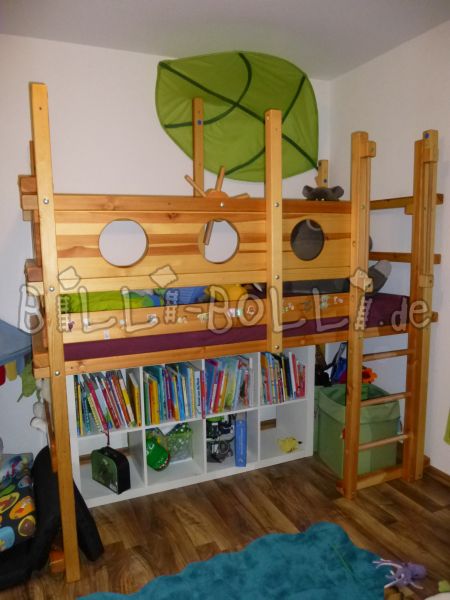 ---
Bunk bed
Offer 1650
. Published: 18 February 2015 (second hand loft bed)
sold
With a heavy heart we have to separate ourselves from the Billi Bolli cot bought in 2012. Our son unfortunately only sleeps with us in the bedroom:(
-Supplied 12.12
-as good as new
-our son has slept only 3times in it
-90x200 cm
-white read
-Climbing wall
-Fire brigade bar
-small shelf in the bed area
-Slanted ladder for midi height 87 cm
-Control wheel, white glazed
-Protection board
At that time price around 2,157.23 euros
VHB 1,800 Euros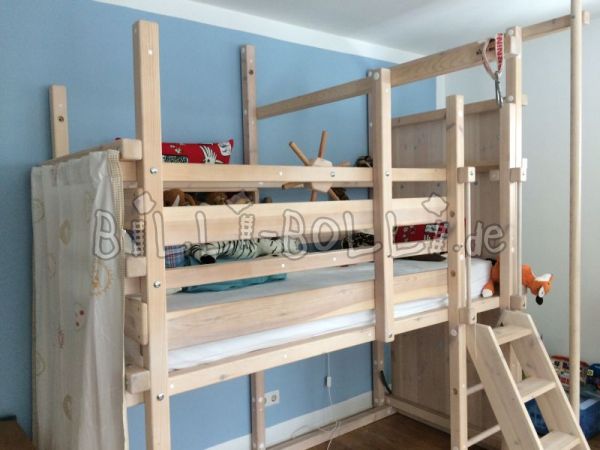 ---
Growing bunk bed, 90 X 200 in beech (oil wax treated)
Offer 1648
. Published: 16 February 2015, sold: 18 February 2015 (second hand loft bed)
sold
We sell a nice growing Billi-Bolli loft bed. The cot was purchased in November 2007 is in good condition. It has the normal signs of use. We are a non-smoking household, the bunk bed is still built at the moment. We are happy to dismantle it together.
However, we can also do the dismantling on our own.
Details / accessories for bed:
- High bed: 90 X 200 incl. slatted slats (2 slats have been repaired)
- External dimensions: length: 211 cm
Width: 102 cm
Height: 228.5 cm
- Oil wax treatment
- Ladder position A, cover caps honey-colored
- Flat rungs
- Berth board 150 cm in front
- Berth board 90 cm on the face side
- Assembly instructions and original invoice are available
We have installed 3 shelves in the lower part of the bed.
However, these can also be removed. The new price was 1327.- € with all accessories. Our price range is 850.- €. The bed should be picked up.
Comment:
Hello Billi-Bolli Team,
Thank you very much for adjusting our bed. We have already sold the bed, it will be picked up at the end of March.
Regards
Fam. Radish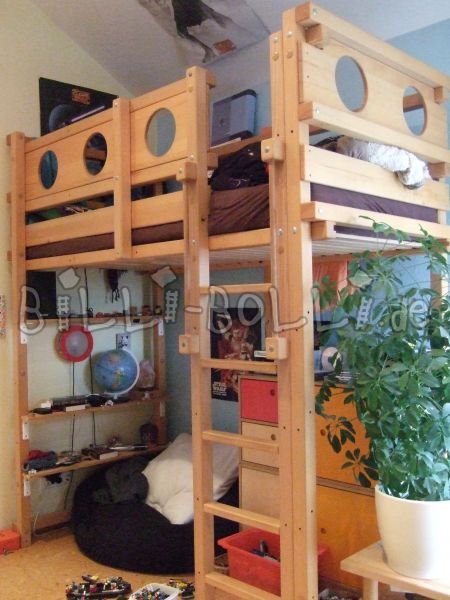 ---
You have been searching patiently for a while now but to no avail?
Have you already considered buying a new Billi-Bolli bed instead? When you no longer need it, you too can use our successful Secondhand Page, completely free of charge. Thanks to the high resale value of our beds, you will get a good return on your purchase even after many years of use. For this reason, a new Billi-Bolli bed is, economically speaking, a very good investment.