Your kid's bed is no longer needed? You are welcome to resell your used kid's furniture and accessories directly on this highly frequented site. This is a free service for Billi-Bolli products that you originally purchased new from us.
If you would like to resell Billi-Bolli products that you bought pre-owned on this site, then we take a € 60 fee, which will be fully donated to our charity projects.
Notes
The offers on our second hand page have been translated automatically and therefore may contain translation errors. We take no responsibilities for these errors or the misunderstandings arising from them. Please visit the second hand page on our German website to view the offers in their original language.

Billi-Bolli Kindermöbel is not involved in the resulting resales. Whether an offer is reasonably priced or not must therefore be determined by the interested party (see Resale price recommendation). Such an assessment cannot be derived from the fact that the item is placed on our Second hand page.

We take no responsibility for the information posted by customers about kids' furniture for resale as we are unable to verify them.
Want to stay up-to-date on new offers?
Receive an e-mail as soon as a new second hand offer has been published:
---
Bunk bed 120 x 200 cm
Offer 1599
. Published: 08 December 2014, sold: 09 December 2014 (second hand loft bed)
sold
It is a bunk bed 120 x 200 "pirate" in pine oiled with play crane (jaw oiled), climbing rope (natural hemp) with rocking plate (jaw oiled), two small shelves (for "in bed") and a large shelf for under the cot, all three pine oiled, youth mattress " Nele plus", special size 117 x 200 on the curtain rod set, berth boards 150 and 132 cm.
We bought it with invoice No. 16544 of 16.01.2008 from you, our customer number according to invoice is the 108016, delivery and assembly on your part was on 29.02.2008. It's still set up exactly as your carpenters have assembled it
The loft bed is in very good condition, nothing is broken, broken or scratched, it was not exposed to direct sunlight, we are a non-smoking household and have no pets. All original setup instructions are still available.
The purchase price was 1945.75 Euro. We would like to offer it for 990,00 Euro, against dismantling and pick-up, we are happy to help with the dismantling.
The pick-up address is Am Wasserbogen 96 in 82166 Gräfelfing, which is directly on the western outskirts of Munich.
Comment:
The bed is sold!
Are you so nice, and mark the offer on your site as sold, or take it out?
I am very happy, and thank you once again for this great opportunity of secondhand sales.
We had four interested parties in three days - unbelievable. But your beds are really great.
Many greetings from the outskirts of Munich, a beautiful Advent season and happy holidays
Astrid Stöffler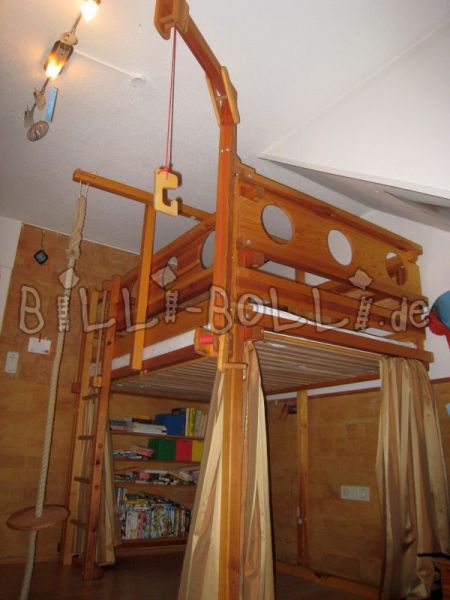 ---
Gullibo bunk bed with slide
Offer 1597
. Published: 08 December 2014 (second hand loft bed)
sold
We sell a bunk bed or an adventure bed with wooden slide, pirate wheel, pulley and climbing rope from Gullibo.
Advantage of Billi-Bolli/Gullibo-Hochbetten: nothing wobbles and extensions can be reordered.
traces of usage are present.
The bed is still built so that the future owner can dismantle it together with us in Steinfurt (near Münster).
Then the setup is easier later!!
Accessories:
- Slide (beech natural: length 220cm, set up, 190 cm, width: 45 cm)
- Steering wheel
- Pulley
- Gallows with climbing ropes
- solid floor for lower floor
- fixed floor for upper floor
- Stairs
- two drawers (a lot of storage space)

Dimensions: floor area 2m x 1m, (mattress width 0.90m x 2m)
Height up to the top of the gallows 2,20m,
Drawers: 78 x 56 x 16 cm,
Slide with bed: 2.80m wide
VB: 850 euro. To self-collectors! Location Steinfurt (48565)/ near Münster
Non-smoking household.
Comment:
Dear Billi-Bolli-Team!
Our Gullibobett has been picked up and sold today.
We are pleased that it will continue to bring a lot of joy!
Thank you for this opportunity!
All the best for the new owners of the bed!!
Merry Christmas
wishes the Kroos family
---
Bunk bed, 90x200 cm, jaw untreated
Offer 1596
. Published: 05 December 2014 (second hand loft bed)
sold
incl. slatted slats, protective boards for upper floor, handles
- Honey/amber oil treatment for high bed
- Fire brigade rod made of ash
- Small shelf, pine honey-colored oiled
- Berth board 150 cm, pine honey-colored oiled for front
- Play crane, pine honey-colored oiled
- Steering wheel, pine honey-colored oiled
bought 2011, very good condition
Non-smoking household without pets
Purchase price 2011: 1486 Euro
Price: 999 euros
Location: Bayreuth
---
with growing bunk bed, spruce, oiled, 100 x 200 cm
Offer 1595
. Published: 05 December 2014 (second hand loft bed)
sold
Inclusive. Slatted slats, protective boards for upper floor, handles
Ladder position A
Berth board at the front u front side
Small shelf, play crane, climbing rope (natural hemp), rocking plate
In addition, we have mounted curtain poles and attached curtains and thus created a cozy cuddly cave (popular sleeping place for lunch or when friends have stayed here).
We bought the high bed in January 2010. It is in very good condition. We are an animalless non-smoking household.
The bed is still set up (until approx. 22.12.14), installation instructions and purchase invoice are available.
Buy price: 1424,48€ incl. shipping
Our price tag: 900,00€
Location: 64832 Babenhausen (Rhine-Main area)
Comment:
Thank you for setting up our Billi-Bolli bed. We had a nice contact today and have already sold it.
Lg
Family Ertelt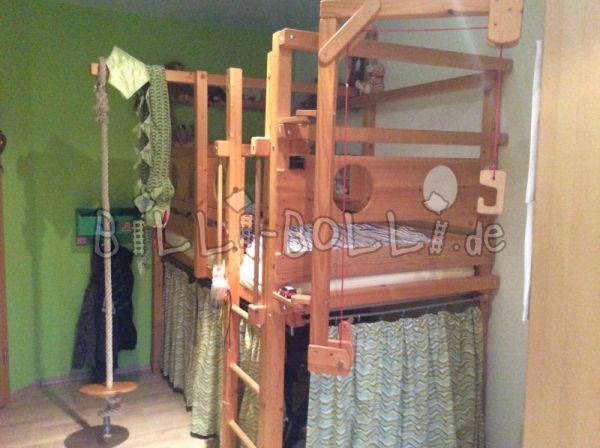 ---
Bunk bed
Offer 1594
. Published: 03 December 2014 (second hand loft bed)
sold
Since we are going to build a gallery for our youngest daughter (after 10 years), we want to sell the beloved Billi Bolli high bed (Built 2001), which all three girls loved.
It is a 90x200 pine wood bunk bed, with two Prolana mattresses and two bed boxes, a super intact slide, hemp plate swing, two baby grilles, a bookcase and four extensions to rebuild the bed. It is oiled, waxed and in very good condition.
Purchase price 2001 was approx. 2200€.
Sales price 1300€, self-collection, if necessary help with the set-up
Comment:
Dear Billi Bolli Team,
Thanks to your great support, we sold the bed to a family in Munich, who also have a daughter named Chiara.
Tomorrow it will be dismantled and picked up.
THANK YOU, Kathy Sollmann-Hergert
Continue to have great success, good business, a blessed Christmas season and all the best!!!
---
Bunk bed 120 x 200 cm
Offer 1592
. Published: 03 December 2014 (second hand loft bed)
sold
High bed 224F-02 Spruce oiled 120 x 200 cm, incl. slatted base, protective boards for upper floor and handles
Climbing rope natural hemp
Rocking plate oiled
Steering wheel oiled
Curtain rod set oiled
Berth board 150 oiled
Berth board front face oiled
Small shelf for front side oiled with back wall
Shop board oiled (never mounted)
Baby grille for ladder area oiled
Purchase date February 2004, purchase price €1,112.
The cot is in excellent condition.
Sell price 700 €.
Visit to the still built bed in Erding
PS: The swing was only hung for photographing!
Comment:
Our bed has found a new home!
We wish the new owners a lot of fun with it!
You can be proud of your beds, which still sell very well even after 10 years of use!
Greetings and thank you for setting!
Family Stöckl
---
Growing bunk bed - bunk bed in white (90-200)- for small mice
Offer 1591
. Published: 03 December 2014 (second hand loft bed)
sold
We sell our beautiful and beloved Billi-Bolli cot in see with 3 mouse boards. We bought the bed "natural" and painted it ourselves with an organic glaze. The expansion came in the way of Billi-Bolli.
Purchase date: 2006 and 2010 the extension for the bunk bed. The total purchase price was: 1,206,- €
Lying surface(s) above and below each 90x200 cm
The adventure bed has normal signs of use without stickers (from a non-smoking household). It has been played a lot and is in a very good condition.
Unfortunately we only have a slatted base, because the upper one broke through after a few jumps last year. We don't think that's bad after many years. You can buy a simple roll slat grate. Neither the bed linen, mattress or teddy are for sale :).
The bed is partially cut and dismantled (we left the foot and headboard completely, as well as the stair part). The bed can of course also be sanded again if necessary. The building instructions are attached.
Price: 700.00 € VHB
Collection: 69121 Heidelberg
Comment:
Thank you very much for the attitude of our Billi-Bolli. We are happy that two other children will have a lot of fun with the Billi-Bolli. The new owners picked it up on Sunday and I think someone will be really happy for Christmas.
Thank you again and many greetings
Monika Häring
---
Growing original Gullibo bunk bed
Offer 1589
. Published: 02 December 2014 (second hand loft bed)
sold
We sell our daughter's original Gullibo adventure bed.
The bed is made of solid pine, oiled with an organic oil and can be built and extended in different variants.
Mattress size 90 x 200 cm
Accessories:
• Protective boards for upper floor
• Ladder
• Slatted slats
• Climbing rope (not shown)
• Steering wheel
• Handles
• Assembly instructions for different configuration variants
Price presentation: 480 Euro
The bed is in very good condition, no stickers or paint, little traces of usage! We are a non-smoking household and do not have pets.
The bed is constructed as shown. It can be visited by us in Bad Soden am Taunus (between Frankfurt and Wiesbaden). We help with the dismantling if necessary.
---
High-bed growing up
Offer 1588
. Published: 02 December 2014 (second hand loft bed)
sold
Age: August 2010
Condition: good, normal traces of use
Lying area: 100x200cm
Material: Pine oiled
Ladder position: A
Accessories: slatted slat, front berth board, berth board on the front side
Fire brigade rod, small shelf, steering wheel, crane beams,
Climbing rope, rocking plate
Cot is still set up until Christmas 2014.
Non-smoking household. Assembly instructions are available
The slide in the picture is not from Billi-Bolli!
New price: 1,422€ without mattress
Sell price: 1,100€
Location: 49545 Tecklenburg /Brochterbeck, NRW
Sale to self-collectors
---
Collumbering high bed, 100 x 200cm, pine oiled
Offer 1586
. Published: 02 December 2014 (second hand loft bed)
sold
We have a nice Billi-Bolli loft bed (1m x 2m, growing) with two floors (also only usable with one floor) at variable height to be delivered buildable. The whole thing has berth boards and a steering wheel, so can be used as a pirate ship. Material pine, oiled, incl.2 slatted rods, ladders and handles.
On request, the 2 mattresses are available free of charge.
The cot would have to be dismantled (Munich, Josephsplatz) and transported.
New price approx.1200,-€
Price presentation 449,-€
---
You have been searching patiently for a while now but to no avail?
Have you already considered buying a new Billi-Bolli bed instead? When you no longer need it, you too can use our successful Secondhand Page, completely free of charge. Thanks to the high resale value of our beds, you will get a good return on your purchase even after many years of use. For this reason, a new Billi-Bolli bed is, economically speaking, a very good investment.