---
BDaytime bedover corner in spruce
(Offer 1375)
Published: 15 April 2014 (second hand bunk bed)
sold
Beloved Billi Bolli Adventure Bed for sale - heavy heart :-)
Over-corner bed 90x 200 cm, spruce oiled, crane beams offset to the outside
We bought the cot 12/2003 anew, at that time NP was 1,500 € incl. slatted slats. It is in good condition with normal and usual traces of use.
Original invoice and setup instructions are available. The cuddly toys and mattresses are not sold.
Other accessories: steering wheel, climbing rope, 2 berth boards, 2 bed boxes with additional subdivision, 3 dolphins and 2 seahorses
Price: 850€ VB at self-collection of the already dismantled bed in 31224 Peine
It is a private sale without warranty, without return and without warranty.
We will be happy to send you more pictures on request.
Comment:
Thank you very much for the great and quick service, the bed was sold last week!!!
Best regards from Peine, Dopke family
---
Ritterburg-Hochbett
(Offer 1373)
Published: 14 April 2014, sold: 17 April 2014 (second hand loft bed)
sold
7 years old, pine oiled, with slide tower and slide, swing and rocking plate, brand new mattress and curtains. Price £450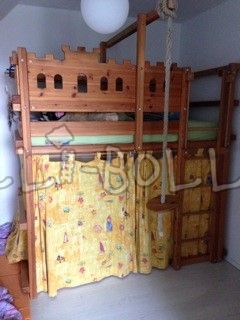 ---
High bed in spruce
(Offer 1372)
Published: 10 April 2014 (second hand loft bed)
sold
- height-adjustable Billi Bolli bunk bed 90x200 cm
- L: 211 cm, W: 102 cm, H: 228.5 cm
- New purchase from 04/2009 / Rg.-Nr.: 18897
- expandable with climbing wall, etc.
- Spruce treated with oil
- Ladder position A (front right)
- Floor baseboard
- 4ss ladder
- Sail, blue
- Play crane (never attached)
- fishing net
- Carabiner hook
- Climbing rope, natural hemp
- Steering wheel
- Slatted slats
- berth board
- The new price for the bed was about 1300,- (purchase etc.
- Our price is priced at 950.00€.
- To self-decompressers and self-collectors in Hamburg / Schanze. Large elevator available !!
- A "nut wrench" is required for dismantling - please bring it with you.
This is a private sale, without warranty, warranty or return.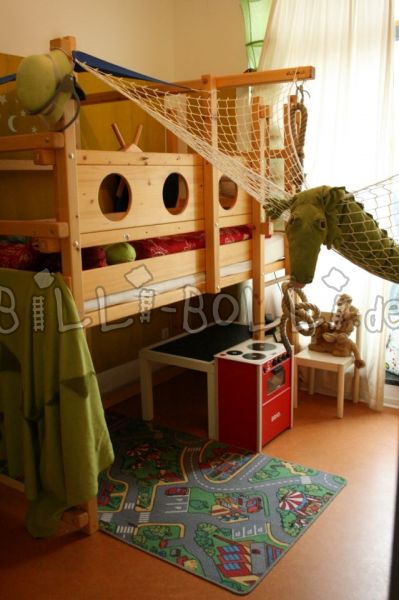 ---
Gullibo bunk bed
(Offer 1371)
Published: 10 April 2014 (second hand bunk bed)
sold
Original Gullibo Adventure Bed 100 for self-dropping and pickup
Bunk bed for 2 children
Natural wood untreated, from 1st hand, bought in 1998, yet almost new condition
Measures: 210 cm long, 220 cm high, 102 cm wide
With slatted grate for the lower floor and protection and loading savior for the upper floor,
Ladder with grip, climbing rope, steering wheel, 3 back pads (uni blue), sails (uni blue) and two spacious drawers made according to artisanal tradition.
With structure instructions and photo with numbered components for easier degradation and construction.
NP: 2.485,-DM (1998)-original bill available
VB: €650
Location: Munich-Trudering
---
High bed in pine
(Offer 1370)
Published: 08 April 2014 (second hand loft bed)
sold
We would like to give up our much-loved Billi- Bolli high bed, because at the age of 13 you probably get too big.
We got the bunk pine oiled in 2005 delivered directly by Billi-Bolli children's furniture. Purchase price 1021 € incl. shipping.
Additional parts are a steering wheel/rope/shelf/a merchant board, as well as a working crane, which, however, lacks a diagonal stabilizing board/ as well as the slatted base.
The cot is of course used and had e.g. the usual stickers on it, which settle down brightly.
Please only self-builders and -holers.
We would like to have 500 euros for it.
The pick-up point is Hamburg- Iserbrook.
---
Bunk bed in pine
(Offer 1369)
Published: 07 April 2014 (second hand loft bed)
sold
Wir verkaufen eins unserer Etagenbetten. Es handelt sich dabei um ein Hochbett 100 x 200 cm, Kiefer unbehandelt, inklusive Lattenrost (gekauft 11/2005 für 1.020 € inkl. Versand), das Ende 2012 mit einem Umbausset, inklusive Lattenrost, zum Etagenbett umgebaut wurde (Umbauset Neupreis o. Matratze 230 Euro). Die Balken des Umbaussets sind daher noch etwas heller als das Hochbett. Das Kinderbett ist in einem guten Zustand, nicht bemalt oder beklebt. Es wurde seitdem Aufbau nicht abgeschlagen und ist wenig benutzt, da nicht jedes Kind ein Hochbett-Fan ist... Da die Schutzbretter (werden nicht mit verkauft) angebracht waren, befinden sich in der oberen Etage die kleinen Schraublöcher im Holz. Der Ankerbalken, der auf dem Foto nicht mehr angebracht ist, wird mitgeliefert, ebenso ein Steuerrad. Die Schublade wird ebenso wie die Matratzen nicht mitverkauft.
Das Etagenbett ist seit Anfang April abgebaut. Es soll wie beschrieben VB 500 € kosten und kann in 56332 Dieblich bei Koblenz abgeholt werden.
Comment:
Good day
Thank you very much! The bed is already sold!
Sincerely
Tom Siener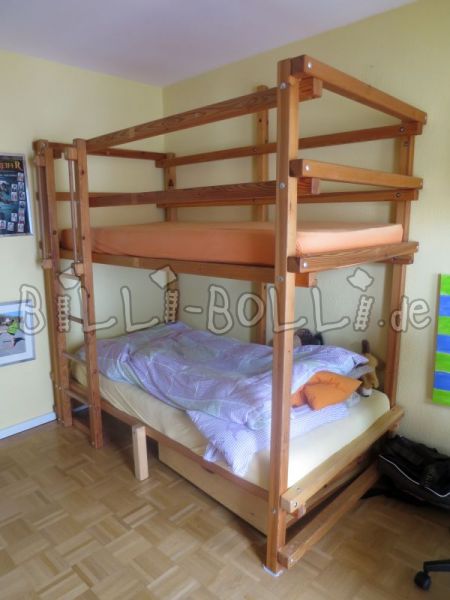 ---
High bed in jaw
(Offer 1368)
Published: 07 April 2014 (second hand loft bed)
sold
We sell our 4 year old Billi Bolli loft bed. Sohnemann prefers a youth room.
It is the honey-coloured oiled pine version 90/200 incl. slatted base, protective boards, handles and the small shelf. In addition, there is a mattress and a punching bag incl. boxing gloves as shown in the pictures. Not shown in the pictures are a flag incl. bracket (Art.Nr. 315-3), rocking plate and rope (Art.Nr. 320+360), a curtain rod set (Art.Nr. 346) and the steering wheel (Art.Nr. 310).
The cot is in very good condition and still set up with us. Rope, rocking plate and the steering wheel are already a bit older and used accordingly more strongly. We are happy to give curtains for the curtain pole set if you like it. The adventure bed cost 984 € without mattress and punching bag in 2010. The accessories have a total new value of about 200 €, the new price of the mattress was 147 €. Our price is 800 €.
Invoice and setup instructions are available. The bed is still set up and should be dismantled together when collecting yourself in the Elmshorn area, but does not have to.
---
Stillbed in beech
(Offer 1367)
Published: 07 April 2014 (second hand kids' furniture)
sold
Now that we need a desk, we sell our son's still bed (or later used as a bench). The still bed (honey-coloured oiled) we bought children's furniture from Billi-Bolli in 2008 for 319€.
The still bed includes a Prolana mattress and a storage board, which has been used for the past. can be attached. It has minimal signs of use.
We live in an animalless non-smoking household.
Sell price: 130€.
Dimensions:
Width = 45 cm
Length = 90 cm
Height = 63 or 70 cm (height adjustable)
The still bed can be picked up in Aschheim b. Munich.
---
High bed in spruce
(Offer 1366)
Published: 07 April 2014 (second hand loft bed)
sold
We are moving and therefore have to sell our son's Billi Bolli cot with a heavy heart. It is a growing bunk bed made of untreated spruce wood with dimensions of 100x200 cm. These include a sloping roof stage, a climbing rope, a rocking plate, a small shelf, the slatted frame and a mattress (without pillows and other decorations). The ladder is located on the right side of the bed. We bought the adventure bed in 2009 and it was only built once.
The bed can be visited in NRW / Ladbergen and we sell to self-collectors. Since we are only moving at the beginning of July, we would like to sell the bed only at the end of June, in urgent cases we can of course talk about an earlier date. The bed has to be dismantled, of course, but we are happy to help. Self-mining is recommended, as reconstruction will then be easier. BOM, complete assembly instructions as well as the original invoice are also handed over. We are an animal-free non-smoking household. The new price for the bed was 1,168,70€ incl. shipping. Our price is 580.00€.
This is a private sale, without warranty, warranty or return.
Comment:
Dear Billi-Bolli Team,
our bed is sold, you can take out the offer please. Thank you for the support, this was really very fast and uncomplicated.
Family Lisso
---
High bed with climbing wall
(Offer 1363)
Published: 02 April 2014 (second hand loft bed)
sold
We sell our beloved Billi-Bolli cot because our young man needs a youth room.
Our purchase price at that time 2223,- Euro without mattress and shipping in October 2010.
Our bunk bed 90x200 in beech with oil wax treatment, incl slatted base, protective boards for upper floor, handles, external dimensions 211x102 cm H 228.5 cm
+ Berth board on the face beech oiled 1x 90cm + 1x front 150cm
+ Climbing wall beech oiled
+ Game crane
+ Steering wheel
+ small shelf
+ Ladder grille
+ Climbing rope cotton + rocking plate
+ Curtain rod set
At the moment, the Abentuerbed is still set up with us. Our price tag would be 900 euros incl. everything
Pickup. Original invoice is available.
The high bed is located in Lauterach near Bregenz.
Comment:
Hello Dear Billi Bolli Team
Thank you for cleansing our bed.
It has just been sold.
Thank you very much
with kind greetings
Silvia Natter
---
You have been searching patiently for a while now but to no avail?
Have you already considered buying a new Billi-Bolli bed instead? When you no longer need it, you too can use our successful Secondhand Page, completely free of charge. Thanks to the high resale value of our beds, you will get a good return on your purchase even after many years of use. For this reason, a new Billi-Bolli bed is, economically speaking, a very good investment.