Your kid's bed is no longer needed? You are welcome to resell your used kid's furniture and accessories directly on this highly frequented site. This is a free service for Billi-Bolli products that you originally purchased new from us.
If you would like to resell Billi-Bolli products that you bought pre-owned on this site, then we take a € 60 fee, which will be fully donated to our charity projects.
Now, despite the initial restrictions, you can visit our exhibition and get advice – conveniently from home, from anywhere in the world 🙂 you only need Skype (free) on your phone or computer. Make an appointment for a non-binding consultation by video call! Make an appointment . . . . . . . .
Notes
The offers on our second hand page have been translated automatically and therefore may contain translation errors. We take no responsibilities for these errors or the misunderstandings arising from them. Please visit the second hand page on our German website to view the offers in their original language.

Billi-Bolli Kindermöbel is not involved in the resulting resales. Whether an offer is reasonably priced or not must therefore be determined by the interested party (see Resale price recommendation). Such an assessment cannot be derived from the fact that the item is placed on our Second hand page.

We take no responsibility for the information posted by customers about kids' furniture for resale as we are unable to verify them.
Want to stay up-to-date on new offers?
Receive an e-mail as soon as a new second hand offer has been published:
---
Mira hanging chair
Offer 1608
. Published: 17 December 2014 (second hand kids' bed)
sold
We part with an original Mira hanging chair, whose new price was well over 100 €. The armchair can be attached to the beam of the Billi-Bolli-KInderbeds.
Even infants lie safely in the swinger. A harness for safe sitting of young children is included and even much larger children, even at school age, still feel comfortable in it.
The armchair has no signs of use and is packed in the original cloth bag.
The armchair in the east of Munich can be viewed.
We would like to sell the armchair for 40 euros (NP well over 100 €).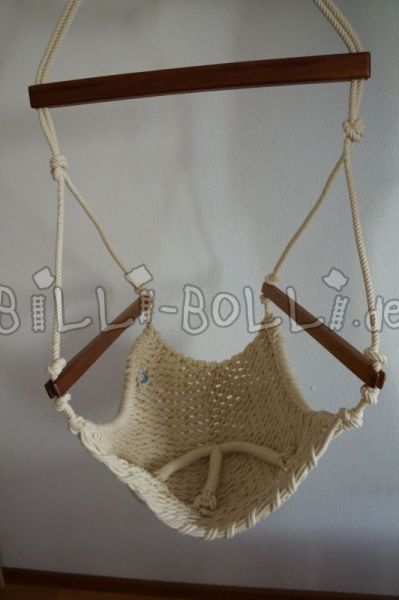 ---
High bed with climbing wall
Offer 1607
. Published: 17 December 2014 (second hand loft bed)
sold
We separate ourselves from our beloved Billi-Bolli-HighBed:
Dimensions: 100 x 200 cm
Pine, honey/amber oil treated
• incl. climbing wall, pine, honey-coloured with pr. Climbing handles
• incl. slatted slats
• incl. berth board, honey-coloured oiled
• incl. slide (not on picture!) (sliding position A)
• excl. Mattress
• Used condition with normal wear and tear. Unfortunately in two places small scribbles from my daughter. However, the bed can be set up in such a way that they are not visible.
• Climbing rope looks very carried and should be replaced or body without rope.
• On request I can also email a photo with slide. Unfortunately, we don't have one just with bed and slide, i.e. there are still people in the photo pictured, so I don't want to put it online.
Price 2007: 1340 Euro (without mattress)
Our price tag: 700 euros
Cot is to be picked up at 81547 Munich (Untergiesing). At the moment it can still be visited in a built-up condition. But we want to rebuild over the holidays. The assembly instructions are available. We are happy to help with the dismantling.
---
Bunk bed pine, mattress size 120x190 cm
Offer 1605
. Published: 15 December 2014 (second hand bunk bed)
sold
bottom slatted slat, top playing floor.
2 bed boxes, rocking rope and plates, as well as steering wheel and curtain rods are included.
The shelves shown are not sold.
Bed and accessories have clear signs of use (scribbles).
The cot was painted by and with white acrylic paint.
The purchase price in 2001 without bed boxes was 1217,- Euro.
Price presentation with accessories 450,- Euro.
Invoice and setup instructions no longer available.
Self-collection in Munich.
Comment:
We were able to sell our loft bed in the meantime.
Thank you very much!
---
Both-top bed 2, 90x200, pine
Offer 1604
. Published: 10 December 2014 (second hand loft bed)
sold
It is a two-top bed 2, 90x200, pine. The basis is a growing bunk bed purchased in 2006 (which would therefore be individually adjustable again with the existing material), which we expanded in 2010 with the second cot offset on the side. Actually, we wanted to "separate" the beds in the course of a nursery reorganization. But now everything is very different and we separate ourselves from this beautiful bed with a wistful heart.
- Condition good, no damage, no stickers or paints
- Wood mostly oiled (except for the newer beams, which are thus a little brighter)
- Curtain poles available (were on the single loft bed)
- Invoices and setup instructions are available
The purchase price was a total of 1,380 euros.
Our price tag: 800 euros
Location: Südraum Leipzig, Großpösna OT Dreiskau-Muckern
Comment:
Dear Billi-Bolli-Team,
the bed has now been picked up and in good hands. Thank you for this beautiful secondhand page!
Regards
F. Okun
---
Bunk bed 100x200, beech
Offer 1603
. Published: 09 December 2014 (second hand loft bed)
sold
It is a bunk bed 100x200 cm beech with oil wax treatment, incl. slatted base, mattress, protective boards for upper floor, handles, locomotive and tender.
The external dimensions: L 211 cm, W 112 cm, H 228.5 cm. Pictures can be submitted on request by me.
The cot is in very good condition.
Pick-up must be made at 31633 Leese. The dismantling can be carried out in cooperation after consultation.
Price 13.10.2010 1940 €
Price presentation today 1100 € VB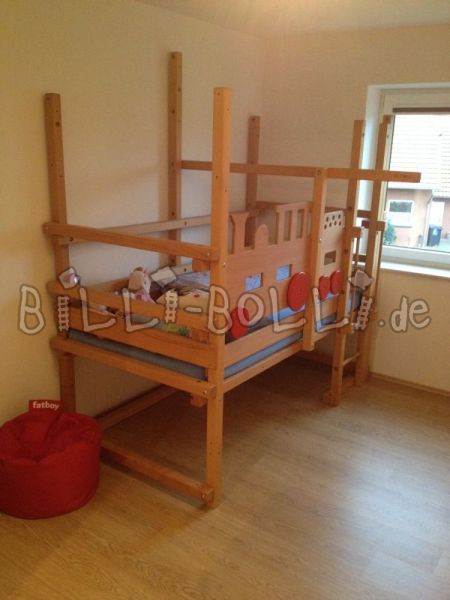 ---
Extension set high bed -> Bunk bed
Offer 1602
. Published: 08 December 2014 (second hand loft bed)
sold
We have "reduced" our bunk bed to a single bunk bed and therefore offer the "lower floor" as an extension set for a bunk bed for sale.
Material: pine, waxed/oiled, 57x57
Bed dimensions: 100cm x 200cm
Set with:
-1 groove bar front W4 210cm
-1 groove bar rear W2 210 cm
-2 side beams W5 112 cm
-2 midfoot stand beams S10 32 cm
-1 slatted slat
-various screws, washers, nuts, cover caps
New purchase: 2009
Location: Dresden
New price conversion set: 238 €
VB: 175 Euro to self-collectors
---
2 bed boxes
Offer 1601
. Published: 08 December 2014 (second hand kids' furniture)
sold
We offer 2 bed boxes for sale:
Item No. 300
Dimensions: B 90cm, D 85cm, H 23cm
Material: Pine oiled/waxed
New price: 130.00 euros each
New purchase: 2009
VB: 100 Euros for both, to self-collectors
Location: Dresden
---
growing bunk bed 100 x 200 cm, jaw untreated
Offer 1600
. Published: 08 December 2014 (second hand loft bed)
sold
incl. slatted slats, protective boards for upper floor, handles and on request with mattress (Ikea)
bought 2006
- oil wax treated (by billi-bolli)
- Possibility to install slide (position C front side) and climbing rope (both not contents of the offer, since at other Billi-Bolli bed still used)
- very good condition, slight traces of use
- Non-smoking household without pets
Purchase price 2006 (without slide and rope): 785 Euro (original invoice and installation instructions available)
Price: 400 euros
Location: for self-collection in Dresden
Comment:
Hello!
The bed is already sold.
Thank you for hiring.
Greetings
Andreas Römer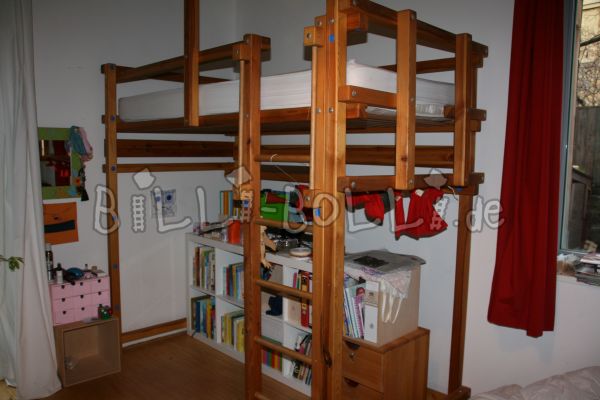 ---
Bunk bed 120 x 200 cm
Offer 1599
. Published: 08 December 2014, sold: 09 December 2014 (second hand loft bed)
sold
It is a bunk bed 120 x 200 "pirate" in pine oiled with play crane (jaw oiled), climbing rope (natural hemp) with rocking plate (jaw oiled), two small shelves (for "in bed") and a large shelf for under the cot, all three pine oiled, youth mattress " Nele plus", special size 117 x 200 on the curtain rod set, berth boards 150 and 132 cm.
We bought it with invoice No. 16544 of 16.01.2008 from you, our customer number according to invoice is the 108016, delivery and assembly on your part was on 29.02.2008. It's still set up exactly as your carpenters have assembled it
The loft bed is in very good condition, nothing is broken, broken or scratched, it was not exposed to direct sunlight, we are a non-smoking household and have no pets. All original setup instructions are still available.
The purchase price was 1945.75 Euro. We would like to offer it for 990,00 Euro, against dismantling and pick-up, we are happy to help with the dismantling.
The pick-up address is Am Wasserbogen 96 in 82166 Gräfelfing, which is directly on the western outskirts of Munich.
Comment:
The bed is sold!
Are you so nice, and mark the offer on your site as sold, or take it out?
I am very happy, and thank you once again for this great opportunity of secondhand sales.
We had four interested parties in three days - unbelievable. But your beds are really great.
Many greetings from the outskirts of Munich, a beautiful Advent season and happy holidays
Astrid Stöffler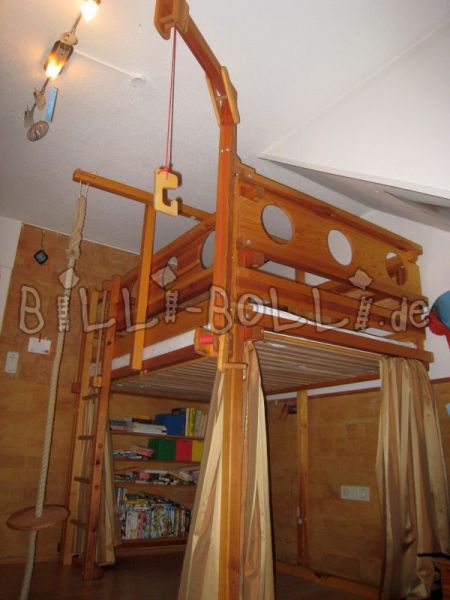 ---
Gullibo bunk bed with slide
Offer 1597
. Published: 08 December 2014 (second hand loft bed)
sold
We sell a bunk bed or an adventure bed with wooden slide, pirate wheel, pulley and climbing rope from Gullibo.
Advantage of Billi-Bolli/Gullibo-Hochbetten: nothing wobbles and extensions can be reordered.
traces of usage are present.
The bed is still built so that the future owner can dismantle it together with us in Steinfurt (near Münster).
Then the setup is easier later!!
Accessories:
- Slide (beech natural: length 220cm, set up, 190 cm, width: 45 cm)
- Steering wheel
- Pulley
- Gallows with climbing ropes
- solid floor for lower floor
- fixed floor for upper floor
- Stairs
- two drawers (a lot of storage space)

Dimensions: floor area 2m x 1m, (mattress width 0.90m x 2m)
Height up to the top of the gallows 2,20m,
Drawers: 78 x 56 x 16 cm,
Slide with bed: 2.80m wide
VB: 850 euro. To self-collectors! Location Steinfurt (48565)/ near Münster
Non-smoking household.
Comment:
Dear Billi-Bolli-Team!
Our Gullibobett has been picked up and sold today.
We are pleased that it will continue to bring a lot of joy!
Thank you for this opportunity!
All the best for the new owners of the bed!!
Merry Christmas
wishes the Kroos family
---
You have been searching patiently for a while now but to no avail?
Have you already considered buying a
new
Billi-Bolli bed instead? When you no longer need it, you too can use our successful Secondhand Page, completely free of charge. Thanks to the high resale value of our beds, you will get a good return on your purchase even after many years of use. For this reason, a new Billi-Bolli bed is, economically speaking, a very good investment.
Kindergarten closed? Boredom at home? Now use the time and order a Billi Bolli bed 😉 If you order a bed by March 31 you get 50 € discount!