---
White painted bunk bed
(Offer 1296)
Published: 07 January 2014 (second hand loft bed)
sold
Our daughter has grown up and we unfortunately have to sell - the fantastic and beautiful cot. The loft bed is in a top condition and therefore has no quirks.
We bought the bed on 7.12.2007 at a purchase price of Euro 1,722.14 incl. shipping. original invoice)
This is a 100x200 cm high bed in pine untreated, which was painted directly by Billi-Bolli children's furniture in white. These include slatted slats, upper floor protection boards and handles. A ladder in position A is of course also included.
Also equipped is a cotton climbing rope with a swing plate in pine, colour lacquered and a pulley (unused and originally packaged). There is also a curtain rod set for M-width 80 90 100 cm, for three sides, oiled. Small shelf, pine painted.
A Nele plus youth mattress allergy in 97 x 200 cm (Here you should consider, although also the condition of the mattress is flawless, whether you do not buy your child a new own mattress.)
Purchase price Euro 1,100.00
You can visit the high bed built with us and should also dismantle it together with us, so that you can convince yourself of its flawless.
P.S. I will send you the photo of the loft bed.
Comment:
Please remove the offer from your homepage as the bed has already been sold.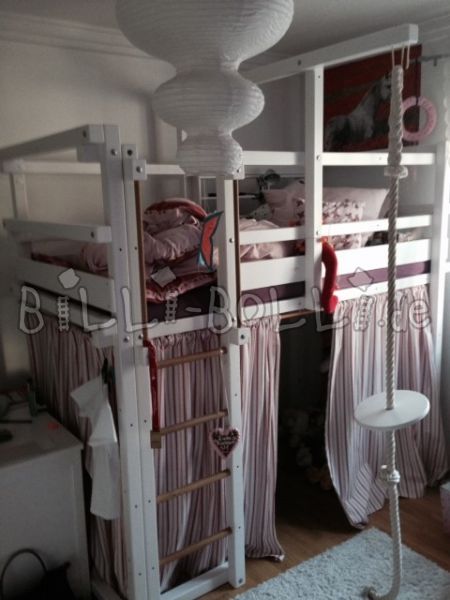 ---
High bed in spruce
(Offer 1295)
Published: 07 January 2014 (second hand loft bed)
sold
Aussenmaß: L:211cm x B:112cm x H:228.5 cm
Matratzenmaß: 97cm x 200cm
Fichte geölt
Baujahr November 2008
Zubehör:
1 Nele Plus Jugendmatratze Allergie 97x200
1 x Balken mit billi-bolli-Schriftzug
1 x Kletterseil Naturhanf
1x Schaukelteller
1x Steuerrad
1x großes Regal - B 100/ H 108/ T 18
Vorhangstangenset (ggf. mit Vorhang) für 3 Seiten
1 x Leiter mit Haltegriff
1 x Aufbauanleitung
1 x Rechnung
Allgemein:
Das Etagenbett wurde nie beklebt, guter Zustand, normale Gebrauchsspuren aber flecken- und aufkleberfrei
Schutzbretter, Schrauben, Abdeckungen etc sind komplett.
Nichtraucherhaushalt.
Es sind nicht alle Zubehörteile auf dem Bild sichtbar, da wir das Bett vor 2 Jahren schon zu einem Jugendbett umgebaut haben.
Wir waren mit diesem stabilen Etagenbett immer sehr zufrieden.
Preis:
Neupreis: 1580€ inkl. Versand
Preisvorstellung: 1.100€ zur Abholung in Zürich
Wir helfen gerne beim Abbau (das erleichtert später wieder den Aufbau), wir können das Bett aber auch demontieren.
Comment:
---
High bed in beech
(Offer 1294)
Published: 07 January 2014 (second hand loft bed)
sold
We sell our original Billi-Bolli adventure bed,which was newly purchased in 2008:
The cot has been treated very carefully and the condition is as good as it is:
no significant signs of use, no stickers, nothing painted. We are a pet-free non-smoking household.
Here is the list from the original invoice:
Bunk bed 90 x 200 cm, beech (221B-A-01)
Oil wax treatment
Slatted slats
Protective boards for the upper floor
Ladder with handles
Berth board for front
Bunk board at the back
Berth board on the face side
Small shelf
Swing beams
blue cover caps
Curtain rod set for front and side
Curtains (purchased separately)
The HABA swing is not included in the offer.
The new price was over €1,600. For a price of VHB 900,- € we give the bed that fulfills children's dreams.
Self-collection only. The adventure bed has already been dismantled.
The assembly instructions are available in the original. We will be happy to send you more pictures.
This is a private sale, without warranty, warranty or return.
Location: D -85368 Moosburg an der Isar
Comment:
Thank you for setting the bed on your secondhand side. As no other expected, the response was very large and therefore the bed is already sold. Once again, we would like to thank you for your support.
Greetings
Family Böhm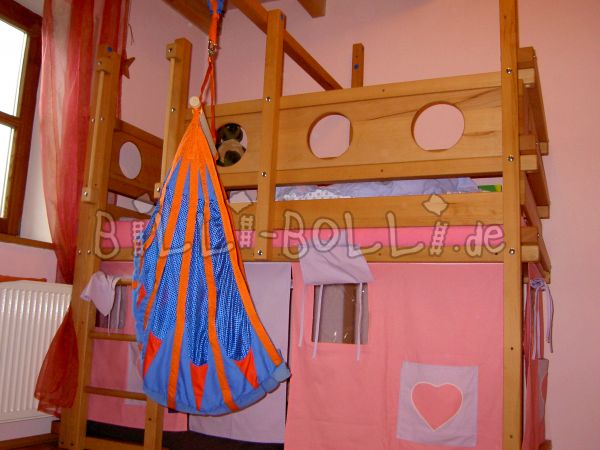 ---
Both-top bed 4
(Offer 1293)
Published: 03 January 2014 (second hand bunk bed)
sold
We want to sell our " Both - above - cot ". From now on, the children need separate privacy. You have enjoyed the time in and with the bed very much !
It is the " Both - above - bed " 4 in the version / size 431 , oil waxed . Both ladders have the position A, the cover caps are wood-colored. Included are 2 slatted slats, protective boards for the upper floors and handles for safe boarding and disembarkation.
A fire bar of ash and a climbing rope are there, and gladly used. There are still wooden animals to monify on (dolphin, fish and seahorses) .
The good bunk bed came to us in January 2012 and is therefore almost 2 years young.
There is a small transport damage to the small beam, which runs close to the ground at the back of the white wall in the picture, here the wood is a little scratched. We didn't have a complaint. In addition, after the transport was a little black rubber-like color on a corner of a small beam, we have almost got that away with an eraser, a little gray shimmers it still. With fine sandpaper it would certainly be, but to us the oil wax layer is more important.
In addition, our daughter has initially cracked a latte of the slatted slat during very wild jumping, the good repair has held but to this day. Otherwise the bed is very well preserved, there are no paintings, carvings or sticker places on it.
We are a non-smoking household and live with animals, but sleep in their own beds.
The KInderbett has without the shipping costs and the cash on delivery fee and a pulley, which I have meanwhile given away 1,962 euros.
Since it looks really great except for the described little quirks and is quite young, we would like to have 1. 350 Euros for it, but there is a little negotiating room.
We would prefer a pick-up, my husband would be willing to dismantle the bed. We can also ship it with a forwarding agent, but do not come for shipping on.
We live near Kiel , in Schleswig - Holstei
---
Bunkbed made of untreated jaw
(Offer 1291)
Published: 03 January 2014 (second hand loft bed)
sold
We part with a heavy heart from the growing Billi-Bolli-high bed, jaw untreated our son, who now unfortunately feels too "grown up" for it.
Dimensions (approx.) L: 212 cm, W: 102 cm, (mattress size: 200x90 cm), H: 196 (corner beams)/ 225 (middle beams for rocking rope) cm
maximum height under the bed: approx. 152 cm
with protective boards for the upper floor
with slatted slats, ladders and handles
Design: Pirate bed
Accessories:
Steering wheel pirate bed
Climbing rope natural hemp with rocking plate
Bed and accessories are well preserved. (with normal traces of use)
In some cases, additional holes were attached to attach the lower slatted base. This slatted frame is not part of the Billi Bolli cot and is not sold.
The adventure bed is located in Heilbronn and can be picked up with us (non-smoking household, no animals). We are happy to help with the dismantling if desired or make it available for collection. The assembly instructions and all spare parts supplied at that time are available.
New price 2005: approx. 1100 Euro incl. mattress
Sell price: 450 euros.
It is a private sale without warranty, without return and without warranty.
Comment:
Hello dear Billi-Bolli-Team!
The bed was sold ruck zuck.
Thank you for the uncomplicated handling.
Regards
Fam. Klimke
---
Bunk bed in spruce
(Offer 1290)
Published: 03 January 2014 (second hand bunk bed)
sold
Facilities:
Outer size: 210cm x 100cm x 230cm
Mattress size: 90cm x 200cm
Spruce oiled
Built in 2002
Accessories:
2 x slatted frames (if necessary after consultation with mattresses, are newly purchased 3 years ago)
2 x bed boxes
1 x bar with billi-bolli lettering
1 x climbing rope natural hemp
3 x small shelves
Curtain pole set (possibly with curtain)
1 x ladder with handle
1 x assembly instructions
1 x invoice
general:
The bunk bed still looks good and has never been glued.
Ordinary condition, of course traces of use but stain-free and sticker-free
Protective boards, screws, covers etc. are complete.
Non-smoking household.
We were always very satisfied with this stable bunk bed.
Price:
New price: 2.132.97€ incl. shipping
Price presentation: 1,300€ for pick-up in Stuttgart
We are happy to help with the dismantling (this will make it easier to set up again later), but we can also dismantle the bed.
Comment:
Hello everyone
our Billi-Bolli bed is sold. Please take the offer from your homepage.
Very badly dear thanks for allowing me to turn on the ad.
I would be happy to recommend your beds.
Kind regards
A.Höpfler
---
Bunkbed in pine (honey-coloured)
(Offer 1289)
Published: 03 January 2014 (second hand loft bed)
sold
Wir bieten ein sehr gut erhaltenes Billi-Bolli-Hochbett an. Es wurde im Februar 2010 gekauft, der Neupreis betrug 1625 Euro inkl. Versand.
Das Bett hat folgende Ausstattung und alle Teile (außer die Kojenbretter) sind honigfarben geölt:
- Hochbett (100x200), Kiefer inklusive Lattenrost, Schutzbretter für obere Etage, Haltegriffe (221 K-A-01)
- zwei Kojenbretter (112 cm), rot lasiert,
- ein Kojenbrett (150 cm), rot lasiert
- kleines Regal
- Spielkran
- Steuerrad
- Schaukelteller (ebenfalls geölt) mit Naturhanfseil
- Vorhangstangenset
Das selbst genähte Vorhangset (drei Teile) bekommen Sie bei Interesse dazu!
Das Kinderbett ist noch aufgebaut und kann in 67595 Bechtheim besichtigt werden. Das Hochbett ist selbst abzuholen. Es erleichtert den späteren Aufbau sehr, wenn beim Abbau geholfen wird. Wir sind ein Nichtraucherhaushalt.
Es handelt sich um einen Privatverkauf, ohne Gewähr, Garantie oder Rücknahme.
Weitere Bilder können per E-Mail zugeschickt werden.
Wir möchten für das Bett 1100 Euro.
Comment:
Dear Billi-Bolli-Team,
Thank you for the uncomplicated setting of our bed on your secondhand side. A great service! We sold the bed today.
Once again, thank you and greetings
Family Dlugosch
---
Billi-Bolli bunk bed oiled, with play crane and other accessories
(Offer 1288)
Published: 02 January 2014 (second hand loft bed)
sold
Our son now has his own room and our daughter wants a girls' room.
We have bought the adventure loft 11/2002 new, original invoice and setup instructions are available.
Two years later we converted the conversion kit to a bunk bed 90x200cm.
My wife sewed the curtains herself. Through the three-sided curtains, the lower bed looks like a cosy cuddle cave.
Sale without mattresses but with curtains.
Description:
1. High bed, oiled, 90x200 cm incl. slatted base, protective boards for upper floor, handles 2nd steering wheel, oiled 3rd small shelf, oiled 4th climbing rope, natural hemp 5th rocking plate, oiled 6th curtain rod set, for 3 pages 7th flag holder, oiled with flag 8. Conversion set from the high bed to the bunk bed 90x200cm, oiled 9th grid, single, oiled, face side 10. Dolphin 11. Seahorse.
New price: 988 EUR
+ self-sewn curtains
+ 2 pcs. bed boxes (not from Billi-Bolli)
State:
The cot was not painted. Our child had hit his head on the crane beam.
Therefore, it is coated with foam and a yellow/black safety adhesive tape.
The adhesive tape should be renewed.
On the steering wheel a few rods have fallen out, must be glued again.
The front protective board and beams are slightly scratched and should be replaced or sanded.
Non-smoking animal-free household.
Original invoices and assembly instructions are available.
The adventure bed is set up in 85221 Dachau near Munich and can be visited beforehand.
We are happy to help with the dismantling. More photos can be sent.
New price: 988 EUR fair price - our price presentation 500 EUR.
---
Cheap Bolli High bed
(Offer 1287)
Published: 27 December 2013 (second hand loft bed)
sold
Sell our Billi-Bolli high bed our daughter, who has grown out of the high bed age.
The cot is dismantled by me and is ready for collection.
If you are interested, a second Billi Bolli high bed would be to be had
Age of the bunk bed about 6 years, the original CP was about 1100,-
Here is the data:
- Purchase date 28.11.2007, as just over 6 years
- Bunk bed untreated Art. 221K-A-01
- Pine massive
- 100 x 200 cm
- Honey/amber oil shop
-Lattenrost
- Large shelf for under 120 cm wide
- Small shelf for top
- normal traces of use (see picture)
-Crane beams
Price presentation 650,-€
Comment:
The bed is now sold, thanks for your great commitment and your second hand side, I find great and makes you so exclusive!!!
Many greetings from Lake Constance,
Thomas Hubrich
---
High bed - spruce untreated
(Offer 1286)
Published: 27 December 2013 (second hand loft bed)
sold
We want to sell our loft bed, we bought it in Sept. 2009 from Bolli-Bolli. The cot has moved once and - due to the respective construction location close to the window - has some wood-typical slight darkenings. Our two children and one or the other visiting child have left his "traces", usually in the form of impact tools, i.e. there are some small depressions on the stairs. Overall, however, only normal traces of use.
It is spruce untreated and has subsequent "special disposals."
New price was EUR 1,218.62 (invoice available); we would like to sell it for EUR 850.
Location is 61440 Oberursel near Frankfurt am Main.
The following features are available in our bed (spruce untreated):
- Steering wheel
- Climbing rope natural hemp
- Rocking plate
- Inclined conductor Midi-3
- Ladder grille for conductor area
- Climbing carabiners
- Wall mounting
- Curtain rod set for 3 sides
- additional protective boards 102cm and 150cm
- High bed dimensions: H: 228.5cm; L: 211cm; B:102cm
- Ladder position: A
- Cover caps: wood-coloured
Comment:
Hello
thanks to your help we were able to sell our bed immediately and could have had half a dozen due to the demand...:)
Thank you for the opportunity to offer it free of charge.
Greetings from Oberursel/Ts.
Jörg Jünger
---
You have been searching patiently for a while now but to no avail?
Have you already considered buying a new Billi-Bolli bed instead? When you no longer need it, you too can use our successful Secondhand Page, completely free of charge. Thanks to the high resale value of our beds, you will get a good return on your purchase even after many years of use. For this reason, a new Billi-Bolli bed is, economically speaking, a very good investment.