Your kid's bed is no longer needed? You are welcome to resell your used kid's furniture and accessories directly on this highly frequented site. This is a free service for Billi-Bolli products that you originally purchased new from us.
If you would like to resell Billi-Bolli products that you bought pre-owned on this site, then we take a € 60 fee, which will be fully donated to our charity projects.
Notes
The offers on our second hand page have been translated automatically and therefore may contain translation errors. We take no responsibilities for these errors or the misunderstandings arising from them. Please visit the second hand page on our German website to view the offers in their original language.

Billi-Bolli Kindermöbel is not involved in the resulting resales. Whether an offer is reasonably priced or not must therefore be determined by the interested party (see Resale price recommendation). Such an assessment cannot be derived from the fact that the item is placed on our Second hand page.

We take no responsibility for the information posted by customers about kids' furniture for resale as we are unable to verify them.
Want to stay up-to-date on new offers?
Receive an e-mail as soon as a new second hand offer has been published:
---
High bed with a slide
Offer 3171
. Published: 27 August 2018 (second hand loft bed)
sold
We sell our much-loved Billi-Bolli bunk bed in pine with honey-coloured oil wax treatment from our non-smoking household.
In 2010 we bought a new high bed with slide tower from Billi-Bolli. In 2012 we bought another bed, a youth bed.
Currently, the beds were built in a medium-high individual capacity. Further pictures of the midi structure with and without slide are attached. In recent years, we have used the beds as bunk beds, four-poster beds and mid-high assembled both individually and over corners.
The slide tower was only used from 2010 to 2012.
Currently, both beds were under a sloping roof. Other bars have been used for this purpose and all other bars have not been used since 2015.
Accessories:
- Slide tower
- growing bunk bed
- Four-poster bed with various additional parts to build a loft bed
- various protective boards, mouse boards and curtain poles
- 2 slanted conductors in the size Midi 2
- Screws and caps
The purchase price at that time, excluding shipping costs and mattress, was around 2500,- €
We sell either both loft beds incl. slide tower for 1300,- € or a bunk bed for 500,- € and a bunk bed with slide for 800,- €.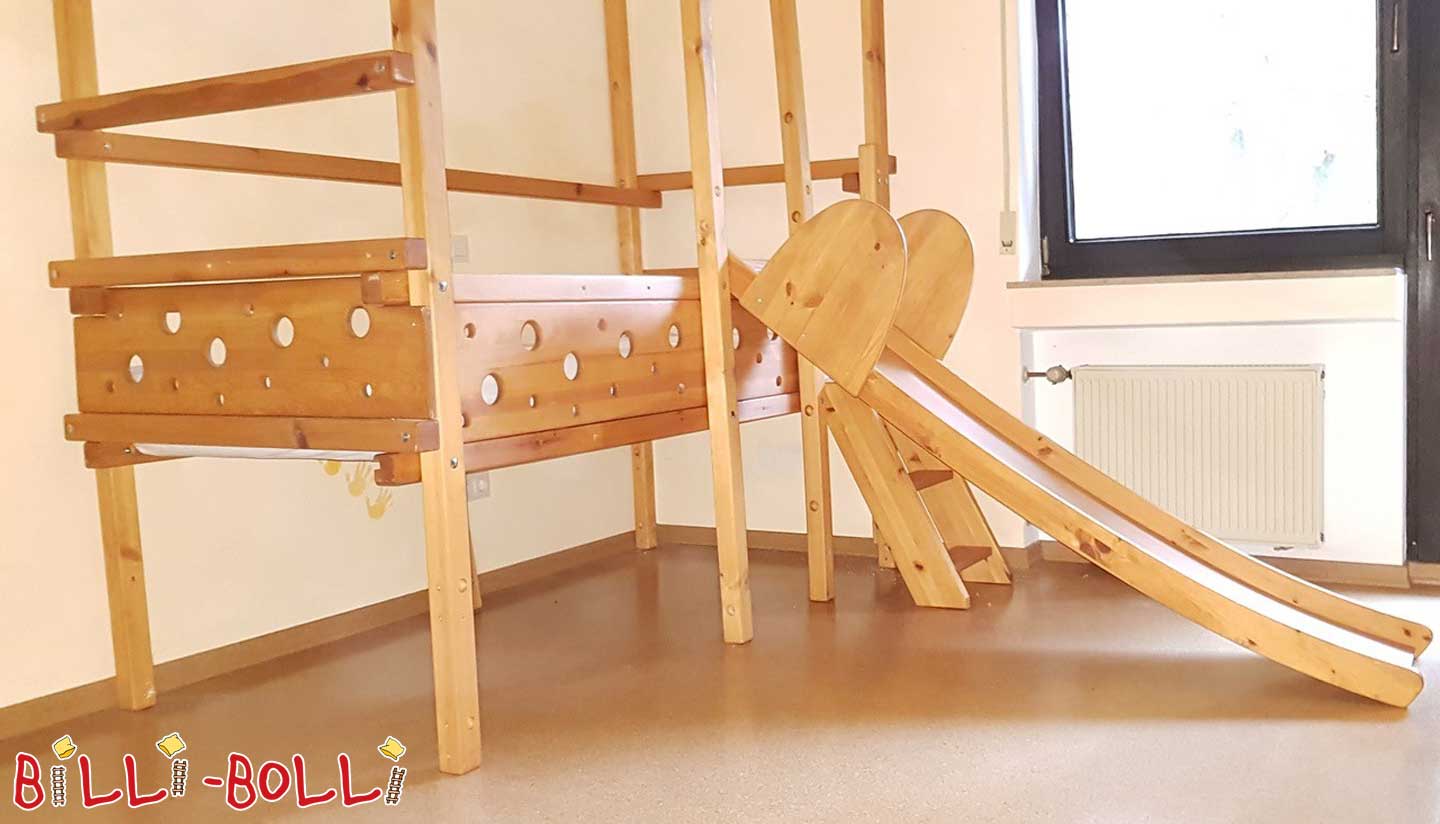 ---
High bed in spruce
Offer 3169
. Published: 27 August 2018 (second hand loft bed)
sold
We sell the Billi-Bolli bunk bed, which our daughters love, 90 x 200 cm
(the rest of the facility is of course not part of the offer)
Data:
Purchased: Early 2010
Wood: Spruce oiled
Accessories:
- Climbing rope
- Plate swing
- Climbing wall
- berth board
- Handles
- Shut-off grille
- Slatted slats
- Cover caps in pink
- Mattress (of course not in the best condition anymore)

The bed has little traces of usage, the rocking plate a little more. The climbing wall is really great. The handles can be moved again and again for new routes.
New price was then without shipping approx. 1150€ plus climbing wall (bought in mid-2011) 260€.
We would sell it for 750€
To self-collectors.
If necessary, we help with the dismantling.

The bed is in Munich.
Comment:
Dear Billi-Bolli-Team,
We would be called on the same day and yesterday the bed would be picked up!
Many thanks for your help!
MfG
Anna Schilling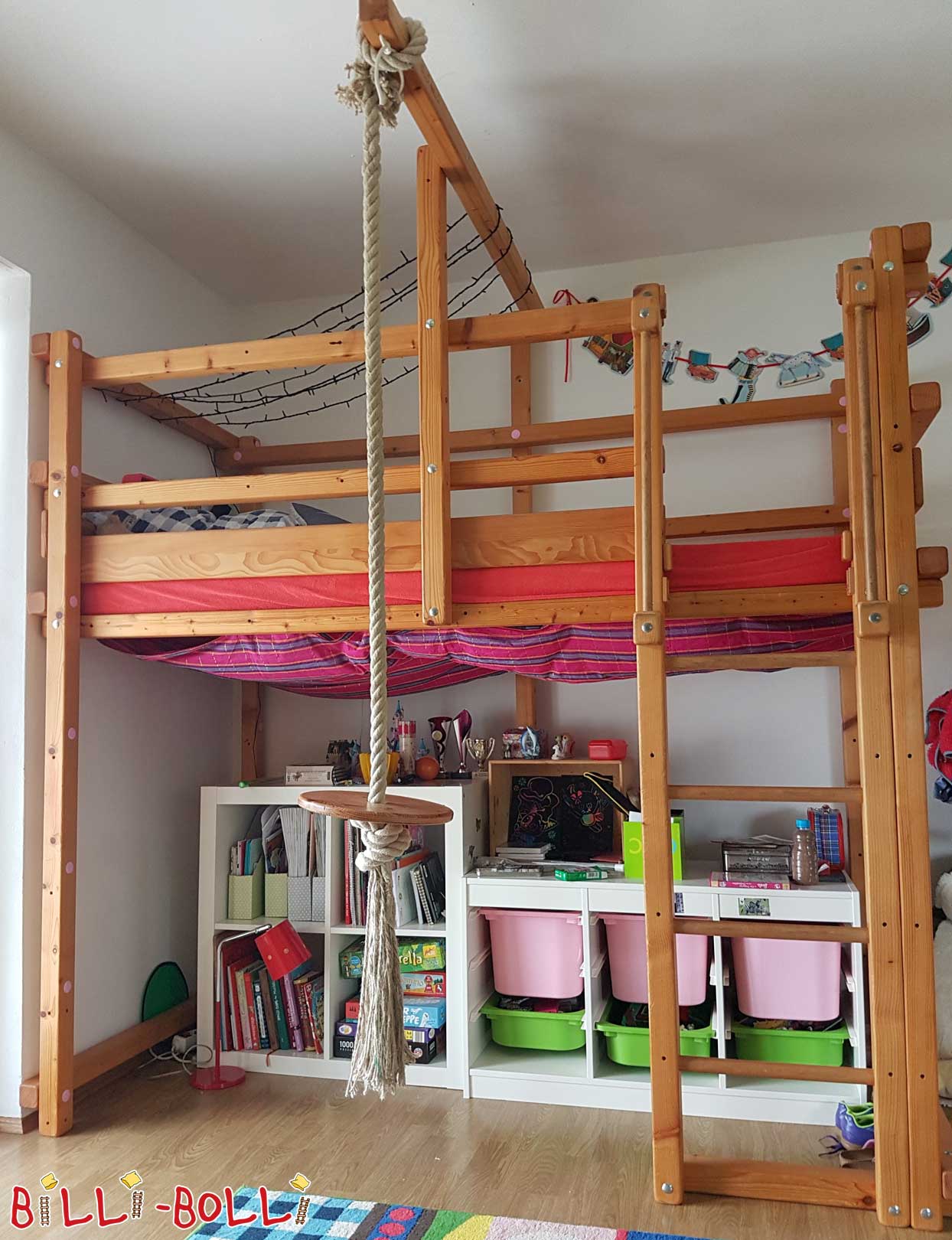 ---
2 bunk beds 100 x 200 cm, beech oiled-waxed
Offer 3168
. Published: 27 August 2018 (second hand loft bed)
sold
After almost exactly 9.5 years, our sons want to redesign their rooms and separate from their Billi-Bolli beds.
We have 2 bunk beds in the size 100 x 200 cm oiled in beech - including slatted slats - to offer.
Both beds are in mint condition and were once re-oiled (non-smoking household, no pets).
As an accessory we have for each bed (all oiled in beech)
- a small shelf
- a climbing side made of natural hemp
- add the rocking plate
- the curtain rod set
- the berth boards at the front and for both end faces
Both beds cost a total of EUR 3,376.-- (incl. shipping costs) - currently we would like EUR 950,-- per bed. We can give both beds together or individually.
Visit, dismantling and pick-up in Königstein im Taunus.
---
2 identical bunk beds oiled in pine
Offer 3166
. Published: 23 August 2018 (second hand loft bed)
sold
We separate ourselves from a total of 2 beds:
High bed, 90x200 cm, pine, was treated with oil wax
incl. slatted slats, protective boards for upper floor, handles
External dimensions: L: 211 cm, W: 102 cm, H: 228.5 cm
Ladder position: A
Cover caps: 1 x orange
In addition
Large bed shelf, pine oiled, for M-width 90 cm, 91 x 108 x 18 cm
We screwed the bed shelf to the bed.
We did not mount the Billibolli bar, but we are given it.
It may be that the screws for mounting the beam are no longer included, but can be safely reordered via Billi-Bolli.
The bed is about 4 years old, new price was 1,121 euros.
We imagine 750.- Euro. Bed is still set up, and pick up in Mannheim.
There is a identical bed, which is also 4 years old, but only 5x was used for sleeping.
For this we would imagine 750.-.
Comment:
Dear Mrs Eckert,
the beds are sold.
Thank you and many greetings
Susanne La Mura
---
2 identical with growing bunk beds
Offer 3165
. Published: 22 August 2018 (second hand loft bed)
sold
We offer our 2 Billi-Bolli beds from non-smoking and animal-free household for sale.
The beds are identical.
Age: 4 years.
High bed in pine oil wax handling incl. slatted base, protective boards for upper floor, handles.
External dimensions: L 211 x W 102 x H 228.5 cm. Ladder position A
Cover flaps: blue, green, white or pink, orange, white
* Berth boards painted white
* Ladder grille for conductor area, jaw oiled
Assembly instructions are available.
The beds have a few signs of use, can be visited gladly.
Purchase price per bed 1,195,- EUR.
Sales price per bed 850,- EUR to self-collectors
Comment:
Dear Billi-Bolli-Team!
Our two beds have two new, very nice owners! Everything worked out fine!
Thank you and greetings
Family Andrassy
---
Bunk bed, white glazed
Offer 3164
. Published: 22 August 2018 (second hand bunk bed)
sold
We would like to sell our Billi-Bolli bunk bed.
Bunk bed, white glazed, two-storey, equipped with rungs wall, under-bed dressers (with bed box subdivisions), play crane, baby grid set, curtain poles and climbing rope.
The mass of allergy mattresses is 100 x 200 cm.
In addition, over the years we have added several shelves on both floors. On the upper floor is a bedside table.
The condition is used, but not heavily worn out.
Pick up in Zurich.
New price in 2009: more than 3000 euros including mattresses.
The price we imagine is 1500 Swiss francs (incl. mattresses).
---
High bed growing (girl bed)
Offer 3163
. Published: 21 August 2018, sold: 23 August 2018 (second hand loft bed)
sold
Unfortunately, our children grow up in the loft beds, so we want to sell one of our three beds. Here is the data:
Growing bunk bed 100 x 200 cm in beech, oiled
Purchase summer 2011 - very well preserved (girl bed!)
Accessories: Curtain poles on three sides,
additionalif of interest: mattress (freshly washed), slatted protection mat, white curtains, hanging seat (IKEA)
Purchase price at the time: 1,400 euros
Our price tag: 870 Euros
The bed has already been dismantled and is available for immediate collection in 74379 Ingersheim (near Ludwigsburg/Stuttgart)
If more photos are desired, please contact us by e-mail.
We are an animal- and smoke-free household.
Comment:
Hello dear Billi-Bolli-Team!
Please take our offer no. 3163 from the sale - was sold after just one day.
Thank you for the quick editing of yours.
Have a nice day yet...
Family Menzel
---
Co-growing pirate high bed
Offer 3160
. Published: 16 August 2018 (second hand loft bed)
sold
As a high school student, our son now wants an adequate bed, so we part with a heavy heart from his indestructible pirate bed.
It is from 2004, we bought it ourselves via the second-hand platform from Billi-Bolli. NP were € 1,250,-.
Condition: of course used but well.
- High bed 90/200, pine incl. slatted base, of course without mattress
- Protective boards for the upper floor and handles
- Crane beams.
- small shelf on top
- large shelf below ( Attention: 2 water stains ! )
- bunk bed with portholes
- Steering wheel
- Climbing rope, natural hemp
- 2 x Dolphin
- Flag holder
- Assembly instructions
Our inspection revealed only traces of use according to age, apart from the water stains.
The first seller stated that it is treated honey/amber oil. An additional
There was no treatment on our part.
The bed is still in use and can be visited in 67136 Fußgönheim if necessary.
More pictures can be sent via kussvoll@t-online.de.
Only pick-up at sale.
The bed can be dismantled together on request to facilitate the reconstruction
this is absolutely no problem with Billi-Bolli.
Price: € 500,-
Comment:
It was quick ... despite the holiday season, the bed was immediately brought to another young pirate.
Thank you for the service.
friendly greetings
Jürgen Voll-Kuß
---
Gullibo high bed combination
Offer 3159
. Published: 16 August 2018 (second hand loft bed)
sold
We sell our great high bed combination from Gullibo.
Despite a long service life of 8 years, everything is in top condition.
The bed was bought by us used, all boards re-ground and open-pored with organic oil.
The new price of the bed was well over 2000€, for 860€ we want to give it up.
The combination can accommodate 3 children or guests. All beds are 90x200 in size.
You can also set up the bed in a mirrored way or individually as a double bunk bed and high bed.
Accessories are:
2 bed boxes
1 steering wheel
2 book shelves (under the loft bed)
2 shelves on top (not original)
2 ladders
At that time we bought a building instruction on the Internet, which is available to the buyer.
The exact dimensions can be found in the drawing.
One of the three mattresses (from IKEA, approx. 4 years old) can be taken with you. All other decorations are not included.
We are a smoke- and animal-free household.
The bed has already been dismantled and is ready for collection in 53809 Ruppichteroth-Winterscheid.
Comment:
Dear Billi Bolli Team,
Thanks for setting, we have already sold the bed today. This went lightning fast and completely without any problems.
Thank you and greetings
Family Tel
---
Growing high bed for firefighters/women
Offer 3157
. Published: 16 August 2018 (second hand loft bed)
sold
Original Billi-Bolli-Kinderhochbett (100 x 200 cm), disguised as a fire truck, for sale. We bought the bed in 2014 for about 1,700 euros.
Since our child prefers to sleep across the bed, the 1m wide bed is too narrow and we decided to sell it.
It is made of untreated spruce and can therefore also be oiled, glazed or painted according to taste. It is in very good condition with little traces of use.
Original accessories: fire brigade bar, sick beam, fire truck coloured, play crane, berth board, steering wheel, bookshelf
The beams, which were not needed due to the installation of the fire truck, are still available. Thus, the fire truck can be dismantled at any time and the bed can be converted into a youth high bed.
The bed stands dismantled in 76829 Landau/Palatinate.
Pick-up against cash payment. Sell price for 1,200 €.
Used items from private sale - no warranty.
Comment:
Dear Billi-Bolli-Team
Thank you for the opportunity to sell the used bed on your site.
A great service!!
It has already been sold and has already been picked up.
Greetings
Sandra Fried
---
You have been searching patiently for a while now but to no avail?
Have you already considered buying a new Billi-Bolli bed instead? When you no longer need it, you too can use our successful Secondhand Page, completely free of charge. Thanks to the high resale value of our beds, you will get a good return on your purchase even after many years of use. For this reason, a new Billi-Bolli bed is, economically speaking, a very good investment.