---
Bunk Bed over Corner, Pine oil-waxed
(Offer 2985)
Published: 03 April 2018 (second hand bunk bed)
sold
We sell our beloved Billi Bolli bed as our children now have separate Rooms.
The Bunk bed is just over 3 Years old, oil-waxed from high-quality Pine, measuring 90 x 200 cm
+ 2 Slatted rust
+ Protective boards for top
+ 2 Bed Boxes with Rolls
+ 1 Game crane
+ 1 Swing (Climbing rope, carabiner and Rocking Plate)
+ 1 Game tax Wheel
+ 1 Vial of Care Oil
The Bed shows age and usage signs of Use (so the Crank of the Game crane is slightly done), but is in good Condition overall (not glued or processed). We are a Non-smoking Household And we don't have Pets either.
At That Time, purchase Price is 1,850,--EUR (excluding Mattresses).
We sell it for VB 1,300,--EUR.
In Addition, the two Foam mattresses with Protective Covers are still available in excellent Condition (a Mattress almost unused) and are also for sale for a total of EUR 100,--.
The Dismantling should ideally be done by the Buyer (probably facilitates the later Construction), but can also be done by us Beforehand.
The Bed is located in Munich and is looking forward to a friendly Buyer, preferably Self-catchery or Pickup Organized by the Buyer.
Comment:
Good day
Thank You for Setting our Offer on Your Second-hand page.
On Saturday we were able to sell the Bed to an interested Family.
Thank You again for Your Help.
Greetings
Matthias Mersdorf
---
Bunk bed made of beech
(Offer 2984)
Published: 03 April 2018 (second hand bunk bed)
sold
We would like to sell our Cheap Bolli Bunk bed:
Bunk Bed, 100 x 200 cm, Beech oil-waxed
Accessories: 2 Bed Boxes
The Bed is located in Münster (Westphalia) at Rudolfstraße 10
Buy price June 2012: €1,946
Sale Price: £1,200
Comment:
Dear Billi-Bolli team,
We have just sold our bed. Thank you for your help.
Greetings from Münster
The Sornig family
---
Game crane
(Offer 2983)
Published: 29 March 2018 (second hand kids' furniture)
sold
We would like to sell our Game crane from about 2011, Spruce, for 70 euros
Pick Up In Munich-Obermenzing
0173 3697786
Comment:
Dear Billi-Bolli team
The Crane is sold, thank you very Much!
Many Greetings Teresa Weiss
---
High Bed-used in different Construction Variants
(Offer 2982)
Published: 29 March 2018 (second hand loft bed)
sold
Upon reaching the teenage age, our Daughter wants a "normal" low bed. That is why, with a heavy heart, we separate ourselves from the growing Billi-Bolli high bed, which has accompanied them in various Types of Construction Since kindergarten. Most Of the Bed dates back to 2012, Items and the Slatted Grate from 2009, when we started with a side-shifted bed for our Twins.
Description:
• growing High Bed oiled from Pine Waxed for Mattress measuring 1.00 x 2.00 m
• flat Sprouts
• Rocking Bars outside
Accessories: Two small Shelves, Kojenboards for the longitudinal and two Narrow Sides, Climbing rope
• Curtain bar Set for the longitudinal and a Narrow Side-the Self-sewn Curtains with Window Openings (Velcro) are available free of Charge (alternatively also in blue with Cars from the Twin brother. •. • Further Accessories, which can no longer be seen in the Photo: Rocking Plate, Purchase Shutter
Accessories for the Conversion to a Youth High bed (shortened Central Beams, additional Sprouts)
• all Parts in good Condition without Stickers or Paints from an animal-free Non-smoking Household
Since the Bed was created only by the Conversion of a bed Placed on the side, the Original Price is difficult to determine.
We estimate the Price, including the Aforementioned Accessory, at €1400 and would like to have €750 for it.
If you are already thinking about the Future, you can also buy a Writing Plate oiled in Pine waxed (bought 2016) in addition.
The Bed can be visited and picked up in 31137 Hildesheim (joint Dismantling Facilitates the later construction; Instructions are available).
--------------------------------------------------------------------------------------------------------------------------
We Parents still love the Cheap Bolli beds and are happy that at least our Son remains faithful to him. Thank You for the great Service of the secondhand side!
Regards
Maria Lühken
Comment:
Hello
It's the Hammer: Sat today and sold a few Hours later! You can take the Ad out-thanks for the great Service!
Regards
Maria Lühken
---
Slide and Slide tower, slip grid, (Game crane-Sold)
(Offer 2980)
Published: 29 March 2018 (second hand bunk bed)
sold
We sell our Slide tower with Slide and Slide Grille, oiled in Pine honey, for mattress measure 90 x 200 cm
The Wooden Part at the top Of the Slide has a Crack, the corresponding Spare Part is present.
Original Price July 2014: €595
We'd like to have another €400.
Game Crane already sold!
We also sell our Game crane Oiled in Pine, honey colored. The Crane is in very good Condition and can be picked up in Heidelberg.
Original Price July 2014: €153
We would like to have £100th
Both are well preserved, already dismantled and can be picked up in Heidelberg.
If You were interested, we might also sell our bunk bed Side-offset (with Skyscraper Feet) with Accessories. If You are interested, Please report pictures can be sent.
Comment:
Dear Billi-Bolli team,
In the meantime everything has been sold, thank You for Your great Service!
The Grun Family
---
Bunk Bed, left on the side, pine white varnished
(Offer 2979)
Published: 28 March 2018 (second hand bunk bed)
sold
We sell our Cheap Bolli Bed
• Length x Width x Height: 307 cm x 102 cm x 228.5 cm
• 2 Bed Boxes
• Fire Brigade pole and Cantilebat Arm (E.g. for Hanging Seat)
• Baby Grid set as in the Picture. The front Grid has been shortened to About half.
• Ladder protection and Ladder Grille for the upper Bed
• 2 Slatted Rust
• The upper Bed is currently mounted to the lowest Level. It's easy to set a Level higher.
Only against Pickup, if necessary Help with the Set-up
Non-smoking Budget without Pets
Purchase: September 2011, Delivery December 2011
New Price: £2350, Sale Price £135050
If desired, also three Original Billi-Bolli Mattresses can be dispense Cheaply (NP. approx. €700)
Comment:
Dear Billi-Bolli team,
Our Bed is sold. We would like to thank You for the Sales Service.
Sincerely
Jens Sundermann
---
High Bed with small Bed Shelf
(Offer 2978)
Published: 26 March 2018, sold: 28 March 2018 (second hand loft bed)
sold
Wir verkaufen das gut erhaltene mitwachsende Kiefer-Hochbett unserer Tochter von Billi-Bolli.
Anschaffung Mitte 2008, Neupreis: 932 €
Unser Verkaufspreis: 480 €.
Aufbauanleitung und Originalrechnung sind noch vorhanden.
Beschreibung:
Hochbett 90 x 200 cm, Kiefer mit Ölwachsbehandlung (honigfarben) inklusive Lattenrost, Schutzbretter für obere Etage mit Haltegriffen.
• Außenmaße: L: 211 cm, B:102 cm, H: 228,5 cm
• Leiterposition: A; Abdeckklappen rosa; Fußbodenleiste 2,8 cm
Zubehör:
Kleines Regal, Kiefer honigfarben geölt. Ideal als Ablage für Wecker und Bücher.
Das Bett wurde von uns 2008 original bei Billi-Bolli erworben, befindet sich in einem guten Zustand mit den üblichen Gebrauchsspuren. Es wurde einmal umgezogen und stammt aus einem Nichtraucherhaushalt.
Mit dem Bett verkaufen wir außerdem die hochwertige und genau passende Naturlatexmatratze von Prolana (Jugendmatratze NELE Plus) mit Drellbezug in der Größe 87x200x10cm.
Der Neupreis der Matratze betrug 378 €.
Unser Verkaufspreis beträgt 120 €. Der Bezug der Matratze kann abgezogen und gewaschen werden.
Das Bett ist noch aufgebaut und kann in Ottobrunn bei München besichtigt und abgeholt werden.
Comment:
Dear Billi Bolli Team,
The Bed is sold. Demand Was high.
Thank You for the great Offer to be able to adjust Your used furniture on the Secondhand.
Regards
Family Amous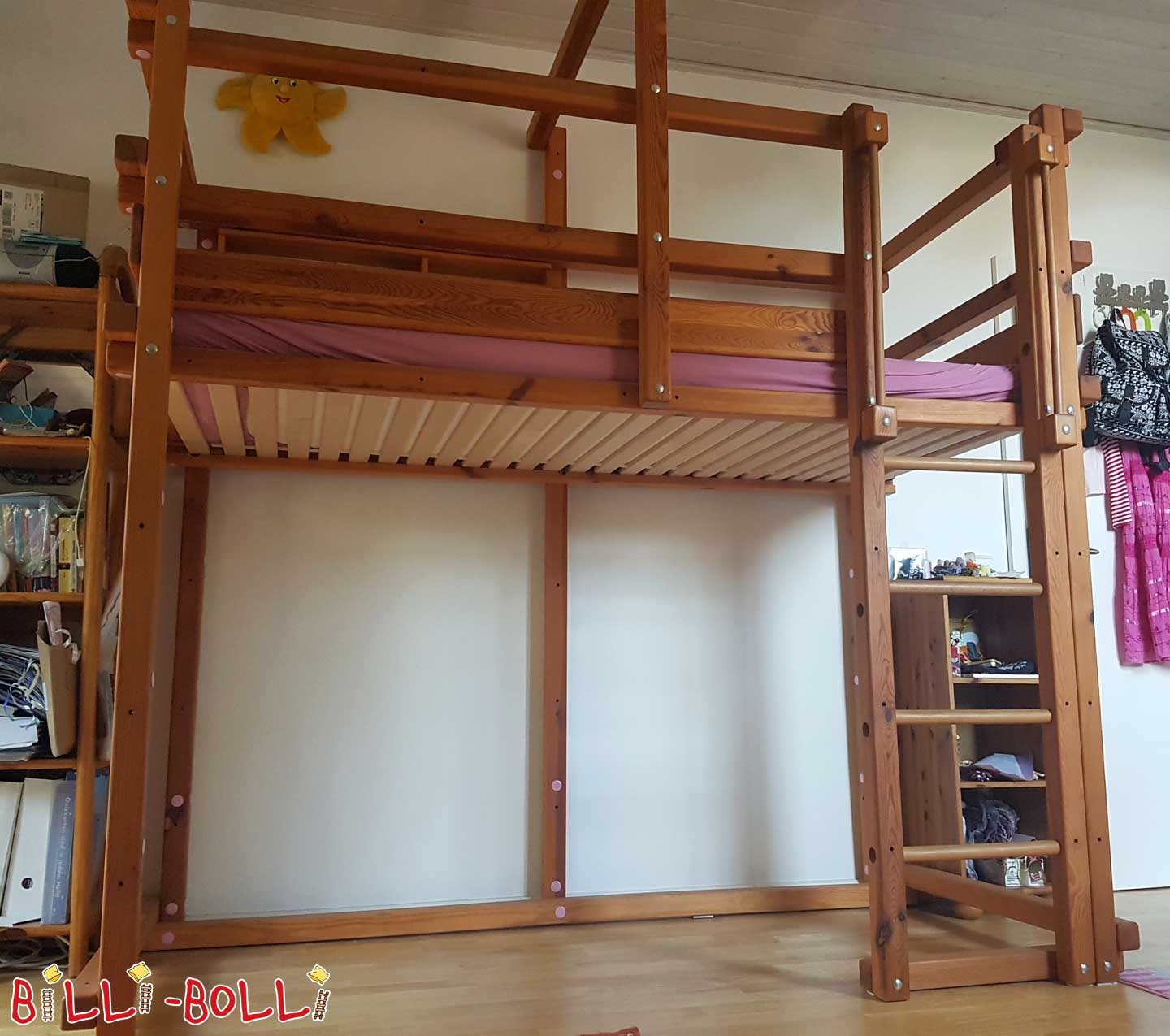 ---
High Bed oiled in Pine
(Offer 2977)
Published: 26 March 2018, sold: 29 March 2018 (second hand loft bed)
sold
The Kids are approaching teenage age, which is why with a heavy heart we have to separate ourselves from our great Cheap Bolli high bed:
-High Bed 90 x 200 cm, Pine oiled, L 211 cm, B 102 cm; H 228.5 cm
-Lat Grate
-Ladder with Handles
Additionally:
-Kojenboard on a Longitudinal Side for the top Floor, only between the Ladder and The Slide
-Gardine bars on a longitudinal and a Front
-Slide (Jaw oiled)
-Climbing Rope (Natural Hemp) with Rocking Plate (Pine Oiled)
We bought the Bed in 2007 (Invoice and Set-up Instructions available).
The Bed is in good Used condition.
Non-smoking Budget. Only to Self-pickers.
We live in 71686 Remseck and like to mine the Bed for You beforehand or
Also together with You.
New Price 2007:1,060.85,
The Sale Price is €500.
Comment:
Dear Billi-Bolli-Team,
We have sold the Bed by now and will be next Week
picked up by the Buyer.
Thank You for Your Support!
MfG
Your Fam. Taenzer
---
Pirate high bed 80 x 200 cm
(Offer 2976)
Published: 26 March 2018 (second hand loft bed)
sold
We sell our pirate high bed, Spruce with Bee-wax oil at that time itself
11.5 Years old, good Condition.
Accessories:
Lat Grate, Protective Boards, Hold handle, Ship Front part, Curtain Bar set, flat Sprouts, steering wheel, rocking Beams
Purchase Price on the 25.10.2006: €841
Sale price: €400 To Self-collectors in 52499 Baesweiler
Comment:
The Bed was sold. .. Thank you
---
Bunk bed
(Offer 2975)
Published: 21 March 2018, sold: 24 March 2018 (second hand bunk bed)
sold
The Kids pull under the Roof, so we part a bit wistfully from our beautiful Cheap Bolli bed:
Bunk Bed, 90 x 200 cm, Beech grown
-Ladder Position A
-2 Latte Rust
-Protective Boards for upper Floor
-Holding Handles
-Kojenboard in front
-2x small Shelf
-Steering Wheel
-Rocking Plate
-Climbing Rope made of Natural Hemp (frayed below, see Picture)
-2x Bed box with soft Rolls
-without Mattresses
Built-in with or without a Middle Foot, then lower Sleeping Level with Stabilization Board, so also fits a Mattress for Guests under the Bed.
The Bed is in good to very good Condition, no Stickers or the Like with age-standard signs of use, only at the ladder is slightly split off some Wood at about 6 cm Length and next to it are some Dents, because it has been constantly staked against it. If, in our Opinion, only a small optical Error, Photo can be sent. We are an animal-free Non-smoking budget.
Newly purchased in 10/2012 for €1901, bed Boxes added in 03/2015 for €33million.
Our Asking price: £1400.
Construction instructions and Invoices are available.
Self-collection in Schwedt on the Oder, northeast of Berlin. In the Week after Easter We could help break down the Bed, after which it is probably broken down.
Comment:
Dear Billi-Bolli team,
The Bed has just been sold. Thank you for the Second-hand Side and the beautiful Beds, our Children loved theirs.
Kind regards
Fam. Bornschlegl
---
You have been searching patiently for a while now but to no avail?
Have you already considered buying a new Billi-Bolli bed instead? When you no longer need it, you too can use our successful Secondhand Page, completely free of charge. Thanks to the high resale value of our beds, you will get a good return on your purchase even after many years of use. For this reason, a new Billi-Bolli bed is, economically speaking, a very good investment.