Your kid's bed is no longer needed? You are welcome to resell your used kid's furniture and accessories directly on this highly frequented site. This is a free service for Billi-Bolli products that you originally purchased new from us.
If you would like to resell Billi-Bolli products that you bought pre-owned on this site, then we take a € 60 fee, which will be fully donated to our charity projects.
Notes
The offers on our second hand page have been translated automatically and therefore may contain translation errors. We take no responsibilities for these errors or the misunderstandings arising from them. Please visit the second hand page on our German website to view the offers in their original language.

Billi-Bolli Kindermöbel is not involved in the resulting resales. Whether an offer is reasonably priced or not must therefore be determined by the interested party (see Resale price recommendation). Such an assessment cannot be derived from the fact that the item is placed on our Second hand page.

We take no responsibility for the information posted by customers about kids' furniture for resale as we are unable to verify them.
Want to stay up-to-date on new offers?
Receive an e-mail as soon as a new second hand offer has been published:
---
Bunk bed, 100 x 200 cm in pine oiled-waxed
Offer 3741
. Published: 16 September 2019 (second hand bunk bed)
sold
Bunk bed, pine untreated, incl. 2 slatted frames, protective boards for upper floor, handles, mattress size: 100 x 200 cm, L:211cm, W:112cm, H:228,5cm
- Oil wax treatment from the manufacturer directly
- Inclined ladder for height 120 cm, pine oiled
- Fall protection, jaw oiled
- Baby grille 102 cm, pine oiled
- 3/4 lattice up to the ladder, jaw oiled
We bought the bed for our boys at Christmas 2006. It is absolutely in good condition for its age. My boys had a lot of fun with it. My big son has already moved out of the shared nursery a long time ago, my little son (15 years) now wants to 😊 a youth room. So we would like to offer it here with you for another good cause. The purchase price at that time was 1218€. We would be very happy about 500€ and invest it in a new bed. If necessary, we can take even more pictures of the bed. For further questions, please ask by phone or email.
The bed stands in 75378 Bad Liebenzell, still built up as recognizable in the photo. We are happy to dismantle it and take care of the shipping. The costs are borne by the buyer.
Comment:
Ladies and gentlemen,
we sold the bed yesterday, please take the offer out again.
Thank you very much.
Family Volz
---
High bed growing in spruce-waxed in Karlsruhe
Offer 3740
. Published: 16 September 2019 (second hand loft bed)
sold
We offer a well-preserved loft bed. It is a nearly 10-year-old growing high bed:
• Lying area 90 X 200 cm
• Spruce oiled-waxed
• Slatted slats
• Protective boards for the upper floor, handles, crane beams
• Small bed shelf, also oiled spruce
• NelePlus mattress is available for 100€ (7 years old in very good condition - new price 419€)
The bed has normal signs of use, but is very well preserved (no paints, large scratches, etc.). We are an animal-free non-smoking household.
In the meantime it has been dismantled and can be picked up in Karlsruhe.
Originally, the bed was part of a "both-top bed", which we extended 7 years ago with additions to two bunk beds. Therefore, it is difficult to say what the new price was (invoices are available). We calculated the price on the basis of a new price of approx. 1000€.
Price presentation (VHB): 400€ without mattress, 500€ with mattress.
More information and photos are welcome on request.
Comment:
Dear Billi-Bolli-Team,
we sold our bed today.
Thank you and many greetings
Family Thomas
---
Bunk bed-side-offset with bed box bed
Offer 3739
. Published: 16 September 2019 (second hand bunk bed)
We are looking for new owners for our so far much loved bed. Because of a move we have to separate and unfortunately from our side offset bunk bed.
We bought it in 2014 and in 2016 we added a baby grid set for the entire lying area of the lower bed. Guests also enjoyed sleeping in the integrated bed.
The bed is made of untreated jaw. The beds have a lying area of 90 x 200 cm; the bed has a mattress size of 80 x 180 cm.
The external dimensions are: L: 307 cm, W: 102 cm, H:228.5 cm
Bed bed and the berth boards are white glazed.
In addition, the bed has:
- Ladder grille
- Baby grid
- Game crane
- Rocking plate
The bed had a purchase price of 1903,00 € (original invoice available). The baby grid cost an additional €132.50. We would like to have 1300,00 € for the bed.
Location: NRW, 45701 Herten.
Contact details
Familie Neudenberger
0177 2149466
anne.neudenberger@gmx.de
---
Growing up bed near Darmstadt
Offer 3738
. Published: 16 September 2019 (second hand loft bed)
sold
We would like to sell our loft bed. We bought it at the end of 2007 and since then moved once (with ladder built up in a mirror-inverted way).
Facilities:
- High bed 90/200 pine honey-coloured oiled with slatted base, protective boards for the upper floor
- Crane beams offset to the outside
- Rocking plate (the climbing rope is still available, but should be replaced, as there are clear signs of use).
The bed was much and gladly used and has here and there quite traces of use, some small screw holes, traces of use from the swing on one of the outer beams, but this does not affect the usability, so that the bed certainly many more children many years can bring joy.
We are a non-smoking household.
The bed is already dismantled, assembly instructions, invoice and the complete assembly material is available.
Purchase price at that time 866 Euros, we would like to have 320 Euros.
Only self-collection in 64319 Pfungstadt near Darmstadt.
Comment:
Good day
the bed is sold.
Yours sincerely
Helen Engelhart
---
Growing upbed including slide
Offer 3737
. Published: 12 September 2019 (second hand loft bed)
sold
We would like to sell our very well preserved, since only 3.5 years old, growing high bed. The bed is painted in white, the handle bars and rungs are oiled-waxed in beech.
Two berth boards are painted blue.
There is a small bed shelf, curtain poles, climbing rope with rocking plate, steering wheel and a brand new slide.
Purchase price minus shipping costs and other parts: EUR 1,989,00
Price presentation: EUR 1,300.00
Location: 71093 Weil im Schönbuch
Comment:
Good morning dear Billi-Bolli-Team,
please mark the set bed (3737) as sold.
This went fast and the demand is unbelievable!
Thank you for your support and please continue !!!
VG from Stuttgart,
Heiko Friedrich
---
Slide for children from approx. 3.5 years
Offer 3736
. Published: 12 September 2019 (slide for loft bed)
We would like to sell our Billi-Bolli slide. Unfortunately, we no longer have room to integrate the slide in our new apartment.
We bought the slide together with a "growing" double bed at the beginning of 2014. The slide is in beech (oiled & waxed). It is in good use condition. The slide cost 285€. We would leave you for 120€. More pictures can be sent on request.
The slide can be inspected in Dortmund. A possible shipment would have to be clarified in advance.
Contact details
Familie Oster
cosmic_enforcer@hotmail.com
---
Three-person bunk bed including bed in Fürth
Offer 3735
. Published: 12 September 2019 (second hand loft bed)
sold
We sell our very popular 3-bed by Billi Bolli, as we move out of our old building and it unfortunately does not fit into the new apartment. The bed is only 1.75 years old and has no visible signs of use.
The bed was used with us not only to sleep, but also to climb, play and build cave. Other accessories can also be ordered directly from Billi Bolli (swing, slide, ...).
The beds all have the dimensions: 90 x 200 cm and can therefore be used for a long time. The other bed in the bed box is a little smaller.
The bed is sold as shown with slatted slats, but WITHOUT mattresses.
The bed is for self-collectors and fits apart built into a station wagon. The setup instructions are available and we are happy to help with the dismantling.
At that time the new price was €2300€. We imagined 1750€.
Comment:
Hello dear Billi-Bolli team,
We have now sold the bed through their platform. Many thanks for your help.
Best regards.
Annekatrin Heder and Dominik Schwab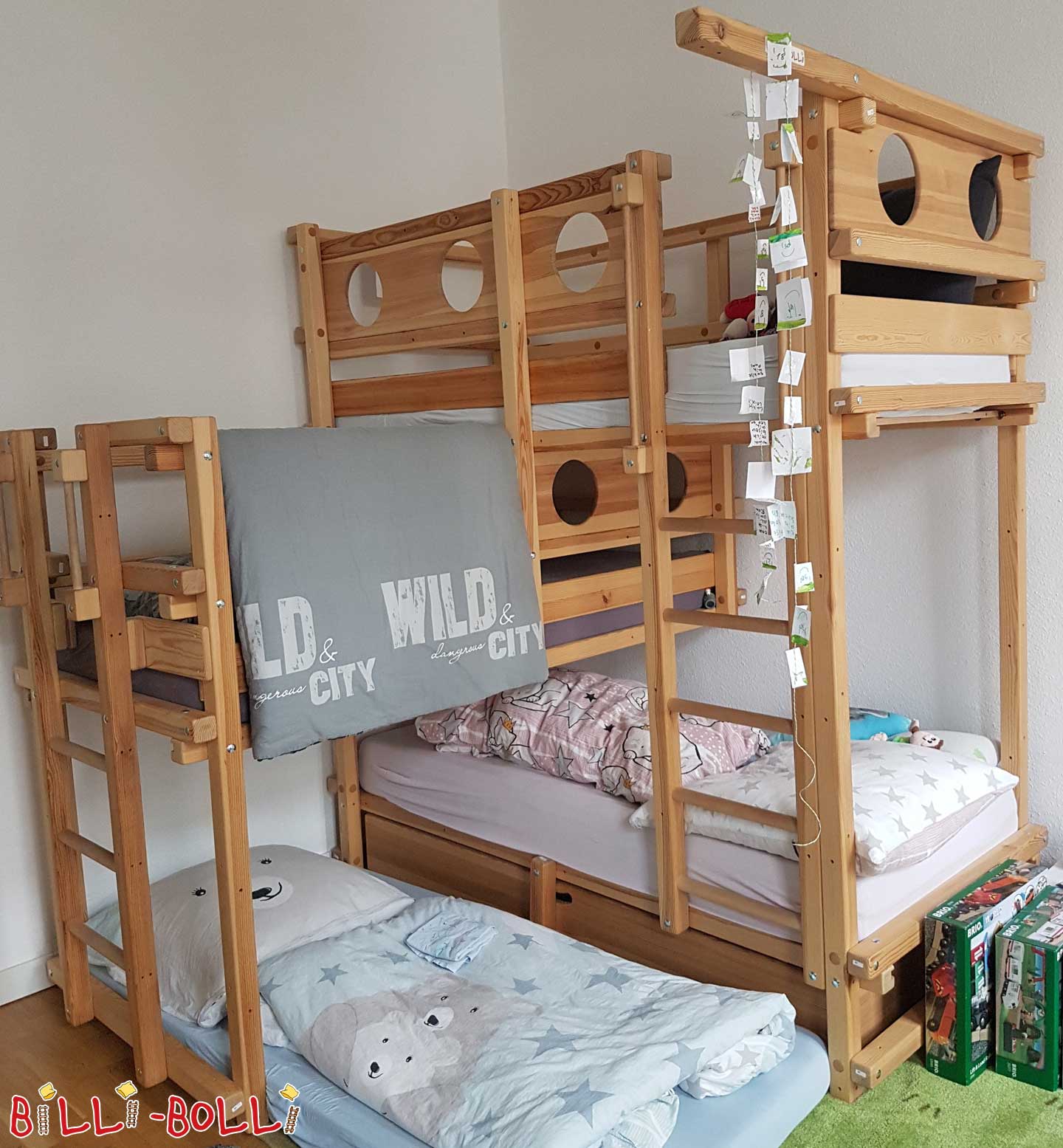 ---
Youth high bed 90 x 200 cm with crane and swing
Offer 3734
. Published: 11 September 2019 (second hand loft bed)
sold
Originally we had purchased a growing high bed for our daughter in 2008, in 2011 we also upgraded it for our son to a two-top bed, then in 2015 with a few used-bought beams to divide it into two youth high beds.
Now we have to separate ourselves from a youth high bed, most of which the beams date back to 2011 (non-smoking household).
Two bars do not match the original:
For W1 on the ground we only had a short connecting piece for stabilization and we cut a W5 from another beam (S8 for crane) ourselves (noted and marked in the construction plan).
All beams are marked on the head with stickers according to the structure to the youth high bed. Construction plan, screws and cover caps are available.
Other accessories if you are interested:
Crane beams (W11, 152 cm) and swing (red) with hemp rope (middle beam S8, 108 cm missing for the construction of the crane, would have to be additionally purchased)
The new price for conversion into both top bed: € 645,00
Our price for the bed: € 300,00 (VP)
For crane beams and swing with rope: € 50,00 (VP)
The bed has already been dismantled and can be picked up in Stuttgart.
Comment:
Dear billi-bolli team,
we were able to sell our old loft bed successfully through the website yesterday! Thank you very much.
Greetings, Elke Trautmann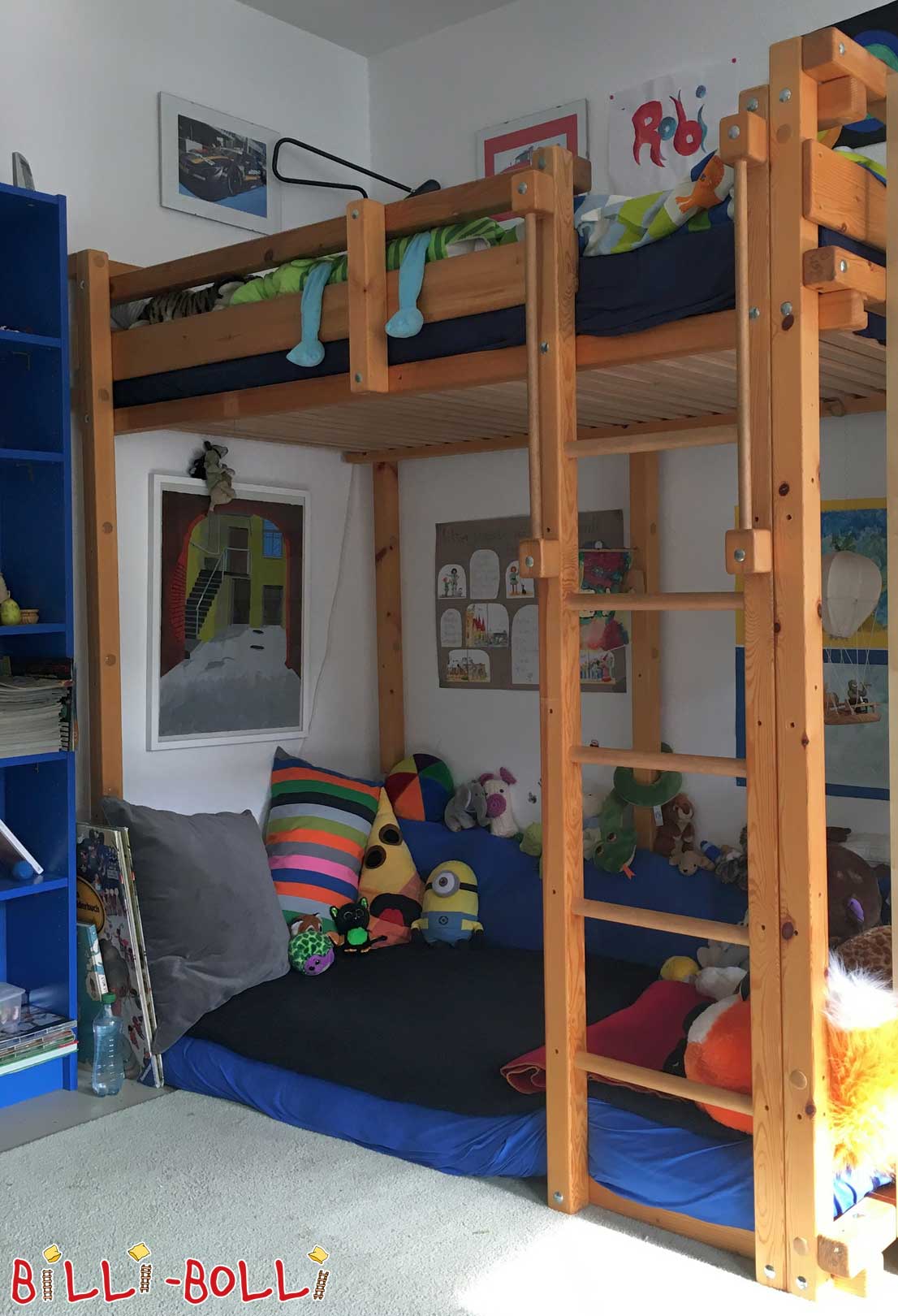 ---
Growing bunk bed, 100 x 200 cm in Leipzig
Offer 3733
. Published: 11 September 2019 (second hand loft bed)
Hello dear families.
we offer a well-preserved and rarely used Billi-Bolli high bed with growing pine untreated incl. slatted slats. The invoice from 10/2010 is available.
Original price was 963€ (excluding shipping).
L:210cm, W: 112.5cm, H: 228.5cm
incl. curtain rods and, if desired, the self-sewn curtains, ladder grille with flat rungs and extra protective board.
We are non-smokers and have no animals.
Price presentation 510€
In addition, the rarely used and very high-quality mattress can be purchased. We would give them to bed for 100€.
The bed can be dismantled in Markkleeberg/Leipzig (with our help) and picked up.
Contact details
Familie Okun
0163/6010603
svenokun@live.de
---
Growing high bed including knight's castle boards made of beech
Offer 3732
. Published: 11 September 2019 (second hand loft bed)
sold
With a heavy heart we want to sell our loft bed.
We bought it from Billi-Bolli in 2013.
Purchase price without mattress: 1,817€
It is the high bed 100 x 200cm, beech with oil wax treatment, incl. slatted base, protective boards for upper floor, handles.
Knight's castle with everything around it, small shelf, rocking plate, all beech oiled.
and climbing rope.
VK: 1,100€
Location is Munich (address see to the following).
Comment:
Dear Billibollies,
thanks to your website we were able to sell our bed yesterday.
Thank you very much!
Kind regards
Matthias Zitzmann.
---
You have been searching patiently for a while now but to no avail?
Have you already considered buying a new Billi-Bolli bed instead? When you no longer need it, you too can use our successful Secondhand Page, completely free of charge. Thanks to the high resale value of our beds, you will get a good return on your purchase even after many years of use. For this reason, a new Billi-Bolli bed is, economically speaking, a very good investment.