Your kid's bed is no longer needed? You are welcome to resell your used kid's furniture and accessories directly on this highly frequented site. This is a free service for Billi-Bolli products that you originally purchased new from us.
If you would like to resell Billi-Bolli products that you bought pre-owned (or a second hand Gullibo kids' bed) on this site, then we take a € 60 fee, which will be fully donated to our charity projects.
Notes
The offers on our second hand page have been translated automatically and therefore may contain translation errors. We take no responsibilities for these errors or the misunderstandings arising from them. Please visit the second hand page on our German website to view the offers in their original language.

We take no responsibility for the information posted by customers about kids' furniture for resale as we are unable to verify them.

Billi-Bolli Kindermöbel is not involved in the resulting resales.

Whether an offer is reasonably priced or not must therefore be determined by the interested party (see Resale price recommendation). Such an assessment cannot be derived from the fact that the item is placed on our Second hand page.

Please note that we cannot deliver accessories or expansion parts for Gullibo kids' beds. If you are intending on expanding the bed, we recommend to directly opt for a Billi-Bolli bed. More information on Gullibo…
Want to stay up-to-date on new offers?
Receive an e-mail as soon as a new second hand offer has been published:
---
Growing upbed with coloured portholes boards from Männedorf
Offer 3712
. Published: 02 September 2019 (second hand loft bed)
Our son has grown out of the high bed age, which is why we want to sell our much-loved Billi Bolli bed.
The bed is completely disassembled and ready for transsports. All accessories, instructions, screws etc. are ordered and completely available.
Type:
Bunk bed 90 x 200 cm, jaw untreated
elder:
6 years
State:
good (low traces of use)
Accessories:
- berth boards (front blue, front side red)
- Curtain rod set
- Ladder protection
- Large shelf, jaw untreated
- Climbing rope
- Rocking plate
- Steering wheel
- Game crane
Original purchase price: 1,232 euros
Sell price: 750 euros (820 CHF)
Transport:
Pickup
Location:
CH-8708 Männedorf, Switzerland
Contact details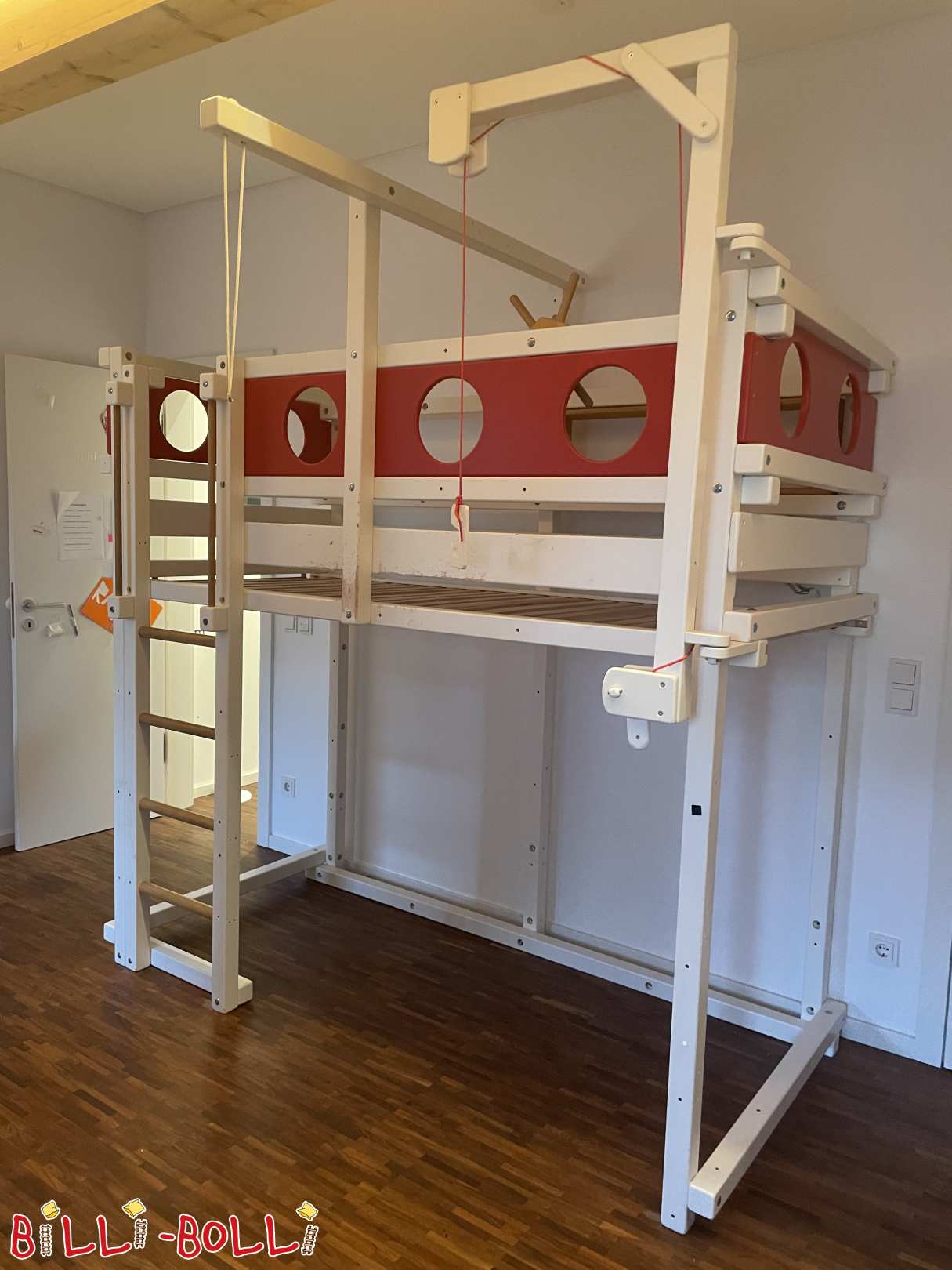 ---
coloured knight's castle boards
Offer 3711
. Published: 02 September 2019 (second hand kids' bed)
After our daughter uses our Billi-Bolli cot after conversion to a youth bed, she no longer needs the castle boards for princesses.
They fit the long itinerary side next to the ladder (one large and one small, in between was the support for the climbing rope). The boards are painted in princess-typical pink and aubergine; the stickers are easy to remove.
The knight's castle boards were made in 2014 by the carpenter for the bed purchased directly from Billi-Bolli and painted by himself.
Our price presentation is about 80 Euros for both boards together.
Contact details
Christoph Oster
Teschendorfer Weg 8b
13439 Berlin
tel. 030 415 12 75
christoph@osters.de
---
Bunk bed 90 x 190 cm from Munich
Offer 3710
. Published: 02 September 2019 (second hand bunk bed)
sold
We sell our Billi-Bolli bunk bed with original accessories :
Bunk bed 90 x 190 cm pine oiled-waxed incl. slatted base,
Protective boards for upper floor, ladder and handles.
Outer size : L: 201 cm W: 102 cm H: 228.5 cm
- Berth board 140 cm
- two small shelves for the upper and lower sleeping level
- 2 bed boxes with rollers
- Steering wheel
- Curtain rod
- Climbing rope made of cotton
- Rocking plate
- Rocking beams
- Climbing carabiners
- 4 cushions with red cotton cover
- 2 Nele plus youth mattresses for upper and lower sleeping level
We bought the bunk bed in September 2011
In January 2017 the extension kit for the conversion to the youth bed type C repurchased (for two beds)
At the moment they are built as a youth bed.
The sturdy bed is 8 years old and in an age-appropriate condition, i.e. it has normal signs of use.
The invoices as well as the installation instructions for the bunk bed are available.
The purchase price was €2,194
Price presentation 1,300 €
Location : Munich- Schwabing 80801
Comment:
The bed was sold today. Thank you for your support.
Greetings
Edina Wallis
---
Slide tower with slide in pine, oiled and painted white
Offer 3709
. Published: 02 September 2019 (slide for loft bed)
We sell our slide tower of the much-loved Billi-Bolli bed. It is oiled and waxed from pine wood (partially painted white), slide is also painted white by the manufacturer as standard from beech pages. New price of tower, slide and fixing set (fixing to the bed) was about 700 euros. The tower was attached to the short side of the bed, mattress width 90 cm.
Condition: normal traces of use. On the left side of the slide there are stronger traces of usage from the swing to slight quirks on the white lacquer.
The tower and the slide are only 3years old.
Price: 290 € fixed price
Location: Remscheid
Contact details
E-Mail Adresse: daniel-matthias@web.de
Tel.: 015777000295
---
Growing bunk bed made of oiled pine in Karlsruhe
Offer 3708
. Published: 02 September 2019 (second hand loft bed)
sold
My son has grown out of his beloved Billi-Bolli bed.
It was bought in 2008 as an over-corner bed for just under 1600 euros. Pine, oil wax treated.
After a move in 2013, it was placed individually.
The bed can be individually adjusted in height. Finally it was installed as in the photos.
Includes the 2 matching shelves and the slatted frame. A mouse board 150 cm long and the crane beam are still available.
The price is 400 euros.
The bed is already disassembled and can be picked up in Karlsruhe.
Comment:
Dear Billi-Bolli Team,
Thank you very much for setting up the offer. The bed is sold.
Regards
Juliane Berner
---
Both-top bunk bed including conversion kit in 2 separate beds
Offer 3707
. Published: 02 September 2019 (second hand bunk bed)
sold
We want to sell our two-top bunk bed.
New purchase January 2010
Purchase price € 2,000.00
Accessories:
Conversion kit into 2 separate beds: € 180,00
Haba rocking armchair 2x new price € 140,00
Sell price: total: € 1,300.00 VHB
To self-collectors.
Very good condition. Smoking. No animals.
invoice and setup instructions are available.
Location Karlsruhe
Comment:
Dear company Billi Bolli,
I sold the bed below today.
Thank you very much for your support.
I'm really sorry to give up the bed...
Yours sincerely.
Kerstin Thomas
---
High bed with growing pine oiled-waxed in Leverkusen
Offer 3706
. Published: 29 August 2019 (second hand loft bed)
Our 9-year-old son has now grown out of the Billi-Bolli-age and now wants a new one.
Therefore, unfortunately, we have to separate ourselves from our "growing" Billi-Bolli bed.
The loft bed is with a sloping roof and made of oiled pine wood and is sold including slatted slats, climbing rope and rocking plates, but without a mattress.
It is 5.5 years old, has some traces of usage, which were mainly created by "upbuilding and dismantling" and the rocking plate.
The setup instructions for this bed are of course included.
At the moment it is built as a youth bed.
Our price is 600 €
Purchase price 1,060 €
only self-collectors in Leverkusen 51379
Contact details
---
Baby grid for bunk bed
Offer 3704
. Published: 28 August 2019 (second hand loft bed)
We sell our baby grille for the bunk bed from the Billi-Bolli-high bed in pine untreated. 2 grids plus beams was purchased directly from Billi-Bolli in 2015 for 102 €.
All other grids were needed.
The set is 6-piece (5 grids and 1 bar) with attached fastening.
At ladder position A, the grids go up to the ladder and thus enclose 3/4 of the mattress. The lying surface for mattress size 90 x 200 cm is then 90 x 140 cm.
The grids are in a neat, used condition.
Pick-up/visit would be in 01159 Dresden.
If the costs are covered, shipping would also be possible.
Purchase price
Our price is 140 €.
Contact details
---
Both-top bunk bed made of pine white glazed including portholes
Offer 3703
. Published: 28 August 2019 (second hand bunk bed)
sold
We sell our Billi-Bolli bunk bed (both-top bed) pine white glazed.
Mattress size: 90 x 200 with ladders and two slatted rods
External dimensions: L 305 cm; W 112 cm; H 228.5 cm
The offer includes the following original Billi-Bolli parts:
2 berth boards
The bed is in a good condition according to age.
Assembly instructions are available. (Self-removal on collection)
We bought the first part of the bed June 2012 and the second part in June 2014 The total new price was about 2,525 €.
We would like to pass everything together for 1,500 €.
If we are interested, we would still have additions for the bed, which can be purchased separately.
Location: 85774 Unterföhring (Munich)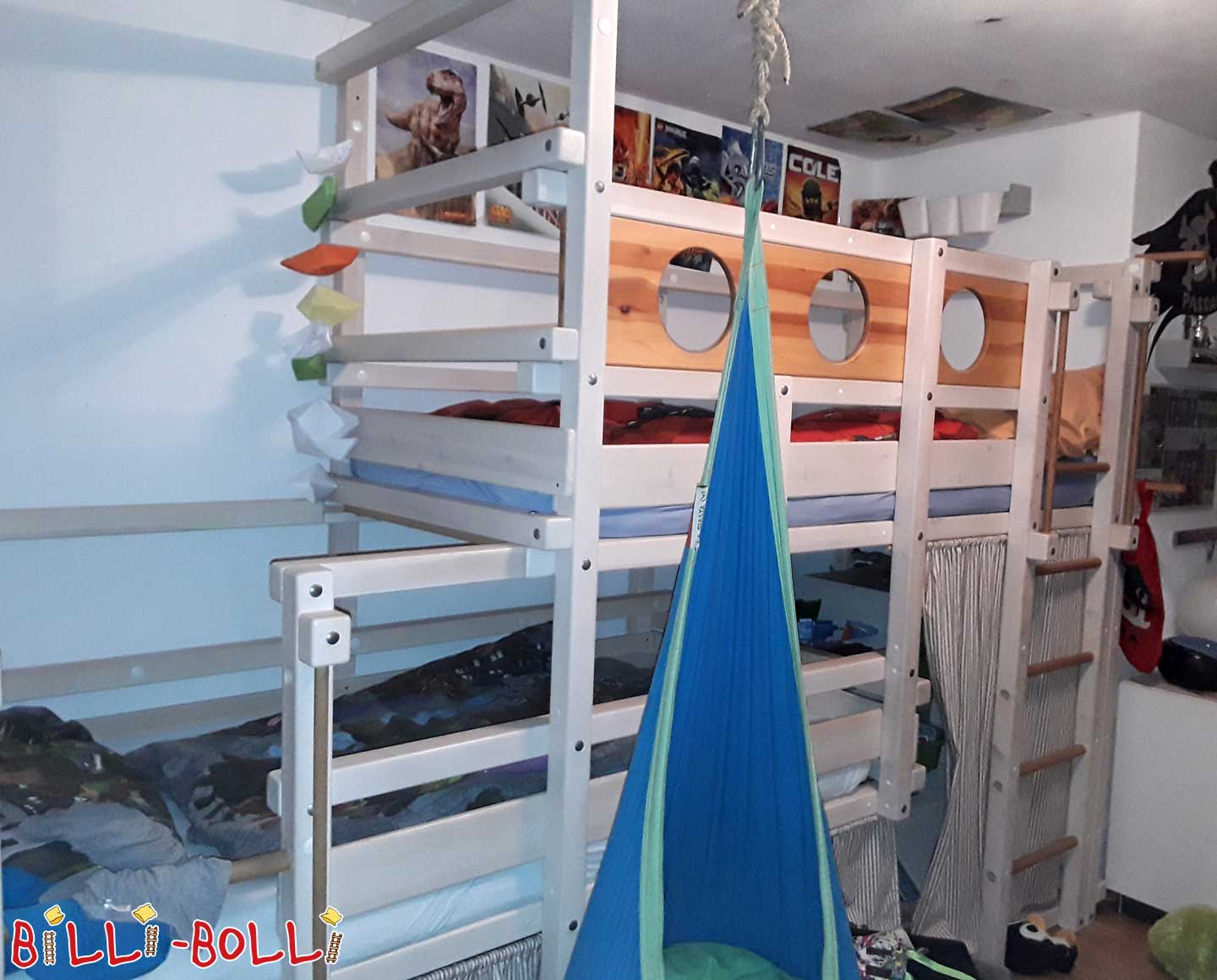 ---
Growing upbed, pine oiled-waxed in Nuremberg
Offer 3702
. Published: 27 August 2019 (second hand loft bed)
Since our son has grown out of his Billi-Bolli bed, we would like to offer it for sale here.
The bed was bought in 2008 for about 800 euros.
It is in a very good condition, only the holding rods are somewhat tapped.
The external dimensions are approx.: L: 210 cm, W: 100 cm, H: 169 cm
(The rear middle beam has been shortened by 28 cm, so the bed can no longer be set up in full height. . ..
The height shown on the picture is therefore the highest level)
An original slatted base is included as an accessory.
The bed is available for collection in Nuremberg.
It is expected to be dismantled.
Our price is 350 euros.
Contact details
Christian Vogler
Wendelsteiner Str. 35
90469 Nürnberg
vogler.christian@online.de
0911/3402961
---
You have been searching patiently for a while now but to no avail?
Have you already considered buying a new Billi-Bolli bed instead? When you no longer need it, you too can use our successful Secondhand Page, completely free of charge. Thanks to the high resale value of our beds, you will get a good return on your purchase even after many years of use. For this reason, a new Billi-Bolli bed is, economically speaking, a very good investment.