Your kid's bed is no longer needed? You are welcome to resell your used kid's furniture and accessories directly on this highly frequented site. This is a free service for Billi-Bolli products that you originally purchased new from us.
If you would like to resell Billi-Bolli products that you bought pre-owned (or a second hand Gullibo kids' bed) on this site, then we take a € 60 fee, which will be fully donated to our charity projects.
Notes
The offers on our second hand page have been translated automatically and therefore may contain translation errors. We take no responsibilities for these errors or the misunderstandings arising from them. Please visit the second hand page on our German website to view the offers in their original language.

We take no responsibility for the information posted by customers about kids' furniture for resale as we are unable to verify them.

Billi-Bolli Kindermöbel is not involved in the resulting resales.

Whether an offer is reasonably priced or not must therefore be determined by the interested party (see Resale price recommendation). Such an assessment cannot be derived from the fact that the item is placed on our Second hand page.

Please note that we cannot deliver accessories or expansion parts for Gullibo kids' beds. If you are intending on expanding the bed, we recommend to directly opt for a Billi-Bolli bed. More information on Gullibo…
Want to stay up-to-date on new offers?
Receive an e-mail as soon as a new second hand offer has been published:
---
Collaborating high bed with kojenboards
(Offer 3271)
Published: 29 October 2018 (second hand loft bed)
sold
After a good 9 years our son Felix (12 years) wants to separate from his Billi-Bolli high bed. It was bought new from you on 12.08.2009.
- Pine with honey/amber oil treatment
- Mattress Nele plus 97 x 200 cm (really good condition, unused for 4 years)
- Slatted slats, protective boards, handles (see picture)
- with berth boards
- Steering wheel (already dismantled when taking pictures)
- Ladder position A
- External dimensions 211 x 112 x 228.5 cm
- small shelf pine honey colors
- large shelf (92 x 108 x 18 cm) pine honey-colored
- Cover caps wood-coloured
- original assembly instructions, replacement screws, additional rungs for ladders, lighting and curtain rods are included
- New price in total approx. 1700 € (original invoice is available and will be included)
The bed is in good condition with traces of use. It was rebuilt (higher) once.
Our price presentation with mattress 775 €, without mattress 685 € (VB).
The bed is now available for self-removal and pick-up in Straubing.
Comment:
Hello dear Billi Bolli team,.
. bed is sold.
Thank you very much for your help.
.
With kind regards.
Fam. Haberl
---
Slide tower with slide
(Offer 3270)
Published: 29 October 2018 (second hand loft bed)
sold
To upgrade to a two-top bed, our slide must go now unfortunately.
Therefore, we want to sell:
A slide tower with slide height 3 & 4, jaw if left untreated.
Both is nearly two years old and know slight traces of usage of the games on.
The slide tower is including bar mounted to the short side of a high bed growing with.
For building an additional bar B1TR or a normal B1 is needed bar with two additional holes.
The original purchase price was 475 euros, we offer both for €370.
Location: Augsburg
Comment:
Hello.
The slide tower was sold!
Thank you, happy holidays and best wishes.
Marianne Bechstein
---
Knight's Castle bed with slide tower and slide
(Offer 3268)
Published: 25 October 2018 (second hand loft bed)
sold
We want to sell our Billi Bolli high bed incl. slatted, protection boards for the top floor, a small shelf, climbing rope, swing plate, slide tower with slide and the castle of Knights boards. The bed was purchased in 2006 and has cost 1351,00 euros. .
The bed was left untreated spruce bought and colorless varnished by us. .
It is not covered. There are little notches by the wild swings. The rope has turned up under the swing plate. This has no effect when the swings.
The bed is 2.11 m in length, 1,02 m wide and 2,285 m high. In addition, the slide tower (0,60 m long and 0.54 m wide). The slide stands 1.73 m from the slide tower in the area (about 2.33 m from wall to end slide)
We have attached a curtain bar and curtains with monkeys on the bed. The blinds range in construction of the bed at the first level to the ground. The pictures show the bed on the second level. .
We give these curtains and curtain bar, if desired. These include even curtains for a window.
It is also possible, below a slatted frame with mattress in the bunk bed to lay.
We would like 600 euros for the bed with slide tower.
The bed is placed in 37345 Großbodungen.
It is still and should together be dismantled so that the building then manages.
Comment:
Dear Ms. Eckert.
the bed is sold. Please note this in our display. We thank you for the Nice help.
Mfg Yvonne lamp
---
Knight's Castle Loft bed in beech
(Offer 3267)
Published: 23 October 2018 (second hand loft bed)
sold
Ritterburg high bed from beech
Hardwood, no fir/spruce, all parts oiled-waxed
Purchased from Billi-Bolli at the end of September 2007 for 1800 €
Price presentation 850€ / 970 sFr
L: 211 cm W: 102 cm H: 224.5 cm (4 cm shortened by Billi-Bolli)
The growing bunk bed has the following accessories:
Billi-Bolli slatted base
• Fire brigade rod
• Crane/seat/rope beam
• Pre-handle set with hook
• 2 small shelves on top
• a large shelf at the bottom
• incl. additional cover caps and screws
• on request incl. with youth mattress 90 x 200 cm
Except for the rear top shelf. and the headboard knight board is all visible in the picture.
Original invoice with all information sheets and setup instructions are available.
The cot is in good condition.
It has normal traces of use, has not been glued or painted.
The bunk bed is located in Frauenfeld Thurgau, Switzerland
It is a private sale,
therefore no warranty, warranty or withdrawal.
Comment:
Good Saturday afternoon Billi Bolli team.
just now was our Castle. Picked up bed.
Incredible how fast it went, just just set, and already it's been picked.
Thank you for your Super second hand service!.
Beautiful, not only your products are 1 A everything but drum around;)
Really only recommended!.
Greetings.
Family Mathias
---
Bunk bed
(Offer 3266)
Published: 22 October 2018, sold: 23 October 2018 (second hand bunk bed)
sold
Bunk beds 90 / 200 cm, pine waxed oiled:
Mass:
Height: 228.5 cm. length: 211 cm. width 102 cm.
Accessories:
2 x bed, pine oil.
small shelf, pine oil.
Steering wheel.
Sale without mattresses.
Only pickup and dismantling, we help but like.
At the time new price 1,400 euros.
Price: 700 euro.
Location: Munich
Comment:
Dear Billi Bolli-team.
. thank you for your second hand platform.
.
One day after setting the bed was verauft.
.
Many greetings.
Family storm
---
Bunk bed
(Offer 3265)
Published: 22 October 2018 (second hand bunk bed)
sold
After 10 years we separate from our wonderful Billi Bolli bunk bed, our boys are now too big.
The bed has the dimensions 90 x 200 cm and is made of beech, which we have even white varnished. . 2012, we have converted the bed and bought two bunks.
• two slats.
• Protective boards.
• Bunk boards on the long and the side of the foot.
• two small shelves.
• Climbing rope with swing plates.
• Game crane.
• Steering wheel.
• two bunks.
• without mattresses.
The bed has age-appropriate wear, it is currently being built.
Assembly instructions and original invoice are with spare parts.
Our price is €1590 (price €2250 + glazing €900) and the bed must be picked itself. We will assist in removal.
Location:
70599 Stuttgart
Comment:
Dear Billi Bolli-team.
the bed we have sold today and ask you to remove the provision of the website.
Thank you for this great opportunity of Second-Hand sales!.
With kind regards.
Family Ridder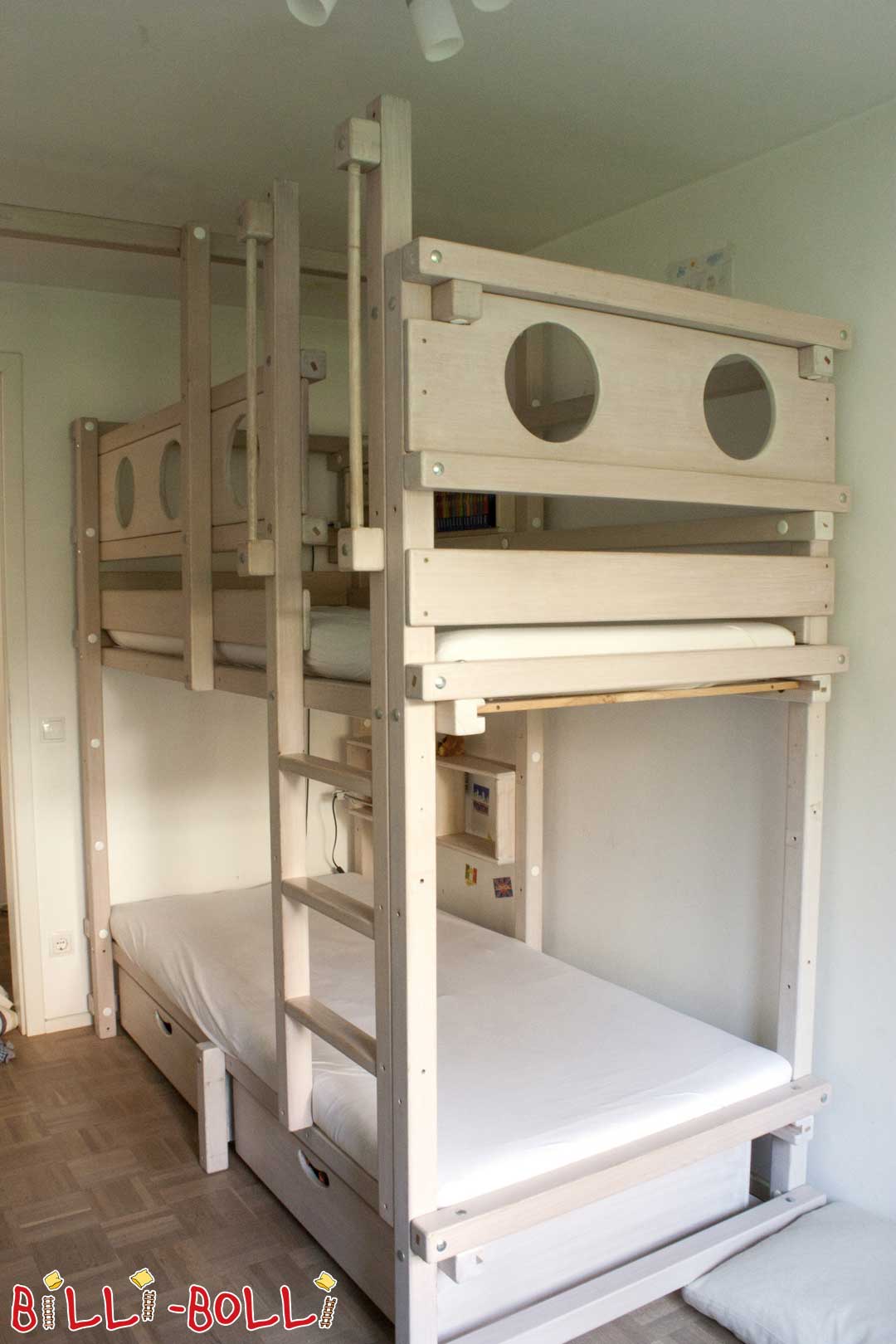 ---
Bunk bed - beech untreated
(Offer 3261)
Published: 19 October 2018 (second hand loft bed)
sold
We sell our Billi-Bolli-HighBed including an additional sleeping level due to a move. The bed is 4 1/2 years old and in very good condition. We bought the second level of sleep only 1 1/2 years ago. It is made of untreated beech and has external dimensions of 211 x 102 x 228.5 cm (slat slat slat 90 x 200 cm). In addition to the second sleeping plane, there is a berth board for the longitudinal and one for the front side, a ladder grille and a rocking plate with rope made of natural hemp.
The new price for the loft bed was € 1402.20 + € 298.90 for the second sleeping level = € 1701.10. Our price is € 1100.
The bed can be picked up at our place. Location 88250 Weingarten.
Comment:
Dear Billi Bolli children's furniture team.
Thank you for switching the display - we ask you to delete the display as we bed runs have.
Many greetings.
Georg dangel
---
Growing pirate ship
(Offer 3259)
Published: 18 October 2018, sold: 21 October 2018 (second hand kids' furniture)
sold
We bought a growing Billi-Bolli bed 3 years ago via the Billi-Bolli second-hand site.
It all worked out wonderfully.
The bed was in a beautiful condition and it is still. In short – indestructible with a few traces of usage.
We had bought a mattress at that time.
The bed has the outer dimensions 212/102 cm. The mattress is about 200/85 cm in size (and is not included in the sale).
The material is spruce or pine.
The side boards are included as fall protection
a ladder
Ship rudder (important for captains!),
a crossbar for a hanging swing
a crane.
We like to sell our "bed ship" for 250,-- euros.
The bed is in Vorarlberg/Austria.
Comment:
Hello dear Billi Bolli team,.
our pirate ship was passed yesterday to a family.
I ask you to take the display of the second hand home page.
Thank you very much.
Yours sincerely.
Christine Sigg
---
Bunk bed including slide
(Offer 3258)
Published: 17 October 2018 (second hand bunk bed)
sold
Billi-bolli bunk bed for sale. Accessories: slide, swing rope with plate and two bed boxes. The bed has normal traces of usage, at one point there is a piece of wood, see photo. The wood is oiled pine. About 6 years old.
At that time purchase price approx. 2,500 euros. Our price is 900 euros.
Location: 90420 Nuremberg.
Comment:
Dear Billi-Bolli Team,
The bed is sold.
Vg
Britta Kulak
---
Growing bunk bed and conversion kit to youth bed
(Offer 3255)
Published: 15 October 2018 (second hand loft bed)
sold
The bed, the accessories, the conversion kit, as well as the mattress are in very good condition, everything was only used by one child and is almost as good as new.
The bed, accessories and mattress were purchased from Billi Bolli in May 2014 and were delivered in July 2014 and built by furniture fitters from Billi Bolli.
In the Nov. In 2017, the loft bed, again by employees of the company Billi Bolli, was converted to a youth bed low, type D.
If possible, we would like to hand over the bed, conversion kit and accessories to a buyer who picks up everything himself. Alternatively, a single levy is also possible.
We are happy to help with the dismantling. All assembly instructions are available.
Bunk bed:
100 x 200 cm, pine oiled, white glazed, incl. slatted base, protective boards for upper floor, handles
L: 211 cm, W: 112 cm, H: 228.5 cm
Crane beams outside
Accessories:
Flat shoots made of beech
Berth board 150 cm, pine oiled
Berth board 112 cm on the face, pine oiled, M-width 100 cm
Small shelf, pine oiled
Large shelf, pine coloured, white glazed, M-width 100 cm, dimensions: 101x108x18 cm
Curtain rod set for 2 sides (2 rods for the long side, 1 rod for the short side
VP for "growing bunk bed" incl. accessories:
€ 990,-
Purchase price at the time: € 1683,50 (without mattress)
Mattress:
Youth mattress "Nele Plus", 97 x 200 cm for sleeping level with protective boards
VP: € 250,-
Purchase price at the time: € 439,-
Conversion kit (from high bed to youth bed low type D):
100 x 200 cm, ladder. A
Jaw white glazed
VP: € 70,- (new price: € 109,-)
Accessories:
Upholstery cushion set in color ecru (new price: € 182,-)
VP: € 50,-
Bed box:
M-length 200 cm, pine, white glazed
W: 90 cm, D: 85 cm, H: 23 cm
VP: € 100,-
(New price: € 190,-)
Comment:
Dear Billi Bolli-team.
our growing with high and youth bed is sold.
Kind regards.
Veronika Choroba
---
You have been searching patiently for a while now but to no avail?
Have you already considered buying a new Billi-Bolli bed instead? When you no longer need it, you too can use our successful Secondhand Page, completely free of charge. Thanks to the high resale value of our beds, you will get a good return on your purchase even after many years of use. For this reason, a new Billi-Bolli bed is, economically speaking, a very good investment.