Billi-Bolli rope. offset bed, spruce
Offer 319
. Published: 04 May 2009, sold: 06 May 2009 (second hand loft bed)
sold
We offer here our used pirate bed for two children (side shifted) for sale after 5.5 absolutely satisfied years.
The bed is made of untreated spruce/pine (current new price incl. two slatted frames: approx. 1050.-
Euro) and includes:
Bunk bed 90 cm x 200 cm
seitl. offset floor bed
1 slatted base
1 conductor, already mounted, 4 rungs
1 crane beam
1 climbing hemp rope
1 steering wheel
1 assembly instruction
1 parts list, checked, parts completely available!
The bed is already dismantled, the photos show the bed just before dismantling as a bunk bed without a bunk bed. Unfortunately, because of the narrow children's room, we could not take a frontal photo.
Good, used condition, a few beautification attempts on the part of our daughters are available, but with little craftsmanship easy to fix. Detailed photos can be emailed on request.
The bed can be visited (dismantled) in Königstein im Taunus near Frankfurt/Main
Private sale, no warranty, exchange or return
Sales price 625.- Euro
Comment:
A heartfelt thank you to all who helped us so hard to sell our used bed again! It worked out in no time! The bed was sold after two days!
We are full of praise. Everything is just right for you!!!!!
---
Pirate bed 90/200 Pine
Offer 318
. Published: 02 May 2009, sold: 02 May 2009 (second hand loft bed)
sold
Hello, as we are moving, we would like to offer our beloved Billi Bolli bunk bed 90/200 pine honey/amber oil treated.
Our bunk bed was purchased in February 2006 and consists of the following parts:
High bed ( 220K-01) pine
incl slatted base, protective boards for upper floor and handles 595€
Honey/amber oil treatment (22-H) 105€
Small shelf, pine honey-coloured oiled 60€
Climbing rope, natural hemp 35€
Rocking plate honey-coloured oiled 25€
Bunk board 150 cm, front, honey-coloured oiled 52€
Spacer 10mm and wood-coloured cover caps
The total amount was 872€
We would like to spend 600 € on the bed
The bed comes from a non-smoking household and is in good condition (normal signs of use)
The bed is to be taken up in Munich-Trudering and has already been dismantled.
Invoice and assembly instructions are available.
Comment:
... please note 'sold', the bed was already sold today ( Saturday ) at 16:30.
Thank you very much
---
Breastfeeding bed
Offer 317
. Published: 25 April 2009 (second hand kids' furniture)
sold
It's time - our little one has grown out and that's why we sell our Billi-Bolli breastfeeding bed ( outside size: 45 cm / 90 cm lying area: 43 cm x 86 cm ) with original mattress by Prolana.
Wood type: Spruce/pine untreated.
for 90 euros (NP 219 euros).
The bed has been in use from us for about 4 months, since we only purchased it at 3 months (our mouse did not like weighing). We have already bought the bed used, previously it was used by 1 child.
The condition is very good, the cover of the mattress is washable.
Traces of use minimal. Pick-up in Bergisch Gladbach (near Cologne).
It brought us much quieter nights and so we were very satisfied.
Comment:
Our bed was sold today, thanks for the great platform of your products.
---
Original Gullibo Adventure Bed
Offer 316
. Published: 22 April 2009 (second hand loft bed)
sold
Pirate bed with sail, slide and ladder
We offer an original Gullibo bed made of solid, long deposited and ecologically treated pine wood. Gullibo beds are GS and TÜV tested and can be expanded almost limitlessly.
The offered bunk bed has a sleeping place/play floor above. The special feature of this bed is that it has 1 rope beam/gallows: in the height of 246cm (don't forget to attach it to the wall!).
Dimensions: width: 102cm, length. 210cm, total height on the high rope beam/gallows: 246cm
Height lying area/play floor: 145cm.
The equipment of the bed is therefore as follows:
1 steering wheel
1 sail
1 slide
Scope of delivery: Gullibo bunk bed with original Gullibo patent screws
incl. slatted base 100 x 200 cm.
Condition: The bed is in good condition. It has normal signs of use from playing and climbing and there are 4 stickers at the level of the lying surface. The wood of the bed is darkened with aging.
The bed is still built in Luxembourg.
We sell it because our son has grown too big.
The bed has a new value of about € 1,300 and we sell it for € 650,00.
Pick-up by self-collector, by appointment.
---
Original Gullibo Pirate Bunk Bed
Offer 315
. Published: 22 April 2009, sold: 24 April 2009 (second hand bunk bed)
sold
We sell an original Gullibo pirate bed. It is well preserved, very stable (post thickness 5.5 cm !), actually indestructible and has normal traces of use. It comes from a non-smoking household.
Scope of delivery (as shown in the photo):
2 lying area 1.90m x 90 cm
1 steering wheel
2 bed boxes (large storage space)
1 rope
1 ladder
Price: VB 680.00 €
The bed has to be picked up by us, we live in Eschwege, near Kassel. For pick-up until 26.4.2009 we are happy to help with the dismantling (which is a significant relief for the later construction). From week 18/2009 the bed can be taken over in degraded condition.
On request, two suitable, very well-preserved mattresses can be purchased.
This is a private sale, so as usual no warranty, warranty or redemption obligations are possible.
Comment:
... Just two days after the ad was posted online on your website, the bed was sold. Thank you very much for this beautiful opportunity to achieve a win-win situation for all involved.
---
Gullibo Pirate HighBed, Pirate Bed
Offer 314
. Published: 22 April 2009, sold: 24 April 2009 (second hand loft bed)
sold
We would like to sell a well-preserved original Gullibo bed due to lack of space.
Material: pine wood,
Accessories: as good as new mattress, climbing rope, steering wheel,
Dimensions: 2100,1020,2200 mm (L,W,H)width with rope beam top 1500 mm
Other: the bed is still built up; Assembly instructions are not available, intended for self-collectors; upstairs was never slept, only because the children were still too small; Mattress size 900x2000mm.
Price: 600.-€
Location: 88316 Isny in the Allgäu
Comment:
... we sold our bed, offer 286, on 24.04. Thanks to the Second Hand Department.
---
Growing bunk bed
Offer 313
. Published: 30 March 2009, sold: 30 March 2009 (second hand loft bed)
sold
Our daughter separates from her Billi Bolli adventure bed.
We sell used:
1 Original Billi-Bolli with growing bunk bed 100x200cm, spruce oiled, No. 221-02
various setup possibilities as midi or high bed
without mattress
incl. construction instructions, slatted frames, protective boards and handles
Date of purchase: 02/2003.
including the following accessories:
Climbing rope,
Rocking plate oiled,
Curtain rod set for 3 sides
The picture shows the variant Hochbett directly before the dismantling. The bed has normal signs of use and is well preserved. There is no smoking in our apartment.
for self-collectors, location is Schiltach in the Black Forest
Bed is disassembled and ready for collection immediately (see picture 2)
Sale is made in the exclusion of warranty
We want for this really great bed 600 €.
Comment:
Hello Mr. Orinsky,
could you please put a note 'SOLD' in the second hand? Unbelievable how many calls we receive.
---
Growing bunk bed, beech
Offer 312
. Published: 30 March 2009, sold: 30 March 2009 (second hand loft bed)
sold
Our mouse is almost big and now wants something different. The Billi-Bolli adventure bed was delivered in March 2005 and is in very good condition. It has only very slight signs of use.
- 1 bunk bed 90 x 200 cm, beech with oil wax treatment
- 1 small shelf
- 1 beam with climbing rope (natural hemp) with rocking plate (beech oiled)
- 1 mice board at the front and on the front side (beech oiled)
- 1 curtain rod set (has never been mounted before)
The bed still needs to be dismantled! The installation instruction is available.
Our selling price is 950.00 € VHB. (NP €1,493.80)
Location: 59192 Bergkamen
Comment:
Good morning Mr Orinsky,
it is incredible, but the bed was sold within an hour. Thank you very much! Your secondhand exchange is really great!
---
slide
Offer 311
. Published: 30 March 2009 (second hand loft bed)
sold
Hello
we have an original slide for sale for the BILLI Bolli bunk bed. Our daughter used it enthusiastically, but now she feels too big for it. The length of the slide is approx. 220 cm (lying on the ground), it is well preserved and must be picked up in any case near Siegburg, (exactly between Cologne and Bonn).
Price 60,- Euro.
Comment:
The slide from offer 281 is already sold, please note this in the advertisement, as the demand is very high.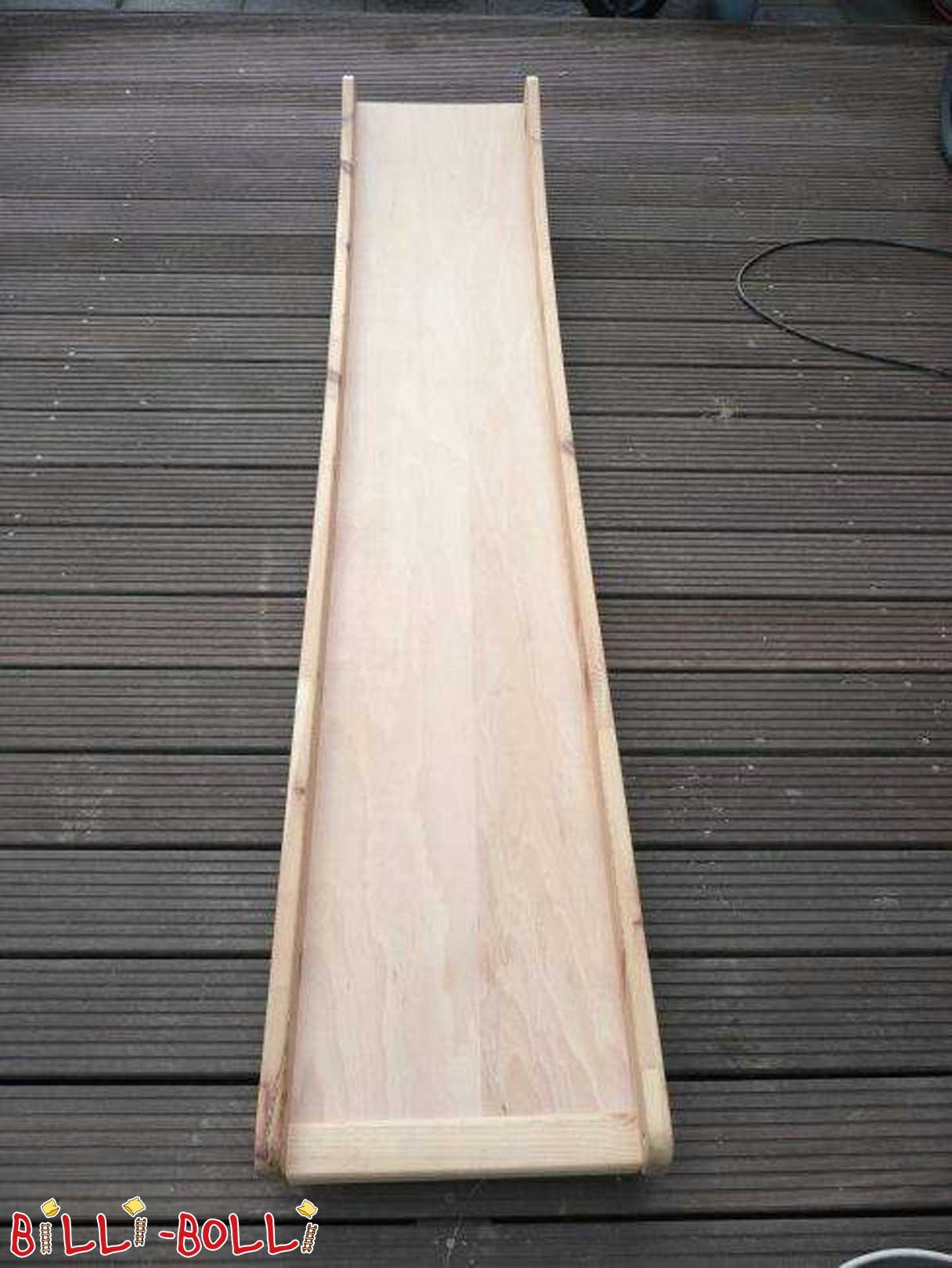 ---
Bed-over-corner with slide 90x200
Offer 310
. Published: 30 March 2009, sold: 30 March 2009 (slide for loft bed)
sold
Spruce oiled, bought November 2004, (2 1/2 years used), well preserved, (unfortunately dismantled, therefore I have no photos)
Described:
Bed over corner
Slide A, Head C
2 drawers
Fall protection for lower and upper bed, head and side
NP 1340 EUR
VP 800 EUR
The bed is sold without mattresses and is ready for pick-up. Location Kilchberg, near Zurich (Switzerland)
Comment:
hardly set and already sold! That's really unbelievable. many heartfelt thanks for the great service.
---
You have been searching patiently for a while now but to no avail?
Have you already considered buying a new Billi-Bolli bed instead? When you no longer need it, you too can use our successful Secondhand Page, completely free of charge. Thanks to the high resale value of our beds, you will get a good return on your purchase even after many years of use. For this reason, a new Billi-Bolli bed is, economically speaking, a very good investment.