Your kid's bed is no longer needed? You are welcome to resell your used kid's furniture and accessories directly on this highly frequented site. This is a free service for Billi-Bolli products that you originally purchased new from us.
If you bought pre-owned Billi-Bolli products, that you would like to resell now on this site, then we take a € 60 fee, which will be fully donated to our charity projects. The same applies to the resale of second hand Gullibo beds.
Notes
The offers on our Second hand page have been translated automatically and therefore may contain translation errors. We take no responsibilities for these errors or the misunderstandings arising from them. Please visit the Second hand page on our German website to view the offers in their original language.

We take no responsibility for the information posted by customers about furniture for resale as we are unable to verify it.

Billi-Bolli Kindermöbel is not involved in the resulting resales.

Whether an offer is reasonably priced or not must therefore be determined by the interested party (see Resale price recommendation). Such an assessment cannot be derived from the fact that the item is placed on our Second hand page.

Please note that we cannot deliver accessories or expansion parts for Gullibo kids' beds. If you are intending on expanding the bed, we recommend to directly opt for a Billi-Bolli bed.
---
High bed growing with
Offer 313 (second hand loft bed). Published: 30 March 2009, sold: 30 March 2009
sold
Our daughter separated from her Billi Bolli adventure bed. .
We used to sell:
1 original Billi Bolli oiled sparse high bed 100x200cm, spruce, no. 221-02.
various setups as MIDI or bunk bed.
without a mattress.
incl. Assembly instructions, slatted, protective boards and grab handles.
Purchase date: 02 / 2003.
. including the following accessories:
Climbing rope.
Swing plate oiled,.
Curtain rod set for 3 pages.
The picture shows the variant high bed right in front of the removal. The bed has normal wear and is well preserved. Our apartment is non-smoking. .
for pickup, location is Schiltach in the black forest.
Bed is built apart and immediately picked up (see Figure 2)
Sale takes place under exclusion of warranty.
We want a €600 for this really great bed.
Comment:
Hi Orinsky,.
could one of the second hand urgently please really, really, be sold ' set? Incredibly, enter how many calls to us.
---
Growing with high bed-beech
Offer 312 (second hand loft bed). Published: 30 March 2009, sold: 30 March 2009
sold
Our mouse is almost tall and want now something else. The Billi Bolli adventure bed was delivered in March 2005 and is in very good condition. It has only slight traces of use. .
-1 bunk bed 90 x 200 cm, beech with oil wax treatment.
-1 small shelf.
-1 bar with climbing rope (natural hemp) with swing plates (beech oiled)
-1 mouse Board front and front (oiled beech)
-1 curtain rod set (was never installed)
The bed must be built yet! Exists in the installation instructions. .
Our sale price is €950,00 VHB. (NP €1.493,80)
Location: 59192 Bergkamen
Comment:
Good morning Mr Orinsky,.
It's incredible, but the bed was sold within an hour. Thank you very much! Their thrift stock is awesome!
---
Slide
Offer 311 (second hand loft bed). Published: 30 March 2009
sold
Hello.
We have original for sale one slide for the BILLI Bolli high bed. Our daughter has used them enthusiastically, but now, she feels too big for it. The length of the slide is approx. 220 cm (lying on the ground), it is well preserved and must be picked up in any case close to Siegburg (right between Cologne and Bonn)
Price 60 Euro.
Comment:
The slide out range 281 is already sold, please you note that in the display because the demand is very high.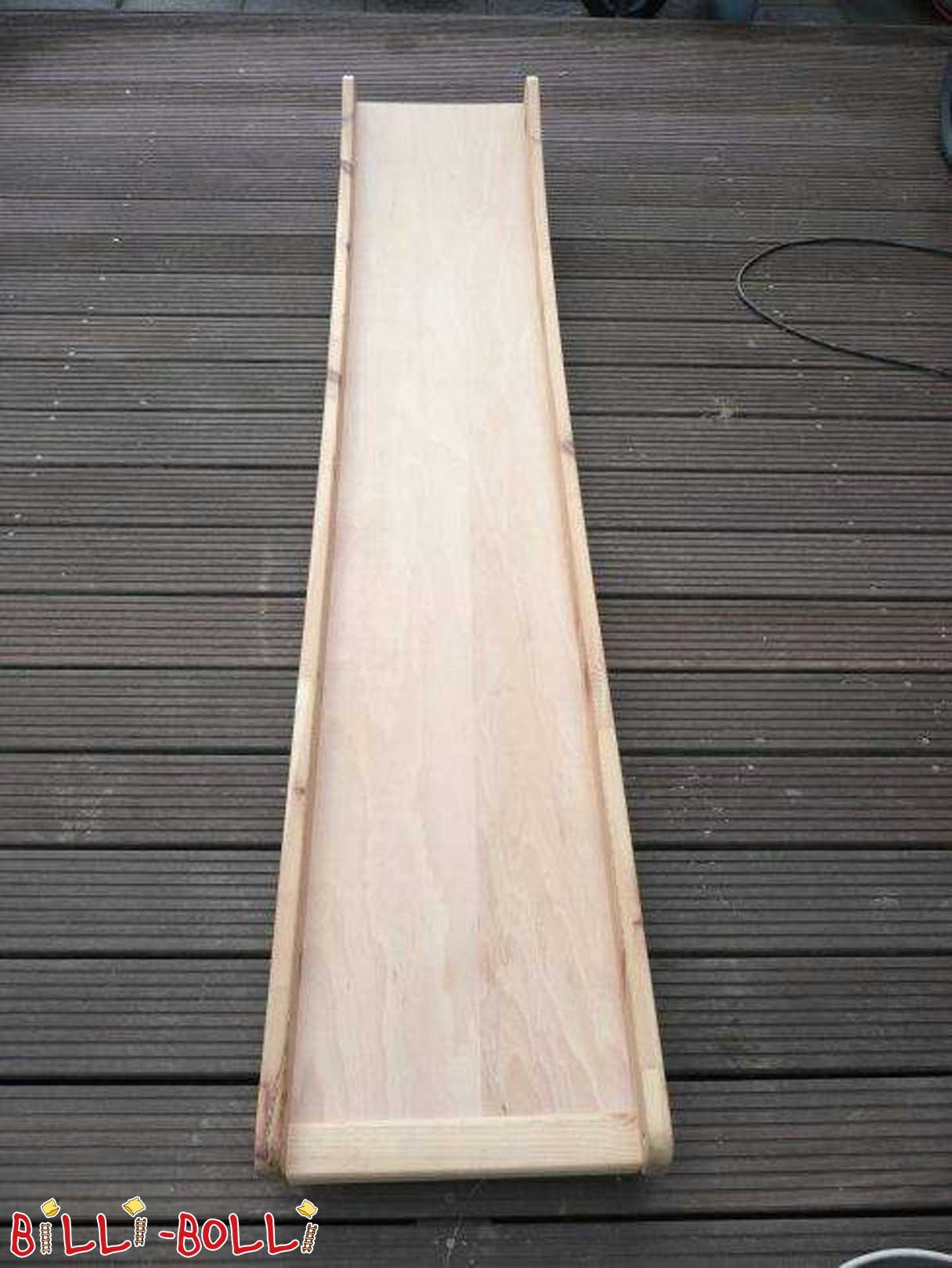 ---
Bed over corner with slide 90 x 200
Offer 310 (slide for loft bed). Published: 30 March 2009, sold: 30 March 2009
sold
Spruce oiled, bought November 2004, (used 2 1/2 years), well maintained, (unfortunately dismantled, therefore I have no pictures)
Description:
Bed corner.
Slide A, head of C. 2 drawers.
Fall protection for lower and upper bed, head and side.
NP 1340 EUR.
VP EUR 800.
The bed is sold without mattresses and is available for pick up. Site Kilchberg, close to Zürich (Switzerland)
Comment:
barely set and already sold! This is really amazing. many heartfelt thanks for the great service.
---
Billi Bolli adventure offers bunk bed
Offer 309 (second hand bunk bed). Published: 25 March 2009
sold
9 years, well normal signs of use, oiled, preserved, non-smoking household.
. Accessories:
. 1 steering wheel.
1 swing plate.
2 bed boxes.
1 roll of rope.
2. additional protection boards.
1 rope.
1 flag with holder.
. Original assembly instructions.
. Price: €720,00.
.
The bed must be removed with us and picked up, we live near Oldenburg/Bremen
Comment:
...nun is it gone, that pirate ship and with it a piece of childhood, sniff...
---
Home nursing bed
Offer 308 (second hand kids' furniture). Published: 25 March 2009, sold: 20 April 2009
sold
-Selfmade Billi Bolli nursing bed (was based construction manual pdf of Billi Bolli)
-We sell our quiet bed (dimensions: 45 cm x 90 cm (without tray); 45 cm x 102 storage / lying surface: 43 cm x 86 cm) with foam mattress together for 40 euros. . - The bed has been in a period of about 8 months in use. The bed is made of spruce, the feet in beech-wood, both if left untreated. We have adjusted the height of the bed on our bed, therefore the surface has a height of 39 cm (with mattress 44 cm). The angle on the screen to the attach to the parent's bed are on request can be unscrewed. The condition of bed and mattress is very good, the cover of the mattress is already washed, washable and stain-free. Crib sheets and matching bed sheet there are washed for free to do so. Pick up in Neuss, Germany.
Comment:
the quiet room (special offer 278) has been sold to ...bereits before 1 week. Everything worked fine. Thank you for the super second hand shop.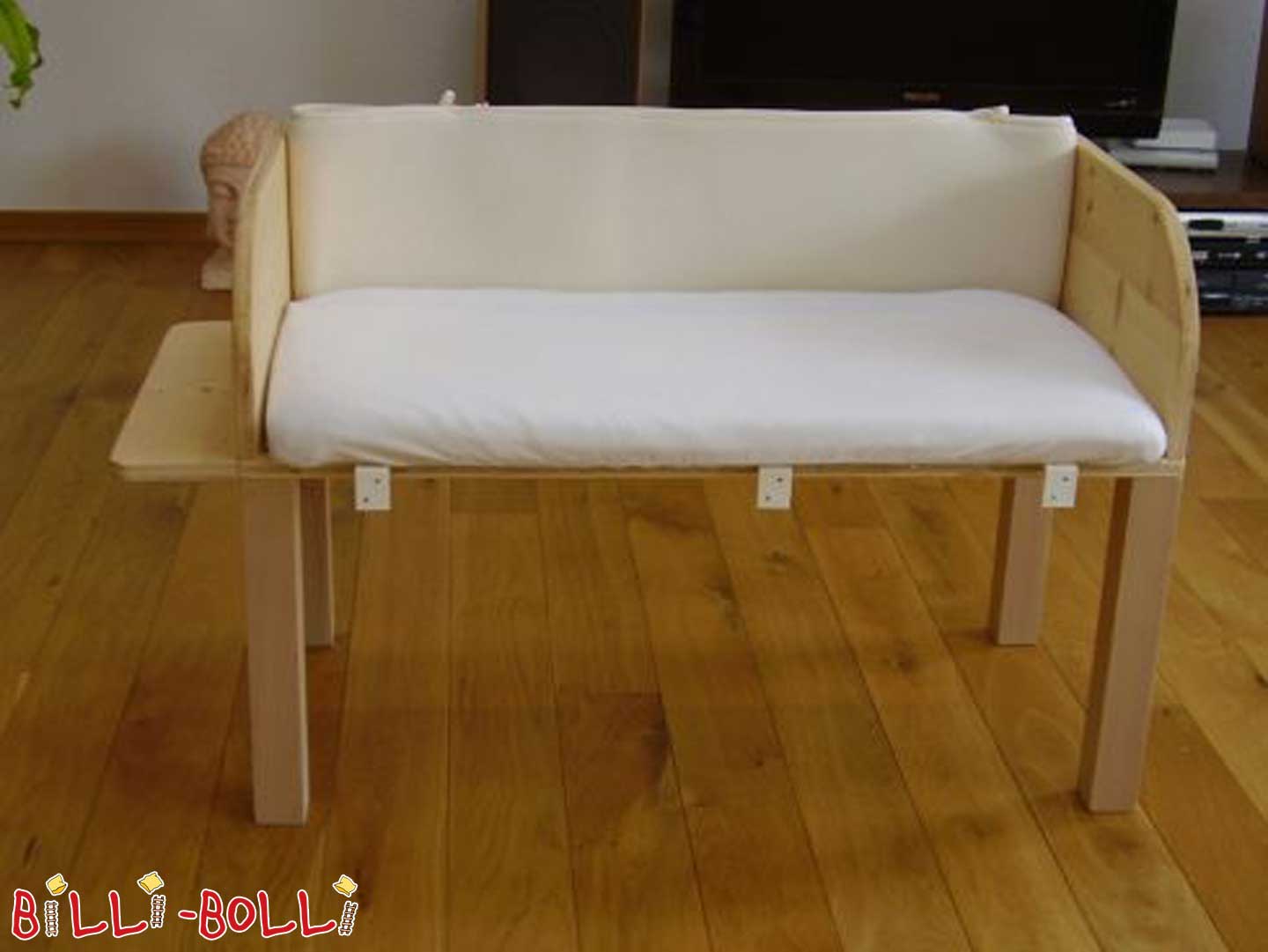 ---
Untreated Billi Bolli bunk bed, spruce
Offer 307 (second hand bunk bed). Published: 16 March 2009, sold: 16 March 2009
sold
3.5 years old.
well received, without traces of usage.
incl. 1 slatted frame, 1 game back,.
Protective boards for upper floor.
Grab rails and rungs to the ladder.
2 bunks, 1 swing plate, curtain rod set for longitudinal and sides.
Without mattresses, without decoration.
Price: €900 VB.
Comment:
We wish to inform you that we have sold the Billi Bolli bunk bed on the same evening, the 16.03.2009. You can indicate the offer as sold.
It's really great that a Billi Bolli can sell bed again so well and that you offer this great service on their site.
Thank you and best regards from Bremen
---
Original Gullibo bed model No. 124
Offer 306 (second hand loft bed). Published: 11 March 2009, sold: 19 March 2009
sold
with conversion kit for deck (model No. 235) and bunk bed (model No. 232)
We give our great Gullibo bed with a heavy heart.
It is the variant 124 (Director at the front), you either.
-moved "sideways" (left or right): surface approx. 3, 12m x 1, 02m.
-"on the corner" (left or right) bent: surface then approx. 2, 16 m x 2, 10 m.
- or of course one above the other: surface 2 then approx. 16m x 1, 02m.
can provide. Fits so well in sloping, (or otherwise in each child's room) when the knee is rather low.
The upper level offers the opportunity to 2 heights to be; set the bed grows so to speak, what your kids will thank you...
Currently, it is "stacked" and is inhabited only by our youngest daughter. .
We built it to so far due to the move 1 time. Usage tracks are unavoidable, it is (also not painted or grossly damaged) but overall in good condition and really indestructible. The pine was removed by us with beeswax wood paint and is now naturally darker after.
For the conversion into a youth Loft bed (Nr. 232) plus a separate deck (No. 235) we had purchased original parts at the FA. Gullibo. Unfortunately, we have no photo of it. But of course, the extra parts are included!.
Scope of delivery:
-Slatted 1 (90 x 200 cm)
-2 bunks (90 x 90 x 19 cm) - so lots of storage space.
-1 steering wheel.
-1 game base - protection bar for the upper floor.
-gr. Bar (Gallows) with climbing rope.
-Sailing, red checkered (currently used as visibility protection)
For more information: bunk bed shelf (No. 823)
for this purpose: a well preserved mattress (90 x 200cm)
For more information: 3 cushion (even sewn and washable)
Assembly instructions (for all above mentioned variants) and bar set-up.
Non-smoking household.
only on pickup.
The bed is placed in 79341 Kenzingen, 25 km north of Freiburg. .
Price 725 euros.
Total price: 2991,-DM (2754,-DM for adventure bed + 237 DM for conversion in bed plus youth bed). Invoices are still present.
Purchase it can be dismantled by us or by the purchaser.
It's a private sale, therefore no warranty, no warranty and no return!
---
Baby grid Kit
Offer 305 (second hand bunk bed). Published: 10 March 2009, sold: 15 March 2009
sold
Baby grid set for the bunk bed 90 x 200, beech with slip rungs, oiled,
as well as a suitable bar to the grille fixing at 3/4 of the bed, beech, oiled, wall side. . Billi Bolli article no. 454B-02, and B-SG-009915.
.
The set was bought only last summer and is therefore in a very good condition.
We be an animal-free non-smoking household.
. New price 187,82 EUR.
Retail price EUR 130.
. Pick up would be in Cologne, Germany. We would need to clarify shipping or transfer to another place.
Comment:
Hello dear Billi Bolli team,.
the grid was sold to the 15.3. Am quite perplexed how quickly it went, thank you.
---
Four pads of Billi Bolli for 90 x 200 bed
Offer 304 (second hand kids' furniture). Published: 10 March 2009, sold: 07 May 2009
sold
A cushion has the dimensions 10cm x 27cm x 90 cm. All 4 are the same size. The reference was professionally sewn by a seamstress and of course has a zipper so you can wash it in the washing machine. We would like 70,-EUR for all 4 together. New price 148,-EUR.
The pads can be picked up at 86368 Gersthofen and we send them via DHL for lump-sum 10 EUR.
Comment:
...die pads are sold. Really super that you offer this thrift service.