Your kid's bed is no longer needed? You are welcome to resell your used kid's furniture and accessories directly on this highly frequented site. This is a free service for Billi-Bolli products that you originally purchased new from us.
If you bought pre-owned Billi-Bolli products, that you would like to resell now on this site, then we take a € 60 fee, which will be fully donated to our charity projects. The same applies to the resale of second hand Gullibo beds.
Notes
The offers on our Second hand page have been translated automatically and therefore may contain translation errors. We take no responsibilities for these errors or the misunderstandings arising from them. Please visit the Second hand page on our German website to view the offers in their original language.

We take no responsibility for the information posted by customers about furniture for resale as we are unable to verify it.

Billi-Bolli Kindermöbel is not involved in the resulting resales.

Whether an offer is reasonably priced or not must therefore be determined by the interested party (see Resale price recommendation). Such an assessment cannot be derived from the fact that the item is placed on our Second hand page.

Please note that we cannot deliver accessories or expansion parts for Gullibo kids' beds. If you are intending on expanding the bed, we recommend to directly opt for a Billi-Bolli bed.
---
Billi-Bolli bed
Offer 261 (second hand loft bed). Published: 01 August 2008, sold: 08 August 2008
sold
Bunk bed for sale (article number 170) student.
-in pine waxed nature, size 90 x 200.
-purchased in the spring of 2006, original price approx. 770 euro.
-well maintained.
-Selling price 450 euro.
-against picking up (on request we can's like.
jointly build up)
-Note: Billi Bolli see accessories and conversion options pages
---
Billi-Bolli bed, pine oil
Offer 260 (second hand kids' furniture). Published: 16 July 2008, sold: 16 July 2008
sold
Our girls are great and with a heavy heart, we split up of the beloved Billi Bolli!.
The bed (pine oil) consists of.
-2 beds laterally offset, 90 x 200 - 2 slatted.
-2 bed boxes.
-1 curtain rod set.
-1 small shelf.
-1 natural hemp rope.
-1 swing plate.
-1 mouse Board.
-3 bucks.
-4 cushion pillow, if required with coating (see figure)
without mattresses.
The bed was bought in October 2004 and is in good used condition. .
It can be picked with us in Munich. An assembly instructions and invoice etc. are available.
NP: € 1551,-.
Now, we would still like to € 950,-for the bed.
---
Original-Gullibo pirate bed
Offer 259 (slide for loft bed). Published: 11 July 2008, sold: 13 July 2008
sold
Our children are now too large for our original Gullibo bed. The bed was hot loved and much used. Therefore, there are also traces of use. Because it is but solid wood, these blemishes are easy to fix. The slide also has some abrasions on the red color, but what does not detract from the pleasure of slipping. .
.
The bed is designed so, that also in a children's room with sloping can stand, because a page has a height of 1.90 m and the page on which the gallows is a height 2.17 m. This change is made but also original by Gullibo, what emerges from the Bill of materials, which are there from Gullibo to this bed.
.
Through two lounging areas it can be used also by 2 children to sleep with our children many overnight guests very proved. But mostly, 1 bed was used to the play, caves build and run. Our daughter still loves about the slide "to stand up". .
. Building plans are also available. Bed offers a variety of construction, so the lower lying surface can be removed completely, there to accommodate the desk, shelves, chairs etc. The boom can be, etc. placed Center That does not diminish the stability. .
.
You / child s / he and friends will have many, many years of enjoyment with this great bed. .
.
On the images, we have removed a mattress so that the frame can be seen. .
.
The dimensions of the bed are:
. Length: 2,10 m width: 1,00 m lying surfaces: 90 cm x 2 m. height on the side of the gallows: 2.17.
Height on the other side: 1,91. length of the slide: 1.80 m.
. Scope:
-Bed (of course without decoration), if but desired with 1 large mattress for the 2nd bed 4 single smaller mattresses - that build magnificent caves in the bed. The remuneration of the mattresses can be remove and wash. Because the mattresses are already old, add it for free. We've had at that time foam suitable for this bed produce these. . - The steering wheel.
-Red sails (fastened with chains under ceiling)
-Slide.
-Climbing rope.
-2 large drawers under the lower lying surface for allerei toys, bed linen etc.
. Individual beams, which are needed to build other versions of the bed.
.
The purchase price is: VB Euro 500,--.
.
The bed should be built by the buyer himself, later building easier. Gladly we send advance but even more photos.
. To pick up the bed in 58540 Meinerzhagen (Märkischer circle/Sauerland) is
Comment:
Hi Orinsky,.
the bed is sold since Sunday, 13.07.08 and was picked up this afternoon. The response to this ad was indescribable. We had yes no idea that these beds are in such demand. I can return it only on the extremely good quality of these beds. So all young parents now looking such a bed, I can just say that even the purchase of a new crib pays for itself over the years. Especially if you use the bed not only for a child.
And if the kids are too big for this after 15 years, you can make quite sure yet another family with one such bed happy.
Thank you for your offer to be able to sell these used beds made upon you.
Greetings from the sauerland region
---
Sparse Knight high bed Billi Bolli
Offer 258 (second hand loft bed). Published: 23 June 2008, sold: 24 June 2008
sold
Due to a move abroad, we have to separate our Billi-Bolli Knight bed. .
Year of manufacture 2006 untreated pine.
Including.
-Slatted frame.
-Mattress.
-Orginalrechnung and assembly instructions.
The bed is very well preserved. Assembly and dismantling in Berlin/by appointment.
Fixed price: 500 euro.
Comment:
the response has been incredible. Lots of questions, and of course, the bed is already forgiven. It comes in the Lüneburg Heath.
---
Billi Bolli pirate bed
Offer 257 (second hand bunk bed). Published: 16 June 2008, sold: 17 June 2008
sold
Date of purchase 01.10.2002 (original invoice available) the children away your pirate bed with a heavy heart. Unfortunately, our sons have joined the profession, they retrain by pirates to pubescent adolescents.
We were impressed by the outstanding quality of this bed.
The scope includes:
Bunk bed (90 x 200) coloured oiled.
Incl. 2 slatted frames, protective boards for upper floor, handholds blue caps.
Steering wheel.
Natural hemp rope.
Swing plate.
Flag holder with blue flag (original accessory) flag holder with pirate flag curtain rod set for a long side and a front side also included:
Wall mounting rascals for the particularly wild.
Fixed price with mattresses and pirate bed sheet clamp, as shown in the photo:
590.-euro.
The bed is in a really good condition with light wear without stickers, felt-tip pen marks. Non-smoking household. You can visit the bed happy advance.
Location:
Munich West, exit at Freiham Mitte minutes
Comment:
It was just sold. The rush was enormous.
---
Gullibo bunk bed dimensions 90/200 cm
Offer 256 (second hand bunk bed). Published: 03 June 2008, sold: 03 June 2008
sold
Pirate bed, pine oil, purchase date unknown, taken from previous house owners (go by about the year 1999 / 2000) from.
2 bed boxes.
2 additional spars.
2 wall shelf.
1 slide (on the photo not to see, no longer in use) additional shoots rising over the foot part, steering wheel, rope, play ground and 2 mattresses div. screws including small parts.
The bed is in good condition.
VB euro 750,00.
Assembly and dismantling:
Eltville in the Rheingau for Wiesbaden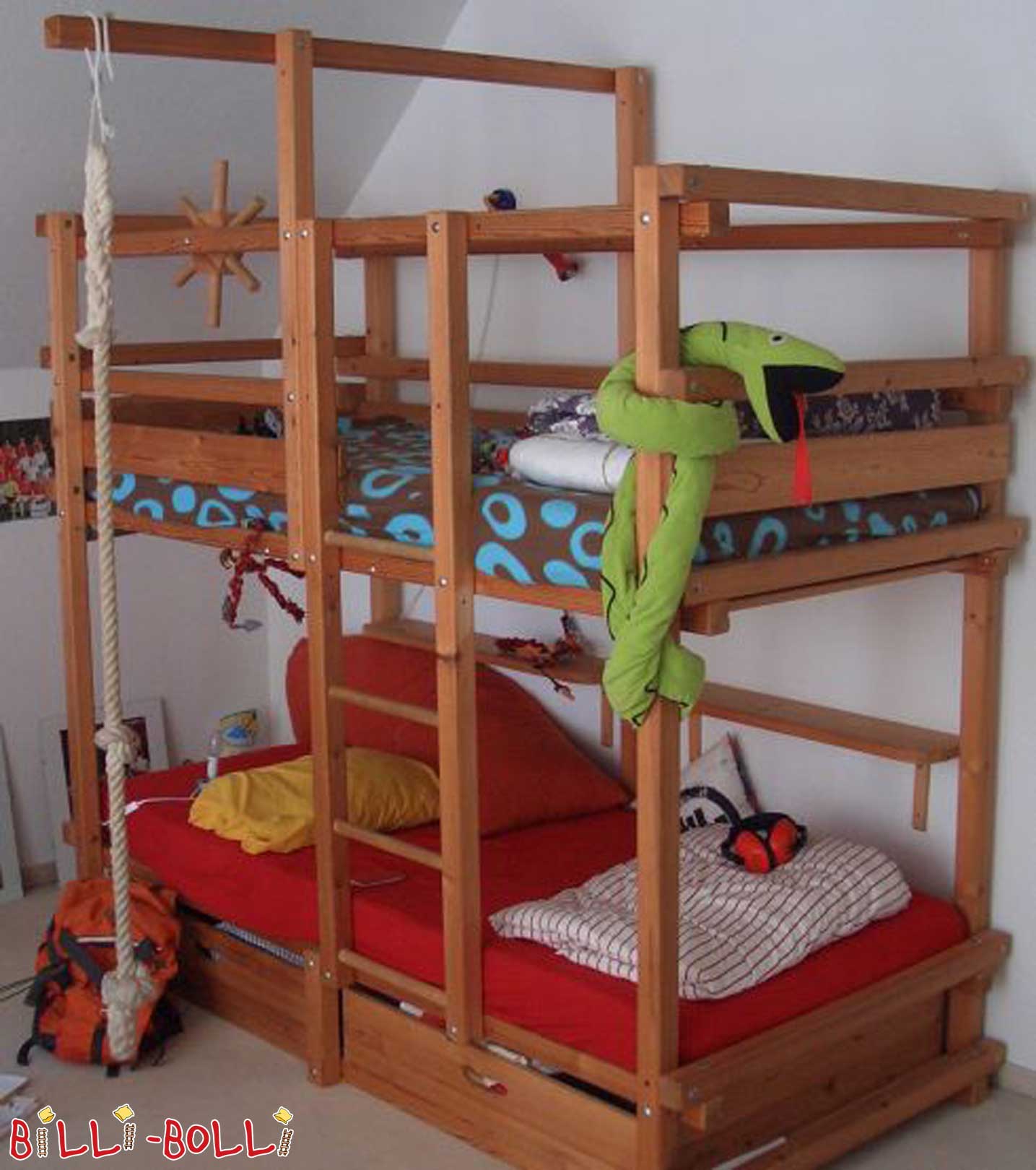 ---
Paidi Claire crib 1.40 meters long
Offer 255 (second hand loft bed). Published: 23 May 2008
sold
Color beech honey, 140 x 70 cm (overall dimensions: L 146,0 / B 76.0 / H 89.6 cm), Cot with 2 slip rungs, conversion pages to the crib/cot (2 pieces; Dimensions: L 139,0 / 15.0 H / T 1.8 cm), 4 x height slatted frame, complete with mattress, very good condition, including additional high bed construction and head (self created)
Original price: €340.-.
Price: €170.-VHB.
---
Corner pirate bed "", bed, pine, untreated
Offer 254 (second hand kids' furniture). Published: 19 May 2008, sold: 19 May 2008
sold
including 2 bed boxes and small shelf, either left or right side or corner moved to build up, for sale.
The bed is just two years old, and in very good condition. Walk-in bed was only about 3 months used, degraded, and is thus equivalent to new. .
Bed no longer fits in the new baby's room.
The photo was created right after the construction, lacks a few parts on the screen. (Mount head, a fall protection front of the lower bed is missing, too short uprights Center below)
In the photo are not visible: continuous fall protection to the lower bed, rear; Shelf above the bed and the curtain rod set.
The bed was loved, and is always recommended. .
Sale without mattresses.
The bed must be still broken down and picked up in Munich Brunnthal.
NP € 1.194,-(invoice available)
Our price: € 750-
---
Billi Bolli adventure bed
Offer 253 (second hand adventure bed). Published: 09 April 2008, sold: 14 April 2008
sold
The bed is 6 years old and is up on slight traces of use, well received.
It consists of 1 slatted frame, 1 game back, 1 wheel, 2 bunks and 1 overhead crane beams to E.g. a swing plate to install.
The complete building instructions are available.
The bed is sold without a mattress.
VB € 500,00.
Pick up in 21227 Bendestorf, near Hamburg, Germany
Comment:
---
Billi-Bolli pirate bed spruce
Offer 252 (second hand adventure bed). Published: 18 December 2007, sold: 19 December 2007
sold
Dear Mr. Orinsky, dear Billi Bolli team.
. love we remember the visit to Atlanta. We were more than satisfied with the Billi-Bolli bed. But unfortunately we have to split up after almost 10 years of our beloved and well preserved adventure bed. The children have just outgrown. .
.
The bed (spruce nature) consists of:
. - Pirate bed corner 90 x 200 cm with protection boards, head with green glazed handles.
with different conversion parts moved to set up the bed.
-1 slatted frame.
-1 pull out bed.
-1 game base 90 x 200 - 1 slide (with signs of use)
-Gallows 1.
-1 climbing rope.
-1 swing plate, varnished red.
-Steering wheel, red varnished.
. Original assembly instructions available!.
. VHB 600 euro.
. Assembly and dismantling in höhenkirchen to Munich after agreement.
Comment:
The bed is by phone already sold! I couldn't believe it, that so many prospective buyers were reported. The quality speaks well, Yes for itself.