---
Growing Billi-Bolli high bed for sale
(Offer 1725)
Published: 30 April 2015 (second hand loft bed)
sold
The bunk bed is made of pine, honey-coloured oiled and has a lying area of 120 x 200 cm. The external dimensions are: L 211 cm, W 132 cm, H 228.5 cm
More "Features":
• Slatted slats
• Protective boards for upper floor
• Handles
• Ladder (Pos. A)
• small shelf
• Climbing rope
• Rocking plate (unused)
• Steering wheel (not as shown with steering wheel)
• Curtain rod set for three sides
The bed was purchased in February 2007 and is in very good condition with little traces of use. We live in an animal-free non-smoking household.
The bed is in 37085 Göttingen and we are happy to dismantle the bed together with the buyer. The setup should then be all the easier. ;-) Sale only to self-collectors.
Price: 600 €
(purchase price, incl. shipping, in 2007: 1,136 €)
If necessary, we also sell the mattress for 60 €
Comment:
... less than 24 hours after you have discontinued our offer, our Billi-Bolli bed is sold to a nice family nearby. We are very happy.
Thank you for the great secondhand offer service. It is very helpful that you offer the possibility to offer directly at you the great Billi-Bolli beds.
Greetings from Göttingen
Susanne Tiedtke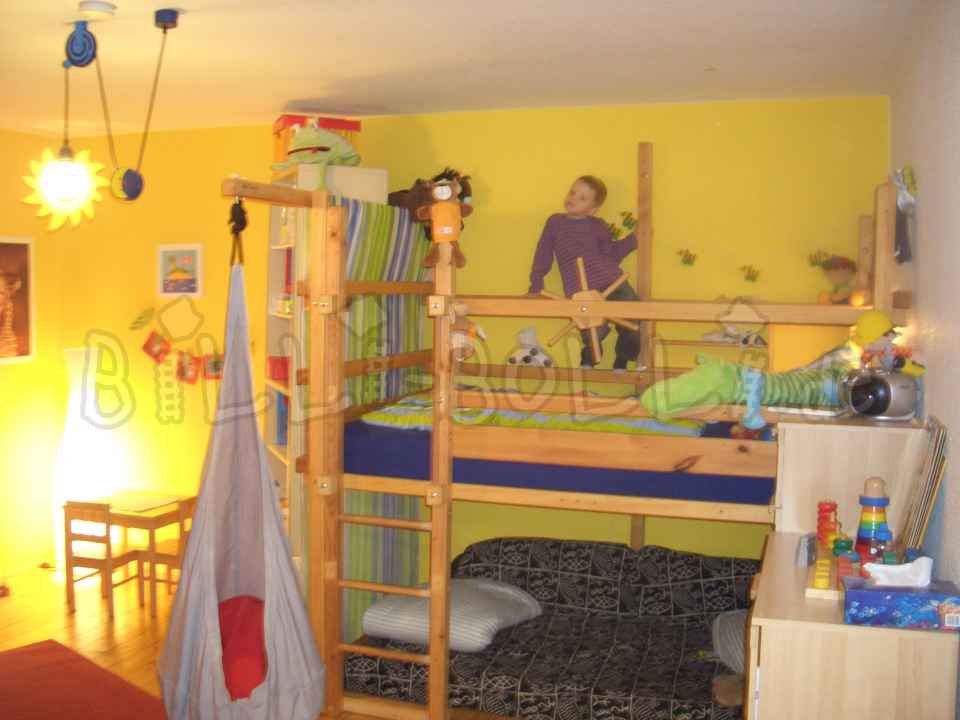 ---
Orginal Gullibo Adventure High Bed Model 204
(Offer 1723)
Published: 30 April 2015 (second hand loft bed)
sold
The bed was supposed to be rebuilt after the room conversion, but overnight my son decided to feel great... As a result, we do not have an up-to-date photo of the built-up condition of the bed.
The bed corresponds to the model shown in the photo 90x190cm. The photo shows one of many possible construction variants, but is not our bed.
The lying surface can be placed at different heights depending on the age of the child. It is therefore a growing bed!
Our accessories: ladder, steering wheel, galloping with climbing/rocking dew. The boards are also included to give smaller children more safety. At the sail, unfortunately, 1 eyelet is ripped out.
It is a super stable bed that can be built individually. We have the variant:
1 sleeping deck, under the bed can be played very well, a 2nd mattress for overnight visit was always very helpful with us, which lay under the bed.
It is very well preserved, only on a beam stands a math task... is not really visible, since in the upper area.
The bed is already dismantled. (See photo2) The original assembly manual is available. We are an animal- and smoke-free household!
If desired, a very well-preserved, suitable mattress can be purchased.
I bought the bed used in 2008 for 850€. My price tag: 565€
The bed can be picked up at 10407 Berlin-Prenzlauer Berg.
Comment:
Dear Billi-Bolli Team,
the bed is sold. Thank you for your support.
Yours sincerely
Andrea Grimm
---
Slanted ladder
(Offer 1722)
Published: 30 April 2015 (second hand kids' furniture)
sold
We separate ourselves from the Billibolli hatchback, because our daughter no longer needs it.
It is the large inclined ladder pine oiled with 5 steps. We used it for the body height 4 (formerly Midi 3), although it is recommended for the body height 5.
New price at that time: approx. 130 - 140€
Price presentation: 80€.
Good condition, slight traces of usage, 2nd hand.
The bed is in 70597 Stuttgart.
---
Billi Bolli Bunk Bed
(Offer 1721)
Published: 28 April 2015 (second hand bunk bed)
sold
We sell our son's bunk bed. Originally it was a bed over-corner, for reasons of space we converted it into a bunk bed (all parts still available). It is made of pine with oil wax treatment. Please self-depletion.
Our offer consists of the following parts:
- Bunk bed 90/200, pine with oil wax treatment
- 2 slatted slats
- Mattress 87/200 for top and mattress 90/200 for bottom (not original, repurchased 2 years ago)
- Steering wheel
- Bedside table (above)
- Swing seat (no longer original, repurchased 3 years ago)
- 2 bed boxes on wheels
- Game crane
- 2 berth boards
Good condition, slight traces of use, pet-free non-smoking household.
New price in 2008: approx. 2,500.00 EUR
Price presentation: 1,100.00 EUR
The bed is located in 82327 Tutzing (approx. 40 km southwest. From Munich)
Comment:
I would ask you to mark our offer No. 1721 as "sold", it was picked up today.
Thank you very much!
Yours sincerely
Miriam Hüther
---
Growing bunk bed made of beech with lots of accessories (exhibition piece)
(Offer 1720)
Published: 27 April 2015 (second hand loft bed)
sold
We sell a growing loft bed from our exhibition space. The bed should be dismantled and picked up by the buyer on May 18, 19 or 20 (please make an appointment in the morning). The bed served as an exhibit for almost 3 years and has slight traces of use.
Dates and accessories, each with new prices:
* Raised bed, beech oiled waxed, mattress size 90 x 200 cm 1362 €
* Fire brigade pole 175 €
* small bed shelf 84 €
* Steering wheel 60 €
* Bedside table 108 €
* Berth boards for front and a short side (with butterflies) 198 €
* Climbing rope made of cotton with rocking plate 75 €
* Curtain poles for front (sale without curtains) 17 €
* Sail red 20 €
* Fishing net 1.4 m 16.80 €
* Game crane 188 €
* Ladder grille 39 €
* Foam mattress with blue cover 126 €
New price total: 2468.80 €
Sell price: 1690.00 €
As with new products, you will receive a full 7-year warranty on all wooden parts.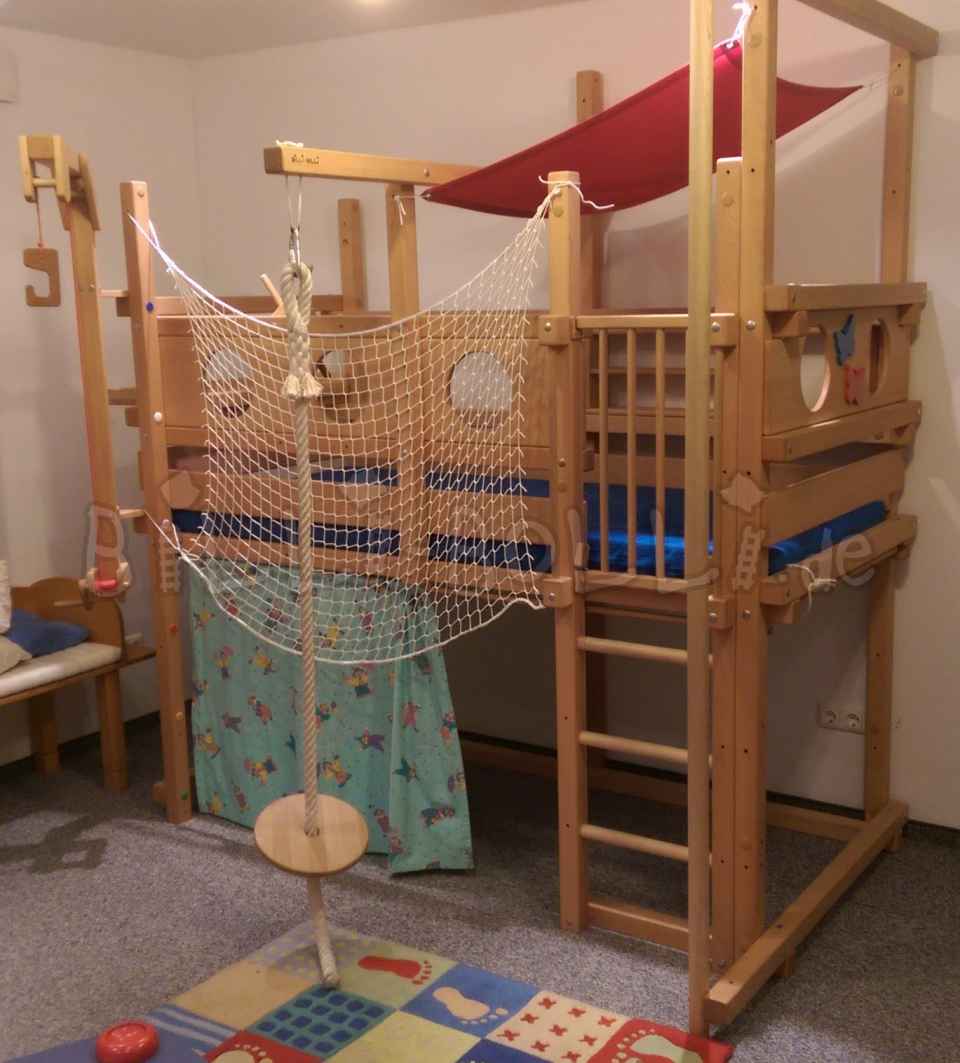 ---
Bunk bed 90 cm x 200 cm, model "Star Shooting"
(Offer 1719)
Published: 27 April 2015, sold: 28 April 2015 (second hand bunk bed)
sold
We sell our bunk bed, which our children have grown up with. We bought it in 1998. It is built of high quality from 27 mm thick spruce boards, there is nothing creaking or wobbling! This is an older model, as Peter Orinsky made it before the introduction of the current modular system. Overall, it is in very good condition, of course with slight traces of use. The bunk bed can easily be divided into two single beds.
Here is the "Plant Letter" for bed and accessories:
• Bunk bed 90 cm x 200 cm, spruce oiled, easily divisible in two single beds • 2 slatted frames • protective boards for upper floor • stable rocking rod with climbing rope • steering wheel • 2 spacious bed boxes on rolls, spruce • without mattresses
The total price for the bed was 2155 DM, and we now offer it for 300 euros.
The bed is ready for collection at 85570 Ottenhofen.
Comment:
Hello dear Billi-Bolli-Team,
the bed is now sold.
Regards
Fam. Göster
---
Original Billi-Bolli bunk bed for sale
(Offer 1718)
Published: 27 April 2015 (second hand bunk bed)
sold
We sell our Billi-Bolli bunk bed. For a total of eleven years it served as a playground and sleeping place for our children and was much loved. Now our children have grown out of the bunk bed age and we want to separate from the bed.
Purchase date: September 2004
Material: Spruce, oiled
Size: 90x200 cm
Accessories:
2 slatted slats
Berth board
Steering wheel
2 bed boxes
Head
Fall protection
Good condition, signs of use, non-smoking household, original invoice and setup instructions available. Self-collection in Rostock.
New price: 1200 euro
Sell price: 550 Euro
Comment:
Thank you for the opportunity to offer the bed for sale on your homepage. There was a great deal of interest; today the bed was picked up. We are pleased that it will bring a lot of joy to other children in the future. We would be happy if you disable the ad.
Regards
C. Schulz
---
Billi-Bolli bunk bed 100 x 200cm in beech (oil wax treated)
(Offer 1717)
Published: 27 April 2015 (second hand loft bed)
sold
We offer here the Billi-Bolli-Hochbett in beech oiled!!
After more than 8 years, our 15-year-old daughter wants to say goodbye to her dream bed.
Unfortunately, the bed hasn't been used as often for the last 3 years - it was only in her room - but didn't want to part with it.
Details / accessories for bed:
- High bed incl. roll slat grate - mattress size 90x200
- External dimensions: L:211 cm, W: 112 cm, H: 228.5 cm (crane beams)
- Crane beams with climbing rope (natural hemp) and rocking plate (beech oiled)
- 1 large bed shelf 90x107x20 cm / mounting under the bed
- 1 small bed shelf 90x26.5x12 cm / mounting/top
- 4 curtain rods (2 for front, 2 for the side/without curtains) - have never been mounted
- 1 shop board
- 3 different sets of cover caps for the mounting holes
(We have blue mounted – in addition we have a complete set in white and in brown - depending on the decoration !!)
I would be happy to send more photos - also of accessories
The bed is in very good condition – no scribbles, paints or stickers.
Maintained - only used by the girl
Non-smoking household
The bed is still being built.
It can, of course, be dismantled together with us – then it is easier to rebuild.
The bed is ready for collection in 46147 Oberhausen (NRW)
NP (incl. accessories): over 1,500 €
VP : 880 € VB
Comment:
Hello Billi-Bolli Team,
We just wanted to let you know that the bed was sold on the same day. The father was there a few days later and took it for his 5-year-old son.
Your offer page is absolutely great.
Such a quick sale just great.
Thank you very much and greetings
Peter Ketzer
---
Original Billi Bolli Student High Bed Pine Nature
(Offer 1716)
Published: 20 April 2015 (second hand loft bed)
sold
Bunk bed 90 x 200, height 228.5
incl. slatted slats and handles
Bedside table
Large shelf
Wall of bars (not in the picture)
The conversion kit to mount the ladders on the long side is of course available.
The bed was purchased by us at the end of 2006, but has not been used by our son for some time.
It is in very good condition, with no damage or major signs of wear.
Purchase price at that time: 949 €
Our purchase price presentation: 490 €
The bed is set up (construction instructions available) in Neubrandenburg (M/V).
Comment:
Good morning Mrs Orinsky,
please mark our ad as "sold".
Did very well, thank you very much!
Best regards
Christian Wojda
---
Original Billi-Bolli "Pirat" sloping roof bed
(Offer 1715)
Published: 20 April 2015 (second hand Pitched Roof Bed)
sold
Our bed in spruce solid, oiled has run out and is looking for a new owner.
After 13 years with 2 adventurous boys, the bed has natural traces of usage (including various scratches, some dents, wood darkened).
The pirate bed is ideal for children's rooms with sloping roofs, as the central beams (for crane beams) can also be mounted outside.
With the observation tower, (provided with game floor) a great play bed for pirates, knights and co.
Equipment: included in the sales price
- Sloping roof bed for mattress 90x200cm spruce solid, oiled, incl. slatted base. Total dimensions: L211cm, W102cm, H228 cm or 66cm
- 2 bed boxes oiled with rollers.
- Steering wheel oiled.
- Play crane (swingable)
- 4 cushions (blue covered, washable)
- Protective boards for the upper area
- 1 protective board for the bottom (ideal for young children)
- Fire brigade bar incl. retrofit kit (2007)
The following items can be purchased for a small surcharge if required:
-Hanging chair (Ikea)
- Cold foam mattress
- various matching bed linen (pirate, football, knight..)
The new price for the bed incl. accessories and delivery was (2002) 1.550.- €.
Our price is 700.- € (VHB). Original invoices and assembly instructions are available.
The bed can be visited and picked up in 74336 Brackenheim (near Heilbronn am Neckar).
More photos + details are welcome on request.
This is a private sale, without warranty, no return and without warranty.
Comment:
Dear Billi-Bolli Team. Thank you very much. The bed is sold.
---
You have been searching patiently for a while now but to no avail?
Have you already considered buying a new Billi-Bolli bed instead? When you no longer need it, you too can use our successful Secondhand Page, completely free of charge. Thanks to the high resale value of our beds, you will get a good return on your purchase even after many years of use. For this reason, a new Billi-Bolli bed is, economically speaking, a very good investment.