Your kid's bed is no longer needed? You are welcome to resell your used kid's furniture and accessories directly on this highly frequented site. This is a free service for Billi-Bolli products that you originally purchased new from us.
If you would like to resell Billi-Bolli products that you bought pre-owned on this site, then we take a € 60 fee, which will be fully donated to our charity projects.
Notes
The offers on our second hand page have been translated automatically and therefore may contain translation errors. We take no responsibilities for these errors or the misunderstandings arising from them. Please visit the second hand page on our German website to view the offers in their original language.

Billi-Bolli Kindermöbel is not involved in the resulting resales. Whether an offer is reasonably priced or not must therefore be determined by the interested party (see Resale price recommendation). Such an assessment cannot be derived from the fact that the item is placed on our Second hand page.

We take no responsibility for the information posted by customers about kids' furniture for resale as we are unable to verify them.
Want to stay up-to-date on new offers?
Receive an e-mail as soon as a new second hand offer has been published:
---
Bunk bed-side-offset with baby grid
Offer 2876
. Published: 12 January 2018, sold: 14 January 2018 (second hand bunk bed)
sold
We would like to sell our side-offset bed in Midi 3 height with accessories. The bed was originally purchased by us in 2003 from Billi Bolli and is in good condition but with the usual traces of usage.
The lower level can be provided with baby grids (see first photo taken in 2004). The other photos show the bed as it is currently structured.
Side-infused bed, oiled incl. 2 slatted slats
External dimensions: L:307 cm, W: 102 cm (152 cm incl. crane beam), H: 224 cm
Mattress dimensions 90/200 cm
Ladder on the face side
Accessories
2 bed boxes, oiled
Climbing rope, natural hemp
Steering wheel, oiled
Baby grid set, oiled for mattress size 90/200cm
The side-offset bed plus accessories cost €1,320.00 at the time.
In addition, we bought the following shelves later:
Small shelf, spruce oiled
W 91 cm/H 26 cm/ D 13 cm
Date of purchase: 03/2008 New price: 57.00
Large shelf, spruce oiled
W 91 cm/H 108 cm/ D 24 cm
Adapted for Midi-3
Date of purchase: 12/2011 New price: 165.00 €
We would sell bed and shelves at a total price of €530.00.
Original invoice and assembly instructions are still available. The bed is set up in Munich and can be picked up there yourself, we would help with the dismantling.
It is a private sale without warranty and warranty. There is no right to withdrawal.
The sale of a mattress is optional by appointment. Decorative items are not the subject of the offer.
Comment:
Dear Billi Bolli children's furniture team.
the bed was sold and should be picked up next Saturday.
Second-Hand service is truly unique!
Thank you for your support. .
Many greetings.
Monika Dury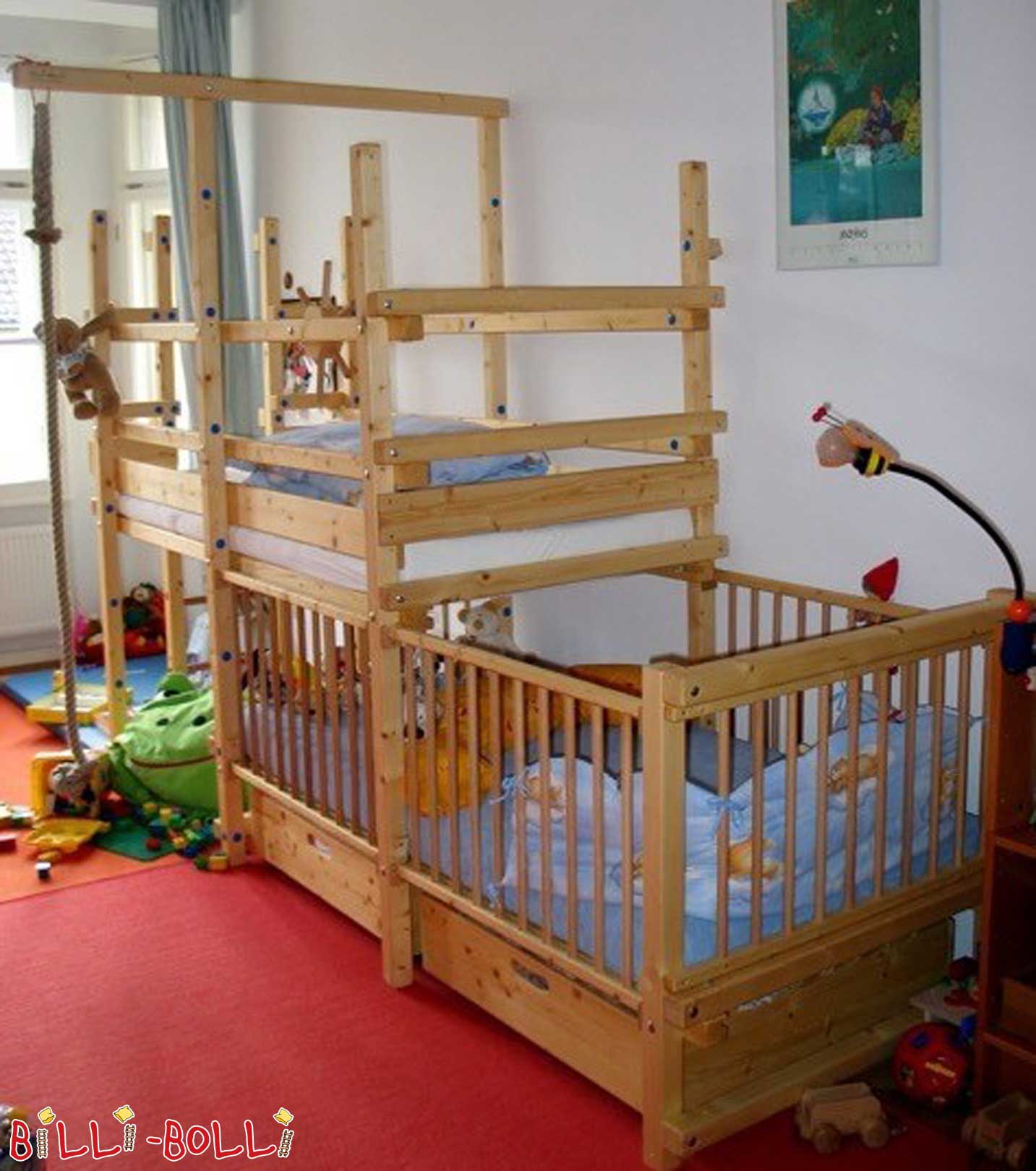 ---
Bunk slide bed
Offer 2875
. Published: 12 January 2018 (second hand loft bed)
sold
Bunk bed 90 x 200 cm, beech oil waxed.
L: 211 cm, B: 102 cm, H: 228.5 cm, head position: A, sliding position: A. the bed is now 7 years old (was however used as a bunk bed until 2015)
The State's top. Very clean and not damaged. by 2015 it was rebuilt as normal bed (four-poster). .
Accessories: slide, swing plate and built-in shelving.
Purchase price at that time was: €2317,21 and by 2015 a few small parts to the conversion.
My asking price would be €1200. According to the calculator you a price of €1348,-would be about to achieve.
We live in 85456 Wartenberg.
Comment:
Hello dear Billi Bolli Team,
I've sold the Bed now and they can remove my Second-hand offer.
Thank you very much
Regards
Martina Patrovsky
---
Co-growing high bed
Offer 2874
. Published: 12 January 2018 (second hand loft bed)
sold
The product includes:
- the bunk bed for growing, 90 x 200 cm, spruce untreated
- an attached steering wheel
- a shop board
- a shelf with 3 boards (suitable for under the loft bed) (for this unfortunately few "pens" are missing (see last picture) these are available in the DIY store)
- a swing (a swing plate + rope)
- one mattress for the bunk bed (90cm x 200cm)
- an oval carpet from HABA
The bunk bed can be set up on 6 different heights. The height of the swing is also variable. We bought the bed 10 years ago, since then it has been spared from other damage except for slight traces of use on the ladder due to the swing.
The bed must be picked up on site (Munich, Schwabing) and dismantled.
Comment:
Hello!.
The bed is sold. Thank you!.
Best regards.
Ursula Feindor-Schmidt
---
2x Youth bed type D with lots of accessories
Offer 2873
. Published: 11 January 2018, sold: 12 January 2018 (second hand bunk bed)
sold
In 2006 we had bought a side-shifted- over-corner-3 bed. Over the years, it has served us well in various configuration variants, including sawing beams.
Most recently, it was used as two single beds.
Material: Spruce untreated, lying area 90 x 200 cm.
In order to be able to use it again as a bunk bed 3 new bars are necessary, price currently requested 165 euros + 35 euros shipping.
The ladders and berth boards are available.
Other accessories:
2 bed boxes,
Steering wheel
Crane beams
BOM, construction instructions and assembly parts are available. The bed was used in a non-smoking household.
Location: 82110 Germering
New price in 2006 as a 3-bed: approx. 1500,- Euro
Handing in for 400,- Euro to self-collectors.
Optional: New foam mattresses
Comment:
Love second-hand team,
our offer has found a buyer within a very short time.
Regards
Gerald Höfer
---
Seafarer bunk bed
Offer 2872
. Published: 10 January 2018, sold: 11 January 2018 (second hand bunk bed)
sold
Everything has an end, unfortunately... So we separate ourselves from our Billi Bolli bed of our son, who has now unfortunately grown out of it.
Bunk bed 90/200 in beech with original oil wax treatment
2 slatted frames, beech oiled
2 bed boxes, beech oiled
Front berth board, 150 cm, beech oiled
Berth board on the face side 90 cm, beech oiled
Climbing rope with rocking plate, beech oiled
Small shelf, beech oiled
2 protective boards 102 cm, beech oiled
Curtain rod set, beech oiled
Steering wheel, beech oiled
Flag holder, beech oiled
Play floor, beech oiled
Youth mattress, ProLana Alex, Neem
Foam mattress red, 87*200, 10 cm high
Originally purchased 9/2004 and 2/2007 significantly expanded incl. Matrazen. The condition of the bed is very good, apart from small traces of usage. No stickers or paints. In recent years, only little use has been made, as our son has been attending a boarding school for 5 years.
New price: approx. 3,000,- Euro
Tobes for 1,450,- Euro
We live in 74821 Mosbach, near Heidelberg. Only to self-collectors. It certainly makes sense to dismantle the bed together. All invoices and documents of the bed are available in the original - as well as the setup instructions.
Comment:
Dear Billi-Bolli Team,
It's really incredible, with the setting of the bed the phone stopped standing still. The bed is sold. Thank you very much for your support. A great product, a great service, thank you for that.
Kind regards
Helmut Augustin
---
Climbing rope natural hemp with rocking plate
Offer 2868
. Published: 08 January 2018 (second hand kids' furniture)
sold
We sell our well-preserved rocking plate oiled with climbing rope natural hemp for the crane beam.
New price in 2004: 53€
Today: 29€
We are an animal-free non-smoking household. Shipping possible.
Comment:
Hello Team Billi-Bolli,
was sold today.
Nice weekend.
Family Dax
---
Both-the-bed type 2A
Offer 2867
. Published: 08 January 2018 (second hand kids' furniture)
sold
We offer our well-preserved both-top bed for sale to our children in 2012! Original invoice (25145) is available.
Both top bed type 2A, beech untreated, 90 x 200 incl. slatted frames and protective boards and handles
External dimensions: L: 211 cm, W: 211 cm, H: 228.5 cm
Oil wax treatment for both-top bed
Specifics:
Crane beams at the top in the longitudinal direction
Ladder position above: C, close to the wall
Ladder position at the bottom: A, longitudinal
Upper bunk bed (height at 150 cm), beech oiled
Lower bunk bed (height at 102 cm), beech oiled
Accessories:
Curtain pole set (without curtain)
2x small shelves (1x top, 1x bottom)
Optional accessories on request!
2x mattresses
Hanging swing / relax swing
1x punching bag incl. gloves
The bed is disassembled and has slight traces of use.
We are a non-smoking household!
Parts, BOM and assembly instructions are complete. Available.
Disassembled parts were marked according to the BOM. All parts were cleaned after disassembly!
No shipping only for self-collectors!
Info: The complete Bed fits disassembled in a van e.g. Alhambra or Sharan.
New price (2012) incl. accessories: 2871.40 €
Sell price: 1900.00 € (VHB)
Location: 74206 Bad Wimpfen, Baden Württemberg
Comment:
Hello dear Billi-Bolli team,
Our bed was sold today. Thank you very much for your support.
Sincerely
The Luff family
---
Berth board for the front side
Offer 2864
. Published: 08 January 2018 (second hand kids' furniture)
sold
1 berth board side part, beech oiled, 102 cm x 26.5cm, 1/2 bed length for a 2m long bed.
The condition of the berth board is as new.
For this we would like 50€, that is about 50% of the new price.
Self-collection with cash payment or shipping by forwarding agent / parcel service possible at an additional cost. Visit can be arranged.
Comment:
Hello Billi-Bolli,
We sold the byboard. You can take out the offer.
Thank you for that!
Greeting
Bernd Richert
---
Bunk bed-over-corner with play crane
Offer 2863
. Published: 08 January 2018, sold: 11 January 2018 (second hand bunk bed)
sold
Used bunk bed-over-corner 90 x 200 cm for sale.
The bed is made of pine with oil wax treatment
External dimensions: (LxWxH) 211cm x 211cm x 228.5cm
Ladder position A
Cover caps wood-coloured
Flooring 2cm
The bunk bed above corner can also be mirrored.
The assembly instructions, as well as all additional and individual parts are still available.
As well as the following optional equipment to the bed:
Game crane
Rocking plate with climbing rope
Flag blue
Bedside table
Berth boards for the front and side part
Fall protection for the lower bed for small children
(including the supports necessary for this purpose)
Slatted slats, upper floor protection boards and handles
The bed was bought in February 2009 and served our son, including visitors to this day.
Normal traces of usage are present (removed stickers) but otherwise in good condition.
The mattresses were replaced in 2012 and are welcome to be taken with them.
The dismantling takes place in mid-January and will be labelled again by us so that it can be rebuilt according to instructions.
It is a private sale without warranty, warranty and exchange
New price (Feb 2009): 1,500€
Our price presentation: VB 800€
Location: Klettgau-Grießen,
Southern Germany between Schaffhausen and Waldshut
Comment:
Dear Billi-Bolli Team,
the bed has just been sold.
Will be picked up in mid-February. Hope it all works out.
Thank you for the great opportunity to sell the bed in a "second-hand".
Quality pays off after all
I have never regretted my decision with the bed and also the separation ends very positively for us.
Thank you
with kind greetings
Elke Albrecht
---
Billi Bolli High Bed for sale
Offer 2862
. Published: 08 January 2018 (second hand loft bed)
sold
We sell our Billi-Bolli-Hochbett, spruce oil wax-treated, incl. two matching small shelves oiled, incl. ladder and handles, protective board and blue screw hole covers.
Mattress dimensions 90 x 200 cm
External dimensions: W 105 cm, L 213 cm, H 228 cm
The bed was bought in 2004, already sleeped in different variants, now our "little one" separates from the last variant.
New price was as here 797€,
the children are happy to receive a contribution to the pocket money of 350€ when they are sold.
The bed is in good condition. We are an animal-free non-smoking household. The bed is dismantled.
Comment:
Hello
our bed is sold - please mark it in your secondhand section accordingly.
Thank you very much.
Susanne Brückner
---
You have been searching patiently for a while now but to no avail?
Have you already considered buying a new Billi-Bolli bed instead? When you no longer need it, you too can use our successful Secondhand Page, completely free of charge. Thanks to the high resale value of our beds, you will get a good return on your purchase even after many years of use. For this reason, a new Billi-Bolli bed is, economically speaking, a very good investment.