Billi-Bolli Baby Grid 139cm wide
Offer 288
. Published: 07 January 2009 (second hand bunk bed)
sold
single, oiled with 2 slip rungs, for front for bunk bed between ladder and corner post incl. fastening parts and locking for quick attachment. Grid can be removed within a few seconds with the locking without tools. For a complete grid set, you can still buy 2 grids on the face side (at that time 31 EUR each). We want to keep them ourselves. Normal signs of use.
NP (2004): 46 EUR now for 18 EUR against collection. Location: Dachau
---
Billi-Bolli with growing bunk bed
Offer 287
. Published: 20 December 2008 (second hand loft bed)
sold
90x200 cm Pine Item No. 220
Honey amber oil treated
The bed is 3 years old and well preserved except for slight signs of use.
It consists of:
Slatted slat
Steering wheel
Crane beams
Rocking plate with hemp rope
Rocking seat Chilly
1 additional protective board for front (is not mounted on the picture)
Shop board 90 cm
Kl. Shelf
Handles
Construction instructions are available.
The bed can be sold with mattress.
Price € 800,00 without decoration
Pick up in 38446 Wolfsburg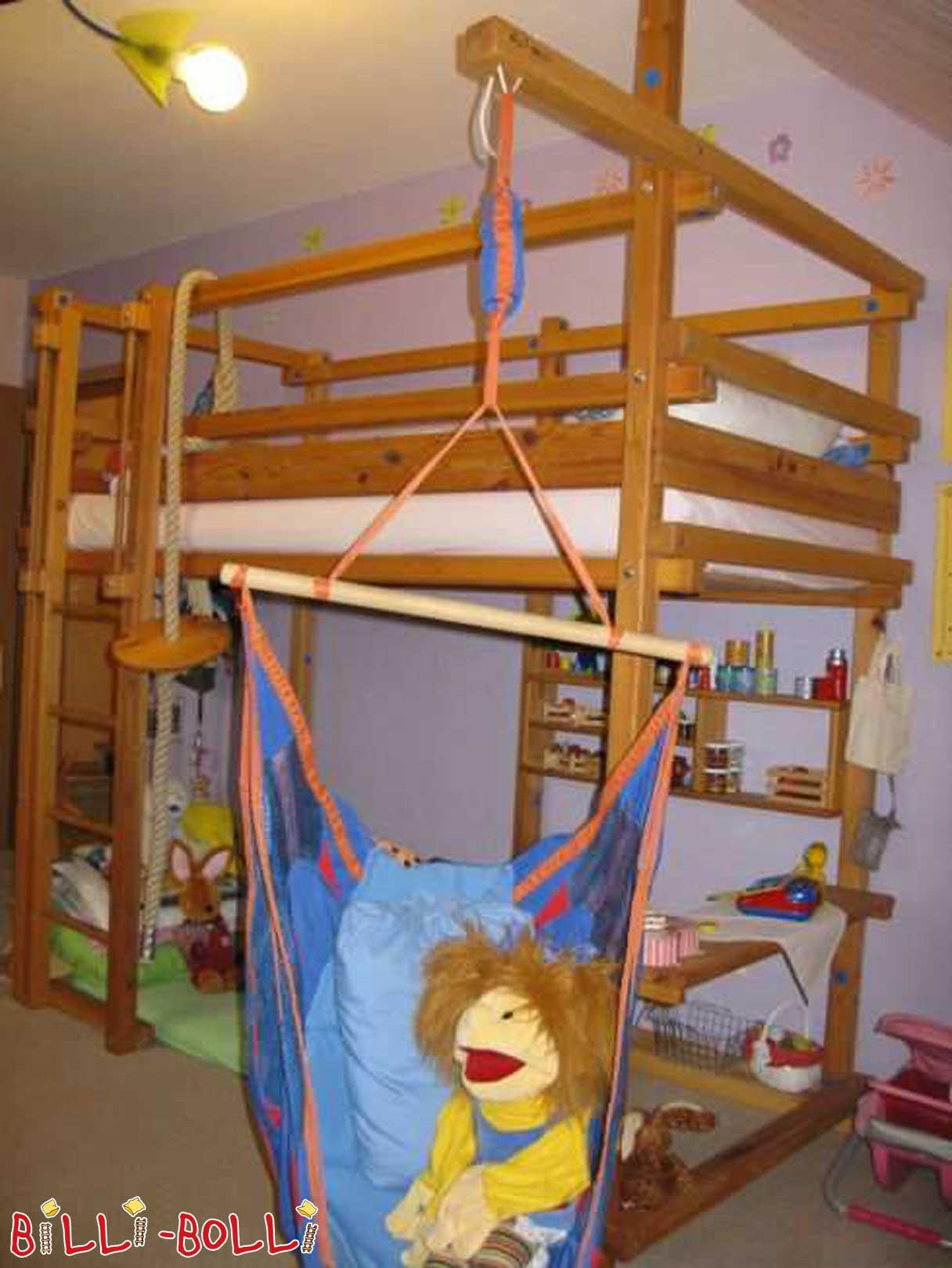 ---
Billi-Bolli Bed Boxes
Offer 286
. Published: 15 December 2008 (second hand loft bed)
sold
After we have converted the sloping bed of our son into a real loft bed (thanks Billi-Bolli for the simple conversion kit!), there is unfortunately no room for the drawers:
2 x bed box
- Pine oil wax natural
- about 2 years old
- good to very good condition (see photo)
- with a bed box subdivision (thus four identical compartments)
- Dimensions: B: 90.0 x D: 85.0 x H: 23.0 (or H: 20.0 without rollers)
- There are four smooth-running rollers per drawer
- Article Nos. 300 and 302.
- http://www.billi-bolli.de/index.php?action=zubehoer
Price: EUR 195,-- (preferably self-collector)
We are an animal-free non-smoking household
Location: Greater Hamburg (we live south of the Elbe)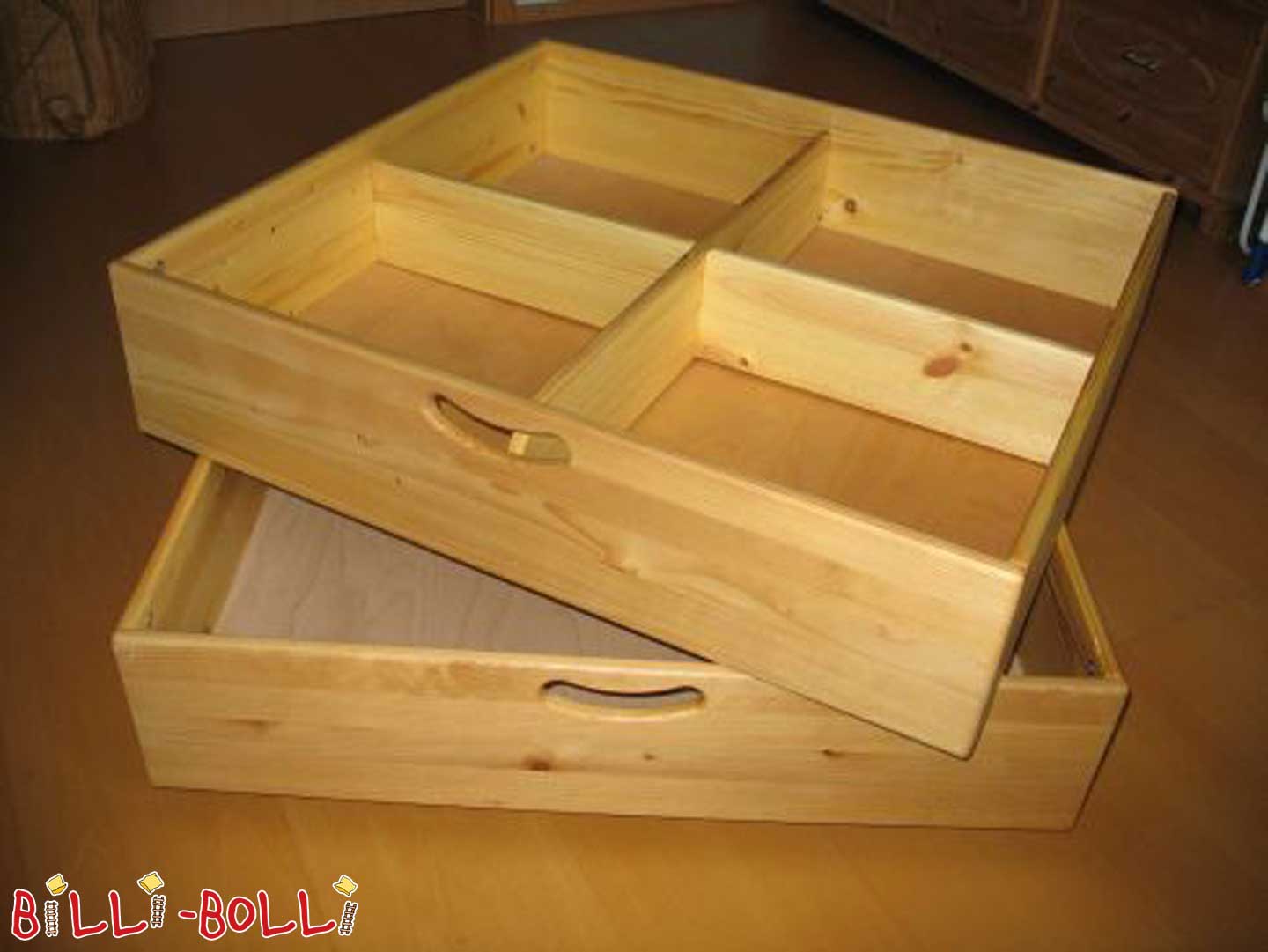 ---
Knight's castle boards spruce
Offer 285
. Published: 09 December 2008 (second hand kids' furniture)
sold
Knight's castle board 90 cm, for front, unused, light printing points
Knight's castle board 102 cm, face-side, unused
Spruce, with oil wax surface
New price 165.00 €, now 110.00 €
These knight's castle boards are sold on behalf of customers.
Since the customer lives in Austria, the boards are sent by us (or pick-up with us), payment is made directly to the customer.
---
Original Billi-Bolli Pirate Bed
Offer 284
. Published: 06 December 2008, sold: 06 December 2008 (second hand bunk bed)
sold
In 2004 we decided on a seaworthy pirate ship. We were often on the high seas and had
Have fun with the Billi-Bolli bunk bed.
Our boys now both get their own nursery and therefore we part with a heavy heart from our ship.
We offer a used and well-preserved, super stable Billi-Bolli bunk bed with the following accessories:
2 drawer boxes (not original but still suitable...)
1 wall shelf (unfortunately not so easily recognizable on the picture)
1 crane (located on the lower bed
1 steering wheel (top)
4 foam cushions (new covers make sense)
Protective boards for top ( pirate boards)
Protective grille for stairs upstairs (for hanging)
2 dolphins and 1 seahorse
Without mattresses,
The bed is located in Hemsbach on the Bergstrasse (near Heidelberg) and can be picked up there. Descriptions are no longer available! Therefore, it makes sense if the bed is dismantled by the buyer.
New price 1,700.00 € (invoice still available)
We would like to have 950,00 €
---
Rocking horse
Offer 283
. Published: 06 December 2008 (second hand kids' furniture)
sold
stable design, with mane and tail
new, instead of €98.00 now €75.00
---
Original Billi-Bolli with growing bunk bed
Offer 282
. Published: 02 December 2008, sold: 02 December 2008 (second hand loft bed)
sold
Whether as an adventure bed to romp or as a romantic bed for teenage princesses... Flexible as the beds of Billi-Bolli are, they take part in every change from childhood to teenage years. At almost 14 years of age, our daughter is now separating from her bed,
which she has been guarding for 8 years.
The bed has normal traces of use and is well preserved, only our house tiger has immortalized itself on a prop, because he also wanted to sleep in the Billi-Bolli bed. Since we also live in Ottenhofen, an exchange directly at Billi-Bolli is no problem if necessary.
We sell used:
1 Original Billi-Bolli with growing bunk bed, spruce oiled,
various setup options as standard, midi, high bed or four-poster bed (such as photo)
including the following accessories:
Rust and Prolana mattress 90 x 200 cm,
Steering wheel, rope with rocking plate, curtain rails for 3 sides
VP: 500 €
---
growing loft bed, spruce
Offer 281
. Published: 24 November 2008, sold: 25 November 2008 (second hand loft bed)
sold
with long feet of student high bed,
Honey/amber oil treatment,
Ladder on the front side
Date of purchase 2005, 1 year in use
Including.:
Protective boards for upper floor
Bunk boards in orange
Ladder grille incl. ladder cushion
Slatted and mattress, 90x200cm
Curtain rod set and curtains
New price approx.: 1,200,- Euro
Sell price: 650,- Euro
---
Original Gullibo Bed Model No. 124
Offer 280
. Published: 24 November 2008, sold: 25 November 2008 (second hand kids' furniture)
sold
With a heavy heart we give our great Gullibobett.
The bed is in good condition and has only slight signs of use.
It can be set up over corner offset (optionally lower bed on the right or left ), as well as superimposed on top of each other.
-2 slatted frames with a mattress
-4 upholstery (new covers)
-2 bed boxes
-1 steering wheel
-a gr. Beams with climbing rope
-Sail
-Construction instructions
The wood is naturally darkened, non-smoking household.
Pick-up in Steinbach /Taunus , 8 km from Frankfurt am Main.
Our retail price is 550 €.
Comment:
The next day we sold our bed. Please remove the ad from the Internet.
Thank you very much
---
Gullibobett
Offer 279
. Published: 07 November 2008, sold: 07 November 2008 (second hand kids' furniture)
sold
The Gullibobett enchants your children's room into an adventure playground. Gullibo is the answer to boring and unsafe beds. Gullibo promotes your child's mental-mental-physical development. A bed for adventurers and pirates around which every treasure hunter is envied. If you have room, you cancel it for your grandchildren.
Gullibo Activities Center No. 205, September 1993
Formaldehyde-free
Custom order bed total height 230 cm (+ 10 cm)
Assembly
incl. slatted base, protective boards and support boards
90x200 cm mattress size - without mattress
2 crane beams for climbing rope or rocking plate
1 climbing rope made of natural hemp, traces of use
1 sailing ship tax
1 ladder, right or left attachment possible
Condition good, normal signs of use, no stickers, wood strongly darkened,
has been converted into a four-poster bed in the meantime, so there are some additional screw holes (bracket for curtain rods!)
Further accessories can be obtained from www.billi-bolli.de
Price: 460 €
for self-collectors,
Location is the state of Brandenburg -
City of Hennigsdorf - District Stolpe-Süd (b. Berlin; North)
Bed is already disassembled
Sale takes place in the exclusion of the warranty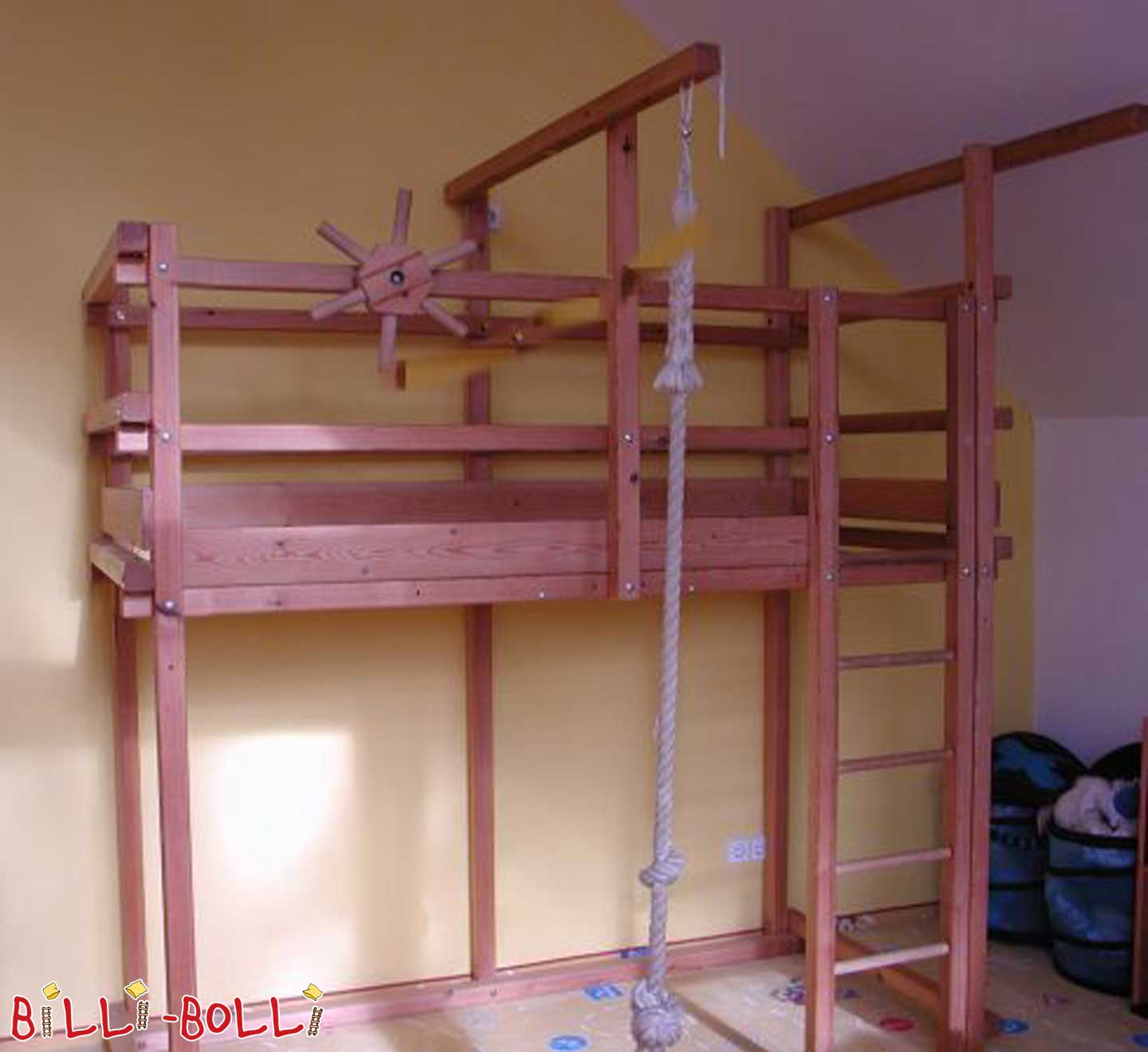 ---
You have been searching patiently for a while now but to no avail?
Have you already considered buying a new Billi-Bolli bed instead? When you no longer need it, you too can use our successful Secondhand Page, completely free of charge. Thanks to the high resale value of our beds, you will get a good return on your purchase even after many years of use. For this reason, a new Billi-Bolli bed is, economically speaking, a very good investment.